ROCKABILLY HALL OF FAME PRESENTS
WHAT'S NEW IN CENTRAL EUROPE?
By
Chris Ebner

September/October 1999
Being a newcomer to the Internet I looked for and found the homepage of the Rockabilly Hall Of Fame. Just great! After contacting Bob I decided to contribute with regular columns about the scene in mid-Europe, mostly Germany, Austria and Switzerland.
Collecting Rock'n'Roll, Rhythm and Blues and Rockabilly since the early 60's, I'm a staff member of the German mag ROCKIN' FIFTIES of Munich. Some years ago I ran the official Sun Rhythm Section and Sonny Burgess Fan Club, being a good friend of Sonny and D.J.Fontana, who were so kind as to play at my 50th birthday party. In the last 23 years I have met many of our stars in person and interviewed them. I work closely with Bernd Hermoneit from Berlin, who writes very detailed articles about our music, Werner Oschmann of Vienna, the city with the greatest scene I know, and Charles White, the famous Dr. Rock from Scarborough, England. I have many other personal contacts and so it should be easy to present interesting news to you.
To proof this a bit, here's - to begin this column - a fine pic of old friends of mine, shot in better times than these:
from left to right: D.J.Fontana, Rudi Grabars, Sonny Burgess, yours truly Chris Ebner and Marcus Van Storey, a fine, fine, gentleman, who died a some times) later.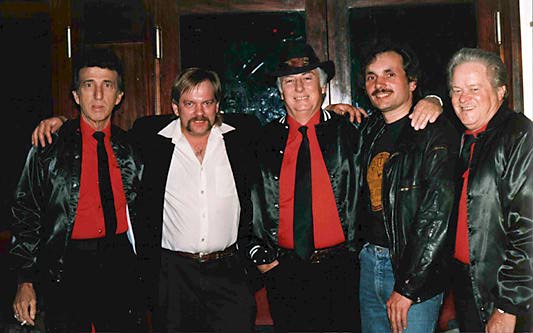 ____________________________________________________________________________
IN OCTOBER: THE CRICKETS IN CENTRAL EUROPE
While HALEY'S ORIGINAL COMETS are touring Austria this week (last week in Salzburg, Graz, Vienna), there's great news, that Buddy Holly's Crickets will play Central Europe in late October. Both tours are organised by KLAUS KETTNER, who also has his hands in the Silvestergala in Hagen, Germany, with his artists Wanda Jackson and Haley's Comets. Klaus is not only an eager, but also a friendly guy, with the famous Bavarian calmness.
The Crickets will play the Albisguetli Rock'n'Roll Festival in
Zurich/Switzerland
at 22-10-99,
Munich/Germany
at 23-10-99 and
Freiburg/Germany
, 27-10-99. For more info phone or fax Klaus at +49-89-31139918 / +49-311293. For tickets:
http://ticketworld.de
.
BEAR FAMILY CATALOGUE 1999 OUT
It may be surprising to read a review about a catalogue. But it's fun to read it, just like an entertaining book. Messieurs Weize and friends begin their 400 plus page booklet introducing Bear Family's own productions like Johnny Cash and Carl Perkins with music from I WALK THE LINE and LITTLE FAUSS AND BIG HALSEY movies, much Country, Blue Grass, the 4-CD-Box of THE SONS OF THE PIONEERS, Jazz- and Pop items, non-German artists singing in German, German singers like Freddy, and the brand-new 5-CD-box of the singing governor and racist JIMMIE DAVIS (too many forget this these days).
Then we read about their offers concerning New Country, Outlaws, Western, Western Swing, Special Collections, Country music from Canada, Australia, Germany and Europe, Country Christmas, lotsa Blue Grass and New Grass, Old Time, Folk and related stuff. By now we've reached page 134, and I bet, the Country fans have been satisfied.
The chapter ROCK'N'ROLL has 42 and ELVIS 9 pages. Now we've reached the "black chapter" with Rhythm and Blues/Soul/Blues/Doo Wop with about 13 pages. Bear Family sometimes lists his product two times and more, and that's right, as f.i. some will look for the Platters under Rock'n'Roll, some under Vocal Groups. Following are bigger chapters of Beat, Surf, Revival/Neo Rockabilly, British R'n'R and Instrumental R'n'R.
Beginning with page 269 there comes Pop Vocal, which shows, that Weize does not only follow his hobbies Rock'n'Roll and Country, but covers nearly everything that's old and good except the Classical music. Going through Pop Instrumentals, Latin and Swing, we reach the German Oldies, which for me always were ..., but as Goetz Alsmann and Richard Weize think contrary about that, I confess, that I don't know enough of this. Being a child of the post-war years, I often damn all German and praise all American, I know this. And, before all, they sell this stuff, I bet, and that really is important for a specialist company like Bear Family, not to drown while everyone's praising them.
From page 321 we can read about the books and booklets, which Bear Family sells. And that's a lot, covering 37 pages. After 30 years of Rock'n'Roll Revival we have reached a stage, that there's lots of investigating and documenting our music, with many great books, brochures and CDs. This is proofed also by the large editions of discographies/label references/price guides, which follow.
The catalogue ends with special Singles editions, 15 pages of videos, collector cards, posters (reprints of the originals, great), metal signs and other merchandise. The large index, since some years, is an easy way to find what you wanna. As always, the Bear Family catalogue is written in English and German, illustrated with great pics and logos, and huge, huge, huge. There are only very few printing errors, but one is nice and interesting: The chapter Rock'n'Roll begins with a poster of the movie "Bad Boys Never Die", which really doesn't belong there. It is subtitled "Manchmal ist es leichter zu sterben, als zu ˝berleben", which means "Sometimes it's easier to die than to survive". I bet, Bear Family will survive for many years, no need to die, thanks Richard & company.
ROCKIN' ROLLING ISLEY BROTHERS
As a example of an ROCKIN' FIFTIES article, I hear add the discography I've printed in the September edition (#73). There are some controversies about the earliest release dates. It would be great, if someone could tell me precise additions or corrections. You know my e-mail address, don't you, it's
ChEbner@online.de
.
Angels Cried/The Cow Jumped Over The Moon

Teenage 1004

1/57

Rockin' McDonald/Don't Be Jealous

MARK-X 7003

57

I Wanna Know / Everybody's Gonna Rock'n'Roll

Gone 5022

2/58 (?)

This Is The End/Don't Be Jealous

Cindy 1004

(three different labels shown)

6/58

My Love/The Drag

Gone 5048

12/58 (?)

Turn To Me/I'm Gonna Knock On Your Door

RCA 47-7537

5/59

Shout, Part 1 and 2

RCA 47-7588 und 61-5788

8/59

The Drag/Rockin' McDonald

MARK-X 8000

12/59

Respectable/Without A Song

RCA 47-7657

12/59

How Deep Is The Ocean/He's Got The Whole World In His Hand

RCA 47-7718

3/60

Open Up your Heart/Gipsy Love Song

RCA 47-7746

6/60

Tell Me Who/Say You Love Me Too

RCA 47-7787

9/60

Jeepers Creepers/Teach Me How To Shimmy

Atlantic 2092

2/61

Shine On, Harvest Moon/Standing On the Dance Floor

Atlantic 2100

3 or 4/61

Your Old Lady/Write To Me

Atlantic 2110

4/61

A Fool For You/Just One More Time

Atlantic 2122

10/61

Right Now/The Snake

Wand 118

1962

Twist And Shout/Spanish Twist

Wand 124

1962

Twistin' With Linda/You Better Come Home

Wand 127

1962

Nobody But Me/I'm Laughing To Keep From Crying

Wand 131

1/63

Hold On Baby/I Say Love

Wand 137

1963

Tango/She's Gone

UA 605

1963

Surf And Shout/Watcha Gonna Do

UA 638

1963

Please, Please, Please/You'll Never Leave Him

UA 659

1963
WHERE TO DRIVE - WHERE TO GO - WHERE TO DANCE IN CENTRAL EUROPE

See also the now following article:
ROCKIN' FIFTIES' HOME-PAGE AND OTHER NEWS
RF has - as the first of the German speaking mags - its own homepage! You can find it under www.rockinfifties.de/magazine.html
Nicole Zeidler informs about the next shows, festivals, weekenders in the German speaking countries, shows the contents of older issues of the mag, writes about bands of actual interest. As RF is a mag not only a mag for Rockabilly, but also for the friends and fans of Rhythm and Blues, Country, Doo Wop, Swamp Pop, Western Swing, Cajun and Zydeco, Blues, New R'n'R and new Rockabilly.
ROCKIN' FIFTIES just has given out its # 73 with informative articles and features about:
ELVIS PRESLEY - HEARTBREAK HOTEL * OUR MUSIC 50 YEARS AGO (Sept. - Nov. 1949) * THE "CAT" LABEL
ROCKIN' ROLLIN ISLEY BROTHERS * BILL HALEY BOX "THE WARNER YEARS AND MORE"
FOR THE THIRSTY READER: BEER AND ROCK'N'ROLL *THE AQUATONES * "KING" EPs * ROLLIN' ROCK IS BACK
- SHAKIN' STEVENS TOO * BANDS LIVE * RARE RECORDS * NEW BANDS * AND 10 PAGES ABOUT NEW CDs AND VINYL
For a sample write to: BERND KRATOCHWIL * ST—BERLSTR. 18 * 80687 M­NCHEN * GERMANY
or mail him via bernd@kratochwil.de
To end this column, here's a pic of even older times: Sonny Burgess and his pal Lawrence Craft at the Germersheim Kaserne in Germany, 1952!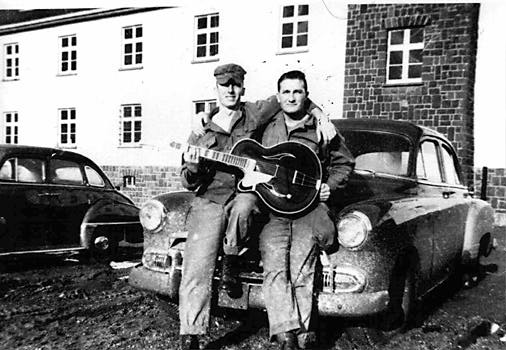 Chris' August, 1999 Column