ROCKABILLY HALL OF FAME PRESENTS
Central Europe News
ROCKABILLY HALL OF FAME® MERCHANDISE & SERVICES
By Chris Ebner, e-mail: ChEbner@online.de
August 1999
Being a newcomer to the Internet I looked for and found the homepage of the Rockabilly Hall Of Fame. Just great! After contacting Bob I decided to contribute with regular columns about the scene in mid-Europe, mostly Germany, Austria and Switzerland.
Collecting Rock'n'Roll, Rhythm and Blues and Rockabilly since the early 60's, I'm a staff member of the German mag ROCKIN' FIFTIES of Munich. Some years ago I ran the official Sun Rhythm Section and Sonny Burgess Fan Club, being a good friend of Sonny and D.J.Fontana, who were so kind as to play at my 50th birthday party. In the last 23 years I have met many of our stars in person and interviewed them. I work closely with Bernd Hermoneit from Berlin, who writes very detailed articles about our music, Werner Oschmann of Vienna, the city with the greatest scene I know, and Charles White, the famous Dr. Rock from Scarborough, England. I have many other personal contacts and so it should be easy to present interesting news to you.
____________________________________________________________________________________
YEP, ONE HUNDRED TICKETS SAVED FOR THE FRIENDS OF THE ROCKABILLY HALL:
SENSATIONAL MILLENNIUM PARTY WITH HALEY'S COMETS AND WANDA JACKSON
Many friends have asked me for tickets for the big party in Hagen/Germany, celebrating the beginning of a new millennium. I've managed to purchase the very last 100 tickets - only for the friends of this column and the Rockabilly Hall. You can get them by sending only 25 DM per tickets to my address at STEINSTR. 26, 58452 WITTEN, GERMANY or via POSTBANK DORTMUND (BLZ 440 100 46), account 104477-468. Hurry, it's the very last opportunity. I'll send the tickets and a hotel list to you via REGISTERED LETTER very quickly.
Here's what will happpen:
Friday, December 31st, 1999
20.30 hrs: The Stadthalle Hagen opens, the Lennerockers play in the foyer from the beginning
21.00 hrs: On stage: Andy Lee and Tennessee Rain
22.00 hrs: On the stage: Teenie Tucker (R&B, Soul, Gospel) (Teenie's the big voiced daughter of Tommy "Hi Heel Sneakers" Tucker)
23.00 hrs: On stage: Bill Haley's Original Comets
23.55 hrs: All musicians gather on stage to welcome the year 2000 with the audience
Midnight: Saturday, January 1st, 2000
00.15 hrs: On stage: The Continentals, introducing...
00.30 hrs: On stage: ... Wanda Jackson
01.30 hrs: On stage: The Lennerockers
02:30 hrs: Under the stage: Los Comandantes will clown around a bit, presenting their new front people: Uta Naumburg and Otto "Dutchman" Teunissen
02.35 hrs to the early morning: Rocking CDs
For more information contact me via e-mail ChEbner@online.de !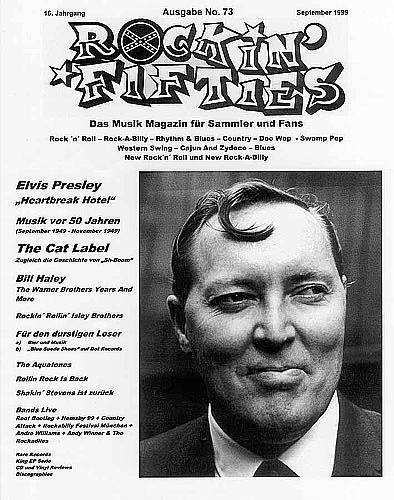 "ROCKIN' FIFTIES" # 73 : ELVIS, BEER AND MUSIC, SHAKIN' STEVENS AND ...
The new edition of the German speaking mag # 1 will be out on September 1st. You can order a sample by sending 10 DM to Bernd Kratochwil. Edition 73 will feature a 9 pages (!) story of "Heartbreak Hotel", an article plus discography of the "Rockin' Rollin' Isley Brothers" (only from 1957 to 1963, no fear, you rock'n'rollers). "The Cat Label" (Doo-Wop und R&B), Bands Live (Root Bootleg, Andy Winner And The Rockadiles, Hemsby Review), Rockabilly Festival in Muenchen with Vince Everett, "Our Music" from September to December 1949, Shakin' Stevens Is Back, Fifties Movie "The Big Beat", King EP Series, Rare Singles, "Rollin' Rock" Is Back, "Beer And Music", 8 pages about new CDs und Vinyl. Quite a lot, filled with correct info, isn't it?
To give a first taste, here's the revised singles-discography of the Isley Brothers from the beginning to 1963. There a different versions, but it seems, that ROCKIN' FIFTIES has the correct one:
| | | |
| --- | --- | --- |
| Angels Cried/The Cow Jumped Over The Moon | Teenage 1004 | 1/57 |
| Rockin' McDonald/Don't Be Jealous | MARK-X 7003 | 57 |
| I Wanna Know / Everybody's Gonna Rock'n'Roll | Gone 5022 | 2/58 |
| This Is The End/Don't Be Jealous | Cindy 1004 | 6/58 |
| My Love/The Drag | Gone 5048 | 12/58 |
| Turn To Me/I'm Gonna Knock On Your Door | RCA 47-7537 | 5/59 |
| Shout, Part 1 and 2 | RCA 47-7588 und 61-5788 | 8/59 |
| The Drag/Rockin' McDonald | MARK-X 8000 | 12/59 |
| Respectable/Without A Song | RCA 47-7657 | 12/59 |
| How Deep Is The Ocean/He's Got The Whole World In His Hand | RCA 47-7718 | 3/60 |
| Open Up your Heart/Gipsy Love Song | RCA 47-7746 | 6/60 |
| Tell Me Who/Say You Love Me Too | RCA 47-7787 | 9/60 |
| Jeepers Creepers/Teach Me How To Shimmy | Atlantic 2092 | 2/61 |
| Shine On, Harvest Moon/Standing On the Dance Floor | Atlantic 2100 | 3 or 4/61 |
| Your Old Lady/Write To Me | Atlantic 2110 | 4/61 |
| A Fool For You/Just One More Time | Atlantic 2122 | 10/61 |
| Right Now/The Snake | Wand 118 | 1962 |
| Twist And Shout/Spanish Twist | Wand 124 | 1962 |
| Twistin' With Linda/You Better Come Home | Wand 127 | 1962 |
| Nobody But Me/I'm Laughing To Keep From Crying | Wand 131 | 1/63 |
| Hold On Baby/I Say Love | Wand 137 | 1963 |
| Tango/She's Gone | UA 605 | 1963 |
| Surf And Shout/Watcha Gonna Do | UA 638 | 1963 |
| Please, Please, Please/You'll Never Leave Him | UA 659 | 1963 |
| Who's That Lady/My Little Girl | UA 714 | 1964 |
Contact to ROCKIN' FIFTIES: Bernd Kratochwil, Stoeberlstr. 15, 89687 Muenchen, Germany;
E-Mail:
bernd@kratochwil.de
; Phone: +49-89-581781; Fax: +49-89-58998148.
ROCK'N'ROLL MUSIKMAGAZIN #126: BILL BLACK, ELLA MAE MORSE,
SOPHIA LOREN
About 22 years old and still young: ROCK'N'ROLL MUSIKMAGAZIN, the German speaking mag from Oldenburg. Since Heinz-G¸nther Hartig and Waltraut Dr–ge do the edition work, this mag has become better quite a lot. You can get it by sending 10 DM to their address: Zweigstr. 5, D-26135 Oldenburg.
# 126 features also: News from the "Buddy" musical in Hamburg, the SARG label, Peter Kraus is 60, Vampirella label (Part 4), Narvel Felts and Hayden Thompson in Hemsby, Hot'n'Cold, Rockabilly in the early '80s, The Orlons.
HOT ROCK'N'ROLL AND ROCKABILLY IN THE MIDDLE OF EUROPE -
CONCERTS AND MEETINGS AUGUST TO SEPTEMBER 1999
August 13 and 14

Cruise Inn, Zeeburgerdijk 271, Amsterdam, Holland

Crazy Cavan & The Rhythm Rockers, Jailbirds, Round Up Boys, Silvertones. Info: +31-20-6927188

August 18

H¸rth-Knapsack near Cologne/Koeln

Crystalairs, Lane Dogs, Big Boy Bloater. Info: +49-2247-5653

September 4

Go Wild Cats ! Party at Irrlicht, Spenge (near Bielefeld, Germany)

Pitmen, Woodies, Sharks, Colbert Hamilton, Mark Harman & Friends. Info: +49-521-162323

October 10

Party in Wangen bei Olten, Switzerland

Big Six and Space Cadets. Info: +41-62-897-5936 and

www.hotstuff-rockabilly.ch

October 10

Pontins Holiday Camp, Hemsby, England

Marvin Rainwater, Jack Earls, Glen Honeycutt, Bobby Wayne, Don Weise, Crystalaires, Rusti Steel and Tin Tax, Sleazy Rustic Boys, Don Cavelli, Sure Shots, Jim Carlisles, Jumpin Jack, Round Up Boys, Spo-Dee-O-Dee, Big Rumble, Skatterjacks a.m.o. Info: + 44-1522-509067

October 23

Kunstpark Ost, Bongo Bar, Ostbahnhof, Muenchen

Buddy Holly's Original Crickets, Flying Saucers, Continentals. Info: +49-89-3113918

October 27

Stadthalle Freiburg, Germany

Buddy Holly's Original Crickets (USA), Lucilles's Lumbago (D), Flagstaff (CH)

October 30

2nd Rockabilly Heaven Party, Irrlicht, Spenge (near Bielefeld, Germany)

Hot 'n' Cold (Germany), Starliters (Italy), Rimshots (Wales), Sure Shots (Scotland), Wildfire Willie & The Ramblers (Sweden)
To end this column, let me tell you, that I've been to the States (California, Nevada, Utah and Arizona in June and July. What a nature! In Las Vegas (not so much nature there, but other good things) I found out, that Rock'n'Roll has gained now the place it deserves, with many "links" to the fifties and sixties. Bobby Vee, Chris Montez, Johnny Preston, The Platters and The Coasters were there, not bad. And they have "oldies" stations nearly everywhere in California. That was quite a surprise for me.
But the best I found was an oldies record shop, VILLAGE MUSIC in 9 East Blithedale, Mill Valley, CA 94941, right north of San Francisco. Here's a photo from inside the shop. If you ever are in the Bay area, drive there. You'll find it super. Their internet address is www.villagemusic.com .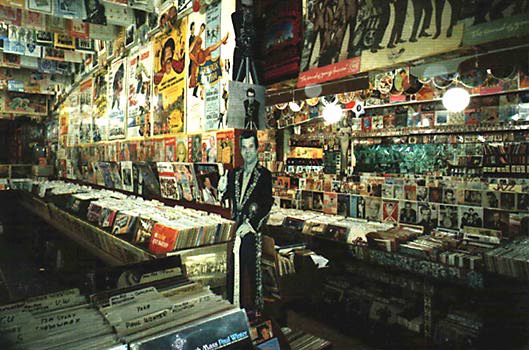 All my best, let hear from you via e-mail, letter or phone, your co-rocker Chris