HAYDEN THOMPSON
'Hayden Thompson'
Bluelight BLR 33132 2 Playing Time: 57.12 minutes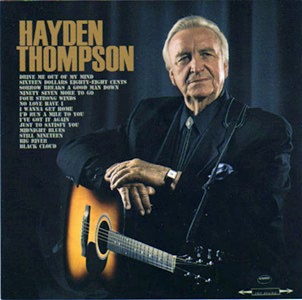 Sorrow Breaks A Good Man Down/Black Cloud/Big River/Just To Satisfy You/I've Got It Again/Sixteen Dollars, Eighty-Eight Cents/Midnight Blues/I'd Run A Mile To You/I Wanna Go Home/Ninety Seven More To Go/Drive Me Out Of Your Mind/Four Strong Winds/No Love Have I/Still Nineteen/Mystery Train aka The Happy Song.
With this set of new recordings, rock 'n' roll originator Hayden Thompson returns to probably the most commercially successful period of his career, namely his country side. It is a logical follow on from the recordings he made for the Kapp label back in 1966, indeed he successfully updates two songs from the album 'Here's Hayden Thompson' with 'I Wanna Go Home' and the haunting 'Sixteen Dollars Eighty-Eight Cents' with an evoking mournful vocal. There is a third Hayden composition 'Drive Me Out Of My Mind' that was composed with Charlie Louvin in mind and which Hayden has previously recorded for the Swedish Sunjay label. This new version surpasses that which has gone before. What really scores this time around on all three and the rest of the album, apart from the faultless deliveries by Hayden and the quality selections of songs, are the sympathetic and authentic backings provided by guys from Finland, where these tracks were laid down last year. Note, Finland and not Nashville!
Hayden has always had a strong liking and fascination for the music of the late Waylon Jennings and here he takes on two of Waylon's songs, 'Sorrow Breaks A Good Man Down' and 'Just To Satisfy You' and adapts them to his own unique vocal styling. They stand alongside the Jennings recordings, they are that good.
The Johnny Brock composition 'Black Cloud' is taken at a mid-tempo pace complete with a bluesy harmonica in the backing whilst the similar tempo 'I've Got It Again' has a gentle guitar backing, one can just imagine couples doing the two step to this. But that would mean possibly missing the superb intensity that Hayden brings to the songs.
Rockin' tinges are served up on Charlie Rich's 'Midnight Blues', Webb Pierce's 'No Love Have I' and Johnny Cash's 'Big River'. These treatments easily fit into the country music context of this set but would have also been readily accommodated on a rockabilly compilation. Such is the first rate cross blending of the talent. However, there is no doubt that treatment of 'Mystery Train' is out and out rockabilly. It is a jam session lasting over eight minutes and never lets up but builds and builds like an aero-plane going through the sound barrier, simply pure musical heaven.
It is difficult to choose favourite tracks on a record that is so consistently good but I really do like Hayden's treatment of 'Four Strong Winds' in which, despite the almost gentle backing,, the vocals world weary emotions as demanded by the lyrics. Then there is 'Ninety Seven More To Go' which has absolute blues drenched vocalizing in which Hayden really gets behind the song. Marvelous stuff.
I think that you may have gathered that I consider this to be a superb piece of classic country music – with a dash of rockin' thrown in. If your regular record supplier does not have this disc in stock, it can be obtained by post by contacting web site www.musicmailexpress.com.
(c) Tony Wilkinson
March 2006.