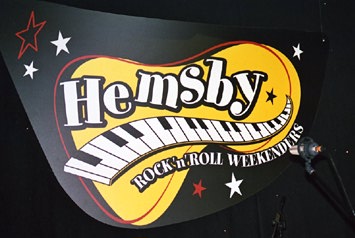 PHOTOS: © PAUL HARRIS


The Hemsby Buzz Continues To Thrill
Hemsby Rock 'n' Roll Show No. 38
19th to 23rd April 2007.

The time had come around for the second – but number 38 in the continuing series - of the Hemsby Rock 'n' Roll Weekenders at The Seacroft Holiday Site. Again good spirits and camaraderie was evident everywhere at the holiday home site. As I remarked last time, but it is worth repeating, people are clearly appreciating the new venue with its well laid out facilities. The famous Hemsby Buzz remained with us throughout the whole weekend. Again, one of the largest orders for drinks supplies in recent history in the county of Norfolk had been placed (this time there were plentiful supplies of Holstein Pils but bottles of Newcastle Brown were quickly exhausted!). This event is more than a series of shows, indeed it has become a way of life for three whole days, and it is a shakin' scene from the beginning to the end. The customary record stalls, clothes dealers and all the normal peripheries associated with these weekenders abounded and there was the customary classic car cruise down the seafront of adjacent Great Yarmouth. This was lead by a policeman on a Harley Davidson motorbike. But this successful impact would have been diminished if the music was not up to the high level that we come to expect from Hemsby. I admit to being a trifle skeptical whether the line-up had the strength of previous Hemsbys' but thankfully I was wrong, oh so wrong! The whole weekend was a ball from beginning to end.
Thursday, 19th April 2007 (the party begins)
The practice is for a disc jockey to play rockin' discs, followed by a live act, then another jock and a live act etc. I have been somewhat amiss in previous reviews for not fully crediting the efforts of the disc jockeys as they provide invaluable entertainment and the dance floors were a constant whirl of jivers or strollers. Launching this Hemsby was American act Phil Friendly & The Loners who were followed by the UK's The Lonesome Valley Boys. Both went down well, indeed they were each to put in a further appearance but more about that later.
Friday, 20th April 2007 (Blast Off)
There are two ballrooms at the site, the smaller Trafalgar and the larger Nelson Ballroom. The pattern quickly established, and repeated each night, was that shows began in the Trafalgar room late afternoon with a mixture of live acts and DJs. This was then temporarily closed and the scene shifted to the main Nelson Ballroom where the
headliners were evident, again accompanied by top notch DJs'. There was music in here until the early hours of the morning all three nights. But before this had finished, the Late Night Record Hop had commenced back in the Trafalgar Ballroom and this carried on until breakfast time. Needless to say, there was a bar open to wet the appetites. Located between the two ballrooms was another bar where one could sit, meet 'n' greet old friends plus make plenty of new acquaintances. In addition, there was a restaurant serving hot food and snacks until the wee wee hours and opening up again for the Great English Breakfast.
Having set the scene, on to the music and the opening act was the top notch Finnish band, The Barnshakers. These guys have bags of experience and this was clearly evident. In fact, they are that good with an eclectic mix of original songs and covers that they deserved their own solo spot in the main hall. Much the same can be said about the next act, the Kentucky Marvel Buck Stevens who was supported by the UK's Sugar Creek Trio whom I had previously seen as the opening act on a national tour along with Jerry Lee Lewis and Chuck Berry. Dashing over to the main ballroom, it was time for the second of the night's appearances by The Barnshakers who were the backing band for that bundle of singing dynamite known as Marti Brom. This lady has talent and stage presence in bundles and she is so attractive that she is the person that dark rooms were created for. She rocked away like crazy on numbers such as 'That Crazy Beat', and 'Voodoo Voodoo, the LaVern Baker number that she has now made her own. Then there were moody and sensuous rockers such as Marty Wilde's .My Baby's Gone', 'Way Down' and 'Fallin' mixed in with appealing ballads like 'Blue Tattoo' and 'Maybe I Do'. Special mention must be made of her performance on the personal favourite 'Unproclaimed Love' and 'Ain't That Loving You Baby'. The last mentioned, Marti performed at a recent Link Wray tribute show in Virginia and she stuck closely to the Linkster's treatment of the song as she growled out the lyrics in a biting meaningful fashion. But I have not mentioned the blinding renditions of 'Three Hearts Later', Tomcat' and the blistering interpretation of Joyce Green's 'Black Cadillac'. Her set closed out to rapturous applause as she treated the audience to 'Wildcat Tamer' and 'Straight From Paradise'. This lady simply oozes talent with a capital T.
One would not have realised that Ray Campi was celebrating his 73rd birthday that very night with this rockin' and crowd pleasing show. This was a take no prisoners performance as he opened up with 'Rockabilly Man', 'Hot Dog', 'Quit that Trifflin' On Me and 'Rattlin' Daddy'. This was an exemplary rockabilly performance from Ray who was ably supported by the Hemsby Houseband. The set included the long established favourites 'Eager Beaver Boy', 'Rockin' At The Ritz', ' Rockabilly Music' and, of course,
'Caterpillar'. When Campi announced it was his birthday, the crowd spontaneously sang 'Happy Birthday' to him, such was the good feeling existing during this performance. Along the way, he had treated us to his version of Glen Glenn's 'Everybody's Movin', along with his interpretations of 'Pinball Millionaire' and 'Cattin' Around'. The set climaxed with Ray standing atop of his double bass and the crowd stomping their feet in time to 'How Low Can You Feel'. This had simply been a blindingly good performance.
Next up was Canadian Bloodshot Bill, who served up a show taken at maniacal speed. Possessing a rasping vocal style with elements of Ronnie Self colliding with Chan Romero, the frantic output was overwhelming and he broke a guitar string during the first number. By the time the set concluded, the guitar lay on stage abandoned with only three strings left. In all honesty, I am not too sure of the titles of many of the numbers but my notes tell me that somewhere in the act were wild rockin' workouts on 'Wild Side Of Life', 'Walk And Talk With Nobody But You', 'Take My Heart', 'Slow Down' (if only he could have) and 'Right To Cry'. He concluded his performance by jumping off the stage straight into the audience and then, somehow, getting back onto the boards, singing all the time. He was entertaining and came across in a style similar to, I imagine, that of the late Hasil Adkins. Undoubtedly, he has real talent, but he does need to harness that energy expenditure. Closing act for the night was The Caravans, one of the leading neo-rockabilly acts from the eighties, and who proved very popular with the audience.
Saturday, 21st April 2007 (a fine blend of top rockin' music).
In the Trafalgar Room, Phil Friendly & The Loners made their second appearance of the weekend whilst Oceans 7, a great UK R&B outfit also submitted their contribution. Al & the Blackcats were scheduled to perform but they were unfortunately a no show, apparently due to work permit problems. The previously mentioned Car Cruise took place in the afternoon and the Sugar Creek trio gave a sparking performance on Great Yarmouth sea front. Back up in Hemsby, Kav Kavanagh gave out with his jive dance lessons. I guess he must be one of the UK's equivalent to North America's Miss Sophie. Most weekenders throw up an act that is unknown to myself, but whose performance was/is breathtaking. The opening main hall act was this weekender's contribution to that genre. From Cincinnati, the four piece Stardevils came, performed and conquered. It was apparent from the outset that these guys possessed a fine musical styling, had great stage presence and were excellent musicians and vocalists. Mixing in a good balance of originals and covers, they quickly commanded the audience's attention with 'Jello Sal', 'Off My Rocket' and 'Little Red Hot Riding
Hood'. The lead guitarist was also a fine steel guitar player as he demonstrated whilst the band performed 'South Bound Train Leaving Chicago' , 'My Baby's Biscuits ' and 'Back Bow Boogie'. Other standouts in a sparkling show were fine interpretations of Johnny Horton's 'I'm Coming Home', Weldon Roger's 'So Long, Good Luck, Goodbye', Joe Poovey's 'Move Around and Warren Smith's 'Miss Froggie'. Equally enjoyable were 'Kitty Kat Bop', 'Bobbi Jean', 'Cat Daddy' and 'Cindy Anna'. The lead singer moved around the stage, using it to advantage and occasionally kicked the drummer's cymbal in perfect time. Hopefully, the band will be back on British soil before not too long.
Making his fifth Hemsby appearance was the true Memphis rockabilly original Jack Earls. This guy is the real deal and took the crowd along with him from the start. Opening up with 'I Started Rockin', it was then straight into more classic rockin' with 'Take Me To That Place', 'Hey Slim', 'Sign On The Dotted Line' and an awe inspiring 'Rock Bop'. He mixed up the tempos nicely and demonstrated his ballad mastery with 'The Can't Keep Me From You'. However, in the main, it was top notch rockin' and it does not get much better than his own 'Slow Down', 'Come On Little Mama', 'Crawdad Hole' and 'My Little Mama' The backing was provided by The Infernos who proved yet again to be a more than competent band, perfectly in keeping with Jack's music. Earls grew up in Memphis and was good friends with Charlie Feathers, Johnny & Dorsey Burnette, Elvis Presley, Carl Perkins, Warren Smith, Eddie Bond and Billy Lee Riley. Dotted throughout his act was his tribute to each of them in the form of 'Tongued Tied Jill', 'Tear It Up', 'Heartbreak Hotel', 'Matchbox & Blue Suede Shoes', 'Rock 'n' Roll Ruby', 'Rockin' Daddy' and 'Red Hot'. This was like being back in Memphis in the fifties. A great show, from a great headliner, 'nuff said.
Currently, one of the top bands on the UK circuit is the very popular Slim Slip & The Sliders who proved themselves to be masters of the thrash 'n' bash style of modern rockabilly. Their set, like many of the others, was a clever combination of originals and known favourites such as 'Raging Sea', 'Go Ahead On', 'Please Give Me Something', a frantic 'Bop-A-Lena' and 'Love Me' whilst the lead guitarist echoed Link Wray on 'Run Chicken Run'. Especially good was their treatment of 'Broken Heart'. Close out act for the night was the rapidly improving Madmen who hail from Croatia. Again, a set mainly full of frantic paced new wave rockabilly.
Sunday, 22nd April 2997 (what a way to close out a weekender).
Sunday morning saw the customary boot fair and whilst the numbers selling were dramatically down this time, my thinned out wallet tells me there were bargains to be had. Sunday afternoon saw a first, a rockin' boat cruise on the nearby Norfolk Broads.
Music was provided on the trip in semi acoustic rockabilly style by The Lonesome Valley Boys. Jack Earls took the trip as well and was persuaded to perform a fifteen minute spot backed up by the aforementioned band. All those on the cruise came back raving about what a marvelous time they had.
The evening's rockin' at the camp commenced with a top notch performance from The Infernos who were followed by a group, new to myself, in the form of The Radio Ramblers. But the attention was firmly centered on the main hall with the first appearance of Rusty York who was backed up by his regular USA band, the previously mentioned Stardevils. Actually Rusty has appeared in the UK previously back in the sixties but only in the role of guitarist for a visiting American country star (Bobby Bare I believe). Rusty appeared a trifle nervous but his diction was crystal clear throughout his whole set. Commencing with 'Jumping', the songs from his considerable catalogue just kept on coming with 'Love Struck', 'Tore Up Over You', 'Shake 'Em Up Baby' and 'Step It Up And Go'. The set started to take off with the next number 'Sweet Talk' which we know better as 'Sweet Love'. Rusty explained that 'Sweet Love' was the original title but it had to be changed as some American disc jockeys and other outraged citizens considered this to be dirty. Ah, the days of sweet innocence. This was followed by 'Mean Woman Blues', 'Rocket In My Pocket' and 'The Girl Can't Help It'. The last mentioned stayed faithful to Rusty's earlier version. Guitar breaks throughout the show were alternated between the player with The Stardevils and Rusty who demonstrated what a proficient picker he is. The set continued with a very tasty country number 'Goodbye Cincinnati, Good Morning Tennessee' before closing out with Merle Travis's '9lb Hammer' (done Sanford Clark style) and two blistering versions of 'Sugaree'. On the last mentioned, the band was augmented by the considerable talents of sax man, Clive Osborne.
Next up was a considerable change of style with the second Hemsby appearance of Wayne Hancock. I commented that last time, he came across like Hank Williams Snr. on speed and this time proved to be no different. That nasal singing voice backed up by a lead electric guitar, a slap bass and his own acoustic guitar (note: no drummer) wowed the audience with a selection of many up tempo numbers such as 'Tulsa', 'Flatland Boogie', 'Juke Joint Jumping' and an extended version of 'Johnny Law'. There was the occasional slow tune such as a very faithful rendition of ''Lovesick Blues' but this performance mainly comprised original songs, including a wonderful 'Thunderstorms and Neon Signs', 'That's What Daddy Wants' and 'California Blues'. This was authentic hillbilly country music with a pronounced rockin' edge. After performing 'Murder Jack & Mad Dog', he and his two backing musicians left the stage to tumultuous applause and with the show overrunning, there was no choice but to bring him back on for a great
reading of 'A-Town Blues'. Hopefully, Wayne can conquer his fear of flying and make it back for a third Hemsby appearance.
This left one live act to go and who better that Mike Sanchez & The Portions to close out the weekender. Sanchez goes out with various aggregations of his backing group, ranging from a complete big band down to a small combo. Effectively therefore, portions of his regular line-up. For this show, he had upright bass, drummer, guitarist, twin saxes and he pounded the piano the submission. I have Sanchez on a few occasions previously but, in all honesty, never as good as he was on this night. He rocked, he rolled, he mellowed and he performed like there was going to be no tomorrow. Opening up with 'Hungry Man, this was followed by hard rockin' treatments of Willie Egan's 'Come On', Bobby Bland's 'Down The Road A Piece', 'Girls All Over The World' and 'That Mellow Saxophone'. The quality of musicianship on the stage was awesome; it could not have been bettered. Mike belongs to the extrovert school of performers and has the talent in bundles to back up his wild stage act. The pace slowed slightly for a tuneful treatment of the Teddy Randazzo/Brook Benton song 'Kiddio' before going into overdrive with a searing red hot version of Big Danny Oliver's 'Sapphire'. This was followed by the pulsating rockabilly of 'Prissie Missie' before cooling right down with Jim Reeves 'Blue Boy'. There are not too many entertainers who could fit a country ballad such as this into a rock 'n' roll weekender but Sanchez did – and it was received oh so well. Upping the tempo a few notches, we were on to 'Ventura Highway' and then into the boogie piano lead instrumental 'Rambling Boogie' followed by 'Companion Blues'. All the musicians, none more so that Sanchez, were ringing wet with sweat, such was the rockin' intensity of the performance. The show climaxed with 'Red Hot Mama', 'Slippin 'n' Slidin' and a powerhouse blistering 'Tallahassee Lassie'. The last mentioned was live rock 'n' roll at its finest peak. Here we were at gone one o'clock on a Mondy morning and after three days of rockin', but this performance was so good that the audience was baying for more. We got 'Yama Yama Pretty Mama' but then the compere was forced into closing down the show, much to the displeasure of the crowd. This has to rank as one of the great Hemsby performances.
Well, that was another Hemsby concluded, certainly one of the best from an enjoyment perspective. But we have number 39 to look forward to between 12th and 15th October 2007 at the Seacroft Holiday Site. Headliners include Art Adams, Alvis Wayne, Nick Willet, Ervin Travis and The Keytones. In addition, James Intveld with his American band will be making their first UK visit. I have seen James in the USA and he is blindingly good. A mouth watering line-up again, that's for sure. See's you there….
© Tony Wilkinson,
May 2007.