WORTH A CLICK: JACK NEAL ...
Gene Vincent's Music Reborn. A surviving Blue Cap recalls the legend of Gene Vincent.



Derek Henderson Site Updated
August 19, 2002 - "It is already updated with the latest tour dates, etc. If anyone has more data, send it in. I can now update from home and don't have to wait until College re-opens in September. The pages at the old address will not be updated. In September, I'll just set the page to re-direct to the new address. Any of you kind folk who have links to my website from your own, I would be obliged if you could change the link. Thanks for your support."
Derek Henderson
Spent Brothers Productions
Southampton
Hants UK
http://www.derek.henderson.btinternet.co.uk





"He was around for Gene s WCMS demo session"
Joe Hoppel Inducted As a
Hall of Fame Broadcaster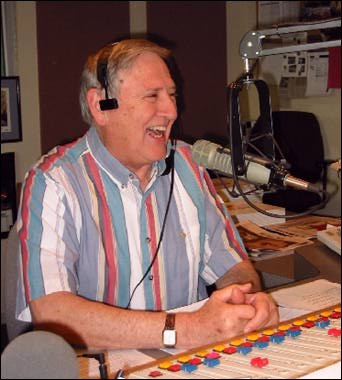 NORFOLK, VA - Above, Joe Hoppel reacts to the news that he's been elected to the Country Music DJ Hall of Fame. It's a well deserved honor. Joe has been waking up Hampton Roads on WCMS radio for over 45 years. Joe is still "on the air" at WCMS, weekdays 5:30am-10am. Congratulations, Joe! The induction ceremony will take place in Nashville on June 27th. (photo courtesy: WCSM)

Joe Speaks to Gene's Fans ...
"My first taste of radio was when I was in high school in Pennsylvania. A new station was going on the air and they advertised for local people to work there. I had never been inside a radio station before, but, at my mother's urging, I auditioned along with 90 other people. I was called back for my second interview and that's when they realized I was still in school! They allowed me to be a "gofer" ... and that's when I got the bug. I went to radio school after high school and there came my introduction to Tex Davis. The station he worked for was looking for an all night man and he suggested that they call his alma mater for a suggestion from their graduating class. I was recommended and got the job over the phone. I stayed at that station for three years. Tex left to join WCMS and when they needed a jock a year later, he suggested me again. That was in 1955 and I've been here ever since.

I was in the control room the day Gene Vincent auditioned for a live stage show we produced (he sang "Heartbreak Hotel"). Later I cut the acetate disc we sent to Ken Nelson - "Bop A Lula". I was the WCMS Program Director from 1957 until 1979. Twice I turned down the offer to be station manager. (I like what I do and don't want to be the boss).

As for changes: in the early '50s we played music from 78-rpms, then 45s and LPs, then carts followed by CDs and now hard drives. You have have gotten a hernia carrying around 6 hours of music on 78s. Music programming then was up to the jock (boy has that changed) as the jock were given much more freedom to be personalities. However, pay and working conditions are much better today."

FYI: The Country Music DJ Hall of Fame recognizes and honors the best country radio announcers and radio showmen, and Country Radio Broadcasters, Inc. is proud to be the trustee of the institution. You can visit the Country Music Disc Jockey Hall of Fame plaques proudly displayed at the Opryland Hotel in Nashville, Tennessee.Information on the Country Music DJ Hall of Fame, and information about the Country Radio Hall of Fame is available by clicking here.



Jack Neal's Page (New)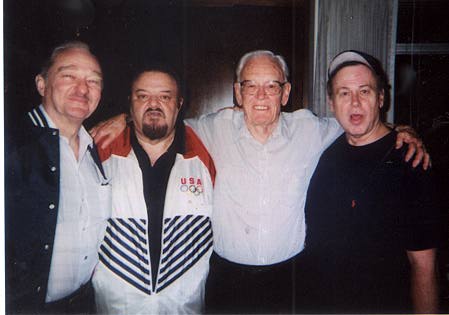 Legendary producer Ken Nelson (90-years-young) with Gene Vincent's Blue Caps: Johnny Meeks, Dickie Harrell and Tommy Facenda. Photo was taken in California, December of 2001.
Courtesy of Dicke Harrell



21 PHOTOS: Blue Caps, San Francisco, 12/8/01
Alan Clark's 12/01 Blue Caps Tour Photos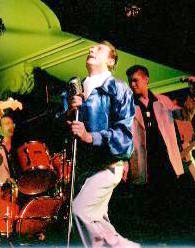 Introducing: ERVIN TRAVIS
FRANCE - Ervin is a sensational singer (his voice is very close from Gene) and he has a great tribute show to Gene. Recently in Paris, Ervin performed in front of one thousand people.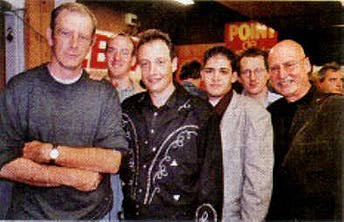 From left to right: Didier Delcourt, Ervin drummers, ERVIN TRAVIS, Ervin keyboard, the famous and infamous Thierry Liesenfeld and Jacques Mercier lead vocal and guitar of BRAND NEW CADILLAC. All from France (country of beautiful wifes, good wine etc., etc.)
ERVIN TRAVIS information contact: phis.records@libertysurf.fr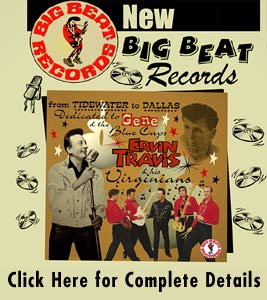 Gene Vincent Tribute CD by Ervin Travis

The frantic, French GENE VINCENT TRIBUTE from ERVIN TRAVIS AND THE VIRGINIANS is comin' out end of April, 2002. Here's the track list of Ervin Travis Gene tribute: FROM TIDEWATER TO DALLAS (approved by Dickie Harrell), DANCE TO THE BOP, YES I LOVE YOU BABY, RIGHT NOW, BEAUTIFUL BROWN EYES, OVER THE RAINBOW, DANCE IN THE STREET, ROLLIN DANNY, SHOULD I EVER LOVE AGAIN, SOMEBODY HELP ME, ROCK'N'ROLL HEAVEN, VINCENT'S BLUES, MY HEART, YOU ARE THE ONE, I GOT TO GET TO YOU YET, LAVENDER BLUE
An amazing record. Probably the best tribute ever made. The voice and the backing are incredible. "If he (Gene) was here, he would have been honoured to hear they did such a good job. Very good sound close to Gene and the Blue Caps. Close your eyes and you will think you are hearing Gene sing!" - DICKIE HARRELL
The spirit of Gene is still alive. If you're interested to buy this frantic and fantastic tribute to the genius of Gene's talent, please contact: bigbeatrecords@wanadoo.fr - For Ervin, phis.records@libertysurf.fr


Big Jim Sullivan Interview in French
French fans, you can read an interview of J. Sullivan who backed Gene in 1960. He talks a little about Gene, but more about Eddie Cochran and Vince Taylor (http://guitaresetbatteries.com/bjsullivan.html).


30th Anniversary of
Rock Icon's Tragic Death
In California on 12th October 1971, rock 'n' roll legend Gene Vincent met his untimely end at the age of 36, following years of alcohol abuse. Crippled in a motorcycle accident whilst in the US navy in the early 1950s, he became fascinated by the new exciting music being created in synthesising white country music and black rhythm and blues by the likes of Carl Perkins and Elvis Presley, and was an instant worldwide smash hit with his very first record release in 1956, the now much re-released multi-million selling "Be-Bop-A-Lula", recorded with his famous band The Blue Caps. Vincent was propelled into a life on the road.
Touring endlessly, the pioneer of on and off-stage wild antics, he managed to pack in another three hit singles, including the smash "Lotta Lovin'", and appearances in two Hollywood films, including star-packed "The Girl Can' t Help It" in 1957, before fading from the public eye in his home country, as record companies promoted insipid records by teenage heart-throbs. His career underwent a dramatic revival, however, in 1959, when he was brought over to the UK for stage and TV appearances. In 1960, when friend Eddie Cochran was brought over to join his tour, they were involved in a tragic car accident that killed Cochran. Vincent never really recovered from the trauma of losing his closest confidante and fellow hell-raiser. Contracts with promoter Don Arden ensured that the rock 'n' roll life had to go on, and Vincent caused a sensation throughout Europe with his unique, wild, black leather clad stage persona. Further singles recorded in the UK, where he had taken up residence, entered the best selling charts, and until the explosion in fame of The Beatles, on whom he was an early influence, Vincent was the biggest live draw in Europe, packing them in whether he had a hit single or not. He also made appearances in two British films, "It's Trad Dad" and the Joe Meeks vehicle "Live It Up".
In the mid 1960s, he returned to the USA, recording in Hollywood, and hanging out in bars with Jim Morrison, singer of The Doors, who adopted the leather clad image of his idol. The recordings met with little success. He returned to Europe in 1967, previewing his new material to sold-out clubs and bars, but personal and legal matters prevented him from visiting the UK. After recording an album for John Peel's Dandelion label (its biggest selling LP) in Hollywood with producer Kim Fowley, Vincent did return in 1969 for a brief tour, including headlining at the London Palladium. The early days of the tour were filmed by the BBC and became "The Rock 'N' Roll Singer" documentary, aired with little or no publicity on late night television. The film all too clearly revealed a man in decline and in financial straits. Vincent cut another couple of albums in California with American producer Tom Ayres, released in the USA and Europe, but they failed to sell. He continued to appear in small clubs and bars with pick-up bands until he died of a bleeding ulcer, shortly after telephoning his mother. Vincent was belatedly inducted into the Cleveland Rock 'N' Roll Hall Of Fame in the 1990s by Creedance Clearwater Revival's John Fogerty. His continued influence and popularity can be gauged by a number of tribute records, and the steady stream of record releases, including newly discovered material, ever since his demise. All of his back catalogue of hundreds of recordings encompassing rock 'n' roll, country, blues, ballads and doo wop, is currently available on CD.
©Derek Henderson 2001
Spent Brothers Productions
Also see: Gene Vincent Special Tribute



"Now Dig This" Tribute
Posted September 26, 2001
The October 2001 issue 223 of Now Dig This (UK) magazine is out, its cover emblazoned "The Screaming End 30th Anniversary Gene Vincent Tribute" on a nice picture of the man taken in Hollywood in September 1956. There is another small picture (from "Hot Rod Gang") on the Contents page. The short lead letter from "The Cat Man" in the "Why don't you write me" pages, entitled "Sweet Gene Vincent" mentions the 30th Anniversary of the death of "the greatest rock n roll singer of them all" and asks for a tribute in the October issue, and is answered by a note from the editor "Eleven pages suit you, cat? Page 12 features a half page review of Jack Neal's August 31st London gig by fan Adrian White, including a picture of the man in action, taken by Adrian. Pages 15 and 16 are devoted to former fan club president Harry Dodds choice of "Twenty of the best from Gene" (not a choice I'd like to make!), adorned by six photos of Gene. This is followed by a 8 page spread transcribing a 1987 radio interview with Paul Peek and Tommy Facenda by the Radio London presenter Stuart Coleman, aired a week after The Blue Caps May 10th gig in Weymouth UK. This is also photo enriched by 6 pictures of Gene (2 full page) and two Blue Caps photos. The next page, Eric Dunston's "A rocker's ramblings" feature is devoted to Gene's 1969 gig at the London Palladium, with a backstage photograph from the event, and page 25 reprints "Gene Vincent's Life-Lines" from the 17th June 1961 issue of New Musical Express, where you can read such gems as "Favourite food: Steak. Favourite drink: coffee." (Hmmmmm.) Oh, and a favourite hobby was "farming" and favourite singer "Cliff Richard" ... Git It!
Courtesy: Derek Henderson - spentbros@btopenworld.com


Movie Scripts Available
Through special arrangement! Motion-picture studio scripts printed from the archive masters are now available for the films THE GIRL CAN'T HELP IT (also starring Eddie Cochran and Little Richard) and the super scarce HOT ROD GANG, both starring Gene Vincent and The Blue Caps! Also available in this series are scripts for the films UNTAMED YOUTH (starring Eddie Cochran as "BONG"), THE BUDDY HOLLY STORY (starring Gary Busey as Buddy) as well as scripts for the ELVIS PRESLEY films BLUE HAWAII, KISSIN' COUSINS, and LOVE ME TENDER (original title "The Reno Brothers". More titles will be announced as they become available. Prices are $25.00 per script, plus $5.00 shipping and handling within the United States ($10.00 shipping and handling for international orders). To order or get more information write to: THE STUDIO SCRIPT SERVICE, c/o Robert Yeomans II, 4159 Jackson Ave., Culver City, CA. 90232 or Email: Battazcar@aol.com


Jack Neal Makes Rare Appearance

LONDON - It's a once only session featuring, in his very first visit that side of the Atlantic, of JACK NEAL, the original 1956 Blue Caps slap bass player as seen in The Girl Can't Help It. The venue was the famous Tennessee Club, Vardon Suite, Trent Park Golf Club, Bramley Rd, Oakwood, London N14, Phone: 07976 964086.

HERE'S THE DETAILS:
"GENE VINCENT 1956 SHOW"
Fri 31st August 2001 - 8.30pm-2.00am
with GRAHAM FENTON, the Rockabilly Rebel and
PAUL C. MAITLAND, star of Race with The Devil stage show
... both as the authentic voice of Gene singing all the 1956 Vincent classics.
and from the USA, Thomas LaValle and his pumpin' piano, and
top session guitarist, Harvey Hinsley, playing Cliff Gallup style.
UKs hottest drummer, Rob Tyler provides the beat, plus
from London the GREAT HOUSE ROCKERS.
PHOTOS: Blue Cap Jack Neal in London


New CD
New Import, GENE VINCENT & THE BLUE CAPS: The Story is a CD of all of Gene's most influential rock'n'roll hits and a CD-ROM with a bio, discography, and photos. This is new from EMI in England. In the latest catologue of www.ccmusic.com for $13.95. This is a chance for those who never got to see Gene and the Blue Caps in person to see what they looked like in action. Posted August 21, 2001


Paul Peek Award
Posted August 9, 2001
The 1st Annual Paul Peek Award will be presented to the "Blue Caps" at the 27th Annual Atlanta Society of Entertainers Awards, at the Radisson Hotel (LaVista Road, Tucker, GA) at 2:00pm, Aug. 19th 2001. The award will be presented by the legendary Fiddlin' John Carson's grandson ... Johnny Carson, who is co-president of the Atlanta Country Music Hall of Fame. Also presenting will be co-president ... Phyllis Cole ... who along with Johnny Carson are co-directors of the Atlanta Society of Entertainers. For more information call: (404) 292-7340. Atlanta Society of Entertainers, e-mail: puresilk2@hotmail.com


'Now Dig This"
Features Jack Neal
Courtesy: Derek Herderson: (posted July 31, 2001)
Listers will want to get the August issue of "Now Dig This" magazine. Shall we count the ways?
1 Jumpin' Jack Neal mentioned on cover
2 Small photo of Gene and Jack Neal from The Girl Can't Help It movie on Contents page which lists: 6 - 8 Jumpin' Jack Trevor Cajiao talks to original Blue Caps bass player Jack Neal prior to him making his first trip to the UK this month
3 Nice letter about Jerry Merritt on the Why Don't You Write Me page
4 Three page interview on Jumpin' Jack with seven photos, five featuring Gene
5 Half page review of The Town Hall Party TV Shows video by ex-Fan Club leader Harry Dodds
6 A paragraph on "Race With The Devil" in A Rocker's Ramblings
7 A short review of the "Bluejean Bop/Gene Vincent Rocks And The Blue Caps Roll", mentioning that it contains the first ever unflawed CD issue of "I Flipped"
8 A quarter page ad for the Jack neal gig on August 31st in London
Oh, and Eddie Cochran was at number 84 in the very first US Hot Hundred published in Billboard the week ending August 10th 1958 ("Some smart tricks here including a high string flat top alongside a regular acoustic, as well as alternate handclaps and fingerpops.")


Review: GENE VINCENT,
"The Town Hall Party
TV Shows 1958/1959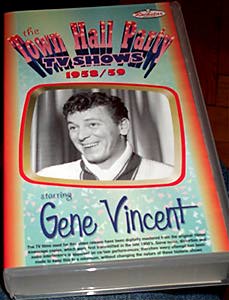 Rockstar Video RSRV 2002
Introduction (Jay Stewart) / Be-Bop-a-Lula / High Blood Pressure / Rip It Up / Introduction (Jay Stewart) / Dance To the Bop / You Win Again / For Your Precious Love / Introduction (Jay Stewart) / Rocky Road Blues / Pretty Pearly / Be-Bop-a-Lula / Introduction (Jay Stewart) / High School Confidential / Over The Rainbow / Introduction (Jay Stewart) / Roll Over Beethoven / Over The Rainbow / She She Little Sheila
Approximate Viewing Time: 45 minutes. Hot on the heels of the Eddie Cochran "Town Hall Party TV Shows 1959" video (Rockstar RSRV 2001) comes a follow up starring one of the greatest rock 'n' roll originators, Gene Vincent. Our thanks have to go to the good people at Rockstar Records for their considerable effort in overcoming the numerous obstacles and making this video available to us, the panting rock 'n' roll fraternity. This issue contains three performances by Gene on the famous Town Hall Party television show broadcast from Los Angeles, and the first is oh so historically important as it features Vincent with one of the line-ups of the famous Blue Caps.
First broadcast on 25th October 1958, it has Johnny Meeks on lead guitar, Grady Owen on electric bass, Clyde Pennington on drums and Cliff Simmons on piano and they rock out well on a selection of six numbers, two of which were not normally associated with Gene. These are "You Win Again" (performed a la Jerry Lee Lewis style) and Vincent's hair tingling vocalising on "For Your Precious Love," a vocal group classic which was originally by The Impressions featuring an 18 year old Jerry Butler.
The other songs comprise two of the more obscure songs from Vincent's catalogue, "High Blood Pressure" and "Rip It Up" (obscure as they are better known by versions from Huey Smith and Bill Haley/Little Richard respectively) and two of Gene's classics in "Be-Bop-A-Lula" and "Dance To The Bop." The sound and vision are a trifle dodgy on this set but it does not hardly detract from the electictyfying performance being played out before our eyes as frontmen Vincent, Meek and Owen bop away with Messrs. Simmons and Pennington providing the beat. The video is worth it for this set alone.
The last mentioned numbers were all included on the CD issue "The Town Hall Party TV Shows" (Rockstar RSRCD 016) but that is not the case with the second performance from 25th July 1959. On this occasion, Gene was backed up by Town Hall Party regulars such as Merle Travis on lead guitar, Jimmy Pruitt on piano, Harold Hensly on fiddle and saxophone, Cliff Crawford on trumpet, Johnny Bond on rhythm guitar, Skeets McDonald on electric bass, Pee Wee Adams on drums and Rose Maphis providing the hand claps. From the performance, it can be assumed that little or no rehearsal tookplace as the backing musicians are somewhat all over the place. That is apart from Jimmy Pruitt who on more than one occasion holds the song together with some masterful pounding of the 88 keys, especially outstanding on "Rocky Road Blues." Again a mixture of numbers, some well associated with Vincent such as the afore mentioned and a further "Be-Bop-A-Lula" workout whilst "Over The Rainbow" and "Pretty Little Pearly" are lesser known. That does not detract from Gene's performance and indeed it is good to see such numbers, especially the former which suits Vincent's ballad styling oh so well. Regrettably "High School Confidential" does not really work.
For the third set, which was shown on 7th November 1959, Jimmy Pruitt and Pee Wee Adams are retained but Gene's friend Jerry Merritt takes over on lead guitar whilst the bass guitar is played by Pat Patterson and the hand clapping is provided by Fiddlin' Kate and Jeannie Sterling. Of the three shows, this is probably the most satisfying with both Gene's vocals and Merritt's guitar playing being absolutely spot on. All three numbers, "Roll Over Beethoven" / "OverThe Rainbow" / "She She Little Sheila," are excellently performed by all concerned, a real joy to watch and listen to.
Like the previously mentioned Eddie Cochran video, this part of rock 'n' roll history and is available in both VHS PAL and American formats. Copies can be obtained from Rockstar Records, c/o 96D Southchurch Road, Warrior Square East, Southend on Sea, Essex, SS1 2LX, England at £14.50 (UK) or £16.00 (Europe), both prices include postage. These two videos are pretty much fundamental.
©Tony Wilkinson
July 2001



Jerry Lee Merritt Dead at Age 67
Jerry Lee Merritt died of heart failure Friday, May 4, 2001. He was 67. Besides Jerry's own fine music career, he spent time songwriting and touring with Gene Vincent in the late '50. Jerry had heart problems over the past few years and was just released from a hospital in Walla, Walla, Washington on Thursday. He had moved from Camas, Washington to Dayton, Washington, purchasing a farm, and was busy making plans for the future when this tragedy hit him. Jerry will be cremated. Memorial services are scheduled for Saturday, May 12th at the Kingdom Hall in Camas, Washington. Jerry had three sons: Jerry Jr., Larry (a performer now living in Nashville), and Ed. He also had a daughter, Lee Ann from Joyce, and other step-children. His family will miss him deeply - and so will we!! God bless Jerry.
JERRY MERRITT TRIBUTE PAGE CREATED, ENTER HERE.


Gene Vincent Book


This is a draft cover of the forthcoming book by Steve Mandich detailing the last years of Gene Vincent's life. The book is scheduled to be published and on the bookshelves by the end of May 2001. The title is SWEET GENE VINCENT - THE BITTER END. This will be a must for all Gene's worldwide fans.


Maybe I Should've
Stayed in Bed

Hot off the Press is the new book by Welsh Rock 'n' Roller Deke Leonard ... "MAYBE I SHOULD'VE STAYED IN BED." This is a hilarious account of a young Deke growing up in Wales, chasing the Rock 'n' Roll dream along the way. Deke meets several of his heroes, one of them being Gene Vincent. This book is full of laughs and some wonderful characters, people you will warm too. If you are looking for an ideal gift for somebody these 240 pages of side splitting mayhem, is a must and also, to add to your collection. There are also some great photographs, including one of Deke and Gene Vincent that has never been published before, another must for everybody's collection, but you will have to acquire a copy of the book to see it! By Jeff Gibbs.
To order a copy of the book contact:
Northdown Publishing Ltd.
P.O. Box 49
Bordon
HANTS
GU35 0AF, UK
Price per copy £12.99 plus £1.50 Post and Packing

Special thanks to Deke and Mary for letting us produce these excerpts.
BE-BOP-A-LULA
We couldn't wait for the weekend to roll around. Friday nights at the Ritz were for star names: Johnny Kidd and the Pirates, Freddie and the Dreamers, The Big Three, Gerry and the Pacemakers, Nero and the Gladiators, Screaming Lord Sutch and the Savages and The Undertakers. Saturday nights were for local bands because Saturday nights would be full if my mother was the headline act. There were only four local bands anyway - the Blackjacks, the Fireflies, the Fleetwoods and the Meteorites - and they played on a rota system. My cousin, Roland, was the lead guitarist with the Meteorites. I hadn't met him but if he could do it then why couldn't I?
One day Mike arrived at school looking pale and drawn.
"I haven't slept all night," he said.
"What's the matter?" I said. "You look terrible."
"Gene Vincent's coming to the Ritz," he said.
"Brilliant," I shouted, giving him a bear hug.
"He isn't here yet," said Mike sombrely. "Remember the last time he was supposed to come?" The last time he was supposed to come to Llanelly, he and Eddie Cochran were booked to play at the Odeon Cinema. Mike and I had been the first two in the queue to buy tickets. We were in teenage heaven. Then a week before the gig was due to take place came the awful car crash. It killed Eddie and crippled Gene, who was already disabled from a navy accident. The gig was cancelled and Mike and I went into mourning. The following day we bought all the newspapers and read every report of the crash, trying to find some meaning in a senseless event. But meaning there was none. It was rumoured that Eddies last act was to crawl across the oil drenched road, stretching out his hand toward his guitar, which having been thrown clear of the crash, now lay out of reach on the other side of the road. To us this impossibly romantic gesture seemed to confirm our belief that rock 'n' roll was more than music. It was a spirit that shone, like the light at the end of the world, into the hearts and souls of the chosen. We were in good company. We were walking with giants.
For about a month before the gig Mike was almost catatonic. On the big night, I had to lead him, in a trance like state, to the Ritz, which was packed and sweaty. It was billed as Gene Vincent and the Bluecaps but it couldn't be them, could it? When they walked on, we scanned the stage for "Galloping" Cliff Gallup, the Bluecaps' legendary guitarist. He wasn't there. None of the Bluecaps were. We discovered they were a British pick-up band called the Jokers. They opened up with an instrumental. They weren't the Bluecaps, but they weren't bad.
Then the Guitarist walked up to a microphone.
"Ladies and Gentlemen," he shouted, "The King of Rock 'n' Roll - Gene Vincent."
A trifle inaccurate I thought. Elvis was the King of Rock 'n' Roll. Gene Vincent was a prince, to be sure, but not the king.
Then Gene exploded onto the stage and I forgot my name, address and religion. He flew from one end of the stage to the other, dragging his gammy leg behind him; eyes fixed on a point somewhere high up in the roof. He sang in that high soulful whisper, everything we wanted to hear and we entered a state of bliss. He took us to the outer limits of ecstasy. But even in our ecstatic condition we couldn't help noticing the dirty looks at the band who seemed to us, and to the rest of the audience, to be doing a fabulous job. The place went wild. Two encores and he was gone. Mike and I were drained, but not too drained to try and get backstage to meet him. We had too, it was a moral imperative.
Jinks had the same idea. We had just met him. He had an angelic face topped with a blue flat-cap (De rigueur of Gene Vincent obsessives) and he was in the same state as we were; glassy-eyed, distant and imbued with a sublime otherness. He had come down from Pontyberym with his mates, fifteen slouchers all wearing blue caps.
"We've got to get backstage," said Jinks. "We've got to."
So we scrambled over the stage and ran into the wings. There was only one door in sight so we knocked on it. There was no answer so we went in. Two big men in neat, dark suits, obviously Gene's bodyguards, stood up and blocked out the light.
"Can we see Gene, please?" said Mike.
One of the men looked over his shoulder.
"It's OK," said an American voice from behind the wall of muscle. The bodyguards stood apart and there was the great man.
I was excited but Mike and Jinks were dancing at the edge of the ripples of the universe. Gene now dressed in a black and white, chequered overcoat, sat on a whicker chair in a corner of the dressing room. We rushed towards him and Mike and Jinks knelt at his feet, while I stood to his right. We asked him a lifetime's worth of questions and he answered them all.
He seemed to know how important it was to us. We got one of the bodyguards to take some photographs. Standing at the great man's shoulder I was afraid I wouldn't be in the frame so I leant in closer. Too far, I'm afraid. The resulting photograph shows me, like a priest, reading the last rites, peering into his eye-line. I didn't care; at least I was in the photo.
The guitarist of the Jokers came into the dressing room. Gene looked at him coldly. The guitarist started to talk business but Gene held up a hand and stopped him.
"You're fired," he said with barely concealed contempt. "The whole band's fucking useless man, I never want to see you again."
The guitarist protested but Gene's mind was made up. Things turned ugly. The room turned cold and there was a whiff of sulphur in the air. The guitarist moved threateningly toward Gene. Before anybody could blink, the two bodyguards snapped into action, grabbing the guitarist by the arms. He began to struggle and a scuffle broke out. It was short-lived and he was frog-marched out of the room. A couple of minutes later the bodyguards returned, shaking their heads and shrugging their shoulders, but obviously pleased with themselves. They'd enjoyed that. Throughout the affair Gene just sat there not moving a muscle.
"Get me a new band," matter-of-factly.
"OK," said one of the bodyguards and left the room, as if he was just nipping down the corner-shop to buy one ("Give me twenty woodbine and a bottle of sherry-from-the wood, luv. Oh, and while you're there, give me a four-piece band with a drummer who knows what a back-beat is").
We were embarrassed but impressed. . We felt privy to some mythical secret. We had been granted a glimpse of the dark wheels that turn beneath the assiduously-published, glossy machine. We thought we ought to leave so we got up and said goodbye. Gene seemed surprised.
"Don't let that upset you," he said laughing, "It happens all the time."
So we hung around a bit longer. We got him to sign autographs. I still have mine. Two, in fact. The first is a general "regards" autograph, the second a personal dedication. I told him my name was Deke and he, frowning, wrote "To DleR". Close enough. We left, walking on air.
"He didn't look too well, did he?" I said. "He was a bit pasty-faced."
"Well, he'd just come off stage." Said Mike. "He must have been knackered."
"He looked great to me." Said Jinks.
Singing "Be-Bop-A-Lula" we walked Jinks to the bus-stop to catch the last bus to Pontyberym. We exchanged addresses and swore blood-oaths that tonight would be the start of a life-long friendship. A friendship. Forged in the white heat of teenage euphoria. We waved him away into the distance. Naturally we never saw him again.
We walked home up the Black Path, across Maes-Ar-Dafen fields and along the banks of the Lliedi, talking, usually at the same time, about Gene Vincent. Now, we knew there really was a Rock 'n' Roll Heaven. We knew because we were in it.


Posted December 8, 2000
Letter of Thanks from Paul Peek
In September of 1999 I was diagnosed with cirrhosis of the liver. Although I had carried health insurance for many years, at the time of my diagnosis I was not insured. My dear friend, Phil Whyte, set up a Paul Peek medical fund and he and Steve Aynsley, via the internet, issued a plea to all of our Blue Caps fans for contributions to this fund to help defray the cost of my medical expenses. I would like to personally thank Phil and Steve for all their work in this regard and also, Bob Timmers, Rod Pyke and Alain Whyte, who helped me so much by providing the internet capability.
Barbara and I wish to take this opportunity to express to all of our United Kingdom, other European, and American fans our sincere and heartfelt appreciation for the overwhelming response to this plea. Your generosity has indeed helped us to make it through this very difficult time. My apologies for not yet writing a personal note to each of you, but I am presently in the process of doing so.
We want to especially convey our thanks to Phil and Jo Whyte, our dear friends of nineteen years, of Rock-a-Round Vintage Clothing, for all their assistance, including benefits on my behalf and pleas through word of mouth. Also, my thanks to my friend Trevor Cajiao and his staff of Now Dig This magazine.
As for my future prognosis, although my illness is chronic, with the help of medication, my condition has stabilized and I am looking forward to the future with much hope.
In conclusion, I would like to especially thank Johnny, Dickie and Bubba for carrying on the old Blue Caps tradition in my absence during the 1999 tour, and also my lifetime friend Bill Mack. I am looking forward to joining them on the next tour and seeing all of our Gene Vincent and Blue Caps fans again.
With Sincere Thanks and Appreciation,
Paul and Barbara Peek -- Paul's Website
The actual letter that Paul signed



From Gene's Parents:
Just a touching message from the Gene Vincent's parents to remind Gene passed away 30 years ago, the October 12th 1971. (This came from a french album of Gene):

"Hi, We are Gene's Mom & Dad, and want to thank all the fan-club's members for keeping Gene's memory alive. You know the talent, the singer, the show personality. We knew the baby, the boy, the man. Gene loved to sing, he loved people, he could never understand the world in wich he lived, the coldness, the hardness and the cruelty. The song "Weeping Willow" he made for us. When he was small he asked why the willow cried. I told him it hurt because its creator, "our Lord", was rejected by men and had to die on the cross. Gene cried too, sometimes. It hurt too much live, because he knew why the willow cried. And he died. But he left part of himself here, his memory will live. Especially to those of us who loved and respected him. We want to thank George Collange and everyone who has come to visit us. Thank you all again for keeping Gene's memory alive."
-- Mr and Mrs Craddock.



The Sound of Downtown Norfolk
Here is a link about an interesting article about "The Sound" of downtown Norfolk, talking about Gene (of course) and Ruth Brown. http://www.thenorva.com/thesound.html


Vincent/Cochran Material
* THE BLUE CAPS On the Road Again - Magnum 20 $14.98. 17 tracks recorded live in England in 1984 by original members of Gene Vincent's Blue Caps -J ohnny Meeks, Dickie Harrell, Paul Peek and Tommy Facenda. The material is mostly classic songs associated with gene like "Be-Bop-A-Lula/ Dance To the Bop/ Say Mama" and more.
* EDDIE COCHRAN/ GENE VINCENT Rock 'n' Roll Memories - Rockstar RSRCD 018 $19.98. Recordings from TV shows shot when Gene and Eddie were touring England in 1959 and 1960. This material has been out before but this collection has been newly remastered from originaltapes and sounds substantially better than any previous releases. Also includes interviews and comes with a 16 page booklet with 25 photos and lots of info on the tour. * CONTACT:
Frank Scott, Roots & Rhythm
P.O. Box 837
El Cerrito, CA 94530, USA
Toll Free Order Line (in USA): 888-ROOTS-66 - Enquiry Line : 510-526-8373 - Fax : 510-526-9001
E-Mail : roots@hooked.net





San VanHecke Vincent Book Signing
Pictured here are: Dickie Harrell (left), Tommy "Bubba" Facenda (right) and Sue at a book signing at Barnes & Noble, Newport News, VA August 25. It was just one of a series of events they did a book signing together to promote Sue's new Gene Vincent biography, "Race With The Devil." They signed tons of books and met loads of nice people, including Vincent fans both old and new ... even a few pals of Gene and the Blue Caps from their early days stopped by. They also helped promote the Rockabilly Hall of Fame by giving away a stack of Rockabilly Hall of Fame / Burns Station Sound brochures and business cards.



Review ...

Gene Vincent bio lurches toward inevitable tragedy
By Richard P. Carpenter, Globe Staff, 8/21/2000

The important thing about the concert held in the municipal auditorium in Norfolk, Va., in September 1955 wasn't so much who was onstage - a pretty boy named Elvis Presley - but who was in the audience: a 20-year-old named Vincent Eugene Craddock who was anything but pretty, with his greasy curls, dingy teeth, and crippled leg.

Craddock was so moved both by Presley's hip-shaking performance and by the audience's raucous reaction that, writes music journalist Susan VanHecke in this biography, he "knew what he had to do."

And he did it. The poor kid from Norfolk became Gene Vincent, one of the first rock 'n' rollers, a major influence on dozens of future stars, and a sad example of where the fast lane can sometimes take you.

He owed it all, the good and the bad, to "Be-Bop-A-Lula," a nonsensical song about a girl in red blue jeans who is queen of all the teens, a girl who is his baby - and "I don't mean maybe." But there was something about the way he sang those sappy lyrics in his high, striking voice: a little bit sweet, a little bit sensual, and a little bit Elvis. Capitol Records signed him up as the company's answer to RCA's Presley.

That song took Gene from the record studio to the concert stage, where he and his first band, the Blue Caps (so named because they wore those flat golf caps), delighted the crowds with their manic performances. And if VanHecke's prose is sometimes overheated in describing Gene onstage ("he tore into `Be-Bop-A Lula' like a ravenous beast ripping the life from its helpless prey"), well, his performances were overheated, too. Often dressed in black, he bucked and cavorted, occasionally raising his left leg - permanently in a brace and forever painful as a result of a motorcycle accident - over the top of the microphone stand. As he sang, his face twisted into an approximation of agony, and he punctuated his words with gasps, all of this causing the audience to become similarly overheated - especially the young girls, whom VanHecke describes as "sweaty and moist" no less than four times.

This was rock 'n' roll, melded from rhythm and blues, country, and gospel, an "unholy union of white folks' music and black folks' music." And Gene Vincent was part of the first glorious wave, along with Elvis, Little Richard, Jerry Lee Lewis, Chuck Berry, Buddy Holly, Carl Perkins, and others, most of whom Gene would befriend or perform with. Never mind that after "Be-Bop-A-Lula" he would have only a few minor hits, such as "Race With the Devil" - he had the mystique. So he'd drive across the country to perform, fueled by pills and booze and cigarettes and the screams of his fans.

It couldn't last, of course. Parental protests and cagey business decisions brought about a sanitized, safer, and duller brand of rock, featuring the likes of Frankie Avalon and Fabian. Yet if Gene Vincent's popularity was waning in America, it wasn't in Europe; there he was a cult figure, especially in England. But it was also in England where he was injured in a car crash that killed his good friend and fellow performer Eddie Cochran and added to the torment that seemed to stalk him.

Vincent is described dropping and adding wives and band members. Some of the latter are more interesting than others, especially Dickie Harrell, the wild-man drummer whose unrehearsed but joyous scream can be heard on "Be-Bop-A-Lula," and backing vocalist Tommy "Bubba" Facenda (who one day would have a small success of his own with the record "High School U.S.A."). An ocean of sometimes less-than-fascinating detail is reported about the changing of band members and the making of records.

With his lifestyle, too familiar among rock stars then and now, the death of Gene Vincent - in 1971, at 36, with chronic alcoholism a key contributing factor - has a ring of inevitability. Just how much the singer, who had become paunchy and balding, had deteriorated is made plain by a rambling and pathetic radio interview he did shortly before his death.

VanHecke has done a lot of research into Vincent's life, but mistakes about the era have crept in. President Kennedy's assassination is misdated; a Beatles' hit is attributed to the Rolling Stones; there is a badly reported account of the 1958 Boston Arena concert that led to a charge of inciting a riot against disc jockey Alan Freed. (I was there: There were no injuries or fights during the concert. The trouble came afterward on the streets, and may have had little to do with the show.)

One other quibble: Three pivotal events - the motorcyle accident that mangled Vincent's leg, the car crash with Eddie Cochran, and Vincent's death - aren't merely described. They're turned into fantasies in which Gene is racing with the devil, whose "smoldering orbs" burn behind the windshield. Oh, please.

But there's no quibbling over the impact of Gene Vincent on rockers from the Beatles to Jeff Beck to Adam Ant. At Vincent's 1998 induction into the Rock and Roll Hall of Fame, John Fogerty sang a bit of "Be-Bop-A-Lula" and then said: "It doesn't get much better than that. I do believe that this record is probably one of the greatest records ever made."

Me too. And I don't mean maybe.

This story ran on page B10 of the Boston Globe on 8/21/2000.
©Copyright 2000 Globe Newspaper Company.



Race With The Devil:
Gene Vincent's Life In The Fast Lane
by Susan VanHecke
Rating: Five out of five stars

Gene Vincent was the prototype rock 'n' roller, and his contributions were formidable, influencing The Beatles, Van Morrison, Robert Plant, John Fogarty, Jeff Beck, Chris Issac and Jim Morrison to name some of the most vocal with their praises. This book widely explores Mr. Vincent's youth, establishing step-by-step how his Norfolk, Virginia roots helped mold "The Sound" he started in music. Before Mr. Vincent, popular music aimed to hit listeners between the ears or between the arms. "Be-Bop-A-Lula" clobbered listeners between their legs, and rock 'n' roll would never be the same. The author's obviously deep love and respect for Mr. Vincent and his music translates to an extremely intricate -- albeit highly readable -- study, I would say the best ever written on the subject. To her credit, Ms. VanHecke never lets her admiration overshadow reality. Mr. Vincent was no candidate for sainthood, either by destiny or by his own choice. And it's precisely this aspect of Mr. Vincent's personality that's so wonderful about the book. While it's quite easy to track the direct musical lineage created by Mr. Vincent, millions of rock music fans probably never recognized that the rebel personna also started with him. This book is a must-read for anyone who remotely appreciates rock 'n' roll.
Reviewer: Sean Brickell, Va. Beach, VA USA



Rebel Heart #7
TKOMagnum has released Rebel Heart Vol 7, CDMF 102. The CD contains the Challenge alternate takes, previously only available on the USA Hollowbody CD, the complete live concert from Geneva 6 October 1967, and a radio interview recorded the same day. Magnum is offering it at a special offer of 12.50GBP to UK purchasers or 15.50GBP to overseas customers (normal price will be 15GBP). Magnum Direct, Magnum House, High Street, Lane End, High Wycombe, Bucks, HP14 3JG UK Tel 44 1494 882858 (from overseas) (UK omit 44 add 0) Fax 44 1494 882631 (as above) e-mail music@tkomagnum.co.uk - useless Gene is on good form on the live tracks. -Derek Henderson


A Paul Peek Song
You can listen a beautiful song singing by Paul Peek and the Moutain Fever "Caught Between Love" at this link (if you have the realaudio plug-in): http://www.moneda.com/sound/real/btwluv28.ram
"Paul Peek is the vocalist. He has that gravelly country voice I wanted for this song. Paul was the guitar player with Gene Vincent & the Blue Caps. Thanks, Paul! Bill Lowery put this record out on his Southern Tracks label. The strings in the middle were 'wild tracked' from the WKRP session. Atlanta Symphony strings should not go to waste! Wrote this in 1982 but took awhile getting around to recording it. This copy came from a mixdown to cassette." For more information, see: http://www.moneda.com/ And choose "music" section


Gene Sister Evelyn Passes On
Evelyn (Craddock) Butler, Gene Vincent's sister died on January 14, 2000 in New Mexico. She had been on oxygen support the past few months. Her sister Tina was with her. The Craddock family would appreciate your prayers. Evelyn, too, had a beautiful voice. Now Gene's got a singing partner in Rockabilly heaven. E-mails for Tina may be sent to - tina@rockabillyhall.com


Grady Owen (a former Blue Cap) Dies
Dec. 8, 1999 - Gray Owen's nephew reports: "I regret to inform you that I've just received word that my uncle, Grady Owen, passed away November 16 in the Philippeans. I have no word yet on cause or circumstances. I also just wanted to say thanks to Rod and Bob at the Rockabilly Hall of Fame. If you had not requested a bio of Grady, I might never have made the effort to track him down and contact him. Because of your request, I was able to maintain a pleasant correspondance with him the last year and a half, and learn a great deal about his fascinating life and career in the music biz, especially his days with Gene Vincent. Grady is survived by his Wife, Teting, and a number of children, who I will list when I can get that info together. I'll also try to send some additional info for the bio which I had received from him after the article was written. Grady was thrilled to know that he still had fans, and was a part of your website. He received a number of letters from old friends and fans because of it, and I think it certainly enriched the last year of his life."
Grady played rhythm guitar, bass and did vocals for Gene Vincent on Gene's 1958 recording sessions at Hollywood's Capitol Towers in March and October. After the October sessions, the Blue Caps disbanded. Grady was on some of Gene's best tunes: Git It, Dance in the Street, Rocky Road Blues and The Wayward Wind (in March) and Say Mama, Important Words, Who's Pushin' Your Swing and Over the Rainbow (in October>.


Book Author Dead at 51
Britt Hagarty, as may you know, the author of "The Day The World Turned Blue a biography of Gene Vincent" was killed by a car in the early hours of a dark, rainy morning recently as he crossed a Vancouver street on his way back from a Halloween party. He was just 51. He was a regular contributor to The Vancouver Sun and his last piece about his recently formed jazz band and his newfound love of opera was handed in just hours before his death and ran November 6 99. Ironically his previous writing, August 7 99, was about his old friends who had met untimely ends and how he was the last one left. He was hoping that "The Day etc" was going to be re-published just as soon as the missing parts had been located. The last piece in the Sun was accompanied by photos of Britt and you would swear that you were looking at Gene Vincent! A memorial for Britt will be held on Rockabilly night at the Railway Club, Vancouver on November 20 99.


Review: Chippenham
Show, Oct., '99
Posted October 3, 1999 - From: robert humphreys - robhumphreys@compuserve.com
Just home from Chippenham and would like to say how much I enjoyed it. I was particularly looking forward to seeing Marco Di Maggio and was not disappointed. With just his two brothers on stand-up bass and drums he whipped up a storm with his Gretsch. They did feature many Cochran numbers but this was just not mere copying as they embellished each number and filled out every gap with Marco's excellent guitar playing - remember no rythmn guitar! Particularly outstanding was a refreshing revisit to It Doesent Matter Anymore and I've not heard a finer version. Anyone who has a Gretsch tatooed on his forearm has to be serious and you just cannot fault his playing. Personally I would have been happy just to come for that and I sincerely hope he is invited again next year.
Then the Bluecaps! What can I say. I saw Gene in '59 and they had already left him so I've had to wait another 40 years for the opportunity. With Paul Peek sick I was apprehensive that stand-in Albert Lee would dominate the group with his flashy picking style but Johnny Meeks seemed in control with Albert and Brian Hodgson constantly looking at him for prompts. The set seemed to start a bit loose and gradually tightened up until the audience were completely hooked. Most of their repetoire was the usual rock'n'roll standards and just not all Gene's stuff and most featured extended guitar solos. I particularly liked the way they started off singing Frankie and Johnny and it evolved half way through into Searching! Albert took the mike for about 3 full-tilt rockers and some blistering guitar work. For me Johnny was the main man - even playing the keyboards without unstrapping his Fender. Dickie Harrel did stirling work on the drums - amazing when you think he was on that original 56 Nashville recording session which started it all off. Tommy Facenda was in fine form on vocals and also brought a lot of humour to the show - he actually picked up a large cooling fan and proceeded to blast it over the audience and then all over Johnny Meeks to cool him down! This was supposed to be an Eddie Cochran weekend but the spirit of Gene was sure looking down last night. The final number had to be of course Be-Bop-A-Lula and it brought everyone on stage - Marco and Bobby Cochran included and went on for about 20 minutes. Tommy Facenda passed the mike around the front rank of the audience for them to sing karaoke style to the backing. Everyone seemed to be word perfect and it must have been a dream come true for the chosen to finish their verse with the immortal 'ROCK BLUECAPS!' and see them storm into another solo.
I met a lot of nice people there, Bill Beard of the Cochran Connection seemed to know everyone and introduced me and in particular it was nice to meet Phil and Shaun Welsh Correspondents of the RBHOF. See you all there next year?


Bits and Pieces
...of Gene Vincent releated songs on the net. Courtesy: "Pierre-Yves (france)" (scorpion@excite.fr). Note: you must have the RealAudio Plugin and you can hear this songs just by clicking on the links when to access these sites. No download, it's streaming realaudio.
High Blood Pressure
http://209.185.188.216/jukebox?357673e.ra
Original version by Huey Piano Smith and the Clowns
Pretty Little Pearly
http://209.185.188.216/jukebox?390661g.ra
Original version by The english singer Terry Dene (58)
Rocky Road Blues
http://209.185.188.216/jukebox?363133q.ra
Singing by Kokomo Arnold before Bill Monroe. Not exactely the original version, but maybe the original lyrics.
Negro Love Song
http://www.udayton.edu/~dunbar/realaudio/racontrol/love288.ram
The original lyrics of « Jump Back Honey Jump Back » written by Paul Laurence Dunbar (1872-1906). Performed by Herbert Woodward Martin, University of Dayton professor emeritus, an acclaimed scholar and interpreter of Dunbar's works.
Allons danser Colinda
http://209.185.188.216/jukebox?332524n.ra
A traditionnal cajun song, performed by Joe Falcon, a cajun music pioneer. Singing by Gene on his last album in 1971, specially for the french fan. (Allons danser Coilinda, allons danser ce soir…)
Green Back Dollar
http://209.185.188.216/jukebox?350878a.ra
A rockabilly version singing by Ray Harris in 1957
You'll Never Walk Alone
http://209.185.188.216/jukebox?353290f.ra
Singing by the Five Blind Boys of Alabama in the style of the original version.


Where to Buy Gene's CDs
Courtesy: DADDYODILL@aol.com
Mark "Daddy-o Dilly" Dillman -- If anyone has problems finding certain Gene Vincent CDs or records, I recommend the following mail order firms. They all sell new CDs, just about anything from the late '40s to late '60s in the field of rock 'n' roll and rhythm 'n' blues.
Midnight CDs and Records www.midnightrecords.com - midnight@cerfnet.com
Roots and Rhythm www.bluesworld.com/roots.html - roots@hooked.net
Norton Records http://members.aol.com/nortonrec/norton.html - nortonrec@aol.com
Hepcat Records www.hepcat.com - hepcatreco@aol.com
Bear Family Recordswww.bear-family.de - bear@bear-family.de
French Magic Records CD's can be ordered from:
Club des Annees 60
Route de la Gare
42310 LA PACAUDIERE - FRANCE
You can find the different reissues in digipack with original cover.
Already issued are:
Bluejean Bop
Gene Vincent and the Blue Caps
Gene Vincent Rocks and the Blue Caps Roll
Record Date
Sound Like
Crazy Times, just reissued, with 1959 titles in mono and stereo
Price is 100 FF for 1 CD
Postage is 25 FF for 1 CD, add 10 FF for each more CD, and postage is free for 5 CD's or more.


"Be Bop A Lula"
Is it possible?
The True Story of How "Be Bop A Lula" was Written


"Wee Willie," Original Blue Cap,
Dies in Gun Accident

(August 28, 1999) - Manatee, FL - A 63-year-old man accidentally shot himself to death about 12:30 p.m. Saturday in front of his Harbor Hills home in west Bradenton, according to the Manatee County Sheriff's Office. Early L. Williams and a friend, Daniel Tau, were talking about going to a shooting range while they were in the driveway of Williams' home, 828 Hillcrest Drive, authorities reported. Williams was removing a duffel bag from the back seat of a car and trying to retrieve something from it, when a gun inside the bag fired a single shot, reports stated. The bullet struck Williams in his left side, just below the chest, authorities said. "When he went to get the bag out of the back seat, he apparently asked (Tau) if he needed his targets," said Dave Bristow, a spokesman for the sheriff's office. "While (Williams) was reaching in the bag, (Tau) said he didn't need them, then boom! The gun went off." Williams was taken to Blake Medical Center and pronounced dead on arrival, Bristow said. Deputies roped off the home with yellow tape while investigating the case. They looked through the red-and-black duffel bag, which sat on the driveway toward the rear of the car. The men had presumed Williams' .38-caliber revolver was unloaded, Bristow said, adding the revolver did not have a trigger lock or safety. News of Williams' death saddened neighbors, friends and former colleagues. Dave McKeever knew Williams when they worked together at WBRD, a local AM radio station, in the 1970s. "He was a disc jockey there," said McKeever, who was the station's news director until 1991. "No matter how weird things got in the radio business, he could always see the humor in it and keep a smile on his face." In recent years, McKeever said he ran into Williams at the Manatee County Fair where Williams sometimes served as an announcer. "He was very involved in the fair," he said, "and he was an eternal optimist." Williams was originally from Maine and also worked in Nashville from time to time.
When the Rockabilly Hall of Fame called Dickie Harrell to get his reaction, Dickie said, "Man, what a shock and what a strange way go to. Willie a was a little guy with those long sideburns, jumping all over the place, just as crazy as the rest of us. I don't think anyone knows how talented he really was. He could play, sing, whatever. He was working for radio station WCMS at the time we formed the Blue Caps, doing grand openings, car shows and stuff with his wife Robin in a band called the Virginians. I hope all his fans both here and overseas will miss him as much as I will. A super nice guy, always full on energy even his later years. I'm sure he's jamming with Gene and Cliff as we speak."
A BIT ABOUT WILLIE: Willie recalls vividly his first night playing with Gene (before any records were cut): "He came up wearing a cast and sang "Be Bop A Lula" and all the chicks went nuts." "Wee" Willie takes a view of Gene's sudden success and sums it up quite articulately: "Vincent was easy to work with and knew exactly what he was doing. From the minute I met him I found him to be agreeable. There was no arrogance or egotism. He was a guy from relative humble beginnings who was a little bewildered by his sudden success. I thought he handled it pretty well. Though I seem to recall he spent a lot of money." Willie has fond memories of his days with the Blue Caps: "Gene was very friendly. People were always looking for someone who'd act outrageous, but he didn't. He was just a good guy. On stage, Gene was a stylist and a communicator. And very exciting. Offstage, Gene would have a beer or two, but he was more interested in the ladies. Cliff was quiet, the kind of guy you wouldn't fool with. He was a no-nonsense person. But Dickie was my favorite. He was innocent, a thoroughly fine young man, a good cat." When Willie Williams quit, a guitarist named Teddy Crutchfield came up from Norfolk to replace him.


Bill Mack's Comments on VLV
Posted June 24, 1999

From former Blue Cap, Bill Mack.
Hi Rockabilly Lovers, From another Rockabilly Lover,
In the last year or so I have gotten to meet and talk and correspond with a lot of you. Thanks to Bob Timmers for being so gracious for adding me to the Internet's Rockabilly Hall of Fame web site. I want to thank Bob's wife Sonja, Ron and Kathy Pyke, Barry Klein, Dickie "Bebop" Harrell, Dave Crimmen and his friend Sharon Caren, Mr. and Mrs. Sammy Masters and a host of others for being so nice to me at the 1999 Rockabilly Viva Las Vegas Weekender in Vegas. I personally had a blast. We were trying to get in our new house, and moving the computer and resetting it up caused a problem. It never did come back up. We are now about to get organized somewhat. We moved from the city to the country and we love it. When I was in Vegas I learned a lot. I really enjoyed performing with Bob and all of the other fine musicians that were on the stage at the Gold Coast Ballroom. I met so many fine people. I can't remember all their names, but I enjoyed talking to all of you. I enjoyed talking to Kay Wheeler and I want to thank Kay for autographing a picture from one of her dancing scenes. The flight to Las Vegas was a little bumpy, but the scenery was beautiful and I hope I can do it again. Maybe I can go to England in the fall and meet you wonderful Rockabilly Lovers. That would be a dream come true. Who knows, I just might show up. Thanks again for inviting me, You, Sonja, Kathy and Rod were perfect hosts. - Bill


Gene Vincent on Video
US suppliers:
The VIDEO BEAT! Good source for '50s rock n roll on video. Can supply NTSC (USA format only) videos of "The Girl Can't Help It", "Hot Rod Gang", "It's Trad Dad", "Sing and Swing"(original UK title "Live It Up"), "Don't Knock The Rock" (mid 60's UK TV Special featuring Gene, Little Richard, Jerry Lee Lewis, etc), "The Rock 'N' Roll Singer" (UK documentary about Gene's '69 UK tour), and "Tetes DeBois Tendres Anne' Es" (French TV with Gene playing live at the Cavern Club in Liverpool.)



Fogerty Meets Blue Caps
By Sue Vanhecke - Courtesy The Virginian-Pilot


VIRGINIA BEACH - When John Fogerty inducted Norfollk-born rocker-and-roller Gene "Be-Bop-A-Lula" Vincent into the Rock'n' Roll Hall of Fame earlier this year, none of Vincent's backing band, the Blue Caps, was there.

But Dickie Harrell and Tommy Facenda, two of Vincent's Caps who still live in Hampton Roads, were at the GTE Virginia Beach Ampthitheater recently to thank Fogerty. The former Creedence Clearwater Revival front man, who seemed genuinely thrilled to be meeting some of his favorite musicians, was full of questions - about songs, instruments, recordings, and the wild Vincent and Caps stage show that was full of fireworks.

"I always used to tell my friends that with your records, you could take the vocal away and the music was just as good," Fogerty said. "I would listen to it and would imagine it without the singing. I'd say, 'Man, listen how cool the music is, what the guitars are doing and stuff.' So I learned a lot from that as a guy who was to going to grow up and become a band leader."

Harrell - Vincent's original drummer whose spontaneous whoops and hollers on the "Be-Bop-A-Lula" are now legendary - and Facenda - one of Vincent's "clapper boys," a dancing and clapping backup vocalist, who joined in 1957 - both live in Portsmouth. Facenda enjoyed a brief solo career after leaving Vincent with the single "High School USA," which, with its 28 geographically specific releases holds a record for the most versions of a single song.

Harrell and Facenda made Fogerty an honorary Blue Cap by presenting him with one of the light blue hats they wore on stage. They also gave him two Vincent and the Blue Caps T-Shirts. Vincent, whose career was launched on radio station WCMS's weekly live talent show "Country Showtime," was signed to Capitol Records as the next Elvis. After "Be-Bop-A-Lula" and other popular singles hit stateside, Vincent moved to Europe, where he became a huge star and inspiration to aspiring rockers such as the Beatles, Robert Plant and Jimmy Page, Jeff Beck and others.

Changing public taste, financial mismanagement, failed marriages and other personal struggles finally took their toll on Vincent; he died in relative obscurity in California in 1971.

At the Hall of Fame ceremony in January at New York City's Waldorf Astoria Hotel, Fogerty opened his remarks with an a capella verse of Vincent's 1956 hit single "Be-Bop-A-Lula," then said, "It doesn't get much better than that. I do believe this record is probably one of the greatest records ever made."'






Gene Vincent Lost Dallas
Sessions CD Available
Dragon Street Records has released the long-awaited Gene Vincent and His Blue Caps album "The Lost Dallas Sessions, 1957-58". CDs are available at your local roots-oriented specialty record store, as well as through many of the chain stores such as Borders Books & Music, Blockbuster, Best Buy, etc. Wholesalers please contact Crystal Clear Sound Distribution, John Frazer at 214-349-0081 (ph) or 214-349-3819 (fax). If unavailable in your area, discs can be ordered directly from the label by sending a personal check or money order in the amount of $15 (US only) to: Rockabilly Hall of Fame, P.O. Box 70, Kimberly, WI 54136, USA. Overseas orders, please send $17 in US currency. Orders will normally be shipped the day of receipt of payment.
TRACKS:
My Love (acoustic demo of In Love Again)
Hey Mama (demo with Ronnie Dawson on guitar)
The Night Is So Lonely #1 (demo with The Blue Caps)
The Night Is So Lonely #2 (demo with The Blue Caps inc BV)
Lonesome Boy (demo)
Lady Bug (demo)
In My Dreams (home demo with The Blue Caps)
In My Dreams (studio demo with The Blue Caps)
Lotta Lovin' (home demos with false starts)
Lotta Lovin' (home demo edit with added echo)
Nervous (home demo with false start)
On My Mind (home demo with Gene whistling)
Dance To The Bop (live at the Big "D" Jamboree with The Blue Caps)
Bluejean Bop (ditto)
Whole Lotta Shakin' Goin' On (ditto)
plus bonus tracks of original demos for Who's Pushing Your Swing
(Darrell Glenn) Git It (Bob Kelly), and Lotta Lovin' (Norton Johnson),
plus I Don't Feel Like Rockin' Tonight by Grady Owen.
If unavailable in your area, discs can be ordered directly from the label by sending a personal check or money order in the amount of $15 (US only) to: Dragon Street Records, P.O. Box 670714, Dallas, TX 75367-0714, USA. Overseas orders, please send $17 in US currency. Orders will normally be shipped the day of receipt of payment.




Dickie Harrell
DICKIE HARRELL is going commercial. He is offering is own brand of autographed drum sticks. For more information on ordering a set or two contact ol' "Be-Bop" himself at:
Dickie Harrell
4113 Raven St.
Portsmouth, VA 23702-1701


MORE WORDS ABOUT DICKIE: The following can be found on the liner notes of Max Weinberg's "Let There Be Drums" CD (Vol. !, The '50s):
"In Gene Vincent's 'Be-Bop-A-Lula,' an undeniable rockabilly classic, Vincent's Blue Cap drummer Dickie Harrell demonstrated that it wasn't necessarily the volume of the beat that made it work, but the manner in which it was delivered. In 'Be-Bop-A-Lula,' a Top 10 hit in 1956, Harrell used brushes instead of drumsticks and created a sexy, circular snare drum rhythm. He moved the song along with innuendo and cool dynamics. A very hip drum part, it's a perfect example of the way restraint in drumming can give the music momentum and power."



MISC. NOTES:

The Big V Jamboree Paul Vidal presents some stuff on Gene and others.



Doris Gallup dies. The wife of legenary guitarist Cliff Gallup passed away in Virgina on Jan. 8th 1999. She was 66. The Gallups had one child, a daughter, Bonnie.



TKO Magnum Music The Magnum Music Group website, has detailed information on their Gene Vincent and Blue Caps CDs.



To CONTACT THE BLUE CAPS... Tommy "Bubba" Facenda has taken over duties as the "Official Blue Caps Spokesperson." To get a message or question to Tommy, please e-mail "BUBBA" Thank you.



PLEASANTVILLE MOVIE BRINGS BACK "BE BOP A LULA"
One of the most popular attractions in movie theatres these days is "Pleasantville" - a combination B&W and color time travel film. The first song you hear as the movie gets rollin' is Gene's classic as the camera pans a lover's lane scene. The tunes plays through Dickie Harrell's first scream. When Bob Timmers told Dickie this fact, Dickie said "Man, I'm going to get my sun glasses on and go walk around downtown Portsmouth (VA) now that I'm a celebrity again."



A CD containing 30 versions of "High School USA" by Gene Vincent's Blue Cap/Clapper Boy Tommy Facenda has been released by the Legrand label of Norfolk, VA. The catalog number is 17002-2. "High School USA" peaked at #28 on Billboard's pop singles chart in 1959. The original version came out on Legrand and mentions area high schools by name. Other versions were recorded for most other areas of the US and were released on the Atlantic label. Those versions are heard on this CD in this order: 1-Virginia (the only stereo version on this CD), 2-New York, 3-Nashville, 4-North & South Carolina, 5-Los Angeles, 6-Indiana, 7-Washington, DC/Baltimore, 8-Philladelphia, 9-San Francisco, 10-Chicago, 11-Detroit, 12-New Orleans, 13-Texas, 14-Pittsburgh, 15-Minneapolis/St. Paul, 16-St. Louis, 17-Florida, 18-Newark, 19-Alabama/Georgia, 20-Boston, 21-Cleveland, 22-Cinncinatti, 23-Memphis, 24-Buffalo, 25-Seattle, 26-Hartford, 27-Denver, 28-Oklahoma, 29-National version, 30-original Legrand version (with a distinct Bo Diddley beat). I got my copy from: Rock Classics, 1511 E Babydoll Rd., Port Orchard, Washington 98366 USA, telephone: (360) 769-0456, fax: (360) 769-0441, website: www.portorchard.com/rockclassics.

DISTRIBUTORS:

GOTHAM RECORDS
2324 Haverford Road
Ardmore, Penn. 19003
1-800-446-8426

VINTAGE RECORDS
8211 Cloverleaf Road
Millersville, MD 21108
1-800-523-2036




DEREK HENDERSON on GENE'S VIDEOS: I receive a steady stream of questions about the availability of Gene on video, so here are the details again (thanks to DADDYODILL): Video Beat, 351 Kiely Boulevard, Suite 301, San Jose, California 95129, USA (telephone 408 260 0266) can supply NTSC (USA format only) videos of "The Girl Can't Help It", "Hot Rod Gang", "It's Trad Dad", "Sing and Swing" (original UK title "Live It Up"), "Don't Knock The Rock" (mid 60's UK TV Special featuring Gene, Little Richard, Jerry Lee Lewis, etc), and "The Rock 'N' Roll Singer" (UK documentary about Gene's '69 UK tour). Better quality "Hot Rod Gang" video, available in ALL formats, is available from The Fang, PO Box 3333, Main Post Office, Floral Park, New York 10116, USA. Anyone wanting to buy European format videos from a UK supplier get in touch with me: dhenderson@psc.ac.uk



ORIGINAL LYRICS to "Somebody Help Me" (by Bob Kelly). As you can see, Gene changed them...
I've got a bone to pick with this world,
I'm not very handsome, I cant find a girl.
I ask the aid of the whole universe.
I'm not very happy, it could be worse.
**Somebody Help Me----eeee.
**Somebody Help Me----eeee.
**Somebody Please, Somebody Please Help Me---eeee.
I'm in luck now that I've found,
The birds and the bees are helping me round.
The birds are singin' their songs of cheer,
Love will escape me, I fear.
**CHORUS
Moon is a glitter from up above,
But I've yet to find me someone to love,
The breeze keeps whispering to my ear,
Lonesome baby without you here.
**CHORUS
Stars are twinklin in the sky,
Finally caught this little girls eye.
I've stopped roamin this country over,
Luck has found me, I've got a four leaf clover.
**CHORUS
Somebody Please, Somebody Please Help Me



Jan 12, 1998...The date Gene Vincent was inducted to the Cleveland R&R Hall of Fame. SEE OUR EXCLUSIVE REPORT from "special Gene Vincent" reporter, Brandi Stollak.





WCMS,
the Norfolk, Virginia radio station that launched Gene's career in 1956, has added this web site to it's list of links.



Photos of Gene's Children: "Vince" & Melody