ROCKABILLY HALL OF FAMEŽ MERCHANDISE & SERVICES
SCRAPBOOK PAGE 22
SOME FOLKS CALL THEM "THE COMETS"

"Hi everyone, I have learned (I think) to compress and send a photo in jpeg. This photo was made in June of 1954 at a dinner party hosted by Decca Records,to present each of us with our GOLD RECORDS for SHAKE RATTLE & ROLL. Frank Pingatore, is on the left, the guys around Jim Ferguson, are from Decca. Hope you enjoy it. Lotsa Love," Marshall Lytle.



Harold Kudlets and Matt Lucas. Harold was the first agent to bring rock 'n' roll into Canada ... artsts such as: Conway Twitty (when he wa still Harold Jenkins), Billy Lee Riley, Ronny Hawkins, Ray Smith, Narvel Felts and Matt. Harold is in his 80's now and as sharp as a tack! (Photo taken January 2000, in Canada)




Saturday, Jan. 8th, Muldoons, Green Bay, Wis. Sleepy LaBeef put on another great show and said he has at least 15 to 20 more touring years left in him. He's trying to catch up with Jimmy "You are My Sunshine" Davis who's still booking himself and performing at age 100. In the photo: "Gator" (far left) is Sleepy's new bassist, David on keyboards and guitar, Sleepy and Jerry on drums (right). A note from Jerry to his friends and family in Louisiana ... "See, I really am on the road with Sleepy! Why doesn't anyone believe me?"




Above photo was taken at the Country Music Hall of Fame induction ceremony for Dolly Thursday, January 6, 2000.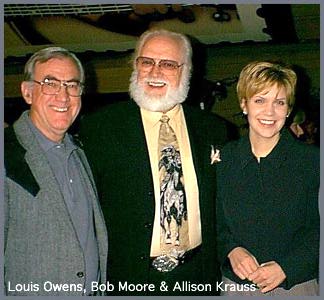 A very recent photo, taken in Dallas, TX the last week of Dec. 1999, of some surviving Big D Jamboree principals, or their heirs. Left to right: Michael Bullington (grandson of Ed McLemore and current owner of Big "D" Music, Inc.), Marvin "Smokey" Montgomery (Light Crust Doughboy and former Big "D" Jamboree band leader - banjo), Ronnie Dawson (former 10-time Big "D" Jamboree talent contest winner), and Ed Watt (former BDJ booking agent and Ed McLemore's right-hand man). The meeting came from an interview by Robert Wilonsky of the Dallas Observer for an upcoming cover story on the Big "D" Jamboree and the recent release of "The Big 'D' Jamboree - Live! Volumes 1 & 2".




Courtesy Steve Bonner. The full-frame photo of Johnny Carroll in his classic pose. We've all seen this shot, of course...it's sort of a rockabilly "icon", and has been used almost as much as the famous Ersel Hickey "cat" pose. Nevertheless, few people have seen the entire photograph, including the background, in context. The movie Rock Baby Rock It, with Kay Wheeler, was made in Dallas in Oct. 1956 with inside shots like the one of Carroll being done at the Coffman Film Co., located at 4519 Maple Ave. in Dallas. Nothing was done in Hollywood except the editing.