ROCKABILLY HALL OF FAMEŽ MERCHANDISE & SERVICES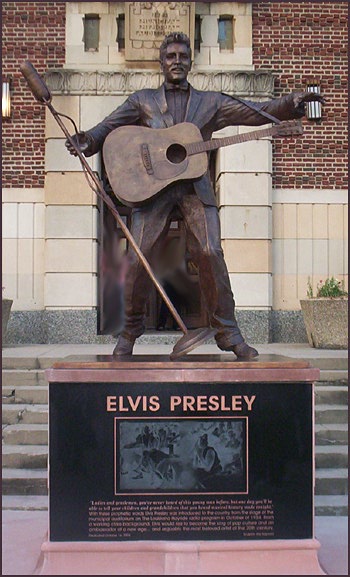 Statue unveiled October 18th in front of the
Municipal Auditorium in Shreveport, Louisiana,
home of the famous Louisiana Hayride
CLICK HERE
for photos and concert information regarding the related concert held Saturday, October 19th.





James Burton and Matt Lucas
At Matt's September 20004 recording sessions in Chicago.





50 years of Rock 'N' Roll
Charlie Gracie (aged 68) backed by Simone Di Maggio (aged 19) at the Eddie Cochran Festival, Chippenham, Sunday 26th September 2004.
Photo: Rod Pyke
MORE PHOTOS HERE





Kim Lenz
Kim, Glen Glenn and others appeared at the 5th High Rockabilly Weekender in Barcelona, Spain, 9-12 September 2004. More photos here.





Neil Wood of Bob Kelly and the Pikes.
From Bob Kelly: This is from the Texas Theatre in Denton on March 8, 1957. I have no idea who the other musicians are so if any of you recognize anyone, let me know. There was a newspaper article with it but it wouldn't scan good enough for you to read it. The MC for the show was Jim Hampton - F Troop, Sling Blade, and many other movies and TV shows. Also, on the show were Wade Moore and Dick Penner who later recorded at Sun Records and wrote the song "Ooby Dooby" for Roy Orbison. Kind of strange that we would all have been on the same Fraternity Benefit show for Hungarian Relief - that's what the article said. Jim a Kappa Alpha, Wade and Dick were Lambdi Chi's, and of course Bill, Neil and I were Pi Kappa Alpha. I don't even remember the show - but, I do remember the green shirts that we were wearing. Yes, they were a bright green made out of really shiney material. My Mother made them and notice the 3/4 length sleeves. - Bob "Git It" Kelly - kellybob@cox.net





Bill Haley, Jr.
History was made Thursday Sept 2, 2004 in Sommers Point, NJ. Bill Haley Jr. sang with the Original Comets. It was terrific and the audience went wild.
Photo: Marshall Lyle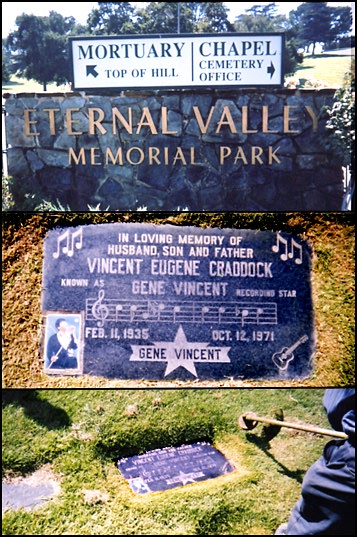 Gene Vincent's Grave Site
Located in Newhall, California, plot 91. Above shows the cemetery entrance, Gene's head stone and the facility's care-taker trimming the grass around the marker.
Photos: Rockabilly Hall of Fame, August, 2004. Bob Timmers placed a guitar pick along side base of the stone, point down out of sight, between the stone and the dirt. We encorage other fans and players to do the same.




BR549
in concert Saturday, August 14, 2004,
at the Opry Plaza, Nashville

CLICK HERE FOR LARGER PHOTO
Doyle Holly and Ira Allen
part of the Nashville Buck Owens 75th Birthday Party held at The Stage on Lower Broadway, Sunday, August 8th.
CLICK HERE FOR MORE INFO AND SHOW PHOTOS
Bubba Feathers
on stage at The Shell in Memphis, Saturday, July 31st
CLICK HERE FOR MORE SHOW PHOTOS
ROC LaRUE
at the 12th annual Rockabilly Rebel Weekender in Indy
CLICK HERE FOR BARRY KLEIN'S COMPREHENSIVE SHOW REVIEW
BILLY ADAMS
at the Americana International Festival in Newark, Nottinghamshire, on July 10 and 11, 2004
CLICK HERE FOR RELATED ARTICLE ON BILLY'S PERFORMANCES

D.J. FONTANA
Sun Records Bash, Memphis - Monday July 5, 2004
Courtesy: Skipper





CHUCK BERRY
Royal Festival Hall, London - Friday 2nd July 2004
(Courtesy: BARRY DIXON)





Elvis, Bill, Scotty and Sam.
(Thanks JD)





Wanda Jackson at Indy #12
Wanda headlned on Saturday, June 26th at David Loehr's annual Rockabilly Rebel Weekender. We need to help Wanda get inducted in to the Rock & Roll Hall of Fame in Cleveland. You can assist: CLICK HERE!!
Roc LaRue headlined on Friday night. See photo at Front Page News. Full show review, with photos, coming soon.
(Photo: Barry Klein)




Tommy Sands and Glen Glenn in Hawaii 1960

Rare 1958 photo taken in Germany of Elvis visiting Bill Haley backstage before a concert! Haley was on a European tour at the time and Elvis was still in the Army. The guitar Haley is playing is his 1956 black Gibson L-7.
Courtesy: Tom Warn and Bill Turner





Left to right ­ Charlie Gracie, Mrs. Gracie, Harvey Holiday DJ of WOGL
& Chubby Checker
Click here for the awards story and more photos.
Photo by Mike Fraticelli





The Crickets and Bopper, Jr.
May 8, 2004, Skate Castle, Newton, Iowa
Photo: Alan Clark





Wanda Jackson in Sweden
Here's a great picture of Wanda Jackson in a pink Cadillac after performing at the Duved Country Festival in Sweden last year. Wanda has a Bakersfield Sound connection with her association with Tommy Collins. Wanda actually lived and performed in Bakersfield, California in her early career.
Photo: Owe Roslund, Trangsviken, Sweden





Hayden Thompson with Roland Janes
Sun Studios 1994
Photo: Steve Kelemen





At Hembsy 32 (UK) May, 2004: Willie Jeffery (Hemsby Organizer) congratulating Wildcat Pete on his Induction into the Rockabilly Hall Of Fame. We would like to thank Willie for inviting Hayden Thompson to make the presentation on our behalf and allowing us to use the Hemsby stage for this prestigous event. More Hemsby 32 Photos
Photo: Rod Pyke, Rockabilly Hall of Fame



Back to the Scrapbook's Index Page