ROCKABILLY HALL OF FAMEŽ MERCHANDISE & SERVICES

WANDA JACKSON will appear at the 14th annual "Rockabilly Rebel Weekend" in Indianapolis (2006).
Click Here for complete show information





Mario and Irma
Ritchie Valens' brother and sister
at the Ritchie Valens May Fest, May 13th
More Event Photos Here.





SLEEPY LaBEEF
On stage at the 5th Annual Ponderosa Stomp.
More Event Photos Here.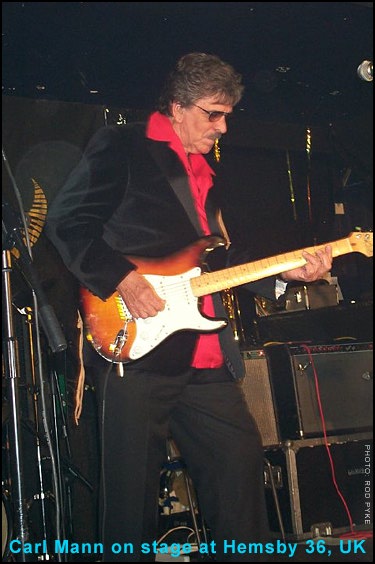 EDDIE BOND
(along with TOM MATHIS) recorded four songs each at Burns Station Sound Studio in Burns, TN on Friday, April 28th. These recordings are part of the Tennessee Arts Commission music preservation project, that is being administered by the Rockabilly Hall of FameŽ, to promote Tennessee roots music. The CD, that will also include BILLY SWAN, will be issued this fall. The majority of discs manufactured will be going to public libraries and museums. Donations to support this project are appreciated. Donors may be eligible to have their names listed on the CD's liner notes of this historic project. E-mail: preserverockabilly.org for information.





W.S. Holland in Canada
RHOF's Canadian Rep and Entertainer Johnny Vallis with Johnny Cash's drummer W.S. Holland in Victoria, B.C. Canada - April 19, 2006 - www.tennesseethree.com





BILLY BURNETTE
Nashville - Saturday, April 15, 2006




Eddie Angel at Link's Tribute
More Link Wray Tribute Show Photos
Click to Visit Charlie Feather's Official Site
Little Montie Jones
Claudia Nelson, Dickie Harrell, KEN NELSON!!, Tommy Facenda and Tommy Sands in Van Nuys, California at the Gene Vincent Tribute Show, October, 2005.

Chuck Hughes
at Rusty's in Santa Monica, CA. Chuck appeared with The HILLBILLY HELLCATS. He is one of rockabilly's best vocalists, guitarists and songwriters performing today.
(Rockabilly Hall of FameŽ photo).





The Comets and Crickets
at the Cabaret Theatre, Mohegan Sun Casino. February 11, 2006.





Johnny Powers and Chris Casello
Saturday, February 4, 2006 - Johnny joined the Starlight Drifters on stage at the world famous Roberts Lounge, downtown Nashville.





Matt Lucas, Debbie Reynolds
Saturday, January 28, 2006 - Photo of Debbie and Matt! Matt says. "What a nice person she is and for sure one of the real Movie Stars of the Golden Age of Hollywood!" Matt will be in L.A. and Phoenix till he leaves to do the www.ponderosastomp.com show in Memphis in May. His new cd should be out by Stomp Time, Its called "Matt Lucas - Back in the Saddle Again" and features James Burton, Charlie Musselwhite and the Chicago Blues Masters.





Marvin Rainwater
on Stage at the UK Rockers Reunion on Saturday 21st January 2006.
[Photo: Rod Pyke]





Wanda Jackson
kicks off her tour, supporting her new "I REMEMBER ELVIS" CD", at The Mint in Hollywood January 14, 2006. Order your copy of Wanda's new disc HERE





Jerry & Knox Phillps
Sons of the late Sam Phillips, hosted on a terrific show the week of January 3-7 in Florence, Alamaba, Sam's home town. Photos of the Saturday night highlight event with Jerry Lee Lewis can be found HERE




Johnny Powers at Hemsby #35

Dickie Harrell & Rosie Flores


Photo taken recently at a club in Norfolk, VA. Rosie sings on Dickie's new CD. She will also embarked on a tour with Wanda Jackson in January 2006 to support Wanda's new Elvis CD.









MARSHALL LYTLE SEZ: "The attached photo is, myself and Shoji Tabuchi, the Star of the Shoji Tabuchi Theatre, one of the best produced Christmas Shows in BRANSON MO. Which is now known as The LIVE Entertainment Capital of The World. Joey, his wife Marian, Dick Richards, and myself just returned from three days of checking out what is basically going to be our new home. The Dick Clark American Bandstand Theatre, is even better than we thought it would be. It is in the finishing stages for our Grand opening of March 17, 2006. The Theatre is going to be a place where customers can spend the whole day and see The Original Comets at 10:00 AM, (we will start their day Rockin). Then they can have lunch, and then see a wonderful Museum of 1957 Classic Cars called The Patch Collection. The museum is featuring a trip back in time to 1957, a wonderful trip down memory lane, and you will also create a lot of new memories."






Everly Brothers "Live" 2005

John Carter Cash


Johnny and June's son appeared in Nashville, Saturday, November 19th at the Opryland Tower Records Store. John sang a few of his dad's favorite songs, spoke to fans and autographed many of the new Johnny Cash box sets - "The Complete Sun Recordings 1955-1958". About the box set: www.cashthesunyears.com. About the movie: www.walkthelinethemovie.com/site/index.php. (Rockabilly Hall of FameŽ photo)







Author, Peter Guralnick


Peter appeared in Nashville, Saturday, November 12th, at the Country Music Hall of Fame to discuss his new book on the life of Sam Cooke, "Dream Boogie." Guralnick's books include "Feel Like Going Home," "Lost Highway," "Sweet Soul Music," "Searching for Robert Johnson," the novel "Nighthawk Blues," and a highly acclaimed two-volume biography of Elvis Presley, "Last Train to Memphis" and "Careless Love." In audience were many Nashville performers including Eddie Angel and Billy Swan. (Rockabilly Hall of FameŽ photo)







Buck Owens, Mayf Nutter Inducted


Saturday, November 5, 2005, at Buck's Crystal Palace in Bakersfield, California, the Rockabilly Hall of FameŽ inducted Buck Owens and Mayf Nutter. Buck's roots in rockabilly go back to the days when he played rhythm guitar on some of Gene Vincent's early recording sessions and recorded "Hot Dog" under name of Corky Jones. Mayf, besides his accomplishments in music, films and television, once fronted "The Kingsmen." This was the group of Billy Haley musicians who recorded "Wild Weekend", an instrumental under an alias name. The group became very popular in Pennsylvania, so Bill Haley gave Mayf one of his jackets and told him to lead the group when they performed.




The JODIMARS
50 Years ago at THE PALACE THEATRE in NYC. The boys actually had Judy Garland's old dressing room, with her name still on it.





BILLY HANCOCK
Appeared at the Exit In, Nashville, Tuesday, October 25th. Billy did a set featuring songs from his new CD, "Passions."
Rockabilly Hall of Fame photo





BLUE CAPS
Dickie Harrell, Johnny Meeks, Tommy Facenda
On stage at the Gene Vincent Tribute show in Van Nuys, Calif., Saturday, October 15, 2005. - Photo: Lynne Self





MACK SELF
Fans and friends of rockabilly legend Mack Self gathered Friday, October 5th in West Helena, AR to present Mack with an inlaid guitar. Mack, 75, still sings, writes songs and performs when he gets the urge. He, along with Billy Lee Riley, Jerry Lee Lewis and Sonny Burgess, are some of the surviving artists that recorded in the famed Sun studios in the fifties.
Guitar builder: Sam Jones, samjones@austin.rr.com - Photo: Bobby Wright





Matt Lucas & Ronnie Hawkins
Photo taken October 5, 2005 while Matt and his wife Barbara were visiting "The Hawk" at his home, "Hawkstone Manor", in Lakefield Ontario, Canada





Andy Anderson
Appearing on stage at Hemsby 35, Friday 30th September, 2005





Bob Timmers and Billy London
Bob was Billy's first guest on the new "Rockabilly Radio Show." Taping for this hour long program was on Sunday, Sept. 25th. The show will air on Saturday, Oct. 1st at 10 am on radio station WKAM, Franklin, TN, serving the greater Nashville area. Billy has great plans for his new show and we wish him well.





SONNY WEST
On stage at the recent 2005 Clovis Music Festival. Sonny co-wrote the rock 'n' roll classics "Oh Boy!" and "Rave On." (photo: Eric Kluth, Clovis News Journal). Sonny has issued an new CD, "RAVE ON!" (Clovis Music Festical Limited Edition CD-446). Sonny West Signature RAVE Guitars are now available. E-mail Sonny for more information




MORE INFORMATION HERE

SUZY Q and her Be-Bop Boys will be appearing at the Rockabilly Hall's "Bop Street" show in October.





NARVEL FELTS
... recording at Alley Trax Studio in Hayti, MO. Narvel laid down two vocal tracks for Dickie Harrell's upcoming CD that will be released on October 15, 2005 in Van Nuys, CA, the day of Gene Vincent "Bop Street" tribute show. (Photo: Ronnie Lee Twist)





"Blue Caps" Reunite
Johnny Meeks, Tommy Facenda, Dickie Harrell
The three remaining active members of Gene Vincent's band will headline the Gene's Tribute show, "Bop Street" on October 15th in Van Nuys, California.




BILL HALEY
Fifty years ago Saturday, July 8th, 2005, "Rock Around the Clock" hit #1 and stayed there for eight weeks.
VISIT JIMMY LEE FAUTHEREE'S RHOF PAGE

BILLY LONDON and the Bel-Airs were at The Pond in Franklin, TN, Saturday, July 23rd. Bass, Jesse Perkins; drums, Paul Presson. Billy will be hosting a Rockabilly Radio Show, starting in October.





[Rockabilly Hall of FameŽ photo]






BOB TIMMERS, (Rockabilly Hall of FameŽ founder and curator) picking on stage with Dave Brown and the Hicksville Bombers July 9th at Chris Jackson's 25th Annual 2005 Americana Festival held near Newark, England.





Billy Lee Riley on stage at "Wildest Cats in Town", Saturday, July 2, 2005, Lowestoft, UK.





June 27 would have been Ersel Hickey's 71 years old, we sadly lost Ersel in July 2004.
-Photo: Kay Martin




Art Adams at Hemsby, May 2005

What famous '50s artist appears in this 1948 class picture? Click the photo to find out.





JOHNNY FIRE from Tallahassee, FL appeared at Nashville's Tower Records store, Tuesday, May 31st. Look for his new CD "Southern Depression," just released. Visit Johnny's Web Site



Priscilla Presley with Dea Summers (Gene's wife).
Happy Birthday Dea!! (May 30th)




There's some good rockin' stuff on the new webzine "Jumpin'from Six To Six"! It's hot, free and full of cool interviews from: Dave Stuckey, Cattie Ness, Shaun Young, Horton Brothers, Arsen Roulette and guest writer Mark Rubin. So spread the news and visit: http://kikteo.free.fr/jumpin.html

San Diego, CA - May 10, 2005 - Johnny Vallis introduces his long time friend Frankie Laine to Glen Glenn.





Roc LaRue
Hemsby Rock n Roll Show, Hemsby UK
Thursday 4th May 2005
Photo: Barry Dixon





Billy Swan, Scotty , DJ
at the 4th Annual Ponderosa Stomp in New Orleans
Photo: Sheila Morris - MORE "STOMP" PHOTOS HERE and HERE





Dale Hawkins
At the 4th Annual Ponderosa Stomp in New Orleans
Photo: RHOF - MORE "STOMP" PHOTOS HERE





Photo: Dave Hermsen
More Green Bay Fest Photos




Glen Glenn (L) and Young Jessie (R) January 8, 2005 at the Henry Fonda Theatre

TRAVIS appeared Saturday, April 2nd in Gallatin, TN for a TRAC benefit concert. TRAC's mission is to provide a safe and supportive place for adolescents in crisis. (tracinc@bellsouth.net).




The Comets: Then and Now

BILL DEWEY
Saturday, March 19, 2005, Centerville, TN - Bill performed his usual great Johnny Cash and rockabilly stylings at Jeremiah Sundown's club. The Rockabilly Hall of Fame staff was there to catch his show and take this photo, Nice job, Bill!





The Jordanaires, 1958


Gordon Stoker, Ray Walker, Neal Matthews, Hoyt Hawkins.





Look for the Feb. '05 issue of VINTAGE GUITAR.
It features a wonderful article on the Rockabilly Hall of Fame
by writer Ward Meeker.





Charlie Gracie
It's been about a 30 year wait, but ABKCO Records will finally release its first box set of Cameo-Parkway material on May 3rd 2005. Over 200 songs are contained in this edition that kicks off with "Butterfly" and "Fabulous" released in 1957. These two classics lead the 4-cd set! Individual CDs are sure to follow ... and we are told a Charlie Gracie set is forthcoming within a year. Collectibles Records will be among the first to offer distribution and they are reported to be selling the set for about $50! The above photo shows Charlie in the original CAMEO studio in Philadelphia with his dad Sam Gracie attending that session.





Nick Willett
at the Oneida Casino in Green Bay, Wisconsin,
Sunday, March 6, 2005





Back to the Scrapbook's Index Page