ROCKABILLY HALL OF FAMEŽ MERCHANDISE & SERVICES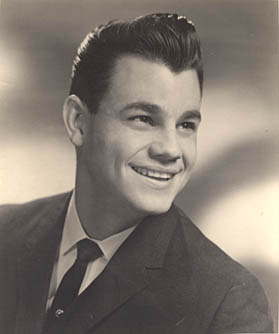 Bobby Brown's RHOF Page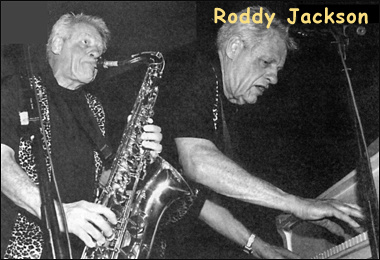 Photo: Paul Harris Photography - paulharris.photography@ntlworld.com
Roddy Jackson's Message to Fans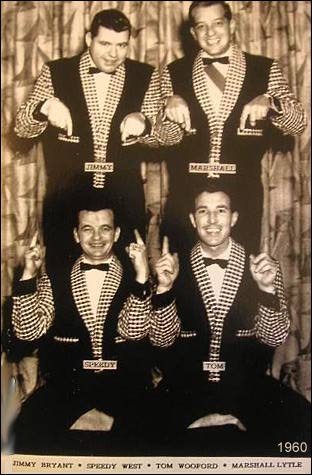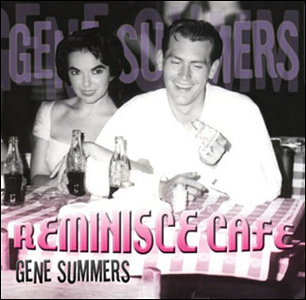 New Gene Summer's CD
Posted March 16, 2008 - Gene has just informed us that he has a brand new CD titled "Reminisce Cafe", just released on Seduction Records #110. This is Gene's 50th Anniversary Album released in 2008 on the exact date of his first 45 release, "School Of Rock 'n Roll", which was issued on February 1, 1958! "Reminisce Cafe" contains (15) NEWLY RECORDED tracks in the rockin' 50s style. This is Gene's first U.S. studio album since 1981! Tracks include: "Reminisce Cafe", "She Bops A Lot", "Just Together", "Rockin' Fever", "Crazy Cat Corner", "I Won't Take Any Less", "(It's Love Baby) Twenty Four Hours A Day", "Do A Little Roll", "Heartbreak City Limits", "Love Me Tender", "Gonna Drive 'Em Up A Wall", "Be-Bop City", "Hot Rod Baby", "I'm Flyin' In" and Little Lu Ann (a James McClung composition)!
&nbsp The liner notes were written by legendary DJ Ron Chapman and the album was produced by 3-time Grammy winner Phil York. CD has a 6-page, full color, fold-out with some never before published, personal pics from the early years to the present! (Cover Photo: Gene & Dea Summers, Dallas, 1962) [UPC663525221727] CD in stock. Immediate shipping, order from: http://siliconmusic.us/. Autographed copies are available upon request.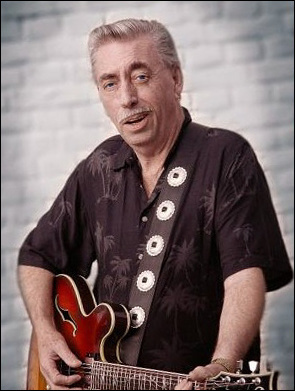 Mac Curtis' Blog
If you have a "rockabilly" blog, please let us know.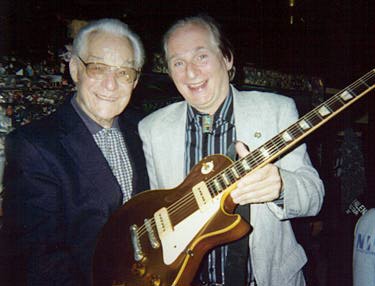 FRANNY BEECHER
(Posted Feb. 15, 2008) - Bill Turner: "Here's a photo from when I visited Franniy Beecher recently! As you can see, he looks great! (He PLAYED great too!) The guitar we're holding, is an old 1952 gold Les Paul that was completely restored by Gibson Guitars' Valley Arts division in Nashville!" - bluesmokeband@verizon.net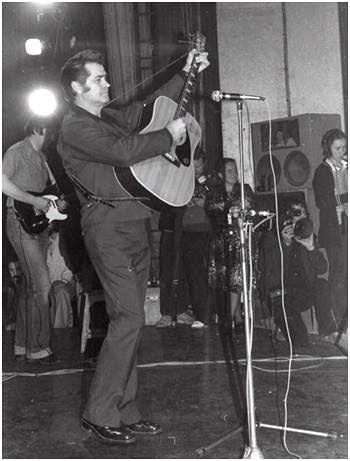 Warren Smith
Paris, November 24, 1979
More About Warren HERE and HERE
Photo: Dominique "Imperial" ANGLARES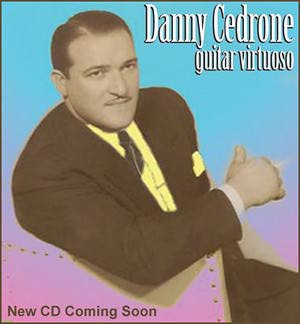 Danny's RHOF Page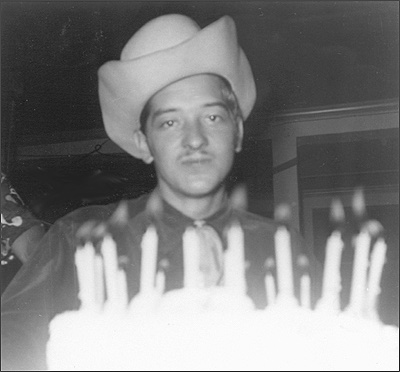 Comet, Marshall Lyle
Celebrates 19th Birthday
More rare Marshall, Bill Haley, Saddleman photos here
Rivermead Leisure Complex, Reading - Sat., 19 Jan. 2008
The 25th Annual UK
Rockers Reunion Winter Party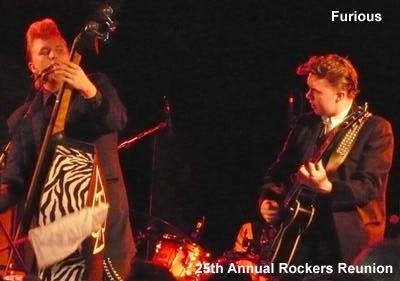 See Shaun Mather's Review
Shuttleworth's photos of this event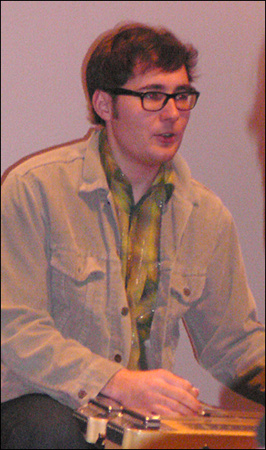 25-year-old CHRIS SCRUGGS (whose grandfather is Earl Scruggs and mom is Gail Davis) presented a lively demonstration of the steel guitar at the Country Music Hall of Fame in Nashville, Sunday, December 23rd. Chris gave the audience the history of the instrument, playing many examples of techniques and styles. He is currently a member of BR549.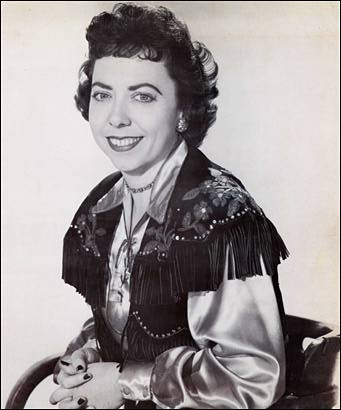 ROSE MADDOX
See more photos of Rose just posted on the
Maddox Brothers & Rose page.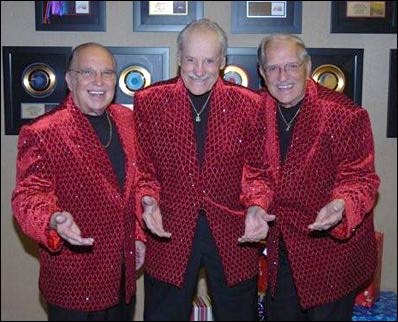 The Original Comets Still at It!
In Branson, MO - November, 2007




Glen Glenn & Roc LaRue at the
"Crazy Legs Party" Oct. 27th
Many pictures from the Crazy Legs Party show held in France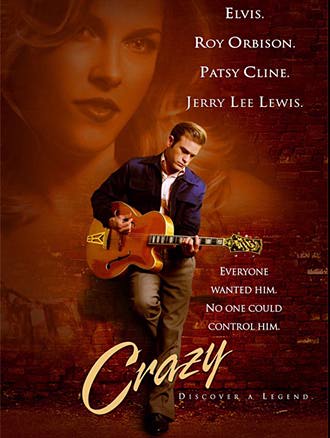 CRAZY - The Story of Hank Garland
Inspired by the life of Hank Garland, the movie CRAZY is the story of a legendary guitar player who emerged from Nashville in the 1950's. Blessed with incomparable, natural talent, Hank quickly established his reputation as the finest sessions player in Nashville. Artists such as Roy Orbison, Patsy Cline, The Everly Brothers and Elvis all sought Hank's brilliant play for their recordings.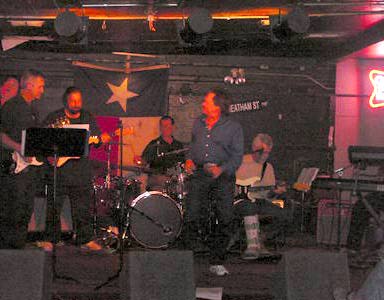 Roy Head and the Traits


Roy and the group were personally inducted into the Rockabilly Hall of Fame¨ by Bob Timmers on Saturday, October 20th at a sold-out San Marcos, Texas State University special reunion event. This show marked the 50th anniversary of the band's first appearance. They are all classmates of San Marcos High School class of '57. Their big hit, "Treat Her Right," came in 1965.
See: Roy Head and the Traits Reunion




James Intveld on Stage at
Hemsby 39, October 13th 2007
Rod Pyke's Hemsby #39 Photo Album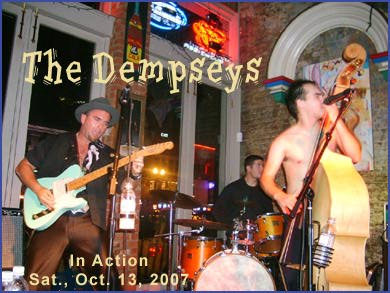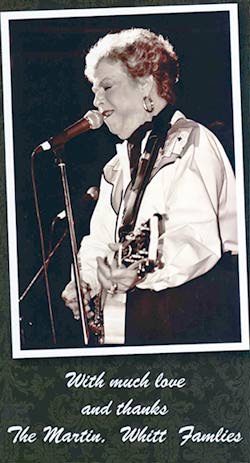 "Thanks so very much to the fans. Janis will surely be missed by the Rock-A-Billy world, she was a true professional both on and off stage. She was loved by everyone that she ever came in contact with. She had the most beautiful voice of any entertainer. I'm sure the good Lord has her voice ringing out through the heavens. She just had a gift of God that was just out of this world. She would walk out on stage and the place would just go in an uproar. Janis just had that gift to pull people and put them in the palm of her hand. She had an impact on me that was unreal. I just know she's gone to a better place and that I'll see her one day."
B. Wayne Whitt,
Janis' husband.

RCCD 3056 - BUDDY HOLLY with
The Three Tunes - OHH! ANNIE!
This package includes studio masters not only previously unissued but whose very existence will be unknown to even the most committed of fans. There's also superior sound quality versions of most tracks that have been released, a detailed 36-page booklet with notes by John Ingman, Colin Davies and Sonny Curtis and several previously unpublished photographs. Available in two formats as shown above - click on each image for more details. http://rollercoasterrecords.com/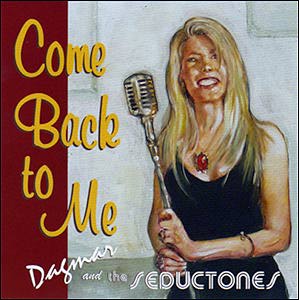 Dagmar and the Seductones
New CD: "Come Back to Me"
Contact: P.O. 65234, Washington, DC USA
www.theseductones.com - seductones@aol.com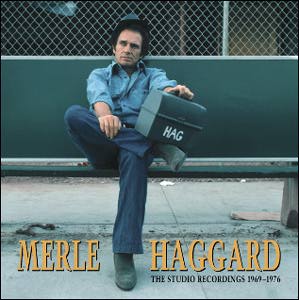 Hey "Hag" Fans ...
CLICK HERE to find more info on Merle's new 6-CD set ... including complete track listings.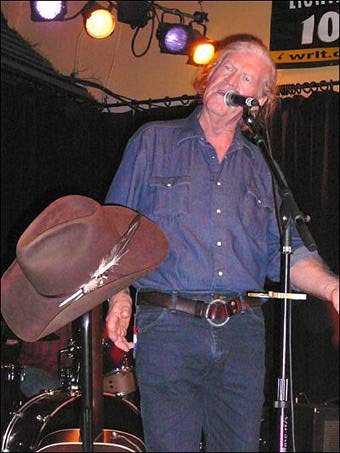 Billy Joe Shaver
Friday, September 14, 2007
This Honky Tonk Outlaw has a big following among rockabilly fans.
Many bands cover his material.
A Video from the Show



Mac Curtis DVD
EMCEE MUSIC VENTURES (through the help of Rarity Records) proudly presents this collaboration between the Texas rockabilly legend MAC CURTIS and young rock 'n roll artist PHIL FRIENDLY. The disc features 21 songs and a few bonus clips.




THE BLASTERS 8/31/07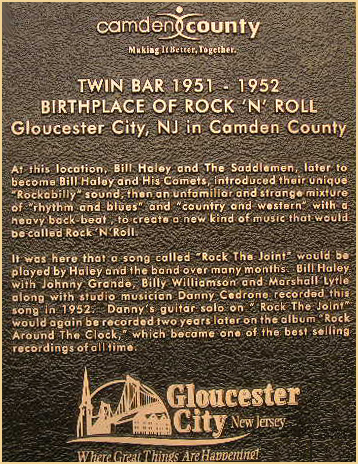 Plaque on the wall of The TWIN BARS
where, in 1952 Bill Haley and The Saddlemen (later to become The Comets) played. That is where they first played "Rock This Joint", the song that many believe was the beginning of "rock & Roll". On July 14th 2007, and 55 years later, The Coments rocked South Jersey again. Paul Kain, city administrator, and Gina Dumphy, Director of Community Development for Gloucester City, did such a great jobĘmaking everything work very smoothly for Marshall, Joey, Dick and the boys.



Sunday, August 12, 2007 - Memphis, TN


Lifetime Achievement/Induction Award for Elvis presented to Jerry Presley.



Plaque given by Patsy Andersen (Elvis' Favorite Gospel Show)
to the Rockabilly Hall of Fame¨.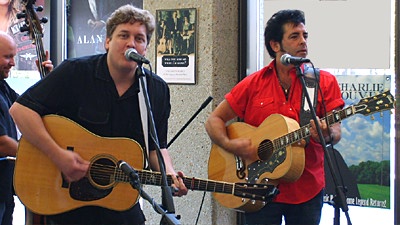 Shawn Camp & Billy Burnette
The Bluegrass Elvises
Read more about 'em here.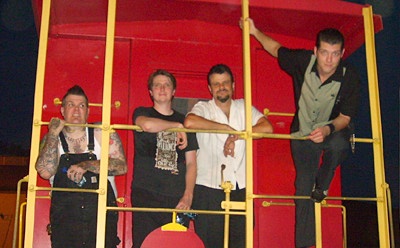 Hillbilly Casino
Riding the rockin' train to your town soon.
Read more about 'em here. &nbsp Both photos: Bonnie Tankersley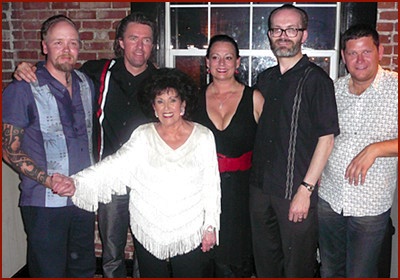 Wanda Jackson with the High Jacks
During August 2007, Wanda has been touring the US with the High Jacks from Sweden. She has worked with this group in Sweden for over 20 years and this is the first time the band has backed her in America. The High Jacks are (L-R): Anders Thomasson, bass; Lars Anderson, guitar; Nina Jedevin-Jonsson, vocals; Perry Johnsson, piano Jers Klarsson drums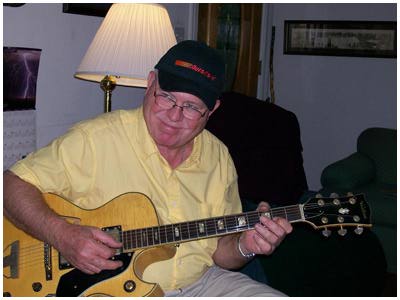 Walt "Jelly Roll Rock" Brown
December, 2006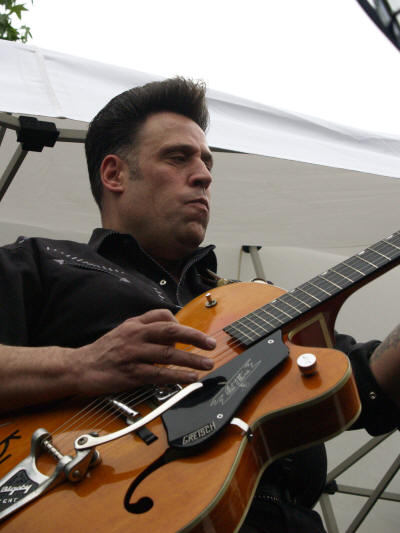 Roy Wilson of the Buzzards
Roy is one of the hardest working cats out there today. He and the band are popping up everywhere. Don't miss 'em. Here's a shot of Roy at David Loehr's recent Indianapolis Weekender. Photo courtesy of the Indy Road Rockets.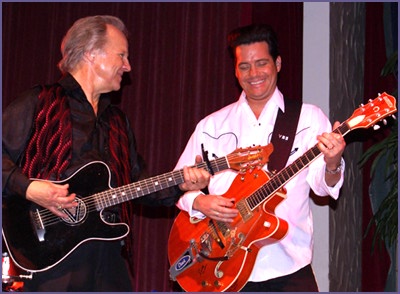 Bobby & Robby Vee
Visit Robby's Rockabilly Hall of Fame¨ page.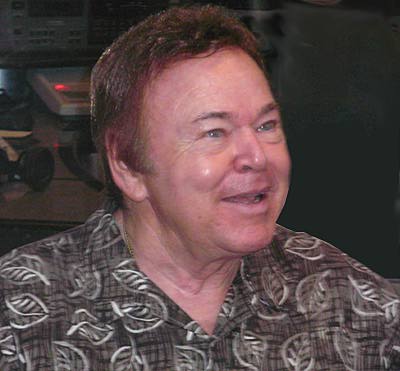 ROY CLARK made a rare autograph signing appearance in Nashville on Saturday, July 21st. Roy used to be Wanda Jackson's lead guitarist back in the early '60s.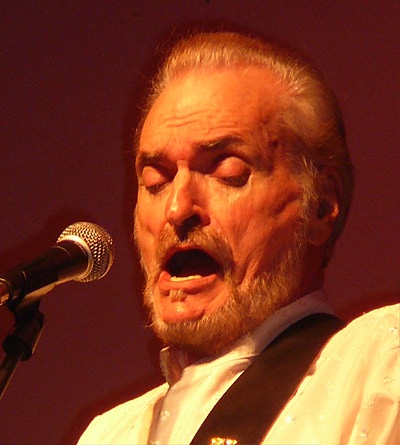 NARVEL FELTS
... appeared at the Music Ranch USA Theater in West Point, KY on Saturday, July 14, 2007. The house was packed and Narvel performed an outstanding show.
Photo: Rockabilly Hall of Fame¨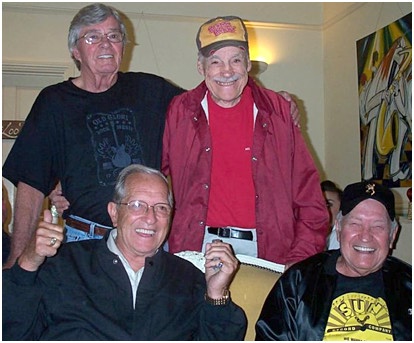 Wildest Cats In Town Weekender
Jack Neal (Blue Caps), Dick Richards & Marshall Lytle (Comets) and Kern Kennedy (Pacers) ... Saturday 30th June 2007, Pakefield, Lowestoft, UK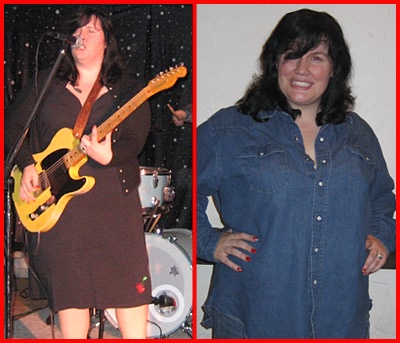 MANDY MARIE
& THE COOL HAND LUKES
This gal has it all! The voice, attitude, pickin', sound, stage presence and whatever else it takes to become the next big sensation in the Rockabilly and Traditional Country markets. She did all but steal the show at the recent Indianapolis Rockabilly Rebel Weekender. When Mandy is on stage, she commands your full attention. She's a much-needed refreshing addition to the scene. Book her ... see Mandy whenever you can. (thecoolhandlukes@aol.com). This isn't a paid plug - she's just that freakin' good. A CD will be available in August. Mandy and Band's MySpace Site.





Back to the Scrapbook's Index Page