James Heubert Wilson's RHOF page

---
Carl Perkins honored by the Country Music Hall of Fame

---
Breathless Dan O'Coffey
I'm writing on behalf of my father here. He passed March 27, 2016, peacefully after a short illness. I know he really enjoyed his time on facebook - he saw it as a way to champion the music he loved - 50s American Rock'n'Roll and its many roots and shoots - as well as the authentic Rockin' styles of the 1950s. He dedicated his entire life with total passion to this music and the lifestyle that went with it and as everyone will know could not stand fakes or forgeries of any kind. I know many of you were regularly in contact with him and many others offered your best wishes - I want to thank you all personally for those. He didn't have a message for facebook but I know he would want people to keep digging the genuine 50s Rock'n'Roll, and all its many tributaries. - Donal O'Cofaigh

---
Bill Watkins R.I.P. Feb. 26, 2016

---
Jerry Lee's teenage wife releases a book

---
January 26, 2014 - Obit

---
Barry Dixon photo page: Art Adams

---
Phil Everly R.I.P.
---


Art Adams
Previously Unissued 1950s Recordings

---
W.S. "Fluke" Holland featured

---
Little Richard turns 81

---


Lee Cole
RHOF Inductee #392. Song: "Cool Baby"

---
Clyde Stacy killed in Oklahoma car crash - Follow up Article

---
Ray Condo inspires crowdfunding campaign

---
The legendary Roland Janes passed away on Friday, October 18, 2013
Recalling Roland

---
Jerry Lee awarded diploma

---
Little Richard heart attack

---
Big Sandy marks 25 years

---
Marvin Rainwater died September 17th at age 88 - More on Marvin

---
BurL Boykin R.I.P.
(9-7-13)
---
Rockabilly Scene column updated

---
Little Richard Contemplates Retirement At 80

---
The first new Jack Scott studio album in almost 50 years released on Bluelight Records in January 2014

---
Big Sandy featured

---
Ronnie Hawkins house for sale

---
Rockabilly Scene column updated

---
Rompin' Ronnie Hawkins named to Order of Canada

---
Jimmy Stayton RHOF page

---
RIP, Jim Sundquist: He put the Fender in the Fendermen

---
Marshall Lytle (The Comets) R.I.P., May 25, 2013 - See Extra

---
Billy Adams and BillyGram pages updated

---
Gina Haley's page completely redone by Otto Fuchs

---
Imelda May bringing baby daughter on tour

---
State to buy Little Richard's house

---
Fats Domino's piano, damaged during Katrina, is restored

---
Big Sandy featured

---
Ronnie Hawkins house for sale

---
Rockabilly Scene column updated

---
Rompin' Ronnie Hawkins named to Order of Canada

---
Jimmy Stayton RHOF page

---
RIP, Jim Sundquist: He put the Fender in the Fendermen

---
Marshall Lytle (The Comets) R.I.P., May 25, 2013 - See Extra

---
Billy Adams and BillyGram pages updated

---
Gina Haley's page completely redone by Otto Fuchs

---
Imelda May bringing baby daughter on tour

---
State to buy Little Richard's house

---
Fats Domino's piano, damaged during Katrina, is restored

---
Elvis, Scotty, Bill: The Day Jobs

---
Cash boyhood home project presented

---
Lost Songs of the Big Bopper

---
Jerry Lee opens up about his life and new cafe

---
Johnny Cash Museum plans May opening, previews collection for Cash siblings

---


Alton & Jimmy
have a new CD. Details on their web page.

---
Rock and roll singer remembers Eddie Cochran 53 years after his death in Bath

---
Sonny Burgess featured

---
"The Father of the Drums: W.S. Holland" documentary

---
Johnny Cash's Columbia Catalog Out Now - As A 63-Disc Box Set

---
Paul MacPhail's "Rockabilly Scene" column updated


Little Richard performs at Viva Las Vegas Rockabilly Weekend -- VLV Pin Ups and more Little Richard

---
Chuck Berry comes to Santiago

---
Buddy Holly's Widow Helps Mentor New Artists

---
Buddy Holly's Widow Keeps Legacy Alive, Recalls Death: 'I Couldn't Keep Him Home'

---
3rd Annual Arkansas Delta Rockabilly Festival - Press Release

---
Mack Allen Smith's Book: A good read.

---
Sammy Masters R.I.P., March 8, 2013. - Video of Sammy - Obit

---
Jerry Lee Lewis club to open in May on Beale St.

---
Bill Allen R.I.P. -- Obit -- Remembering

---
Tommy Cassel is gone

---
Eddy (M) Melanson RHOF page

---
U.S. postal service to release Johnny Cash stamp

---
Chuck Berry Earns Lifetime Achievement Award

---
NPR on Sam Phillips. Listen to 20-min. 2002 interview

---
Paul MacPhail's Rockabilly Scene column updated

---
Britain's Got Talent

17 year old Sharna-Mae makes her gig debut on stage at Lincoln R & R Club backed by her fathers band, The Hicksville Bombers

---
John Wilkinson Dead: Rhythm Guitarist For Elvis Presley Dies At 67

---
Nick Curran:
As everyone knows, we lost one of the world's finest musicians and fiercest rock-n-roll souls, Nick Curran this past year. Let's rock the vote, and get Nick enshrined in the Austin Music Awards Hall Of Fame in 2013, by writing his name in on the Austin Chronicle Music Awards ballot. Go here: http://www.austinchronicle.com/feedback/musicpoll/12/ and look for the Hall Of Fame category, and write Nick's name in! You should also look over the ballot and vote for your favorites in the other categories.

---
Frank Page R.I.P.
On Saturday October 16th, 1954, Frank Page introduced Elvis on the Lucky Strike Guest Time portion of The Louisiana Hayride, after Floyd Tillman had performed as guest star. The young man from Memphis with the new and distinctive style goes straight on "That's All Right" with his sidemen wearing matching country shirts with decorative bibs. The rest belong to the legend!

---
Keeping up with Wanda

---
'Rockabilly Boogiefest,' To Benefit Jonesboro Museum Exhibit

---
Country Earl R.I.P. - Info on Earl's Club

---
Wikipedia: New feature added to the RHOF

---
Obituary: Rockabilly Hall of Fame Member, Mary Jane Ventanilla

---
Nashville will soon be home to The Johnny Cash Museum, which could house the world's largest collection of Cash memorabilia. Plans call for over 1,000 items to be displayed. Located at 119 3rd Ave. South, the museum is set to open in 2013.

---
Chuck Berry & Johnnie Johnson: Unduplicated Collaborative Genius

---
(December) Little Richard's Big Glam Legacy

---
We were saddened to learn of the passing on Tuesday, Nov. 27, 2012 of Mickey "Guitar" Baker at his home near Toulouse, in the south of France. Mickey formed the pop duo Mickey & Sylvia (with the late Sylvia Vanderpool Robinson) in the mid-1950s. Together, they had a pop & R&B hit in 1957 with the classic "Love Is Strange". Other early hits included "There Oughta Be A Law", "Dearest" and "Baby You're So Fine". The duo split up in the late 1950s, but continued to record off and on until the middle of the next decade. - David Blakey

---
We've expanded our mp3 song list to over 900

---
Ricky Nelson career feature

---
Brenda Lee featured/performs
---
Marti Brom and Rosie Flores doing a Janis Martin tribute show in Nashville

---
Book review: Lonnie Donegan and the Birth of British Rock & Roll
More info on Lonnie and Skiffle music HERE

---
Clothier who dressed Elvis Presley dies in Tenn.

---
Song Premiere: Wanda Jackson, 'Am I Even A Memory'
See the Video

---
Suspect charged in murder of Jerry Lee Lewis' bass player

---
Rosie Flores interviewed

---
Chuck Berry looking to release first album since 1979

---
Johnny Cash: Massive box set

---
Phil MacPhail's Rockabilly Scene column

---
Concert Review and Slideshow: American Music Masters Series Tribute to Chuck Berry

---
Chuck Berry interviewed

---
Imelda May: More Mayhem

---
Rosie Flores album review

---
Jerry Lee Lewis devastated by band member's murder

---
Another article RE: 2013 Winter Dance Party

---
B.B. Cunningham killed in shooting incident

---
Johnny Cash Museum planned for downtown Nashville

---
2nd annual Johnny Cash Music Festival in Jonesboro, AR. The concert raised about $200,000 to benefit the effort to restore Cash's childhood home in Dyess, AR. A portion of the proceeds will also go to fund a scholarship established in Johnny Cash's name.

---
Wanda: 'Unfinished Business' album reviewed

---
Nick Curran R.I.P. October 6, 2012, at the age of 35. A video featuring Nick

---
Surf announces 2013 Winter Dance Party lineup

---
R&R Hall of Fame has a weeks worth of events to salute Chuck Berry

---
Johnny Cash's Confidant Saul Holiff Revealed in My Father and the Man in Black Documentary

---
The longest running rockabilly festival ends after 25 years

---
Ricky Nelson Digital Suit
California judge indicated that she will allow the estate of singer and actor Ricky Nelson to pursue a case against Capitol Records over the amount of royalties due from digital downloads of his songs.

---
American Songwriter: Rockabilly Pioneers Wanda Jackson and Janis Martin Have Some 'Unfinished Business"

---
Another Janis' CD Review courtesy Dominique "Imperial" Anglares

---
Norton Records, a National Treasure, Needs Your Help After Hurricane Sandy

---
Buster Fayte:
Jody Reynolds
---
Daughter finds late father's book about Elvis, decides to publish it

---
Norton Records' Red Hook warehouse destroyed by Sandy

---
Hurricane Sandy Damaged Rock and Roll Hall of Fame Building

---
Book: Rockin' in the Desert youtube trailer

---
Buster Faye: CD Review: Furious

---
Buster Fayte: Cliff Gallup

---
Sun Studio: Traveler Reviews

---
Dominique ANGLARES offers a video and bio on Tibby Edwards

---
Rock Hall reveals rare Chuck Berry footage

---
The Big Man Behind 'Shake, Rattle And Roll'

---
Million Dollar Quartet will Rock Las Vegas in open-ended run in 2013

---
Catching up with Wanda
October 20 2012, Wanda turned 75

---
Elvis leads Memphis Music Hall of Fame inductees

---
"I Love You Because" Presley duet

---
Marshall Lytle's page updated

---
R-rated Jerry Lee Lewis page

---
Lee Rocker "Rockabilly Boogie" Animated Video

---
Rockabilly Radio link updated

---
The Blasters: Unsung Rockabilly Heroes

---
British studio guitarist "Big" Jim Sullivan, who played with Eddie Cochran and Gene Vincent on their ill-fated British tour died Tuesday (October 2) in Billingshurst, England at the age of 71.

---
Here's a teaser for the review of Janis Martin's "The Blanco Sessions" in Norwegian
Janis Martin - The Female Elvis - was an unusually vigorous older lady. "I can not remember to have heard an elderly lady with such depth in her voice and unusual timing for rock'n'roll," reads the review of "The Blanco Sessions" in Norwegian ROCK. - Dag Bogeberg

---
Janis Martin's Final Album on 'Believe Your Ears'
More information on Janis' CD to come

---
Johnny Cash: The Complete Columbia Album Collection

---
Update on Sheree Homer's Ricky Nelson book.
Sheree wrote: "Barnes and Noble is the cheapest place to pick up my latest book. Only $23.62 plus $3.99 shipping. Make sure to tell them to ship it to your home; otherwise, they'll charge $35 plus shipping. Hope everyone will decide to pick up a copy. Not true about December 15; that will be changed too. My publisher said it is ready to mail."

---
Buddy Holly's 76th Birthday Bash

---
Wanda Jackson, "Unfinished Business" Album Due Oct. 9th

---
It was reported on August 9th that Rockabilly Hall of Famer Jimmy Edwards has died.

---
Designer of iconic Sun Records logo dies in Memphis at 87

---
Elvis Presley: FTD Special Edition 2 CD [7" Classic Album Presentation]. Check out the track listing.

---
Chris Isaak lets Sun shine on new CD

---
Hail! Hail! Rock 'n' Roll: Chuck Berry Invents Rock Guitar with a Gibson

---
Rosie Flores Slings a Working Girl's Guitar

---
Perkins tribute planned at Beatles at the Ridge event

---
PBS's Celebrating the music of Johnny Cash to premiere 8/11

---
New Feature on the RHOF site: Pin Ups

---
Rosie Flores produces final album for Janis Martin
Rosie says ... watch for more information regarding this CD on the RHOF site

---
Johnny Cash Music Festival Coming to TV, CD and DVD

---
Tony Wilkinson reviews the Americana International 2012 weekend

---
Rockabilly Hall of Famer Johnny Jay R.I.P. Johnny passed away at 10:26 AM Saturday July 14th, 2012.

---
Sonny Burgess featured

---
Phil MacPhail's Rockabilly Scene column updated

---
Wanda Jackson 'In the Studio'

---
Gina Haley page updated

---
Recordings by Elvis Presley mentor, Joe Manual, discovered

---
Jalopy Journal Forum discusses VLV 2013

---
Elvis Birthplace and Museum site expansion set for August unveiling in Tupelo

---
Review: Little Richard in Washington, D.C. Show Photos

---
Reverend Horton Heat fans:Documentary Concert

---
Movie Review:
Welcome to the Club: The Women of Rockabilly
---
Johnny Cash's Jewish manager

---
Former Sun Studio engineer, James Lott, is in poor health. There'll be a Memphis benefit show for him.

Learn more about James on FaceBook

---
The Excels page updated.

---
Unconquered: The Saga of Jerry Lee Lewis, Jimmy Swaggart, and Mickey Gilley

---
Sheree Homer announced McFarland has posted her book "Rick Nelson: Rock and Roll Pioneer" on their website. You may pre-order if you wish.

---
Rockabilly Hall of Fame releases New CD

---
Los Straitjackets: Fit to be tried

---
James Burton featured

---
EVENTS ... a new Rockabilly Hall of Fame feature. Scroll down, right after Tidbits news

---
Gina Haley's page updated

---
Remembering Sharon Sheeley. RHOF's page on Sharon

---
Chantilly Lace (Gene Vincent's granddaughter) with Buzz Campbell at Ronnie Mack's Barn Dance

---
Imelda May Hopes to Tour the U.S. Soon

---
Eddie Cochran Weekend June 8-10, 2012

---
Paul MacPhail's column updated

---
Little Richard rocks Beale Street

---
Imelda May, Royal Albert Hall, London

---
Larry Donn R.I.P. (1941-2012)

---
Bobby Vee tells fans he has Alzheimers

---
Helena, AR, May 12th
Bob from the Rockabilly Hall of Fame will be there

---
Don McLean on "American Pie" lyrics: "I don't talk about it."

---
Jerry Lee Lewis is unable to perform at this year's Beale Street Music Festival after breaking his leg

---
Rock 'n' Roll Payola: Dick Clark and Alan Freed

---
Cricket Joe B. Mauldin still alive, subject of inaccurate death report

---
Walnut Ridge, AR to honor area's rockabilly history

---
Happy Birthday, Roy Orbison

---
59 Years Later, Dick Richards Still Rocks Around the Clock

---
Rockabilly Queen Wanda Jackson Tears it Up, w/Photo Gallery

---
Stars gathered for We Walk the Line, Johnny Cash 80th birthday tribute

---
I think I'm having a rockabilly baby!

---
"Extra" feature updated

---
---
Marshall Lytle featured in Tampa, FL newspaper

---
Blue Echoes page added to our site

---
Posted April 13th: Mauldin's health will prevent Crickets from attending Hall of Fame ceremony.

---
Portsmouth natives to be inducted into Rock and Roll Hall of Fame. posted April 13, 2012

---
Crickets credited for The Beatles' genesis

---
Go Cat, Go The Rise of Carl Perkins

---
60 more FaceBook links added to our extensive list. Thanks to Sheree Homer

---
The Blue Caps: Pioneering band's showmanship helped when injury hampered Gene Vincent (Rock and Roll Hall of Fame Class of 2012)

---
RE: Marshall Grant

---
Our Skiffle page updated

---
Nominate Danny Cedrone for the Philadelphia Music Alliance Walk of Fame

---
Jerry Lee Lewis outraged by gold digger smear

---
Moondog memories from Alan Freed's son, Lance Freed. Great audio clip.

---
Saturday Night Jamboree early rockabilly history marker unveiled. Be sure to read the article link posted on this event page.

---
---
Cricket Allison's childhood home saved, destined for Buddy Holly Center grounds

---
Rockabilly Hall of Famer Mack Allen Smith gets song played on HBO

---
Ray Campi featured

---
C'mon everbody! Jive along to the The Eddie Cochran Festival

---
Johnny Cash to Get a Permanent Home in Downtown Nashville

---
Keeping up with the Nelson Twins

---
Imelda ... a baby?

---
More on: Jerry Lee's engagement

---
Franny Beecher makes local news

---
The Guitar Played on "Blue Suede Shoes" By Carl Perkins Identified

---
National Enquirer: Jerry Lee Lewis to wed wife #7

---
The Rock and Roll Hall of Fame announced the presenters who will induct the 2012 honorees. The 27th annual Rock and Roll Hall of Fame Induction Ceremony will take place on Saturday, April 14th in Cleveland and premiere on HBO on Saturday, May 5th (9:00-11:30 p.m. EST/PST) The Blue Caps, the Comets, the Crickets, the Famous Flames, the Midnighters and the Miracles will be inducted by Smokey Robinson.

---
Album Review: Lee Rocker, "Night Train to Memphis"

---
Update: Benefit Johnny Cash tribute concert to feature Willie Nelson, Sheryl Crow, Lucinda Williams, others

---
More Event Photos of the recent Lake Havasu weekender

---
Female Artists You Have to Know About (from Buster Fayte)

---
The Killer, the Thriller, and the Fulfiller, three cousins inseparably bonded through music - each rose to fame, their stories becoming legend

---
FaceBook Artists: we have added another 60 names to our list.

---
Chris Isaak announces UK tour

---
"Rockabilly Scene" page updated

---
Jerry Lee Lewis: (posted March 4, 2012) - Jerry Lee was treated at Ferriday hospital. He spent a few days in Riverland Medical Center there last week for pneumonia. "The Killer" was released over the weekend.

---
Chuck Berry performs, 25 seconds, video

---
Back Stage Photos RE: "Million Dollar Quartet"

---
Johnny Cash news update"
---

Sonny Curtis at the Country Music HOF, 2/25/2012
Sonny Curtis: Cricket from Meadow, TX honored as prolific songwriter

---
Wanda continues to gig. This article is from Chattanooga, TN

---
Billy Strange (1930-2012)

---
Ray Campi interview, in Spanish and English. Many photos.

---
Ponderosa Stomp takes the year off

---
I Knew Diddley
Bo's oldest son, Ellas Anthony McDaniel, has launched a new website. Born in Chicago, IL in August 1954, Mr. McDaniel hopes to co-author a book and a possible video documentary later this year telling the story of his life as the son of one of the founding fathers of rock & roll and and what it was like to be the son of a person who went from local musician to international star between his 7th month and his first birthday.

---
Gene Vincent Video, (44:43 minutes long) supposedly filmed two years before his death, was posted on YouTube Feb. 11, 2012 (his birthday)>

---
Spam Warning!
Watch for the e-mails that are about being stranded in England. Example: Glen Glenn open it and it crashed his computer
---
Johnny Cash Museum planned for Nashville

---
Marshall Lytle, Comets Bassist:
"The announcement was made today 2-9-12 (31st anniversary of Bill Haley's Death) by the R&R Hall of Fame and April 14, 2012 is the induction date. 58 years after recording "Rock Around The Clock" and 59 years ago, Crazy Man Crazy, and 60 years ago Rock This Joint. We will be in Cleveland to be inducted into the Rock & Roll Hall of Fame. On behalf of ALL The Comets. Thank you, Terry Stewart, President, R&R HOF for making it happen. Still RATC." Marshall
---
Wanda featured

---
Bill Haley "Extra" page updated

---
Cash's 80th birthday, legacy to be celebrated

---
Let it Rock: 10 Pioneers Who Inspired Rock's Greatest Guitar Heroes

---
FaceBook: Easily find your favorite artists, thanks to our researcher Sheree Homer

---
Our Shows, Tours & Gigs page has been updated

---
Video: EPE Inc. recently had the Musical Instrument Museum in Phoenix Arizona do a partial restoration of Elvis' 1975 D28.

---
Restorations to Begin on Johnny Cash's boyhood home

---
Photos: Surf Ballroom

---
Buster Fayte: Curley Money's "Chain Gang Charlie" Came Out of Nowhere in the 90s

---
Buddy Holly: The music lives

---
Charlie Gracie, 75, is back with a new rock and roll record

---
Top 10 Johnny Cash Songs (according to tasteofcountry.com)

---
Surf to celebrate Buddy

---
Preview: Here's Little Richard: Expanded Edition

---
Fender Custom Shop Buddy Holly Tribute Stratocaster

---
Chan Romero show article

---
Al Urban, born on March 01, 1935 in Gonzales, Texas, passed away 76, on January 18, 2012.

---
Ten Things you never knew about Chuck Berry

---
Etta James has died

---
Billy Adams' "Billy Gram" column updated

---
W.S. Holland show article

---
MUSICMEMPHIS features "rockabilly"

---
Terry Wayne RHOF pages

---
2nd Annual Arkansas Delta Rockabilly Festival, Sat., May 12, 2012 in Helena, AR

---
Marti Brom will join performers at the Rock & Roll Hall of Fame in Cleveland, Ohio as part of a tribute to Janis Martin.

---
Pat Boone will replace Chuck Berry at Winter Dance Party

---
Deke's Guitar Geek Festival. January 20-21, 2012

---
Photos: Scotty's 80th Birthday Celebration

---
Buster Fayte. A Rocket In My Pocket: The Soundtrack To The Hipster's Guide To Rockabilly Music

---
Rick Nelson was really my dad: Sam Nelson remembers...

---
Song Samples from Lee Rocker's new CD, "Night Train to Memphis"

---
Cajun Pawn Stars uncovers lost Jerry Lee Lewis recording from 1952

---
Dennis Dorrity Jr. Review Tony Wilkinson review

---
Marti Brom's "Not for Nothing" grabs #9 on RMR's 2011 Top Albums. RMR "is the number one independent music chart ezine in the world" and "compile[s] radio airplay data reported online from radio station DJ's around the globe that play all forms of roots music."

---
Lee Rocker's "Rockabilly Red" wine coming soon

---
Rockabilly star Rosie Flores books Janis Martin tribute concert at Rock and Roll Hall of Fame

---
Tony Wilkinson reviews the All Star DooWop Weekend, Volume 1X

---
Buddy Holly: the Man and His Glasses

---
D.J. Fontana featured

---
Rick Nelson's
short, late-'70s tenure at Epic Records was a creative and productive period for him, but one might not know it from what has been released in the U.S. He recorded three albums worth of material but only 1977's Intakes was released during his lifetime. The next Epic album, the Al Kooper-produced Back to Vienna, was never released at all. And its follow-up, Rockabilly Renaissance, a return to Nelson's rockabilly roots and a forerunner to the alt-country movement, was released posthumously in heavily overdubbed form as Memphis Sessions. The Real Gone compilation The Complete Epic Recordings, due out February 28, 2012, will mark the first time 11 of the 41 tracks will be released in the U.S., and the first time these three albums have appeared on CD in the U.S. The volume was produced and annotated by Rick Nelson expert James Ritz, and Rockabilly Renaissance restored to its original sound by Richard Weize.

---
We've added a new feature: On Line Radio sources.

---
Hemsby 47 Reviewed by Tony Wilkinson

---
"Rockabilly Scene", Paul MacPhail's column updated

---
Musicians of the 50s, 60s, and 70s who passed away in 2011

---
Why You Should Go See Chuck Berry As Soon As Humanly Possible

---
Esquire Interview: Chuck Berry

---
Imelda May giving something back. courtesy Buster Fayte

---
Wanda Jackson on how Jack White convinced her To do Amy Winehouse's "You Know I'm No Good"

---
At this moment this Rockabilly Hall of Fame remains the #1 site listed in a Google search for the word "rockabilly." in about 8,110,000 found.

---
Dale Watson & The Texas Two - The Sun Sessions (Music Review)

---
Billy Burnette interviewed

---
December 27th, Happy 80th Birthday Scotty Moore

---
We've created a new feature, Sidelines. It's in the adjacent column of this page

---
Who Inspired the Musical "Memphis?" Dewey Phillips! article and videos

---
Ronny Weiser,
2012 resolutions: Las Vegas rockabilly music producer, is looking forward to several projects next year. "A bunch of stuff I've produced is coming out in Europe," he said. "I'm hoping to record an Australian rockabilly singer named Rusty Pinto. I heard him play a couple of times at Viva Las Vegas. "Pinto has extremely strong vocals, and he does crazy antics on stage. I haven't approached him yet, but I think we could put together something great."Other than that, Weiser's plans are to do what he already does best."I plan to have a great rockin' time this year," he said. "And of course, I'm really looking forward to April." Weiser hosts an unofficial pre-convention party for the Viva Las Vegas rockabilly convention at his Winchester-area home in April.

---
Book Review,
1950's Radio Color
---
Bobby Crown featured

---
Ten Things you didn't know about Elvis

---
Third Man Records Drops Jerry Lee Lewis Live Album

---
Trailer: Winter Dance Party, the Story of Buddy Holly's Last Tour As Told By Dion

---
Dave Bartholomew to be honored with special Grammy award

---
Elvis nominated for posthumous Grammy

---
From Scotty Moore's webmaster. James Roy sez:
"While I was in Memphis a couple of weeks ago for Scotty's party some of the guys had booked Sun to do some recording. A few of us hung out there during and I took a few pix for them. It should give you a feel for the layout and the control room (if you didn't have one already)."
---
Site of Elvis Presley's first public appearance before Sun Records discovery

---
Chuck Berry featured

---
Imelda and Bono tear it up

---
Swing your way into 2012 in Indianapolis, IN

---
An article of interest: Manuel Cuevas

---
James Burton featured

---
Buddy Holly article
It's nice to see today's writers still have an interest in our music

---
Who those who care: Graceland gears up for Elvis' death anniversary

---
Werly Fairburn page updated


Buddy Holly guitar frets used in replica instruments

---
Million Dollar Quartet welcomes WS "Fluke" Holland

---
Chan Romero's daughter featured

---
Imelda May fans:" Live in the studio, "Train Kept A Rollin'"

---
Scotty Moore's 80th birthday bash

---
Update on Chris Isaak

---
The Man Who Picked Glasses for Buddy Holly


Tina Craddock (Gene Vincent's sister) has created a FaceBook Page. She's going to be using it to share stories about her brother and other items for his fans. If you're interested, please look her up, and send her a friend request: Tina Craddock, or tinacraddock@aol.com

---
Our good friend, Alan Clark, is putting on great New Years Eve Show in Apple Valley, Calif.

---
Roy Orbison's widow worked to promote his music

---
Buddy Holly's First Collaborator's story

---
Spotlight Roy Orbison

---
We've added a new page to the site: CD Stores

---
Dale Watson shines at Sun

---
Update: Rudy "Tutti" Grayzell
went to Los Angeles and then on to Las Vegas and Seattle. He settled in Portland for a long time before coming back to San Antonio for a few months. He's now based in Pacific Grove, Calif. In August, Grayzell worked the Lincoln Center in New York City, where he sang "Judy" during a salute to Sun Records.

---
Gretsch: Win a Brian Setzer guitar

---
We've added a new page to the site: Vintage Clothing

---
Introducing Carl Bradychok

---
Barbara Orbison, widow of Roy Orbison, dies in LA

---
'56 photo of Elvis to become statue

---
Memphis: Stax Records and Sun Studio (with photos)

---
Los Straitjackets in Christmas spirit

---
Johnny Cash Album Review

---
An Interesting Read: Remembering Rockabilly Legend (& My "Uncle") Malcolm Yelvington

---
Dec. 5th: Happy 79th Birthday to Little Richard

---
FYI: December 4, 1956, the so-called "Million Dollar Quartet" jam session took place at Sun Studios in Memphis with Elvis Presley, Jerry Lee Lewis, Johnny Cash and Carl Perkins.

---
Review: Jerry Lee Lewis in Chicago
Another Review of this show with photos.

---
Chuck Berry's Cadillac a-rollin' to the Smithsonian

---
Scotty Moore's "That's Alright, Elvis" is available on Kindle

---
Johnny Cash Birthday Special Event Station

---
Our Show & Tours listings have about doubled in content thanks to page editor Sheree Homer.

---
BillyGram (Billy Adams) page updated

---
New to YouTube: "The Boys Of Texas" (A Rockabilly Tribute)

---
Interview: Buddy Holly PBS tribute show was a 'thrill' for producer Peter Asher

---
Imelda May update also see an Interview

---
We've added a few more listings to our Paper Clips page.

---
Five Places where rockabilly still rolls

---
Live video: Chuck Berry, 85, St. Louis, 11/16/11

---
CD Review: Billy Burnette's 'Rock 'n' Roll With It'

---
RHOF Recommended, Christmas gift idea, 'Rockabilly: The Illustrated History' (Glen Glenn has his copy and loves it.)

---
Buster Fayte: So much rockabilly to discover

---
Rockabilly Hall of Famer, Carl Cherry, R.I.P. November 18th in California

---
Johnny Cash channels Leadbelly

---
Elvis heirs lose lawsuit in Germany

---
Buddy Holly's widow Maria Elena on remembering her rock 'n' roll hero

---
Rolling Stone rates guitarists: Chuck Berry at #7, and Scotty Moore at #29

---
Gibson Feature: How Elvis and Scotty Moore defined rock 'n' roll

---
For those who know him, Phil Doran (ex-entertainment director at the Green Bay Casino) is now co-owner of Rock n Roll Land

---
"Taboo!":
24-tracks release contains flip-sides from Genes popular singles, never-before-heard rehearsals, live performances, home recordings and seven previously unissued tracks. The CD is an introduction to the other side of Genes music covering rhythm and blues, pop and country field.

---
The original version of "Rock Around the Clock"

---
Note: November 21, 1955, RCA Records purchased Elvis Presley's recording contract from Sam Phillips at Sun Records for an unprecedented sum of $35,000.

---
"Rockabilly Scene" page updated

---
FYI: 3-mile corridor of Elvis Presley Boulevard could get makeover

---
Ponderosa Stomp autographed 2011 poster auction

---
Gina Haley's page updated

---
Charlie Gracie featured

---
Michael J. Fox does "Johnny B. Goode". Interesting, but the video quality is poor.

---
Tony Wilkinson's Reviews: Page with updates

---


Tempe, AZ
Rockabilly Reunion photos

---
Four Elvis movies currently in development

---
Bill Haley Jr. performs father's classic tunes

---
George Klein destined for the Rock and Roll Hall of Fame?

---
Attn: Guitar Buffs: The Bigsby True Vibrato

---
Rudy 'Tutti' keeps rockabilly rolling

---
Wanda Jackson, The Scala, London, UK, Monday 7th November 2011

---
Sneak preview of the extraordinary all-star concert, "Buddy Holly: Listen To Me" that aires December 2011 on most PBS stations

---
Texarkana highway named in honor of rock 'n' roll legends

---
"Memphis": the play

---
Bobby Jones (Gene Vincent Blue Cap) page updated

---
Buddy Holly all-star tribute concert to premiere on PBS on Dec. 3

---
Elvis'Cadillac Fleetwood 75 Limousine to be auctioned

---
Chris Isaak interview

---
1956: early Elvis featured

---
Patty Perry R.I.P. Patty was the only Lady in the "Memphis Mafia", and she was Elvis's personal assistant for 18 years and had "True Stories" to share at Events, Contests, and Cruises.

---
Rockabilly is alive in Chicago

---
Sister Rosetta Tharpe featured

---
Dickie Clark goes virual reality

---
60 Elvis pretenders smoked out

---
October 24, 1930, "The Big Bopper," a/k/a J.P. Richardson, was born in Sabine Pass, Tex

---
Billy Diamond, former Fats Domino road manager, who coined "Fats" nickname, dies at 95

---
"Extra", Alex Frazer-Harrison's Billy Haley pages have been updated.

---
Doo-wop Fans: Dion and his Runaround Sue were Number One 50 years ago

---
Apple Founder visited Sun while recuperating in Memphis

---
Review:
Ricky Nelson's Greatest Hits

---
Bill Black: Oct. 21, 1965, Elvis' bass player from 1954-'57, died four months after receiving surgery to remove a brain tumor. He was 39.

---
Robert Gordon featured

---
John Carter Cash shares the Man in Black he knew

---
"Happy Birthday" Wanda Jackson is 74 October 20th

---
Charlie Gracie
... rocks Italy as part of a month-long concert tour which takes him to several cities throughout England and Wales as well. Charlie on stage in Ravenna where he headlined the Moondog's International R&R Festival. Charlie's new on ABKCO RECORDS: "For the Love Charlie" (produced by Al Kooper) has been released overseas to coincide with this tour. Charlie's guests on the CD are Graham Nash, Peter Noone, Jimmy Vivino, Dennis Diken, Craig Ross, Eddie Angel and others. The U.S.A. release date is Nov. 8th

---
Imedla May's French video

---
Chuck Berry: October 18, 1926, "Chuck" Edward Berry was born.

---
Mike Stoller awarded American Celebration Lifetime in the Arts, 2011

---
Happy 50th Wedding Anniversary to Glen Glenn and his wife Mary, October 14th

---
Big Bopper Jr. makes donation to the Surf

---
Imelda May appears on Jay Leno's Tonight Show for third time

---
The strange legacy of Eddie Cochran's guitar

---
Nun Who Kissed Elvis looking to raise cash

---
National Tour of Million Dollar Quartet Opens in Cleveland

---
Johnny Cash "Bootleg, Volume 3: Live Around the World" preview

---
Rockabilly Hall of Famer Buddy Sharpe (Bernard E. Gareis), Bulger, 76, PA passed away October 12, 2011. Obit

---
On October 12th, 1957, Little Richard announced that he was giving up rock and roll for religion. He later was ordained as a minister, but eventually went back to playing rock and roll.

---
Gene Vincent Fans Mark 40th Year Since His Death And Burial

---
October 11th, 1955, Elvis Presley, Carl Perkins and Johnny Cash kicked off an 11-date tour of the Southern US states in Abilene, Texas.

---
Mississippi Hills Exhibit open in Topelo

---
London's Million Dollar Quartet sets closing date

---
Happy 50th anniversary, Wanda Jackson and Wendell Goodman (Oct. 6, 2011)

---
CD Review: "Young Man with the Big Beat"

---

The story of James Burton's
early years told in this fine new compilation revolves around fast recognition of his talents by key US musicians who witnessed the teenager's playing enhancing records with distinctive and memorable licks. Ace Records

---
"The Last Ride" New Hank Williams upcoming movie

---
Bill Mack, a former bassist for Gene Vincent's Blue Caps, passed away Oct. 5, 2011. Bill was 78. Both his son and grandson are bass players.
Scroll down to the Latest News on Gene's Page to see Bill's son Paul's tribute

---
Bill Allen, has a page in the RHOF

---
FYI: October 3rd ...
(1938) Eddie Cochran's birthday ... (1945) Elvis made his first ever-public appearance in a talent contest at the Mississippi Alabama Dairy Show singing "Old Shep". He was 10 years old at the time and came second.

---
Tony Wilkinson reviews two CDs: Roy Brown, Platters

---
Narvel Felts featured

---
76 Pictures were posted for Jerry Lee Lewis' 76th Birthday

---
Elvis Law becomes a continuing education course 

---
Rockabilly Artists
that played at the Oneida "E" Fest II. More photos added October 1st

---
Elvis concert of the "The Big One" sought

---
Family Members
of Buddy Holly, Ritchie Valens and J.P. "The Big Bopper" Richardson are expected to attend the dedication of Three Stars Plaza in Clear Lake on Thursday, Oct 13.

---
Sam Nelson (Rick's son) wants to restore and digitize all 435 Ozzie & Harriet episodes

---
You can take the boy, outta the rockabilly, but...

---
Million Dollar Quartet releases live London Cast Album

---
to Jerry Lee. He turns 76 Sept. 29th

---
Wanda Jackson will be featured in an "Inside the Music" film airing 7 pm Sunday on the Smithsonian Channel.

---
Rolling Stone features Imedla's "Mayhem"

---
Tony Wilkinson: Two CD reviews, "Raunchy Sugar..." and "Dop Wop...".

---
How I Did It: Hartley Peavey of Peavey Electronics

---
For What's Worth - The Rock & Roll Hall of Fame has a fan based nomination page. Ed Note: No rockabilly. The only ones we consider voting for is Donavan and Freddy King.

---
Johnny Cash's daughter publishes memoir

---
The Sounds of Rockabilly (one person's opinion)

---
Goofin' Records Rock And Roll Weekender, Finland, Oct. 14-15

---
Rockabilly Instrumental Music played its part in rock & roll history too

---
Elvis talks about cars, kids, love and loneliness in vintage interview

---
Tribute: Larry Bamburg

---
Review: Jerry Lee - 25 All Time Greatest Sun Recordings

---
Work set to begin on Johnny Cash Trail Overcrossing

---
BMG buys music publisher Bug Music

---
Elvis' first guitar goes on auction

---
Imelda May to play the O2

---
Sonics, Wailers, Ventures: Rock and Roll Roots Started in Lakewood

---
Fender opens factory to the public

---
Orangie Hubbard R.I.P., RHOF inductee #332

---
Review: Red Hot and Blue Rockabilly Weekend

---
Buddy Holly birthday bash held

---
Theatre Review: Rock Around The Clock (Touring)

---
Elvis Presley Movie names director


Glen Campbell walks the line. He was part of the 1959 Champs - "Tequila".

---
Buddy's second appearance on the Ed Sullivan Show

---
Lubbock Online: Relevance of Holly's music seen in its embrace by future generations

---
New Buddy Holly Book by Alan Lungstrum

---
Blues News: Era passes with death of last of original delta bluesmen

---
Memphis Overton Park Shell celebrates 75th anniversary

---
We are starting to update our "That Bakersfield Sound" site.

---
Buddy Holly's widow hopes to stop unlicensed Holly impersonator

---
Wanda announces international fall tour

---
14th Annual Depot Days Newport, Arkansas - September 24th.

---
Imelda May reveals how she helped mum in cancer battle

---
Tony Wilkinson Reviews Buddy Holly CD, "That Makes It Sound So Much Better!"

---
RHOF Contributor Paul MaPhail sez that today, September 26, Fats Domino, Little Richard, Chuck Berry and Jerry Lee Lewis are in New Orleans making a film for the Rock 'n' Roll Hall of Fame.

---
Tony Wilkinson Reviews
"Three Months To Kill - West Coast Rock 'n' Roll" CDs
---
Clear Lake park dedication set

---
Jack Neal R.I.P. Dickie Harrell has informed us that Gene Vincent's original Blue Cap bass player died Thursday, September 22, 2011. Jack was 80 years old.

---
Buck and Merle Fans: Nashville Country Music Hall of Fame to open Bakersfield exhibit in 2012

---
Imelda: recent video, "Pullin' the Rug"

---
"Rockabilly Scene" updated

---


UK's Americana 2011
reviewed by Tony Wilkinson

---
"Elvis: The Great Performances"

---
Conway Twitty ...
September 1, 1933, country singer Conway Twitty, whose real name was Harold Lloyd Jenkins, was born in Friars Point, Miss. He took his stage name from the towns of Conway, Ark. and Twitty, Tex. Twitty began as a rockabilly singer, scoring a minor hit in 1957 with "I Need Your Lovin'." But his biggest success on the pop charts came when he switched to a rock ballad style on "It's Only Make Believe," a No. 1 record in 1958.

---
My Gal is Red Hot: the story

---
Mac Curtis: "I have been waiting for this movie to come to life. It looks as though it may be. Here's the latest trailer and a lot of background on the movie." ... "Slip, Tumble and Slide" trailer

---
RHOF Inductee B. Jeff Stone dies at 75
"It is with regret that I inform you of the death of B. Jeff Stone on Friday, August 26, 2011, at Mother Frances Hospital in Tyler, Texas, after having had a medical procedure on his heart. His funeral will be, August 30, 2011, at 10 a.m. in the Corley Funeral Home Chapel. Entombment will be at Resthaven Mausoleum in Corsicana."
- Patricia Stone

---
Imelda to conquer US with top TV dates

---
Glen Glenn remembers the King

---
Federal Agents Raid Gibson Facilities In Nashville, Memphis

---
Book Review: 1950s Radio-In-Color

---
Buddy Holly featured

---
Buddy Holly Image in new web application

---
House Of Cash: "The Legacies of my Father, Johnny Cash"

---
The #7 Red Hot & Blue Rockabilly Weekend: Montreal, Canada, September 1st to 4th

---
Jerry Leiber, who wrote some of rock and roll's biggest hits, dies at 78

---
Billy Burnette's CD:
"Rock N Roll With It"
See Review
---
Memories of Elvis Presley's 1957 concert

---
Elvis Presley's 'Blue Moon' at 57: His best ballad?

---
Johnny Cash 'Bootleg, Volume 3: Live Around the World' preview

---
Wanda Jackson: a few recent photos


Monreal: 7th Annual Red Hot & Blue Rockabilly Weekend Sept. 1st-4th, 2011

---
Chicago: Time for a Music Row to showcase the Blues?

---
Bristol, VA: ACMA continues operating music museum

---
FYI: August 15, 1958, Buddy Holly married Maria Elena Santiago in a private ceremony at Holly's parents' home in Lubbock

---
Gretsch introduces G6120 Eddie Cochran Signature Hollowbody

---
Lansky Bros. gets historical marker on Beale Street

---
Looking Back: Launching the Rockabilly Book in Memphis

---
FYI: Man Breaks "In" to Folsom Prison

---
July 10th:
Leo Fender's birthday. See blog

---
Million Dollar Quartet announces national tour schedule

---
Two Venture members among those to be inducted into to Oklahoma Music Hall Of Fame

---
Elvis 'Kiss' photo revealed - 55 years later

---
Marshall Grant dies at 83

---
Screamin' Festival 2011 reviewed by Tony Wilkinson

---
FYI: Elvis Week, the annual commemoration of Elvis Presley's death, begins Tuesday (Aug. 9) in Memphis, Tenn (he died on Aug. 16, 1977).
Jerry Lee Lewis: net worth

---
Johnny Cash honoured by family at festival

---
Jerry Lee Lewis: Pop Goes the Country Shows

---
5 Videos from unsung rockabilly great Freddie Fingers Lee

---
Johnny Cash home newest heritage site

---
Wanda: the latest news story

---
August 5, 1957: Dick Cark featured

---
Upcoming 5-CD Elvis Presley Box Set Celebrates 1956

---
CD Reviews by Tony Wilkinson

---
Elvis items debut at Musical Instrument Museum

---
Avid Rock Concert Poster Collector Announces His Search For Original 1950s Buddy Holly Concert Posters

---
YouTube: Brian Setzer's Rockabilly Riot! Academy Brixton 24 July 2011 (15 min.)

---
Rockabilly Hall of Famer Jimmy Evans has passed away. He was proud to be a member of the RHOF. We will miss him. R.I.P.

---
Fellow rockabilly fan Sheree Homer needs our help. Sheree and her mother are losing their house. PayPal address: homersm2001@yahoo.com

---
Sun Studio: 117 photos taken by a fan

---
Comics: Graphic Elvis, or Man and SuperElvis

---
Great Article: What Is Rockabilly Music?

---
"Curveball" a YouTuber from Duane Eddy's new "Road Trip" album

---
Photos of Elvis at Sun Studio Added to Elvis Mobile App


Sun Studio wants to help landmark Chess Records attract tourists

---
FYI: August 2, 1958, Johnny Cash left his first record label, Sun, to sign with Columbia and stayed with them for 28 years

---
Guitar Aficionado: Elvis Presley's 1953 Martin 00-21 at Auction

---
New Memphis hotel touts Elvis Presley's favorite restaurant booth

---
Johnny Cash feature article

---
About Fred Douglas

---
Wanda Jackson, Imelda May share the bill in Philly

---
Buddy Holly to receive star on Hollywood Walk of Fame on 75th birthday

---
Chuck Berry Statue to be dedicated in the University City Loop July 19, 2011

---
Concert Review: Brian Setzer in London

---
A feature article for fans of Marty Stuart

---
FYI: July 27, 1958, fan's of rock & roll music were warned that tuning into music on the car radio could cost you more money. Researchers from the Esso gas company said the rhythm of rock & roll could cause the driver to be foot heavy on the pedal, making them waste fuel.

---
Billy Burnette: "Rock N Roll With It"

---
The History of Rockabilly in the Commonwealth Exhibit (Virginia)

---
Buddy Holly: Behind the scenes of new tribute CD

---
Hard Rock Cafe tour carriers some early memorabilia

---
Nice blog article/photos of Johnny Meeks if you scroll down on this blog site

---
James Burton becomes a "Nashville Cat". Mini review on our Front Page News.

---
Feature Article: How to create a rockabilly space

---
Guitar sold for less than expected. It is believed to have been used by Carl Perkins when he recorded Blue Suede Shoes.

---
Amy LaVere back in the news

---
Elvis to be memorialized by comic book artists

---
J.D. Cooper:
"I am ready to sell my big music collection. We are old. I don't have it catalogued. A huge bunch of music in Memphis suburb. A serious collector or business could do well with it. I think valuable. We are downsizing. I have had a big collection all my life. I appreciate if you know someone interested."
---
7/20/11: Sleeply LaBeef turns 76 and he's still rockin'. We call him the "The Rockabilly Troubadour" - a true legend

---
Before her appearance on a recent Jay Leno Tonight show, Imelda May talks about her top five guitar-toting influences in American music

---
July 18th: 18-year-old Elvis entering Sun Recording Studio in 1953 to cut two songs on an acetate disk at a cost of four dollars.

---
(not-rockabilly) Kris Kristofferson clears up stories about helicopter visit to Johnny Cash

---
Imelda May Carves Out Her Own Rockabilly Identity

---
Jack Bradshaw: veteran performer with his new RHOF page

---
Rosanne Cash's Book: "Composed" comes out in paperback Aug. 1.

---
1950s Radio In Color: a look inside

---
Through the Eye
NON ROCKABILLY RELATED MOVIE, but our old buddy Marshall Lytle (Comets) is involved in it. He sez: I played the part of Captain Morgan, he was involved in the drug running business in Tarpon Springs, Fl. In the mid 70's he ran a bar called the Blue Moon Saloon. I had a death scene, where Bertie Higgins killed me with a beer bottle. I am also one of Five Executive Producers. It's has been creating a lot of buzz in Hollywood. We shot the Movie in 17 days, last October in Tarpon Springs, Fl. Bertie Higgins did a great job producing and casting the film. My first time acting. (a new venture in my my life at 77.)"

---
Introducing Paul MacPhail's feature column to our readers. Find out more about Paul on our Front Page News.


Two Teen Idols for the Rock & Roll Hall of Fame (??)

---
Sun Entertainment sues over use of Johnny Cash songs in ads.

---
Wal-Mart gives $40K to Carl Perkins Center

---
Floyd Cramer featured

---
Carl and the Killer: looks like a recent YouTube post.(?)

---
July 12, 1954 Sun Records signed Elvis to a recording contract. Elvis was 19. He also gave his notice to his day job at The Crown Electric Company.

---
Rockabilly Musician Chadd Thomas found dead in South Austin

---
Chess Records hoping to get legendary studio on tourists' radar

---
FYI: Jerry Lee Lewis (7/5/11) has contracted bacterial pneumonia and is moving his Chicago show date at the Congress Theater to December 9


Marshall Lytle (Haley's Comets) page update

---
"That's All Right:" sound changed from original Sun tape?

---
James Burton to be inducted into Delta Music Hall of Fame

---
CD Review: Various Artists, "Rave On Buddy Holly"

---
Kim Lenz is making a comeback

---
Les Paul Guitar: Carl Perkins' Gibson up for sale July 20th

---
Johnny Cash: The last days

---
"Ruskabilly" (sic)

---
Brian Setzer's Japan tour dates

---
The "Killer": a recent photo

---
The Recordings: Johnny Burnette & The Rock 'n' Roll Trio

---
Rockabilly Radio is back!

---

Flick Ads: We've completed on our research of the rockin' films from yesteryear. Enjoy!

---
Bobby Vee steps back, is ready to sample retirement

---
Article-updates.com: Precisely what is Rockabilly Music?

---
Falling Comet
In 1955 "Rock Around the Clock" went to the top of the charts and turned Bill Haley into the king of rock and roll. Twenty-five years later, he was holed up in a pool house in Harlingen, drunk, lonely, paranoid, and dying. After three decades of silence, his widow and his children tell the story of his years in Texas and his sad final days.

---


Round Up Of Rhythm!
A "must see 1954 movie clip" featured on our Videos Page.

---
Buddy Holly's first-ever recording, from 1949

---
Million Dollar QuartetWill Rock Off-Broadways New World Stages Beginning July 28

---
Buster Fayet: Raw Talent Made Rockabilly Famous

---
FYI: Carl Perkins will receive a note in the Beale Street Brass Note Walk of Fame.

---
Heart of Louisiana: La. Hayride and Elvis

---
Update: Chuck Berry's statue

---
July 17, 1968: Elvis Presley appeared on an NBC TV show that was billed as his "comeback special". The show featured a black leather-clad Presley performing on a small, square stage, surrounded by mainly women.

---
James Burton to be Saluted as Nashville Cat July 23rd

---
The Nelson Brothers tour schedule updated

---
50-year-old song, recorded by Jerry Lee Lewis, gets new life via TV show

---
Lubbock, Texas: Nash rock photo exhibit opens at Holly Center

---
Buddy Holly CD: See our "That's News to Me" page.

---
Fire chars"Cowboy" Jack Clements home

---
Rock Concert Poster Collector announces finding 1956 Elvis poster

---
Chuck Berry Statue Causes Controversy

---
Wanda at this year's Bonnaroo

---
Comic Book Fans: Artist Gene Colan dies at 84

---
Bill Black's 1956 Fender Precision Bass

---
Buddy Holly: A New Take on an Early Rock Icon


Wanda Jackson to resume tour dates with Adele

---
Johnny Cash auction to be held Saturday


Mack Self: a special feature

---
1956-Focused Elvis Presley Box Set Due September 27th

---
Album: Duane Eddy, Road Trip, his first album in 24 years

---
Buster Fayte: Rockabilly Ain't Elevator Music!

---
The Elvis Presley (Mr. Dynamite) Souvenir Photo Album. Provided by Scotty Moore's webmaster James Roy. This is a photo book they sold at shows in the early part of 1956, which I believe was the first photo book exclusively featuring Elvis, Scotty, Bill and DJ. They're highly collectible now. The pages are courtesy of Brian Petersen.

---
Lee Rocker: The name still says it all

---
Book Review: 'Rockabilly' hits all the right notes

---
More Elvis Product coming in September

---
Mack Self passed away today (June 14th). Mack's obit. We lost a great guy and a good friend. Please keep his soul and family in your prayers.

Mack's YouTube Tribute: A slide show and a song he recorded in 2001 at Phillips International Studio, Memphis

Another article on Mack Self

---
Carl Gardner, Coasters lead singer, dies at 83

Clarence "Frogman" Henry leaps out of retirement (again) and headlined a very special Ponderosa Stomp Revue

---
Buddy Holly: On June 28, "Rave On Buddy Holly," a 19-song tribute to one of America's most enduring and significant recording artists, comes out

---
Ezine Article Rockabilly Slap Bass Has Become An Art Form Unto Itself

---
New Book:
"Good Morning All, I just thought I would advise all the fans of Gene Vincent that my new book: "The Full Story Of A Rock 'N' Roll Tour-1957" is now available for purchase. This book concentrates on the 1957 tour to Australia of Gene Vincent, Eddie Cochran, Little Richard and Alis Lesley. It is 396 pages in hardbound with a Dust Jacket. Anybody interested please contact me at hollysbuddy1@bigpond.com - Roddy Jordan, Lennox Head NSW Australia. Thanks, Roddy"
---
Wayne Hancock cancels dates, plans to enter rehab

---
Pat Boone is not in the Rock and Roll Hall of Fame. Nor is he in the Rockabilly Hall of Fame. Why? :-(

---


"The Female Elvis",
Final Janis Martin recording sessions project NEEDS HELP!!

Janis Martin project update and Rosie Flores' painting of Elvis

Janis and Rosie Flores singing "Hard Times" from Rosie's Rockabilly Filly record:
Hootenanny 2011 July 2nd

---
Great photos and text: The Night Scotty Moore Came to Town

---
Charlie Musselwhite climbs out of The Well

---
Hemsby 46 reviewed by Tony Wilkinson

---
Honky-Tonk Legend Lefty Frizzell gets a new biography


All About Vinyl Records, site that contains many good articles

---
Blue Cap fans: Russell Williford page update: Robert Erskine's 1991 interview

---
Ezine Article: Elvis Presley Songs: The King of Rock and Roll

---
Rocksbilly Radio on line search results

---
Elvis, schmelvis. For rockabilly fans, Carl Perkins remains the go-to guy.

---
Rockabilly Radio Update can be found on our That's News to Me page.

---
Bear Family Radio!
---

Delta Rockabilly Festival
See a slide show video of the artists. The event was held in Helen, AR

---
Imelda May in the news

---
Skeet gets inducted

---
Buster Fayte: Rockabilly's "Mystery Train" Helped Put Elvis On the Map, But Junior Parker Recorded It First


"Happy Birthday" Sonny Burgess, May 28th

---
Buster Fayte: Rockabilly Music Rubbed the Establishment The Wrong Way

---
Video of interest:Johnny Cash and Carl Perkins

---
"Falling Comet" is a great feature article in the June issue of Texas Monthly Magazine. It features the untold story of Bill as his wife Martha recalls the later years of Mr. Rock Around the Clock's life, written by Michael Hall.
Promotional Video -- Texas Monthly info

---
Buzz Campbell (Lee Rocker's guitarist) releases his first solo album

---
CD Review: Reissues - Roy Orbison

---
NOTE: This month we will be featuring two colorful books about the '50s and Rockabilly. One is "Rockabilly: The Twang Heard Around the World". The other is "1950s Radio in Color". Each is unique in their content and we highly recommend both of them to our readers. Stay tuned.

---
Ricky Nelson was born May 8, 1940

---
Sonny Burgess Receives Degree (short article)

---
Rosie Flores show review

---
Jerry Lee Lewis photos
---
Interview with Roddy Jackson good, 24 minutes long.

---
"Women Who Rock: Vision, Passion, Power" at the Rock And Roll Hall Of Fame

---
New Instrumentals 3 CD set to be released on June

---
Jeff Beck April 28, 2011. He recently toured with Imelda May. A few years ago Jeff recorded Crazy Legs, a tribute album to Gene Vincent's lead guitarist Cliff Gallup. FYI: a Review of Jeff's latest CD (a Les Paul tribute)

---
Mac Curtis has a new CD released April, 2011 - "Songs I Wish I Wrote". Listen to a track. For more information: e-mail the record company

---
Jerry Lee Lewis (age 75) at Viva Las Vegas #14. Photo: Jason Bean

---
The childhood home of Johnny Cash is being turned into a museum

---
Johnny Cash's daugher, Cindy, inducted into America's Old Time Country Music Hall of Fame

---
Roy Orbison's Widow Recalls His Love of Music, Style and Film on His 75th Birthday

---
How Roy Orbison
and His Epiphone 12-String Made Rock 'n' Roll History

---
Album Review: Brian Setzer, "Setzer Goes Instru-MENTAL!"

---
Randy Wood R.I.P., founder of Dot Records

---
The Rockin' E (Elvis) Jamboree II September 12-16, 2011 - Onedia Casino, Green Bay, Wisconsin (more details to come)

---
April 12th - Marshall Lytle, bassist, sez: "Hi Everyone, 57 Years ago today,musical History was made by Bill Haley and The Comets. We recorded the best selling R&R Record ever recorded. "Rock Around The Clock". It has been reported to have sold over 80 million records around the world. It is now known as the International Anthem of Rock & Roll."

---
Buster Fayte: Rockabilly Musicians From The 1950's Served As Guides For Future Rock and Rollers

---
Carl Perkins birthday, April 9, 1932

---
Buster Fayte: Rockabilly Bands Made A Big Sound With A Simple Gear Setup

---
George Thorogood & The Destroyers are set to release a new studio album, "2120 South Michigan Avenue", on Tuesday July 12th. On the album, George salutes his Chess Records heroes, including Bo Diddley, Chuck Berry, Willie Dixon, Buddy Guy, Howlin' Wolf, Muddy Waters and more.

---
Buster Fayte: Rockabilly Music Was The Cure For Boring Pop Offerings Of The Early 1950's

---
Album Review: Imelda May, Mayhem

---
See the Flyer for Wanda Jackson's Phoenix show, April 30th

---
Shaun's Review Johnny Cash Bootleg Vol.2

---
Buddy Holly expert Bill Griggs dead at 69 More info on Bill

---
Buster Fayte: Rockabilly Piano Players Made a Huge Contribution to Rockabilly Music

---
Carl Bunch R.I.P. Carl (drummer) was with Buddy Holly on that last tour. Carl's obit

---
Article: Bill Kirchen

---
RHOF Link to: Video ... Wanda Jackson Clip from the Smithsonian Channel

---
Hootenanny 2011 Details Announced
---
Nelson Twins pay tribute to father

---
Buster Fayte: Rockabilly Illustrates Everything That's Right About Music

---
Chris Isaak: Son of the Sun Sessions

---
FYI: The Rockabilly Hall of Fame turns 14 on March 21st.
"Happy Birthday to Us"

---
Interview: Jeff Beck on Les Paul and new Rock 'N' Roll Party DVD

---
Rosie Flores on Aussie Tour March 16 - April 14

---
Music Review: Marty Robbins - Rockin' Rollin' Robbins

---
Article for Those New to Rockabilly:Rockabilly Gems Emerge From the Depths of Obscurity

---
Article: Rockabilly Music Earns a Permanent Place In Rock and Roll History

---
Book, Rockabilly: The Twang Heard Around The World

---

Johnny Powers, Jimmy Lester, Sue Moreno, Eddie Angel and Chris Casello. Nashville, March 9, 2011

---
The Bo Diddley Sound: A Short History of Five Notes

---
A Minute With: Jeff Beck revisits rock's glory days

---
Laguna Beach Alliance for the Arts to Honor Lee Rocker During Art Star Awards

---
Listen: Wanda Jackson On World Cafe
---
Obit: John Pickering, backup singer for Buddy Holly

---
According to Sun Records: The 60th Anniversary of The "Birth Of Rock & Roll". On March 5th 1951, a little known band drove to Memphis from Clarksdale, Mississippi to audition for Sam Phillips in the studio (before Sam renamed the studio Sun Records). The band was 'Jackie Brenston & his Delta Cats', which included Willie Kizart on guitar, Raymond Hill on Saxophone, and Ike Turner on piano.
During the drive Kizart's amp became loose and fell from the roof of the car, ending up with a busted speaker cone. Having no way of repairing the amp that night, Phillips and the band began experimenting with ways to make it produce a decent sound. They stuffed some paper into the amp, giving it a much more distorted sound, which Sam chose to emphasize during the recording.

---
Various Artist Song Files have been added to the RHOF mp3 pages. Over 300 posted here for your listening pleasure.

---
New Buddy Holly book: "Hey Buddy"

---
Feature Story: The original Million Dollar Quartet

---
One Legend to Another: Jeff Beck Honors Les Paul

---
They're called the Slaptones: give a listen

---
We now have over 20 artists with mp3 song pages.
Click Here for the Artist's Index
---
Wanda Jackson added to "Bonnaroo" line up.
---
Over 70 Gene Vincent songs available for listening (mp3 files)

---
Lake Havasu's 2011 Rockabilly Reunion
---
What Is Rockabilly Music? by Buster Fayte

---
Gretsch Issues George Harrison Tribute Duo Jet Guitar. Eddie Cochran and Cliff Gallup played Gretsch

---
More Unseen Elvis: Presley's first visit to Detroit in never-published photos

---
British Rock 'n' Heritage Show a review by Tony Wilkinson

---
Extra! Bill Haley & The Comets (Pages Updated)

---
Imelda May: Don't step on my red suede shoes

---
Chuck Berry Photos: performing in St. Louis, Missouri at The Duck Room on January 19, 2011

---
Brian Setzer Brings Guitar Insanity To 'Setzer Goes Instru-mental!'

---
"Travelin' Man": The Life and Music of Ricky Nelson

---
Rockabilly Hall of Famer Burl Boykin wanted to share this Ramsey Casteel article with our readers. Ramsey loved the music and passed away just as his career was blooming.

---
Wanda Jackson: Her Party Ain't Over NPR interview

---
Johnny Cash at Folsom Prison: the program
Johnny Cash: "25 Minutes To Go": related video

---
Wanda Jackson: New York Times article

---
Wanda Jackson: New York show photos

---
Hey BO DIDDLEY fans, Hip-O Select is prepping the long-awaited CD reissue of the acclaimed "Bo Diddley's Beach Party" album. Reissue date is currently slated for Tuesday March 8th. Recorded in concert in July 1963 at the Beach Club in Myrtle Beach, SC, the album is one of rock music's earliest live remote recordings. Boasting a classic line-up that includes Duchess on guitar and Jerome Green on maracas, tracks include "Gunslinger", "Hey Bo Diddley", "I'm Alright" and "Road Runner".

---
Paul Burlison: The Complete Rock 'n Roll Trio Interview

---
Unseen Elvis: Presley's first visit to Detroit in never-published photos

---
Johnny Cash's First 15 Years at Sun and Columbia Explored on Double-Disc From Memphis to Hollywood: Bootleg Vol. 2

---
2011 Muddy Roots Music Festival Dates, Lineup & Location

---
Remembering Rick Nelson: An Interview With His Friend, Guitarist James Burton

---
Rockabilly Bassist "Slick" Joe Fick (The Dempseys)

---
"Hot Rod Gang" movie now on YouTube in 4 parts, featuring Gene Vincent and Kay Wheeler (part 3 seems to be missing?)

---
"Viva Elvis" in Vegas

---
Lee Rocker will join Broadway cast of Million Dollar Quartet in 2011

---
Wanda Jackson/Jack White Announce Two Shows
To celebrate her new album, The Party Ain't Over, out January 25th via Third Man/Nonesuch Records, Rock and Roll Hall of Famer Wanda Jackson will play two special New York City and Los Angeles shows around its release. Wanda will be accompanied by the Third Man House Band featuring Jack White, who also produced the album, on guitar. Tickets for the January 21st show at Music Hall ofWilliamsburg in NYC and the January 23rd show at the El Ray Theatre in LA will be available for Third Man Record's Vault subscribers starting Wednesday, December 15th at 11 am EST, and for the general public on Thursday, December 16th at 11 am EST.

---
Early Elvis Appearance that was unknown until recently and has not been mentioned in any of the known books or databases. Courtesy James Roy

---
Duane Eddy Gives Birth to Twang: Gary LeMel was There

---
Online radio stations that play Rockabilly Enter 'rockabilly' at this site's 'genres search' mode.

---
Blog: Johnny Cash and His Music

---
Book Rockabilly: The Twang Heard Around The World

---
Million Dollar Quartet: the 12/4/56 session.

---
Rock Legend Wanda Jackson on Touring with Elvis & Recording with Jack White

---
The Songs of Roy Orbison (Roy passed away December 6, 1988)

---
Looking Back: at David Loehr's Indianapolis "Rockabilly Rebel Weekender" annual shows.

---
Video: The History of Rockabilly in the Commonwealth Exhibit - Richmond, VA

---
Music Review: The Brian Setzer Orchestra - Christmas Comes Alive

---
Rockin' - The Rockabilly Scene photobook by Andrew Shaylor

---
A Letter from Mark Lamarr RE: UK Shake Rattle & Roll Show

---
Chan Romero - from the Billings, MT Sightseeing Examiner

---
Legendary Memphis songwriter/producer Chips Moman and veteran music business leader Marty Lacker will have their names added to the Brass Note Walk of Fame on Beale Street

---
Balls Of Fire, Nerves Of Steel: An Interview With Jason D. Williams

---
Kim Lenz & Her Jaguars (article).

---
Travis Wammack releases his latest CD, the live album "Rock & Roll Days".

---
Jeff Beck is now ready to head out on the road next year for the "Rock and Roll Party to Honor Les Paul mini-tour with Irish rockabilly songstress Imelda May and her band.

---
Wanda Jackson's new full length album, "The Party Ain't Over", will be released on January 25th 2011

---
The Complete Elvis Masters: All of Elvis' originally released master recordings plus rarities. Over 35 hours of music ... over 800 tracks and a 240-page exclusive hardcover book

---
Marti Brom's "Not For Nothin'" CD reviewed by Ken Burke

---
Cadillac Angels featured

---
Robin Luke article with videos

---
Maria Elena Holly, the widow of Buddy Holly, has signed a deal to allow her husband's name, Buddy Holly, and his image, to be used at the Buddy Holly center at 19th and Buddy Holly Avenue. Maria Holly will be honored with the new mini park called the "Buddy and Maria Elena Holly Plaza." The City Hall of Lubbock will pay $20,000 for the 20 year rights to use Buddy Holly's name. That works out to $83.33 monthly.

---
Hoyt Scoggins RHOF page posted

---
Tam Duffill RHOF page posted.

---
Ronald Smith RHOF page posted.

---
Roy Hall sings Bobby Charles / Bill Haley
Informative Article on Ronnie Dawson
---
WOMADELAIDE to feature Imelda May.

DVD Review: The Brian Setzer Orchestra, 'It's Gonna Rock'

---
Bill Haley and Comets on Andy Williams TV Show, on Jan. 2, 1971

---
Jason D. Williams... offers first new album in six years.

Jason D. show review by Ken Burke.

On Jan. 24, 2011, Johnny Cash will be inducted into the Gospel Music Association Hall of Fame. It is another great honor for the legendary Johnny Cash. It is another recognition in a long list of awards, including inductions into the Songwriters, Country Music, Rock and Roll, Rockabilly and Hit Parade halls of fame.

---
Tony Wilkinson Reviews:
**Hemsby 44
**Buddy Holly Vinyl Review
**All Star DooWop Weekend Vol. VIII
**Catch That Rockabilly Fever
**Hemsby 45

---
The City of Archer, FL, Bo Diddley's chosen home town, will be celebrating "Bo Diddley Day" on Thursday December 30th with a civic barbecue and banquet held in his honor. The day will mark the 82nd anniversary of BO DIDDLEY's birth in McComb, MS and will celebrate his lengthy and distinguished career as well as his numerous charitable activities in the community.

---
Lattie Moore R.I.P.
---
A Ronnie Hawkins Article
---
Bo Diddley's classic songs "Bo Diddley", "Who Do You Love" and "I'm A Man" are all included in "Rolling Stone" magazine's "500 Greatest Songs of All-Time" Special Collectors' Edition, now available at news-stands.

---
Agriculture strikes chord with Ben Friedman
---
Billy Lee Riley R.I.P. / Tribute
One of the greatest original Sun Recordings artists, peacefully passed away on Sunday, August 2nd, 2009 at 5:20 am. His family was at his bedside. Billy, 75, had his share of health problems and medical bills. Please consider sending something to his wife, Joyce, to show Billy Lee's family that he meant a lot to us.
Checks or money orders can be made payable to:
Joyce Riley
723 Crest Drive
Jonesboro, Arkansas 72401
billyleeriley@hotmail.com
Joyce sincerely thanks all those who have donated.
Billy Lee's Tribute Page

---
30 track Gene Vincent compilation from Bear Family coming in June
---
Video: Rockin' Ronny Weiser holds his thirteenth annual meet and greet party before the annual Viva Las Vegas Rockabilly Weekend party.

---
Gene Vincent and the Blue Caps: rare "action photos"

---
James Burton joins Mississippi in celebrating its Grammy Legacy

---
Bo Diddley will be posthumously inducted into the Florida Artists Hall of Fame on Wednesday March 24th. The award will be presented by Florida Governor Charles Crist during formal ceremonies to be held at the State Capitol in Tallahassee.
"Bo Diddley Is A ... Songwriter" is due for release Monday April 26th. More info from Ace Records at: http://www.acerecords.co.uk/

---
Johnny Cash Bash, includes review of W.S. Holland Band's Austin, TX show

---
The 9th Annual Ponderosa Stomp will take place in New Orleans on September 24th & 25th. They will start announcing some of the line-up at the end of March.

---
Musicians and more turn out to honor Dale Hawkins in Shreveport
---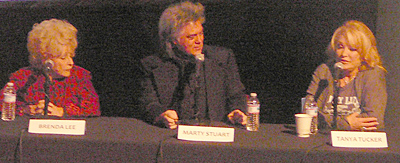 Brenda Lee, Marty Stuart and Tanya Tucker. All three spoke about the pros and cons of becoming successful at an early age. The event was held at Nashville's Country Music Hall of Fame, Saturday, February 20, 2010.

---
Roy Orbison receives Hollywood Walk of Fame Star: 1 hour video with first half showing crowd mingling.

---
Nick Curran's Long-Awaited Return, "Reform School Girl"

---
Little Richard: The Birth of Rock 'n' Roll (Hardcover)

---
Jerry Lee Lewis headlines Revival Festival #3 in Austin, TX, May 7-8

---
Bear Family in Germany is reissuing Jerry Lee Lewis' "Live At The Star-Club" next month (2/2) on vinyl.

---
Charlie Daniels is recovering at his home in Tennessee from a mild stroke he suffered while snowmobiling in Colorado.

---
Tommy Riddle, 82, died Friday, Jan. 15, 2010 at his residence in Portsmouth, VA. He was a lifetime member of the Virginia Country Music Association and the recipient of the Pioneer Award. He was also a member of the Nansemond Indian Tribe.

---
Pedro Haley in concert! Bill Haley's youngest son in a classical guitar recital. He has certainly developed into a masterful classical guitarist. What is most interesting is that he started in music at a later age - 16! (1988)

---
Wanda Jackson donates memorabilia, talks future

---
C'mon Everybody: How Eddie Cochran and Gene Vincent changed British music for ever

---
Bobby Charles R.I.P. Bobby wrote and recorded the original version of "See You Later Alligator".

---
Mick Green the great guitarist from The Pirates passed away on January 11, 2010.

---
Lonnie Viar, from WEVL in Memphis, has a great "Rockhouse" program that airs on WEVL on Friday nights from 7-9 pm or online at WEVL.ORG. He would like to get contact information regarding record/cd labels that feature modern Rockabilly artists, such as Golly Gee Records. If you can supply Lonnie with the right contact people of any label, you will help him increase his new artists' repertoires. It would be most appreciative. Contact Lonnie: memphismusic24@hotmail.com

---
This 1958 Chevrolet Impala, originally purchased by Buddy Holly, will be up for bids at the 39th Annual Barrett-Jackson Collector Car Auction in Scottsdale, AZ on January 18-24, 2010.

---
"How I Uncovered a Bit of Local History" - RE: Billy Adams

---
BILLY BURNETTE Undergoes Quintuple Bypass Surgery!

---
Lonesome Onry and Mean: The Rockabilly Country Soul of Big Al Downing

---
Brian Setzer Garners Grammy Nod for 'Mr. Surfer Goes Jazzin'

---
Just Asking ... Brian Setzer November 2009 interview

---
Richard Nader, the concert promoter behind the Rock and Roll Revival concerts of the late 60s-early 70s that brought the likes of Chuck Berry, Jerry Lee Lewis, Little Richard and Bill Haley back to mainstream popularity in America, has passed away after battling Parkinson's disease on December 1, 2009.

---
Bob Keane, died of natural causes on Saturday, November 28, 2009. He was 87 years old. Bob was the owner of the Hollywood-based Del-Fi Records who released many hits during the late '50s and early '60s, including those by Ritchie Valens, the Bobby Fuller Four, Johnny Crawford and many more.
A Bob Keane Interview

---
New 2009 Art Adams Band CD, "The Truth". Check it out at Art's Website

---
Chris Scruggs seeks, learns and achieves with 'Anthem'.

---
Country singer MICKEY GILLEY (cousin of Jerry Lee Lee Lewis) was seriously injured in a fall in Branson, Mo. and underwent surgery. The 73-year-old has since been flown to Houston, Texas for further treatment but, despite numerous reports, FOXNews.com can confirm Gilley is not paralyzed. "He is absolutely not paralyzed," his rep said. "He did have a fall and surgery on his back, there was some bruising, and he was flown to Texas for physical therapy, but his doctors are satisfied with his recovery. He will then be flown home in a jet. They just want to make sure it won't tire him out too much." Gilley's condition does remain serious, however. "When you have surgery on your back its not a mild thing, it is serious, but he'll have physical therapy because of stiffness and they expect him to be fine," added the rep. "His doctors are satisfied with his recovery everyday. He is 73 so it will take time and therapy to get back to jumping around the stage which is what he likes to do." Gilley was scheduled to perform in Branson, but the shows have been canceled pending his recovery. (posted Nov. 28, 2009)

---
BO DIDDLEY's 1956 recording of his song "Who Do You Love" is to be inducted into the GRAMMY Hall of Fame, the Recording Academy announced November 25th. Twenty-five recordings, including songs by the Beach Boys, James Brown, The Doors, Judy Garland, Mahalia Jackson, Harry James & His Orchestra, Gene Kelly and Jelly Roll Morton, are among the 2009 inductees into the GRAMMY Hall of Fame.

---
Billy Swan's long awaited release of the album featuring Frank Sinatra covers "SUNatra" is announced. The project was recorded at Sun Studio, Memphis.

---
Record Makers and Breakers, book review

---
Jerry Lee Lewis tour November 2009

---
Johnny Cash: I See a Darkness (book review)

---
shorpy.com A vintage photography blog featuring thousands of high-definition images from the 1850s to 1950s.

---
Don Maddox Oregon appearance

---
Award winning screenwriters receive endorsement and positive feedback of the script "WLAC Nashville".

---
Elvis - That's the Way It Is (Two-Disc DVD Special Edition - 1970)


41 Original Hits from the Soundtrack of American Graffiti

---
"Pretty Woman" perfume come to Texas

---
Rosie Flores becomes "Girl of the Century".

---
Leona Atkins, widow of Chet Atkins, dies at age 85.

---
Eddie Cochran: The songs of summer

---
Ponderosa Stomp Foundation launches short film, fall fund drive.

---
Buddy Holly Box Set. Not Fade Away: The complete studio recordings and more.

---
Event Poster: Nashville's 2009 Chuck Berry Birthday Tribute Show, Saturday, October 17th at the 5 Spot club.

---
This book can be ordered directly from author Billy Weir at  www.gumballstudio.com
"Billy is a great guy and a close friend of Martin Willis and Scotty Moore. His book is self-produced and worth more than many "professional" books and it is stacked with public domain pictures. I think Billy's memories and personnal pictures need to have some exposure. Billy tells the story in an easy way, just like talking to him at home with a glass of bourbon or mint julep." - Dominique "Imperial" ANGLARES

---
King of the Queen City: The Story of King Records (Music in American Life) Book.

---
Elvis 75 - Good Rockin' Tonight, four CD, 100 song collection available in December.

---
OKC "Ghouls Gone Wild" to feature the Collins Kids.

---
Marshall "Hot Rod" Lytle, posted October 12, 2009.

---
Video Promo for Wayne "The Train" Hancock's "Viper of Melody" Album.

---
Rosanne Cash concert review

---
Clyde Stacy to play at Oklahoma History Center.

---
HAPPY HOLLOWEEN!! The Bite is Back - Al Hendrix

---
A Dark 'Lonely Avenue' Turn For Stray Cat Setzer. Brian talks about his new CD.
Setzer CD review here

---
"Jerry Lee Lewis: Lost and Found" - book available soon. Author: joe.bonomo@yahoo.com

---
Gene Vincent & Eddie Cochran Videos: Town Hall Party 1958/1959

---
The first "16" Magazine. James Roy (Scotty Moore's webmaster) has posted a copy of the very first issue of the magazine and added it as a flip boof for your viewing pleasure.

---
Jerry Lee Lewis' 74th Birthday - September 29, 2009
Links below courtesy J.D. Cooper - memphisjd@gmail.com
www.rockabillyhall.com/JLL.html
www.jerryleelewis.com
members.tripod.com/
en.wikipedia.org/wiki/Jerry_Lee_Lewis
www.dallasnews.com
www.classicbands.com/jerrylee.html
www.vh1.com/artists/az/lewis_jerry_lee/bio
www.rockhall.com/inductee/jerry-lee-lewis
rcs.law.emory.edu/rcs/artists/l/lewi3400.htm
www.rotten.com/library/bio/entertainers/music/jerry-lee-lewis/
www.rollingstone.com/artists/jerryleelewis/biography
www.rocky-52.net/chanteursl/lewis_jl.htm
www.myspace.com/jerryleelewis
www.facebook.com/home.php#/profile.php?id=1213867954&ref=ts
www.youtube.com/watch?v=8yRdDnrB5kM
The youtube Jerry Lee search shows 8,000 videos to choose from
The YouTube Jerry Lee search shows, 8,000 videos to choose from<
www.rockabilly.nl/artists/jlewis.htm
www.thisislondon.co.uk/showbiz/article-23487147-great-balls-of-scandal-how-jerry-lee-lewis-marriage-to-a-13-year-old
Dewey Phillips!
---
John Fogerty's new CD "The Blue Ridge Rangers Rides Again" comes 36 years after he put out his first album of rocked-up honky-tonk standards.

---
An interview with 73-year-old Jerry Lee Lewis for a Brazilian TV program called "Altas Horas" when Jerry played Porto Alegre, Brazil on September 16, 2009.

---
Last member of Silhouettes has died at 69. The Rev. John "Bootsie" Wilson, a former lead singer and last surviving member of the soul group The Silhouettes, has died. He was 69. Wilson died Sept. 21 at his home in Spartanburg, South Carolina, after batting cancer and a kidney ailment. The Philadelphia native joined The Silhouettes in 1961, after the original lead singer left the group, perhaps best known for the 1958 smash hit "Get a Job," which stayed at No. 1 for 13 consecutive weeks. It was among the first rhythm and blues songs to cross over and become No. 1 on the pop charts.

---
The SCREAMIN' Weekender,Barcelona, Spain, May 25-31, 2010. WOW! WHAT A LINE -UP!

---
Whaley T. "Ric" Cartey R.I.P., age 72 (January 18, 1937-August 5, 2009). Ric was last known to be living in Palm Harbor, Florida. For Atlanta, Ga. born Whaley T. "Ric" Cartey, success as a songwriter came awfully young. He was a mere nineteen years old when he composed and published "Young Love" in 1956. The song's lyricist, Carole Joyner, was all of seventeen. Cartey recorded the song with his rock group in November of '56, without much success. By the end of the following year, 1957, however, no less than three hit singles would reach the Top 30; two of them would reach number one.

---
Jerry Naylor Live Guest Appearance on "Life Today" International Announcement: (Posted September 25, 2009) - You are invited to be a guest in the television studio audience for the personal appearance of  Jerry Naylor, former lead singer of the Buddy Holly Crickets, and author, creator & producer of The Rockabilly Legends; A Tribute to My Friends Project  on the "LIFE Today" international television show with James & Betty Robison. The LIFE Today television taping is Monday, September 28 at 6 p.m. Tickets are Free, But you must Reserve Your Seat. To Reserve Your Free Tickets & Seats, Call 817-354-3655 or email audience@loi.org.  LIFE Today Studios are located at: 1801 West Euless Boulevard, Euless, Texas 76040
NOTE: Please go to www.lifetoday.org for LIFE Today's National and International Network Schedules. United States, Canada, UK, Europe & Australia.  These Two Shows with Jerry Naylor, will broadcast the WEEK OF 30 NOVEMBER, 2009, IN ALL BROADCAST AREAS.

---
Hey BO DIDDLEY fans: Two previously unreleased masters of mid-1970s BO DIDDLEY tracks are newly available on download/CD. The 23-track various artists compilation album "That Philly Sound Presents The West Coast Years" (That Philly Sound download/CD) includes the tracks "Kill My Body" and "Ride The Water", both recorded in Seattle, WA in late 1975. The cuts were both originally recorded for the RCA album "The 20th Anniversary of Rock & Roll" in 1976.
Further info: http://thatphillysound.com/shopTPS113.html

---
News from Jim Driver Tue, 22 Sep 2009
CHUCK BERRY IN LONDON: Friday November 27th at Hammersmith Town Hall. Yessir, legendary rock 'n' roll icon Chuck Berry will be playing a special Rock 'n' Roll show at Hammersmith Town Hall on Friday November 27th, ably supported by the RHYTHM ACES and rockin' DJs. The venue is a delightful old style concert hall, with just 900 seats. Tickets are priced at £59.00. Buy them from www.londonrocknroll.com with no booking fee (£1 per order processing charge). They're sure to go fast, so get yours now.
LITTLE RICHARD: The word from Little Richard' is that he's gigging in the USA but has yet to have his hip-replacement operation, which means he cannot fly. Another operation (I'm losing count now) is scheduled over the next few weeks, which means he might be ready to travel and perform in February. So fingers crossed... If it doesn't happen this time, I will give up on him, cancel the gig entirely and forget the whole thing! More news as and when I have it.

---
"Let The Good Times Roll", a great Rock and Roll Concert movie.

---
Nashville's Country Music Hall downtown may double in size. Sept. 22, 2009 - The "dream" of the Country Music Hall of Fame and Museum is to double its size, Mayor Karl Dean announced Monday. Dean said an expanded Hall of Fame could tie into the proposed downtown convention center and a 1,000-room convention center hotel.

---
Blue Suede Shoes Collection [BOX SET] - Elvis Presley.
Comment: "The 2 mammoth 30CD box sets released by RCA ('The Collection' aka 'The Red Suede Collection', and 'The Blue Suede Shoes Collection') have been harshly criticized by some Elvis fans as unnecessary and just another in a very long line of "cashing in" projects by his record label. And while that is probably true - repackaging old material for a quick profit is something that has never been beneath RCA (or the Colonel, or Elvis, for that matter) - let's not throw out the baby with the bathwater. First of all, RCA should get a little credit for the many worthy Elvis projects and box sets released in the past few years. Sure, they were money makers but most of them were put together in a first class manner - unlike much of the stuff released during Elvis's lifetime." - longstemmedlily2@aol.com

---
Finland's legendary Goofin' Records is 25 years old. Join them over the next month as they celebrate a quarter century of sauna-hot Scandinavian Scorchers with four shows dedicated to the label. Check them out at www.goofinrecords.com and www.myspace.com/goofinrecords

---
Colonel Robert Morris' Benefit Page. After the Colonel had his heart attack last May he is having a hard time keeping up with his meds and living expenses due to the high cost of his medical treatment. Caylan Hascall has been an angel and created the Colonel Robert Morris Benefit Page. Not only can you find out how to donate to this worthy cause, but there will be an online auction soon. Drop by and show your support to this living legend."
Thanks, The Silver Dollar Music Family

---
Don Woody is coming for two days only to play some your favourite songs for you! Who doesn't know his "Barkin' Up The Wrong Tree", "Make Like a Rock'n'Roll", "Bird Dog" or "Morse Code"? He is also bringing along some of his promotional photos, which you can buy there and give him to sign them for you!
&nbsp Plus other rockabilly bands will warm you up and play the finest rock'n'roll you like so much! The place is quit small (but certainly the best rock'n'roll club in Holland!), so hurry up with booking tickets if you are coming! Otherwise it can be too late!
&nbsp Performers: DON WOODY (US) with one and only show in Europe, Lost Hound (NL), Little Neal and Blue Flames (GER), RJ (NL), Tri-Tones (EST). Book your tickets at booking@rockabillybash.com - For more info check www.RockabillyBash.com

---
Country Music Hall of Fame to Open Exhibit on Colonel Parker September 25, 2009. Mysterious and shrewd, Colonel Tom Parker revolutionized the business of promotion and management while guiding the careers of Eddy Arnold, Elvis Presley, and others. Marking the hundredth birth anniversary of the late music industry legend, the Country Music Hall of Fame and Museum will pay tribute to Parker in a spotlight exhibit featuring personal photos, correspondence, documents, apparel, a scrapbook, and other artifacts from throughout his controversial career.

---
Elvis Commemorative 75th Birthday Train. Celebrate Elvis's 75th birthday anniversary with the ultimate collector tribute: The King of Rock 'n' Roll Express, a real working HO-scale electric train set with locomotive and cars that light up. This exciting, collector-quality train comes complete with a special 75th Anniversary Commemorative Car that marks this milestone event in 2010 with bold Elvis graphics and genuine Elvis style! For more information on this and other exciting Elvis collectibles, visit collectiblestoday.com.

---
DON DEAL a singer, songwriter and entertainer, whose earliest singles on Cash and Era are much sought after by rockabilly collectors because of a guitar player by the name of Eddie Cochran, passed away on Friday, June 12, 2009 at age 71. After spending much of his younger years on the West Coast he was living on a farm near Branson, Missouri.
Obituary
The Eddie Cochran Connection:
"Unfaithful Diane" on YouTube
"Don't Push" - unissued ERA recording
"Don't Push" - alternate take

---
From MACK ALLEN SMITH: (September 2009) "I have been cancer free since finishing chemo treatments in March, 2001. Thank you to everyone who lifted me up in prayer. The 1959 Sun recordings have been found and are how in my possession. Look for their release in the Netherlands on Fat Possum Records soon." Mack Allen Smith, 814 West Claiborne Ave., Greenwood, MS 38930

---
CHRIS BARBER interviewed by Giorgio Gomelsky. Oral History interview by Giorgio Gomelsky of Chris Barber, seminal figure in the chronicle of UK jazz, skiffle and blues from 1948 to now.
Part 1 (44:55)
Part 2 (30:17)
Part 3 (44:30)

---
"King Of The Queen City", a new 240-page book, will be released Thursday, Sept. 10, 2009. Written by Jon Hartley Fox, it is a comprehensive history of King Records.

---
Jon Heder is to star in "Buddy Holly Is Alive and Well on Ganymede, an adaptation of the Bradley Denton comedic science-fiction novel.

---
Chan Romero performs for the Class of 1959.
---
Imelda May brings rockabilly to Chicago for her first US tour.

---
Hey BO DIDDLEY fans, BO DIDDLEY's original July 1965 recording of his track "Let Me Pass" is now available to purchase as an MP3 download album from the Bo Diddley iTunes Store at http://itunes.com/bodiddley and at other major on-line retail outlets.

---
Ellie Greenwich, who wrote classic pop songs such as "Chapel of Love," "River Deep, Mountain High" and "Be My Baby" with Phil Spector, has died, according to her niece. She was 68. Greenwich died of a heart attack Wednesday, August 19th at St. Luke's Roosevelt Hospital, New York City where she had been admitted a few days earlier for treatment of pneumonia, according to her niece, Jessica Weiner.

---
34th Annual Old Time Country Bluegrass Festival, LeMars, Iowa, August 31 - September 6, 2009

---
Tom Brumley Dies. Steel guitarist for Buck Owens, Rick Nelson, many others.

---
Art Adams New EP and CD Now available

---
Hank Williams film would be shot in Tennessee.

---
Darrel Higham Pairs His Peavey Rockingham With Peavey's Delta Blues Amplifier.

---
ELVIS: Seventeen Magazine October 1956 Scroll up if you haven't seen the whole page.


Robert Gordon. Here's a review of the Umeå concert on July 10, 2009 from Västerbottens Folkblad in Sweden. Heard some pretty sad things about recent shows, weak performances, low attendances (as you can see in the photo), poor reviews. Robert Gordon really seems hellbent on ruining his own career. Arjan - deelen@elvis.dk - See a review in pdf format

---
Check out the newly updated Lee Rocker page at MySpace and also the new Lee Rocker artist page at Facebook. Spread the word!

---
FROM MARSHALL LYTLE: Here is something that makes me very proud. My old doublebass (That I played on "Rock Around the Clock" and other Haley hits). It is on Display at The World's Largest, Rard Rock Cafe, in Universal, City Walk, Orlando, Florida. They had me come over and Sign it in February '09. This photo was taken recently by a dear friend Phillis Broadhead from Decatur, Alabama, when she and her husband made a special trip to The Hard Rock Cafe just to see and photograph, that little bit of Rock & Roll History. This picture will have a place of honor in my new book, soon to be released called Still "Rockin Around The Clock". I think by August 1st you should be able to get copies through Amazon.com. I will send out the release date as soon as I have it. I LOVE YOU ALL, Marshall. marshall-tommy@suddenlink.net (Posted July 11, 2009)

---
Carl Perkins and Friends - Blue Suede Shoes: A Rockabilly Session [VHS] (1985) The appearances of two ex-Beatles, including the late George Harrison, are among the principal attractions in this hour-long 1985 TV show, which spotlights one of the prime movers behind the rock-and-country blend known as rockabilly. Carl Perkins, who died in 1998, was the composer of "Blue Suede Shoes" and other classics, as well as a highly influential guitar player. Here he's joined by a host of luminaries, including Eric Clapton, musical director Dave Edmunds, Rosanne Cash, and members of the Stray Cats, in addition to Harrison and Ringo Starr, who perform the Perkins tunes ("Matchbox" and "Everybody's Trying to Be My Baby") that the Beatles recorded lo, these many decades ago. But star power notwithstanding, it's Perkins's show all the way. Not only can the man still play, but he's clearly basking in all the attention--as is Harrison, whose rare live performances should be treasured all the more now that he's gone. --Sam Graham

---
WILDEST CATS IN TOWN 2010 HEADLINERS. BOOK EARLY AS IT ALWAYS GETS SOLD OUT. PAKEFIELD, LOWESTOFT, UK www.tennesseeclub.net/index.htm(to be updated soon).
FRIDAY 2nd JULY - MONDAY 5th JULY 2010
MARTY WILDE, SONNY BURGESS, BOBBY CRAFFORD & KERN KENNEDY, ROCKY & PAT BURNETTE, BOPPIN' STEVE, CRAZY CAVAN, ERVIN TRAVIS, METROTONES, SANDY FORD'S FLYIN' SAUCERS, LONG BLACK JACKETS, LENNEROCKERS, VERNON & THE GI's, FURIOUS, HOT ROCKIN', SKYROCKERS, RHYTHM ACES, RAT PACK, JIVE ROMEROS, KINGCATS, RED HOT ROCKERS, DANNY & THE SENIORS. MORE BANDS TO BE ADDED

---
It has been reported that Chuck Foreman has died. Chuck Foreman and Eddie Cochran met in 1952 and began recording together on Chuck's own recorder in the summer of 1953. They never played again together (as far as we know) but Chuck had a big influence on Eddie. (Posted July 2, 2009) Listen here.

---
Ponderosa Stomp @ Lincoln Center, NYC, - July 16, 17 & 19

---
Wanda Jackson Way proposed in Oklahoma City (posted June 23, 2009).

---
Subject: Movie; Through The Eye. (06/05/2009) Bertie Higgins, recording artist, film producer, & president of CAYO LARGO PRODUCTIONS, in Burbank, CA, has announced that he has signed Marshall Lytle of Bill Haley's Original Comets, to do a featured role in his new film production entitled "Through The Eye" to be filmed in Tarpon Springs, FL. this Fall. The story deals with drugs being smuggled into the Gulf coast of Florida from Colombia, South America during the mid 1970's.
ALSO: Marshall's book, "Still Rockin Around The Clock" is ready to go to press.
---
Drummer Dewey Martin Dies. (Feb. 09) Canadian-born Dewey Martin, one of the founding members of the country-rock band Buffalo Springfield and drummer for many classic country singers died apparently of natural causes over the weekend. (He'd been ill for some time.) He was 68. Early in his career he played for Patsy Cline, Carl Perkins, The Everly Brothers, Charlie Rich, Faron Young, Roy Orbison, the Dillards, and others. He was considered by many --- at least in rock music circles --- to be one of the "great" drummers.

---
LUMBERJACK BOB BEASLEY passed away today the 21st of May 2009. He went peacefully after being ill with Throat Cancer. He was larger than life and I will miss my Uncles laughter. He died at ST. Peters hospital in Olympia Washington. Melinda Lorene Adams - millie.adams@gmail.com

---
Freddie Froggs' Site. Freddie passed away March 13, 2009 at age 66.

---
Mississippi Celebrates Its Grammy® Legacy May 28th With Star-Studded Gala in Tunica Hosted by Governor Barbour

---
Rock the Flamin' Cowboy. flamincowboys@gmail.com - FREE original studio quality Rockabilly to download at http://flamincowboys.googlepages.com Check it out!!

---
Leading R&B drummer Earl Palmer, best known for his New Orleans recording sessions with the likes of Fats Domino and Little Richard, died on Friday, Sept. 19th at his home in Los Angeles at age 84, his family said. Palmer, who died after a lengthy illness, played on hundreds of hits during a career that ran from the 1940s through the 1970s and earned him an induction into the Rock and Roll Hall of Fame.

---
The following shows can now be heard each week on Rockabilly Radio:
The Bop2B Show presented by Dave Brighton (UK)
The Rockabilly DJ Show presented by Bill Smoker (UK)
The WildKat Mike Show presented by Mike George (UK)
The Preacher Rocks! Show presented by The Preacher (UK)
The DJ Spy Show presented by DJ Spy (Germany)
Rhythm Blast presented by Dave Brighton (UK)
The Rock & Roll Show presented by Don Freeman (US)
Please check http://www.rockabillyradio.net for broadcast times.

---
CHARLIE WALKER DIES
9/13/08 - Longtime Grand Ole Opry member and famed disc jockey Charlie Walker, whose shuffling, twinkling "Pick Me Up On Your Way Down" remains a country music standard a half-century after its recording, died Friday in Hendersonville. Mr. Walker was 81, and had recently been diagnosed with colon cancer.
In 1958, Mr. Walker decided to record "Pick Me Up On Your Way Down," from the pen of an aspiring songwriter named Harlan Howard who was a forklift driver at a California printing factory. The song became Mr. Walker's signature hit and it was Howard's first commercial writing success. (Howard went on to write more than 100 Top 10 country hits and to become a Country Music Hall of Famer.)

---
(UK) - BOOK EARLY for next year's Americana Festival at Newark from July 9 to 12, and you can get tickets for Saturday or Sunday at just £25 each, 16 and 17 year olds £10. 15s and under go free. The Americana Festival is the biggest music festival in the area, with live music on two large outdoor stages and three indoor venues, with more than 40 artists from the USA, UK, Australia and Europe with a mix of country music, rock 'n roll and rockabilly. There are jive and dance classes, thousands of American vehicles dating from the early 1900s, with hundreds of trade stands and amusements. On site weekend camping is available. Amongst the artists expected to appear next year are - Rodney Crowell, James Intveld, Levi Dexter, Danni Leigh, Peter Donegan and the Lonnie Donegan Band, Matchbox, the Jets and the Hicksville Bombers. Full details on the Americana Website.

---
BUDDY HARMAN DIES - "Father of modern country drumming"

---
Official DAVE EDMUNDS website, soon to be launched.

---
BRIAN SETZER tells Chris Cheney about the end of Stray Cats

---
INDIANAPOLIS SHOW ALERT
Friday, 22 August: Sleepy LaBeef + Mandy Marie & The Cool Hand Lukes -- $10 advance @ Radio Radio. www.brownpapertickets.com/event/37880.

---
ROBERT GORDON and CHRIS SPEDDING
An amusing newsitem from Danish television about Robert Gordon and Chris Spedding recording a new back-to-the-basics rock 'n' roll album in that country. The newscrew caught them right in the middle of some serious technical problems. Nevertheless, the results are amazing, and both men agree that this album may well be their best album in years. "The recording is just coming out fantastically", Gordon says. Robert and Chris selected some great rock 'n' roll songs for this album, associated with artists like Eddie Cochran, Gene Vincent, Johnny Kidd & The Pirates, Ral Donner and Little Richard. "I think some of it is pretty good", Spedding adds with typical British understatement. Info: www.robertgordon.dk.

---
GLEN GLENN: I'M FROM THE '50s, RIGHT?

---
SPECIAL DAY HONORING JANIS MARTIN
The induction of Janis Martin, "The Rockabilly Queen," in to the Danville, VA Museum of Fine Arts & History's Hall of Fame. 4 p.m. Sunday, July 20, 2008 at the museum.

---
JO SAFFORD, 90; singer, recording artist, R.I.P.

---
UPDATE ON GLEN GLENN
July 13, 2008 - "I spoke to Glen today, and he's doing well. He played the Hootenanny in southern California on July 5th, and on July 7th he went in for surgery on his left kidney. The doctor said a surgery of this type could last as long as four hours, but it went well and only lasted two and a half hours. Although we won't know for sure what was wrong until the pathology report comes back in a few days, the doctor said that it looked like Glen had cancer in the kidney. However, it looks like it was caught at a fairly early stage so that it may not have spread and that Glen probably won't need chemotherapy or radiation.
Right now he's recuperating at home and is up and walking around. He'll have his stitches out next Wednesday and then will follow up with his doctor the following Wednesday. On July 30th, he'll go to a kidney specialist to make sure that his right kidney is functioning well enough. If not, Glen might have to have dialysis later on.
For now, Glen says that he appreciates everyone's good wishes. By the way, Wednesday, July 16th, is also his wife Mary's birthday. Please continue to keep them both in your thoughts and prayers."
Dianne Duran - rhofgal@yahoo.com

---
Unsung: CHIPS MOMAN is one of the key figures in the history of Memphis music. So why hasn't he been given his due?

---
LORRIE COLLINS / RICKY NELSON
"Fans of the Collins Kids might want to take note of a new DVD release in North America (Region 1). "The Adventures of Ozzie & Harriet: Best of Ricky and Dave" is a 4-disc set that was released last week by Shout Factory, and the set focuses on some of the major episodes in which Ricky performed. Fans of Lorrie and Larry Collins will also recall that Lorrie also guest-starred on a couple of episodes in 1958, which led to her becoming Ricky's real-life girlfriend.
One of those episodes is included in the set: "The Picture in Rick's Notebook", in which she actually plays a dual role as twin sisters. One of them just happens to own a guitar with the name "LORRIE COLLINS" on the neck and performs "Just Because" in duet with Rick. Not bad, though somewhat more subdued than the way the Collins Kids usually performed it. I'm actually surprised that Lorrie didn't make more TV and film appearances and I think she makes a better impression in her 5 minutes on screen than Tuesday Weld does in her guest-starring gig on Disc 2! Then again, according to the latest issue of "Paranoia" magazine (a real publication - check your newsstands), Weld was busy being High Priestess of the Illuminati at the time so maybe she wasn't concentrating ... LOL!
This seems to be the only Lorrie episode in the set, however the set does include an episode called "Who is Betty?" which aired about a month later -- and sure enough (not to be outdone), Larry Collins has a small role (if you'll pardon the expression)! Cheers!"
Alex F-H - alexfh@shaw.ca

---
ROBERT GORDON: NEW ALBUM, LANDMARK PERFORMANCES
Robert Gordon is a busy man these days. Following the success of the recent Elvis album, he will be back in the studio in July for a back-to-the-basics, tough rock 'n' roll record, in the spirit of his early RCA albums. His musical partner and close friend Chris Spedding will be playing on the album, as well as Detroit session- drummer Todd Glass and renowned Helsinki slapbass player Lasse Sirkko.
Gordon will be using the same band, which he usually refers to as his "A Team", for two special concerts in Germany; at the FZW in Dortmund on July 11th and at the Kulturfabrik in Kassel in July 12th. "I've always enjoyed performing in Germany", he says "I used to play there often. The last time I played there was in 2002. That was in Berlin. I look forward to performing in Dortmund and in Kassel since I haven't been in that part of the country since the early 90s".
They will also be appearing at the Americana Festival in Newark (U.K.) on July 13th. "I am really looking forward to playing in the U.K. this time around", Robert says. "Ilove performing in front of large audiences. 'Huge' would be a better way to describe the audience expected at this 'Americana' Festival. At least 60,000 I believe. See you there!".
Record labels are invited to contact management for more information about the new album, at deelen@elvis.dk or through their website at www.robertgordon.dk This is also how you can contact for booking info.

---
MUSIC REVIEW: JANIS MARTIN - The Female Elvis: Complete Recordings 1956-1960

---
DOO WOP by "Cousin Brucie" Morrow: Book Review

---
MARTY ROBBINS and the "El Paso" Saga

---
ALL THINGS ELVIS: Scotty Moore and pals dish up a 'Mighty Handful'

---
ANOTHER GREEN BAY FEST?
"Marc Mencher and Phil Doran currently have no plans to hold any more Rockin' '50s Fests in Green Bay. I'm sure you agree that this would be a big loss to the rockabilly community. There is a petition circulating to save the Fest. Mr. Mencher has said that if the petition accumulates a few thousand signatures, they may revive the event. The petition link is: www.petitiononline.com/rockin50/petition.html". Adrian Mazar, RHOF member - ADRIANMAZAR@comcast.net

---
ED. NOTE: Jerry Lee Lewis, Linda Gail Lewis & Wanda Jackson Live at the Forum, London - Tuesday 28 October 2008 - JERRY LEE LEWIS & THE KILLER BAND + LINDA GAIL LEWIS with Darrel Higham and the Enforcers + very special guest (flying in from the US for this one show) WANDA JACKSON with Wes McGhee & The London Party-Timers

---

Bobby Fuller Story ... Keepin' the "Holly Sound" Alive.

---
Music Review: Reverend (Norton Heat) Organdrum - Hi Fi Stereo

---
JERRY LEE "SMOOCHY" SMITH BOOK Recommended by the RHOF staff.

---
AN INTERVIEW WITH AMY LaVERE. Amy appeared in the movie, Walk The Line in the role of Wanda Jackson.

---
ROCKABILLY SINGER GLEN GLENN: 50 years of classic jump music.

---
VIVA LAS VEGAS / A ROCK'N' ROLL TRIP IN USA Dominique "Imperial" ANGLARES

---
GEORGE KLEIN MEET IN MEMPHIS / LAURA LEE PERKINS' SON Dominique "Imperial" ANGLARES

---
Rockin' Original: Writer of Iowa's first rock 'n' roll record performs, speaks.

---
MISSISSIPPI CELBRATES ITS GRAMMY LEGACY
with a Star-Studded Gala hosted by Governor Barbour. The event, set for the evening of Thursday, May 29th at the Jackson, MS Marriott's Windsor Ballroom, is a follow-up to Mississippi's salute last year to the GRAMMY 50th Celebration. The evening's program relates to the contributions of Mississippians to America's musical heritage and GRAMMY recognition thereof on multiple levels. Participating artists include country music songwriting legend Paul Overstreet; R&B/Pop star Brandy; Gospel music greats The Williams Brothers, joined by guitar icon James Burton; the incomparable Mavis Staples; blues guitar slinger Eddie Cotton; and a trio of Swedish divas: Beatrice, Anorah and Hannah Holgersson. The event will be hosted by actress Joey Lauren Adams, with a ballet interlude by Kathy Thibodeaux. The Williams Brothers who will be joined by Rock and Roll Hall of Fame and Rockabilly Hall of Fame inductee James Burton, the guitar great who toured and recorded with Presley as part of his TCB Band.
Established in 1957, The Recording Academy is an organization of musicians, producers, engineers and recording professionals that is dedicated to improving the cultural condition and quality of life for music and its makers. Internationally known for the GRAMMY Awards - the preeminent peer-recognized award for musical excellence and the most credible brand in music - The Recording Academy is responsible for groundbreaking professional development, cultural enrichment, advocacy, education and human services programs. In its 50th year, The Academy continues to focus on its mission of recognizing musical excellence, advocating for the well-being of music makers and ensuring music remains an indelible part of our culture. For more information about The Academy, please visit www.grammy.com.

---
JERRY WALLACE R.I.P. Jerry Wallace Jr. and he said that his Dad has passed away on 5/5/08 from congestive heart failure. Considered a pop act during the late '50s with a pair of huge hits, Jerry Wallace successfully migrated to the country field during the '60s and '70s. Wallace began recording in 1951 and burst onto the pop charts in 1958 on the Challenge label with "How the Time Flies" and the even bigger "Primrose Lane" a year later. His focus became more country-oriented with "Shutters and Boards" and "In the Misty Moonlight" in 1963-64, and he made a full-fledged switch in 1965 after switching to the Mercury label. A move to Liberty in 1968 didn't pay off, but in 1972, soon after he began recording for Decca, "If You Leave Me Tonight I'll Cry" topped the country charts (as did the LP Get to You). During the next year, "Do You Know What It's Like to Be Lonesome" and "Don't Give Up on Me" both reached the Top Five, but Wallac e only managed one more Top Ten, 1974's "My Wife's House" (for MCA). He charted continually until the end of the decade, though, while recording for MGM, 4 Star, BMA, and Door Knob. - Howard Judy Thomason

---
EDDY ARNOLD, Arnold, country music's "Tennessee Plowboy" whose rendition of "Make the World Go Away" was an international hit in the 1960s, died on Thursday at age 89 in Nashville after a lengthy illness.
Rising from a poverty-stricken childhood in Henderson, Tennessee, Arnold connected with the Pee Wee King Band as a singer and went on to a career in which he was named to the Country Music Hall of Fame and received the County Music Association's first entertainer of the year award.
He won many other awards as he moved from pure country into pop-oriented arrangements that attracted a wider audience. In addition to "Make the World Go Away" he scored 16 other consecutive hits in the 1960s. His concerts sold out in New York's Carnegie Hall and he performed in Hollywood's Coconut Grove and top clubs in Las Vegas.
Arnold starred on the Grand Ole Opry in 1943, signed with RCA the following year but did not have a hit until 1946 with "That's How Much I Love You."
Coming under the management of Col. Tom Parker, Elvis Presley's manager, Arnold quickly scored a string of hits and graduated from radio to television.
Among others, his hit singles include "Cattle Call," "Just Call Me Lonesome," "After Loving You," "I Want to Go With You" and "Tennessee Stud."
Arnold's wife, Sally, died earlier this year.

---
Music Review: Ronnie Hawkins - Mojo Man / Arkansas Rockpile

---
---
PONDEROSA STOMP 2008: An Oldies Marathon Runs a Few Extra Miles.

---
BILL BURK, publisher of Elvis World magazine passed away. He had been a staple in the Elvis community since his reporter days for the Memphis Press Scimitar in the '50s. His books and research about Elvis had been used and quoted by many other subsequent publications like Peter Guralnicks 2 part biographies in addition to his contributions to Scotty Moore's website. (posted April 25, 2008).

---
MY TRIP IN THE USA." Dominique Anglares reports on his visit to USA April, 2008 (that included Viva Las Vegas #11). He met "so many wonderful persons that everybody had to be mentioned. Many of my friends now beg me to write a book ... it seems I have started." - Dominique Anglares - anglares.dominique@wanadoo.fr

---
Floyd M. Ramsey, 82, passed away April 16, 2008 at his home in Phoenix.
He was born in Phoenix on March 22, 1926, to Clay and Virgie Ramsey. Floyd served in the Army Air Corps from 1943-45 as a radio repairman. Upon his discharge he joined his father's business, Ramsey's Radio Repair, on the corner of Seventh Street and Weldon Ave. The two built a small recording studio next to the repair shop and a barber shop. The building later expanded to include television sales and repair and the Valley's first self-serve record outlet, Recordland.
The small studio area grew in the mid 1950s to become Audio Recorders of Arizona, where the worldwide hits "The Fool" (56) and "Rebel Rouser" (58) were created. By 1963, the company was successful enough to invest in a large, state-of-the-art recording studio at 3830 N. Seventh Street. Recording music, tape duplication and advertising clients continued to grow the company. The the early 70's Floyd became a Sony video equipment distributor and the business name changed to Audio Video Recorders of Arizona.
Floyd's musical clients over the years included stars Duane Eddy, Wayne Newton, Waylon Jennings, Sanford Clark, Skip & Flip, Donna Fargo, Elton John, Marty Robbins, Phil Spector and hundreds more, many of whom first released records on Floyd's own Liberty Bell, MCI, Rev and Ramco record labels. In 1991, Floyd and Mary sold their successful business and enjoyed their remaining days together traveling far and wide as well as spending lots of time with family and friends in their second home in Prescott.
Floyd was a kind, generous and caring man. He loved his family and friends and was respected and admired by all who knew him For his contribution to Arizona popular culture, he was inducted into The Arizona Music and Entertainment Hall Of Fame in 2005. He is survived by his loving wife and partner of 64 years Mary Faye, son Tim, daughter Dorenda (Misencik) both of Phoenix, four grandchildren, and five great grandchildren.
In lieu of flowers the family requests that donations be sent to Hospice Of The Valley, 1510 East Flower Street, Phoenix, AZ. (602) 530-6900.

---
NEW CHARLIE GRACIE CD WITH SPECIAL GUESTS:
Graham Nash, Al Kooper, Peter Noone and many more ... in the works for LANARK MUSIC. CHARLIE returns to the studio with producer QUENTIN JONES next month to continue the first U.S. cd-recordings in 8-years! Many of the artists inspired by Philly's First Rocker will contribute their talents: AL KOOPER (founder of Blood, Sweat and Tears and Bob Dylan's organist), GRAHAM NASH (of the Hollies and Crosby, Stills & Nash), PETER NOONE (British Invasion Pop/Rocker) and MORE.

---
RONNIE HAWKINS lands key to the city.

---
SCOTTY and DJ were consulted and video taped sometime last year talking about some of the songs they recorded with Elvis and along with instructors teach subscribers to this new site how to play them. The service will likely be of interest to musicicans. Its kind of neat because you can't imagine the number of requests Scotty has had for stuff like this. http://scottymoore.net/ivideo.html

---
Ace Cafe, London: MAY MUSIC
Thu 1st - 8pm - 11pm - Mod n' Mini Night with DJ LITTLE DIANE - Entry Free
Sat 3rd - 8pm - 11pm - RUBBERNECKIN' Record Hop with DJ Bill Guntrip - Entry Free
Sun 4th - 9pm - 2am - SLIM JIM PHANTOM TRIO (From USA) + DJ Bill Guntrip - Entry - £15. Sorry No Under 18s
Wed 7th - 8pm - 11pm - Hot Rod Night Executioners Spring Riot with THE HUMDINGERS + DJ Little Carl - Entry Free
Fri 16th - 8pm -11pm - Rockers n' Classic Bike Night with DJ BIG BEAT KRIS - Entry Free - Sorry No Under 18s
Sun 25th - 9pm -2am - London Debut of PAUL PATERSON & His Rockin' Band (playing all his dancefloor fillers including his No.1 Blues Bopper "I Got It Hard" + DJ Little Carl - Entry ¬ £10. Sorry No Under 18s
Mon 26th - Noon - Margate Seafront (The Margate Meltdown) with CARLOS & THE BANDIDOS with special guest on guitar DARREL HIGHAM + THE UNKNOWNS + DJ Bill Guntrip - Free
Sat 31st - 8pm - 11pm - Rockin' Record Hop with DJ TRACY DICK - Entry Free
Please check website for regular updates:
www.ace-cafe-london.com
Ace Cafe London
Tel: ++44 (0)20 8961 1000
Fax: ++44 (0)20 8965 0161
Ace Corner
North Circular Road
Stonebridge
London
NW10 7UD

---
Solute from Russia!
GAGARIN BROTHERS
The Gagarin Brothers refer to their style as "A Neo Retro Alliance", a description fitting for their talent of taking popular melodies from Soviet and American music of the 1920's through 1960's and giving them new life in very unexpected rockabily, gipsy jazz, folk and zydeco arrangements.
During its formation, the group saw many 'artists' come and go before it reached the stable collective.Today, however, these professional musicians have found in each other similar tastes in music, common ideas, and vital homogenous orientation where this music is concerned, traits which give Gagarin Brothers the deep personal connection that comes across so clearly on stage.
The Gagarin Brothers are: Sergei Kalinin - drums (formerly of Rattlesnakes http://www.myspace.com/therattlesnakesru, Red Elvises http://www.myspace.com/redelvises) -- Alexei Andreev - guitar (formerly of Lampa Ladino http://www.lampaladino.ru) -- Sergei Zaslavskii - accordion (formerly of Amigos de Corazon http://www.amigosband.narod.ru, Melnitsa http://www.melnitsa.net) -- Dmitry "D-Jazz" Ilyin - upright bass (formerly of Meantraitors http://www.myspace.com/themeantraitorsfanpage, Rattlesnakes http://www.myspace.com/therattlesnakesru) -- Alexei Cekatskii - vocals (formerly of Jazz Dance Orchestra http://www.jazzdanceorchestra.ru , Oleg Lundstrem's Jazz Orchestra http://www.lundstrem-jazz.ru/ , Ygor Butman Big Band http://www.igorbutman.com/)
Performing in clubs and concert halls, Gagarin Brothers bring esthetic and emotional satisfaction to audiences throughout Russia and abroad with their excellent music and original stage costumes.
Russian Rock and Roll Evolution!!
Alexander "Alex" Golubev
e-mail: kap-club@mail.ru
+7 916 153 5322
Moscow, Russland

---
Dallas Rockabilly Performers in the '50s. From: camilledad58 - anglares.dominique@wanadoo.fr

---
HIGH-TOME SHUTS DOORS, SELLS
CATALOGUE TO SHOUT! FACTORY
Monday, March 31, 2008 ÀÜ HighTone Records, the one-time home of Dave Alvin, Robert Cray and Dale Watson, is shutting its doors, an apparent victim of the economic downturn hitting the music business. HighTone is selling its catalogue to Shout! Factory Records, a California- based label that is home to Solomon Burke. That deal happened Friday. No one could be reached at HighTone. The phone number at the Oakland-based label was disconnected.
HighTone was the first label for bluesman Cray. The label expanded into country and roots music, releasing artists including Joe Ely, Jimmie Dale Gilmore and Tom Russell. The label cut back on releases in recent years, opting for repacking and reissuing material from its catalog.
"We got the whole label," said Shout! Factory spokesperson Lauren Gaffney Monday. "We're still gong through all the titles and deciding what we're going to do. Some of the titles are no longer in print. Some are in print."
As for future plans by Shout Factory for the HighTone music, "there will be some best of titles, and they'll start hitting later this year," said Gaffney.

---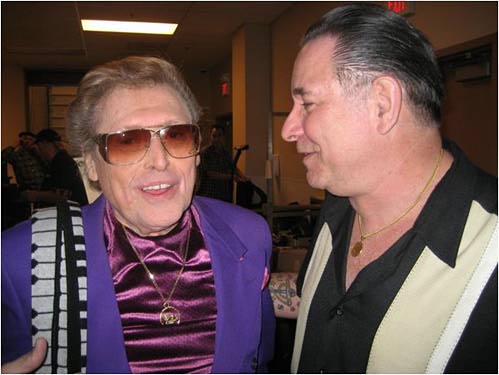 ROBERT GORDON: 61 CANDLES
Posted March 29, 2008 - As Robert Gordon celebrates his 61st birthday today, the thought of retirement is still far from his mind: "Man, are you kidding? I'm feeling great and my voice is better than ever. Besides, performing is my whole life - I really can't imagine ever quitting this business'" he says. Robert will be doing several shows in Norway and in Finland together with the Marco DiMaggio band, and he's very excited about that: "I always have a lot of fun on the road with those guys. The bassplayer, Matteo, is a riot - he really kills me every time with his Bee Gees impersonation!". Robert also has some shows coming up in May and July together with Chris Spedding, and in October with the Redhots from Finland. For booking info or birthday greetings just write to robert@robertgordon.dk. But right now, our birthday boy has a busy day ahead of him: "My grandchildren are in town for the weekend. I'll really need their help to blow out that many candles!
(Photo: Frankie Ford with Robert Gordon)

---
BILL TURNER is still smokin' after strumming with the best of them.

---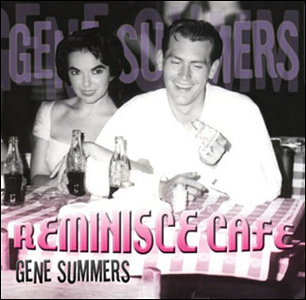 New Gene Summer's CD
Posted March 16, 2008 - Gene has just informed us that he has a brand new CD titled "Reminisce Cafe", just released on Seduction Records #110. This is Gene's 50th Anniversary Album released in 2008 on the exact date of his first 45 release, "School Of Rock 'n Roll", which was issued on February 1, 1958! "Reminisce Cafe" contains (15) NEWLY RECORDED tracks in the rockin' 50s style. This is Gene's first U.S. studio album since 1981! Tracks include: "Reminisce Cafe", "She Bops A Lot", "Just Together", "Rockin' Fever", "Crazy Cat Corner", "I Won't Take Any Less", "(It's Love Baby) Twenty Four Hours A Day", "Do A Little Roll", "Heartbreak City Limits", "Love Me Tender", "Gonna Drive 'Em Up A Wall", "Be-Bop City", "Hot Rod Baby", "I'm Flyin' In" and Little Lu Ann (a James McClung composition)!
&nbsp The liner notes were written by legendary DJ Ron Chapman and the album was produced by 3-time Grammy winner Phil York. CD has a 6-page, full color, fold-out with some never before published, personal pics from the early years to the present! (Cover Photo: Gene & Dea Summers, Dallas, 1962) [UPC663525221727] CD in stock. Immediate shipping, order from: http://siliconmusic.us/. Autographed copies are available upon request.

---
MAKE YER RESERVATIONS NOW! ;-)
The Elvis Presley Memorial Dinner will be held at the Peabody Hotel on Thursday, August 14, 2008 in the grand ballroom.
Our guest list includes the famous and fabulous Jordanaires, Terry Mike Jeffrey, Kevin Mills, Vince Anthony, Gary Coleman, Will Debley , Gary Britt and others. As an added bonus we have Kevin Adams doing his great impersonations and he is really something and if you've never seen him perform he will have you in stitches. We have another bonus for you - we will allow three names to be drawn - on stage - for any amateur present who might like to come on stage and sing - bring your own CD!
For tickets ($75.00 each) please make checks payable to EPMD and mail to Marian Cocke @ 784 Pecan Gardens Circle East, Memphis, TN 38122 and please enclose a SASE for tickets to be returned to you.
Attire is nice casual - all tables are reserved and for those of you who have specific folks that you would like to sit with - you must send your checks together in order for your request to be honored. Children under 10 will be served a childs plate at no cost to parents but must know the count for proper table seating.



March, 2008 -- Our sister web site:
That Bakersfield Sound Website
is celebrating it's
10th Anniversary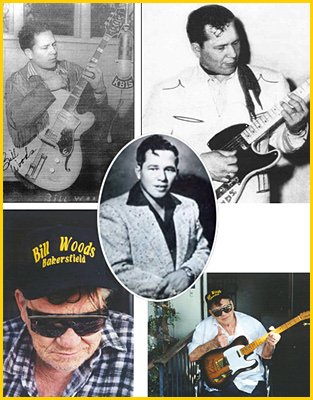 BILL WOODS
... from Bakersfield.
Bill was the source of inspiration
to start this website back in 1998.
Bill is known as the "Grandaddy of the Bakersfield Sound.
He passed away April 30, 2000.
RIP dear friend.

---
CRY-BABY READIES TO ROCK BROADWAY.
The latest John Waters film to make the leap from the silver screen to the Broadway stage, Cry Baby, prepares to rock Broadway audiences at the Marquis Theatre beginning March 15th.

---
AN OPEN E-MAIL FROM BOBBY CROWN TO A FRIEND
Posted March 4, 2008
Laurent, Just got back from Finland. Had a great time. I went on stage about 1:00 o'clock Sunday morning. Was supposed to play about an hour. I wound up playing almost one and a half hours. They kept wanting more. I did 4 encores and they were still wanting more. I was running out of songs and I finally just told them that was all and thanked them and J.J. and the boys played an instrumental and I walked off stage.
You know that Wildfirewillie is really a hard act to follow. They put on such a great show. But I am very fortunate to have them playing for me. Personally, and I know you do to, feel that they are the best rockabilly band anywhere. Once again, I have to thank you for talking me into going to Europe and helping getting me get connected with Wildfirewillie and The Ramblers. I could have done this show in September, but the band wasn't available so I put it off until they were. I just won't play a rockabilly gig without them. I don't have to.
I had a guitar player named Buddy Webb that played with me for about seventeen years until about 1990. Recently Buddy told me that he enjoyed making me look good and he did. I feel the same about Wildfirewilly. Jan knows my songs better than I do and they are there to catch me if I falter. They make me feel young again even tho I can't hop up on stage like I use to. I have to use the steps.
Anyway, after the show, I started up to my room to change clothes and there was one of the other bands having a jam session in the hall way with a couple of guitars, a small amp, a snare drum and a harmonica player. There was quite a few people listening and they wanted me to sing a couple of songs, so I did. I changed clothes, came back down. I had a couple of beers and something like jambalaya with rice and stuff. I sat with Alf, the bass player, who is a real character and some more people. They closed up the restaraunt and I headed back to my room because I had to get up at 8:00 o'clock to get ready to catch a plane in Helsinki. Guess what, The jam was still gong on, and Jan was singing. They wanted me to sing some more. I sang everything I thought they might follow me on including Big Blue Diamonds.
I am going to forward this mail to some other people that might be interested including Gene Summers. I have told him several times thru E-mail how much I like Big Blue Diamonds. Anyway I told them that I had to get some sleep and got back to my room about 4:30 A.M. I had a wake up call at 8:00. Had a shower. ate some Breakfast. I think I had some kind of fish for part of my Breakfast and I am not sure if it was cooked or not. It was kind of rolled up. A guy told me it was very Nordic. It didn't taste bad. I never was a picky eater. That is something that my Mother taught me. Anyway the manager of the hotel took me to the airport . I think he was the only one that wasn't hungover. Someone told me that the beer was about seven dollars each and they drank a lot of it. The manager said it was an exceptional crowd and he was very happy. He was a nice man as were all of the people there.
Big Beat magazine did a nice article on me. I can't read it 'but it has several pictures that had never been published before. It was a race to get the pictures to them and our Gandson, Jordan Adams, helped me E-mail them because he is pretty sharp on computers and a lot of electronic stuff. Now that I have told everything I know,I guess I will go. I wish you could have been there Laurent, You would have fit right in.
Thanx again, Bobby Crown

---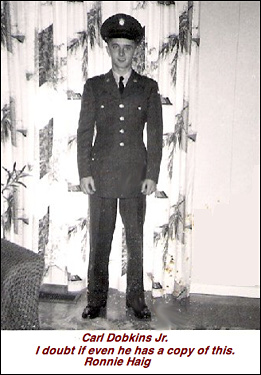 ---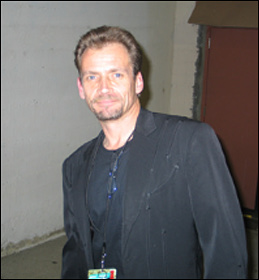 NOEL HAGGARD backstage at the Fox Theatre in Bakersfield Feb 13, 2008. Noel was the opening act for his father. He's a fine singer in the family tradition.

---
VISITING BO DIDDLEY, Bo Diddley recovering from his stroke. Photos taken 1-28-08.

---
LITTLE RICHARD IN NASHVILLE
It was a standing ovation for rock 'n' roll pioneer Little Richard - and he didn't even perform. He was seated at the rear of the Ryman Auditorium Sunday (Feb. 17, 2008) night attending a concert by 1960s Motown stalwarts The Temptations and the Four Tops. Introduced by Otis Williams, an original member of The Temptations, the 75-year-old Little Richard got the extended ovation from the sold-out crowd of about 2,400. "We've done some shows together," Williams recalled. Richard, a Macon, Ga., native, now lives in Tennessee and recently performed with Jerry Lee Lewis and John Fogerty on the Grammy Awards.

---
WORTH A CLICK:
WARREN SMITH Article by "Dominique ANGLARES" - anglares.dominique@wanadoo.fr

---
ROCKABILLY RAVE USA
Coming to Las Vegas OCTOBER 2nd-6th 2008
Posted, Feb. 15, 2008 - Coming soon is the ROCKABILLY RAVE USA. This will be held every October in The Orleans Hotel in Las Vegas. It is organised by JERRY CHATABOX (of The Rockabilly Rave) and Tom Ingram (of Viva Las Vegas). This group is for you to discuss the Rockabilly Rave USA, to connect with other attendees and to post information and news about this event. The official event website is www.rockabillyraveusa.com and will be up soon. http://groups.myspace.com/rockabillyraveusa.

---
RE: "Crazy" Joe
"We are pleased to announce that the brand-new issue of Guitar Player magazine features a three-page article on our very own nerd-a-billy pal, "Crazy" Joe Tritschler! In the article, appearing in the March 2008 issue and featuring two rather large pictures, Joe elaborates on such subjects as recording techniques, amplifier construction, string gauges, and Rigs of Death! Go get yourself a copy at your local newsstand, or visit international retailers such as Barnes & Noble!" Sincerely yours, Ed Sinnicky, Press Manager. For more information, please visit www.madriveroutlaws.com!

---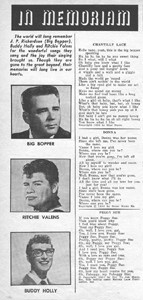 Posted Feb. 3, 2008 - Click to Enlarge
---

Visit the Rockabilly Hall of Fame's BUCK OWENS page
---

Ricky Nelson - Greatest Love Songs CD
---
WORTH A CLICK:
Early Elvis / Jordanaires Video
---
EP - Ain't That Loving You Baby?
---
WORTH A CLICK:
LEE ROCKER,1/28/08: Woodsongs Radio Hour, Lexington, KY - photos by Scott Preston

---
WORTH A CLICK:
LEE HAZELWOOD
---
WORTH A CLICK:
JOE BROWN, one of Britain's first pop stars, has just kicked off his 50th-anniversary tour. He talks to Helen Brown about being supported by the Beatles, the day he upset Johnny Cash, and how he was almost in the car crash that killed Eddie Cochran.

---
FYI ... MUSIC HISTORY ARTICLE:
Here's a interesting, no-holds-barred article on the way the music industry has worked over the past forty years, written by Simon Napier-Bell, ex-manager of the Yardbirds: http://observer.guardian.co.uk/omm/story/0,,2241544,00.html

---
The More You Cry (The Matchbox Blues Blues, Two Parts)

---
Daydream Believer Songwriter Dies
John Stewart, who wrote the Monkees hit Daydream Believer in 1967 and was a member of folk group The Kingston Trio, has died. The 68-year-old suffered a massive stroke or brain aneurysm in San Diego on Friday, according to The Kingston Trio's website. Stewart joined the group, one of the most successful and influential groups in popular folk, in 1961. He wrote Daydream Believer, a global hit for The Monkees the same year he left The Kingston Trio. He went on to record more than 45 solo albums and his biggest solo success came with a US top five single, Gold, in 1979.

---
Martin Commemorative Limited & Special Editions
Honor The King of Rock & Roll: Elvis Presley (Guitar)
---

CHUCK BERRY - JOHNNY B GOODE:
His complete '50s Chess Recordings, 4-CD box set.

---
LEE HARRELL R.I.P.
Lee Harrell, wife of Jimmy Harrell (Alton & Jimmy) passed away Friday, 28 December 2007 after a courageous nine month battle with cancer.

---
Folsom Prison Johnny Cash Tribute Concert Scrapped
FOLSOM, CA - A concert marking the 40th anniversary of Johnny Cash's famous concert at Folsom State Prison has been scrapped, with the prison and the promoter blaming each other for the cancellation. The tribute concert, scheduled for Sunday Jan 13th, was to have been staged in the same prison cafeteria where Cash performed before inmates on Jan. 13, 1968. That breakthrough performance became a popular live album.

---
R.I.P. - Rockabilly Hall of Fame Inductee #299, Wally Willette, 1929-2008.
Wallace D. Willette, age 78, passed away on Sunday, January 6, 2008. Wally was born in Bangor, Maine on July 2, 1929. He was a member of The First Pentecostal Church of Pensacola, Florida. Survivors include his wife of 58 years, Etta Willette, his daughters, Linda Lowe and Marleah (Tom) Klingler; his sons, Terry (Debbie) Willette, and Timothy Willette; his grandchildren, Candi, Terry Jr., Hope, Destiney, Summer, Little Tim, Shiloh and Lily; his seven great-grandchildren; his sister-in-law and brother-in-law, Jack and Rachel Daughrey, his sister, Carolyn Brebue, his brothers, Gene of N.C., Stanley and Mike Brebue of N.C.

---
WORTH A CLICK:
Hillbilly Moon Explosion Music
---
Book: THINGS DO GO WRONG tells the story of the 1960 rock 'n' roll tour starring Gene Vincent and Eddie Cochran.

---
GROUCHO PLAYED THE GUITAR?
Although poor, Minnie Marx required all her boys to learn to play musical instruments. Groucho played guitar and was a remarkable singer. Chico mastered the piano and Harpo played everything, but loved the harp. If Groucho Marx didn't exactly invent rock and roll, he nonetheless embodied its irreverent, rebellious spirit in every medium he came to conquer. He and his brothers would make only 13 feature films, yet in 2000, five of them were honored by the American Film Institute as among the top 100 comedies of all time. Such was Groucho's influence across the generations that he became an unlikely youth icon in his mid-80s, mobbed like a rock star at rare personal appearances, and inspiring thousands to pack what's now Los Angeles' Gibson Amphitheater to view a slate of Marx Brothers films made decades before most in the audience were even born.

---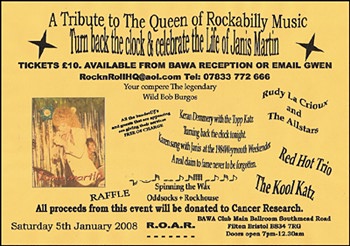 See full size flyer
---
"BOP STREET"! As of Monday January 7th, listen every Monday to "BOP STREET," Big Joe's 50's Rock and Roll Show from 8.30 pm to 21.30 pm on www.couriradio.com

---
There's a great story about Gene Maltais in the book:
"The Sounds of Our Town, The History of Boston Rock and Roll." The book can be purchased on the Barnes and Noble Book Store Web-site for 24.95. Visit this link.

---
Walk Hard: The Dewey Cox Story (Movie)

---
BROPHY DALE FEATURED IN GUITAR PLAYER MAGAZINE
Brophy (co-lead guitarist for Lee Rocker's band) is featured in the January issue of Guitar Player Magazine. Brophy is humbled, proud and excited to be the great magazine that he's been reading for years. His contact: brophydale@charter.net

---
This weekend on LatiNation TV we celebrate all things Rockabilly!
Rockabilly revelers will get their kicks this weekend (12/15-10/16) as LatiNation goes on set with vintage and modern pin-up photographer Jorge M. Vargas, then twists and shouts to the sounds of legendary rockabilly musician, Big Sandy. Next, LatiNation gives viewers a retro wardrobe and home makeover with the designs & decor of My Baby Jo and Spitfire Interiors. Viewers are invited to discover Los Angeles, Calif.'s oldest underground music scene with the documentary, "Rebel Beat: the Story of L.A. Rockabilly," and lastly a dose of psychobilly sickness with Mexican punk mainstay, Calavera!
This special episode of LatiNation also features interviews and footage from the top heavyweights of the Rockabilly and Psychobilly scenes, including L.A.'s Black Cat Entertainment and Austin, Texas's "Rockabilly Magazine," and many more! For a short teaser of the upcoming episode, check it out here: http://www.youtube.com/watch?v=qOnIUco8ZWA

---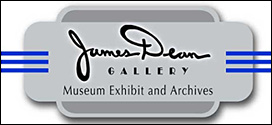 James Dean Gallery Store
---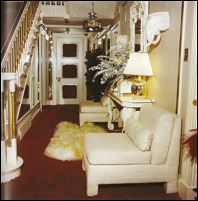 "INSIDE GRACELAND" REVIEW:
New Book

---
The CD Baby page is ready for MATT LUCAS: One More Time For Momma

---
James Monroe to sell Bluegrass Music Hall
December 1, 2007 - The son of the late bluegrass legend Bill Monroe is selling the music hall he opened two years ago near the Kentucky-Tennessee state line. James Monroe said the duties of running the venue conflicted with his own musical career. The property, which includes the Bluegrass Music Hall and nearly 18 acres of land, is scheduled to be sold at auction December 13th. It is just off Interstate 65 on U.S. Highway 31, about 40 miles north of Nashville.

---
MUSICIANS HALL OF FAME & MUSEUM
Inductions honor heroes behind hits (Nashville, November 26, 2007)
Also: Another article here.

---
MUNICH, GERMANY'S ROCKABILLY / ROCK & ROLL MUSEUM
Here's another picture of the ribbon cutting ceremony
---
RONNIE SANDO a member of the Rockabilly Hall of Fame®, has finalized contract negotiations and has signed to open shows for "The Branson Country Music Showcase" at the God and Country Theatre, located on historic Highway 76, close to Dolly Parton's Dixie Stampede and Dick Clark's American Bandstand Theatre, March 22-28, 2008 in beautiful Branson, MO.
The Showcase is being billed as the "Entertainment Event of the Year" where country and bluegrass contestants can show their talents on the same stage as the legends perform. The winner will receive a Nashville recording contract, among other prizes. It's a show where every contestant will be a winner by receiving some type of prize. "Turn your talent into a career" - bransoncountrymusicshowcase.com". Toll free 1-866-592-7469

---
Memphis Mike Suffers Heart Attack
On Friday, 9 November 2007, rockabilly guitarist, vocalist, songwriter, Memphis Mike suffered a massive heart attack. After a brief stay in hospital, Memphis Mike is now recuperating at his home in Pittsburgh. All shows for the remainder of 2007 have been cancelled.
Memphis Mike, born Michael Metzger, is best known for his work with his bands Memphis Mike & the Legendary Tremblers, The Rowdy Bovines and The Swingin' Cadillacs as well as session work with the likes of Alan Leatherwood (US), Christina Louise (Aus.) and many others.
Memphis Mike' s signature song, "Diamonds & Cadillacs" has been recorded by numerous artists, including legendary SUN rockabilly, Hayden Thompson. Memphis Mike has worked with the likes of Sleepy LaBeef, Hayden Thompson, Billy Poore, LesLee "Bird" Anderson, Big Al Downing, and many more.
Those wishing to send Get Well cards, etc. may do so at this address: Memphis Mike, c/o Rusted Records, P.O. Box 53, Pittsburgh, PA 15116

---
A remix of the Sun classic "Baby Lets Play House".
It sounds rather interesting without drastically altering the tempo: http://www.youtube.com/watch?v=QmTvYpH75sM

---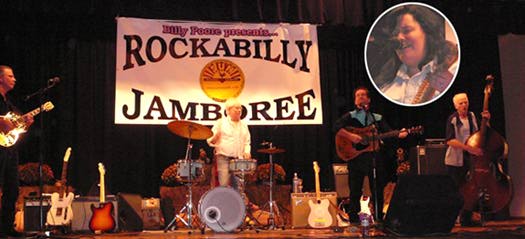 Rockabilly Show Benefits Linden, TN Middle School
Sat., Nov. 10, 2007 - Among the performers who participated were Art Adams and his band and Mandy Marie (pictured above). Also appearing on stage were: Leslee "Bird" Anderson, Billy Poore, Willie Redden, Stacy Evans and Bob Timmers.

---
WORTH A CLICK:
Jerry Lee Lewis Night
---
The Reverend Horton Heat's Jim Heath forms Reverend Organdrum
From Jim Heath, the man who brought us the perennial sell-out-show-playing, psychobilly-genre-defining, world-famous Rev. Horton Heat, comes Reverend Organdrum. The RHH side project features five-time Grammy Award-winning keyboardist Tim Alexander and Texas local Todd Soesbe on drums to form this soon-to-be-legendary organ trio. Just think, the chops of a vintage jazz organ trio and the attitude of Reverend Horton Heat at their pomade-flinging best.
The group's upcoming release, Hi-Fi Stereo, covers the pantheon of hipness, dosing out greasy soul, funk, blues, lounge, rockabilly and just about everything else that sounds best dripping from a 45 rpm in the wee hours. Look for the album in stores on January 8th.

---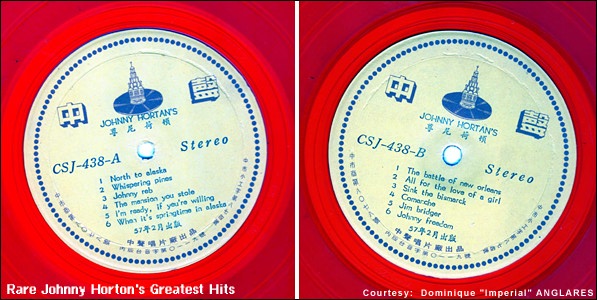 ---
Rosanne Cash Has Surgery
November 9, 2007 - Singer-songwriter Rosanne Cash has canceled the four remaining dates on her "Black Cadillac: In Concert" tour so she can undergo brain surgery. Cash's upcoming recording session has also been postponed while she has the operation at New York Presbyterian Hospital to treat a rare, but benign condition.
The daughter of country music icon Johnny Cash is expected to make a full recovery and will return to the studio to complete the recording of her debut for Manhattan Records, the label said in a statement. Cash also plans to resume her live performance schedule in the spring and complete a new book to be published by Viking in early 2009.

---
Elvis is Forbes' Richest Dead Celebrity
Oct 31, 2007 - Elvis Presley is still the King. Presley, who earned an estimated $49 million in the past 12 months, has reclaimed the No. 1 spot on Forbes.com's list of Top-Earning Dead Celebrities. He last topped the list in 2005.
&nbsp &nbsp John Lennon ranks second with earnings of $44 million, followed by Charles M. Schulz ($35 million), George Harrison ($22 million), Albert Einstein ($18 million), Andy Warhol ($15 million), Theodor Geisel (Dr. Seuss) ($13 million), Tupac Shakur ($9 million), Marilyn Monroe ($7 million), Steve McQueen ($6 million), James Brown ($5 million), Bob Marley ($4 million) and James Dean ($3.5 million).
&nbsp &nbsp Presley died in 1977. His estate continues to generate millions from music royalties, DVDs, licensing deals and tourism at Graceland, the rocker's mansion in Memphis, Tenn.

---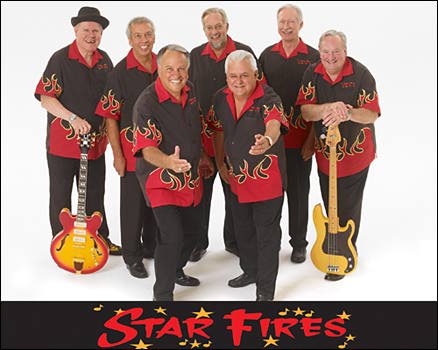 Starfires' Publicity Photo
For information of these Pennsylvania Cats contact John Hall

---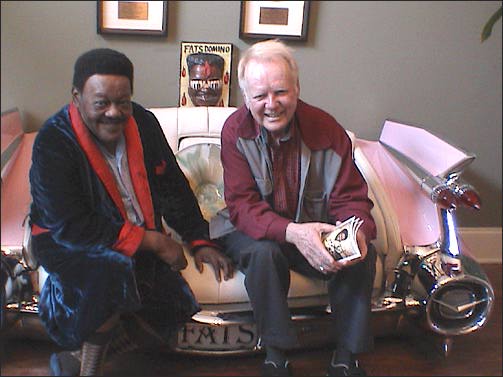 FATS DOMINO with MATT LUCAS
October 24, 2007 - "We're in New Orleans right now. Had such fun with Rick Coleman and Fats Domino yesterday. First we had lunch with Rick who was delighted to let us know us that he'd just been given the ASCAP award for 'Best Biography' for his book BLUE MONDAY about Fats which is a great read if you haven't read it yet. After lunch we drove into New Orleans to Fat's house and were invited into his bedroom by his charming daughter Adonica. I've met and gotten to know many famous people through Matt but being entertained in Fat's bedroom by Fats and Matt, with Fats in his PJs, was a real 'hoot'. We spent the whole afternoon with Fats and his son and he didn't seem to want us to leave ... even asked us what we were doing tomorrow ... ha, ha. It was an experience we won't forget. Fats and his daughter and son were so down to earth. He loves that 'Fat Man From New Orleans'. Matt sang along with his CD while Fats played the piano." -Barbara Lucas

---
BO DIDDLEY'S HOME TOWN TRIBUTES
October 24, 2007 - Bo Diddley is eagerly awaiting next week's tributes planned for him in his home town of McComb, MS. The City is hosting the first Camellia City Festival, Friday and Saturday November 2nd and 3rd, and the event has been specially timed to coincide with the unveiling in McComb of the Bo Diddley Blues Marker on the Mississippi Blues Trail.
&nbsp &nbsp The Festival will begin at 9.00am on Friday November 2nd, with a bus tour beginning at the McComb Railroad Museum on Railroad Boulevard, then heading to the renovated State Theater, the new Hampton Inn, the McComb Tiger Activity Complex, McComb's new Sports Park and then on to view Bo Diddley's childhood home.
&nbsp &nbsp All are then invited to the unveiling ceremony for the Bo Diddley Blues Marker, taking place from 12.30pm to 2.00pm, with the popular local blues and jazz guitarist/singer Jesse Robinson performing a historical medley of songs. The City of McComb will present Bo with a proclamation and City officials are asking the State Senate and House of Representatives to introduce a similar measure.
&nbsp &nbsp Local artist Pat Legg has also donated an acrylic painting of Bo Diddley to the City and prints of the portrait will be sold during the Festival.
&nbsp &nbsp The Festival also coincides with McComb High School's Homecoming. The Homecoming Parade will be kicking off at 4.00pm, with Bo Diddley this year's Grand Marshal riding in a convertible from Legacy Ford in McComb. The McComb High and Junior High bands will be joined in the parade by the Hazlehurst High School and South Pike High School bands in playing a selection of Bo Diddley's songs.
&nbsp &nbsp The McComb High School Homecoming Game in the evening will be followed by a free "Singing The Blues" concert at the Railroad Depot Pavilion, beginning at 9.00pm.
&nbsp &nbsp The second day of the Festival begins at 10.00am Saturday November 3rd, on the grounds of Southwest Mississippi Regional Medical Center. Mississippi Blues Trail website: http://www.msbluestrail.org/blues_trail/

---
Johnny Cash Christmas Show From 1976 and 1977 - Found, Reissued
Lost since 1977, the famous and wildly popular Johnny Cash Christmas Specials from 1976 and 1977 were recently found in the vaults of ABC Television in Hollywood. These Christmas Specials feature a personal, heart-warming look at Christmas through the eyes of Johnny Cash, one of Country's Biggest Stars. In addition to an unbelievable list of guest stars, Cash delves into the meaning of Christmas for himself and talks about the traditions he enjoyed as a boy growing-up in rural Arkansas. These stories, coupled with the joyous Christmas Music, and Carols make this a show one you'll watch over and over again. Through a special arrangement with a Hollywood Studio, Country Music Greats is taking pre-orders for these shows. The show will be available for shipment November 13, 2007. The Christmas Shows are available individually (1976 DVD or 1977 DVD) or, as a 2 DVD set. Catalog Music Corporation, PO Box 159297, Nashville, TN 37215. help@purecountrymusic.com - 1-800-591-2968

---
WORTH A CLICK:
Wanda Jackson, Utlimate Collection, 2 Discs
---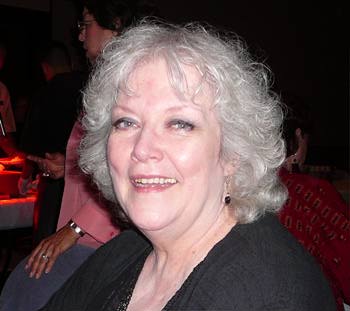 JOYCE WEBB still singing in 2007
Joyce
Spades/Slades
---
ROY HEAD and The (original) Traits were inducted into the Rockabilly Hall of Fame® at 7:00 PM , Oct 20, 2007 at the LBJ Center's Main Ballroom at Texas State University in San Marcos, TX. 512-392-2100. RHOF founder/curator Bob Timmers was on hand to make the presentations.
The Rockabilly Hall of Fame, established more than a decade ago, presents early rock 'n' roll history as well as information about the artists and personalities who pioneered this uniquely American music genre. The Hall, which is headquartered in a former recording studio some 30 miles west of Nashville, has honored performers such as Gene Vincent, the Everly Brothers, Tom Parker and Elvis Presley, Buddy Holly, Jerry Lee Lewis, Patsy Cline, Johnny Cash, Bill Haley and the Comets, and many others.
A corresponding CD, "Golden Anniversary: Rockabilly Hall of Fame Album" is being issued. See http://myspace.com/royheadandthetraitsfor more information on the band and show.

---
New York rockabilly fan Larry Shell co-wrote FISHHEAD, the graphic novel along with Michael H. Price (Prowler, Forgotten Horrors) which is illustrated by Mark Evan Walker is now being serialized at ComicMiz.com! A new portion will be posted EVERY Monday until the complete book is up.

---
WORTH A CLICK:
NEWSPAPER ARTICLE ON ROC LARUE
---
Rockabilly Hot Rod Show at Las Vegas Motor Speedway
The fourth annual Rockabilly Rod Reunion will be taking place at the Las Vegas Motor Speedway on Saturday, October 6. The reunion will be an all day event and will feature live music, drag racing, pin-up girl contest, and more. Trophies will be awarded to pre-1965 custom cars in three contest brackets during the car show. The event will happen alongside the Bugorama, which will start on Oct. 4.

---
Don't miss the 10th Screamin' Festival!
27th May - 2nd june 2008 - 7 nights ... Festival: Thursday 29th to Sunday the 1st of June - 4 nights. Where and line up (30 + BANDS) - coming soon! We are working on a new website; in the meantime please visit: http://www.myspace.com/screaminweekender - Carlos @ El Toro - jumpblues@gmail.com

---
BOBBY CROWN, FORT WORTH'S ROCKABILLY CAT, BACK ON VINYL
Bobby Crown, an original Rockabilly cat who staged with the Big D Jamboree in 1959, has a new single for 2007. Some vinyl records died long time ago, so you'd better take note of this new waxing produced by Bobby Crown himself. Bobby's record issued in 1959 on Felco records is a long time collector item that sold for over $400 each when an original copy could be located. Bobby, who played recently in Sweden and France, found a pressing plant and made a new pressing of those legendary sides. 500 copies, with a neat picture sleeve, are offered for sale to worldwide Rockabilly die hard fans. In a few weeks 200 copies were quickly gone so it's last call for that single that will be soon as rare as the original release. You can secure an autographed copy of "One Way Ticket" / "Your Conscience" directly from Bobby at the follwing address: Bcrown5@aol.com. It's pure Rockabilly from Texas and, for sure Bobby's got, in 2007, ... his return ticket!
Dominique "Imperia" ANGLARES - houstonring@wanadoo.fr

---
2nd ANNUAL DOO WOP CONVENTION IN VEGAS
It is coming close and tickets are going fast -- The Cool Bobby B 2nd Annual Doo Wop convention in Las Vegas. This November 15th and 16th. Original Doo Wop bands, An amateur Doo Wop Contest, Vendors and Much More. Please if you plan to attend to stop by the Rock-it Radio Booth and say Hello!
For more information check out our webpage at: http://www.rockitradio.net/doowopconvention.html
You can hear the Cool Bobby B Doo Wop Show as well 24 hours a day on demand via Rock-it Radio Online -- Just look for his show and click to the speaker at: http://www.palmsradio.com/rockittext.htm

---
WORTH A CLICK:
GUEST BOOK for JANIS MARTIN WHITT
---
WORTH A CLICK:
PICKING THE BRAIN OF BRIAN SETZER
---
WORTH A CLICK:
FATS DOMINO: Walkin', Talkin' and Hopin'

---
Slim Jim Phantom and others "The Make Climb for Cancer Research".
On October 13th, forty legendary musicians, mountaineers, artists, cancer survivors and supporters will embark on the most momentous climb of their lives -  "Everest Rocks" - a fourteen-day trek up Mount Everest, culminating with the first-ever rock concert at Base Camp. The climb was designed to bring awareness to and raise money for the Love Hope Strength Foundation (LHSF), founded by two-time cancer survivor and rock icon, Mike Peters of the UK band "The Alarm" and fellow cancer survivor James Chippendale, president of CSI Entertainment, one of the country's largest entertainment and sports insurance brokers.
Joining Peters and Chippendale on the 18,000 foot climb will be musical legends Slim Jim Phantom of the Stray Cats, Squeeze's Glenn Tilbrook, Nick Harper, The Fixx's Cy Curnin and The Fixx's Jamie West-Oram. Following long, strenuous hikes each day, the musicians will create acoustic recordings that will be fed directly to iTunes from the mountain. Once reaching Base Camp on October 23, they will perform together - a Mount Everest first - and will then hike four days down the mountain to play a finale concert in Kathmandu on October 29. Each day, people all over the world will be able to watch and listen to video, live recordings, photos and read a daily blog, and even send text messages to the rockers via www.lovehopestrength.org

---
MAC CURTIS DVD
Emcee Music Ventures proudly presents this collaboration between the Texas rockabilly legend MAC CURTIS and young rock 'n roll artist PHIL FRIENDLY. The disc features 21 songs and a few bonus clips. www.maccurtislivedvd.com.

---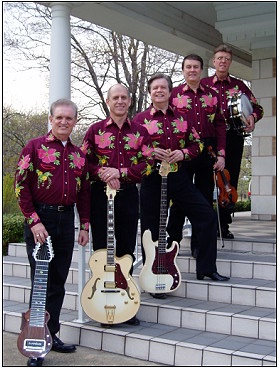 Light Crust Doughboys NEA American Masterpieces Artists
&nbsp The Texas Commission on the Arts has announced that The Light Crust Doughboys have been designated NEA American Masterpieces Touring Artists for fiscal year 2008. According to the Commission, The Light Crust Doughboys are one of 12 outstanding Texas artists from the current TCA Touring Artists and Companies Roster chosen for inclusion in the American Masterpieces program.
&nbsp The National Endowment for the Arts (NEA) has placed a priority on touring and presenting the best in the arts this year, and the Twelve Texas American Masterpieces artists and companies are centerpieces of this initiative. Says Doughboy member Art Greenhaw of Mesquite, Texas: "We're extremely honored by this designation since we're so committed to live performances by professional musicians in all regions of Texas, and we especially wish to thank Texas Senator Bob Deuell for his continued support of our touring in communities of every size, small and large, throughout the great State of Texas."
&nbsp The Light Crust Doughboys are one of the world's top, historical western swing bands with inductions in many Halls of Fame. The Light Crust Doughboys have recently re-opened a historic showroom on the downtown Mesquite, Texas square to promote music and western arts including The Light Crust Doughboys Model guitars, bass, banjo and mandolin. For further information on this Grammy Award-Winning band, visit www.thelightcrustdoughboys.com - contact Frank W. Greenhaw, (972) 285-5441.

---
WORTH A CLICK:
MATT LUCAS: New album review.

---
WORTH A CLICK:
SPECIAL SHOW: 3rd Rockabilly art Exhibition 9 september, CHANNEL RED, adm. free, 16:00

---
WORTH A CLICK:
PRICE, HAGGARD & NELSON prove they are last of the breed.

---
WORTH A CLICK:
SCOTTY MOORE'S 75th BIRTHDAY
---
WORTH A CLICK:
GENE VINCENT PORTRAITS
---
WORTH A CLICK:
Preview: The COMET'S NEW SINGLE
---
BOB LUMAN in TEXAS MUSIC HALL of FAME
The 10th annual Texas Country Music Hall of Fame welcomed three new members to their galaxy of stars this week in Carthage. Red Steagall, Bob Luman and Johnny Rodriguez were honored for their contributions to Texas and country music.
Red Steagall, a native of Gainesville, who found stardom as a performer, songwriter and actor, kicked off the entertainment for the standing room only crowd. Melissa Luman represented her dad, rockabilly star Bob Luman, at the ceremony. Luman died at the age of 38 in 1975. Johnny Rodriguez, who burst onto the music scene during the 1970's as the first Chicano artist, performed a number of his hits including Lonely Women Make Good Lovers and Desparado.

---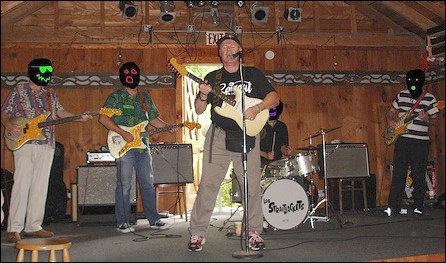 Rockabilly Hall of Fame volunteer staff member, JOHN HALL, on stage with Los Straitjackets at one of the workshops at their Summer Camp. John was one of 25 attendees. Since they wore no masks, the band was asked to block their faces, and Steve, who took the photo, got a little creative. The folks who put on the event are Jake and Connie of 2Jakes Management.

---
WORTH A CLICK:
CARL BARAT as GENE VINCENT in the set of the movie TELESTAR", currently being filmed in London and based on the life of legendary producer Joe Meek.

---

Charlie Gracie on stage at the Lincoln Center in NYC. This summer the famed Lincoln Center has paid tribute to "Americana Roots Music" and some of the artists that made it famous. Over 5,000 attened the outdoor ampitheater to see the August show that featured: The Dixie Hummingbirds, Roy Head, Dale Hawkins, Karry Johnson and The Comets and others. Charlie was backed up by the Sleepy LaBeef band. Photo: Larry Penny

---
WORTH A CLICK:
HERSHEY PARK AMPITHEATER. Philly's Pioneer Rocker Charlie Gracie on August 5, 2007 before 1,800 rock 'n' roll fans tears into "Guitar Boogie" at Jon Bowzer's Rock 'n' Roll Concert.

---
Brigitte Handley & The Dark Shadows - USA Tour!
Sun 2nd September 2007 12pm - Summer Strummer Festival - Santa Monica, California. Monster Energy Stage alongside the Rezurex, Duane Peters Fight Club, Zeke, Battalions of Saints, Deadbolt and heaps more. Check the full line up: http://www.myspace.com/thesummerstrummer
Tues 4th September 2007 8pm Dante's - Portland, Oregon The Rezurex, Brigitte Handley & The Dark Shadows
Wed 5th September 2007 8pm - El Corazon, Seattle, Washington The Rezurex, Brigitte Handley & The Dark Shadows
Thurs 6th September 2007 8pm - Hell's Kitchen, Tacoma, Washington The Rezurex, Brigitte Handley & The Dark Shadows
Fri 7th September 2007 8pm - Fritz's Bar Reno, Nevada. The Rezurex, Brigitte Handley & The Dark Shadows
Sat 8th September 2007 8pm - Sawtooth Ridge Cafe Tahoe City, California. The Rezurex, Brigitte Handley & The Dark Shadows
Sun 9th September 2007 8pm TBA, Bakersfield California. The Rezurex, Brigitte Handley & The Dark Shadows
Wed 12th September 2007 8pm - Safari Sams, Hollywood, California. Brigitte Handley & The Dark Shadows
Sat 15th September 2007 8pm - Route 66 After Party - http://www.myspace.com/route66afterparty - Neon Kross, Brigitte Handley & The Dark Shadows
Fri 21st September 2007 8pm - Showcase Theatre **ALL AGES** , Corona, California THE QUAKES, Stellar Coprses (Santa Cruz), Brigitte Handley & The Dark Shadows, The Astounding Roy Gorbisons, National Hotrods, Glen or Glenda. Doors Open at 7:00 p.m. Get There Early Limited Capacity $15.00 Presale; $17.00 Day of Show! Get Your Tickets NOW before they're Gone! www.ShowcaseTheatre.com
Sat 22nd September 2007 8pm - The Key Club **ALL AGES** Hollywood, California THE QUAKES, Henchmen, Brigitte Handley & The Dark Shadows, Gamblers Mark, The Howlers, Those Rockin Bullets. Get There Early Limited Capacity Reserve You Dinner Full Bar for 21+. Best Club in LA Best Lights and Sound, $17.00 Presale; $19.00 Day of Show! Get Your Tickets NOW before they're Gone! www.KeyClub.com
Sun 30th September 2007 8pm - The Blue Comet Bar and Grill - Glenside, Pennsylvania, Brigitte Handley & The Dark Shadows
More Dates to be announced!

---
HANK WILLIAMS, JR. RETURNS TO ESPN'S MONDAY NIGHT FOOTBALL WITH BRIAN SETZER AND NEW ALL-STAR BAND
Hank Jr. to Sing MNF Anthem for 19th Year; New Open Debuts Sept. 10 ... The names of the NFL superstars who have performed on Monday Night Football the past two decades are constantly changing, but one name has remained constant since 1989 ­ Hank Williams, Jr. The legendary singer has earned four Emmy awards (1991-1994) and national acclaim among fans for singing the anthem that kicks off the NFL's weekly primetime showcase game. That legacy will continue for the 19th year when Williams will perform the opening theme to ESPN's MNF this fall with a new all-star band featuring singer/songwriter Brian Setzer and other popular artists.
Williams will again perform "All My Rowdy Friends Are Here on Monday Night" ­ based on his hit song "All My Rowdy Friends Are Coming Over Tonight." This year's version will offer a "boogie-woogie" and big-band music flare with the addition of Setzer and 13 members of the horn section from the Brian Setzer Orchestra. ESPN introduced the all-star band concept during its inaugural MNF season a year ago, and this year's diverse collection of musicians is scheduled to feature new artists representing rock 'n roll, pop, country and funk, including:
Guitarists Brian Setzer (Stray Cats/Brian Setzer Orchestra), Richie Sambora (Bon Jovi), country music sensation Gretchen Wilson, and young phenom Drake Bell, the 21-year-old actor/singer/songwriter from the popular Nickelodeon series Drake and Josh; Keyboardist John Ondrasik (Five for Fighting); Funk bassist Bootsy Collins (Parliament Funkadelic); and Drummer Cindy Blackman (drummer for Lenny Kravitz).

---
Sun blocks sale of vintage recordings by Johnny Cash, Carl Perkins. Sun blocks sale of vintage recordings by Johnny Cash, Carl Perkins August 16, 2007 - Master tapes were to be sold at auction this spring ... Sun Entertainment Corp. of Nashville said today a federal judge has permanently blocked the sale of master recordings by former Sun Records artists including Johnny Cash, Jerry Lee Lewis and Carl Perkins. Creative Sounds Inc. had planned to sell the tapes this spring through the Chicago auction house Ocean Tomo as part of a larger auction of 30,000 master recordings by artists from Frank Sinatra to Willie Nelson. Sun sued to block the sale of the Sun masters, however, claiming ownership of the recordings, which date to the 1950s. Ocean Tomo pulled the recordings from the auction, and on July 23, a federal judge in Chicago issued a permanent injunction preventing Creative Sounds from selling the tapes, Sun said today.

---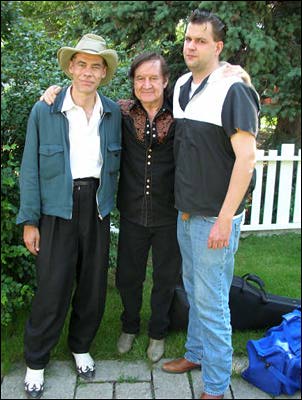 Ronnie Hayward, Art Adams & Steve "Mr. Happy" Kelemen.
Many miles, heat waves and beers later.

---
WORTH A CLICK:
Meet the Great Pretenders
---
WORTH A CLICK:
'The King' is frequently spotted around the high school
---
WORTH A CLICK:
FOUNDATION CARTIER' EXHIBITION IN PARIS - THREE LEGENDARY GUITARS ON DISPLAY (Dominique "Imperial" ANGLARES)

---
WORTH A CLICK:
A rendez-vous in France with the Wild West (Dominique "Imperial" ANGLARES)

---
LEE HAZLEWOOD: 9 July 1929 - 4 August 2007
Obit from Lee's MySpace blog. Lee Hazlewood Fan Site

---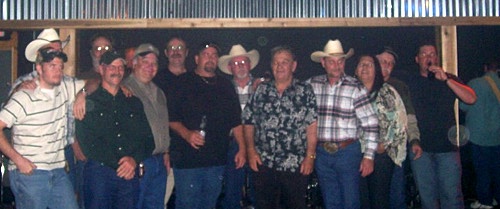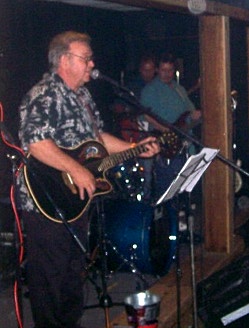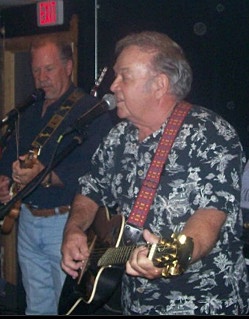 BOBBY CROWN REUNION PHOTOS.
Date: Friday, 3 Aug 2007. Courtesy: ramseykeith@sbcglobal.net

---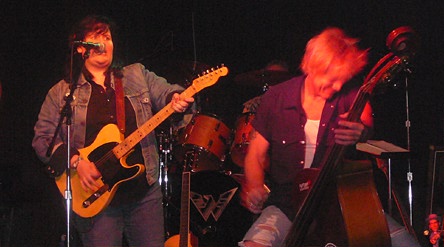 MANDY MARIE & the Cool Hand Lukes, from Indianapolis, appeared at the Douglas Corner in Nashville, Thursday, August 2nd. Mandy and the band did a super charged set. The show's theme was built around the "Outlaws" and many of Waylon Jenning's former band members showed up to back some of the other fine talent featured that evening.

---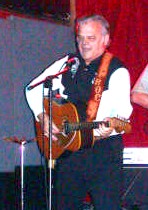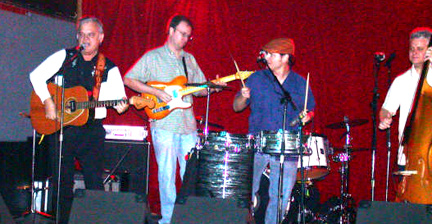 ROC LaRUE recently made a guest appearance at a rockabilly show in Jacksonville, FL. "He's still got it!".

---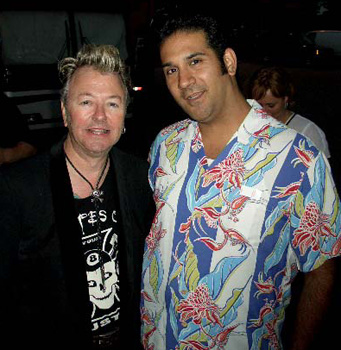 Brian Setzer with Detriot Rockabilly DJ Del Villarreal. Photo taken backstage at the recent Stray Cats concert in the Motor City.

---
READER COMMENT, July 26, 2007:
Colonel Robert & Irene Morris, goldenpen@bellsouth.net, Senatobia, MS. USA
We enjoyed hosting a get together at our home in Mississippi last Friday July 20, 2007. Pasty Andersen who was a part of Elvis Presley Enterprise for twenty two years and Bob Timmers the prez of the Rockabilly Hall Of Fame joined us in eating pizza, singing songs and a photo session that was crazy man crazy!
We talked about Elvis and Rockabilly. And discussed how we could work together to bring more awareness to both. I sang a few songs I had written then Bob started picking and I got on my drums and a party was happening. We covered songs from the 50's through the 80's to the enjoyment of both Pasty and my wife Irene.
The party ended with promises to do this again. And all agreeing we couldn't wait to see each other at the Memphis Elvis Gospel Show on Aug. 12th of this year. With lots of hugs and a handshake or two Pasty and Bob went back to their busy world.

---
WORTH A CLICK:
TV LAND, August Theme: Elvis at the Movies
---
WORTH A CLICK:
Hot 13th Annual Hootenanny Report
---

MERLE HAGGARD DRIVE
Finally after many years the city of Bakersfield pays homage to Merle Haggard by erecting a sign in his honor. Known as Merle Haggard Drive the road is two and a half miles long connecting Hwy 99 to North Chester Avenue in Oildale which is the town Merle grew up in.

---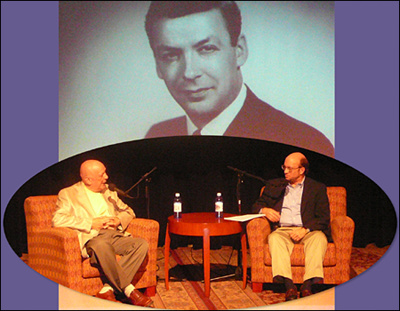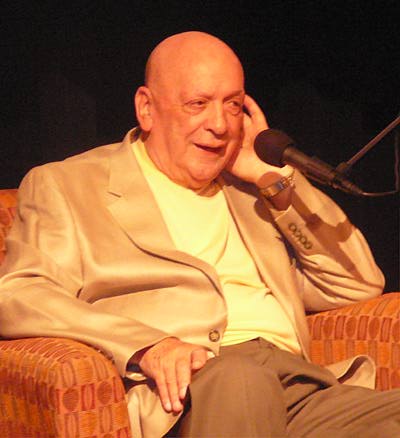 FRED FOSTER, is the man who founded Monument Records and re-started Roy Orbison's career. Fred appeared at a public interview at the Nashville Country Music Hall of Fame on Saturday, July 21st. He was very informative and entertaining.
Rockabilly Hall of Fame photos

---
Jerry Lee Lewis's Complication -
A Recognised Medical Condition!
We've just been received the following from Scottish Jerry Lee Lewis fanatic and friend of the Killer himself, Graham Knight: "A doctor friend was looking up references to "pain relief" in a Medical Dictionary when he noticed that there is a condition that has been known as "Jerry Lee Lewis's Complication". It was first detailed in the medical journal "Anaesthesia" in 1997."


It turns out that the doctor in question, Dr Notcutt is a Jerry Lee fan himself.
Shaun Mather - July 2007.

---
TWO ELVIS DRUMMERS ... TOGETHER
Elvis had two incredible drummers: DJ Fontana met and worked with Elvis on the Louisiana Hayride 1955. He performed on 460 RCA recordings and played drums and appeared in five movies. Ronnie Tutt met Elvis in Las Vegas in 1969 and was selected as Elvis' drummer as part of the TCB Band. He is still playing for Elvis today up on the big screen in "Elvis in Concert".
Now imagine this! Elvis' two incredible drummers FOR THE FIRST TIME on stage performing Elvis songs TOGETHER! Never before, never again! It is well known among Elvis fans worldwide that since 1989 the Good Rockin' Tonite concerts have consistently been the most entertaining, most nostalgic and the most fun Elvis concerts in Memphis each year. August 14th at the Peabody Hotel at 5:00 p.m. and 8:00 p.m. shows, it's up close and personal with the TCB Band, DJ Fontana, the Jordanaires, Millie Kirkham, and Terry Mike Jeffrey. For information and ticket orders call 818 991-3892 or e-mail: elvisint@aol.com

---
WORTH A CLICK:
Hot 13th Annual Hootenanny Report
---
Last Drifter, Bill Pinkney, Dead at 81
Bill Pinkney, the last survivor of the original members of the musical group The Drifters, died Wednesday, July 4, 2007. He was 81. Pinkney was found dead at the Hilton Daytona Beach Oceanfront Resort, Daytona Beach Police spokesman Jimmie Flynt said. The death was not considered suspicious.
Bill recorded one single for Sun Records in 1958. "After The Hop" / "Sally's Got A Sister" was released on Phillips International under the name Bill Pinky.
The Drifters, whose hits include "Under the Boardwalk," "Up on the Roof," and "Save the Last Dance For Me," still performed Wednesday night. An announcement about Pinkney's death was made after the show.
Pinkney, born in Dalzell, S.C., wasn't with The Drifters when they recorded their biggest hits. He left in the band in 1958 because of an argument over cash. His distinctive bass voice can be heard on the group's version of the holiday classic "White Christmas."
Even though he left the group, Pinkney didn't let go of The Drifters' name. He fought for laws allowing performers or bands to claim an affiliation with a classic group like The Drifters or The Coasters only if at least one member recorded with the original group.

---
WORTH A CLICK:
A Candid Behind-the-Scenes Recollection! The July issue of "The Lance Monthly" has been posted and the featured article is a very candid recollection of the life and times of The Cavaliers of "Last Kiss" fame, written entirely by founder and original guitarist, Sid Holmes. Although the recall is quite controversial (it'll be presented in two parts), it is an excellent, well-written read.

---
GENE SUMMERS will be in France on August 17th-19th along with Doug Kershaw. For details go here and click on "Programme".

---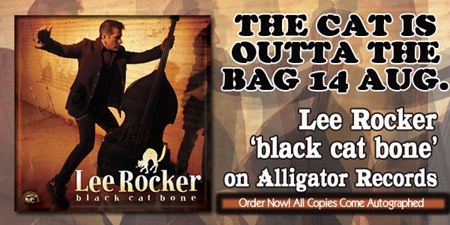 ---
The Essential Waylon Jennings Releases July 24th
Co-produced by Waylon's youngest son, Shooter Jennings, this 42-song on two-CD collection spans his career from 1964 to 1987. Included are a dozen #1 Country hits and another 14 that reached the Top 10. With the exception of the opening track ("Big Mamou" recorded at JD's night club in Phoenix) and closing track ("Rose In Paradise" his final #1 single, on MCA), the balance of the 40 songs celebrate Waylon's two decades on RCA Victor Records ­ one of the longest (and stormiest), most productive (and most combative), most gratifying (and most often frustrating) and most talked-about partnerships in Country Music history. With his extraordinary litany of signature cuts ­ among them Gordon Lightfoot's "That's What You Get (For Lovin' Me)" (learned from Ian & Sylvia Tyson); "Only Daddy That'll Walk The Line"; Kristofferson and Shel Silverstein's "The Taker" and Kris' "Lovin' Her Was Easier (Than Anything I'll Ever Do Again)"; Lee Clayton's "Ladies Love Outlaws"; Steve Young's "Lonesome, On'ry And Mean" Willie's "Pretend I Never Happened"; Donnie Fritts and Troy Seals' "We Had It All"; Billy Joe Shaver's "Honky Tonk Heroes"; Bob McDill's "Amanda"; he and Willie's "Good Hearted Woman"; "Luckenbach, Texas" by Chips Moman and Bobby Emmons; Ed and Patsy Bruce's "Mammas Don't Let Your Babies Grow Up To Be Cowboys" (all three with guest vocals by Willie Nelson), Neil Young's "Are You Ready For The Country"; Rodney Crowell's "I Ain't Living Long Like This"; and many others ­ Waylon's place in American music history is secured forever.
Adding a small sample of Waylon's own list of original compositions ­ among them "That's The Chance I'll Have To Take" (penned when Waylon's nom de plume was Jackson King); "You Ask Me To" (co-written with Billy Joe Shaver); "This Time"; "Rainy Day Woman"; "Bob Wills Is Still the King"; "Are You Sure Hank Done It This Way"; "Waymore's Blues"; "I've Always Been Crazy"; "A Long Time Ago" (co-written with Shel Silverstein); "Don't You Think This Outlaw Bit's Done Got Out Of Hand"; "Theme >From The Dukes Of Hazzard (Good Ol' Boys)"; and "Storms Never Last" (co-written with Jessi Colter) ­ and THE ESSENTIAL WAYLON JENNINGS earns its title.

---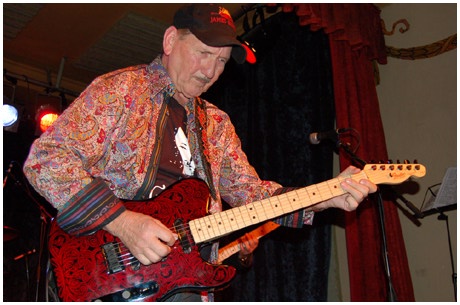 Guitar maestro James Burton taken at the Gamla Club in Oslo, Norway on the 26th of May 2007. James played for nearly two hours and not one time did he repeat himself. He was backed by norwegian band The Beatnicks. Photo is taken by Dag Bogeberg (rockabilly-editor in norwegian Backstage magazine). http://www.musikkavisen-backstage.com/ - dag@tgn.no

---
London England's Terry Lee & The Rockaboogie Band
"An International Piano Pumpin' Sensation" ... Terry Lee & The Rockaboogie Band is a high energy, first class show band built around the lightning fast piano pumpin', rockaboogie playing of London England's Terry Lee.
Popular with all age groups, Terry Lee & The Rockaboogie Band is right at home in a small venue, private party, corporate event, casino or a large outdoor festival.
Terry Lee and the Rockaboogie Band will take you back to the golden era of Rock-N-Roll when stars like Elvis, Johnny Cash and Jerry Lee Lewis were making history in Memphis TN. with a new sound that was sweeping the nation, a sound filled with raw energy and driving rhythm! www.rockingterrylee.com.

THE "LOST" JOHNNY CASH PERFORMANCE
Johnny Cash fans will soon have access to a new recording of the Man in Black, the 16th since his September 2003 death. "The Great Lost Performance," a 1990 Cash concert featuring duets with June Carter Cash and with singer Lucy Clark, will hit stores July from Universal Music.
The 18-song banter-filled live album was recorded July 27, 1990, at the Paramount Theatre in Asbury Park, N.J. Cash classics like "I Walk the Line" and "Folsom Prison Blues" are present and accounted for, the disc also features Johnny and Carter dueting on "Jackson" and "The Wreck of Old '97" and tracks "What is Man" and "Forty Shades of Green" with New Jersey native Clark.
The most recent Cash release was "American V: Hundred Highways," the Rick Rubin-produced collection of Cash's final studio sessions, which made it to No. 1 on the Billboard 200 in July 2006.
Here is the track list for "The Great Lost Performance":
"Ring of Fire"
"Life's Railway to Heaven"
"Wonderful Time Up There"
"Folsom Prison Blues"
"Sunday Morning Coming Down"
"What Is Man"
"Forty Shades of Green"
"Come Along and Ride This Train"
"Five Feet High and Rising"
"Pickin' Time"
"A Beautiful Life"
"Hey Porter"
"Ragged Old Flag"
"Tennessee Flat Top Box"
"Ghost Riders in the Sky"
"Jackson"
"The Wreck of Old '97"
"I Walk the Line"

---
B.B. KING, LES PAUL & OTHERS ROCK!
Here is a really unbelievable Youtube clip showing B.B. King, Les Paul, and Stanley Jordan doing rock and roll. They are doing Blue Suede Shoes: Eddie Van Halen, Steve Miller, Waylon Jennings, Jan Hammer, and David Gilmour of Pink Floyd. The Stray Cats kick it off. They are definitely doing the Carl Perkins' original version of the song. This is great because here we have B.B. King and Les Paul doing rock and roll and playing rock and roll licksl. And Jazzman Stanley Jordan is playing along too. Here is the link: www.youtube.com/watch?v=gyR3PlP3qRs.

---
MERLE HAGGARD'S NEW CD / "TRUE DISCOGRAPHY"
More about Merle Haggard's new "Working Man's Journey" CD and The Hag's "True Discography" can be found here.

---
RAY CAMPI AT THE AMERICANA
Ray Campi will be playing in the U.K. at the big Americana International music festival (http://www.americana-promotions.co.uk/) on Saturday, July 7th, at the The County Showground, Winthorpe Nr. Newark, Nottinghamshire. The band will include Ray's longtime lead guitarist Kevin Fennell, so it's gonna be a hot show!

---
SPARKLE & TWANG:
MARTY STUART'S AMERICAN MUSICAL ODYSSEY
Shake, Rattle and Roll on down to the Tennessee State Museum at 5th and Deaderick to see the new FREE exhibit entitled SPARKLE & TWANG: MARTY STUART'S AMERICAN MUSICAL ODYSSEY. Noe open, this exhibition features treasures from the late Johnny Cash, Hank Williams, Sr., Patsy Cline, Elvis, Lester Flatt and other notable celebrities in the field of country, rockabilly, bluegrass and Southern gospel. This uniquely American premiere collection illustrates the impact of fashion and music on popular culture in the U.S. as revealed through performance costumes, accessories, hand-written lyrics, personal letters, instruments and unpublished photographs. Continuing through Nov. 11, 2007, the exhibition is a culmination of Stuart's nationwide celebration of the past, present and future of country music.
&nbsp The Museum is in downtown Nashville and is open Tuesday - Saturday from 10 AM until 5 PM and on Sunday from 1 until 5 PM. For more information, please call (615) 741-2692.

---
WANDA JACKSON FILMINGMbr> Posted June 1, 2007 - "The Nice Lady With the Nasty Voice??? was produced by K.P.I. Film of New York. Film crews along with an independent film producer from Los Angeles, Joanne Fish, followed Jackson and her husband, Wendell Goodman, from Hollywood to Helsinki, Finland, for footage. Crews filmed her concerts, recording sessions and travels, and interviewed fans for a feature-length documentary that is in the final editing stages, the release said.
The Smithsonian Institution-sponsored film will be screened at the Smithsonian in Washington, D.C., in August. The first deadCenter Film Festival screening will be at 5:30 p.m. Thursday on Screen 4 at the Harkins Bricktown Cinemas 16, Okla City. The second showing will be 7:30 p.m. June 9 at the same location.
&nbsp Jackson is on a tour of Australia and France until June 22.

---
SHOW: ERVIN TRAVIS "TRIBUTE TO GENE VINCENT"
26 JUNE 2007 AT MERIDIEN ETOILE - PARIS
&nbsp Since 1975, the jazz club Lionel Hampton (MERIDIEN ETOILE - PARIS), recieve the most greats names of the US' music: LIONEL HAMPTON, BB King, FATS DOMINO, SCREAMIN' JAY HAWKINS ... and recently IKE TURNER. These artists who are built the history of JAZZ,   RHYTHM AND BLUES, R 'n' R and the club's reputation when the last 30 years.
&nbsp THE TUESDAY  26 JUNE 2OO7, ERVIN TRAVIS WILL BE THE SPECIAL GUEST FOR THE SHOW "TRIBUTE TO GENE VINCENT". Single event in PARIS, for revival the torrid atmosphere of the unforgettable ROCKER into a mythical place. At this occasion we would be glad to invite you (please confirm your presence).
SINCERELY, Serge NEYER Directeur AssociŽ - Tel : +33(0) 1 49 38 13 42 - Port : +33(0) 6 60 49 50 00

---
BO DIDDLEY UPDATE
&nbsp We are delighted to be able to report that BO DIDDLEY was transferred on May 21st from the intensive care unit to a regular room at the Creighton University Medical Center in Omaha, NE.
&nbsp In time, it is expected that he will return to his Gainesville, FL home, where he is expected to continue treatment at Shands Medical Center at the University of Florida. It also appears that he has suffered no long-term, physical damage from the May 13th stroke.
&nbsp Fans are asked not to contact the hospital, but can continue to send their well wishes to him at postmaster@tciartists.com or to TCI (Talent Consultants International, Ltd.), 105 Shad Row, 2nd Floor, Piermont, NY 10968 or via the BO DIDDLEY-The Originator website at surfsinkorswim@yahoo.com or via the website's Guestbook, located at http://members.tripod.com/~Originator_2/guestbook.html
&nbsp We thank each and every one who has e-mailed in with their messages of love, encouragement and support in recent days.

---
Freda Adams - Wife of Rockabilly Pioneer Billy Adams Passes
May 14, 2007 -- Freda Adams, wife of rockabilly pioneer, and gospel music recording artist, Billy Adams, passed away on Friday, May 11, 2007 after a long battle with uterine cancer.
&nbsp Freda Louise Riffe and Willie Murray "Billy"Adams were married in Flatwoods, Ky., on July 9, 1961. For the last 46 years, the two shared an inspiring and romantic fairy-tale love story. Three daughters were born to the union; Tina Maria, Teresa Louise, and Janetta Darlene. Mrs. Adams was a devoted wife and mother who loved cooking and caring for her family. She also enjoyed crocheting, reading, and working crossword puzzles. After her husband gave his heart to the Lord in 1965, she worked tirelessly for the remainder of her life to support his ministry. Together they founded and revived many churches across Kentucky and Tennessee. As their ministry grew, the family formed a musical group, which featured Freda on piano and organ, and they spent many years traveling across the United States to help spread the word of God.
&nbsp Billy Adams, still an active writer and performer, is best known for his 1957 rockabilly classic, "Rock, Pretty Mama,"and his gospel song, "I Saw The Man,"both of which he wrote and recorded. The latter was also a chart-topper for The Happy Goodman Family in 1974.

---
NEWS FROM DEMPSEY LAND.
May 11, 2007 - We have exciting news involving The King of Rock N' Roll and The Dempseys. We have been invited to play at Elvis In Concert, wich is a concert featuring Elvis via Video screen in some of his best 70's performances with his original TCB band playing live to his isolated vocal. The event is remarkable due to the technology that reunites Elvis with his original band mates. We will be backing Elvis during his 1950's television performances in the same way the 70's footage is used. Elvis' original drummer, DJ Fontana will be playing with us during this portion of the show. In 2002 we played at the same show and this year we are honored to be asked back, considering we're the only musicians on the bill who weren't actually there with Elvis during these historic performances. For more information on how the concert is fused together log onto www.elvis.com and for pictures of us at the last concert log onto www.thedempseys.net. The concert will be held on Thursday August 16th at the Fed Ex Forum in downtown Memphis.
The Dempseys, 4880 Mendenhall Pl, Memphis, Tennessee 38117, USA - thedempseys@midsouth.rr.com

---
---
ZOLA TAYLOR, of the Platters, Dies.
Ms. Zola Taylor, an original member of the classic Platters lineup who scored international hits with their smooth vocal group harmony sides in the 1950s, died Monday morning, April 30, 2007, in Los Angeles County, California at age 69. Additional details have not yet been made available, although she had been in ill health for some time. Ms. Taylor, whose date of birth was given as March 17, 1938, had reportedly suffered a stroke several years ago.
An attractive contralto, she recorded and toured internationally with the Platters from 1954-1964 and was heard on the group's biggest hits including "Only You", "The Great Pretender", "My Prayer", "Smoke Gets In Your Eyes", and "Twilight Time". Taylor was featured as the lead vocalist on a number of the Platters' recordings including "Indiff'rent"recordings including "In and Ball", "Someone To Watch Over Me", "I Don't Know Why", "Maggie Doesn't Work Here Anymore", and "Mean To Me".
Before being recruited into the group by manager Buck Ram as a 15-year old in March of 1954, Ms. Taylor had recorded for RPM Records ("Make Love To Me", RPM #405) and had worked with Shirley Gunter and the Queens. Taylor and the Platters appeared in several of the genre's early films, including "Rock Around The Clock" and "The Girl Can't Help It". At one time, Ms. Taylor was married to the late singing star Frankie Lymon, and was portrayed by Halle Berry in the 1998 motion picture "Why Do Fools Fall in Love".
During the 1970s, she worked with other former originals Paul Robi and David Lynch in a touring Platters group and was inducted into the Rock and Roll Hall of Fame in 1990.
Ms. Taylor was preceded in death by her former singing partners, Tony Williams (1928-1992), Paul Robi (1931-1989), and David Lynch (1929-1981). Today, original founder and bass singer Herbert Reed, is the classic group's sole survivor.

---
COLIN WINSKI R.I.P.
APRIL, 2007 - Colin Winski died at his home in Phoenix, AZ at the age of 50. Born in Hollywood in 1957 he became interested in Elvis which eventually lead him to explore the music of Gene Vincent, Roy Orbison and others. In 1970 he met Ronnie Weiser and became part of Ray Campi's Rockabilly Rebels. You can read more about Colin at http://www.rockabillyhall.com/ColinWinski1.html. A full discography is included there.

---
"MONSTER MASH" MAN DIES
April 26, 2007 - Bobby "Boris" Pickett, whose Monster Mash hit in 1962 made him one of the biggest one-hit wonders in the history of pop music, has died in Los Angeles at age 69. Picket died on Wednesday after a long battle with leukaemia. The novelty song, which featured an impression of horror-movie actor Boris Karloff, was an instant hit when it was released before Halloween 1962, with the chorus: "He did the monster mash ... It was a graveyard smash". It charted again in August 1970 and May 1973. Pickett never recreated the success of Monster Mash but remained in demand for Halloween performances, continuing to perform until his final gig in November 2006.

---
Rockabilly Boogie 4, 31 August - 3 September
Reservation Form
---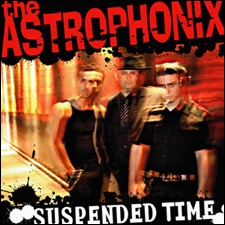 From Italy ... THE ASTROPHONIX "Suspended Time" CD
Thunderball Rec. 2007 (Neorockabilly, Neosurf, Rock) 10 Tracks
Contact

---
DAVID POZOLINSKI R.I.P.
Who is Dave "Puzzle" Pozolinski from Menasha, Wisconsin? He was a great drummer back in the late '50s, and a long time close personal friend of Bob Timmers. Dave was the drummer on "Rock 'n' Roll Saddles". The song was the first rock "45" recorded in the state of Wisconsin, released January 1, 1957 and was featured on American Bandstand. Dave had a large collection of early rock records at his home, all in mint condition. He was instrumental in getting Bob into the music game back when they were freshmen in high school. Dave died April 19, 2007 at the age of 66. Thanks Dave - Bob

---
April 14, 2007 - Hail, Hail, Rock and Roll!
Some music aficionados argue (quite convincingly) that rock music was born 53 years ago today, at 4:30PM in a Manhattan sound studio, when Bill Haley recorded the inspired and immortal words, "One-two-three o'clock, four o'clock ROCK!" establishing the song "Rock Around the Clock" as rock's international anthem. Rock is still alive and well, but Bill died of a heart attack at just 55. Bill Haley, July 6, 1925 - February 9, 1981, Cremated.

---
Hey BO DIDDLEY fans,
The popular AOL Music website has added a collection of photos of BO DIDDLEY taken on-stage recently in Australia by James Green and Paul Kane of Getty Images Asia Pac. This new AOL Music BO DIDDLEY Photo Collection is located at http://music.aol.com/artist/bo-diddley/57518/photos/.

---
TRAVIS LaDOYT USA SHOW
Friday, May 18 - CLEVELAND TN - Allied Arts Council - 5633 Lexington Place NW - Two 40-minute shows at 6:30 pm and 8 pm - Contact Connie Gatlin 423-472-0167

---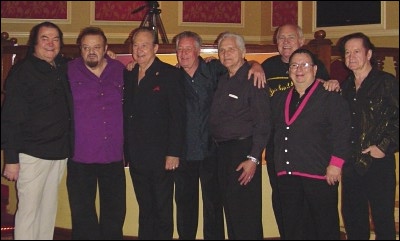 Mike Vincent, Dickie Harrell, Jay Chevalier, Glen Glenn, Billy Lee Riley, Bob (Git It) Kelly, Chan Romero and Art Adams at the VLV Rockabilly Hall of Fame 10th Anniversary Show April 6 2007. (from Bob Kelly's camera, taken by Sandy Vincent)

---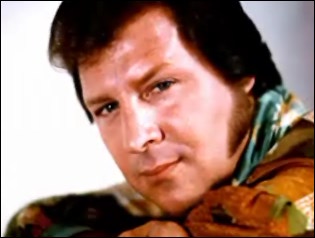 Donnie Brooks' Family and Friends Tribute Video
---
MOVIE: "Walk Hard"
March 28, 2007 - Jack White is to appear in a new film as Elvis Presley, according to reports. The White Stripes and Raconteurs star will feature in a forthcoming parody of the 2005 Johnny Cash biopic "Walk The Line". The movie is called "Walk Hard", and is expected to focus on a fictional rockabilly musician in the vein of Roy Orbison and Johnny Cash, played by John C. Reilly. A spokesman for Jack, who has previously appeared in both "Cold Mountain" and "Coffee And Cigarettes", yesterday confirmed he would play Elvis in the film.

---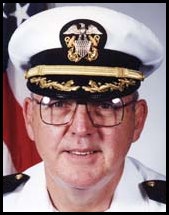 Obituary: Paschall Parsons, drummer for the Strikes
Cmdr. Walter Paschall Parsons, USN Ret., 68, of Norfolk, Va., died Friday, March 9, 2007, at his residence. He was a native of Graham and a resident of Hampton Roads for more than 30 years. He was the son of the late George Edwin Parsons and Margaret Stovall Parsons. Commander Parsons retired from the United States Navy after 35 years of service to his country. He also retired from Verizon Virginia Inc., as supervisor of engineering after 12 years of employment. One brother, George Edwin Parsons Jr., preceded him in death in March 1995.
He is survived by his wife, Shigeko Parsons of Chesapeake, Va.; two sisters; Margaret K. Gallegos and her husband Seferino of Graham and Martha A. Thetford and her husband Ron of Flower Mound; one half brother, John Edwin Parsons and his wife Josephine of Lafayette, La; and seven nieces and nephews. He is also survived by his best friend, Brian Rone of Jackson, Miss.

---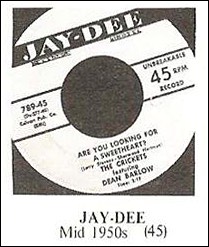 A MESSAGE FROM BILLY HANCOCK
March 23, 2007 - I would like to say that on Sat. March 17th, I attended a stage performance of the Buddy Holly Story at the Wayside Theatre in Middletown, VA and what a stellar performance it was. The cast, the music and story followed everything we have come to know or read about Buddy's short life and career.
As most of my fans already know, Buddy was one of my major influences, so I have come to know a good deal about him and his band of Crickets. It is at this time, I would like to set the record straight on one of the most misunderstood gigs Buddy Holly & The Crickets ever played.
On or about the same time that Buddy formed his group of Crickets, there were another bunch of guys with that same name, only they were a black group called "The Crickets". The Crickets featuring Dean Barlow, to be exact. The black R & B Crickets were actually breaking up as Buddy's group was getting recognition. When the booker for the Apollo Theatre booked Buddy & the boys, he thought he was getting the Black Crickets. So it never was an issue that Holly's voice sounded so black that he was mistakenly booked into an all black music venue. However, all's well that ends well, and the audience that night at least accepted Buddy's efforts and all was forgotten, at least until some Hollywood screenwriter decided to change history.... well enough of that. - Billy - cslark51@msn.com

---
TAKE NOTE: WANDA TO VISIT AUSTRALIA ...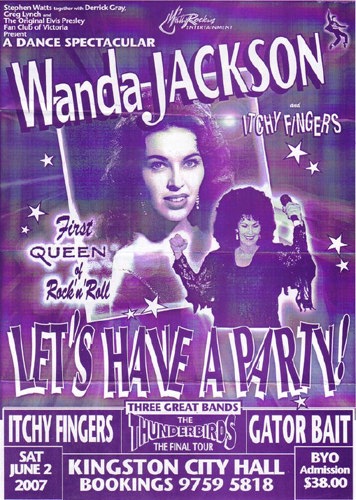 ---
"Big Al Downing Live At XM Radio Washington, D.C."
Albe Music proudly announces the March 1st, 2007 release of "Big Al Downing Live At XM Radio. The two CD set contains the Live Concert recorded at XM Radio on August 6th, 2003 and the interview with XM Radio's Country Dan Dixon recorded at the Country Music Hall of Fame on May 6th, 2005. "Big Al Downing Live At XM Radio Washington, D.C." represents Big Al's first release of previously recorded but unreleased material since his death on July 4th, 2005. Order online at http://www.bigaldowning.com or www.aldowning.com.

---

John Beland Goes to Norway
John, renown guitarist for Ricky Nelson, and leader of the legendary band The Flying Burrito Brothers, will perform at the Ose Country Music Festival on July 19 in Setesdal, Norway. John will perform with fellow Burrito (and writer for Carl Perkins) Larry Patton as, THE BELAND / PATTON BAND. John & Larry will appear as a trio along with longtime drumming partner Will Roberts. All three once made up Bobby Bare's touring band, appearing worlwide with Bare during the mid 80's.
This is rare chance to see Beland in action, as most of his time is now spent exclusively in the studio where he produces acts in the USA as well as Australia. Beland will be playing his famous Fender BBender Telecaster and will also perform a few of Nelson's rockabilly numbers. John was instrumental in helping Rick Nelson with his comeback in the late 70's. He and Rick recorded Nelson's critically acclaimed album THE MEMPHIS SESSIONS in 1979, which yielded Rick his last chart single, "Dream Lover." Since then, John has written and played on many hit records from Garth Brooks to the Bellamy Brothers.
The duo is currently in the studio recording their debut album "THE BELAND / PATTON BAND "THE BAR IS OPEN!" Set for release this summer. If you're in the Norway area ... don't miss John & Larry. Rockin country blues with a taste of west coast rockabilly. For more info click onto.
www.johnbeland.com
www.myspace.com/flyingb56
or...
www.myspace.com/belandpatton

---
R.I.P: DONNIE BROOKS
Donnie, a singer with rockabilly roots who sang the hit song MISSION BELL in 1960, has died. He was 71. Brooks died on Friday, Feb. 23, 2007 of congestive heart failure in Panorama City, California. In the 1950s and 1960s, Brooks appeared at El Monte Legion Stadium, a popular venue for rock concerts featuring such performers as RAY CHARLES and STEVIE WONDER. Recording under the name JOHNNY FAIRE in the late 1950s, he released the single BERTHA LOU, which became a rockabilly favourite. Among his hits were DOLL HOUSE, MEMPHIS and his most famous song, the top 10 pop hit Mission Bell. In the 1970s, he began producing and appearing in revival tours featuring musical acts from the 1950s and 1960s and continued to perform until he was injured in a car accident in 2003. Brooks was inducted into the Rockabilly Hall of Fame in Burns, Tennessee in 2003.

---
COMET JOHN LANE HAS DIED
"Drummer John "Bam-Bam" Lane, a member of the Comets during the 1960s and who for the last 20 years or so has run his own Comets group, passed away on February 18. I'll be posting an RHOF 'Extra' column update with more information soon."
- Alex, alexfh@shaw.ca


LATEST ELVIS PRESLEY NEWS:
Important news for all Elvis fans who plan to visit Graceland this year or during Elvis Week in August. Details at: www.elvispresleynews.com:80/Who_Owns_Graceland.html

---
THE ROCK N ROLL HALL OF FAME will be celebrated on the music television network CONCERT.TV from March 1st ­ March 31st. CONCERT.TV is a FREE to view on demand television network that programs memorable performances, compelling documentaries and unique originals for subscribers of Comcast, Cox, Insight, Charter and many other digital cable services. To check for availability of CONCERT.TV on your local cable service, look in the on demand listings or visit them online at www.concert.tv.

---
"EVERY NIGHT IS SATURDAY NIGHT:
THE STORY OF WANDA JACKSON"
Message to RHOF readers: My name is Jeff Meltz and I work for a documentary production company in New York called KPI. I'm currently working on a feature length documentary about Wanda Jackson, the queen of rockabilly and the first lady of rock and roll. It follows Ms. Jackson's musical career that includes hits in the country, rock 'n' roll, gospel and rockabilly genres.
We have been filming on the road, at home, and in the studio with Wanda - getting her story every step of the way. Our working title is "EVERY NIGHT IS SATURDAY NIGHT: THE STORY OF WANDA JACKSON".
Our goal is that this documentary is not just to give this female pioneer her due, but also will act as a catalyst for her induction into the Rock and Roll Hall of Fame. This film will shine a light on the immeasurable impact Wanda Jackson had on the birth of rock 'n' roll.
It is because of Wanda's influence that I'm trying to find footage/home movies or photographs of modern kids doing the rockabilly look. You know what I mean. The cars. The hair. The furniture. The guitars. The lifestyle. I'm trying to illustrate the resurgence that's happened in the past 10 years in regard to the new styles of psychobilly and roots musical groups and fans. Anything you can think of to send to me for inclusion in the documentary would be most helpful. We'd be glad to give a special thanks credit in the film to whomever submits material to us. Please let me know if you know of someone or if you yourself are interested in helping out. Thanks so much!! Jeff Meltz - jmeltz@kpitv.com

---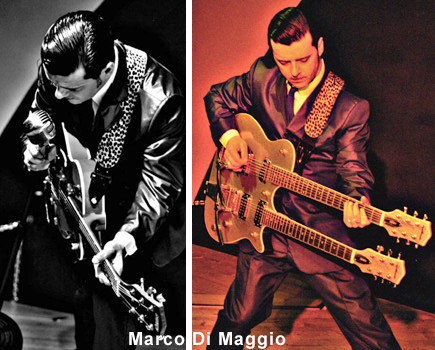 MARCO DI MAGGIO the DI MAGGIO CONNECTION in CHINA!
Feb 27 2007 - JAZZ CLUB SHANGAI
Feb 28 2007 10:00P - CLUB 288 SHANGAI
Mar 1 2007 10:00P - Yu Gong Yi Shan PEKING/BEIJING
Mar 2 2007 10:00P - Traveller Club HANGZHOU
Mar 3 2007 8:00P - JAZZ Club Hangzhou HANGZHOU

---
FIFTIES in FEBRUARY at the SURF BALLROOM, Iowa
"This year was one of the best Fifties in February I have been to at the Surf Ballroom Except for Friday night they only had two Bands then they had a sock hop they should have those sock hops in the afternoon a lot of people left when that started. Tommy Allsup & Friends, The Cleftones, Barbara Lewis, Jimmy Gilmer & the Fireballs, The Crickets, Bobby Vee & his 3 boys all sounded Great. Dale Hawkins Sounded & Looked Great said he had one more Chemo treatment to go I wish Him well. I Look forward to seeing him again. Dale Hawkins had a guitar player with him from Scotland He was awesome as well. All so when Bobby Vee was doing his part of the show he mentioned Buddy Knox & Gene Vincent which was nice. There were jam sessions with other musicians that did a few Gene Vincent Songs. Allan Clark did a nice Eddie Cochran Tribute."
- Tony Flores - flores_tony@msn.com

---

CONNIE FRANCIS, 2007
Photo: Marshall Lytle

---

Check on ROCKY BURNETTE'S new album here: www.myspace.com/burnetterocky.

---
WORTH A CLICK:
SHOUT, SISTER, SHOUT! The Untold Story of Rock & Roll Trailbrazer Sister Rosetta Thorpe.

---
WORTH A CLICK:
Germany Rock'n'Roll Weekender in Session Kulturwerk in 69190 Walldorf.

---
WORTH A CLICK:
allmemphismusic.com Check out this 24 hour webcast radio station.

---
DANNY GATTON PODCAST
January 21, 2007 - "Hi, Please join me for a podcast interview at 8 p.m. (EST) on Tuesday, January 23, on the Artist First Internet Radio Network, where I'll be doing an hour-long live interview on behalf of my book, UNFINISHED BUSINESS: THE LIFE & TIMES OF DANNY GATTON. As usual, the focus will be Danny's life, licks and legacy, and listeners will have a chance to have their questions read over the air. Once it's broadcast, the show will be archived for four months. To listen, click http://stream.netro.ca/afrn, or log in on www.artistfirst.com, and click the 'Click here to listen' button. Regards," Ralph Heibutzki - chairmanralph@yahoo.com

---

&nbsp Bob Halley Productions is proud to announce the signing of Rockabilly Hall of Famer, Gold Recording Artist, Matt Lucas, to Halley's new recording label. The debut release by Lucas is set for March 15.
&nbsp Halley has enjoyed much success as a songwriter with recordings by artist's ranging from Nat King Cole, Baby Washington, The Tempations to Johnny Duncan and Bette Midler. As an arranger and producer he worked with 60's-70's stars Bobby Darin, Helen Reddy, and many others.
&nbsp Right now Matt and Bob are putting the finishing touches on his above mentioned CD. They look forward to a long and rewarding collaboration together. More info is being prepared for updates at www.bobhalley.com

---
JON JOHNSON R.I.P.
&nbsp Writer/musician Jon Erik Johnson passed away the morning of Wednesday January 17th at home in his apartment in Wollaston at around 8:15 AM. It appears he died of complications from a sudden seizure. He probably was unconscious before he even knew what was going on, and passed away quickly without suffering.
&nbsp I'd not been able to reach him over the course of the afternoon Wednesday, and when I called his place of work, he'd not come in and they'd not been able to reach him. On hearing this I felt worried and headed over immediately to his place and let myself in. I found him already gone.
&nbsp Police, paramedics and others of that sort came over and were professional and warm. Their appraisal of what had happened was the same as mine. He'd had serious seizures of an epileptic grand mal type starting 9 months ago, and even though the meds he'd been taking for that had seemed to be helping, there's just no way to completely protect against this kind of circumstance.
&nbsp It had been his 43rd birthday this last weekend, and he and I had a great weekend up in New Hampshire visiting with our parents. He'd been in excellent spirits, had a notable glow of well being and happiness. We had great family time together. Tuesday night he'd had a filmed interview and rehearsal with Lenny and the Piss Poor Boys, and they say he'd been in fine form, happy and laughing and doing some of what he loved best.
&nbsp If it just has to happen that someone has to go, this is as good as it gets. Top of the game, enjoying life, and no warning or suffering.
&nbsp But I miss him so bad. He was an amazing person, and my only brother. I loved him so much. Still do.
-Courtesy: Jon's brother, Scott

A NOTE ABOUT JON ...
I am heartbroken. I am not going to write an eulogy .. there are others here who knew him better. But I will say this hurts. This really hurts. He is a founding member of the rockabilly list from 1996 (and its various offshoots, such as RaB-HoF, hillbilly, and rockinrecords). For a very long time he was probably the most informative and interesting contributor, and an early behind the scenes foot-soldier in every aspect of making the world safe for rockabilly and dynamic roots music. He was a journalist, a musician and an active fan, the kind who helped round up the early support for such experiments as Viva Las Vegas. He is also one of only a small handful of people I would seek out at international festivals, as he was someone both down-to-earth yet filled with interesting knowledge and insight, someone who would have likely have been a close friend if we had ever lived in the part of the country. But the bonds of time sometime compensate for the bonds of geography. Also on a personal note Jon wrote and published the first and still among the most articles about Marti.
-Bobby Brom

From Jon's mother:
Dear Friends Of Jon, Thank you for your many condolences and prayers after the sudden and shocking death of our son Jon yesterday. We have received many inquiries as to arrangements for days & times for visitation & funeral service, internment, memorial fund, etc. This information is provided in italics at the end of Jon's obituary which is below. Thank you for your prayers for all of our family and friends in this time of loss. Jon was a wonderful, loving, gifted, caring, and unusual man who left an impact on all those he shared his life with. It was a privilege to have him with us for as long as we did. Although it was short in human terms, it was filled to the brim with many diverse accomplishments and an enthusiasm for life, and a love for music, people and God that was remarkable. Mary Johnson (Jon's Mother)

---
WORTH A CLICK ...
Ronnie Hawkins Is Still Alive And Kickin'
---
Hey BO DIDDLEY fans,
&nbsp The Cavern Club in Liverpool, England celebrated its 50th birthday in style January 16th by announcing that BO DIDDLEY is set to play the world-famous venue this summer. The Saturday June 9th appearance will be one of several high-profile "Legends" concerts to be staged at the club in coming months.
&nbsp The 13-hour VIP celebration at the Cavern featured more than 30 live rock & jazz bands, some paying tribute to The Beatles as well as some of the new bands who still play at the club.
&nbsp BO DIDDLEY last appeared at the Cavern Club in 2001, performing 2 ecstatically-received sold-out shows. It is possible that more European dates for this summer will be added and fans in Europe are therefore advised to check with the BO DIDDLEY-The Originator website's Forthcoming Appearances page located at http://members.tripod.com/~Originator_2/dates.html for any further details.
&nbsp The Official Cavern Club website's BO DIDDLEY profile:
http://www.cavern-liverpool.co.uk/cavernclub/profiles/bodiddley_profile.htm

---
WORTH A CLICK ...
Elvis Looks to Win Teenage Fans Again
---
JAMES BROWN: 1933-2006
December 25, 2006 - James Brown, the dynamic, pompadoured "Godfather of Soul", whose rasping vocals and revolutionary rhythms made him a founder of rap, funk and disco, died today in Atlanta, aged 73. Brown, whose career spanned six decades, was taken to hospital yesterday with pneumonia.
&nbsp Brown, who had his first hit, Please, Please, Please in 1956, earned the nickname "The Hardest Working Man in Show Business" for his tour schedule and number of performances. He was still touring this year, with concerts as far flung as Auckland, New Zealand. Brown won a Grammy award for lifetime achievement in 1992, as well as Grammys in 1965 for Papa's Got a Brand New Bag (best R&B recording) and for Living In America in 1987 (best male R&B vocal performance.)
&nbsp He was one of the initial artists inducted into the Rock and Roll Hall of Fame in 1986, along with Elvis Presley, Chuck Berry and other founding fathers. He triumphed despite an often unhappy personal life. Brown spent more than two years in a South Carolina prison for assault and failing to stop for a police officer.
&nbsp Born in poverty in Barnwell, South Carolina, in 1933, he was abandoned as a four-year-old to the care of relatives and friends and grew up on the streets of Augusta, Georgia, in an "ill-repute area", as he once called it. There he learned to wheel and deal. "I wanted to be somebody," Brown said. His troubled childhood saw him duck in and out of reform school, and it was there that he met Bobby Byrd, a major early influence. While most of Brown's life was glitz and glitter, he was plagued with many charges, among them: abusing drugs and alcohol and hitting his third wife, Adrienne.

---
Hayden Thompson Country CD to be Released Feb., 2007.
Hayden Thompson, the legendary Sun Records rockabilly artist fromthe 50'S, has made country recording to be released in February 2007. The pictoresque recording location, an old school house at a lakeside, is situated in the very heart of the Finnish countryside. The musician on the album represent the top Finnish country pack. "The talent of these guys really knocked me out", says Hayden.
&nbsp "Cutting a country album does not mean that I am turning my back to lny rockabilly fans", states Hayden. The songs with a country flavor suit this Southern gentleman beautifully and when Bluelight Records from Finland offered a chance to record a country CD he accepted it without hesitation.
&nbsp Also: Hayden plans to record a new rockabilly CD for St George Records in February.


"THE BO DIDDLEY STORY"
"The Bo Diddley Story" is the title of a major new 3-part series to be broadcast during January 2007 by the British Broadcasting Corporation (BBC) Radio 2 network.
&nbsp Narrated by The Who's Roger Daltrey, "The Bo Diddley Story" features a new interview with BO DIDDLEY along with conversations with harmonica player Billy Boy Arnold, drummer and harmonica player Willie "Big Eyes" Smith and guitarist Jody Williams, plus Dave Davies (The Kinks), Ray Fenwick (Spencer Davis Group, Ian Gillan Band, Syndicats etc), Wilco Johnson (Dr. Feelgood, Solid Senders etc) and Tom McGuinness (Manfred Mann, The Blues Band, John Mayall etc), among others.
&nbsp Episode 1 of "The Bo Diddley Story" is scheduled to air on BBC Radio 2 on Tuesday January 16th from 9.30pm-10.00pm (GMT/UTC), Episode 2 on Tuesday January 23rd from 9.30pm-10.00pm (GMT/UTC) and Episode 3 on Tuesday January 30th from 9.30pm-10.00pm (GMT/UTC).
&nbsp Listeners around the world will be able to listen on-line to this 3-part series streamed in RealMedia format by visiting the BBC Radio 2 Documentaries webpage located at http://www.bbc.co.uk/radio2/documentaries/ and clicking the "Listen Live" link or, for an additional 7 days after each of the 3 programs has aired, by clicking the "Listen Again" link.

---
THE LEGENDARY LEON BASS:
Mr. "Love-a-Rama" and "Country Hicks" would like to let rockabilly fans know that he has a rare CD for sale. You may contact him at: Leon Bass, 3-CR 116, Apt. 6, Cornith, MS 38834. Phone 662-286-0151.

---

DON "BOB" JOHNSTON INDUCTED TO RHOF
Wednesday, December 13, 2006, at a prominent Nashville Recording Studio, Don "Bob" Johnston received his Rockabilly Hall of Fame® induction certificate. Johnston will release a special Carl Perkins CD project in the spring of 2007. Pictured, L-R: Dan Mitchell, "Bob" Johnston, Bob Timmers and Gordon Stinston.

---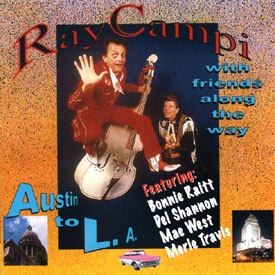 RAY CAMPI'S "with friends along the way" CD. 27 great tracks.

---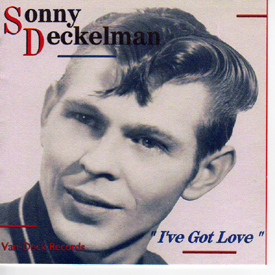 SONNY DECKELMAN'S CD and title track song here.
---
ALAN CLARK: Shows and Merchandise ...
January 6, 2007 Glen Glenn, Tommy Sands and Alan Clark-Elvis Honeymoon Home - Palm Springs, Calif. (2 to 4:00 p.m.)
February 1, 2007 The Shackshakers, Alan Clark and others - Stillman Auditorium-Clear Lake, Iowa (1:30 to 3:00 p.m. ?)
February 2, 2007 Little Richie and Alan Clark - Ventura Community Center - 4 North Weimer St. - Ventura, Iowa (7 to 11 p.m.)
February 3, 2007 The Shackshakers and Alan Clark-Surf Ballroom Lounge-Fifties in February-Clear Lake, Iowa (12 noon to 3:00 p.m.)
&nbsp Alan will also be selling items at the memorabilia show in the Surf  Ballroom from 9 in the morning until noon. He will have my new duet CD available which includes duets with Hank Ballard, Glen Glenn, Frankie Ford, Ray Campi, Ron Holden, Jody Reynolds, Donnie Brooks, Ronnie Height and Frankie Ford.

&nbsp Alan will also be appearing on the 2007 Rockabilly Hall of Fame shows in Vas Veags and Green Bay. Contact Alan: aclarkarchive@earthlink.net

---
HEY BO DIDDLEY FANS:
&nbsp In recent weeks, yet more bands and artists have joined the growing ranks of those who have released tributes in song to BO DIDDLEY: the popular California-based blues/roots band Them Junko King Hats ("Rhythm Gladiator - Tribute to Bo Diddley"), San Francisco-based punk/country/gospel/rockabilly quartet the Suicide Doors ("Hey Mr. Diddley"), the prolific Pittsburgh-based experimental artist Mike Macharyas ("Bo Diddley") and the Long Island teacher, writer and children's songwriter Richard Younger ("Thank Bo Diddley").
&nbsp His fans can now "Thank Bo Diddley" too, as one of the founding fathers of rock & roll celebrates his 78th birthday on Saturday December 30th and we are encouraging all his many admirers around the world to sign the BO DIDDLEY-The Originator website Guestbook with your special birthday greetings and messages.
&nbsp As we always do at this time of year, we are making special arrangements for BO DIDDLEY to view each and every one of your greetings. This is an opportunity for you to convey your appreciation and best wishes to one of the undisputed legends of rock & roll and a true original, on the occasion of his 78th birthday.
&nbsp Please sign the Guestbook, located at http://members.tripod.com/~Originator_2/guestbook.html and show your support for The Originator - BO DIDDLEY. Thank you very much.

---

"Rockin' in Wisconsin: The Cuca Records Story Vol. 3". on ACE RECORDS.

---
2007 Red Hot & Blue Rockabilly Weekend Scheduled.
Québec. - The dates are now confirmed for the Red Hot & Blue Rockabilly Weekend 2007, the festival will take place at the Hotel des Seigneurs, August 3, 4 and 5th (Friday Saturday and Sunday). Mark your calendars and don't miss this event!
Nathalie Lavergne: Coordonnatrice d'événements/Productrice de spectacles, Event coordinator/Show producer - www.rockabillyjam.com

---
RE: TILLMAN FRANKS:
Dear friends, If you want to access Tillman Franks' guest book you can use the following link:
http://www.legacy.com/shreveporttimes/Obituaries.asp
Use Search option, by last name, FRANKS and at the bottom of his biography you will find the guest book. Tillman will be missed by all his friends ... and that is a nice place to share our feelings with his family. Sincerely yours from France. Dominique ANGLARES - anglares.dominique@wanadoo.fr

---
ELECTRIC GUITAR DAY: NOVEMBER 27th:
123greetings.com has some free Ecards for Electric Guitar Day. Send an ecard to your friends and loved ones.

---
Nashville songwriter and publisher Marijohn Wilkin dies.
October 28. 2006 - Nashville Songwriters Hall of Fame member and prominent Music Row song publisher Marijohn Wilkin died this morning at age 86. She was the co-writer of such classics as "The Long Black Veil" and "One Day at a Time." Johnny Cash, The Beatles, Patsy Cline, Rod Stewart and dozens of other greats have sung her songs. Wilkin is also credited with discovering Kris Kristofferson. She was an award-winning gospel recording artist as well.
&nbsp Her "Cut Across Shorty" was recorded by both rockabilly sensation Eddie Cochran and country superstar Carl Smith. The song was revived by rocker Rod Stewart in 1970 and again in 1993. Debbie Reynolds, The Fleetwoods, Johnny Ray, Goldie Hill, The Chordettes, Les Paul & Mary Ford, Brenda Lee, Mel Tillis, Cowboy Copas, The Osborne Brothers, Johnny Rivers, Billy Walker, Teresa Brewer, Johnny Horton, Rex Allen and dozens more recorded her songs in the 1960s. An average of one Marijohn Wilkin song was recorded every week during her Cedarwood career.

---
GARLIN HACKNEY UPDATE:
The new cd "All of the Sinners Are Not In the Bars" Release Party and food at Mother Road Harley-Davidson Kingman Arizona Friday October 27th at High Noon (lunch time) with Members from Mark Chesnutt's New South Band that played on the cd, Steve Ledford-Bass, Delaney Jackson-lead and Lee Kelley-drums also from Mark's band, Shawn Bailey-fiddle and Tim McDonald-piano. The cd Features the top 40 Country Hit 'Honky Tonk Outlaw,' which peaked at # 47 on New Music Weekly's Main Country Chart July 7th 2006. Hope to see y'all there. Hack  www.garlinhackney.com

---
http://www.PetitionOnline.com/rg2lc345/petition.html Petition to get the Jordanaires into Rock & Roll Hall of Fame.

---
WORTH A CLICK: SUN SUES SUN OVER LOGO.

---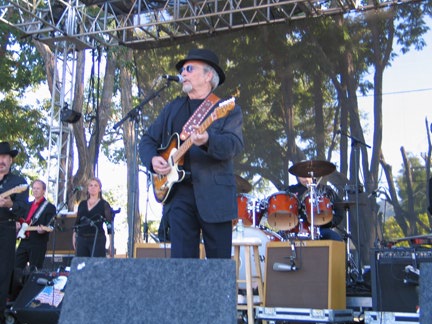 Merle Haggard and His Band
Live at Pozo Saloon on the central coast of California on Oct 8, 2006
More photos here.

---
BOB DYLAN INTRODUCES GENE SUMMERS
Here is a link to the MP3 of "School of Rock 'n Roll" with commentary by Bob Dylan on his XM Satellite Radio Show "Theme Time Radio Hour With Your Host, Bob Dylan"
BobDylanPlaysSRR.mp3

---
DEMPSEYS UPDATE
Their faces were recently added to the walls of the world famous Palm Restaurant in Nashville at 837 Second Avenue! The Palm, which was founded in New York in the 1920's, is a virtual museum of cartoons and caricatures. When it was opened by Italian immigrants Pio Bozzi and John Ganzi, they had no money to decorate. Luckily, their restaurant was located very close to the headquarters of King Features Syndicate, and attracted a large clientele of cartoonists. Often, to pay for a plate of spaghetti, the cartoonists would draw their own creations on the walls. They're proud to be among the familiar faces to receive what has since become an honor. Our thanks to The Palm Restaurant and fans in Nashville for helping to make this possible.
The Dempseys, 4880 Mendenhall Pl, Memphis, Tennessee 38117, USA

---

Art Adams and Bobby Crown to headline the "Crazy Legs Party".
Click on above graphic to view full poster.

---

SCOTLAND - On Saturday, September 9th members of Carrick Sports Club marked what would have Buddy Holly's 70th birthday. Buddy Holly was born on September 7, 1936 and was tragically killed on February 3, 1959 although for many his music still lives on. Maybole's own rockabilly band "The Peas" performed and the resident DJ, known to be a Buddy Holly fan, provided a good night of old fashioned rock'n'roll.

---
LEONARD CHESS FEATURED ON BBC
Fans may be interested to know that the "Marc Riley's Mint" radio show on the British Broadcasting Corporation's BBC 6 Music network on Sunday (September 17th) will include a special "Producer Spotlight" feature on Leonard Chess, record company executive and the founder of Chess Records.
&nbsp "Marc Riley's Mint", a weekly program looking at the world of record collecting, is broadcast Sundays from 10.00pm-12.00 midnight BST (9.00pm-11.00pm GMT/UTC). Listeners around the world can listen on-line to this program streamed in either RealMedia or Windows Media formats by visiting the BBC 6 Music "Marc Riley's Mint" webpage located at www.bbc.co.uk/6music/shows/mint/ and clicking the "Listen Live" link or, for an additional 7 days after the show has aired, by clicking the "Listen Again To This Show" link.

---
WORTH A CLICK: ROY ORBISON The Big O: Beyond the Dark Glasses! All three Roy Orbison re-issues were released by Monument/Legacy on 8 August 2006 in the US.

---
George Klein, long-time Elvis friend, hosts a regular program about Elvis which is broadcast live from Graceland over Sirius radio. He invited Bob Timmers, Rockabilly Hall of Fame® founder, to be interviewed on Friday, September 1, 2006. Among other things, they discussed the purpose of the "Rockabilly Hall of Fame®" Web site, which is to preserve the music by giving exposure to veteran artists and today's performers via biographical features, news items, CD releases, etc. One major accomplishment is that because of their association with the RHOF, many of the legends' careers have been jumpstarted, and several of them have begun recording and touring again.

---
ACTOR GLENN FORD'S PASSING
8/31/06, Matt Lucas reports: "I am so sad to have learned that Glenn Ford has died. Barb & I were at his home in Beverly Hills, Ca. in Jan. His son Peter is a friend of mine. Although he was 90 and in bed I told him, "Boy Mr. Ford! Barb & I travel all over the world and when I mention the name Glenn Ford they all smile as they know you & love you! He looked up and said 'Thanks, Matt' and a tear rolled down his cheek! I'll never forget that moment! I treasure every day with Barbara as I was so sick early in the year out west. Im such a lucky guy to have my friends and still get to travel and play my drums and sing my songs. Thinking of you!" Matt - bluejammatt@hotmail.com

---
SAMPLE THE NEW "KILLER" CD:
ARTIST: Jerry Lee Lewis
ALBUM TITLE: Last Man Standing
RELEASE DATE: September 26, 2006
LABEL: Artists First
AUDIO - 15 MIN. MEDLEY OF LAST MAN STANDING
windows media
real media

---
ROCKY BURNETTE JOINS THE EL TORO FAMILY!
Rocky Burnette, the son of legendary Johnny Burnette just joined the El Toro roster of top class artists. Rocky flew dawn to Barcelona last July to record a full length album to be released late this year or early next year. 15 songs were cut down in just 3 evenings and they include new ones and covers from his dad demos such as "Wampus Cat" and "Crazy Legs" - plus Rocky's daughter Shanti (3rd generation of Burnettes) is on Rock Therapy.

---
CHARLIE GRACIE CONCERT IN LONDON ENGLAND
Charlie departs for a month-long concert tour of Great Britain with stops in Amsterdam, Holland and Berlin Germany (recording session) beginning Sept. 12th with an appearance at the CLUB 1OO on OXFORD ST. in LONDON. ALBERT LEE, guitar legend, follows Charlie at the same venue.

---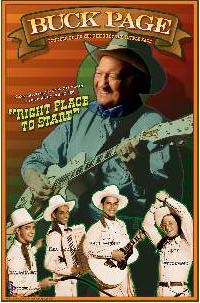 BUCK PAGE, Veteran Cowboy Singer Passes Away.
August 22, 2006 - Buck was a legend in the music industry. He was the founding member of Riders of the Purple Sage, established in 1938. At age 84, he died at his home, peacefully. Buck will be remembered as the last of the "Singing Cowboys" as he help build what we now call "Western Music."

---
Gene Simmons' Health Update
Aug. 21, 2006 - "Just happen to see your site and want you to know that Gene is in the Sanctuary Hospice House in Tupelo, MS. He made it through a cancer operation a few months back. There will be a benefit for him this Sunday August 27th at Good Time Charlie's Restaurant in Tupelo. Thank you for your great music site."
Dean Koon - deandrd44@yahoo.com

---
Fred Foster celebrated his 75th birthday at BMI Party.
Fred Foster, legendary producer and founder of Monument Records, celebrated his 75th birthday recently (July) with a cocktail reception at BMI-Nashville. Over 150 friends and family members gathered to share in the fun, including: Matraca Berg, Dane Bryant, Buzz Cason, Jack Clement, "Funky" Donnie Fritts, Vince Gill, Margie Hunt, Jerry Kennedy, Joe Mansfield, Charlie McCoy, Beth Nielson-Chapman, Steve Popovich, Boots Randolph, Billy Swan, and many more. Foster's age has not diminished his talents; recent projects include Willie Nelson's YOU DON'T KNOW ME (Lost Highway), and an upcoming album featuring Merle Haggard, Nelson and Ray Price.

---
Kern County Museum's Website
For those of you wishing to know more about Bakersfield's history the Kern County Museum which is located in Bakersfield has a very in depth website at www.kcmuseum.org .If you click onto Exhibits it will take you to the Bakersfield Sound section which includes articles on many of the artists known as the early pioneers of the Bakersfield Sound.

---
SUPPORT TRADITIONAL COUNTRY LEGENDS.
ATTENTION HANK/COUNTRY MUSIC FANS - Joe Penny is offering a great special offer on his CD "The Hank Williams 50th Anniversary Tribute Album" and his 50-page booklet "Lookin' Back On Hank"" - For a limited time you can buy both for only $15.00 (which includes shipping and handling) - and this is a significant savings over the prices listed in the Drifting Cowboys web site - and for more details on the CD and booklet and biographical info on Joe see the web site at http://www.angelfire.com/ny3/thedriftingcowboys/catpenny.html . Joe's CD is one of my favorite Hank tributes and it tells quite a story in itself - but the book is a must to complete the picture - and do ask for Joe's autograph on both items when ordering.
&nbsp To order send a check or money order to: Joe Penny, 4013 Cork Rd., Plant City, FL 33565-3851. If you order directly from Joe via this special offer you get a better deal - it beats buying the CD on www.cdbaby.com (the price there for the CD alone is $12.97 - plus S&H). It is like getting the book free - but do check the cdbaby site if you want to hear some song samples (go to web site http://www.cdbaby.com/cd/joepenny). The web sites given provide a lot of info on Joe and he did also point out that he was lead guitarist for Hank in 1947 and 1948 - so he was there and knows what he is singing and writing about.

---
FREDDY FENDER'S CONDITION
August 03, 2006 - Musician Freddy Fender has incurable cancer, discovered after tumors were found on his lungs, and his wife said they are "hoping for a miracle."
&nbsp "I feel very comfortable in my life," Fender told the Corpus Christi Caller-Times. "I'm one year away from 70 and I've had a good run. I really believe I'm OK. In my mind and in my heart, I feel OK. I cannot complain that I haven't lived long enough, but I'd like to live longer."
&nbsp Fender started his career in the late 1950s and hit the charts with "Before the Next Teardrop Falls," "Wasted Days and Wasted Nights" and "You'll Lose a Good Thing." He has won three Grammy Awards, the most recent in 2002.
&nbsp He was to have surgery in early January to remove the upper left lobe of his lung because of a fungal infection, but surgeons found two large tumors and left the lobe intact. Fender underwent chemotherapy in late January but stopped because of its side effects. A scan later found nine more tumors.
&nbsp He was resting at his home in Corpus Christi, said Vangie Huerta, his wife and manager, adding that she did not ask doctors to estimate how long he might live.
&nbsp Fender, who has canceled all performances, has decided to resume chemotherapy at a lower dosage. "We can prolong his life with medication or chemo, but it's not a cure," his wife said.
&nbsp Fender received a kidney from his daughter in 2002 and a liver transplant in 2004. He has had problems with diabetes and hepatitis C.

---
Goodness gracious: Lewis has an album on the way
Great balls of firepower. As if legend Jerry Lee Lewis weren't imposing enough to pull off a noteworthy rock 'n' roll return, he has bolstered his upcoming album with a superstar roster that includes three Rolling Stones, two ex-Yardbirds and a former Beatle. Last Man Standing, due Sept. 26, finds The Killer roaring through 21 classics. Five years in the making and nearly 50 years after disturbing the peace with Whole Lotta Shakin' Goin' On and Great Balls of Fire, Lewis, 70, plays piano and belts out retro tunes with Jimmy Page, Bruce Springsteen, John Fogerty, Mick Jagger, Ron Wood, George Jones and Little Richard. Keith Richards, B.B. King, Neil Young, Rod Stewart, Eric Clapton, Ringo Starr, Merle Haggard, Willie Nelson and Buddy Guy also chime in.

---
TOMMY CASASSA R.I.P.
The Tennesean Nashville Newpaper reported the recent death of Tommy Casassa. No details, except that others knew he had Cancer. He's listed among the Rockabilly Hall of Fame legends, but he was much more known as a Music Publisher over the years. Does anyome have more informarion on Tommy's career?
Details on his early recordings.

---
---
Rockabilly Artists' Death Reported.
Rec. 7/28/06 - "Hi My father's name is Richard "Rick" Valletta. He was a member of Ricky Coyne and the Guitar Rockers. In fact, my fathers name appears on the credits of the 45 for Rollin Pin Mim and I'll Love you Forever. To make a long story short, my father passed away last week. I dont know how to get ahold of Ricky Coyne but I wanted to let him know of my father's passing. Does anyone have any suggestions? I'm also looking for a copy of the album they did. Do you know where I might find one? The Guitar Rockers were way before my time, but none the less I'd still like to find an album."
Thanks! Michael, 602-614-7700

---


DANNY DOLLAR R.I.P.

We make many acquaintances in our lives, and few good friends. All are a valuable asset to hang onto. Some are extensions of our right arm. Such as it was with my friend Danny Dollar. Always "up" always Possitive, always with that big smile and blue eyes that let you know everything was gonna be alright. When Dan walked in front of a band, they all perked up because they knew they were in for a hard ride. Whenever I was fortunate enough to be on stage with Danny, HE was the star. HE was the one they came to see. Those Elvis love songs would reach out and touch even the hardest of hearts, and take us back to a time we all want so much to remember and cherish. Always friendly, always looking out for the other guy, always there when you just needed a friend. Danny wasn't just there for "Danny Dollar" but for everyone around him. I was there when Dan accepted Christ - and believe me, he was one proud person. He wanted the world to know what he had done and how it had changed his life. A fellow member of the Rockabilly Hall of Fame - and a memory etched in stone in my life that will live as long as I do. I salute my friend that PASSED AWAY early this morning. I salute him and will hold his friendship in my heart. His picture will remain on my webpage as long as it exists. Respectfully, Ronnie Haig (7-14-2006)
DANNY DOWLER OBITUARY
Daniel N. 'Danny' Dowler (Dollar), 63
JUNE 1, 1943-JULY 14, 2006
Daniel N. "Danny" Dowler, 63, of Nashville, Ind., died at his residence early Friday morning. Born June 1, 1943, in Indianapolis to the late Donald F. Dowler and Norma E. Jones of Indianapolis. He was a retired entertainer and a member of the Rockabilly Hall of Fame. He is survived, in addition to his mother, by his wife, Tony (Morse-Gregg) Dowler of Nashville, IN; sons, Darren (Dianne) Dowler of Beverly Hills, Calif., Charlie and Uri Stiles of Nashville, Ind.; grandchildren, Raina Sofia Dowler, Shelby, Hannah and Cory Stiles; brother, Dennis (Linda) Bond of Franklin; nephews, David (Caren) Bond of Indianapolis and Ryan (Joanna) Bond of Plainfield; niece, Sherri Hansen of San Diego; and aunt and uncle, Bud and Dorothy Smith of Indianapolis. A singer/entertainer/songwriter his entire life, he had an angelic voice and was truly the "other" Elvis. Danny had records out in Daytona and L.A. He is remembered worldwide for his music, kindness and generosity. Danny loved people and people loved Danny! His sparkling blue eyes, blond hair and dazzling smile will be remembered by all who knew him - forever. Danny was officially inducted into the Rockabilly Hall of Fame June 27, 1998. Danny truly loved his wonderful mother, beloved wife, and his pride and joy were his three sons. He is preceded in death by one brother, David Dowler, and his step-father, Dee Jones.
From Darren, Danny's son: Hey everybody. Just letting you all know, my beloved father passed away last night at 3:20 a.m. He left a message for all and sends his love to all his family, friends and aquaintances. I got to see him and tell him I loved him, and he I, before he slipped into a coma and then almost a day later passed away. There is a pretty incredible story involved with his passing which I'll share later. I've posted an announcement on my website - DarrenDowler.com -   Thanks to all of you for your friendship, support and kindness. -Darren

---
DAVE RICH TO APPEAR WITH WILLIE NELSON
7-14-06. This is an update! Rockabilly Hall of Fame readers are first to find out! RHOF inductee Dave Rich will be appearing with Willie Nelson September 30th on Willie's "Farm Aid" program. This will be aired nationally and internationally.

---

NICK WILLETT and the boys knocked 'em dead at the Oneida Casino in Green Bay recently. Make you plans now for the casino's big Rockin' Fifties Fest III - May 15-20, 2007. The Rockabilly Hall of Fame® gang will be there ... will you?

---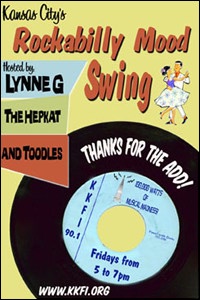 ROCKABILLY ON LINE. Friday, 5:00 to 7:00 pm. Live streaming audio from 90.1 FM, Kansas City, www.kkfi.org. Audio archives and more at www.kcrockabilly.com. Contact: Lynne at kcrockabilly@yahoo.com, hepkat@kcrockabilly.com or toodles@kcrockabilly.com. Also: www.myspace.com/rockabillymoodswing

---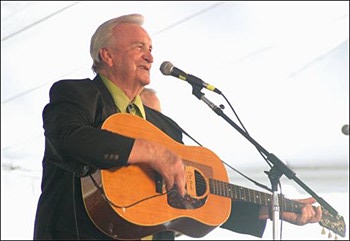 Sun Records rockabilly artist Hayden Thompson will record a new CD for Finnish Bluelight Records in August 2006. There will be few rockabilly songs on the new album, but most of the tracks will be country and close to the style of Hayden's 1966 Kapp LP "Here's Hayden Thompson". More info, press release and song list will follow when the recordings are finished.

---
---
Musician Who Pioneered R&B in Detroit R.I.P.
JOE WEAVER, one of the key figures of the 1950s Detroit R&B scene, died Monday, July 3, 2006 in Providence Hospital in Southfield, MI of complications from a stroke. He was 71. Weaver, pianist and bandleader with his Blue Note Orchestra, was a human thread linking the 1940s big band era with the '50s R&B era, a musical mix that led directly to Motown. First, he performed jump blues and jazz in the very early '50s, then throughout that decade performed as the Fortune Records house band, backing up the Fortune roster, including Andre Williams and Nolan Strong and the Diablos.
&nbsp Later, Weaver and his band, the Blue Notes, worked for Berry Gordy Jr., playing on early Tamla sessions such as "Shop Around" for Smokey Robinson and the Miracles. A lifelong Detroiter, Weaver was still a student at Northwestern High School when he met guitar player Johnnie Bassett. With several friends they formed the Blue Notes and started winning talent shows at the Warfield Theater on Hastings Street. Despite all his work, in the '60s Weaver packed in the precarious life of a musician to work on a Ford assembly line for 30 years.
&nbsp In 2002, Weaver got together with two old friends, Stanley Mitchell of Stanley and the Hurricanes and solo singer Kenny Martin, both '50s hitmakers out of Detroit, to form the Motor City Rhythm and Blues Pioneers. The R&B Pioneers released a self-titled CD that year. In May of this year, in one of his last public appearances, Weaver was honored at the Detroit Music Awards with a Distinguished Achievement Award.

---
WORTH A CLICK: JOHNNY CASH CD REVIEW... American V: A Hundred Highways

---
HAIL, HAIL
A new one-hour radio special titled "Chuck Berry: Hail, Hail The King of Rock 'n' Roll" will air between 10.00am-11.00am (Eastern) next Wednesday (July 5th) on Bob Putignano's popular "Sounds of Blue" radio program on WFDU-FM 89.1 in the New York tri-state metro area. It will also be available to listeners around the world via a live stream at the WFDU-FM website located at http://wfdu.fm/ and for an additional 7 days after the show has aired at the Live365.com website located at http://www.live365.com/stations/bob8003.

---
WORTH A CLICK: MATT LUCAS "Back In The Saddle Again" CD.

---
WORTH A CLICK: REGGIE YOUNG Memphis R & B to Nashville Studios.

---

BILLY PRESTON DIES
June 6, 2006 - Billy Preston, who won fame as a joyful singer-songwriter of with Grammy-winning singles "Outta Space," "Will It Go 'Round In Circles" and "Nothing From Nothing," died in an Arizona hospital early Tuesday. He was 59. Preston's longtime manager, Joyce Moore, said Preston died at 3:35 a.m. at Scottsdale Healthcare Shea hospital in Scottsdale. Preston had been in a coma since November in a care facility and was taken to the hospital Saturday after his condition deteriorated.
&nbsp Preston, who had battled chronic kidney failure, had undergone a kidney transplant in 2002, but the kidney failed and he has been on dialysis treatments ever since, Moore said earlier this year.
&nbsp Preston was a teen prodigy on the piano and organ, and lent his gospel-tinged touch to classics such as the Beatles' "Get Back" and the Stones' "Can't You Hear Me Knocking?"
&nbsp He broke out as a solo artist in the 1970s, winning a best instrumental Grammy in 1973 for "Outta Space," and scoring other hits with "Will It Go 'Round In Circles," "Nothing From Nothing" and "With You I'm Born Again," a duet with Syreeta Wright. (AP)
Billy Preston's Bio

---
SKIFFLE MEETS ZYDECO!
Saturday 10 June 2006, 3 Bands - 2 Styles. East Side Skiffle Group on stage at 7.30pm, HottBoxx a Midlands based band playing a mix of Zydaco, swamp, blues and rock 'n' roll (http://www.hottboxx.co.uk) - Doors open at 7pm, Tickets 10.00 or £8.00 in advance. Bookings phone Keith Woods on 0208 460 6941. Venue is the Water Rats Theatre Bar, 328 Grays Inn Road, Kings Cross, London.

---
VINCE EAGER GIG!
Saturday, 8 August 2006. The first pure rock 'n' roll gig in forty years from British rock 'n' roll originator Vince Eager backed by Rockola. Venue is the Water Rats Theatre Bar, 328 Grays Inn Road, Kings Cross, London, England. In addition, support act and DJ as well plus licensed bar. Doors open at 7.00 pm. Tickets are £10.00 in advance or £12.00 on the door. Contact Keith Woods on telephone number (0)20 8640 6941 for tickets or further information.

---
FATS DOMINO BOOK
The long awaited book is available ... in stock now according to Amazon. "Lost Dawn of Rock and Roll" Da Capo Press, 364 pages), by the Louisiana-based music journalist Rick Coleman. More about Fats Domino here.

---
TRAVIS LeDOYT - "LONELY STREET"
Travis first CD of original songs is out and available for purchase. You may order on line www.travisledoyt.com under merchandise using Paypal if desired. Audio clips from the CD available on line also. [chuckledoyt@comcast.net]

---
SONNY WEST LIVE
Here Mark Dillman's [daddyodilly@yahoo.com] photos taken at a rare Sonny West concert May 20, 2006 in Leavenworth, KS. Sonny wrote two of Buddy Holly's biggest hits and made some cool rockabilly records of his own, all in the famed West Texas style! View Photos

---
BILLY WALKER, WIFE, MUSICIANS PERISH IN CAR ACCIDENT. (5/21/06) Billy Walker, his wife Bettie Walker, musicians Charlie Lilly Jr., and Daniel Patton Sr., lost their lives in a one car accident on I-65-11 miles N. of Ft. Deposit, Al. Injured in the accident was Joshua Brooks who was traveling with the group. He was taken to an Alabama hospital.

---
"FREDDIE" Dies in Wales Hospital
Posted May 20, 2006 - Freddie Garrity was famed for his energetic dance moves Freddie Garrity, the lead singer of the 1960s pop band Freddie and the Dreamers, has died in hospital. The 69-year-old, originally from Manchester, had been receiving treatment for what were described as "circulation problems". He died on Friday at Ysbyty Gwynedd in Bangor, North Wales. The five-piece band had success in both Britain and the US with hits such as I'm Telling You Now and You Were Made For Me. Mr Garrity, who lived in Newcastle-under-Lyme in Staffordshire, was on holiday with his wife Christine when he was taken to hospital. A family friend, Eric St John-Foti, said Mr Garrity had been suffering from circulation problems. He paid tribute to the star, who was famed for his manic dance routine, which he called "the Freddie".

---
URGENT PRAYER REQUEST for DANNY DOLLAR
He needs your spiritual support now. His condition has advanced to the point he can't talk and can't eat! (only liquids by tube). No one is allowed to visit him. Thank you, Ronnie and Bob.

---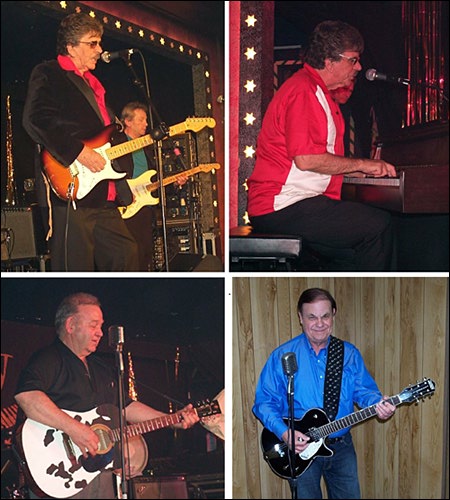 APPEARING AT HEMSBY #36, (UK)
Carl Mann, Bobby Crown, Bobby Brown. Photos: Rod Pyke

---
WORTH A CLICK:
A VIVA LAS VEGAS #9 REVIEW
---
JERRY LEE LEWIS ON "THE LATE SHOW":
Legendary Rock 'n' Roll icon Jerry Lee Lewis is set to perform his classic hit, "Great Balls of Fire," on The Late Show with David Letterman this Friday, April 28th.  Joining Lewis, who will be accompanied by Paul Shaffer and members of the Late Show Band, will be guitarist Jimmy Rip, who produced Lewis' forthcoming CD, "Redemption," along with Steve Bing for Shangri-La Entertainment, as well as guitarist Kenny Lovelace who has been a member of Lewis' band for a remarkable 39 years.
&nbsp The rockabilly legend and first great wild man of rock and roll, who first broke on the national scene nearly 50 years ago with "Whole Lotta Shakin' Goin' On," is getting ready to celebrate his 70th birthday. He is planning a summer release of a new CD, with appearances by B.B. King, Bruce Springsteen, Mick Jagger, Rod Stewart, Willie Nelson and other stars.

BONNIE OWENS DIES AT 76
4/24/06 - Just one month after the death of country legend Buck Owens, there comes word that Bonnie Owens has passed away. The death of Bonnie Owens was reported Monday afternoon by Buck Owen's Bakersfield Radio Station KUZZ. She was the wife to both of Bakersfield country legends Buck Owens and Merle Haggard.
&nbsp Bonnie was born in Oklahoma City and met Buck in a roller rink in Mesa, Ariz. and they were married in 1948. She was the mother of Buck's two sons, Mike and Buddy Owens. However, the marriage to Buck did not last and the two divorced.
&nbsp Like Buck, she was a country singer and after the divorce from Buck, she became closer to Merle Haggard. The two married in 1965 but that marriage dissolved in 1978.
&nbsp Family spokesman Jim Shaw said she passed away from complications of Alzheimer's.

---

TRAVIS LeDOYT, is back in the states after his recent UK tour.

---
COLLINS KIDS ALERT!
The Collins Kids are making a one off UK appearance on Saturday, 2nd  September 2006 at the Bisley Pavilion, The National Shooting Centre, Bisley Camp, Queens Road, Brookwood, Woking. Tickets are priced at £19.00 in advance or £23.00 on the door. Support act will be Charlie Thompson and Miss Mary Ann.

---
GENE VINCENT PHOTOS
Hundreds of Gene related photos/graphics here.
ANOTHER GENE VINCENT PHOTO SOURCE
Click Here.
---
Dave Alvin's new studio album is "West of the West"
West of the West is Dave Alvin's tribute to the songs and songwriters of California. It's the fourth-generation Californian's latest excursion into the sounds and history of his home state, continuing the high standard he set with King of California and Blackjack David. Produced by Greg Leisz (Wilco, Lucinda Williams, Beck, Brian Wilson), the new album mixes much loved songs by Merle Haggard, John Fogerty, Tom Waits, Brian Wilson, Jackson Browne, Jerry Garcia, Kate Wolf, Robert Hunter and Los Lobos' David Hidalgo and Louis Perez, with unearthed gems from such previously overlooked talents as Blackie Farrell and Jim Ringer. More Information.

---
---
WORTH A CLICK:
THE NOTORIOUS BETTY PAGE
---
Jay Chevalier Song
A Cajun two-step called "Come Back to Louisiana" could be named the state's official hurricane recovery song, a House panel decided on April 19th. The song, a remake of a 1963 single by rockabilly singer-songwriter Jay Chevalier, would commemorate the state's ongoing recovery effort, said Rep. Danny Martiny, the sponsor of the bill. The measure would also name Chevalier, who continues to perform, Louisiana's "official state troubadour" for hurricane recovery. The bill moves to the full House.

---
CHARLIE GRACIE with EDDIE COCHRAN and the EVERLYS
Charlie pays tribute to his late great buddy, EDDIE COCHRAN in a PBS documentary. Charlie is scheduled to headline the annual Eddie Cocharan Festival in Chippenham, England this fall and will dedicate a new outdoor memorial for his late friend.
(photo: Charlie with Eddie (to Charlie's right) - with the Everly's and Don Cherry in Chicago - late 50s)

---

Here's Charlie Gracie with Johnny Hall (a big RHOF fan and supporter) at Pennsylvania Music Expo, Lancaster, PA, April 9, 2006

---
Chippenham Cherished Memories '06 [Eddie Cochran] Review and Photos

---
Cleveland's Rock Hall Opens Roy Orbison Exhibit
April 19, 2006 - Roy Orbison! The Wink, Texas native, who grew up in Vernon, Texas, died in 1988 at age 52 of a heart attack, has been a part of the Rock Hall since his induction in 1987. Orbison was known for his blending rock and country music. The exhibit called "Haunting and Yearning: The Life and Music of Roy Orbison" offers a glimpse into his rockabilly career and his personal struggles. The exhibit is not traveling. His widow Barbara Orbison put it together for the Rock Hall. She came to Cleveland from Nashville for the opening. The display is coinciding with what would have been Roy Orbison's 70th birthday April 23rd.

---
RETIREMENT FOR THE LEGENDS OF THE OPRY?
... which would mean no more George Jones, Loretta Lynn, Porter Wagoner, Del McCoury, Billy Walker, Charlie Louvin, Jimmy Dickens, Jean Shepard, Jeannie Seely, Jan Howard ... and list just goes on. We love the Grand Ole Opry legends no matter what their age is ... No forced retirement for Opry legends at 65! Please help us keep the tradition alive and support these legends by signing the petition at www.petitionspot.com/petitions/oprylegends.

---
JOEL MARSHALL SHUMAKER R.I.P.
Joel Marshall Shumaker, 51, of Horn Lake, MS, died Saturday, April 1, 2006, after a long illness. Joel was best known as a long time band member with Jerry Lee Lewis. Playing Bass and Guitar, Joel toured with Lewis for 15 years. "One of the best guitarists", as fans and friends would say, Joel toured all over the world winning the adoration of many fans. He leaves a wife, Deborah; one son, Derek of Memphis; one brother, Terry of MN; and countless friends. He will be missed by everyone that knew him. He touched many lives while he was with us. The family requests that memorials be made to The Alpha 1 Foundation, 2937 SW 27th Avenue, Suite 302, Miami, FL 33133. Twin Oaks Funeral Home 662-349-9720

---
CHARLE FEATHERS OFFICIAL SITE - A reminder to visit it today!

---
JAMES MASK R.I.P.
Smithville, Miss., March 26, 2006 - Funeral services were held today for Rockabilly singer James Mask. Mask died last week at the Gilmore Memorial Hospital in Amory. He was 73. The cause of death was unavailable. Mask lived in Shannon and spent the past 15 years in Smithville. He performed across the globe, alongside greats like Johnny Cash, but Mask always kept a fondness for his Mississippi home. "He loved the people at home in Lee County," said his wife, Susan Mask. One of his most popular songs was "Beer Drinking Blues" in 1959. "James sang all his life," his wife said. "He sang country and a little rock. He really loved to perform and he had a beautiful voice."

---
FOR SALE - A MEMPHIS MUSIC LANDMARK
World Famous Hernando's Hideaway, 3210 Hernando Road, Memphis, TN. 901-398-7496. Great commercial investment. 8200 total sq. ft., 1450 sq. ft. 3 br. apartment upstairs. Bar, dance floor, seating for 150 or more. Kitchen and downstairs, on a 1 acre lot. Motivated seller, bring all offers. Seller will assist with closing, plus $1000 binus to selling agent. Contact Carolyn Kent at 901-345-1600 or 901-650-6673. MLS #2614863, $450,000

---
CHARLIE HODGE, age 71, of Sevierville, TN died Friday March 3, 2006 at Fort Sanders Regional, Knoxville, Tennessee. Charlie's love of music and comedy led him to a long career of singing with quartets, one of the first included Bill Gaither and Charlie's own quartet, The Foggy River Boys. Charlie entered the Army with Elvis Presley and they became good friends. He worked for Elvis and lived in Graceland for 17 years. After Elvis's death, Charlie continued to perform in shows dedicated to Elvis's memory. For the past 15 years, Charlie performed at Memories Theatre in Pigeon Forge, Tennessee and also traveled the world sharing Elvis stories speaking and performing. He was preceded in death by his parents, George and Mattie P. Hodge. Survivors: loving wife: Jennifer Hodge; sister: Margie Poteet; nephew: Lyle Poteet; great niece: Caitlin Poteet and several cousins; cousin: Sedema Poole. In lieu of flowers the family asks that you make a donation to your favorite charity in Charlie's memory.

---
HONKY TONK in NEW YORK CITY
"March 5th (and every first Sunday) it's the Honkytonk Hootenanny at CBs Gallery (313 Bowery, NYC, 10003, 212-677-0455). From 5-9 pm, it's nothin' but gin-joint country, bluegrass, rockabilly, and all things Americana. There will be three hours of open mic, plus the 'Freeform Hootenanny' at 7pm: Three featured acts, plus one "wildcard" picked from the open mic, round- robin in a song circle format with a central theme. The features exchange notes in advance so the stage is set for impromptu leads, harmonies, and twang-core 'billy madness. The Hootenanny finishes up with the 'Hillbilly Improv' - all the features join in for a set that's sure to break something. The theme for March 5th, tying our features and song picks together is 'What becomes a legend most', and the features will include Seth Kess, yours truly, and others TBA. For you pickers and guests out there, the details of the night and format can be found here: Hoot Facts, Fiction & Fliers http://gregphoenix.net/shows.htm and here: HonkyHoot at CBGB http://cbgb.com/gallery/0305.jpg - Y'all come on down, hoot and holler, hear?"
Greg Phoenix, Gregphoenix.net, Myspace,com/phoenixgreg

---
"Walk the Line" Hits Video Tuesday, Feb. 28th.
It will arrive in three different versions: a single-disc widescreen, a full-screen version and a limited edition two-disc set with lots of bonus features. The film stars Reese Witherspoon and Joaquin Phoenix as June Carter and Johnny Cash. Both are nominated for Oscars. The Walk the Line DVDs, from Fox Home Entertainment, are priced at $29.98 for the widescreen and full-screen single discs and $39.98 for the two-disc Collector's Edition. All three versions feature running commentary by director James Mangold, deleted scenes and the original theatrical trailer.

---
TRAVIS LeDOYT UK TOUR
"If you never got the chance to see Elvis live, get yourself along to one of the venues on Travis LeDoyt's debut tour of the UK. Believe me you wont be disappointed I saw Travis a few years back in Jackson, USA and he blew me and the rest of the audience away. Forget all the other Elvis impersonators, Travis is the real thing. He has the voice, the looks and all the movements. D J Fontana says of Travis that it is almost as if you were watching Elvis back on stage in the fifties. Some of these shows are already sold out so check with the venues first. All the details can be found at http://www.jacksonville-americana.piczo.com/?cr=1&rfm=y and on Travis's own site at http://dickmcvey.com/ScheduleTravis.htm. I promise you wont be disappointed." -Rod Pyke

---
BOBBY MOORE P.I.P.
Vocalist Bobby Moore of Bobby Moore and the Rhythm Aces died in Montgomery, AL, at age 75, Feb.7th. Cause od death was kidney failure. The New Orleans native had Top 40 hits in the mid-1960s with "Searching For My Love" and "Try My Love Again." His son, Bobby Moore Jr., has been playing with his father`s group for 40 years and told the newspaper he would continue to keep the name Bobby Moore alive.

---
ELVIS NEWS. Preliminary calendar of events for Elvis Week 2007 - 30th Anniversary announced. Click for more information.

---
DALE HAWKINS HEALTH UPDATE Message courtesy: Mikesandy999@aol.com - 2/9/06
"Hello Friends, I left the hospital yesterday after my 4th CHEMO treatment, many PRAYERS and all the natural nature herbs that GOD led me to take happy. My Doctor went over my progress sence the operation with a smile. My white blood count was back to normal and all of the other charts that he showed me were beautiful. I have not had any bad side effects from the CHEMO. I am starting to get my strength back and my attitude is still on it's positive KIK-ASS mode. I am continuing with the treatment and with your prayers & by the grace of GOD will win. Thank You!!" R&R, Dale Hawkins

---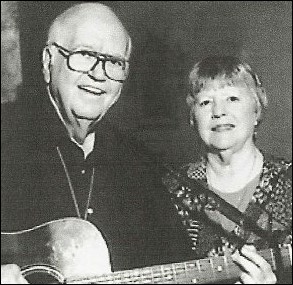 THE FRANKS ... 60 YEARS!
Tillman and Virginia Franks celebrated their 60th wedding anniversary on February 9th. A family dinner was hosted by their children on February 11, 2006. Tillman Franks and Virginia Suber were married February 9, 1946 in Shreveport, where they are lifelong residents, The couple has four children: Darlene Pace of Bossier City; Carolyn Browning and Ben Franks, both Shreveport; and Rev. Watson Franks of Vidor, TX. They have eight grandchildren.

---
DYNAMITE MAGAZINE issue #46 comes with a 13-track rockin' disc: "CD #01". To find out more about this great German rock and roll publication, please click on the graphic above.

---
NARVEL FELTS, RODNEY LAY, DON WILLIAMS.
Narvel along with the Rodney Lay Trio (Rodney Lay, Vernon Sandusky and Ron Lee) will be in Ft. Smith, Arkansas, February 23rd with Don Williams. This will be the final tour for Don Williams, Don will retire after this tour. The show will be at the Ft. Smith Convention Center in downtown Ft. Smith, Arkansas 7:30 pm. For info: warangel1@cox.net

---
The History Of Country Music Radio program is now available 24 hours per day from Las Vegas. Host, Cowboy Paul Bowman. These shows consist of all the top country songs from 1920 to 2005 along with bio information and gossip on the artists, writers and how their songs affected the mood of the nation at the time. http://kowlasvegas.com/.

---

A New Design for Elvis.com - Elvis.com's home page has a new look. If you haven't seen it yet, you need to check it out. And, as always, Elvis.com still has all the Elvis content you need and want so be sure to continue to enjoy all the features, including Elvis wallpapers, screensavers, the GracelandCam, e-cards and more.

---
WORTH A CLICK: WANDA JACKSON INTERVIEW January, 2006.

---
Johnny Bienstock, Longtime BMI Publisher, Dies at 83.
Johnny Bienstock, a 60-year publishing and record label veteran, died Jan. 20 in Naples, Fla. The cause was complications from heart disease and a stroke, according to his family. He was 83.
&nbsp Bienstock, a native of Vienna, Austria, fled to the U.S. with his brother Freddy at the onset of World War II and later served in the U.S. Army Mountain Division. He began his music career in 1944 when he and his brother joined the music publishing company of their cousins Jean and Julian Aberbach, who went on to found Hill & Range Music. While there, he worked with such BMI songwriters as Ernest Tubb, Eddy Arnold, Hank Snow and Elvis Presley.

---
WORTH A CLICK: "FARTHER UP THE ROAD." Ronnie Hawkins and others made a distinctive home for rock 'n' roll in Northwest Arkansas.

---
"THE NOTORIOUS BETTIE PAGE" MOVIE
  The story of the super successful 1950's pin-up model, Bettie Page, one of the first sex icons in America, and the target of a major Senate investigation - based on her highly provocative bondage photos. Release Date: April 14th, 2006 (limited)
&nbsp Born April 22 1923, in Nashville, TN., the real Bettie Page had a difficult childhood including a stint in orphanage. But she did well in high school and voted 'Most Likely to Succeed'.
&nbsp In 1950, while walking along the beach at  New York's Coney Island, she was approached by Jerry Tibbs, a police officer and amateur photographer who put together her first portfolio. 
&nbsp Bettie became an underground sensation and in 1955, became a "Playboy" magazine  centerfold. In 1957, Bettie quit modeling, had a failed marriage, then entered a religious seminary, where she worked as a Christian missionary. Eventually she was institutionalized for mental problems.
&nbsp Now in her 80's, Bettie Page lives in southern California, and reportedly has not received one dime of the hundreds of millions of dollars that has been earned through the exploitation of her name and image over the past 50 years.
&nbsp In retrospect, she says, "I wasn't trying to change society, or to be ahead of my time. I didn't think of myself as liberated and I don't believe that I did anything important. I was just myself. I didn't know any other way to be ..."

---
Legendary Shack Shaker Injured
Th' Legendary Shack Shakers guitarist David Lee was injured in a hit-and-run accident on Tuesday, Jan. 17th as a car ran into him while he was in the midst of a 100-mile bicycle ride.
&nbsp "I suffered cuts to my face (about 40 stitches worth, split my upper lip in half) and knocked out two teeth," wrote Lee in a message posted on the band's website. "No broken bones and the hands are fine."
&nbsp Perhaps all of Lee's tattoos protected him from more serious injuries, as he expects to be fully recovered by the time the band begin a short U.S. tour in Nashville, Tennessee on February 7. That's the same day as the group's Pandelirium album hits the streets via Yep Roc/Outside. Pandelirium is the Nashville band's third LP, following 2003's Cockadoodledon't and 2004's Believe.

---
ANOTHER LANDMARK BITES THE DUST
NASHVILLE, Jan. 19, 2006 - The Nashville recording studio where Elvis Presley cut the RCA hit Heartbreak Hotel, the King's first breakout hit, is being torn down to make way for that unmistakable sign of urban progress: A parking lot. The studio, wedged between Broadway and Demonbreun at 1525 McGavock St. and purchased by auto-dealership magnate Lee Beaman in 1999, was the longtime home of the United Methodist Television, Radio and Film Commission.
&nbsp During Presley's Heartbreak Hotel session "which lasted only three hours and took place on Jan. 10, 1956, almost 50 years ago to the day". Presley also recorded Ray Charles' I Got A Woman, according to John Rumble, senior historian at the Country Music Hall of Fame and Museum.


Soul Legend Wilson Pickett Dies At 64
Soul/R&B legend Wilson Pickett died of a heart attack Jan. 19 at a hospital near his Virginia home, according to a spokesperson. He was 64.
&nbsp Born in Pratville, Ala., Pickett moved to Detroit as a teen and joined the Falcons, singing on their 1962 hit "I Found a Love." By 1965, he had signed a solo deal with Atlantic, scoring a No. 21 pop hit with "In the Midnight Hour," which he co-wrote with legendary sessions musician Steve Cropper.
&nbsp A slew of late '60s R&B/soul hits followed, including "Land of 1,000 Dances," "Funky Broadway," "634-5789," "She's Lookin' Good" and "Mustang Sally." As the '70s dawned, Pickett scored three consecutive top 20 pop singles with "Engine Number 9," "Don't Let the Green Grass Fool You" and "Don't Knock My Love Pt. 1." In all, five of his singles reached No. 1 on the Billboard R&B charts. He will be buried beside his mother Lena in Louisville, KY.

---
CHESS RECORDS' HISTORY
The February 2006 issue of the popular UK monthly magazine "Record Collector" (Issue #320), which went on sale Thursday, January 19th, includes a feature on the history of Chess Records written by Kingsley Abbott plus an interview with Marshall Chess.
&nbsp "Record Collector" magazine is the world's leading publication for collectors of rare records and memorabilia. In the feature, along with Bo Diddley, Chuck Berry, Muddy Waters and Howlin' Wolfis described as "one of the Big Four of Chess who revolutionised popular music". Metropolis Publishing's "Record Collector" website: www.metropolis.co.uk/recordcollector.html

---
UK "ROCKABILLY RAVE" LINE UP
The Rockabilly Rave is to be held at the Pontins Leisure Centre, Camber Sands (near Rye) on the south coast of England between 9 and 13 March 2006 is:
Janis Martin
Sonny Burgess
Dave & Deke Combo
Original High Noon
Big Sandy & Flyrite Boys
Neva River Rockets (Russia)
Mad Men (Croatia)
Go Getters
Kim Lenz
Ike & the Capers
Tin Stars
Charlie Thompson & Miss Mary Ann
Mars Attack
Taildraggers
Skiprats
Marti Brom
Two Timin' Three
Infernos
High Voltage
Buzz & The Flyers
Ragtime Wranglers
Ruby Ann
Radio Ramblers + Official Ronnie Dawson Tribute

---
JIMMY KELLY had a hit in 1958: Little Chickie. His band, the Rock-a-Beats backed him on this hit. It is categorized as Rockabilly.
Courtesy: Rich Miller - richard.miller1@sbcglobal.net

---
Major Music Endorsement Deal Signed. Senatobia, MS - January, 9, 2006 - Colonel Robert Morris (Two time hall of fame musician) signs full endorsement deal with Viper Drums. Colonel Robert has been inducted into the Rockabilly and Traditional Country Hall Of Fame and is a master drummer. Viper Drums is a high end custom drum maker located in Denver Colorado. Colonel Robert & Viper Drums look forward to many years of success together. Contact Viper Drums at www.viperdrums.com (303) 587-4836, Marketing Director Jeremy Kumpf

---
LOU RAWLS died of cancer in LA at 72, Friday, January 6, 2005. The velvet-voiced singer who started as a church choir boy and went on to sell more than 40 million albums and win three Grammys in a career that spanned nearly five decades and a range of genres, has passed on. Lou died at Cedars-Sinai Medical Center, where he was hospitalized last month for cancer treatment. His wife Nina was at his bedside.  
His voice was his inimitable trademark. His debut effort, "Stormy Monday," recorded with the Les McCann Trio, was the first of 28 albums he made with Capitol. His 1966 hit, "Love Is a Hurtin' Thing," topped the charts and earned him his first two Grammy nominations. He received 13 during his career.  
Lou also appeared in 18 movies, including "Leaving Las Vegas" and "Blues Brothers 2000," and 16 television series, including "Fantasy Island" and "The Fall Guy."  
He was diagnosed with lung cancer in December 2004 and brain cancer in May 2005.

---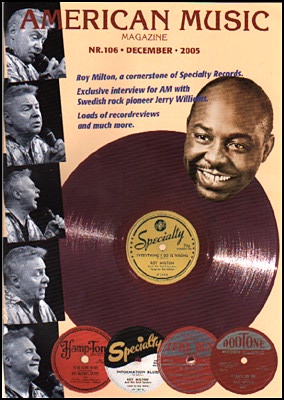 The December 2005 issue of AMERICAN MUSIC MAGAZINE features an extensive article and many photos of Roy Milton. For more information on this great Swedish mazagine, please e-mail Bo Berglind at bo@americanmusicmagazine.com.

---
JAMES CHARLES AUSTIN, JR., 68, of Memphis, died Saturday, December 24, 2005 at Methodist University Hospital after a short battle with lung cancer. Professionally, he was a singer with the renowned "Platters," having traveled and performed all over the world. He was predeceased by his parents, Mr. & Mrs. James C. Austin, Sr. He is survived by his wife, Janet "J.P." Netters-Austin; four daughters, Tonyus Chavers of Minneapolis, MN, Angela Austin of Jacksonville, FL, Linnea Epstein of Seattle, WA and Kim Netters of Memphis; three sons, Terry Chavers of Memphis, James L. Netters III of Las Vegas, NV and Julian Netters, Sr. of Atlanta, GA; four grandchildren; two brothers, William Austin and Victor Austin, Sr., and three sisters, Aranda Robinson of Detroit, MI, Violetta Rollins and Vishnu Jennings. In lieu of flowers, memorial gifts may be made to James Austin Benefit Fund, P.O. Box 820905, Memphis, TN 38182. R.S. Lewis & Sons Funeral Home 901-526-3264

---
BOBBY WAYNE RECORDINGS
---
WORTH A CLICK: DUANE EDDY INTERVIEW with Chris Rice

---
CARL PERKINS' SON R.I.P.
November, 2005 - One day after his mother's funeral, Gregory Jay Perkins, 46, died in Jackson General Hospital after a long battle with cancer. He played bass guitar in Carl Perkins band from 1976 to 1997. He died November 18. Funeral from Smith Funeral home on the 21. He leaves behind his wife Dawn of 26 years marriage and a son, Jay Paul, 17. Many people will remember Gregory Jay Perkins on bass from his many t-v shows and world tours with his father. He was Carl's youngest son, and he leaves two brothers, Stan and Steven, and sister Debbie.

---
Mark W. Winchester, Mark Horn and Chris Casello a/k/a "The Starlighter Drifters, perform for an upcoming "Rockabilly Radio Show". These programs are hosted and produced by Billy London and air on WAKM 950 am radio, Franklin, TN, Saturdays, 10:00 AM.

---
November 18th was the theatrical release of Walk The Line, the Johnny and June Carter Cash biopic of this early period in their careers. About the box set: www.cashthesunyears.com. About the movie: www.walkthelinethemovie.com/site/index.php.

---
A ROCKABILLY TRIBUTE ON WHEELS
Like the music it represents, the Rockabilly Tribute chopper is as distinctive and stylish as the artist famous for the blend of sounds that make up Rockabilly. Recently debuted at the Seminole Hardrock Bike Fest in Tampa, by world renowned bike builder, Alan Bernard of Santiago Chopper, the chopper is a fusion of what makes Rockabilly one of the oldest forms of Rock-N-Roll.  
The bike is also a tribute to the old school "Bobber" popular in the 1950s and 1960s around the same time Rockabilly was in its heyday. It incorporates details by using parts of a Grestch Guitar, an old style microphone carburetor and memorabilia from some of the best performers of the original Rockabilly sound. It captures the attention of a crowd wherever it goes, winning several "Best in Show" awards, the bike is sure to bring you back. 
Santiago Chopper is fast becoming legendary in the US by taking on the biker world by storm and winning top honors at numerous bike shows including Sturgis and Easyrider shows, respectively. The Rockabilly Tribute is a fine example of the craftsmanship put into each Santiago Chopper.
Santiago Chopper Specialties and the "Rockabilly Tribute" will be featured at the upcoming Big Twin West, AMD Pro Show and the Custom Chrome Dealer Show at the Mandalay Bay Hotel and Casino in Las Vegas Nov. 17 ­ 20, 2005. Don't miss the chance to see art in motion. You can also visit them online at www.SantiagoChopper.com

---
Hello, my name is Billy Jones and I am writing a book about the rockin clubs in London in the 1980s. The book has contributions from Tom Ingram, Wanda Feathers, Paul Roman, Clive Osborne and many many more. If you were on the scene then I would love to hear your memories and see your photos. You can join in the discussion at http://groups.myspace.com/RockabillyUnderground or http://hometown.aol.com/rockinelectro/. There is a questionnaire which everyone is welcome to have and return if they wish. Please participate and get your memories in the book. - Rockinelectro@aol.com

---
JOHNNY CASH SWEEPSTAKES
Port Halcyon and Legacy Recordings have come together to bring you the opportunity to win an amazing musical package by entering the Johnny Cash: The Legend Sweepstakes. One (1) Grand Prize Winner will receive the Johnny Cash - The Legend [4 CD Box Set] and June Carter Cash Keep On the Sunny Side - June Carter Cash: Her Life In Music CD. Click here to view all prizes and enter the sweepstakes. Contest runs until November 30th, 2005.

---
WORTH A CLICK: Larry DeRieux, 1959 'Chicken Session' gets retired rocker back on stage.

---
ROBERT GORDON - CHRIS SPEDDING
Following the success of the September '05 tour, we are proud to announce the fact that the January/February 2006 tour is now almost in place, and the dates are as follows:
Jan 26 - Tobakken, Esbjerg, Denmark
Jan 27 - Katalin, Uppsala, Sweden
Jan 28 - Mejeriet, Lund, Sweden
Jan 31 - Rock Bottom, Oslo, Norway
Feb 1 - Nevada, Porvoo, Finland
Feb 3 - Hotel Sokos Night Club, Lappeenranta, Finland
Feb 4 - Rockin' Race Jamboree, Torremolinos, Spain Feb 5 to 9: FRANCE (To be specified later)
Feb 10 - Club Ydrogeios, Thessaloniki, Greece
Feb 11 - Club An, Athens Greece

---
Bakersfield Country Music Museum 6th Pioneer Reunion
The BCCM has scheduled its 6th Pioneer Reunion on Sunday, November 13, 2005 from 1-6pm. The event will be held at the Best Western Inn (Sequoia Room) 2620 Buck Owens Blvd-Bakersfield, CA. The event will feature the ALL STAR BAND featuring Tommy Hays, Jimmy Phillips, Billy Mize & possibly Lawton Jiles, Cliff Crofford & others. BCCM members free and public $5 donation at the door. 24/7 Information (661) 366-6003

---
NEW GENE VINCENT CD
Rockstar just released a CD version of their famous LP "Important Words" published 15 years ago. The new version includes 12 previously unreleased versions of GENE VINCENT songs. Absolutely amazing sound and booklet (not like some other English labels). Included Anna Annabelle, Who's Pushing Your Swing, Gone Gone Gone, The Beginning Of The End, Where have You Been All Of My Life, Temptation Baby, There I Go Again, Spaceship To Mars, King Of Fools, You are Still In My Heart (complete unheard versions). A real must. Available from: Rockstar Records, PO BOX 22, WOODFORD GREEN ESSEX 168 GEH, ENGLAND

---
Hey BO DIDDLEY fans,
One of the founding fathers of rock & roll, BO DIDDLEY celebrates his 77th birthday on Friday December 30th and we encourage all his many fans around the world to sign the BO DIDDLEY-The Originator website Guestbook with your birthday greetings and messages. As we always do at this time of the year, we are making special arrangements for BO DIDDLEY to view each and every one of your greetings. This is an opportunity for you to convey your appreciation and best wishes to one of the undisputed legends of rock & roll and a true original, on the occasion of his 77th birthday. Please sign the Guestbook, located at http://members.tripod.com/~Originator_2/guestbook.html and show your support for The Originator - BO DIDDLEY.

---

The Home of "THE HAWK" (Ronnie Hawkins) at "Hawkstone Manor" in Lakefield Ontario.
Photo (taken October 5, 2005) courtesy of Matt Lucas.

---
HEMSBY #35 PHOTOS
These are afew of my photos taken at Hemsby 35. Andy Anderson is the performer with the white beard. Pat Cupp is the one with glasses. Narvel you all know. Pookie Hudson is the coloured singer. Andy was performing live. Narvel and Pat Cupp were rehearsing. More photos to follow soon. Rod - RodPyke@aol.com
Rod Pyke's Album: Hemsby 35 (3) Click on the link to view the 15 pictures in this Album. As the recipient you can download, re-share and order prints and gifts containing these pictures. Please do not use the owner's pictures in an unexpected way.

---
BRANSON SHOW SCHEDULE "Hi Everyone, This is the completed schedule for our opening on March 17th plus the rest of the year. It also shows that Gary Lewis and The Playboys will be playing on the Weeks That The COMETS Are OFF. We hope that EVERYONE OF YOU will come see us and this beautiful DICK CLARK AMERICAN BANDSTAND THEATRE. You can click on the months individually and see the names and Times of the SHOWS. We Love You All" - THE COMETS

---
TRAVIS LeDOYT DVD INFORMATION
---
WORTH A CLICK:
Saxophonist Bobby Lovless Dead at 65
---
DEAD MEN WALKING featuring SLIM JIM PHANTOM: TOUR
September 2005
Wed 21 House of Blues, Anaheim, California, USA - www.hob.com 714 778 2583
Thur 22 Key Club, Los Angeles, California, USA = www.keyclub.com 310 274 5800
Fri 23 CBGB's, Manhattan, New York, USA - www.cbgb.com 212 982 4052
Sat 24 Downtown, Farmingdale, New York, USA - www.thedowntown.com 516 293 7700
Tue 27 Wulfren Hall, Wolverhampton, UK - www.wolvescivic.co.uk 01902 552121
Wed 28 Central Station, Wrexham, UK - www.centralstation-yales.co.uk 01978 264940
Thur 29 Sugarmill, Stoke on Trent, UK - www.thesugarmill.co.uk 01782 206000
Fri 30 The Loft, Kinloss, UK - www.loftgigs.co.uk 01343 850078
October 2005
Sat 1 Lemon Tree, Aberdeen, UK - www.lemontree.org 01224 642230
Sun 2 King Tuts, Glasgow, UK - www.kingtuts.co.uk 08701 690100
Tue 4 Forum Theatre, Billingham, UK - www.forumtheatrebillingham.co.uk 01642 552663
Wed 5 Boardwalk, Sheffield, UK - www.theboardwalklive.co.uk 0114 2799090
Thur 6 Winter Gardens, Cleethorpes, UK - www.winter-gardens.co.uk 01472 349222
Fri 7 Library Theatre, Darwen, UK - www.darwenlibrarytheatre.com 01254 706006
Sat 8 Library Theatre, Darwen, UK (2nd night) - www.darwenlibrarytheatre.com 01254 706006
Sun 9 Civic Centre, Whitehaven, UK - www.copelandbc.gov.uk 01946 852821
Tue 11 Irish Centre, Leeds, UK - www.theleedsirishcentre.co.uk 0113 2480887
Wed 12 Assembly Rooms, Derby, UK - www.assemblyrooms-derby.co.uk 01332 255800
Thur 13 Arts Centre, Colchester, UK - www.colchesterartscentre.com 01206 500900
Fri 14 Voodoo Lounge, Dublin, Ireland - www.toxicpromotions.net 353 1 8736013
Sat 15 The Platform, Morecambe, UK - www.lancaster.gov.uk 01524 582803
Sun 16 Barracuda, Newquay, UK - www.barracudanewquay.com 01637 875 800
Tue 18 Cox's Yard, Stratford Upon Avon, UK - www.coxsyard.co.uk 01789 404600
Wed 19 Princes Hall, Aldershot, UK - www.princeshall.com 01252 329155
Thur 20 Academy, Birmingham, UK - www.birmingham-academy.co.uk 0870 771 2000
Fri 21 Academy, Liverpool, UK - www.liverpool-academy.co.uk 0870 771 2000
Sat 22 Academy, Manchester, UK - www.manchesteracademy.net 0161 832 1111
Mon 24 Academy, Bristol, UK - www.bristol-academy.co.uk 0870 771 2000
Tue 25 Arts Centre, Swindon, UK - www.swindon.gov.uk/artscentre 01793 614837
Wed 26 Waterfront, Norwich, UK - www.ueaticketbookings.co.uk 01603 508050
Thur 27 Wedgewood Rooms, Portsmouth, UK - www.wedgewood-rooms.co.uk 02392 863911
Fri 28 Beaufort Theatre, Ebbw Vale, UK - www.blaenaugwentvenues.com 01495 350360
Sat 29 Shepherds Bush, London, UK - www.shepherds-bush-empire.co.uk 0870 771 2000
Sun 30 Martlets Hall, Burgess Hill, UK - www.midsussex.gov.uk 01444 242888
Please continue to check in at www.SlimJimPhantom.com for further updates.

---
WORTH A CLICK:
Skinny McGee and his Mayhem Makers, CD Review
---

Merle Haggard digs the Rockabilly Hall of Fame.
Here's "The Hag" at home, sporting his RHOF cap. Visit Merle's web site.
Photo: Glenn J. JPogatchnik

---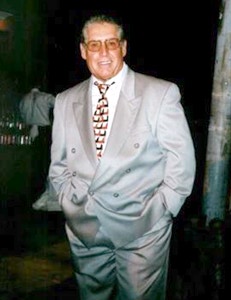 Master producer Ray Ruff passed away 9-15-05. He was one of the founding partners in CURB records and produced Donnie Brooks. He died due to a brain anurisum caused from an attack by his longtime pet mountain lion. More about Ray.

---

James Inveld and Rosie Flores. It was Rosie's Birthday.

---
BARCELONA HAYRIDE 2005
Everything is ready for the next BARCELONA HAYRIDE FESTIVAL. There will be release the flyers released in September. For this year they repeat the venue "Sala Carretera 13", with two rooms: One with the shows and Djs, the other with stands and Djs. We have a great international line-up for this year with differents bands and styles. Hope you like it.
INTERNATIONAL FESTIVAL OF RETROAMERICANA 7th edition
BARCELONA HAYRIDE 2005 - December 2005 8th, 9th,10th & 11th
BANDS
CRAZY CAVAN & the RHYTHM ROCKERS (UK)
EDDIE CLENDENING (USA)
THE JIVE ACES (UK)
THE BRICATS (Ger)
THE MEAN DEVILS (POR)
BULLDOG (SP)
RUBY ANN (POR)
THE HILL TOPS (SP)
THE HAYRIDE KINGS (SP)
Djs: Nino(Uk), Alex (Sp), Chino Crazylegs (Sp), Jordi Rockola(Sp), Roll Over Moreno & Beibi X (Sp), Ruben "Jack the Ripper" (Sp) ... + more.
Venue:CARRETERA 13
Isidre Nonell 9 Badalona - Barcelona SPAIN
Tickets:
Thursday:10,00¥
Friday: 30,00¥
Saturday:30,00¥
Sunday: Free
More info in our website:www.bcnhayride.com
Contact:Kike Hayride www.myspace.com/kikehayride
festival@bcnhayride.com

---
New contact info for JOHNNY POWERS: (Sept. 15, 2005)
Jet-Eye Music.<
5421 Andrew
Harrsion, MI 48625
jeteyemusic@hotmail.com

---
WARNER MACK
The following information is in regard to one of country music's legendary stars, Warner Mack, who is not feeling too well these days. After making contact with family, I have his address and I am asking you to continue to pray that Warner will get back on his feet and keep recording his great music. I have included his address, and I know that the cards and letters will give him an extra boost towards his recovery. Thanks to each of you. - billfielding@juno.com
His address is as follows:
Warner Mack
60 Lester Ave., Apt 1447
Nashville, TN 37210
His successes include 40 chart-busting hits, including such greats as "The Bridge Washed Out," "Talkin' to the Wall," Is it Wrong (for Loving You)," "Sittin' in an All Night Cafe," "Driftin' Apart," "After the Lights Go Out," and "It Takes a Lot of Money." The list goes on and on. Warner wrote "Is it Wrong (for Loving You)" at the age of 13, after failed teenage romance. It stayed on the Billboard Magazine's Top Ten for 36 weeks and is on the album "The 30 Greatest Country Songs."

---
Rudy "Mountain Guitar" Thacker R.I.P.
Posted Setember 12, 2005 - Rudy "Mountain Guitar" Thacker passed away in Houston, Texas, from cancer at age 74. He was a fine guitarist, song writer and singer. His band "The String Busters" was the staff band some years back at the WWVA Jamboree in Wheeling. WV. Roy Acuff, Skeeter Davis, Howard Vokes and others recorded his songs. Rudy wrote and recorded the only tribute song to the late Johnny Horton, titled "The Ballad of Johnny Horton." Rudy also backed the late Bill Browning on all of his recordings, including "Dark Hollow." Sympathy cards can be sent to his son: Randy Thacker, 11018 Maize Lane, Houston, TX 77041. 713-896-7013

---
Legendary Shack*Shakers to tour Europe with Robert Plant
Nashville-based rockers, th' Legendary Shack*Shakers, have recently received an invitation from, of all people, former-Led Zeppelin singer Robert Plant to open for him and his band, Strange Sensation, across Europe this fall. "He called me while I was up visiting my mom," Shack*Shakers' frontman/harmonica player Colonel J.D. Wilkes said. "She answered and hollered down 'JOOSSHH! Telephone!' I picked it up and I was talking to the man himself. She actually has no idea who he is, bless her heart." Wilkes was personally offered the European bus-tour (which starts in Paris France at the famous Olympia Theatre) just a few months after having opened for Plant at this years' South By Southwest music conference in Austin Texas. Both bands rely heavily on blues music, which "makes for a good fit", Wilkes said. Th' Legendary Shack*Shakers are probably best known for their gecko-friendly sound heard on a certain, famous Geico television commercial...the one where the driver cruises the backroads while wearing sunglasses. For more information on th' Legendary Shack*Shakers, visit www.theshackshakers.com
The newly-confirmed tourdates are as follows:
NOVEMBER 2005
WED 9 - PARIS, FRANCE (OLYMPIA - cap: 2,574)
THU 10 - CAEN, FRANCE (ZENITH - 3,000)
SAT 12 - RENNES, FRANCE (MUSIKALL - 3,000)
SUN 13 - BORDEAUX, FRANCE (LE MEDOQUINE - 2,500)
TUE 15 - TOULOUSE, FRANCE (SALLE DE L'UNION - 2,500)
WED 16 - MARSEILLE, FRANCE (DOCKS DE SUDS - 2,500)
FRI 18 - NICE, FRANCE (NIKAIA - 2,500)
SUN 20 - LYON, FRANCE (TRANSBORDEUR - 1,500)
MON 21 - DIJON, FRANCE (ZENITH - 3,000)
THU 24 - FRANKFURT, GERMANY (JAHRUNDERTHALLE - 4,800)
FRI 25 - MUNICH, GERMANY (TONHALLE - 2,400)
SUN 27 - FLORENCE, ITALY (SASCHALL - 2,500)
TUE 29 - PORDENONE, ITALY (SPORTHALL - 3,500)
WED 30 - MILAN, ITALY (ALCATRAZ - 2,700)
DECEMBER 2005
SUN 4 - LONDON, UK (HAMMERSMITH PALAIS - 2,500)
TUE 6 - LONDON, UK (FORUM - 2,000)
WED 7 - LONDON, UK
FRI 9 - DUBLIN, IRELAND (OLYMPIA - 1,600)
SAT 10 - DUBLIN, IRELAND (OLYMPIA - 1,600)
MON 12 - WOLVERHAMPTON, UK (CIVIC - 3,000)
TUE 13 - WOLVERHAMPTON, UK (CIVIC - 3,000)

---
EVERLY BOX SET TIP
Bear Family is now advertising the Everly Brothers Warner Bros box-set (7 CD's) on its website, which probably means that the set is in an advanced stage. Release was originally scheduled for December, but might be a little earlier now.
http://www.bear-family.de/mailorder/showoneproduct.html?lang=de&p=BCD+16511

---
WORTH A CLICK: LARRY DOWD: Rockabilly wonder of the '50s returns to the spotlight after a long gig as a Cherokee plumber

---
FROM LINDA GAIL LEWIS:
"Hey Everybody, I'm really looking forward to seeing you all at the celebration of Jerry Lee's birthday in Holland on September 16 !!! We have a lot to celebrate this year, now that Jerry is finally being recognized for his great talent. I'm so excited about his new album, and I had tears in my eyes when I saw him get his award on tv. I'm ready to rock and I know the band is as well. Come on out and rock with us. Love To All," Linda Gail

---
WORTH A CLICK: ANDY ANDERSON: Rockabilly pioneer still playing the part [They spelled Bob Timmers name wrong ;-)]

---
WORTH A CLICK:
Vintage Guitar: Albert Lee
---
Vassar Clements Dead at Age 77
Vassar Clements was an extraordinary fiddler, a self-taught virtuoso who appeared on more than 2,000 albums and also played viola, cello, bass, mandolin, guitar and tenor banjo. Clements died Tuesday at his home in Goodlettsville at age 77 after a battle with lung cancer.
Clements, who was born in Kinard, S.C. but grew up in Kissimmee, Fla., began playing as a seven-year old and never had a formal music lesson in his life. His association with the legendary Bill Monroe initially established his reputation in bluegrass circles.
His work bridged a variety of styles, including country, jazz, bluegrass, rock 'n' roll and classical.
Mr. Clements recorded with artists as varied as Johnny Cash, Bonnie Raitt, the Grateful Dead, Bruce Hornsby, the Byrds, Woody Herman and the Nitty Gritty Dirt Band. He even once recorded with the Monkees ‹ by happenstance. He was working on a recording session when someone asked him whether he wanted to stay and play on another one. "I didn't know until later it was the Monkees," he said.
Vassar had recorded several times at
Burns Station Sound, where the Rockabilly Hall of Fame® office is located.

---
Detroit's Rock n Roll Riot on August 11 photos are posted here: www.rock-n-roll-riot.com.
---
CHARLIE FEATHERS SONG IN JOHNNY CASH MOVIE
Wanda Feathers informs us that her father's recording of "Defrost Your Heart" is being used in the new Fox film on Johnny Cash - "I Walk the Line". Visit Charlies's site: www.charliefeathers.com

---
DALE HAWKINS NEWS
The Oxford American Southern Music issue is on the stands now!! Fabulous essays on Dale Hawkins, Elvis, Buddy Holly, Cowboy Jack Clement, Loretta Lynn, Ricky Skaggs, Johnnie Lee Wills, and many others. Included with the issue is a 29 song CD with a song from each of the featured artists. Dale Hawkins will perform at the Old State House Museum in Little Rock Thursday, August 25 at 7:30 for a Launch Party sponsored by the Oxford American and the Old State Hosue Museum. (Some might remember the Old State House Museum hosted a marvelous, long-running music exhibit "Gonna Send You Back to Arkansas.") Check Dale's website for more information: http://www.dalehawkins.com

---
DRUMMER CARLO LITTLE DIES
It is with great sadness that we have to inform you of the passing of the legendary drummer Carlo Little. Carlo passed away at 2.05am on the morning of the 6th August 2005 at St. Claire's Hospice in Jarrow, Tyne & Wear. Carlo was only 67 years old and had suffered from cancer in the latter part of his life.
He was best known as the drummer with Screaming Lord Sutch and the Savages from 1961 to 1970. He started his career with the Rolling Stones before Charlie Watts joined the band. In 1963 Carlo joined the Cyril Davies group. He also taught the late Keith Moon of The Who how to play the drums. Carlo played with numerous bands over the years and had many lifelong friends. Please read the life story of this legendary drummer on his website at www.carlolittle.com. We will miss him so much he was a lovely bloke and a good friend. Our thoughts go out to Iris his wife and his family at this sad time. - In sympathy, Dell & Karen Richardson (Radio Caroline).

---

On October 4, Sony BMG Strategic Marketing Group will release Hitstory, an 80-track, three CD set of Elvis's chart hits. Spanning his entire career from 1954's "That's All Right" to 1976's "Way Down," this deluxe three-disc set combines two landmark collections of Elvis's indispensable smash hits with a brand new compilation of more essential Top 20 singles.

---
WORTH A CLICK:
Summer in the Park show will relive Rockabilly
---
LADYFEST ANNOUNCED! ... will include Wanda Jackson.

---
---
WORTH A CLICK:
LADYFEST ANNOUNCED! ... will include Wanda Jackson.
---
---
EDDIE SCHULER Sr. R.I.P.
Founder and owner of Goldband Records, Eddie Shuler Sr. passed away on Saturday, July 23rd in a a hospital in Atlanta, GA. He was 92. See: http://www.billybop.be/styles/cajuncorner/cajuncorner.htm for more information on Eddie.

---
LONG JOHN BALDRY R.I.P.
VANCOUVER (July 2005) -- Vancouver-based blues legend Long John Baldry has died after a four-month battle with a chest infection, his agent said Friday on the musician's website. The 64-year-old musical giant was admitted to the intensive-care unit of a Vancouver hospital in April after returning from a trip to his native Britain with respiratory problems.
Baldry is credited as one of the main forces in British blues, rock and pop music in the 1960s and first hit the top of the U.K. singles charts in 1967 with Let the Heartaches Begin. He has released over 40 albums.
Baldry, nicknamed Long John because of his six-foot-seven-inch height, had been living in Canada for most of the past 25 years. He has performed and recorded with such top rock 'n' rollers as Rod Stewart, Elton John, Charlie Watts and Mick Jagger. The Rolling Stones even opened for Baldry in London during an early performance in the 1960s, before the band became a household name.
The British press reported that Stewart considered Baldry a mentor, and was at his bedside when he was first admitted to hospital after he fell ill in March. There were reports Stewart even helped to pay his ailing friend's medical bills. Baldry claimed blues legends like Big Joe Turner, Muddy Waters and Chuck Berry as his earliest musical influences.

---
WORTH A CLICK:
X marks another side trip to roots music. The Knitters embrace Americana with their rockabilly tunes.
---
---
Adam Spellicy Reports:
(July 23, 2005) - Hi folks, just thought I'd let you all know that my Gene Vincent biopic script "Race With The Devil" (based on Sue Van Hecke's 2001 biography) won 2nd prize in the 2004 Nashville Screenwriters Conference screenplay competition.
Since then, it has been sent to around 20 production companies in the US, and I have garnered a lot of interest in the project from some very interesting people: actors, directors, producers. There have been some very positive developments recently, and I'm hoping to post some more definite and exciting news here soon.
I have been working on this project for 4 years now (14, if you include the decade I spent dreaming about writing it!).
I'd just like to extend a personal note of thanks to Derek Henderson for putting me in touch with Sue Van Hecke several years ago - it's been a very interesting ride so far, and you gave it the initial shove! You can read about the competition win here: http://nashscreen.com/nsc/successstories/ - Adam

---

For those of you visiting Bakersfield, here is a current list of nightclubs showcasing Live Country music:

Buck Owens Crystal Palace
2800 Buck Owens Blvd.
(661)328-7560

Ethel's Old Corral Cafe
4310 Alfred Harrell Highway
(661)873-7613

Kern River Belle
100 North Chester Ave.
(661)392-9002

Rockin' Rodeo
3745 Rosedale Hwy
(661)323-6617

Tejon Club
117 El Tejon Ave.
(661)392-1747

Trout's Nightclub
805 North Chester (661)399-6700

Vinny's Bar
2700 S. Union Ave.
(661)835-7444

---
SONNY BURGESS' SON
July 18, 2005 - I just got word to day from Sonny Burgess that they have found the body of his son who drowned the weekend of the fourth. They had been searching since the 3rd of July. Sonny got the news after he and I returned from doing a show in London. He alledgely drown on the 2nd or 3rd of July. He was found in Lake Hamilton near Hot Springs, Arkansas. I think his burial will be in Newport, Arkansas, his home town sometime Thursday. Sonny said that he was very thankful for your prayers. -Billy Lee Riley
NEWS REPORT: 7/19/05 - The body of a missing Hot Springs man has been found by construction workers on the shore of Lake Hamilton. Newport native Payton Burgess, 40, was found yesterday, two weeks after he disappeared and was presumed drowned.  Police say Burgess was driving a party barge on the lake and dropped off a friend after a fireworks display.  Fishermen found the empty barge four hours later, trolling and moving in circles. Police suspected Burgess fell off the boat and drowned. Divers searched for Burgess, but had no success.  Burgess' body was found a half-mile from the search area. Burgess is a graduate of Newport High School and the son of Newport-based musician Sonny Burgess, who gained moderate fame in the fifties as a rockabilly star.

---
www.billsterlingpickin.com
---
AMERICANA 2005
Go to THE JACKSONVILLE-AMERICANA website to view over one hundred auto pics etc. recently posted. With another five hundred to go it certainly an eye-opener for those of you who were there or couldn't attend for what turned out top be the hottest and most successful event ever. www.jacksonville-americana.piczo.com

---
---
CRY-BABY ON DVD
Johnny Depp couldn't have had better initials to star in Cry-Baby, a musical comedy about greasy-haired punks vs. clean-cut squares in '50s Baltimore. From James Dean to Juvenile Delinquent, you were a cool cat if you were a JD back then. The first studio movie from writer-director John Waters, 1990's Cry-Baby is out of print on VHS and was not available on DVD ‹ until now. Cry-Baby hits stores today in a director's cut edition. Extras are minimal but juicy. Besides Waters' commentary, seven minutes of deleted scenes include a lively battle of the bands and an absurd, smutty photo shoot.
"Cry-Baby"'s documentary about the making of the film includes a couple of interview segments with D.J. Del Villareal (filmed at VLV two or three years ago). He also gets thanked in the credits! Way to go, Del!

---
CHRIS SCRUGGS DOES IT ALL! His new "Honky Tonkin' Lifestyle" CD doesn't have a clinker on it. The sound is very refreshing with young Chris (the grandson of Earl Scruggs) bouncing between rockabilly and honky tonk. He's on to something! Buy one ... we did. More info here.

---
BIG AL DOWNING R.I.P. From the Big Al Downing website:- We regret to inform you that on July 4th, 2005 at approx. 6:45pm, country music legend and Rockabilly Hall of Famer, Big Al Downing, passed away from complications stemming from Leukemia. Please keep his family in your prayers. Big Al's music and warm personality shall surely live on forever!

---
Leslee "Bird" Anderson. just one of the many talented performers who appeared at David Loehr's 13th Annual Rockabilly Rebel Weekend (June 23-25) in Indianapolis, IN. Watch for Barry Klein's RHOF complete review of this event coming soon.
Photo: Dave Hermsen

---



TIDBITS: ARCHIVE #10 -- NEWEST ARTICLES

TIDBITS: ARCHIVE #9 --

TIDBITS: ARCHIVE #8 --

TIDBITS: ARCHIVE #7 --

TIDBITS: ARCHIVE #6 --

TIDBITS: ARCHIVE #5 --

TIDBITS: ARCHIVE #4 --

TIDBITS: ARCHIVE #3 --

TIDBITS: ARCHIVE #2 --

TIDBITS: ARCHIVE #1 -- A BIG FILE