John Carter Cash and
New Wife Expecting a Baby
Johnny Cash's only child with June Carter Cash is set to become a father for the fourth time.
John Carter Cash is expanding his family with a little girl, due in mid-September (17). "My wife Ana Cristina and I are so blessed to announce a new addition to our family," the 47-year-old tells People.com. "We are grateful to all of our friends and family for their continued support."
John made Ana Cristina, 31, his third wife in October (16), and while the baby will be the couple's first, he is also father to 21-year-old Joseph John, from his first marriage to Mary Mabry, and Jack, 11, and Anna Maybelle, 15, with his ex-wife Laura Weber, who he divorced in 2013.
John is the youngest of late country legend Johnny Cash's five kids. He fathered four children with his first wife, Vivian Liberto, before marrying fellow singer June in 1968.
Posted 16th April, 2017 - © WENN Newsdesk


---


Billy Miller RIP
December 2, 2016
From: Dominique "Imperial" Anglares
I just learned from John Broven in "Now Dig This" about the passing of Billy Miller on November 13th at the age of 62 from natural cause. Billy Miller was one of a kind and with his wife Miriam he bring us "Kicks" magazine in 1978 before going into the record business in 1986 with "Norton" Records. Billy Miller fronted The Zantees and A-bones but Norton was his priority. Billy has gave us some stunning records by Art Adams, Gene Rambo, Gene Vincent, Johnny Burnette, Ron Haydock, Don Covay, Jimmy Lee Fautheree, Bob "Git" Kelly, Herbie Duncan, Charlie Feathers, Benny Joy and most of all a terrific LP dedicated to The Lonesome Drifter. Billy left behind a huge work and will be remembered like a "real cool crazy cat" ... We can Thank him for the hard work he had done to feed us with these great pieces of wax! Without him we will never had a legal and stunning LP by The Lonesome Drifter from Shreveport or by The Wailers to name two great releases. He will be missed by many from Art Adams to Johnny Powers and Gene Maltais!
  Warmest regards from your french friend. Dominique

---
---

Gladys & Eddie Bond with Faron Young



A Tennessee Sweetheart Has Gone
Posted November 11, 2016
Very sad news to know about Gladys Stephens Bond's recent passing.
Back to civil life late 1951, Eddie Bond assembled again a combo and started to work locally as Eddie Bond and the Western Swing Band. Later, but not before 1953 and after few members change, the group became The Stompers probably on Johnny Fine's proposition. Eddie took a steady job at M.L. Campbell & Co, selling paints and varnishes. His Dad was working on the same company located at 884 South Cooper Street (Memphis) and they later bought the full shares. For a while, Charles Holley played guitar as member of the Western Swing Band, while his sweetheart Sue, sung with Gladys Stephens as The Tennessee Sweethearts. That female duet worked with Eddie unit singing some Davis Sisters' popular songs.
Jody Chastain, born in Ennid (TX), and Fuller Todd, who had a 30 minutes spot on KWEM, were hired by Eddie after an audition. They had them own part on the show playing songs borrowed to The Louvin Brothers, Jody taking Ira's parts and Fuller doin' Charlie duties. We are lucky enough to have the song list for a show played at The Sunshine Movie Theatre in Cherry Valley, Arkansas, on August 4, 1953. Let's stroll on it if you like. Reggie Young played "Pan Handle Rag", "Cimarron Boogie", "Sugarfoot Rag" and "Bells of St Mary", Gladys sung "I'm Waitin' For Your Letter", "Dear John" (with Eddie), "I Forgot More Than You'll Ever Know" (with Fuller), "No Help Wanted" and "Is That You Myrtle" (with Eddie and  Jody), Jody Chastain played "Jody's Jump", "Spanish Song", "Harbor Lights" and "Steel Guitar Stomp". Fuller Todd sung "I Have Waited Too Long", "Let's Make The Long Way Home", "If I Should Love You" and "I Can't Wait Till The Sun", while Eddie goes on "So Sad To Loving You" and "I Dreamed About Mom". Most of these songs were hits of the time made popular by Faron Young, The Carlisles, The Davis Sisters or Ferlin Husky & Jean Sheppard. It's interesting to remember Elvis trying to work out "Harbor Lights", a hit for Bing Crosby and Guy Lombardo in 1950, at Sun's location on July 5, 1954.
Gladys, a beautiful blue eyed and blond haired dolly, worked for Southern Bell Telephone Company being a switchboard operator for the Baptist Hospital in Memphis. Gladys and Eddie married on September 12, 1953.
  Warmest regards from your french friend.
Dominique


---


Jason D. Williams
Courtesy: Lowell - Sun, July 27, 2016
Jason D. Williams was born in El Dorado, Arkansas, in 1959, at the end of rockabilly's golden era. He has helped to keep the 60-year-old tradition of rockabilly alive and kicking, performing with the spirit of the young Southern musicians who combined blues, gospel, and hillbilly music, with swaggering vocals and aggressive, rocking guitar and piano.
He started playing piano at age 2, and at 16 quit high school to join rockabilly legend Sleepy LaBeef's band. From LaBeef he learned hundreds of songs from blues, gospel, country, R&B, and beyond, and how they could be transmuted into revved-up rockabilly. He then went to Memphis, the hotbed of rockabilly where Elvis Presley, Jerry Lee Lewis, Johnny Cash, Carl Perkins and Roy Orbison recorded classics at Sun Studio. It was there that Williams recorded two albums.
While he acknowledges the influence of Jerry Lee Lewis, Williams' respect for rockabilly's tradition runs to its deep roots. "I'd watch 'Hee Haw' and see Moon Mullican put his foot up on the piano, so I'd do that. Of course, once you do that, the comparisons to Jerry Lee come right in," he says. "But truly, it was Moon Mullican who did that first."


---

THE EVERLY BROTHERS
Deux enfant du rock
ALAIN FOURNIER (Edition Camion Blanc)
(Book in French) Here came from France, the definitive study about Don and Phil Everly's musical journey. A first, lighter version was published by the same author 23 years ago but since lotsa facts and informations has surfaced, meetings has been done, alternate recordings has surfaced on Bear Family, Billy Harlan has come to Paris and Phil has gone to Paradise. It was time to reshape and update that first work of appreciation. Alain Fournier was a die-hard fan of the Everly Brothers long before first meeting in Paris in April 1965. In 1976, he worked on a special issue of "Big Beat" dedicated to The Everly and in July 1980 he travelled with Don Everly and Wanda Jackson enjoying a Marlboro Country tour in France. That very easy going cat sure know about his subject and had a ball writing these 519 pages.
Two chapters are dedicated to the musical roots that will lead Don and Phil to record "Songs Our Daddy Taught Us" in 1958. Here comes some Mulhenberg County, Kentucky, heroes like Ike Everly, Mose Rager, Kennedy Jones, Merle Travis. Hard times, coal mine and company store. Next came the years spent in Shenandoah and the family work on radio before the two brothers moved to Nashville where they secured a short time contract with Columbia records. Being dropped after a single release, it was the starving time until they were signed in 1957 by Cadence record, a pop label from New-York. Did you know Elaine "Scooter Bill" Tubb, Chet Atkins and Dave Rich did their best to help them? "Bye Bye Love", a song rejected by Johnnie & Jack, Gordon Terry and Porter Wagoner, will be their first hit. The song was covered by Webb Pierce, Ray Charles and ... Johnnie and Jack. On their own side they covered brightly songs from Gene Vincent, Little Richard and ... Ray Charles. We had good infos about their work with Archie Bleyer and Wesley Rose and the reasons that lead them to move to Warner Brothers in 1960. It was a big financial deal but also risky move 'cause that label was just starting to sign rock 'n' roll acts. "Cathys Clown" was the answer and that challenge was won. The 60's with their wind of changes are well documented and help to understand why Phil and Don split in 1973. The second half of the book lead us to the Reunion concert in 1983 and through the later years. The book, with many black and white illustrations and pictures, ends with a LP discography.
That book is very easy to read and could be enjoyed like a wonderful travel through the time and the rich musical heritage from Kentucky. It is not only about music but also about the times, the folks and the social changes in USA and France. Thats not only a story about two talented guys with long hair but also about their influence on the authors life. The Everly Brothers not only awaked Little Susie ... a lot of teenagers were devoted to them and their sweet harmonies were the musical inspiration for many artists. A good purchase for those of you who can read french. I know there's a lot from Louisiana to Canada!
Dominique "Imperial" ANGLARES
July 7, 2016


---

SUGARTIME...
THE SWEET AND STICKY LIFE OF COUNTRY MUSIC LEGEND CHARLIE "SUGARTIME" PHILLIPS
CY CUSHENBERRY (SUGARBERRY PUBLICATIONS 2016)
Born the fifth child of Texas famer, Charlie Phillips stumbled into one of the longest careers in country music history. With only one massive hit, Charlie spent a lifetime playing to live audiences and working with some of the most talented men and women in the business. He made appearances on the Louisiana Hayride, The Grand Ole Opry, The Big D Jamboree and The Ozark Jubilee. He recorded at the Bob Tucker garage studio with its own band a first attempt to his "Sugartime" and "One Faded Rose" before a second try at the famous Norman Petty studio where he was backed by Buddy Holly and Jerry Allison. Both songs were issued on Coral at in November 1957 but "Sugartime" was quickly covered by The McGuire Sisters in a more pop style. That cover, also on Coral, killed Charlie's record and sold all around the world. Around Christmas 1957, Charlie returned to Norman Petty's studio, and next to New-York, to cut "Be My Bride", a good mover but nothing happened. In 1959, he moved to Columbia after having leased to them "No More Sugartime". Several sessions for that label were set in Nashville from 1961 to 1963. More sessions followed for Longhorn, Reprise, K-Ark, Artco, Spirit, Oak, Rimstone until 1987.
Charlie Phillips was a radio man since his teenage days on KCLV radio located in Clovis. He moved to KZIP in Amarillo and became WSM's Mister Deejay USA in 1962. He may have played the wrong card when he refused to move in Nashville in 1965 but after all he's ... Texan!
The book tells about Charlie roots and family, his teenage days in Farwell (Texas) selling pedigree dogs, his association with Odis "Pop" Echols (formely with The Stamps Quartet) who became his manager, how he bought a plane in January 1959 experiencing many near misses and collisions, his first trip in New York discovering "cab", his work on tour with some great names and in the musical hang out around Amarillo, John Beecher's visit in Clovis.
There's also an index with biographical note for all the Sugartimers and musical partners over the last 60 plus years including Jack Bailey, Billy Briggs, Don Guess, Bobby Hughes, Dudley Hughes, Shorty Messer, Jimmy Schell, Larry Trider and more. Cy Cushenberry grew up in the music-rich Panhandle of West Texas. He is an actor, author, artist and photographer, not a musical researcher. The book may carry some slight mistakes but the value came from the author's style. It makes that book very easy to read of offers a great trip through the time and ... Texas music.
Dominique "Imperial" ANGLARES
July 6, 2016


---

Billy Harlan - "Boppin' at Studio B"
Muddy Roots Records no number
Billy Harlan returned to RCA studio B after a 57 years hiatus to cut again his classic "I Wanna Bop", originally issued on US Brunswick 55066, but also five more songs all packaged on that neat gatefold EP hosting two singles. It is quite a nice surprise to have Bill playing with his long time friend Royce Morgan handling the guitar work and a fine gang of back up singers. The session was set on December 9, 2015 and six songs were cut in the row in the old fashioned ways. I had never been much a fan of vocal back up à la Anita Kerr but here everything fit to Billy's style and definitively add value. "Never Been Kissed" and "This Lonely Man", two 50s compositions, bring you back to the prom ready for necking. "Boogie Woogie Rock and Roll Man" is a strong rockin' tune with piano. Come on and enjoy to meet Billy's folks, a Go Go Queen and a Red hot guitar man. Quite not true but it makes a good song. "I Ain't Elvis"  is a great rhythmic song in pure Elvis' fashion. Great work on drums and sharp guitar/piano support. "Be Boppin' Annie" moves gently and Roy Kyle pump his ivories from the start to the end. It is obvious than Billy is enjoying himself being proud for the work done with its gang of friends. Its a long way from Mulhenberg County to Nashville, it's a long road from 1958 to 2015 but the music is still played on vinyl and the Kentucky still has the flame burning. A welcome release by a very nice man who make clear that after 57 years, the bop still hasn't stopped.
  Dominique "Imperial" ANGLARES
May 14, 2016


---

Cherry Divine - "Ain't No Fool"
Here's a nice little rockin' CD by a Aussie red headed gal who like to play rock and roll and make you move. High heel red shoes, hair done up with curl and tattoes, playing double bass and guitar, she's got it but what did we got? "Baby Plays Bass" is a nice little tongue in cheek catchy tunes with double bass ands be bop beat. "Fakin' I" has a great guitar drive, lotsa breaks and few growl while "Vintage Pin-Up Girl" is a cool relaxed ditty about these 50's spirited classy gals we like so much. A nice tribute to all the female who loves rock-a-billy music and go to 1950's pin-up clothes shop. "Crazy" is not the famous Patsy Cline's song and "I Need A Man" is not Barbara Pittman's classic but two very nice movin' songs with some fine guitar licks played by Peter Baylor. The bluesy "Ain't No Fool" and "Brand New Tatto" probably talk about personal experience. Love and break up ... "Don't Ya" is a great rocker that bops a lot and could have suit to any 50's rockin' female from Janis Martin to Wanda Jackson. "Rockabilly Chick" is a nice tribute to gals who grew up to be rockabilly chicks. Nice be bop drum beat from Tom McEwan. "Junior in Love" is a good rocker followed by "Mean Evil Woman", a good walking tune about a kind of Jezebel. She sure look fine, beaware! "Rockabilly Dance" bops gently with some Cliff Gallup' overtone while "Queen of Rockabilly" is a great tribute to Wanda Jackson and all the 50's rockabilly Queens. More nice guitar work and great support by Mal Beveridge (double bass) and Alli Penney (piano) from the start to the end ... A welcome CD with original compositions that stuck with today scene. For sure, rock and roll music is not a thing of the past ... To close lets the rockin' Lady tell ya about herself:
"They call me the Australian Imelda May - with a mixture of Imelda May, Wanda Jackson Josie Kreuzer and my own personal style thrown in, we are bringing original female Rockabilly music to Australia. Starting out as a country singer, I just never quite felt at home, then along came Rockabilly and now I'm right where I want to be - singing up a storm!
Dominique "Imperial" ANGLARES
February 20, 2016


---

Pictured: Imelda May and Darrel Higham for their induction into the "2nd Generation" of the RHOF August 2014. Photo taken at the Galway Arts Festival, Galway, Ireland where they were appearing.


---


Tom Jones on Jerry Lee Lewis
"Whole Lot of Shakin" Going On taught singer Tom Jones how to make a song work
The rest of the story here


---
Franny Beecher & the Comets
by Ritchie Gee
I have always admired great lead guitar players & Franny Beecher was one of the best.

Bill Hayley's original Comets first played at my Tennessee rock and roll club in Tottenham London  in 1995 They then played for me again at the Tennessee club in 1996 it was after that show the Comets ask me to meet them at a hotel in London the following day, we all sat around a big table at the bar, there was Franny Beecher (Lead Guitarist), Dick Richards (drummer), Joey D'Ambrosio (saxophone), Marshall Lytle (double bass), and Johnny Grande (piano) they are  the original 1955 Bill Haley's Comets and all my Hero's. Franny Beecher then said to me we'd like to ask you something Ritchie, Dick Richards, spokesman for the Comets said "Ritchie Gee we played at your Tennessee club & we all like you as a person and the way that you run your club is great and would like to ask you to become our soul UK manager and agent for the United Kingdom.


Well I couldn't believe my ears I had a flashback to the time when I was 15 years old & I would  play their 78 rpm records at my mums house and bop all across the lounge room, and now all these years later Bill Haley's Comet's want me to become their manager it was like a fantastic dream everything went quiet and they were all looking at me which seem like hours I just said one word "YES" they'll all clapped and cheered and ordered me a drink, it was a fantastic honour to be in the company of the most famous rock 'n' roll band in the world.

so I arranged all the tours for the Comets and traveled with them on the road across England, playing at all the best  rock 'n' roll clubs in the UK including, the cavern club in Liverpool and of course the wildest cats in town Rock 'n' roll weekends which is the home of rock 'n' roll, where I arranged for the Comets to arrived by helicopter to the thousands of cheering rock 'n' roll fans, we even flew out with the Comets to Northern Ireland and they also playing on a cruise ship touring the Mediterranean, Italy, Ibiza etc .

So from 1996 till today with the help from my lovely Kathy, Frank knuckles, Mad Andy Munday, Big Chris H, we all had a fantastic time touring with the Comets.

It was great 4 Edwardian Teddy Boys (see photo) L - R  Mad Andy Munday, Big Chris H, Ritchie Gee & Frank knuckles organized and traveling with the Greatest Rock n roll band in the world, & we still have dozens of stories to tell some unbelievable & most unprintable.

Having spent many months over the years talking and remermissing with Franny about his early days with The Benny Goodman Band and when a maffia king flew Franny out to South America for a private gig in the 1950's where he met many gangsters of the era.


Franny was definitely a bit of a joker I once took him into a cafe in London and when I returned to the table Franny had in his mouth his Dracula Teeth but carried on talking as normal and said to me that he was just "Goofin' Around" (Franny's1956 record track).

From the fabulous five COMETS we have lost Johnny Grande (piano)  Marshall Lytle (double bass) and now Franny Beecher the famous rock 'n' roll guitarist, but we still have left from the Comets Dick Richards (drums) and Joey D'Ambrosio  (saxophone) Who will be both playing at this years July's wildest cats in town weekend at Pontins Lowestoft UK with special guests Jacko Buddin (lead vocals)

Long live rock 'n' roll - R.I.P Franny Beecher





Ritchie Gee
www.tennesseeclub.net
Mobile  07976 964086


---


Freddy Fingers Lee
It's Ritchie Gee from the Wildest Cats in Town Rock 'n' Roll Weekenders www.tennesseeclub.net

I've just come back from Newcastle upon Tyne we went to the funeral of British rock and roll legend Freddy Fingers Lee who recently died.

I first met Freddie  45 years ago.

He was one of the first rock 'n' roll bands I ever saw it was at the railway hotel in Harrow.

It was a wild night and I loved every minute of it he went to the bar he took out his eye out and put it in a glass of beer and asked me to keep an eye on it. It was a night I will always remember.

He played at my Tennessee club in London many times.

He Also played at the 2nd wildest cats in town weekend in Potters bar I asked him Would he smashed a piano up for me on stage he said he was too old for that now that, but I managed to talk into it and he said that I have to supply the piano.

I managed to buy an old second hand piano and took it to the theatre for him.

When Freddie was nearly finishing his show we couldn't find the AXE so all the staff at the theatre were looking for it then the manager asked me what everyone was looking for so I said a big AXE he said what for so I said Freddie Fingers Lee is going to smash a piano up on stage.

Well he went mad he said not in my theatre The manager open the stage door just as Freddie smash the AXE on top of the piano and it hit the manager right on the side of his head. Freddie continued throwing the piano keys out into the audience.

At the end of the night people were leaving the theatre with blood pouring down their faces and the manager said Who did that to you, and the bloke said it was Freddy Fingers Lee.

The manager phone me up the next day and said Mr Gee will you kindly remove the remains of your piano which you left behide last night and is now in the car park.

I went back to the theatre's car park with my mate Bulldog, to pick up the remains of the piano, just as I was leaving the manager ran down to the van and said Mr Gee you and  Freddie Fingers Lee are BARRED from this theater "GOODBYE"

When I rang Freddie and told him what happened he couldn't stop laughing.

Freddie you're up there now in rock 'n' roll heaven we will always remember you

Rest in peace  Mr Freddy Fingers Lee
Ritchie Gee
The Wildest Cats in Town Weekends
Website: www.tennesseeclub.net


---
Previously Unissued 1950's Recordings

"Art Adams - "A Mess of Blues"
$15 ppd (USA)
$10 ppd EURO (overseas)
Knock Out Records
To place an order, contact: fran8@platinum.ca


---

"The Sensational Guitar Sound of
MARCO DI MAGGIO" - Vol. 1
The new double cd by Marco. 20 tracks, 15 instrumentals, lots of various styles featured: Rockabilly, R'n'R, Western Swing, Country, Surf, Swing and Jazz. Soon available (December 2013) direct from Marco at marcodimaggio@libero.it and by Cd Baby with paypal ... Don't miss it! Stay tuned!!!


---


Big Bopper R.I.P.
It is with great sadness that we must tell you that Jay P Richardson has passed away. After a long hard fight, JP succumbed on the morning of August 21st, at the age of 54.
Known around the world as "Big Bopper JR," JP was, in fact, the son of the legendary rock 'n roll artist, The Big Bopper, who is most well known as the singer of "Chantilly Lace." JP never got to know his dad because he was born some 80 days after his father was killed in a plane crash in Mason City, Iowa, after a performance at the Surf Ballroom in Clear Lake, Iowa a crash that also took the lives of Buddy Holly and Ritchie Valens and became known as "The Day The Music Died."
Jay is survived by his wife Patty, sons Jay Jr. and Thomas, daughter Ashlyn, her husband Kevin Ray Adams, and grandchildren, including granddaughters Hadley and Justine, and grandson Jimmy.
A memorial service was held at Memorial Oaks Funeral Home in Houston Texas.
Please keep JP and the Richardson family in your thoughts and prayers during this time. And if you'd like to send cards of sympathy or other fond memories, please send them to:
Big Bopper Music
P.O. Box 6926
Katy, TX 77491


---


Lost Songs of the Big Bopper
From Joel Kellum. We would like to have your band help finish the Lost Songs of the Big Bopper.  These are the songs that were in the plane crash with Buddy Holly, Ritchie Valens and J.P. Richardson.   Richardson wrote three number one hits!  White Lightning for George Jones,  Running Bear and his own hit  Chantilly Lace.
    Who can ever forget the lines,  "Helloooo Baby...     Yeah this is the Big Bopper speaking...    Ha, ha, ha,  You Know what I Like!"   
  Well we have 20 unfinished songs of this great American songwriter. We need your help in two ways.
    #1 -  Please finish one or more of the songs for us.   Please e-mail me Joel.kellum@att.net and I can send you a PDF of all the songs that were found in the wreckage.  
    #2 - Please send this Kickstarter link  out to your fans and let them know you have been asked to help out in this historic project.   Please post on facebook and your website.  http://www.kickstarter.com. Can we count on your support? Thanks so much. Joel


---

Bill Allen R.I.P.
From Dominique "Imperial" ANGLARES
Judie Snivley, wife of Bill Allen, just broke me the news of the passing of our friend. If I am understanding right Wilfred Allen Snivley jr, passed away on February 22th. That night I was back home on Sunday February 24th at 2.00 am (french time) after enjoying a rock-a-billy concert near Paris. Here I meet some long time friends and broke them the news about Bill's critical condition. They were all sad to know we're ready to loose another of our musical heros and I can tell ya we all goes on ravin' comment about the stunning "Please Give Me Something". A very rare record and one of the best ever released on "Imperial" even if Lew Chudd had Ricky Nelson, Slim Whitman and Fats Domino in its stable. A classic rock-a-billy song on our side of the water since the 70's.


---

BRAND NEW = MUSIC MEMORIES-THE PHOTOGRAPHS OF ALAN CLARK, VOLUME ONE 56 PAGE FULL COLOR BOOK
INCLUDES FULL PAGE COLOR PHOTOGRAPHS OF THE FOLLOWING MUSIC ARTISTS:
DEL SHANNON, LITTLE PEGGY MARCH & DODIE STEVENS, BO DIDDLEY, LINK WRAY, JIMMY BOWEN, DONNIE BROOKS, BIG JOE TURNER, RONNIE DAWSON, JOHNNY RIVERS, ANDY WILLIAMS, BOBBY HATFIELD, CHUCK BERRY, CARL PERKINS, MARY WELLS, JODY REYNOLDS, FREDDY FENDER, BOBBY LEWIS, BRENDA LEE, RICK NELSON, GENE McDANIELS, LESLEY GORE, AL WILSON AND ERNIE VALENS WITH BRENTON WOOD, ETTA JAMES, B.J. THOMAS, GLEN GLENN, MARV JOHNSON, ROY ORBISON, GUY MITCHELL, RON HOLDEN, BRIAN HYLAND, DALE HAWKINS, PHIL PHILLIPS, FATS DOMINO, ROSIE OF THE ORIGINALS, TOMMY SANDS, HUGGY BOY WITH ZOLA TAYLOR OF THE PLATTERS, JERRY BUTLER, JERRY LEE LEWIS & PAT BOONE
ALSO INCLUDES SMALLER FULL COLOR PHOTOS OF THE FOLLOWING:
CONNIE FRANCIS, THE CRICKETS WITH BOBBY VEE AND BUDDY KNOX, TONY ALLAN WITH RICHARD BERRY, GAYNEL HODGE AND EUGENE CHURCH, KATHY YOUNG AND THE INNOCENTS, THE HOLLYWOOD TORNADOES, CARL BUNCH WITH LARRY WELBORN, RICHIE LEE AND TOMMY ALLSUP, LITTLE ANTHONY AND THE IMPERIALS, JOHNNY CASH, TOMMY ALLSUP WITH PEGGY SUE GERRON, LARRY WELBORN, CARL BUNCH & RAMONA & GARY TOLLETT, JERRY WALLACE, LITTLE RICHARD, CARL PERKINS WITH ACE CANNON, BUDDY KNOX, SONNY CURTIS, BOBBY VEE & JOE B. MAULDIN, STAN KESLER WITH PAUL BURLISON, MARCUS VAN STORY, JERRY LEE SMITH, SONNY BURGESS & D.J. FONTANA, STAN ROSS OF GOLD STAR STUDIO, BOBBY 'BORIS' PICKETT WITH LENNY WELCH, DAVE SOMERVILLE & FREDDY CANNON, HANK BALLARD & RUTH BROWN, THE TYMES, THE ORIGINAL DIAMONDS, DODIE STEVENS WITH LOU CHRISTIE & RON DANTE, JERRY BUTLER WITH LLOYD PRICE, JERRY ALLISON WITH GEORGE TOMSCO, DON & DEWEY, GENE VINCENT'S BLUE CAPS WITH BUDDY KNOX AND JERRY LEE MERRITT, ED TOWNSEND WITH PORKY CHEDWICK, FRANKIE FORD & LENNY WELCH, FERLIN HUSKEY, RICK NELSON WITH THE JORDANAIRES, CHUCK BERRY, EUGENE CHURCH WITH JEWEL AKENS & BOBBY DAY, TERRY STAFFORD WITH CHRIS MONTEZ, BILLY SWAN & JODY REYNOLDS, THE DIXIE CUPS WITH FRANKIE FORD.
THESE BEAUTIFUL FULL COLOR PHOTOGRAPHS WERE TAKEN BY ALAN CLARK OVER THE YEARS. MANY SEEN HERE FOR THE FIRST TIME.
YOU WON'T BELIEVE YOUR EYES. TRULY A COLLECTOR'S ITEM. LIMITED EDITION.
ONLY 11.95 PLUS POSTAGE AND HANDLING
POSTAGE AND HANDLING IN THE U.S.-$5.00
CANADA-6.00
OVERSEAS-10.00
IF PAYING WITH PAYPAL SEND TO aclarkarchive@earthlink.net
checks or money orders to
ALAN LUNGSTRUM
1209 SOUTH NEFF AVE.
WEST COVINA, CALIF. 91790


---

Now Available
The Life and Times of Buddy Holly
& The Crickets - Volume Three
172 glossy pages - full color glossy front and inside covers. Book is printed on glossy paper with many color and black and white throughout (60 full color photos). Many surprises, Buddy's final performance, show ads, record reviews and much, much more. If you are into Buddy Holly, you will want this book in your collection.
$29.95 plus postage
Postage & handling in U.S. -- $6.00
Postage & handling to Canada --$10.00
Overseas airmail -- $18
Send payment in U.S. funds to aclarkarchive@earthlink through Paypal. Checks or money orders in U.S. funds also accepted.
Send to:
Alan Lungstrum
1209 South Neff Ave.
West Covina, Calif 91790
For more information go to www.aclarkarchives.com


---
What do Bob Dylan, Feetwood Mac, George Strait,
Ray Charles, Roy Orbison and John Fogerty have in Common?
Billy Burnette
Born in 1953 to Rock N Roll Royalty, Billy Burnette is the "billy" in "Rockabilly", Billy Burnette's New CD Rock N Roll With It Because it's about time

"I really felt like it was time. I really like this music. I didn't get into my dad's whole Rockabilly thing until after he died." Billy Burnette is of course talking about his father Dorsey of The Rock And Roll Trio, along with his uncle Johnny. The Burnette's are "Rock N Roll Royalty" with monster hits like "Rock Billy Boogie," 1960's "You're Sixteen," penned Ricky Nelson's "It's Late," and influenced the careers of Elvis Presley and The Beatles.
"I mean that honestly. My dad's music seems to have an energy all its own. This is the style I enjoy playing the most. And we're ready for this. We're giving them what they want. Real Rockabilly!"
Billy should know, he is the "billy" in the term "Rockabilly." Born in Memphis in May of 1953, with cousin Rocky following in June, Rocky and Billy were the inspiration for "Rock Billy Boogie" recorded by their fathers and released by Johnny Burnette And The Rock And Roll Trio in 1957.
After writing songs like Roy Orbison's "All I Can Do Is Dream You," George Strait's Billboard #1"River Of Love," Ray Charles and Bonnie Raitt's "Do I Ever Cross Your Mind" (from the multi-Grammy winning Genius Loves Company duets album,) being nominated Best New Male Vocalist by The Academy Of Country Music in 1986, eight years as a member of Fleetwood Mac, touring guitarist for Bob Dylan and John Fogerty, releasing many of his own albums, and supplying music for some best loved television shows and movies, Billy Burnette is back with a long overdue traditional sounding rockabilly CD entitled "Rock N Roll With It."
"I came up with the name; it was just a riff I kinda liked. I wrote the title track, it says it all really. Just go with it, let it go. It should be easy to roll with some good music." It's also the name of the recording label he's started for this record. "There's a theme. It's a good time, let's put on some rock and roll. This describes, for the first time in a long time, who I really am and where I'm at musically."
"Only the River Knows," a beautifully moving ballad sure to catch some attention. It's being used in the movie Blue Crush 2. "It's kind of my tribute to Roy Orbison. It's personal for me. It's one of my favorite songs now."
Another one to pay special attention to would be "Hot Rod Hillbilly" which Shawn Camp wrote about Junior Johnson, the infamous moonshine runner and the first Nascar driver. "It's a real hillbilly rockabilly."
Other tracks include "Armed and Dangerous," "Karaoke Queen," "High Rolling," "My Love Will Not Change," "Roller Coaster Ride," and "Keep on Keeping On."
Billy's career began early and he began performing at age 3 with his father's band singing "Hound Dog," and released his first single "Hey Daddy, I'm Gonna Tell Santa on You" at age 7 on Dot Records.
By 13, he was on tour with Brenda Lee. "She was great. I still see Brenda every now and then," Billy says, reminiscing about their USO tour dates in Japan and Hong Kong. He clearly remembers performing in Okinawa. It was the last stop for the troops heading into Vietnam. "There were so many bugs they had to have little lizards in all the rooms, to eat the bugs. I remember that." He even remembers his speech. He'd go on before Brenda Lee, introduce himself, do a few songs including "You're 16, (You're Beautiful, and You're Mine) made famous by his uncle. He memorized the speech in Japanese. It said, "Good evening, my name is Billy. I'm 14 years old, this is my first tour of Japan, thank you for having me..."
"And I'll tell you something else, about one of the only postcards I ever received from my dad." Billy explains his father played Japan a few years later circa 1965. Before leaving he was talking to Billy about wanting to address the crowd respectfully in their language. Billy offered his speech. He said just switch the names.
"Well I get a postcard that says, Beau, he called me Beau. It says, Beau, thanks for the speech. I finally figured out why people were smiling. I was telling them Hello it's my first time in Japan and I'm 14 years old." Billy laughs, but with a genuine reverence.
When Billy is not up on the big screen acting in such movies as Saturday Night Special (which he starred,) The Addams Family, Richie Rich's Christmas Wish, Carnasaur, and Not Like Us, his music can be heard in movies like  America's Sweethearts (Julia Roberts,) Project X (Mathew Broderick,) Vertical Limit (Chris O'Donnell,) Gleaming the Cube, Clueless, Gung Ho, and Summer School, and on television shows like Desperate Housewives. His writing credentials are literally too long to list, encompassing Ringo Starr, Cher, Ray Charles, Alan Jackson, Faith Hill, Tom Jones, Charlie Pride, Jerry Lee Lewis, Josh Turner, Tanya Tucker, Fleetwood Mac, Glen Campbell, Gregg Allman, and The Everly Brothers.
Billy Burnette's Rockabilly Café is in the works, scheduled to open in Nashville this winter, featuring a couple of separate floors for dining, entertaining, and full stage for performances to a largely seated venue. Just imagine who could pop in and take the stage with Billy at any time. This will surely be a place where everyone will kick back and just Rock and Roll With It.

>hr>

Buddy Holly "Rave" Tribute album is so easy to love
&nbsp The timeless songs of a rock 'n' roll pioneer are covered in all sorts of imaginative ways throughout the collection "Rave On Buddy Holly" ( * * * out of four stars, Fantasy), with contributions from Paul McCartney, Patti Smith, Kid Rock, the Detroit Cobras, Cee Lo Green and 14 other notable artists.
Holly wrote and recorded numerous hits before dying at the shockingly young age of 22 in a 1959 plane crash that also killed fellow musicians Ritchie Valens and J. P. (The Big Bopper) Richardson. Holly has influenced countless musicians through the years, starting with the Beatles, who chose the band's name in honor of Holly's band the Crickets. And having the most fun with Holly's music is none other than the Fab Four's Sir Paul, who goes on a wild ride through "It's So Easy." Utilizing distorted vocals, loud guitars and a good-naturedly randy attitude from start to finish, McCartney takes liberties with the song in delightful fashion. Patti Smith goes in the opposite direction with her exquisite, hymn-like version of "Words of Love," slowing down the tempo and delivering the lyrics with hushed but fervent emotion.
Simply but elegantly constructed, Holly's songs are easily adaptable stylistically, whether they're placed in a garage rock setting by the Detroit Cobras ("Heartbeat") or put through soulful, horn-driven paces by Kid Rock ("Well All Right"). A few of the covers are a bit too staid and fail to make a big impression (Fiona Apple's "Everyday" and She & Him's "Oh Boy!"), but overall there's plenty to rave about.


---


Dave Brighton and Rockabilly Radio
Dave Brighton sent this message to the Rockabilly Hall of Fame. We think it is important to our readers.
Rockabilly Radio is hoping to be back on the internet in early June at www.rockabilly-radio.net. We will be streaming with two servers, each with a capacity of 100 listener slots increasing if the need arises and there are enough donations and support to afford the aditional slots. We will continue to be a listener supported station along with apropriate sponsorship from rellevant sources.
For those that previously sent material to Don Freeman please resubmit to the following address:
55B Occupation lane
Sheffiled
S12 4PS
Don Freman, the previous Owner, has not been contactable since November 2010, last contact I had from him was that he had been in Hospital to remove a tumour and caterachs , he said on his discharge in October that the prognosis at that time looked promising for recovery, however I suspect that the reverse has happened and that the Tumour has taken it's course taking him back into Hospital for further treatment or at worst scenario the prognosis may be terminal.
Due to having no access to the existing streams or website at www.rockabillyradio.net I have decided to rebuild the station afresh. Unfortunately I Do not have any acces to the files that were played out on Rockabilly Radio as they would be in Don's possetion which may be wherever he has stored them either at a physical or virual address. My Various attempts at contact by e-mail, Phone, Letter and any means at my disposal have returned a null response.
After I had been with the Station since 2002 Don apointed me as Station Manager in 2010 to oversee the Programing schedule for the DJ shows though I did not have access to placing them in the actual stream time slots. I was also responsible for engaging new DJ's within the criteria that the Station had set.
So in order for artist's, lables and bands to continue to have an internet voice we still invite any new or archive material to be played on Rockabilly Radio. Unlike other Radio Shows that last up to 3 hours on various stations, we are a dedicated station for the Rockin' Genre' playing 24 hours a day intespersed with various DJ shows Monday to Friday with the weekends initialy set for continious streaming of rellevant tracks, nothing slower than a stroll with the occasional exeption.
Apart from some psychobilly we will not be deliberately be competing with stations that have RnR Shows on Tuesday's and Wednesdays as we regard such presenters shows as fullfilling an existing need. However our streams will continue if people want an alternative.
We would prefer to work with, alongside or have an respectfull understanding with those that have previously been "Friendly" with us.
Sponsorship and Advertising arangements can also be discussed to promote your product.
Dave Brighton
Rockabilly Radio


---


Loy Clingman R.I.P. 1923-2011
(Posted Feb 28, 2011) - I first met Loy and Hassie Pearl in 1990 when I decided to get serious about the history of Arizona music.  I tracked Loy down in Mayer, AZ. and he was kind enough to invite me up for a tape interview at his home.  There in his garage was a treasure trove of Viv records and tapes that I knew I had to check out and catalog.  Over the following weeks I would drive up I-17 to the Prescott turn off, sometimes with my Mom, and spend my time in the garage cataloging everything piled on the shelves and on the floor.  My Mom and Hassie would stay in the kitchen and talk while Loy and I went through the boxes and memories in the garage below.  He was always most generous with his time and his stories as we unearthed all of his audio history.   I even spent the night with them a couple of times and I enjoyed the stories over dinner, especially Hassie telling of all the hamburgers and hot dogs she would cook for the bands when they would be recording in Loy's garage studio. This was when the two lived on 50th Drive in Phoenix, and Loy would have to do his recordings in the evenings and on the week-ends as he was still teaching full time.  Plus the two of them also ran a coffee house in Scottsdale, Baboquivari, but that's another story.  Loy's studio was very popular with local singers and bands as it was inexpensive and Loy would produce the recordings and then arrange to have them pressed locally.  You could get as few as 100 copies or more if requested.  Perfect for those bands low on funds, who wanted to make a record to impress the girls at High School.  He would make extra records with blank labels and send them to the bigger national companies in hopes that they would be picked up and maybe have a Top Ten recording.  
Unfortunately for Loy, other than his very first recording as the new co-owner of Viv Records in 1958 ("Need You" by Donnie Owens), there would be no more hits, no financial payback....just high hopes from all who came by to have their music captured on tape.  But it wasn't for lack of trying....there were hundreds of sessions and Loy was the host and cheer leader again and again.  Over the years Loy wrote and recorded dozens of his own songs, his first being an album of songs about The Grand Canyon, produced by Lee Hazlewood in 1955.  He was working there as a tour guide in the early 50's and that's where he met the love of his life, Hassie Pearl.  
In 1995 I compiled a CD box set of many of his Viv productions and as he wrote to me in a thank you letter "Though I was never able to come through with that 'really big' record, at least my tendency toward being a 'keeper' enabled you to replicate for posterity those arguably so-so projects I did do."  
Thank you for being "a keeper" Loy, from each and every one you touched in the studio and in the classroom over the years.   With Love and respect,
John P. Dixon


---

"This photo is from last year at Frannie Beecher's birthday (Bill Haley's Comets) in Bridgeport PA. I believe this was his 89th birthday ... and by the way he is STILL a phenomenal jazz player, and an inspiration to guitarists everywhere in the world! Frannie remains a humble guy, considering the huge shoes he'd been called in to fill twice in his career; in the 40s he was hired as Charlie Christian's replacement with Benny Goodman(!!) and as if that wasn't hard enough- around 10 years later he was hired to take over the lead guitar duties with Bill Haley following the tragic death of another guitar genius; Danny Cedrone. Frannie has retired from the road ... but NOT from life, and the Lord has certainly blessed him with a long active life, with the same wife he has always been married to!"
God Bless Frannie Beecher!
Bill Turner
bluesmokeband@verizon.net


---


A Letter from Mark Lamarr
RE: Shake Rattle & Roll Show
December 2, 2010 - UK - "It's with enormous regret that I have to announce that I'll be leaving BBC Radio 2 at the end of the year, presumably for good. Obviously this means the end of Shake Rattle and Roll.
After having spent 12 years at the station and having done thousand of hours of shows, it has become obvious to me that my services are rather a thorn in the side of the current bosses, so I'm off of my own accord before it becomes someone else's decision. I'd like to take this opportunity to thank everyone who's ever listened to the show, and particularly those who took part in the various petitions to have it reinstated a few years ago. I hope I never let you down.
I worked hard from show one to try and make a varied and entertaining show (i.e not just rockabilly, which I plainly love despite the rather bizarre misconception that I don't), and while I'm fully aware that not everyone appreciated or agreed with my choices, (that's the very nature of a broadcast), I'm sure that even my harshest critics understand and believe that my motives were always pure and good intentioned. I may not have played your favourite record, I may even have played records you hated, but every time I pressed play on the CD player it was because I believed that selection would bring delight to some of you. And I'll bet it did.
I only joined Radio 2 for ten shows; in the last 4 years alone I've played over 1400 different tunes on Shake Rattle and Roll! There's a whole generation that's been exposed to the music we love because of the show (I know this for a fact, they write to me every week) and that is thanks to the BBC.
Radio 2 itself is going through one of its 'popular' phases at the moment, but things do change. There absolutely should be a Rock and Roll show on national radio, and I think everyone who wants one should get in touch with the bosses and the BBC trust. You do pay their wages after all.
It certainly won't be me hosting it, but I'm not asking for sympathy, or praise, or another job. To have hosted a Rock and Roll show on national radio for 12 years is a mighty fine thing to look back on. In the meantime, don't forget Radio 2 is just one option and there are many fine and varied shows on internet stations all over the country, all over the world. They desperately need your support and you desperately need their shows."
-Mark Lamarr

From: Chris Jackson - Americana International
What a big blow to the rock and roll scene that Mark Lamarr who has been a major driviing force in getting rock and roll played on the air waves for a dozen years has been pushed into a corner by the new bosses at the beeb. It is sad that they are not seeing just how much a huge proportion of their listeners (and licence payers) have enjoyed Mark's show over the years.
There are millions throughout the world who love classic rock'n'roll and all had the pleasure of listening to Mark's radio show 'Shake Rattle & Roll' either on terrestrial radio or on the internet. We really need to voice our opinions and let them know that they are way out of touch with the real world... So get those pens & keyboards working lets flood the head office in london (here's the physical address to send your letters to).
The Programme Controller, 
BBC Radio Two, 
London, W1A 4WW
If that doesn't make them re-think the situation then we'll have to go right to the head man himself, its our money they are playing with at the end of the day. Go for it if you really care about the music and its performers, In the hope Mark resurfaces on some other network in the near future, he will be missed I'm sure.

---


Tribute to Gene Vincent and Eddie Cochran, Special 1960 UK Tour, Jubilee Memorial Rock'n'Roll
At the initiative of Philippe Fessard were presented in the space of an extended week-end three concerts at Pagney (Meurthe et Moselle - 19 November), Pierrelaye (Val d'Oise - 20 November) and Etampes (Essonne - November 21 ) commemorating the Gene Vincent and Eddie Cochran tour that began in January 24, 1960. Project that brought together friendly and welcome Thierry Le Coz, Erwin Travis and The New Virginians as performers. The year 2010 with the publication of two books and three concerts, will remain in France as the best Gene Vincent's year since long.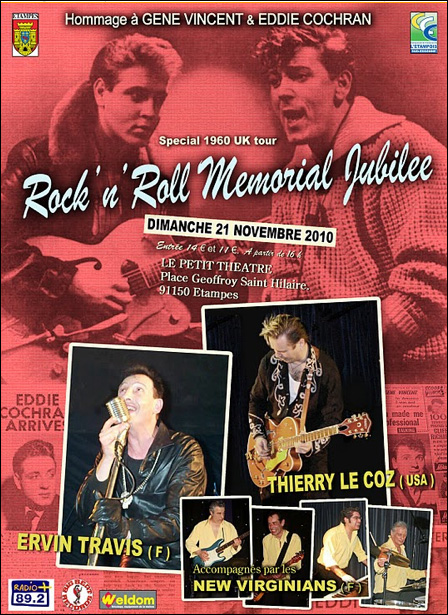 The Etampes' theater built in the 19th century and having a capacity of about two hundred persons (ground floor + 2 balconies) was an ideal place to get closer to concert halls as they were still in the 50's and find the atmosphere of the tour organized by Larry Parnes, who unfortunately took the life of Eddie Cochran. At the entrance, we had the pleasure of receiving a small program which took over the presentation of the original and have the stand Thundersound Records where, besides a large selection of records, was presented the book / LP Gene Vincent "Tribulation a rocker in France and francophone countries" (Gareth McLean). An essential publication as is the recent book by John William Thoury "Gene Vincent - Dieu du Rock 'n Roll".
After a presentation by Marcel Rapp (acting as Master of Ceremony) and a short tribute to Charlie Barbat who left us October 12, 2010, a superb documentary on Gene Vincent and Eddie Cochran, composed of rare documents (photos, memorablia, movies and shows TVs), was screened. Excellent introduction to the show.
The New Virginians once in place (Philippe Fessard- gtr - Damien Daigneau - pno - Fred Kolinsky - dms - Gilles Tournon - bs), Thierry Le Coz appeared backs to the audience, as did Eddie during this tour, wearing the sunglasses, leather pants, tartan shirt and a plaid bolero. Without falling into plagiarism, Thierry and the New Virginians (occupying the place of Marty Wilde's Wildcats) goes on superb interpretations of "Hallelujah I Love Her So," "Milk Cow Blues," "What'd I Say" "Twenty Flight Rock," Sweet Little Sixteen, "" C'mon Everybody "," Have I Told You Lately That I Love You "(all recorded for radio / TV " Boy Meets Girls "and" Saturday Club "). Follow "My Way"," "Pretty Girl", "Teenage Heaven," "Jeannie, Jeannie, Jeannie," "My Love To Remember", "Nervous Breakdown", "Skinny Jim" and "Three Steps to Heaven" and a few other pieces of the repertoire of Eddie. Nothing to add than ... I get my fee ride for the Leeds Empire or The Ipswich Gaumont! What a trip!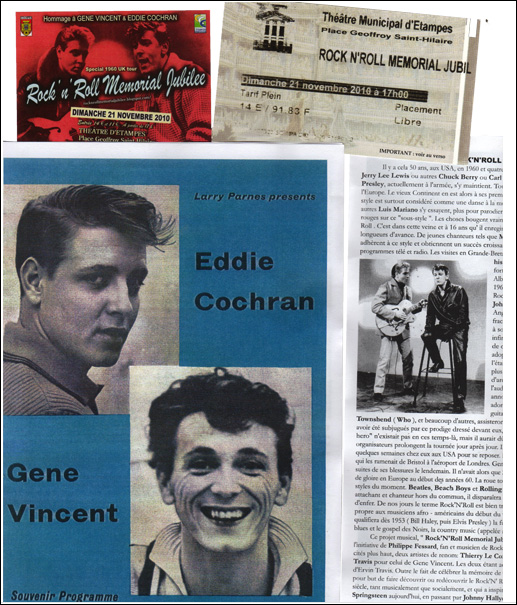 After an intermission of 30 minutes and a change of clothes, The New Virginians (instead of the Beat Boys) wearing satin shirts were back on stage to back Travis Ervin wearing all black leather outfit. As in the first part, the songs sung by Gene in 1960 for "Boy Meets Girls" and "Saturday Club" were taken up brilliantly: "Say Mama," "Summertime," "Rocky Road Blues," "Wild Cat" "My Heart" and, of course, "Be Bop A Lula." Among other songs included "Frankie and Johnnie", "Look What You Gone and Done to Me," "Lotta Lovin '", "Dance to the Bop," "I Got A Baby", "Bluejean Bop," "Over The Rainbow "and a great rendition of " Baby Blue ". Damien Daigneau was excellent at the piano and voice support provided to Ervin by him and Fred Kolinsky absolutely remarkable. Philippe Fessard and Gilles Tounon have as usual added a visual and musical dimension much appreciated. Although both artists to accompany had a different directory and style, the group returned with authentic sound and true style of each. Eddie and its easy going way of life, Gene and its rage to survive!
The two friends found themselves together on stage to close the program performing "White Lightnin '," "Pistol Packin' Mama" and "My Babe". 50 years after this legendary tour with new performers / musicians, magic has functioned perfectly. The New Virginians quality and the vocal talent /showmanship of Thierry and Ervin gave us two hours and half of a rare pleasure.
Hey, There, all you Daddy and Mommy-Os-Os ... Hallelujah! I love them so!
Imperial.
November 22, 2010.
houstonring@orange.fr


---
Album: "The Route Of Time"
Band: The Di Maggio Connection

Singolo/Video: "Don't Worry Baby"
Label: Musical Brain
Distro: Audioglobe
Tracklist:
The Route Of Time - (Di Maggio - Chisci)
Killing Rock - (Di Maggio - Chisci)
Don't Worry Baby - (B. Wilson - R. Christian)
The Toll - (Di Maggio - Chisci)
Drink It Up - (Di Maggio - Chisci)
Road To Nowhere - (D. Byrne)
Everyday - (C. Hardin - N. Petty)
Roswell '47 - (Marco Di Maggio) Instr.
Abduction Blues - (Di Maggio - Chisci)
Worn Out Life - (Di Maggio - Chisci)
Dance Around My Heart - (Di Maggio - Chisci)
The Wildest Game - (Di Maggio - Chisci)
Wipe Out (My Solitude) - (Di Maggio - Chisci)
A Night In Shanghai - (Marco Di Maggio) Instr.
"10th album by Marco Di Maggio and 2nd with the Di Maggio Connection. The Band have performed at the world's top Festivals, worked with many r'n'r legends and collected many accolades from the International press. The bandleader, Marco Di Maggio has been considered as one of the world's top R'n'R guitarists. Working both in the recording studio and live, his technique has allowed him to get the best mix out of the r'n'r genres. His background is an explosive cocktail of Rock, Psychobilly, Surf, Punk'n'Roll, Country & Swing.
The CD contains 11 original cuts, self penned by Marco and Francesco Chisci, plus 3 great remakes treated a la Di Maggio style. Twang, speed, rocking guitars, thumpin' bass and crashin' drums, powerbilly at 360°. The album starts with the Title track "The Route Of Time", an hypnotic Surf/Rock song, powered by strong guitar riffs, an outstanding voice and intriguing backing vocals. It all comes out sounding like the  Psychobilly sound has been crossed with David Bowie and The Cramps! An absolutely great and distinctive self penned track. Following is the new super version of "Killing Rock", another jewel from these many versatile compositions.
A mix of Neobilly, Punk'n'roll & Surf, enriched by the great drummin' of Marco Barsanti. The 3rd track is one of the highlights. "Don't Worry Baby" by the fabulous Beach Boys is one of the greatest love songs ever. It has  received Marco's treatment as a punk/surf up tempo number. This is a great rendition maintaining its unaltered melody and its original appeal!
Other great tracks are "Worn Out Life", "Dance Around My Heart", "The Toll" and "The Wildest Game", all potential hits ... The album is fuelled by a solid, rough, Rock sound of today with a touch of vintage/roots echoes. Between the rockin' tracks there's also room for some great Country, Blues and Surf incursions. Buddy Holly's "Everyday" is another remake completely revisited by Marco in New Country/Rockabilly style. In the couple of guitar solos he shows us a level of guitar playing that puts him in the league as his  heroes Danny Gatton, Brian Setzer and Albert Lee.
Also, In this track, I should like to mention the great slappin' bass played by Matteo Giannetti. Two instrumentals, both in Surf/Spy style, penned by Marco are featured on the album. "Roswell '47" shows off how brand new compositions can outshine old clichés. Tuff and crunchy guitar sound, amazing riffs which remind me of the great soundtracks from the spy movies.
The same for "A Night In Shanghai" which ends the CD with a twangy surf ballad, written by Marco during his last Tour in China. Tarantino and  Rodriguez would smack their lips over this one! Another surprising remake is the sixth track, "Road To Nowhere" originally by David Byrne and the Talking Heads. The big surprise of this album is without a doubt the Jazz ballad "Wipe Out ... my solitude". Another original track where the trio is backed by a small strings section, shows again their undoubted talent with jazzy tones and crooning prowess.   Another great original track is "Drink It Up", a rockin' blues stomp Bo Diddley style and "Abduction Blues, an enjoyable shuffle which is talkin' about some space invaders. Also, to be mentioned is, the great contribution played by the additional musicians, drummer Tony Gambino and Bassist Joe Busalla. Last but not least, the great talent of Francesco Chisci, the long time co-writer with Marco Di Maggio on most of his albums. This album is a pleasant confirmation of the talent of this band and now one of my favourites ever ... "
Rod Pyke - (Uk's Correspondant for the Rockabilly Hall Of Fame®) - London - 2010


---
Renovated Opryland hotel reopens, glitzier than ever.
---
Remembering Don Hopkins & The Hearts: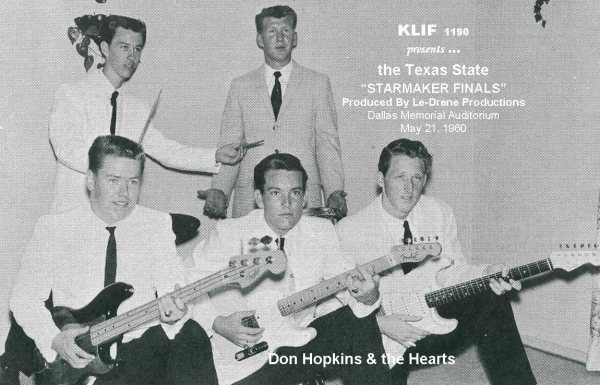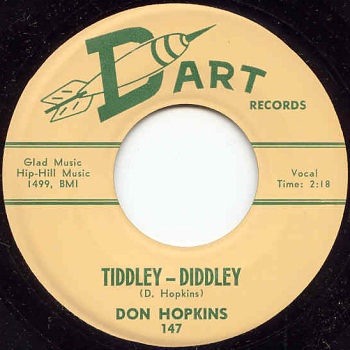 DOWNLOAD SONG - Contact: Claudia Kenngott Bevill - ckbevill@hotmail.com


---


Buddy Holly / Crickets Vol. 2
The Life & Times of Buddy Holly & the Crickets Volume Two is now available. 164 page book with 10 pages in full color. The price and postage is the same as Volume One. $29.95 plus $6.00 postage in the U.S. $8.00 postage in Canada and $16.50 postage overseas. Checks or money orders payable to: Alan C. Lungstrum, P.O. Box 1062, West Covina, Calif. 91793. Paypal accepted. Send payment to my email address at aclarkarchive@earthlink.net. For more ordering information, please go to Alan's website at www.aclarkarchives.com.


---


LETTER TO THE EDITOR: (April 21, 2010)
Help Get Buddy Holly His Hollywood Star
Dear Rockabilly Hall Of Fame,
My name is Kevin Magowan. I live in Los Angeles and work in the music industry in music clearance, licensing and supervision. I am working on getting Buddy Holly his Hollywood Star on the Hollywood Walk of Fame. Its true he doesnt have one. Buddy Holly is the only artist in the first class of the Rock & Roll Hall Of Fame without a Hollywood Star.
The funds have been raised by Buddy's two music publishers and Universal Records for the required $25,000.00 fee to purchase the star. The deadline for the submission of the Walk of Fame nomination form is May 31st 2010. Only one posthumous person will be selected this June for an induction ceremony sometime next year in 2011 which would have been Buddy Holly's 75th birthday. I am a personal friend and associate of Buddy Holly's widow Maria Elena Holly and she is in full support of this effort.  
I've started a Facebook group account through Kevin Magowan called "Get Buddy Holly A Star on Hollywood Walk Of Fame."
I'm coming to you to see if you can help to promote this effort and point your audience to my Facebook to build members that I will include in the submission package to the Hollywood Chamber Of Commerce along with other letters of support around the third week in May next month.  
The selection process is very competitive and we do not know who else is being considered so we want to stand out and make it clear that it is now Buddy Holly's turn to get his Hollywood Star to help insure that his legacy does "Not Fade Away" and will continue to "Rave On." This total Facebook membership would be included in the submission package to The Hollywood Chmber Of Commerce with other letters of support form the industry.
Thank you for your consideration and assistance with this request.  
"Rave On"
Kevin Magowan
Kevin@clearance.com


---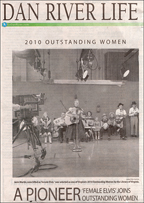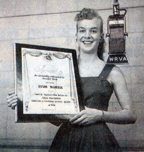 Posthumous Award to Janis Martin
Janis Martin, once billed as the - female Elvis - by RCA has been selected as one of Virginia's 2010 Outstanding Women by the Library of Virginia. Janis is one of eight women being honored in the Librarys Virginia Women in History program.
"The 2010 Virginia Women in History program highlights outstanding Virginia women who saw things differently from their contemporaries, developed new approaches to old problems, strove for excellence based on the courage of their convictions and initiated changes in Virginia and America that continue to have an impact on our lives today" Jan Hathcock, spokesperson for the Library of Virginia, said in a news release.
At the time of her death, her husband, Wayne Whitt, said, "She just had a gift of God that was just out of this world. She would walk out on stage and the place would just go in an uproar".
Janis Martin shares the spotlight with seven other women selected as 2010 Outstanding Women:
Jean Miller Skipwith (1748-1826)
Kate Mason Rowland (1840-1916)
Wade Holmes Adams (1881-1973)
Queena Stovall (1888-1980)
Madison Bailey Furman (1893-1976)
Edythe C. Harrison (1934-)
Marian Van Landingham (1937-)
The honorees will be celebrated at an award ceremony in Richmond on March 25, 2010, according to the news release. Wayne Whitt will be going to the awards presentation. This is a great honor and maybe Janis will be honored in the Cleveland Rock and Roll Hall of Fame some day. Let's hope so. May Janis live forever.
-From Wayne Whitt and Danville Register & Bee


---


Rock and Roll Revue
New Issue #51 is Available
CLICK FOR COVER PHOTO What's better to start the year than a cool rock and roll magazine coming with a free CD?For the first time in his long life, that magazine came with a free CD carrying a cool label logo and, most of all, never issued or rare recordings covering 60 years of great swinging, rockin', rollin', boppin' music from North to South. That CD only comes with the 44 page magazine from France that features a Jerry Lee Smoochy Smith's story, a long tribute to Shelby Singleton Jr done with the help of Phyllis Hill, John Broven and Richard Weize, four pages of rare record covers in full colour, a sharp presentation of Gene Vincent's new vinyl LP "The Two Sides of Gene Vincent" issued by Juke Box Magazine, and much more. Don't be afraid French is not harder to understand that downtown Chicago slang, Clinch Mountain folks speaking or Cajun "Slap Ya Mama" spicy talking. Fully illustrated that issue enjoys everybody who digs the 50's music, but let's talk about that CD. The CD opens with a never issued home recording of Bobby Lollar covering Larry Donn's classic "Honey Bun". That's not really a cover but more a tribute to Larry recorded when Bobby entertaining friends in 1960, somebody switched "on" a Wallensac recorder. That tape with 20 other songs is still in existence and ready to find its way on record. No alternate, no fake ... a real never issued song by the "Bad Bad Boy" from Trenton (TN). Next comes a great late version of "Love Me" by Jimmy Lee Fautheree and Stephanie Starr recorded in Texas for TIMA. "Love Me" issued on "Chess" Records in 1955 is a proto rockabilly cut at first with Wayne Walker. Here Jimmy Lee Fautheree shows you all than time can't fade real talent and how some young female blood can handle that Shreveport's classic cut. Sides three and four come from The Music Highway Band, a great combo from Jackson (Tennessee, and are issued for the first time. We let you put a date on those raw rural boppin' rock-a-billy songs titled "Rockabilly Town" and "Till We Get It Right". After cute Stephanie Starr, comes Laura Lee Perkins, a hot boppin' girl and rockin' legend who recorded for "Imperial" records in 1958, with a live recording from 1961. Then she was member of Tony Thomas & The Tartan and a live LP was recorded and produced by a local DJ. A hard to get piece of vinyl with a great rendition of "Old Mountain Dew'". Last time I heard a Laura Lee Perkins' new vintage recording was in the early 80's when "Detour" issued two sides. Don't miss it, that little woman is a real entertainer who knows how to work right a night club crowd. Next came an unidentified singer goin' on "That's All Right" with a great rural feel and lotsa guitar work before you will stomp your feet with Jaye P. Morgan "Peper Hot Baby". That 1955 song make a deep impact on some teenagers being covered the same year by Justin Tubb and Phil Gray & The Go Boys. Something comes from England with Johnny Brandon The King of Zing "Do You Love Me" issued on CD for the first time.
To start the second half of that CD we welcome Louisiana's legend Al Ferrier with a great demo titled "Annabel" recorded in the early 90's. Next performer Dick "Two Ton" Baker brings us to Chicago with his "Chick-A-Biddy-Boogie" cut for Mercury in 1947. Obviously there was a lot of country hicks  way up North to make a such cut. Dick is followed by another well know swinger Hank Penny doing "Sweet Talking Mama" recorded in 1947 with the great Zeke Turner on lead gtr. A ten year jump brings you to the next song by The Blockbusters issued on an extremely rare EP record issued in French "Barclay" in 1959. To close the CD are a very echoed and primitive bopper "Billy Billy Billy" and a cover of "Cranberry Blues" by a great unknown nicknamed "Wildcat Phil". The last words are left to The Jumping Jaguars with two sides recorded in 1956 for "Decca" and written by Jack Hammer. The connection with Bill Haley's Comets is obvious and those sides will enjoy all the dancers. The CD came in a white plain sleeve and can't be sold without the magazine that carries the front and back cover artwork. These 16 sides showcase the various tastes of all the Rock and Roll Revue contributors and there's a little bit of styles and times for everybody. So take it and git it for only 5.50 Euros. 
To know more about the magazine you can check the followings links: http://bartemon.net/dossiers/dossiers.php?id_dossier -- http://bartemon.net/dossiers/cat.php?val=8.


---


  Teresa Williams Daughter of
Billy Adams Dies at 44
NASHVILLE, TN (January 5, 2010) Teresa Louise Williams, daughter of rockabilly and gospel recording artist, Billy Adams, passed away after an extended illness on January 1 at age 44 at Saint Thomas Hospital in Nashville .  
The Williams family has no insurance, and is in serious need of financial assistance. A memorial fund has been established to benefit the family and tax deductible contributions may be made as follows:  
Send checks made payable to: THE WORD CHURCH, c/o THE GREEN BANK, 4922 MAIN STREET, SPRING HILL, TN 37174. Please write TERESA WILLIAMS BENEFIT FUND on the outside of the envelope and on the memo line of the check.  
Originally from Flatwoods, Kentucky (home of Billy Ray Cyrus), Williams and her husband, Bobby, resided in Petersburg, Tn. at the time of her death. She was a member of The Word Church, of Lewisburg, Tn. where her father pastors.    
Williams' father, Billy Adams, recorded a series of seminal rockabilly songs in the late 1950's, including "Rock, Pretty Mama," "You Gotta Have A Duck Tail" and "You Heard Me Knocking," the latter of which was released by Dot Records, of Hollywood, Ca., in 1958, before his calling into the ministry and becoming a gospel artist.  
At age 17, Williams, began traveling full-time with her family working from coast-to-coast with the ministry of her father, Billy Adams Ministries International. She grew to become one of the most critical parts of the organization, eventually handling all arrangements for the publicity, promotions and advertisements for the ministry's concerts, revivals and church benefits. She also was an excellent drummer for the family's band and recorded on albums for her father and uncle, Charlie Adams.   
In her mid-twenties, Williams followed in her father's musical footsteps by becoming the tenor vocalist for the musical group, "Mountain Harmony" joining her sisters, Tina Maria and Janetta Darlene. In the 90s, the trio regularly wowed audiences with their sweet vocals and stunning harmonies at the world-famous Renfro Valley Barn Dance in Kentucky . They headlined concerts, and backed big-name acts at country fairs and festivals throughout the region and recorded an album of original material, Living On Love. After a successful run, the trio parted ways to concentrate on other areas of their lives and began pursuing careers outside of the music business. "Mountain Harmony" reunited for a final performance in November 2007. Fittingly, the event took place in the hallowed "Hall of Fame Rotunda" room at the Country Music Hall of Fame, in Nashville .  


---
Shreveport's Municipal Auditorium,
National Historic Landmark, Receives Plaque
---

Not Fade Away: The Box Set
The long awaited 2009 Buddy Holly six CD box set from the influential rock 'n' roll legend containing all of his official studio recordings is ready. The 203 tracks range from his earliest recordings when 12 to 15 years old to demos with Bob Montgomery; from his earliest recordings with The Crickets and a set of garage recordings to his first studio recordings for Decca in Nashville; from the Coral and Brunswick recordings and hits that made him famous to his heralded apartment tapes. There are 6 previously unreleased tracks, including most of an August 1955 session, plus another 11 recordings previously unreleased in the U.S. Furthermore, all of the original, locatable undubbed original recordings are here as well as all 57 of the overdubbed versions recorded both in New York City and Clovis months and even years after the 'day the music died.' Available here.


---


Deke Dickerson's 7th Annual
Guitar Geek Festival
A killer lineup this year, including: DUANE EDDY! For tickets and more information, GO HERE.


---


Thurs., 19, Nov. 2009 - New Rockabilly Book Has Been Released
"Catch That Rockabilly Fever"
Order your copy today. They are selling like hotcakes. For U.S. customers, you can buy it at www.mcfarlandpub.com for $39.95 plus $5 shipping, and they'll ship immediately. Outside of the U.S., you can buy it from Amazon.com (prices vary), and they'll ship soon. They are temporarily out of stock, but they will have more within ten days.                                
Catch That Rockabilly Fever by Sheree Homer is a candid account of life on the road and in the studio with '50s legends and today's talent. These are personal stories told by the artists themselves. It will have never before seen photos(strictly 50's photos of the legends) and rare stories from the artists themselves. Catch That Rockabilly Fever will be approximately 350 pages in length. It will be unlike any other rockabilly book on the market since it will include some of today's hottest young talent plus have interviews with 50's backing musicians and engineers for the first time, such as James Kirkland (Bob Luman, Ricky Nelson), Richie Frost (Ricky Nelson), Steve Handford (Bobby Lee Trammell), Tony Austin (Rock and Roll Trio), Stanley Walker (Ray Smith), Bobby Poe (Wanda Jackson), Vernon Sandusky (Big Al Downing) and Bob Sullivan (KWKH/Louisiana Hayride).
Artists that will be included with individual profiles: Glen Glenn, Lew Williams, Art Adams, Elvis Presley, Ricky Nelson, Bob Luman, Ed Bruce, Dickey Lee, Jack Earls, Hayden Thompson, Maddox Brothers and Rose, Sonny Burgess, Carl Mann, Ray Smith, Johnny Powers, Larry Donn, Pat Cupp, Ronnie Hawkins, Bobby Lee Trammell, Huelyn Duvall, Gene Summers, Sonny West, Buddy Holly, The Collins Kids, Wanda Jackson, Charlie Gracie, Big Al Downing, Laura Lee Perkins, The Rock and Roll Trio, Narvel Felts, The Dave and Deke Combo, Kim Lenz, Go Cat Go, High Noon, Larry Cole, Cari Lee Merritt, Marti Brom, Josie Kreuzer, Eddie Clendening, Suzy and Buddy Dughi, The Casey Sisters, Carl Sonny Leyland, Dawn Shipley, Sue Moreno, Ruby Ann and Tex Rubinowitz.


---


Fall Fund Drive In Progress, Killer New Film Available
Ponderosa Stomp Announces a Change of Seasons
  "It's not just about music, it's about life itself, you know what I mean? The Stomp's for real, man."  Lil' Buck Sinegal
 After 8 years of incredible, critically acclaimed shows during April/May, the Ponderosa Stomp Foundation announces a change of seasons! As a non-profit organization celebrating American roots music, the Stomp has had unprecedented growth in recent years; in addition to the concerts in New Orleans, Austin and New York, their small staff has launched a packed music conference, a developing archive of oral histories, monthly After Hours' shows at the Ogden Museum of Southern Art and Unsung Heroes', an exhibition celebrating Louisiana's role in the development of rock n' roll, on display at the Louisiana State Museum's Cabildo in the French Quarter.
We are also thrilled to announce the recent release of the Ponderosa Stomp short film. The Ponderosa Stomp was founded to showcase and honor the world's most authentic performers of rockabilly, R&B, jazz, blues, garage, soul, funk, and swamp pop. The film focuses on Classie Ballou, Lil' Buck Sinegal and Roy Head, integral Stomp performers. These three exemplary artists enjoyed early success, but found themselves toiling in obscurity later in life. When music fan Brian Gourley attended the Stomp, he was transfixed by the music and amazed that such a small group was able to bring so much music and cultural information to the fore on a shoestring. After offering to executive produce a film, he began fund-raising and working with acclaimed director Jeff Nichols (Shotgun Stories won the Grand Jury Prize at the Austin Film Festival) and the Butler Bros production team. Gourley explains, "The film presented itself at the right time; it let me pour my love of music into a project that I thought would help give props to its roots. Without roots, there are no trees."
After seeing this moving film, it is easy to see the importance of the Stomp's mission and the impact of its work. Continuing to recognize influential artists like Ballou, Sinegal and Head and hundreds of others and documenting their stories is a fundamental part of the Foundation's mission. Plans to expand an oral history archive are moving forward and the "Secret History of Rock n' Roll" is currently on exhibit at the Louisiana State Museum.
As this year has proven, we are an organization who never likes to be idle. As such, yet another exciting change for the coming year - we will hold the 9th Annual Stomp concert on a weekend in the Fall for 2010. Citing the gorgeous autumn weather, moving all events to a weekend instead of mid-week for locals who aren't vacationing and cost economies for out of town fans, Stomp staffers, led by Ira Padnos, will be able to take the Stomp to its full potential. Look for more news on an exact date and locale shortly!
The Stomp is launching a fall fundraising drive to build upon these recent successes and to continue to expand their unique and vital work. Cultural preservation efforts require the technical skill, time and expertise of their small, committed staff to be successful.  Even a lean machine like the Stomp needs additional resources to continue to turn the mission into action. "We are on a crusade to convert the masses of music fans and vinyl junkies to the gospel of the Ponderosa Stomp.  We hope a visit to www.ponderosastomp.org will create a disturbance in your mind and that you will get up off your thing and get involved with the Stomp," explained Padnos.
To Donate: https://www.networkforgood.org/donation/MakeDonation.aspx?ORGID2=203846140&PcaItemId=18015 - Watch the Stomp Film: www.PonderosaStomp.org


Bo Diddley Auction in November
Property from the Estate of BO DIDDLEY will feature extensively in a special Music Icons exhibition to be staged at the Hard Rock Cafe in Times Square, New York, Tuesday November 17th thru Friday November 20th.
The collection of more than 30 items, including his childhood violin, song lyrics, guitars, hats and other personal effects, will then be auctioned on Saturday November 21st, beginning at 1.00pm EST (6.00pm GMT/UTC) at the 2009 Julien's Auctions Music Icons auction staged at the Hard Rock Cafe venue.


---


Frannie Beecher Rockin' at 88
Dateline Bridgeport/Norristown, PA - Once again Frannie Beecher packed the house at the Bridgeport Rib House, making a club appearance in celebration of his 88th birthday. Frannie was backed by the "Heart & Soul" band, which is a really fine and versatile 5 piece combo, led by Kevin Burk--who is an outstanding host and MC for the show. Kevin also plays keyboards in the group and has a really good singing voice. The other pieces are tenor sax; bass; drums and guitar--in addition to Frannie.
Frannie played the second set for 1 hour, and during the set, was presented with a birthday cake from the club...and a special commemorative plaque by Noel Wollman (from the NJ cable TV show "Straight Ahead Guitar") saluting his accomplishments as a musical innovator, originator, and all around gentleman.
Earlier in the afternoon, Noel Wollman taped a 30 minute interview with Frannie at Kevin Burk's house, asking him questions about the various phases of his life and career--which included some impromptu guitar playing by Frannie...unplugged.
All in all it was a fine afternoon and evening, and it was great to see the draw that Frannie still has in that area of Pennsylvania. The crowd was an interesting mix of people; old friends from the neighborhood, guitar enthusiasts, even a couple of heavy metal players from the area, and several 'retro' rockabilly types...also from the surrounding area.
In a way, it reminded me of Rudy-when he used to appear at the Night Cap in Boothwyn PA in the 70s, though during that time, the music played was almost all swing, jazz and Sinatra type pop music. In this particular setting, the Heart & Soul band did a good upbeat variety of classic rock, and oldies--which was a tailor-made mix for the crowd. One thing's for certain--there was no better music to be heard anywhere else that night!
Bill Turner - bluesmokeband@verizon.net


---


It's All About Imelda May
Sept. 24, 2009 (Courtesy www.thisissouthwales.co.uk) - Imelda May will keep the beat at Sin City, Swansea on Saturday. The sassy lass with the smoky voice and the perfect 1950s hairdo has the kind of grounding in the genre that should keep her around for longer than the debut album, Love Tattoo and that was a good one. Early-career gigs with Mike Sanchez and in a burlesque club have given Imelda's act polish.
Growing up in the 1980s as an Elvis, Gene Vincent and Eddie Cochran obsessive "I bought my first leopard print coat at 15, and the gangs on the corner would be staring" must have been a challenge, but music was an early love for her.
"I heard Billie Holiday, and that blew my mind. My brother took me to HMV and I bought my first Billie album, and I listened to it back to front." Her first professional singing gig wasn't the most glamorous affair she sang on an advert for Findus fish fingers at 14, but it was enough to let her know what she wanted to do for a living.
"A girl in The Liberties was in the music business, and she got me this ad, where I sang, 'Betcha never put your finger on a crunchier crumb!' I got £40 for it," says Imelda. Another stint saw her singing in burlesque clubs: "I'd sing while the girls were onstage. One of them used to take an angle grinder to her crotch and would produce a shower of sparks. One day a spark flew down my throat when I was singing," she said. These days she moves in different echelons with spots on Jools Holland's show, where she was spotted by Jeff Beck and snapped up to support him. Listen to Imelda May
"It's all gone mental lately," she says in a Dublin accent that 10 years of living in London has failed to shift.
"Elbow asked me to join them on their tour, as a result of Later." Local rock 'n' roll enthusiasts will be familiar with her husband Darrell Higham's energised playing, thanks to his stints at the Windsor Club, Neath. He is no stranger to sending the rockabilly sound off on a tangent, and as co-author of an Eddie Cochran biography himself, he has grounding in the minutiae of the genre.


---


El Vez and Los Straitjackets
&nbsp Merry Mex-mas! What happens when a squadron of guitar-wielding Lucha Libra heroes on their way to rescue Santa Claus get lost on their way to North Pole and end up wandering the strees of East LA? Well, a tree trimming party hosted by none other than the King of Rock 'n' Roll, of course. Awakening after a 3 day bender with a tinsel hangover, El Vez and Los Straitjackets emerged with a vision for a Holiday party that will add a little tequila to your Egg Nog  and swaddle the Baby Jesus in a fashionable Mexican blanket.
&nbsp They have met before (most notably to record a Spanish language version of "King Creole" for the Straitjackets' 2001 vocal album "Sing Along With Los Straitjackets"), they usually pass each other in low-rider sleighs on the interstate while separately bringing their own Christmas Tours to the masses. This yearthe two will collaborate an an all new show entitled ¡Viva Christmas!. Viva will juxtapose the surf-twang holiday instrumentals of Los Straitjackets (performed of course in their traditional Lucha Libre masks) with all the holiday magic of El Vez' Christmas-themed material. Los Straitjackets will serve as the band for El Vez, and the lovely El Vettes will provide their trademark vocals and choreography.
&nbsp Los Straitjackets will issue a long awaited 10 song followup to their popular Christmas album Tis The Season for Los Straitjackets in November that will be entitled Yuletide Beat. The band has created 10 all new rock 'n' roll arrangements of traditional Holiday carols, that'll have you rockin' through December, and closing out 2009 with a romantic slowdance to 'Sould'D Lang Syne." The band rides a desert surf wave on "We Three Kings," takes "Joy to the World" to Memphis, and takes "Jingle Bells" on a Bakersfield Sleigh Ride. Not to mention entering uncharted territory with a classic rock rendition of "Jolly Old Saint Nick" (retitled Groovy Old Saint Nick for 1971 ambience).  This limited edition, numbered pressing of 1000 CDs & 1000 Vinyl comes in a lovingly printed and letterpressed package by DC area poster artist El Jefe, and will also be available for download via all major download sites.
¡Viva Christmas! Tour Dates:
12-01-09 Atlanta GA - The Earl
12-02-09 Carrboro NC - Cat's Cradle
12-03-09 Washington DC - 9:30 Club
12-04-09 Philadelphia PA - World Cafe Live
12-05-09 New York NY - Bowery Ballroom
12-06-09 Boston MA - Paradise Rock Club
12-08-09 Toronto ON - Lee's Palace
12-09-09 Cleveland OH - Beachland Ballroom
12-10-09 Pontiac MI - Crofoot Ballroom
12-11-09 Chicago IL - Double Door
12-12-09 Minneapolis MN - First Avenue
12-14-09 Seattle WA - Tractor Tavern
12-15-09 Portland OR - Dante's
12-17-09 San Francisco CA - The Independent
12-18-09 W. Hollywood CA - Troubadour
12-19-09 San Diego CA - Casbah


---



Vic Holveck: "Bop Diddle Widdle"
&nbsp September 2009 - Rockabilly Hall of Fame® Inductee, Vic Holveck recently re-recorded this original tune that became an inspiration for generations.

---


Charlie Gracie News
&nbsp CHARLIE GRACIE, the Dean of Philly Rockers: returns to the SURF BALLROOM in CLEARLAKE, IOWA to co-star with THE ORIGINAL CRICKETS, FREDDY CANNON and more FEBRUARY 4TH--7TH, 2010. THE ANNUAL WINTER DANCE PARTY - site of the last concert given by BUDDY HOLLY, RITCHIE VALENCE and the BIG BOPPER - the night before that infamous plane crash in 1959.
&nbsp CHARLIE TRAVELS TO ENGLAND and IRELAND IN LATE SEPT. FOR CONCERTS over there in October 2009. See his website for details on these and other shows - near and far! www.charliegracie.com/schedule.php


---

Guy Gilchrist's Nancy Cartoon
(Sept. 3, 2009) - "As you know, I am in Nashville now, combining my love of art, writing, and music ... and the Sun sound of the 50s, those heroes, and my roots in '50s cartoons and that era made this a special strip to draw. Two of my favorites ... Carl Perkins and Roy Orbison."
guygilchristmusic@yahoo.com


---


Depot Days to Pay Tribute to Billy Lee Riley at Grand Opening of "Rock 'n' Roll Highway"
This year's annual Depot Days Festival will be held on September 26th, 2009 on Front Street in Downtown Newport, Arkansas. For the past twelve years the festival has paid tribute to the early rock and roll that sprang up in Memphis and was nurtured in the extensive nightclub scene which existed in Jackson County along Highway 67 in the 1950's and 60's.
&nbsp This year the event will coincide with the grand opening of "Rock 'n' Roll Highway 67" and will also pay tribute to the late Billy Lee Riley.
&nbsp This past Spring the stretch of highway from Jackson to Clay counties was officially designated by the Arkansas General Assembly as worthy of recognition for having provided entertainment venues for such early Rock pioneers as Elvis Presley, Jerry Lee Lewis, Johnny Cash, Roy Orbison, Carl Perkins, Sonny Burgess and Billy Lee Riley. Admission to the festival is FREE. The tentative entertainment schedule is as follows:
&nbsp 2:00-3:00 The Jimmy Dunham Family (Rockin' Gospel)
&nbsp 3:15-4:00 J.R. Rogers and the All-Stars (The Legislature's finest entertainer)
&nbsp 4:00-4:45 Rockin' Luke Stroud (Great Balls of Fire)
&nbsp 5:00-6:00 Ace Cannon and Band (Sax in the City!)
&nbsp 6:15-7:15 Sonny Burgess and The Pacers Featuring Travis Wammack (Little Richard's former guitar player)
&nbsp 7:30-8:45 The Derailers (Hangdog Honkytonk/Americana from Austin) -- check them out on "Youtube"
&nbsp 9:00-10:15 Jason D. Williams (Boogie Woogie/Scaffold Swingin'/Piano Poundin'/Rock and Roll!)
&nbsp 10:30 FIREWORKS
&nbsp Other attractions offered at the festival will include magicians, jugglers, vendors, crafts, BBQ contest food and loads of family fun. Cameras, lawn chairs and coolers are welcome. For more information contact Julie Allen at 870-523-3618.


---


Les Paul, 94, R.I.P.
Guitarist, inventor, "Wizard of Waukesha," Les Paul has died, according to the Associated Press. He was 94. Paul apparently passed away on Thursday from complications brought on by pneumonia at White Plains Hospital in White Plains, N.Y.
Paul is celebrated for his technological innovations that contributed greatly to the sound of modern music, particularly rock 'n' roll. He developed the solid-body guitar and pioneered the use of multi-track recording, which allowed recording artists to build tracks from instrumental parts recorded separately and then mixed together.
But more than anything Paul was a working musician, and he kept on playing pretty much until the end of his life. The A.V. Club saw Paul perform earlier this year at the Iridium, a Times Square jazz club where the legend performed two sets every Monday for the past 15 years. Even when his hands were deformed by arthritis, you couldn't take his black Gibson away. Hopefully he'll have one waiting in heaven.
Scotty Moore / Les Paul
Video - Last Word: Les Paul


---


Free Downloads at www.bobwillismusic.com
On July 10, 2009 Bob Willis a/k/a Mr. Country-Gospel a preacher, songwriter, singer and musician passed away while at the Veteran's Administration Hospital in Louisville, KY. Bob Willis was 75 years old and was best known for his songwriting while recording 15 albums throughout his career. Bob Willis wrote over 1000 Country-Gospel songs and licensed 142 songs with BMI. In 1967 Willis wrote and recorded "Guilty Of Love (In The First Degree)" This song was then recorded and released as a single by Country Duo Carl and Pearl Butler on Columbia Records.  In 1970 The Florida Boys and The Happy Goodman Family recorded "Guilty Of Love (In The First Degree)" on Canaan Records and the song stayed on the Top 20 of the Singing News Gospel Music Charts for 52 straight weeks.
Bob Willis also had 15 of his songs recorded by Jimmie Davis, Songwriting, Country and Gospel Hall Of Fame member. Willis' songs are published by Peermusic and or Personified Music, anyone wishing to record his music is encouraged to contact these companies or contact bobwillismusic.com for more information.
The family of Bob Willis would like to thank Songwriter and Record Producer Doug Johnson and Country Singer and Songwriter Marty Brown for taking time to work with Bob Willis over the past few years. Bob Willis co-wrote three Country-Gospel songs with each of these gentlemen and they helped to make the last few years of Bob Willis' life more enjoyable. The Willis family would also like to thank Country Music Singer and Hall Of Fame member Little Jimmy Dickens for offering to help Bob Willis over the years.  Jimmy Dickens sung at Robert's Stadium in Evansville Indiana year ago and Bob sang some of his songs to Jimmy Dickens after the concert. Jimmy gave his phone number to Bob Willis and told him to call when he came into Nashville.  When Bob Willis, Jr. first traveled to Nashville 21 years ago he went to Jimmy's house and Jimmy said he would allow Bob Jr. to go backstage at the Grand Ole Opry. Jimmy helped the family numerous times and they appreciate him and his family very much.
Bob Willis is survived by his wife of 43 years Gayle Willis and 6 sons. They would like to thank each and every individual who has helped support them during this ordeal and most of all they would like to thank God for allowing Bob Willis to be here with them until the age of 75.
Other popular songs written by Bob Willis are "The Last Walk," "Two Glasses Of Buttermilk," "The Last Few Miles (I've Traveled On My Knees)," "You Can't Keep A Good Man Down," "With A Cross On His Back," "The Battle Is The Lords," "God Looks Upon The Heart," "The Last Mountain," "The Other Side Of The River," and many more.
If you go to bobwillismusic.com, you can download a free copy of "God Looks Upon The Heart" and a free copy of sheet music for "Guilty Of Love (In The First Degree)." Bob Willis wrote "God Looks Upon The Heart" about himself and recorded it in 1978. These songs will be available free for a limited time.
If you would like to sign Bob Willis' guest book, you can do so at Bobwillismusic.com - News regarding Bob Willis Mr. Country-Gospel has been featured in The Tennessean, USA Today, World News Report, Evansville Courier, Music Row Magazine, Today's Country Magazine, Country Weekly, Southern Gospel News,  The Nashville Music Guide, The Associated Press and many other Newspapers, Magazines around the World. If you have published a story regarding Bob Willis, please send your article to mrcountrygospel@hotmail.com.  The family will gladly include your link asap at http://www.bobwillismusic.com                  


---


"Rockin' Roary" R.I.P.
According to his MySpace web site, Rockabilly Hall of Fame Inductee Rockin' Roary died the morning of July, 28, 2009. His wife, Sue, sent us this message on August 4th, 2009:
"Roary had a light stroke in the beginning of July. On 15, July he had an operation for prevention of next possible stroke, then he stayed in coma until the morning of 28, July, and never woke up again. All these days I stayed by his side talking with him, encouraging and praying for him. I believe he understood. On 26, July, our anniversary day, I go to hospital celebrating will him, reading my love letter for him, he sometime move the head, like sleeping in the dream. On 27, July, I take a MP3/MP4 to intensive care room, playing his favorite music by his ear and singing songs for him, and told him he can do any music he want, his wife will not complain, he just had a drop of tear rolling down from the right eyes. The morning of 28, when I arrive at hospital with the best friend of him here, I saw a beautiful smile at the lip and the corner of his eyes. then I cried happily. The next day, according to his personality, we donate his eyes film to help other patient. I think one day maybe on the street, we can see someone with beautiful eyes like him. Best, Sincerely,"
Sue

---


"Virginia Rockabilly CD
That set has to be in every rock house for his exceptional musical quality and the stunning work of Roddy Moore and Christopher C. King. Greeting had to go to the Virginia Foundation for the Humanities and to Dennis West, a long time records seller, for them support and researches. This work is the best since long and make those two records and booklet a milestone. This is a real dream come true!
Here are packaged some of the rarest and better sides recorded in the 50's but, unless all our bootleg products, with prmium sound, never seen pictures and data/biographical infos never expected. How many of us knew before those CD about Jimpin' Jack Neal association with Phil Gray on those fabulous "Bluest Boy in Town" and "Peper Hot Baby" issued on Rhythm 101? Two fabulous waxing by a 15 year old cat that befriended Elvis on one of his first appearence in Norfolk. The unissued Jimmy Huffon & His Hot Shots "Silver and Shake" is a superb bopper that will blow your rockin' socks off. That's not enough? you've got a great picture of the band with beautiful dark stripped pant and cool jackets. It must be surprising to find Louisiana legend Jay Chevalier here with "Rockin' Roll Angel" issued on Cajun 101 in 1957 but for a while he was a ol' Marine in Norfolk. The second and last record issued on Rhythm is here two its two sides. An original copy is rarest than chick teeth! I just discovered here than one of my long time favorite 45 rpm's "Wore To A Frazzel"/"Sunset Blues" by Tony & Jackie Lamie, issued on Sunset 706, feature Tony with his 10 years old son Jackie on guitar. It killed me! What a pleasure to know more about the legendary Carlos Jones and Leon Woodward's better know as Leon and Carlos for them fabulous "Rock Everydoby" on Liberty Tone 108. Carlos Jones was later convicted for mudering his wife and Leon Woodward became ordained. The good and the bad!
There's also Robert Williams' "Canberry Blues", the Dazzlers' "Gee Whizz", the terrific cool primitive bopper "Sweet Rockin' Mama" and plenty of goodies by Gene Vincent, Janis Martin, Patsy Cline or Link Wray. If you've got some respect and love for those artists you may have meet in person, buy that hot stuff! Missing it or burning it will be definitively seen like a slap on the face of those pionners, including Gene and Janis, who brings us so many joys. A such great product deserve a hudge welcome from all fo us.
Buy it or be square ... Thanks from the bottom of my heart Mister Christopher C. King. You made an Imperial work there! Camille Daddy. anglares.dominique@wanadoo.fr


---


"Bob Wills Radio"
"Bob Wills Radio" a weekly updated pod cast from www.bobwills.com will be launched at noon on July 4th, 2009, featuring historical interviews of former Texas Playboys and  contemporary artists influenced by Bob Wills. The interviews will include recordings from the respective artists and is a venture that Dwight Adair, owner of www.bobwills.com  and longtime friend of the Wills family says, "is a free, weekly tribute to the music and legacy of Bob Wills, a fun-filled half-hour show without commercial interruption, available world wide 24 hrs. a day."
&nbsp Bob Wills Radio is sponsored by www.bobwills.com, the Official Site of Bob Wills and the Texas Playboys, and The Broken Spoke, www.brokenspokeaustintx.com, Austin's premiere honky tonk, that booked Bob Wills for multiple dates in the mid 1960's. James White, owner of The Broken Spoke, remembers the thrill of seeing Bob Wills perform in his own club, and says he feels Bob Wills Radio "is a wonderful opportunity for fans world wide" and "is a way we can continue The Broken Spoke's history of presenting legendary Texas music to all Country fans."
Mr. Adair, who has one of the world's largest collections of Bob Wills memorabilia and recordings, says, "In the Bob Wills era, performances and personal charisma on daily noon radio broadcasts were how bands advertised their weekend dances, where they made the bulk of their income. When we discovered that our community base for www.bobwills.com visited the website in the greatest numbers at noon everyday, the idea for Bob Wills Radio was born."
&nbsp Bob Wills Radio is wholly owned by www.bobwills.com, headquartered in Austin, Texas. Mr. Adair wholly owns www.bobwills.com. For more information, please contact: Dwight Adair, 512-431-0679 - dadair2@austin.rr.com


---


"Keep Rockin'" Magazine
&nbsp I just wanted to let you know that there is a new 92 page, bi-monthly, full color 50's & 60's nostalgia magazine available called Keep Rockin. Check out our website www.keeprockinmag.com. "Keep Rockin'" features interviews with Rock & Roll stars of the 50's & 60's, hot rods, retro crossword puzzle, vintage ads, yesterday's funnies, bathing beauties and much more. Recent cover stories have included The Skyliners, Big Bopper, Billy J. Kramer, and Lou Christie, with upcoming cover stories and original interviews with, among others, Chubby Checker. We'd be willing to send you a free issue and if you're interested we could trade website links. Given your involvement in the Rockabilly Hall of Fame, we think you'd be in a great position to show our magazine to others and help us reach more of our audience. "Keep Rockin'" is the only magazine of its kind, and we'd like your help in making people aware of its presence.
Thanks,
Dan Harris
Keep Rockin'
PO Box 608
Naperville, IL 60566
888-577-6256
www.keeprockinmag.com
www.MySpace.com/keeprockinmag


---


Tennessee Three Announces UK Tour
&nbsp For over four decades "the man in black," Johnny Cash, counted on one sound to carry him through, and that was "The Tennessee Three" - The legendary sound behind the man in black.
&nbsp Led by the legendary guitarist/vocalist Bob Wootton, the award winning Tennessee Three are performing worldwide throughout 2009/2010 and will bring their show to the UK for a very exclusive 10 date tour, for the first time in many years during October 2009.
&nbsp Bob Wootton, and The Tennessee Three, are timeless performers who have actively written and recorded on the majority of Johnny Cash's 90 releases, featuring 17 Platinum discs and 8 Gold discs, and producing 13 number one hits. Winning countless awards, and with close to 40 years of Cash experience, the band are continuing to keep their years of playing in the Cash-Carter tradition alive. With a strong fan-base worldwide, their popularity is at an all time high, and reflected in the numbers of their recent sold-out shows.
&nbsp Bob Wootton was Johnny Cash's right-hand man almost 40 years. He is a member of the Original Rockabilly Hall of Fame and listed as one of the top guitarists of all time. Together with his wife Vicky Wootton (who was also a member of The Carter Family for more than a decade) and several other renowned Cash-Carter backup players, they tour the world bringing with them the legacy, stories and musical tradition of June and Johnny, Johnny Cash and The Tennessee Three. This is a full band show and it is as close to The Johnny Cash Show, as is possible, which also includes sometimes members Carl Perkins and Marty Stuart, and is the type of variety show that Cash and company toured the world with for many years.
&nbsp The first class show has been performing at 1000+ capacity theatres, events and showrooms across the US, Canada and the rest of the world to great response. This was also the only act to perform at the movie premiere parties in LA and New York for Walk The Line in 2006.
The Tennessee Three is as distinct a sound as "the man in black" himself and have paved the way for many of their contemporaries. Bob Wootton and company tour year round playing with the support of major rock acts, and sharing the stage with other legends in rockabilly, roots and country music. The audience demographic is the young, the old and everyone in between. From bikers to college kids to old school country fans and rockabilly die-hards, everyone digs the legendary sound of The Tennessee Three.
For more information, interview requests, public appearances, audience feedback, tour info, and more, check out the links below.
UK Contact:
Juan Carlo Bones
Chief Editor
Rockabilly Retrospect Magazine
Email: juancarlobones@hmail.co.uk
Phone: 07871384956
www.tennesseethree.com
www.myspace.com/tennesseethree
Juan Carlo Bones
ONLINE EDITOR
Rockabilly Retrospect
819 Stratford Road
Sparkhill
Birmingham
B11 4DA UK


---


From W.S. "Fluke" Holland:
&nbsp Posted June 11, 2009 - Hi everyone! Well, you might be saying, "It's about time"....and you're right. We have been promising a newsletter to keep you informed on what's happening with W.S. Fluke Holland for sometime now....and the time is now. We are proud to announce the launch of "The W.S. 'Fluke' Holland Newsletter". The first issue is online here. If your browser doesn't support web links you can copy/paste the following link into it and get there just as well: http://www.wsflukeholland.com/newsletter.html ... Either way, we hope you will check out Fluke's newsletter and send us your feedback. Tell us what you like, what you don't like, and what you'd like to see in future issues. You can always get to the latest issue of the "The W.S. 'Fluke' Holland newsletter by simply going to Fluke's homepage at: www.wsflukeholland.com and look for the "newsletter" graphic along the right side of the page. We look forward to keeping you up-to-date on Fluke's shows, happenings and career news in the future. Thank you for your support, and we look forward to hearing from you. You can email us at: fluke@wsflukeholland.com


---


Steve Perkins R.I.P.
&nbsp On April 23, 1956 Carl Perkins was on tour performing his number one hit record, "Blue Suede Shoes". His wife, Valda, was at Jackson Madison County General Hospital giving birth to their third child, Stephen Allen Perkins. A phone set up by the stage rang as Carl was about to go on. Carl answered it and screamed as he walked out on stage, "It's a boy!" The audience applauded as Carl, the proud daddy, hit his famous lick on the guitar and rocked the house down.
&nbsp Steve was a quiet, sensitive child who excelled at sports. He was highly competitive. His determination to win border-lined obsession. However, it was that determination that served him well in his adult life. After graduating from JCM, Steve toured with his daddy and brothers for a short while. Unlike his daddy and brothers Steve did not want a career in music. He had always been interested in drawing and decided to attend the Tennessee Technology Center where he learned to be a draftsman. He began work at Westinghouse, which later became ABB, and remained a loyal and respected employee for twenty-eight years. It was there he met and married his beloved Donna who had three sons, Matt, Jonathon, and Cody. He and Donna later had Chase. In July, 2008, at age fifty-two, he was diagnosed with terminal cancer and yet, continued to work struggling with the pain from his disease. Finally, he had to say good-bye to the job he loved so much. I often wondered how he did it. That was Steve's determination shinning though.
&nbsp On May 31, 2009 Steve lost his battle. His wish was to be cremated, with no service. He did not want to be memorialized in any way. He didn't want family and friends to put their lives on hold and pay respect to him. And so according to his wishes there will be no service. However, I am sure there was jubilation among the angels when Steve walked through heaven's door and God handed him his just rewards.
&nbsp I was blessed to call him my brother. He truly was a man of God who lived his life to the fullest. Anyone who knew Steve knew he was his own man with his own way. In the mid 80's he won the company golf tournament. The plant manager presented him with the trophy and asked Steve why he hadn't told anyone Carl Perkins was his dad. He had been working there for several years. The dry wit and humbleness that was as much a part of Steve as his big, brown eyes responded, "Nobody ever asked me". In this life there are givers, and there are takers. Then, there are those who wait on the fence to take a little, then give a little. Steve Perkins was a giver who sensed a need and filled it unconditionally. Even throughout his illness he continued to give. I could be having a not so good day and stop to visit. I always left with a smile uplifted by his amazing spirit.
&nbsp To the many who prayed for Steve, thank you. To the many who visited him, thank you. To the doctors and nurses, especially Dr. Shant Garabedian, ER director at Regional Hospital, thank you. To his many friends, thank you for loving him. To God, thank you for sharing your son with us for a short while. To those of you who have lost a loved one or have someone in your life terminally ill, please know you're not alone. The spirit never dies, it just moves on. In my life I have lost both parents, my youngest brother, Greg, and now, Steve. It hurts and always will, but I now realize what Daddy said was true. "We're all just passing thru." And, to those of you who may want to do something in Steve's memory. You know what Steve would say, "Ah, don't do anything for me. Just find somebody that's hurtin' and help them".
God Bless, Debbie Swift
As written by Steve's sister and published in the Jackson Sun on June 1, 2009.


---


"The Silver Screen Cowboy Project"
&nbsp Musikode Productions has recently released "The Silver Screen Cowboy Project." This 24-song, 2-CD effort was the brain child of Marvin O'Dell, the Western Music Association's 2007 DJ of the Year. Feeling like a CD of this kind was long overdue, O'Dell set about to gather some of western music's top performers for the purpose of releasing some original songs about the cowboy movie heroes of the '30', '40's, and '50's. There's even a special tribute song about the TV cowboys of the '50's and '60's.
&nbsp Fourteen songs were newly recorded for this project while another eight songs were previously recorded but used by permission. The artists, although not household names, are all award winners and very well-known in cowboy music circles. Dave Stamey, the Western Music Association's Entertainer of the Year for 2007 and 2008 is here. Dan Roberts, who co-authored a pair of Garth Brooks' hit songs, gave his song "I Miss John Wayne" for the project. Doc Stovall, who wrote the song "To Hear Gene Autry Sing" for the Statler Bros., released his own personal version of the song for an appearance on the CD. "When Roy Rogers Was Around" is a song performed by Bill Barwick, the voice of the Starz network's Westerns Channel. And legendary country music singer and songwriter Liz Anderson, mother of Lynn Anderson of "I Never Promised You a Rose Garden" fame, contributed the soundtrack for the song "Ol' Gabby Hayes." The first track on this CD, "Rough Ridin' Cowboy Heroes" by Tom Hiatt, has been nominated for a Song of the Year award by the Western Music Association.
&nbsp There are original songs here about Roy Rogers, Gene Autry, Tex Ritter, Lash LaRue, John Wayne, Hopalong Cassidy, Gabby Hayes, Rex Allen, Rocky Lane, and the Lone Ranger while many other cowboy film heroes are mentioned in the various songs. There's even a tribute the Sons of the Pioneers who appeared in many films with Roy Rogers, Gene Autry, and Charles Starrett.
&nbsp This is pure cowboy music with one slice of cowboy poetry thrown in for flavoring. This CD has been the #1 album on The Western Way magazine's Cowboy/Western Album charts since January.
&nbsp "The Silver Screen Cowboy Project" may be purchased from the Musikode Productions' web site at www.musikode.com Marvin O'Dell - MEOTEO@aol.com


---
Robert "Andy" Anderson
of Andy & The Live Wires: Tragedy
---

After 40+ years The British Walkers are Coming Again
&nbsp You heard right, this summer "The British Walkers" will reunite after 40+ years for a mini tour of the Mid-Atlantic. Yes, it is true The British Walkers will play 4+ shows between July 10th and July 20th in Virginia and Maryland.
&nbsp This event will coincide with the release of the first ever CD of the complete body of their recorded works, plus a bonus DVD of a recently recorded interview. They will be playing all their 60's hits, including "Shake" and "Girl Can't Help It", as well as many of their covers and some new original works.
&nbsp THIS IS NOT A TRIBUTE SHOW, but the genuine members consisting of Bobby "the kid" Howard, vocal and guitar, Jack Brooks, bass, Geoff Richardson, lead guitar and vocals, and Steve Lacey, drums. Unfortunately their mascot, the English bulldog "Elizabeth" is no longer with us.
&nbsp All shows will be presented in intimate venues, thus advanced ticket purchase is a must. As more shows are added, announcements will be updated on Billy Hancock's Myspace and constant contact updates will be sent out weekly.
&nbsp If you are interested in learning more about the tour or booking the group, please contact Billy Hancock at 703-401-7409 or by email billyhancock@msn.com. Hancock Productions/Turkey Mountain Records: www.myspace.com/billyhancockmusic


---


Lee Rocker Tour: Summer 2009
&nbsp Lee Rocker, the man who made his mark playing, singing, spinning and even standing on his giant upright bass in the Stray Cats is back on tour this summer! The Cats sold more than 7 million records, landed worldwide hits and were video pioneers at the onset of MTV. Rocker and company garnered 23 gold and platinum records, as well as a Grammy nomination. Lee Rocker is now performing all of his hits, including "Rock this Town," "Stray Cat Strut," "Sexy and Seventeen," "Runaway Boys" and "Bring it Back" again. This is the show that puts the fun back in rock and roll.
&nbsp With the twanging guitars of Brophy "King" Dale and Buzz "Gretsch" Campbell, the Americana rhythms of drummer Jimmy "The Legend" Sage, and Rocker's own one-of-a-kind hot rod bass fiddle, this band tears through hit after hit. In addition to his Stray Cats classics, Lee's playing songs from his own renowned albums, "Bulletproof", "Racin' the Devil" and "Black Cat bone", released on the prestigious Alligator Record label. In addition to Stray Cats and Lee Rocker records, Lee spent years touring and recording with the Rockabilly Legends Carl Perkins ("Blue Suede Shoes," "Honey Don't," "Matchbox"), and Elvis Presley guitar slinger Scotty Moore, he now incorporates music from both Perkins and Presley into his concerts. But make no mistake: this ain't a nostalgia show,. This band rocks it hard, and plays it tough, with sweat, attitude and a ferocity that hasn't been seen or heard in years. Come down and watch them rock the roof off the joint!


---
Jody Reynolds R.I.P.
---


Don Helms, Dead at 81
&nbsp The last of the original Drifting Cowboys is gone! Don Helms, a renowned steel player and member of Hank Williams' Drifting Cowboys band, died August 11, 2008 at age 81 of an apparent heart attack.
&nbsp Helms was the last remaining link to the Drifting Cowboys. His guitar was heard on more than 100 of Williams' recordings, including "Your Cheatin' Heart," "Cold, Cold Heart" and "I Can't Help (It If I'm Still In Love With You)." His steel playing is an indelible part of those records, and after Williams' death Mr. Helms went on to provide significant parts on recordings such as Patsy Cline's "Walkin' After Midnight," Stonewall Jackson's "Waterloo" and Lefty Frizzell's "Long, Black Veil." He played with other greats as well, including Loretta Lynn, Ernest Tubb, Ray Price, Jim Reeves and Webb Pierce.
&nbsp Don was also a songwriter whose compositions were recorded by Brenda Lee, Hank Williams Jr. and others. He was inducted into the Steel Guitar Hall of Fame in 1984, and remained an active part of Nashville's music community until his death.


---
Sanford Clark - AMEHOF Inductee
---


Official Bo Diddley MySpace
&nbsp The Official BO DIDDLEY MySpace Page has been launched. The address is: http://www.myspace.com/bodiddleyofficial
&nbsp MySpace is a social networking service which allows users to sign up free to the site and build their own on-line microsite where users can upload their own photos, videos and music and express their own identity and interests and attract like-minded people to join their site or vice versa.
&nbsp Once you have invited another MySpace user to "be your friend" and they accept, their site link will add itself to your site.
&nbsp Any MySpace users with their own MySpace account will be able to add The Official BO DIDDLEY MySpace Page to their site.


---


Tony Wilkinson Reflects
On Americana 2008
Darn it, I have now lost my Americana virginity.
Americana 2008 was the 28th in the series and the line-up was simply too strong to ignore and so I decided to surrender to its wicked charms. This is an open air festival held at the Nottinghamshire show ground (where they also hold the Nottingham Goose Fair - wonder what Uncle Ken in NY will make of that). Mrs Wilkinson and daughter Colinda also decided to attend.
There are five sound stages but the main two were adjacent to open fields. Indeed for stage one, the promoter Chris Jackson hired the stage, lighting and sound system used at the recent Glastonbury festival.
It will make far too long a piece to fully describe all of the events and so the following is a bullet point review of the acts seen in order of appearance.
Gail Davies. Great voice on country with a decided rockin' edge. Very confident and professional on stage, and with a first rate backing band that included her son Chris Scruggs on no-pedal steel guitar.
Jay Chevalier was in good form with a mixture of rock 'n' roll and country.
Rosie Flores was her normal bubbly vivacious self and like the r'n'r. Her guitar picking is now excellent. She was joined by James.
Hayden Thompson was in great form vocally and showed pure professionalism. He easily overcame a somewhat plodding backing band.
Hank Wangford was enjoyable, he refused to take it seriously and utilised some fine backing musicians such as B J Cole.
The Manfreds, including both Paul Jones and Mike D'Abo on alternate lead vocals roared through their immense catalogue of hits. Very popular with the audience and daughter Colinda.
Asleep at The Wheel were on so tight and oh so professional. Western swing tinged country music but again often with that rockin' beat. Apart from Ray Benson, a completely new line-up to when I last saw them at the Wembley Country Festival many years back.
Dez Walters is an acceptable country act from Scotland who registered heavily with his own material.
Trading With The Natives. This lot will never gain prizes as former teen idols but they were solid and workmanlike with their music.
James Intveld. Deputising for Stan Perkins, James came on and took the place apart. He was simply brilliant with a selection of mainly originals but some great rockin' covers as well. Rosie Flores joined him for a few numbers. This guy really knows how to use the stage.
Robert Gordon with Chris Spedding. A typical Gordon set with his interpretations of a selection of covers done in his style. Spedding also had a short solo spot in the act.
Wayne 'The Train' Hancock. This performance was nowhere near at the frantic pace of previous visits, indeed I could describe it as a suburban service. He has a new band who have not quite congealed together yet. Hancock is an artist that one either loves or finds boring. There was a substantial portion of the audience in the former camp.
Ray Campi. Typical good 'n' tasty Campi performance with a varied selection of tempos. He still has that rockabilly feel and it was especially pleasing to see Kevin Fennel back on stage with him after so many years. Rip Masters joined Ray for two excellent rockin' numbers.
The Darts. Four singers, five musicians. obviously but on having a good time but with top notch professionalism. They simply took the place apart and easily earned the greatest applause of the whole festival. Wonder stuff.
Unfortunately, I had to miss full performances by Nick Willet, Vince Eager, Rip Masters and Paul Ansell. From the comments that I heard, all were truly good.
What a festival.
Regards,
Tony Wilkinson.


---


It is the Road that Carl and Elvis
Rode to Establish Their Careers
Once lined with honky-tonks, the Tennessee portion of U.S. 45 was named Rockabilly Highway on July 4, 2008 in honor of the men who brought Rockabilly and Rock & Roll to a nation and eventually the world. The naming of the highway was enacted by the Tennessee legislature.
A crowd of nearly 50 gathered at Rockabilly Park on Church Street on Friday. State and local officials welcomed the naming of the street to the sounds of music legends Carl Mann, W.S. Holland and Rayburn Anthony.
The U.S. highway runs through Presley's hometown of Tupelo, Miss., and Perkins' home of Jackson. The entire span of road goes from just north of Mobile, Ala., to Ontonagon, Mich., which is on the shores of Lake Superior. Only the nearly 55-mile section of road from the Mississippi/Tennessee state line to Interstate 40 was named Rockabilly Highway.
The naming stays true to the original strip of road running through the heart of Jackson. It does not include the nearly five-mile stretch of the Keith Short U.S. 45 Bypass, Eldridge said. "This is the highway we traveled to get to (U.S.) 70," said Holland before the dedication, "we felt it appropriate to name it."
RELATED CD.
WS Holland who played drums on Carl Perkins original "Blue Suede Shoes" was also instrumental in taking Carl Mann and Rayburn Anthony to audition for Sam Phillips with both artists of course recording for Sam. Now the three old friends have gone to a university to make music. Lambuth University in Jackson have a music program on all aspects of music and recording and they invited the local trio to come down and jam with them. This led to them being asked to make a cd "Rockabilly Highway" in the brand new studio the university had just built. Songs range from Sun classics like "Folsom Prison',"Matchbox" and Carl revisits "Mona Lisa" while Rayburn speeds up his "St Louis Blues" and there are new songs from both artists too. WS is on hand with a drum solo and a narration. The cd should be available soon.


---


"Rhythm Blast" Moves Stations

Please note the Following Program changes Below
Rockabilly Radio Dave B
Monday - 11am, & Thursday 8pm
features a host of rockin' tracks
sometimes interviews with Bands or Artists.
Rockabilly Radio - Bill Smoker, Mondays Noon, Friday's 8pm. In the cupboard under the stairs has his podcast show of Authentic 45's & LP's.
Rockabilly Radio NEW PROGRAM - Rhythm Blast, Tuesday 8pm, Friday Noon With Upbeat Doo Wop, Jump-Blues plus Similar Teen Tracks of the 50's & Some Very Early 60's This Station also plays 24 hours continuous rockin' tracks and ocasionaly replay past Bop 2 B shows. Go to main page and select Play Now, then from bar select player and chose apropriate bitrate 128Kbps and 64Kbps for Broadband users, 32Kbps for Dialup listeners. The voice Of Rockabilly: www.rockabillyradio.net.
Northern Broadcasting - Broadcaster Dave B, Weekly, Anytime. www.northernbroadcasting.co.uk. Click on "Broadcasters", select Dave B, Chose MP3 or Real Player


---


Nashville Songwriters Hall
Nominates Johnny Horton
June, 2008 - The Board of Directors of the Nashville Songwriters Hall of Fame Foundation has placed Johnny Horton in nomination for induction into the Nashville Songwriters Hall of Fame. Known as "The Singing Fisherman," Johnny Horton rose to Country stardom as a cast member of the Louisiana Hayride on KWKH in Shreveport, La. Though he did not write his 1959 Grammy-winning hit "The Battle of New Orleans" (it was penned by Jimmy Driftwood), most of Horton's other hits were self-composed, and several - such as "Honky Tonk Man," "I'm A One Woman Man," "I'm Comin' Home," "When It's Springtime In Alaska (It's Forty Below)," "Sink The Bismark" and "North To Alaska" - have become Country standards. Because of his penchant for historical and story songs, he is sometimes called the King of the "Saga Song" Singers. Though his recording career spanned less than a decade (he was killed in a car crash at age 35), his music influenced generations of artists ranging from George Jones to Dwight Yoakam to BR5-49. He is a member of the Rockabilly Hall of Fame.


---


UK's Ace Cafe: Three Days,
Three Rides, One Reunion
Ace Cafe London's 70th anniversary and 15th annual Ace Cafe Reunion, a special party weekend that is being filmed for USA TVs Speed Channel, starts on Friday 12th September with the arrival from 6pm of The Continental Run for the cafe's Bike Night, with Dyno Shoot-Out and rockin' sounds from The Unknowns and DJ Jimmy Guntrip.
Saturday 13th September, join us for breakfast at the Ace from 7am. A Cafe Racer & Rockers Ride-Out will depart at Noon to the London Motorcycle Museum in Greenford, which is being filmed for a USA TV documentary 'Cafe Society', returning to the cafe for a Cafe Racer Review at 2.30pm with awards for the 'Best Ridden Cafe Racer' and two runners-up, being presented by special guests Colin Campbell (Actor in the film 'The Leather Boys'), David Hailwood and Dave Degens.
From Noon until late, The London Rockin' Rollers, who will steal your hearts and then your con rods, will be adding some eight-wheeled thrills and spills, together with a Dyno Shoot-Out, raising funds in aid of the Jeans for Genes Genetic Roadmap Appeal.
You can also make your visit count, by being sponsored by family and friends, be it as a solo rider, group or club. Go to the homepage on the Ace Cafe London website to download a sponsorship form or pick one up at the cafe.
'Little Miss Dynamite', the Stonebridge Motor Company built S&S engined Ace Cafe Racer will make her debut at 4pm with opportunity to meet the builders, followed by a photographic review of the history of the Ace. The line-up of entertainment includes some of the top all British rock n' roll bands on the circuit, The Coy Dogs, Furious, and Crazy Cavan & The Rhythm Rockers with DJs Tracy Dick, Bill & Jimmy Guntrip spinning the wax, plus a 'Best of Burlesque' with Miss Zara Ann.
Sunday 14th September, the Brighton Burn Up & Ride With The Rockers to Brighton's famous seafront road, Madeira Drive. The Ace opens at 7am with the ride leaving the cafe at 10.30am.
Madeira Drive will be open to the public from 9.30am. Attractions on the Ace seafront stage feature bands, The Rhythm Aces, The Diamonds, plus DJs Bill & Jimmy Guntrip, a seafront blessing by Father Scott Anderson & Father Dennis McSwinney of the 59 Club at 2pm, a presentation of the Ace Cafe London, Bike Legal and BikeSafe prize Scooter at 2.15pm and the introduction of Stonebridge Motor Company, builders of the S&S engined Ace Cafe Racer, 'Little Miss Dynamite', at 2.30pm.
Stands and displays include from Triumph, Yamaha and BMW to Brooklands (2008 being the centennial of motorcycle racing at the legendary circuit), the 59 Club, VMCC, Busy Bee Club, BMRC and many more!
For more information check out
Ace Cafe London
Tel: ++44 (0)20 8961 1000
Fax: ++44 (0)20 8965 0161
Website: www.ace-cafe-london.com
Corner North Circular Road,
Stonebridge, London NW10 7UD


---


Million Dollar Quartet to
Bow in Chicago in September
Million Dollar Quartet, a musical inspired by the December 4, 1956 recording session that brought together Johnny Cash, Jerry Lee Lewis, Carl Perkins, and Elvis Presley, will play Chicago's Owen Theatre (at the Goodman), September 26-October 26.
The show, which is co-authored by Floyd Mutrux and Colin Escott, will be co-directed by Eric Schaeffer and Mutrux, with musical direction by Chuck Mead. Casting and creative team will be announced at a later date.
The show will feature a treasure trove of the greatest rock, rockabilly, gospel, R&B and country standards of the 1950s, including "Blue Suede Shoes," "Fever," "Sixteen Tons," "Who Do You Love?," "Great Balls of Fire," "Ghost Riders in the Sky," and "Whole Lotta' Shakin' Goin' On."
Schaeffer is the artistic director of Virginia's Signature Theatre, where his credits include The Witches of Eastwick and Kiss of the Spider Woman. His Broadway credits include Putting It Together and Glory Days. Mutrux is best known for the film American Hot Wax.


---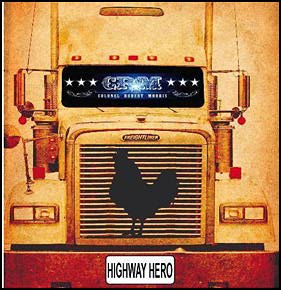 Colonel Robert Morris
"Highway Hero" CD Release Party
Location: June 14, 2008 @ 8:00 PM - Jr's Bar & Grill 4788 Bethel Rd. #106 Olive Branch, Mississippi 38654.
Come on down for our CD release party. We will be joining friends and family on stage performing some of the tunes from our new trucking CD, Highway Hero!
You will be able to buy CD's and t-shirts from the bar, and the Colonel will be available to sign autographs. Contact: Colonel Robert" - goldenpen@bellsouth.net


---


Jerry Cole R.I.P.
Posted May, 31, 2008 - From Jerry Cole's MySpace profile:
Our dear friend JERRY COLE died Wednesday night at his home in Corona, California. Funeral services are still pending but a public memorial is also being planned for the near future. Jerry's wife Gale was with him when he suffered a massive heart attack. Jerry was 68 years old and is survived by Gale and their daughters, Monique and Katrina, and son, Cane. Jerry's other son, Keith, died just a year earlier at the age of 28.

COMMENT: For a time Cole was marketed as a contemporary and rival of Dick Dale (they were both on Capitol Records) and a studio whiz. He split his time between studio work, some rock bands and country outfits during the 60s.
His 1960s album ranged from wild surf and hot-rod guitar, garage and even Glen Campbell style country ballads. (which Jerry was superb at)
Jerry was somewhat notorious for re-writing his own musical history, and although a small man in stature, a large personality in the biz, he didn't really need to fill his stories as he actually did more than many of his contemporaries.
Jerry played live with the Champs, Jerry Cole & The Spacemen, Red Rhodes & The Detours, Jerry Cole & The Trinity, Roger Miller and The Id.
He was also a regular on the classic Shindig! TV show in the mid 60s.
Jerry had something of a comeback in recent years with labels like Ace (UK) and Sundazed (US) reissuing compilations and albums, although in all fairness Sundazed have been working on CD and LP reissues of his surf music for ten years now.
He recorded a comeback album recently, and will be missed.
-Jason Odd


---


Chuck Berry Tops Rolling Stone's 100
Greatest Guitar Songs of All Time
May 30, 2008 - The new issue of Rolling Stone Magazine hits news stands on today and it features a list of the 100 greatest guitar songs of all time. Read the List Here. According to RollingStone.com, "This is what makes a great rock & roll guitar sound: an irresistible riff; a solo or jam that takes you higher every time you hear it; the final power chord that pins you to the wall and makes you hit "play" again and again. Every song here has those thrills.

#1 - "Johnny B. Goode" Chuck Berry (1958)
"If you want to play rock & roll," Joe Perry told Rolling Stone in 2004, "you have to start here." Recorded 50 years ago, on January 6th, 1958, at the Chess Records studio in Chicago, Berry's "Johnny B. Goode" was the first great record about the joys and rewards of playing rock & roll guitar. It also has the single greatest rock & roll intro: a thrilling blast of high twang driven by Berry's spearing notes, followed by a rhythm part that translates a boogie-woogie piano riff for the guitar. "He could play the guitar just like a-ringing a bell," Berry sings in the first verse - a perfect description of his sound and the reverberations still running through every style of rock guitar, from the Beatles and the Stones on down. "It was beautiful, effortless, and his timing was perfection," Keith Richards has said of Berry's playing. "He is rhythm man supreme." Berry wrote often about rock & roll and why it's good for you - "Roll Over Beethoven" in 1956, "Rock and Roll Music" in '57 - but never better than in "Johnny B. Goode," a true story about how playing music on a guitar can change your life forever.


---


Charlie Gracie New Country CD
June 2008 will see yet, another Charlie Gracie Cd release - recently recorded in HOLLAND: "Charlie Gracie: Movin' Down Country" will contain many classics such as: Hey Good Lookin', Just Because, Gotta'Travel On ... but will include several originals as well: Movin'Down Country, I Fell Apart, Nickel And A Dime and Guitar Rag.
CHARLIE is curretly working on a new CD with several of the BRITISH INVASION artists he inspired such as: GRAHAM NASH, PETER NOONE and others due out later this year!


---


Singer on a Trip Down Memory Lane
Liverpool, NSW, Australia - May 28, 2008 - LONNIE Lee, one of Australia's true music legends, is celebrating his 52nd year on stage. And a performance at Smithfield RSL Club is on his schedule next month. In May 1956 he entered the 2UW amateur hour, which led to his first professional bookings. Then in February 1957 he won the title Australia's Elvis Presley and not long after he started his first rockabilly trio, which some say was the first professional trio in Australia.
As well as more current songs, his new show takes his audience back to his roots, from the passive 1950s hits to classic rock anthems. He performs all the songs with a unique Lonnie Lee edge and freshness, and has the audience sitting on the edge of their chairs, itching to get up and dance. He also includes an extremely popular segment where he reflects on some singers who influenced the young Lee. Musical styles visited by Lee include rockabilly, blues, rock, country, rock and roll and impact ballads no one is left out when visiting his show. You can catch Lonnie Lee at Smithfield RSL Club on Saturday, June 7 at 8.30pm.


---


cashboxmagazine.com - ROCKABILLY/TRUCK DRIVING CD reviewed 05-20-08
Bernie Early: Highway My Way
Rockabilly Hall of Fame Inductee Bernie Early performed on the radio when he was fifteen, Playing bass and guitar in a blue grass band. At seventeen, he was singing country music in clubs and lounges. (More info.) Early is in the Rockabilly Hall of Fame and making a move into a new genre that has proven to be just the ticket for him. He has found a small niche in the music market that is clamoring to hear what he has to sing about. Truckers all over the country have been waiting for Bernie to lay these tracks on them to make their trips down the road just a little more interesting. Early's voice is in a comfortable range that makes the "Rig Rockers" want to jump in and sing along on the 4:00 AM wired on coffee and cigarettes drive.
Trucker's radio stations across the country are gravitating to this new CD, the favorite track being #1 The Truck Stop. As one DJ said, "It's perfect and the truckers will know the feeling". The reason that it is doing so well, might be that there really hasn't been a new truck driving song since the late 90s.
With the release of this CD Bernie Early joins the roster of DAVE DUDLEY, RED SIMPSON, RED SOVINE, DEL REEVES and all the rest. His music production, sounding very Nashville, comes right out of The Gator Hole Recording studios with arrangements and recording by Galen Breen. Early can still hold his own vocally and he gives the truckers what they want. Early's CD should keep those truckers rolling along singin' a song until he releases his next one, just for them.
Track List
The Truckstop
The Trucker's Song
Rockabilly Hillbilly
I Need Her
I Like To Drink
Gone Truckin'
You Rockabilly Man
Son of a Trucker's Son
Clowns Shouldn't Cry
Look Out for Harley Johnson


---


News About the Rhythm Riot
"Hi Everyone. Firstly, we have a great new web feature.. go to the BANDS page and click on any band name and you'll get a new window with a picture, information and a YouTube video clip. It's the perfect way for you to get a preview of all the amazing talent that you'll be able to enjoy this year. Check it out at www.RhythmRiot.com
We've also set up a basic Rhythm Riot MySpace page and we'd like to invite you to make your mark by putting your pin on our world map at www.MySpace.com/RhythmRiotWeekend.
We will be developing and improving the MySpace page and one feature will be a photo album of 'Rhythm Riot T-Shirts Around The World'. So send us a picture of yourself in your Rhythm Riot T-shirt by a famous landmark, city sign, at your local Rock'n'Roll club, on holiday or at any interesting location and we'll include you in our album.
The Press have given us a lot of coverage this month, with a double-page spread in Custom Car Magazine, and half-pages in Classic American and American Car World. All are May issues, so you should find those in the shops now.
We are almost ready to go live with on-line booking and we'll let you know as soon as that is available. In the meantime, you can download Booking Forms from the website and post those with your payment. Or email your address if you'd like us to post something to you. Our email address is RhythmRiot@RockTheJoint.com.
Finally, Freddy Cannon has been nominated for the Hit Parade Hall of Fame and has asked us to invite you to vote for him. If you would like to do that, please go HERE and click the star at the top right hand corner."
Thanks.
Looking forward to seeing you in 197 days!!!
All the best.
Robin, Colette and Jerry.


---


South Texas Rock & Roll History Festival
Hot Rods, Hula Hoops, and a tribute to Bill Haley highlight the 5th Annual WaterStreet Music, Art & Surf Fest, June 6-8, 2008 in Corpus Christi.
Max Stalling kicks off the festival on Friday, June 6th, at The Executive Surf Club. Often compared to Marty Robbins and James Taylor, Max will be among the newest inductees into the South Texas Music Walk of Fame.
Saturday, June 7th, begins with TWO ribbon cutting ceremonies. At 10am, six new stars will be unveiled in this lovely Walk. In addition to Max, those honorees include; "Queen of the Bolero", the late Chelo Silva; Texas Country Hall of Famer, Pat Grogan; Latin Grammy winner Joe Gallardo; Punkabilly legend Reverend Horton Heat, and the Father of Rock-n-Roll himself, Bill Haley, who's songs "See You Later Alligator" and "Rock Around the Clock" literally defined a new sound in American music. Haley lived in Harlingen for many years and inspired generations of Rockabilly and Rock & Roll musicians throughout the region. Most of the new "Stars" will perform over the two-day event.
The second ribbon cutting, at 10:30, opens an exciting new exhibit in the Texas Surf Museum. Texas Women. Texas Waves salutes the "girls of the Gulf"- the female surf champions who tamed these coastal waves as early as 1959.
Art and music fill the courtyards of the WaterStreet Market all weekend. Saturday's fun includes Hot Rod Cars and a Hula Hoop Contest along with live Country and Rockabilly music in the courtyards, and Two Tons of Steel closing the day with an energetic show that night at the Executive Surf Club. Sunday's features include live music from local Jazz legends and Blues favorites during the day, viewing and voting for a Downtown Music Video Contest. The winner of the video contest will be announced that evening at the Executive Surf Club followed by a rock show featuring Jason McMasters, former leader of the rock band, Dangerous Toys.
All daytime activities are free, evening shows at The Executive Surf Club have a modest cover charge. The entire event is hosted by the restaurants and shops of the WaterStreet Market, located just one block from the bay in lovely downtown Corpus Christi.
For more information, contact
Surf Club Records
(361) 882-2364 scr@surfclubrecords.com
The Line Up


---


Leo Jackson Commits Suicide
NASHVILLE - George "Leo" Jackson - a guitar player who's appeared on recordings by Country Music Hall of Famers Jim Reeves, George Strait and Tom T. Hall - died Sunday, May 4, 2008 at his home outside of Nashville from an apparent suicide.
Leo, who was 73, had been diagnosed with cancer in 2002. Two years ago, he was told he had cellulitis, a rare skin ailment, in his thumb, preventing him from playing guitar again. He had undergone minor surgery last week and was on medication for a persistent back pain that flared up again the day he shot himself. "On top of the operation, I guess it was just too much for him," son Leo Jackson told The Tennessean.
Leo played two stints as a member of Jim Reeves' Blue Boys. He was, in fact, a guitarist in the band at the time Jim died in a famous plane crash in 1964. The Blue Boys went on to make four albums on their own in the next four years. Leo would also become a well-regarded session musician. Among the hits that have featured his work are the George Strait singles "Right Or Wrong" and "Let's Fall To Pieces Together," Jim Reeves' "Distant Drums," Moe Bandy's "It's A Cheating Situation" and Moe's duet with Joe Stampley, "Just Good Ol' Boys."
Leo Jackson on YouTube


---


"Hee Haw's" Jim Hager Dies
NASHVILLE - Jim Hager, 66, one half of the Hagers duo, died Thursday after an apparent heart attack. He was found collapsed in the parking lot of the Frothy Monkey coffeehouse and was pronounced dead at Vanderbilt University Medical Center around 6 p.m., May 1, 2008.
With his twin brother Jon, Jim Hager rose to national fame in 1969 when they joined the cast of a new variety show featuring country music and a satirical take on country living.
Hee Haw went on to become a top-rated syndicated program. And, when the Hager brothers left it in 1988, they were the recipients of more fan mail than any other cast members in the show's history.


---


Famous Bakersfield Studio Closes
April 30, 2008 - One of Bakersfield's claims to fame will close it's doors for good. At midnight Wednesday, Fat Tracks recording studio on North Chester in Oildale will no longer be used as a studio.
The studio became famous after country music legends like Buck Owens, Merle Haggard, and Dwight Yokum used it to record hits.
The original "Streets of Bakersfield" was recorded there back in 1972, by singer-songwriter Homer Joy. It has been more than 30 years since Joy has been in the studio. Wednesday, he took one last look at the place that put his song on the road to becoming a chart topper.
Singer, songwriter Homer Joy said, "'Streets of Bakersfield" just made everything all right. It was all right for everyone. It has been such a blessing over the years to Buck. Just a whole lot of people who can remember back or do remember to the time and that song we have really, really good memories."
The "Streets of Bakersfield" became a country hit after Buck Owens heard Joy's original recording and added the song to his album several years later. - KGET-TV


---


Billy Hancock Featured
in "Blue Suede News"
"Blue Suede News" magazine (Spring 2008; # 82) features Ripsaw's Billy Hancock on its cover and in the first of a two-part article chronicling Hancock's musical career. Blues band leader Terence McArdle (Big Trouble; www.terencemcardle.com) wrote the article.
Hancock, whom the Washington Post called a "musical treasure," has been a rhythmic force, primarily in the DC area, for over 40 years. Best known as a versatile singer, Hancock fronted and played bass for Danny & the Fat Boys (led by guitar whiz Danny Gatton), sang and played guitar for his own world-renowned rockabilly band, Billy Hancock & the Tennessee Rockets (on Ripsaw), and co-led the No Neck Jazz Band with trumpeter Clyde Hunt. In 2006, the Washington Area Music Association. ("WAMA") (www.wamadc.com) awarded Hancock its Root Rock vocalist award and in 2005 WAMA presented the Virginia-based singer, musician, songwriter, producer, promoter, teacher, and record company entrepreneur with a Special Recognition Award.
"Blue Suede News" (www.bluesuedenews.com), which calls itself "The House Organ of the Church of Rock 'N' Roll," is devoted to rockabilly, rhythm and blues, and other 1950's American roots music and has been published since 1986. Marc Bristol and Gaby Maag-Bristol are its co-editors. The newsstand price of each issue is $5.50. Email ShakinBoss@aol.com or write BSN, Box 25, Duvall, WA 98019.
The BSN issue coincided with the April 8th release of "Out of the Darkness," a 10-song Hancock CD from Turkey Mountain Records (TM 2108), at a Hancock gig at DC's Blues Alley. Ripsaw affiliates Southern Crescent Publishing and Sugar Mama Music each published a song on "Out of the Darkness," which is Hancock's first strictly blues album.
Reviewers and radio stations wishing promo copies of "Out of the Darkness" should contact Turkey Mountain Records, 2010 Dartmouth Drive , Alexandria, VA 22307; (703) 401-7409; http://myspace.com/billyhancockmusic; turkeymtn@aol.com or billyhancock@msn.com.
Promoters, agents, clubs, festival organizers, and others wishing to engage Hancock may contact Ripsaw's Jonathan Strong at: (202) 362-2286; email-ripsawrecords@aol.com; mail-#805, 4545 Connecticut Ave., NW, Washington, DC 20008.
Ripsaw has released well-received recordings, not only by Hancock, but also by The Uptown Rhythm Kings, Martha Hull, Bobby Smith, Kid Tater, and Tex Rubinowitz.


---


Chris Gaffney of the
Hacienda Brothers R.I.P.
Chris Gaffney of the Hacienda Brothers passed away Thursday morning (4/17) after battling liver cancer. (On the death anniversary of Eddy Cochran's passing). Gaffney had a long career as a solo artist, and also recorded and toured extensively as a member of Dave Alvin & the Guilty Men.
The Hacienda Brothers was a collaboration between singer/songwriter Gaffney and Dave Gonzalez, best known as the guitarist, singer, and songwriter with the blues/rockabilly combo The Paladins.


---


Country Music HoF Honors
Guitarist Reggie Young
The Country Music Hall of Fame and Museum will recognize session guitarist Reggie Young with a performance and interview on May 3. Young was part of the rockabilly explosion in the mid-1950s, Memphis' hit-producing American Studio in the 1960s and the expansion of Nashville's recording scene in the 1970s. His guitar work can be heard on Dobie Gray's "Drift Away," Waylon Jennings' "Luckenbach, Texas," Willie Nelson's "Always on My Mind" and Reba McEntire's "Little Rock," among hundreds of others.


---


Update on Eddie
Cochran Session Pages
Courtesy Antoon van Olderen - With the upcoming Bear Family box set it seemed like a good idea to update the Eddie Cochran Sessions pages. For this I cross checked most of the available documentation such as books, magazines, published interviews, Records, CD booklets, etc. After the additions and corrections I think at this moment this is the most complete (published) picture of Eddie Cochran's sessions work.
Included is all the new information from the latest Rockstar and Stampede releases as well as Spencer Leigh' Things Do Go Wrong and Derek Henderson' Gene Vincent - A Companion which proved invaluable to correct all the UK 1960 dates . Additions are among others Hank Hammer, EKKO artists Riley Crabtree and Al Dexter, more Ray Stanley demos, Don Deal' Cash single and early 1954 session with Eddie. Also included are updated biographies and pictures of many of Eddie Cochran' session men and women as well as 10 new label scans and many more improved.
Of course there is more Eddie Cochran output than mentioned in these pages but as long as conclusive evidence is missing they will not be included.
Please feel free to mail your comments, ideas and additions so we can make this the definite Eddie Cochran Sessions pages. Many thanks to you all for supporting the site and sending your input. Kind regards and ... don't forget the great Eddie Cochran!
Antoon van Olderen - antoon.van.olderen@orange.nl
http://www.eddiecochran.info/Sessions/Updates.htm


---


Reminder to start planning your summer holiday for 2008
UK's American 2008
If you live in the UK, America, Europe, Asia or the antipodes and you are a music lover, why not consider spending your 2008 Summer break checking out the best Summer Music Festival the UK has to offer?

http://www.americana-promotions.co.uk/
http://www.jacksonville-americana.piczo.com/?cr=1&rfm=y

THE EVENT
Americana International 2008 promises to be one of the biggest and best in its long history. Chris Jackson and his hard working team are putting together a star studded cast of artists from the world of Country, Rockabilly and the Pop Charts, some new and some legends.

THE ARTISTS
ASLEEP AT THE WHEEL, USA, Nine times grammy winners
THE MANFREDS with PAUL JONES & MIKE D'ABO, UK
WAYNE HANCOCK, USA
JACK EARLS, USA
JAY CHEVALIER, USA
RAY CAMPI, USA ROSIE FLORES USA
DARTS, UK
NICK WILLETT, USA
HAYDEN THOMPSON, USA
RIP MASTERS, USA
ROBERT GORDON USA
VINCE EAGER, UK
BUCHANAN, UK
SHANNAH, UK
ALMABOOBIES, UK
Thirty other great artists to be confirmed in due course...
Keep up to date with the latest bookings at http://www.americana-promotions.co.uk/ or at http://www.americana-international.co.uk/news/item0110.htm.
http://www.americana-international.co.uk/americana/next_bar.htm

THE DATES
The dates for the 2008 festival are Americana International July 11-13th 2008, so get planning your trip now.

THE VENUE
Americana International 2008, as usual will be held at the Newark Showground, Nottingham: http://www.newarkshowground.com/.
The Newark Showground offers one of the best and most sought after venues in the Country. Set in over 80 acres of fully serviced flat fenced land serviced by mains electricity and water. With 7 acres of covered space, in 10 separate halls.

ACCOMMODATIONS
A List of several local hotels can be found at:
http://www.americana-international.co.uk/news/accommodation_list.htm
The Newark Tourist Board http://www.newark-sherwooddc.gov.uk/pp/gold/viewGold.asp?IDType=Page&ID=6539
Nottingham Tourist Board http://www.visitnottingham.com/nottingham-hotels.html
Lincoln Tourist Board http://www.lincoln.gov.uk/tourism_det.asp?id=2607
And http://www.touristnetuk.com/em/lincolnshire/accommodation/ac-serviced/lincoln.htm
Gainsborough Tourist Board http://www.a1tourism.com/uk/gainsborough.html
http://www.americana-international.co.uk/news/item0115.htm


---


Gene Vincent's First Wife,
Ruth Ann Hand, R.I.P.
"Hello, I am Tammie Holloway, the oldest daughter of Ruth Ann Hand. Just wanted to get the word out that Ruth Ann passed away Wednesday April 2, 2008. I grew up hearing stories of her short time with Gene. She will be missed."
Tammie


---


Improved Audio on Rockin' Radio
Listen in this week to my show "Rhythm Blast" on http://www.djzone.co.uk/Dave_B.htm going out at a blistering 192Kbps 44100Hz only for Broadband listeners using the MP3 option.
Dialup listeners and other broadband listeners can use the Real player option streaming at 32Kbps.
This is a trial broadcast only this week and may revert afterwards to the previously low 24Kbps streaming.
For those that may not understand what all this means, it's basicly the Higher the Kbps (Killobytes per Second) the better the audio (Sound) quality, the lower the Kbps means less buffering (cut outs or no sound)
For anyone listening to the 192kbps stream , please ensure you are not running other programs on your PC at the same time, close all previous programs or else they may cause buffering problems.
As far as I am aware there are no other stations playing Rockin' music at this high quality at present. Meanwhile here is some other Radio Information.
- Dave Brighton

For a one stop web page visit www.bop2b.webs.com' relating to the information below.

Rockabilly Radio and Destination Doo Wop NEWS:

Destination Doo Wop
Listen in to Daves Rhythm Blast on www.destinationdoowop.com Mondays, this features upbeat doowop plus rockin' Jump-Blues and RnR mainly from the 50's in a two hour program. Go to their website and click on the real player icon and after a few adverts and station ID's you will hear the currently playing DJ' show. Check the website also for program times that are listed as USA Eastern Standard Time. Listeners in the UK and Europe need to be aware of the global time difference. (e.g. = 9pm in UK)
Rockabilly Radio
Dave B, as always, has been providing some excellent shows. You can hear Dave daily, with a new weekly show broadcast each Monday Lunchtime in Europe and Thursday Evenings at 8pm UK time.

ATTENTION ARTISTS!
I get many, many requests from artists to listen to their music on Myspace or their individual websites. I try my very best to comply but sometimes situations come up and it creates a backlog that makes it very difficult to honor those requests. It's not that I don't want to play your music! If you have music that you want played on Rockabilly Radio, there are two good ways to get it played:
1) Send a CD or mp3 ('s)to:
Dave Brighton
55b Occupation Lane
Sheffield
S12 4PS
United Kingdon
www.bop2b.webs.com
2) Send a CD to:
Rockabilly Radio
PO BOX 5046
Baltimore, MD USA
3) For those artists who don't have a CD,
attach an mp3 file to an email and send it to
don@45rpm.net with the subject "New Music".
Please only attach 1 song to each email otherwise I may not get it.
We are now back to over 80,000 tlh (total listening hours for the last 30 days) and anticipate finishing April with over 100,000. Our dailiy listener hours are well over 20,000 now and we are getting close to 400 simultanious listeners again. Thanks to everyone for their continued support. After reading the suggestion about sponsorships, I'm completely sold on the idea that the best suggestions come from our listeners.
I have cut the larger expenses into smaller, more affordable sponsorships, to give more listeners an opportunity to participate.
The following are the new rates for the remaining expenses:
Our 128k streaming provider - 2 sponsorships @ $25.30 monthly each.
Our Licensing through Loudcity - 3 sponsorships @ $24.59 monthly each.
We have added a new requests server because of the problems encountered last month. The expense is $5.99 monthly.
Don Freeman

Northern Broadcasting - You can hear the Rhythm Blast shows again each week on www.northernbroadcasting.co.uk any day any time in any one week before a newer one is available for the following week.

Friday 23rd May Gig - Wes Pudsey & the Sonic Aces from Australia plus the Revolutionaires in the UK will be at the Dale Tavern, West Street, Worsborough Dale, Barnsley S70 5PG on the above date, admission is £5 on the door which opens at 8pm . Rockin' DJ's are Jimbo, Sean & myself visit www.bop2b.webs.com or phone 079 144 15986 for further details.
Rockin' gigs will take place on the 4th Friday Monthly thereafter.
As allways, on the Complete UK Rock n Roll Gig Guide you can keep updated by visiting www.thisgigguide.fsnet.co.uk
Thank you for your support
Dave Brighton


---


Charlie Gracie's 2008
British Performance Dates
JULY 3-7 CHARLIE PERFORMS IN GREAT BRITAIN: Charlie headlines the ULTIMATE 50'S ROCK 'n' ROLL WEEKENDER: Pontins Seaside Villiage, LOWESTOFT, ENGLAND. Info: www.tennesseeclub.net

CHARLIE TOURS GREAT BRITAIN: Nov./Dec. 2008
NOV. 28TH: WELLINGBORO (Northampton) , ENGLAND (Railway Club)
NOV. 29TH: EASTCLIFFE (Bounemouth), ENGLAND (Heathland Hotel)
DEC. 4TH: NORTH YORKSHIRE (Whitby) ENGLAND (Whitby Pavillion Theater)
DEC. 6TH: DERBY, ENGLAND (Rolls Royce Club)
DEC. 13TH: MACCKSFIELD, ENGLAND (Broken Cross Club)
DEC. 14TH: BRISTOL, ENGLAND (Bawa Club)
DEC. 20TH: MELKSHAM (Gloucestershire), ENGLAND (Assembly Hall)
DEC. 21ST: LONDON, ENGLAND (Music Palace)
* MORE DATES COMING - and don't forget to check Charlie's Websites for details on all gigs:
www.charliegracie.com and www.myspace.com/charliegracie


---


Friday June 13th & Saturday June 14th
Rockabilly Run 2008
Hot Rod and Rockabilly Music Weekend.
In conjunction with the Flying Aces Motorcycle Club
470 ROCKPORT RD.
WEATHERLY. PA. 18255
Six miles off I-80 White Haven exit (#273)
Campers welcome. Hookups available - first-come basis HOT RODS. KOOL CARS. MOTORCYCLES. BANDS. FOOD. PIN-STRIPING. VENDORS. BEER. BURN-OUTS. FLAME THROWERS. PIN UP GALS. GREASER BOYS. CONTESTS. AWARDS. TATTOO ARTIST ON SITE.
Cars or Spectators: $15 for Weekend PRE-SALE ONLY or $10 per day
Camping additional $15 per site (includes Friday and Saturday night)
Friday Night Entertainment starts at 7pm - Bands and Pre-Party go all night long.
Rockabilly Hall Of Famer Ronnie Sando with his Rockabilly Legends Band known for his GOLD RECORD "ROCKING ON THE MOON" don't miss the only singer that worked with the former Elvis Presley Band and the Jordanaires after ELVIS's untimely death
Saturday Car show starts at 11am. Bands play all day. Awards at 5pm after headlining act.
We welcome Jessie Lee Miller hailing from Austin TX.; cover of Winter 2008 Blue Suede News and Sean Mencher; member of the former rockabilly great High Noon and Legendary Rosie Flores.

PERFORMANCES BY:
ROSIE FLORES
THE BUZZARDS
THE ULTRA KINGS
DANNY KAY AND THE NIGHTLIFERS
SEAN MENCHER
JESSIE LEE MILLER
THE YOUNG WEREWOLVES
RONNIE SANDO
All information subject to change, keep up to date on the following sites:
www.rockabillyrun.com
jamieconstantine@msn.com
www.myspace.com/rockabillyrun



---


Jason D. Williams Performs at
Kenny Chesney's 40th Birthday Bash
Memphis, TN, March 28, 2008: Memphis Based Rockabilly Artist Jason D. Williams received a personal request from Kenny Chesney to perform for his private 40th Birthday Bash in Nashville, TN. The exclusive event was held at Cabana on Nashville's renowned Music Row and was attended by more than 200 well wishers. The guest list was filled with fellow artists and sports stars that included Tim McGraw, Faith Hill, Kix Brooks, Sugarland vocalist Jennifer Nettles, Kellie Pickler and Dierks Bentley to name a few. Also in attendance were representatives from three different professional sports: Ex-New York Yankees pitcher Roger Clemens, NASCAR driver Sterling Marlin and New England Patriots linebacker Junior Seau all on hand to celebrate the evening.
"Jason D. Williams is one of the best entertainers I've ever seen and he was the first person I thought of to help celebrate such an important milestone in my life" said Kenny Chesney who made a personal phone call to Jason D. Williams with his request just days before the event was to take place. "You rocked the house" Chesney told Williams after his performance, which at one point included a raucous rendition of "I'll Fly Away" with Faith Hill, Kellie Pickler, Kenny Chesney and Con Hunley all joining Williams onstage.
"I'm having the time of my life and see no end in sight, I always consider it an honor when a fellow musician asks me to perform, it's the purest of compliments for anyone in the music business, you always wonder who would the Entertainer of the Year have to entertain them, I guess now I know" said Jason D. Williams.
Another of Jason's recent performances included a special appearance at the Rock and Roll Hall of Fame in Cleveland, OH for an American Music Masters Celebration for music legend Jerry Lee Lewis. "I travel everywhere, all over the world, not just here in the United States, and everywhere I go I hear the same thing, energy, people love the energy behind my music, and I love sharing it".
Jason D. Williams is a former RCA and Sun Records Recording artist, and now with Rockabilly Records, LLC based out of Olive Branch, MS, performing more than 120 shows a year.


---
Les Paul Documentary on YouTube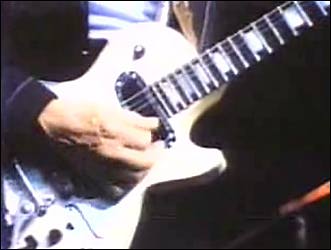 "Wizard Of Waukesha" came out in 1981 or so. It's in 5 chapters, approx. 10 minutes each.


---


Jesse McReynolds on the Air
In case you haven't heard, the "Ironman of Bluegrass", Jesse McReynolds, has his own radio show that we broadcast live out of our "Pick Inn" right here on our family farm in Gallatin, Tennessee.
But... the really BIG news is that our radio station, WHIN 1010AM has taken us worldwide!!! This Monday, and every weekday, from 8 to 9 AM CST, you can hear Jesse's show on the internet streaming live from the Pick Inn!
Jesse remembers how it was in the golden days of radio. The Pick Inn Party Radio Show is built around the way he remembers radio used to be. Live and real!!! Jesse's more than able co-host is the great Harv Mason. These two share a friendship and camaraderie that is truly wonderful. The show features live music, phone call-ins, guests, our wonderful local sponsors and the commercials Harv does for them that are always spontaneous and heartfelt. The show is filled with more surprises than we can tell you. Why can't we tell you? Because it's live!!! The "Pick Inn Party Radio Show" might just as well be called new old-time radio. And we'd like for you to be part of our radio family..
The Pick Inn Party Radio Show: Jesse, Lyle Cook, Glen Thompson & Larry Stephenson. Please tune in and listen to the live stream of Jesse's "Pick Inn Party Radio Show" every weekday morning from 8 to 9 AM Central Standard Time. Just go to www.whinradio.com and you're there!
For information & pictures about the "Pick Inn Party Radio Show", please go to our website, www.jimandjesse.com
May your holiday be truly blessed,
Jesse & Joy McReynolds
PO Box 1385 Gallatin, TN 37066 (615)452-7321
jimandjesse@bellsouth.net
www.jimandjesse.com
the joy of the Lord is your strength. Nehemiah 8:10



www.youtube.com/group/conwayauditions
Conway Twitty Musical Announces
OnLine YouTube Auditions
Posted March 19, 2008 - Randy Johnson, creator and director, announced the launch of an online audition process in the continued search for talent to be cast in the musical production IT'S ONLY MAKE BELIEVE the musical journey of American Music Icon CONWAY TWITTY.
"It is much better to audition in person," adds Johnson. "But if you can not make it to one of the three casting calls, we will be seriously considering those auditions posted on our YouTube audition site."
IT'S ONLY MAKE BELIEVE is Conway Twitty's story told through the eyes and heart of his children. It is a loving musical scrapbook of memories that is honest, touching, funny, heartbreaking and sincere. This production will be a musical journey of his heart, from humble beginnings to Rock and Roll Idol and all the way to a pure Country Legend.
The musical production will be created and directed by Randy Johnson, produced by Conway Twitty United, and Executive Produced by Scott Welch Management. IT'S ONLY MAKE BELIEVE will be touring across the country make stops at venues of all sizes, including Performing Arts Centers, state fairs, and theaters. The show will be exclusively booked through Buddy Lee Attractions in Nashville, Tennessee. Visit www.conwaytwittymusical.com for additional information.
Conway Twitty was an American Icon. He was a rock star, a country music legend and a loving father of four. Conway Twitty's career began in Rock and Roll and landed squarely in the heart of America as the leading Country performer of his time with an all time record of 55 number one hits.


---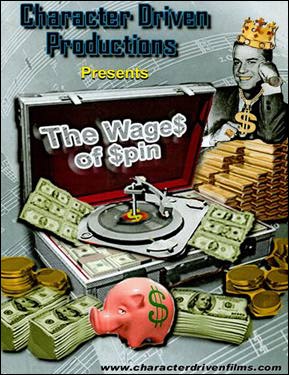 "The Wages of Spin"
New Documentary, First To Take Honest, Comprehensive Look At Music Industry During "American Bandstand" Era, Coming Soon! The producers who brought you the popular 2006 made-for-PBS documentary: "Charlie Gracie: Fabulous" are coming back with with another project sure to raise some eyebrows: "THE WAGES OF SPIN!" The program will primarily focus on Dick Clark and the Philadelphia Music Scene during the era of "American Bandstand." This will be a no holds barred look at how the system worked ... the rules of the game - how careers were created or shattered, depending on one's willingness to play! Charlie Gracie, Mike Love and Bruce Johnston (Beach Boys), Len Barry, Fabian, Connie Francis, Chubby Checker, Joe Terry and Frank Maffei (Danny & the Juniors), Marc Stevens (Dovells), Stephen Caldwell (Orlons), Dick Boccelli (Comets), Dave Appell, Bob Marcucci, Andy Williams, Artie Singer and scores of other will appear.
WAGES OF SPIN TRAILER


---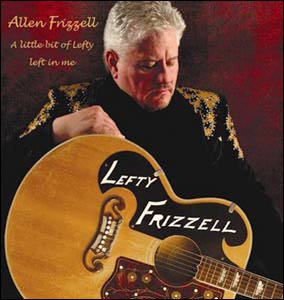 "A Little Bit of Lefty Left in Me"
Posted March 13, 2008 - F.H.M label group has just announced the official release date of the highly anticipated Allen Frizzell "A Little Bit of Lefty Left in Me" disc will be March 18, 2008. The 12 song collection will include recordings such as: Saginaw Michigan, She's Gone Gone Gone, Long Black Veil, Mom and Dad's Waltz and I Never Go Around Mirrors (duet w/brother David). Pre-orders will be available soon at www.allenfrizzell.com. It will also be available for download on the web at a number of sites including myspace.com/allenfrizzell, iTunes and CD baby. FYI for those in the Nashville area: March 22, 2008-2:00 ... there will be a Tribute to Lefty show at the Country Music Hall of Fame Museum Store.


---


Eddy Arnold's Wife Dies in
Williamson, TN County Hospital
Posted March 12, 2008 - By Beverly Keel - Sally Gayhart Arnold, the woman who gave meaning to husband Eddy Arnold's love songs, died Tuesday in a Williamson County hospital. She was 87. For more than 66 years, the couple had one of the greatest romances in the history of country music. The news of Mrs. Arnold's death came late Tuesday afternoon as her country music legend husband, now 89, remained in a Davidson County hospital after undergoing hip replacement surgery last week.
The two met in Louisville, Ky., where Mr. Arnold was playing with Pee Wee King, said Don Cusic, author of Eddy Arnold: I'll Hold You In My Heart. "I think she might have asked for his autograph after a show," he said. Arnold, who is a member of the Country Music Hall of Fame, has sold more than 85 million records and had hits such as "Make the World Go Away" and "Bouquet of Roses."
The day after the couple married, he departed to join the Camel Caravan Tour. The bride was kept company in her new home by her mother-in-law. While Mr. Arnold toured, Mrs. Arnold ran the show at home, where she raised their son and daughter. She also donated her time to help local charities, including the Fannie Battle Day Home. "She kept him grounded," Cusic said. "Stars can lose perspective so easily, but he was always down to earth, and she was a major reason for it.
The Arnolds' last few days were spent apart as they underwent treatment at different hospitals in different counties. In the end, after all of the success, money and fame, the only thing that mattered was being with each other. Mrs. Arnold is survived by her husband; their children, Richard Edward Jr. of Nashville and Jo Ann Pollard, of Brentwood, TN; and four grandchildren.


---


Bo Diddley's Website
Celebrates 10th Birthday
&nbsp This Friday (March 14th) marks the 10th anniversary of the launch of the BO DIDDLEY-The Originator website, the most detailed and accurate source of information about BO DIDDLEY on the Internet.
&nbsp Special thanks are due in particular to the following for their assistance, advice and kind messages over the past 10 years:
&nbsp Sam Andrew, Carmine Appice, Charlie Apple, The Association, Robin Bachman, Paul Barrere, Benny & The Jets, Black Oak Arkansas, Eric Burdon, Bishop Solomon Burke, Canned Heat, Freddy Cannon, Keith Caton & The Accelerators, Bob Corritore, Carl Cunningham, Dick Dale, Andy Davis, Bob Davis, Albert J. DeGroft, Jack de Keyzer, Rick Derringer, Bennie Dingo, The Dovells, Carlos R. Duque, The Electric Prunes, Entrain, Paul Evans, Harry Fink, The Five Americans, Gary Fletcher, Foghat, Robert Fontenot, Frankie Ford, Peter Frampton, Scott Free, Faith Fusillo, Gary Gordon, Francis Goulet, Graham Central Station, David Gross, Wolfgang Guhl, Debby Hastings, Ronnie Hawkins, The Hi-Risers, Mike Hugg, Iron Butterfly, Tommy James, Gloria Jolivet, Patricia T. Jones, Patrina Jones, Paul Jones, Carol Kaye, Bob Keane, Dave Kelly, Chris Kinman, Al Kooper, Lady Bo, Alan Lakey, Margo Lewis, Wally Malone, The Marcels, Mike Marti, Roger McGuinn, Tom McGuinness, Andy McKaie, Barry Melton, The Mills Brothers, Anna Moo, John Moore, Charlie Musselwhite, Richard Nader, Chuck Negron, Carla Olson, Stan Perkins, The Platters, The Priests, Quicksilver Messenger Service, Elliott Randall, Tommy Roe, Emperor Rosko, Nick Savage, Duke Shanahan, Sha Na Na, Pat Shediack, Sheena & The Rokkets, Sly & The Family Stone, Peter Stitt, Barry Tashian, Kingsize Taylor, Bob Timmers (Rockabilly Hall of Fame®), The Treniers, Moe Tucker, Chris Tuthill, Vini & The Demons, George R. White and Steve Winwood.
&nbsp The webite has been recognised and listed by a number of major on-line education resources, including the US Institute of Museum & Library Services' Librarians' Index to the Internet (LII), the BUBL Information Service Catalogue of Internet Resources located at the Centre for Digital Library Research at Strathclyde University in Scotland, the MSN Encarta Encyclopedia and the on-line version of the Encyclopedia Britannica.
&nbsp We are also delighted that the website has maintained strong links over the past decade with Allexperts.com, the oldest and largest free Q&A service on the Internet, answering many questions from fans and students relating to BO DIDDLEY, his life and music. Here's to the next 10 years... let it roll!
&nbsp Encyclopedia Britannica On-line - one of the world's most trusted sources of information: http://www.britannica.com/
&nbsp MSN Encarta On-line Encyclopedia: http://encarta.msn.com/
&nbsp US Institute of Museum & Library Services' Librarians' Index to the Internet - Websites You Can Trust: http://www.lii.org/
&nbsp BUBL Information Service's Catalogue of Internet Resources - Selected Internet resources covering all academic subject areas: http://www.bubl.ac.uk/index.html
&nbsp Allexperts.com - the oldest and largest free Q&A service on the Internet: http://www.allexperts.com/ep/2124-23725/Bo-Diddley/David-Blakey.htm


---


Cliff Thomas, 66, R.I.P.
&nbsp A native of Jackson, Mississippi, Cliff graduated from Provine High School in Jackson, Mississippi and Georgia Institute of Technology, "Georgia Tech", with a degree in Industrial Engineering. However that degree would soon fall to the wayside as Cliff pursued his true love, music. While attending Georgia Tech, he formed several bands and singing groups. It was his passion for music that produced several nationally recognized groups. Cliff, along with his brother and sister, were known as "The Cliff Thomas Trio". They recorded on the Sun Record label out of Memphis in 1957. The group made the national scene in 1958, appearing on American Bandstand. Cliff succeeded in having several of his songs make the national charts. He was also nominated for a Grammy in 1968.
&nbsp While on active duty as a commissioned officer in the United States Army, Cliff was called home due to the death of his mother. It was then that he began working in the family business, Norman Shirtmakers in Jackson, Mississippi, where he oversaw manufacturing operations, but, he continued to have a hand in the music industry. He was the owner of radio stations and a recording studio, where he continued to write and perform music. His collaboration with his brother, Ed, and Bob McRee produced a gold record, "Pickin' Wild Mountain Berries". In 1996 he moved to Gulfport where he was very active in commercial real estate.
&nbsp Cliff had a song in his heart, a bounce in his step and always a smile to give. His love of family and friends was undeniable and his love of life and music unceasing.


---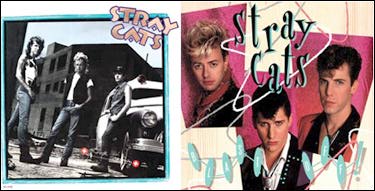 Hep Cat Records - Available April 22nd
Stray Cats' '80s Reunion
Recordings to be Reissued
&nbsp Posted March 7, 2008 - Bassist Lee Rocker wrote the notes on the two albums: Rock Therapy, recorded at historic Capitol Studios, and the Dave Edmunds-produced Blast Off
&nbsp The Stray Cats put rockabilly back onto the charts after a two-decade absence with their sly "Stray Cat Strut" and series of early '80s recordings. The Long Island-weaned combo of Brian Setzer, Lee Rocker and Slim Jim Phantom were influenced by the likes of Gene Vincent, Gene Cochran and Elvis Presley, and had not just the sound but the look down pat. Slim Jim married Britt Eckland and Setzer performed with superstars like Robert Plant and Stevie Nicks. But then the strut halted as the Cats went their separate ways.
&nbsp The band's two comeback albums - Rock Therapy and Blast Off, recorded for EMI in 1986 and 1989 respectively - will be reissued by Hep Cat Records, sibling of Collectors' Choice Music on April 22, 2008. (Hep Cat recently reissued James Hunter's acclaimed original pre-Rounder recordings.) Liner notes on the reissues were penned by standup bass slapper Lee Rocker, now a solo artist on Alligator Records.
&nbsp Rock Therapy was the Stray Cats' fifth album, recorded in the summer of 1986 at Capitol Records' historic Hollywood & Vine studios, home to recordings by everyone from Gene Vincent to Frank Sinatra. Rocker says in the notes, "Rock Therapy is an intense record with some of the best playing in the band's history. I consider it the lost Stray Cats record." The album was recorded mainly live in the studio, with "Reckless" foretelling the future solo career of Brian Setzer.
&nbsp For the 1989 release Blast Off, the Stray Cats were reunited with their original producer, the legendary Dave Edmunds. As Rocker tells it in the liners: "Brian, Jim and I decided that the time had really come to work and throw everything we had at this record ... What we hit on redefined the rockabilly music of the time: The slamming bass, caveman drum beats and stinging guitar were as raw and dangerous as anything we had ever done. On Blast off, psychobilly was reborn." The album contains "Gene and Eddie," a tribute to Vincent and Cochran, plus "Gina," which Rocker describes as "Buddy Holly on steroids."
&nbsp "When I put this record on," Rocker continues, "I can still feel the sweat that we all poured into this recording. We wanted this record to count, to mean something."
&nbsp 21 and 18 years on, these two recordings show that the band's energy and ability went on far beyond "Stray Cat Strut." Information contact: cary@conqueroo.com


---


Less than 3 months to go!!
www.screaminfestival.com/infoeng.html
&nbsp Screamin' combines incredible music, unbelievable top DJs and the sea and sun of Spain. Imagine beach parties all day long and Rockin' music till the wee hours. A week-long vacation that transports you into a relaxed yet wild world of like-minded people from all over the globe.
&nbsp Where else can you hang-out on the beach all day listening to fantastic music with free BBQ and then dance and drink the night away at any one of many shows. Or, you can lounge by your hotel pool and enjoy all that the town of Pineda de Mar has to offer, then come out to hear great bands, see friends and have a spectacular night out. During the week the parties are at the local clubs and at the now legendary Beach Bar (all easy walks or short taxi rides) on the thursday, friday, saturday and sunday nights, the BIG SHOWS are held at the main hall. That's where countless bands have performed. Record hops all night long keep you boppin' and jivin' till the sun comes up.
&nbsp The spirit of the festival is one of "All are welcome." Bring your cat clothes, drape or Hawaiian gear or your vintage tee-shirts and Levi's. Bring your children and your swimsuits. This is the festival where you can be yourself. Tatoos or topless, the warm welcome is the same.
&nbsp Pineda de Mar is small town that is focused on hospitality while still having a thriving local scene. Its not far from either Barcelona or Girona airports. Your hotel is clean, comfortable and convenient whatever your price range. When the wild, wonderful week has sadly come to an end, you won't want to return home.
&nbsp Screamin' has vendors of music, clothing, art and of course hair products. Car show? Of course! 25+ bands? Of course! Burlesque, exotica and hula dancers? Of course! Retro, vintage, modern - it's at Screamin'. Rockabilly, R&B, Doo-Wop, Western Swing - its at Screamin'. So are your new friends, old lovers and a hell of a lot more. Screamin' is a vacation that you will want to repeat year after year. It's not just a weekender, it's not just a holiday. It's a place full of the world's best music, clean sandy beaches and the warmest welcome.
&nbsp You won't want to say goodbye. It's simply a Rock and Roll oasis in sunny Spain.


---


"It's Only Make Believe"
Musical About Conway Twitty
&nbsp Posted March 4, 2008 - IT'S ONLY MAKE BELIEVE - Is so much more than a tribute show to American Music Icon CONWAY TWITTY whose untimely death in 1993 left a void in the world of Country Music. IT'S ONLY MAKE BELIEVE is Conway Twitty's story told through the eyes and heart of his children. It is a loving musical scrapbook of memories that is honest, touching, funny, heartbreaking and sincere. This production will be a musical journey of his heart, from humble beginnings to Rock and Roll Idol and all the way to a pure Country Legend.
&nbsp The musical production will be created and directed by Randy Johnson, produced by Conway Twitty United, and Executive Produced by Scott Welch Management.
&nbsp "I have listened to every recording that Conway Twitty ever released. I read, watched and listened to almost every interview he ever gave. Countless hours (and great meals) with the wonderful and gracious Twitty Family. I have come to know Conway Twitty in a rare, intimate, unique and extraordinary manner - I could almost feel his presence as I was writing the musical," says creator and director Randy Johnson. "Conway Twitty is an American Musical Legend and at the same time a loving family man who never forgot his humble beginnings. That is the truth and that is the musical I have created. I am honored and grateful to be chosen as playwright and director of the new musical IT'S ONLY MAKE BELIEVE. It is a high point in my career."
&nbsp IT'S ONLY MAKE BELIEVE will be touring across the country make stops at venues of all sizes, including Performing Arts Centers, state fairs, and theaters. The show will be exclusively booked through Buddy Lee Attractions in Nashville, Tennessee.
&nbsp Visit www.conwaytwittymusical.com for additional information.


---


Line up of the 4th edition (August 28-31 2008 - Montreal)
Montreal's Red Hot & Blue
Rockabilly Weekend
Jeudi / Thursday
The B-Side (b-side bands projects) Matchless (side project of Flipper-GutterDemons)
Southern Bad Ass (side project de Devil's Hot Rod)
And one more act TBC!

Vendredi / Friday
Nate Gibson and the Gashouse Gang, MA www.nathandgibson.com
Ace Brown and the Ohio Valley Boys, OH www.ohiovalleyboys.com
Roy Kay Trio, WA www.roykaytrio.com
The Silvertones, ONT www.myspace.com/silvertonescanada
DJ John & Jenny, ONT www.rocknrollparty.com

Samed / Saturday
Pete Worden, NY www.peteworden.com
The Honeybees, IL www.rockabilly.net/honeybees
Sleepy Labeef, TX www.sleepylabeef.com
Royal Crown (tbc), ONT www.theroyalcrowns.com
DJ Turky, France

Dimanche / Sunday
Tiki Party / carshow
The Howlin' Hound Dogs, QC www.myspace.com/thehowlinhounddogs
Battle of the DJ's (DJ's TBC)

&nbsp More news to come soon on their new website (that will be up to date soon too! www.rockabillyjam.com)


---


Lee Rocker's
"Rumble & Twang" Show
&nbsp Lee is now programing and hosting his own radio show, "Rumble & Twang," on XM Satellite Network's X-Country channel (XM-12). The show airs the first Monday of each month at 11 a.m. EST. It will replay the following Thursday at 7 p.m. EST and Saturday at 11 a.m. EST. The program is part of "The Slip Stream Special" series, where each week a different musician hosts his own show. The other artists hosting shows are Brophy Dale, Robert Earl Keen, Dave Alvin and Robbie Fulks.
&nbsp According to XM's X-County program director Jesse Scott, "We are proud to welcome Lee to the XM family. Lee's vision of rockabilly with an Americana twist is a marvelous addition to 'The Slip Stream Special.' The show acknowledges the fertile ground of all the musical styles that helped create rockabilly, mixing R&B and country to create something new."
&nbsp And Rocker couldn't agree more, saying, "'Rumble and Twang' is a labor of love for me, and it's something that in a way, I've always done. Being a musician is all about sharing music and telling stories. Having my own radio show gives me another chance to share the American music that rumbles, twangs, echoes, and slaps."
www.rumbleandtwang.com for more information.


---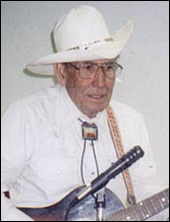 "Hot Rod Lincoln" Writer
Charlie Ryan Dies
&nbsp SPOKANE, WA. - (Feb 19, 2008). He grew up in Polson, Montana, and he co-wrote the hit song "Hot Rod Lincoln." His name was Charlie Ryan, and he died at age 92 after a long battle with heart disease.
&nbsp Ryan diedin Spokane, where he'd lived for more than 60 years. Ryan and W.S. Stevenson wrote "Hot Rod Lincoln" and Ryan recorded it in 1955. It was recorded many times since. Commander Cody and the Lost Planet Airmen made it a hit in 1972, and it's been a mainstay of popular culture for decades. The song passed the 1 million-play mark in the summer of 2000, according to Broadcast Music Inc. Ryan was born in Graceville, Minn., in 1915. He grew up in Polson and moved to Spokane in 1943.
&nbsp YouTube Video
&nbsp Hot Rod Lincoln: The Song


---


Art Greenhaw (Light Crust Doughboys)
Demos Signature Guitar Line at NAMM
&nbsp Grammy Award-Winner Art Greenhaw of the classic western swing band, The Light Crust Doughboys, was the special guest of America Sejung Corp. at the 2008 NAMM Show in Anaheim, California, the global gathering of the music products industry. Art was on-hand to demonstrate the new Sejung model guitar and piano offerings and particularly The Light Crust Doughboys Signature guitars, bass, mandolin and banjo.
&nbsp Fans, friends and show attendees from around the world had the opportunity to jam and visit with the multi-music-Hall of Famer while experiencing the latest in innovation, quality and prestige that represents America Sejung Corp. One of the highlights of the 4-day show came when surf guitar legend and Leo Fender collaborator, Dick Dale, sang and played piano with Art in an impromptu, multi-piano jam session at the Sejung exhibit. Dick is known throughout the world for hit songs including "Miserlou" and for pioneering "power rock" electric guitar and amp-playing in the 1950s and 1960s.
&nbsp Art Greenhaw's 2008 NAMM appearance is fresh on the heels of Greenhaw-produced albums on which he also played guitars and keyboards being distributed around the world. These include The Ventures' ROCKY! album on EMI Japan and Art's LONE STAR SITAR album on Times Square Records of India. For a full catalog of Art Greenhaw and The Light Crust Doughboys' music and Signature guitars, visit www.artgreenhaw.com or write The Light Crust Doughboys, 105 S. Broad St., Mesquite, Texas 75149.


---


New Book and DVD with Rare Clips ...
Marshall Lytle Update
&nbsp From Marshall, January 22, 2008 - "Hi everyone, I have been chilling out here in Floridaaa for the last 5 weeks. I have finished dictating my new book about my life and my years with Bill Haley & The COMETS. It is now being edited and transcribed into a manuscript, by my publisher, Michael Rush in Philadelphia. He and I are very excited about this book. We are going to include a DVD with some never before seen home movies taken in 1952 thru 1957. there will also 100's of photos from my collection and even film video clips of The Original Comets for the past 20 years up to and including, Branson MO. My publisher is wanting the book released by June 2008.
&nbsp "We are starting next week on a new tour that starts the busiest year in Comets history, It starts in San Francisco, Ca. where we do two shows, then to Virginia Beach Va. where we will watch the Superbowl and do a show for the ABA (American Bus Association) These are the people who bring bus loads of people to Branson to see shows.
&nbsp "Then we fly to Malaga, Spain, starting a tour with Klaus Kettner, looks like 8 Shows then 2 more in April 19-20 that we managed to squeeze in from our Branson schedule which starts on March 14th thru Dec. 14th. every day but Monday. I do hope that many of you will come see us in Branson. I LOVE YOU ALL,"
- Marshall Lytle


---


Supporting his latest, acclaimed Black Cat Bone CD ...
Lee Rocker Tours US / Europe
&nbsp Lee Rocker's latest effort, "Black Cat Bone,"bears musical muscle from his road-tested band (guitarists Brophy Dale and Buzz Campbell, and drummer Jimmy Sage) "Black Cat Bone" is an amazing collection of 10 Rocker originals (with one co-written with guitarist Brophy Dale), one song by guitarist Buzz Campbell, and reinvented covers from Bob Dylan ("One More Night") and Leon Payne ("Lost Highway," made famous by Hank Williams). The CD's scorching rockabilly, roadhouse romps and straight-ahead, old-school rock 'n' roll, create by far the strongest set of songs of Rocker's solo career.
See Lee's Tour Schedule Here.

Scott Preston's Interview with Lee Rocker


---


BIG TRIBUTE AND CD RELEASE PARTY SCHEDULED FOR FRIDAY JANUARY, 25TH 2008, IN HONOR OF MR. CEDRONE'S CD RELEASE TITLED: "DANNY CEDRONE, GUITAR VIRTUOSO"
Danny Cedrone Tribute / CD Party
&nbsp Yes, it's a Danny Cedrone Tribute and CD preview party at the birthplace of Rock & Roll ... featuring Danny's grandson; Dan Vanore and members of his band, The Business. Plus very special musical guests: The Billy D. Light Trio. Broadcasted LIVE on WNJC 1360 AM by Danny's very own son-in-law King Arthur.
&nbsp Date: Friday January, 25th 2008
&nbsp Time: 9pm to 1am
&nbsp Place: Jack's Twin Bar
&nbsp 200 S. Broadway (@ Market St)
&nbsp Gloucester City, NJ 08030
&nbsp Media Contacts:
&nbsp Danny Vanore (215) 336-5101
&nbsp Cell (215) 847-2883
&nbsp Janet Cedrone (215) 925-5795
&nbsp From a small row home in South Philadelphia to The Rock & Roll Hall Of Fame in Cleveland where Danny Cedrone's guitar has been enshrined for the past 10 years, to a little neighborhood bar in Gloucester City, NJ, where it all began over 55 years ago.
&nbsp The festivities start at 9pm and go on through 1am at Jacks Twin Bar. The legendary night spot was specifically chosen by the Cedrone family because of the local landmark's history. In case you are not familiar with its claim to fame, it's where Bill Haley & The Saddlemen wrote, and performed for the first time, what many rock historians claim to be the first record of Rock & Roll, "Rock The Joint". It is also the song where Danny Cedrone first aired out his now legendary guitar solo in "Rock Around The Clock". Danny played at The Twin Bar many times with his own band, The Esquire Boys before his untimely death back in 1954.
&nbsp So please join us for this once in a lifetime event. Guest performers include Danny's grandson Dan Vanore with members, and past members of his band, The Business; Tom Nataloni on vocals/trumpet, Andrew Carrozza on saxophone, Jimmy McCloskey on Drums, Manny Capizzi on bass, Kenny Kirby on keyboard, Eric Howarth on guitar, Justin Gonzalez on vocals/trombone, Erica Gagliardi on vocals, Bob Jackson on guitar and Greg Carrozza on Keyboards. Also, performing all night long, our very special guests, and the baddest rock & roll band in the land; The Billy D. Light Trio.
&nbsp The entire evening will be hosted and broadcast live on WNJC Radio 1360 AM, by Danny's son in law and radio personality; King Arthur. Many more surprise guests expected, so please join us for a night to remember. Long Live Rock & Roll!
E-mail: danny@thebusinessproductions.com
MySpace: www.myspace.com/danny_cedrone - www.myspace.com/dancedroneandtheesquireboys


---


125th Anniversary of
That Great Gretsch Sound!
&nbsp Gretsch, the iconic musical instrument company that has been at the forefront of popular music since 1883, yesterday (Monday, January 14, 2008) officially announced the 125th anniversary of "That Great Gretsch Sound!"
&nbsp Gretsch was founded by Friedrich Gretsch in 1883 in Brooklyn, NY and is currently being helmed by Fred W. Gretsch. Over the past 125 years, Gretsch has created legendary and unmistakeable guitars for some of the world's most well-known and groundbreaking artists, including Bo Diddley, Eddie Cochran, Chet Atkins, The Beatles, The Rolling Stones, U2 and ZZ Top.
&nbsp In celebration of this 125th anniversary milestone, Gretsch Guitars have created a great new "Show Us Your Gretsch!" on-line photo gallery, located at www.gretschguitars.com/fangallery/main.php.
&nbsp If you have a photo of yourself or a family member with a Gretsch guitar, simply e-mail it along with your name, location and a blurb with anything you'd like to say about yourself and your beloved Gretsch guitar(s).


---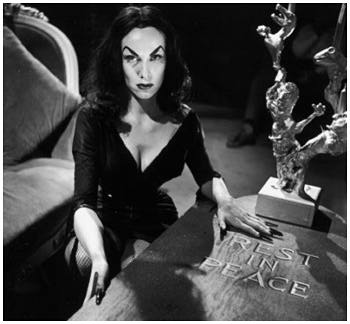 RIP: Maila Nurmi aka VAMPIRA
&nbsp One of our 50s icons, Maila Nurmi, who became synonymous with her character, Vampira, passed away in her sleep yesterday at the age of 86. She was born Maila Elizabeth Syrjaniemi on December 21, 1921, in Petsamo, Finland - now Pechenga, Russia.
&nbsp Maila came to America and started her career as a model, actress and dancer in Hollywood, but her life was forever changed when she attended the Ball Caribe Masquerade Party in Hollywood in 1953. She attended dressed as a vampish character based on the Charles Addams drawing of Morticia from the New Yorker magazine cartoons. She beat out 2000 contestants in the costume contest and won first prize! She also won the attention of ABC channel 7 producer Hunt Stromberg Jr. who hired her to host the station's new late-night horror show, called what else? The Vampira Show!
&nbsp The show premiered in 1954 and Vampira quickly got national attention. Fan clubs and magazine articles followed. Soon she was jet setting with Hollywood icons like James Dean and Marlon Brando. Unfortunately, she was fired from the studio after only just a year and a half. Why? Vampira claims she was blacklisted from Hollywood because she didn't cooperate with the Hollywood factory.
&nbsp Despite Vampira's short-lived television career, the character was to set the standard for an entire legion of horror hostesses, actresses, and even cartoon characters to follow. "Maila Nurmi" film oeuvre includes the Ed Wood-directed cult classic, Plan 9 From Outer Space, Sex Kittens Go To College and The Beat Generation.
&nbsp A documentary, Vampira: The Movie, was released late last year and can be found here: http://www.oldies.com/product-view/1033D.html


---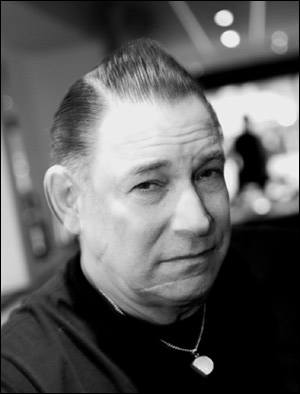 Robert Gordon Update
&nbsp On February 19, they will embark on a major European tour, their first in almost two years. "I'm thrilled to be working with Chris again", Robert says. "Something very special happens when we perform together". Chris adds that, "We'll be reprising some of the well-known favorites from our old live show, plus a few songs that Robert and I recorded together over the years but never played live. There'll be some new surprises, too. I'm really looking forward to it - and I know from past experience how wonderful the audiences are in Europe". The tour itinerary is as follows: Feb.19- The Musician, Leicester (UK); Feb.20 - C.C.Club, London (UK); Feb.22 - The Cluny, Newcastle (UK); Feb.23 - The Legendary TJ's, Newport (UK); Feb 26 - The Roxy, Prague (Czech Republic); Feb.28 - Droskan, Umea (SE); Feb.29 - Katalin, Uppsala (SE) and the Mejeriet in Lund (SE) on March 1st. They will also perform a special one-off concert in Spain on May 24th, at the "Murcia Hot Rally" in Lo Pagan / San Pedro Del Pinatar, as well as at the Americana Festival in Newark (U.K.) on July 13th.
&nbsp Last October, Robert did a tour with the tremendous Marco DiMaggio band, and due to the success of that tour, he has decided to do another tour with Marco and his boys in April '08. Shows are planned in a.o. Norway, Sweden and Finland, including an April 18th gig in Kongsberg (NO) and an April 23rd concert in Kuopio (FI).
&nbsp Promotors that are interested in booking one of these two combinations can contact us directly at: robert@robertgordon.dk or through the official MySpace: www.myspace.com/rockbillyboogie. Let's make this another "Red Hot" year!


---


Memphis Overton Park Shell Renovations
&nbsp Memphis, January 8, 2008 - Renovations are in full force at the Overton Shell. The Mortimer Levitt Foundation is funding the project along with the city of Memphis. The project cost is 1 million dollars and is expected to be done by the spring of this year. The Levitt Foundation will then provide an additional 1.75 million to operate the Shell for 5 years. It will be renamed The Levitt Pavilion For The Performing Arts at Overton Park. The new Pavilion will have 50 free concerts a year featuring local talent and special guests.
&nbsp The new Shell will have handicapped bathrooms and a special seating area for the handicapped as well. The benches have been removed and there will be no seats replacing them. Rather, people can bring lawn chairs or blankets for shows. The fencing around the Shell has been removed and donated to a local shelter.
&nbsp On each side of the stage will be a 6 foot screen with 24 bit surround sound. The Shell itself will be painted completely gold, the rainbow removed and across the top will read, Levitt Pavilion At Overton Park. The Shell opened in 1936 and closed in 2004. It will reopen just months from now.
&nbsp The Rockabilly Hall of Fame® hosted two shows at the Shell in recent years: Ricky Nelson Induction Show in 2003 and a "50 Year Anniversay Show" honoring Elvis' first appearance in July, 2004.


---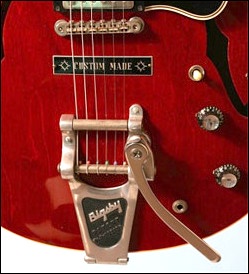 Bigsby Vibratos
&nbsp Vibratos come and vibratos go, but Bigsbys live forever. This most ancient of whammy bars has been with us since the early 1950s, and was first offered by inventor and guitar- and steel-guitar maker Paul Bigsby around the time that Gibson offered its first solidbody electric model, the Les Paul, in 1952. Despite its heritage, however, the Bigsby unit tends to elicit a "love it or loath it" response from many players: those who don't work well with the device find it just gets in the way, or throws their guitar out of tune when they do try to use it, whereas those who get it wouldn't want their wobble from anything else.
&nbsp The Bigsby has proliferated because it is one of the only, and by far the most popular, vibrato tailpieces that can be retrofitted to a wide range of guitars without major modification other than the drilling of a few small holes for its mounting screws. As such, it often proves the best vibrato for use on classic Gibson and Epiphone models such as Les Pauls and SGs, where it partners perfectly with a Tune-o-matic or wrapover bridge. It is still available as an option on models such as the Gibson Custom Shop 1957 Les Paul Custom VOS and Epiphone ES-295. The keys to getting the most from your Bigsby lie in understanding its limitations, and in setting it up. -Gibson Guitars

---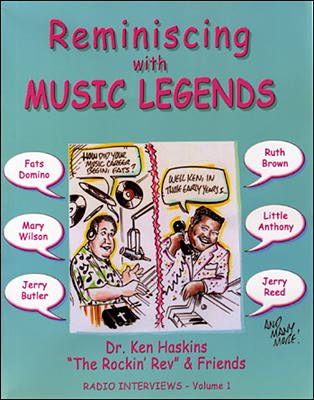 Reminiscing with
Music Legends
&nbsp Radio Interviews, Vol. 1, by Dr. Ken "The Rockin' Rev" Haskins. 40+ interviews with such artists as: Fats Domino, Jerry Allison, Sonny Burgess, Wanda Jackson, Glen Glenn, Collins Kids, Narvel Felts, D.J. Fontana, Charlie Gracie, Etc. Copies of this book may be purchased on E-bay under the name songs4ever. Dr. Ken may be reached at 775-544-0395.


---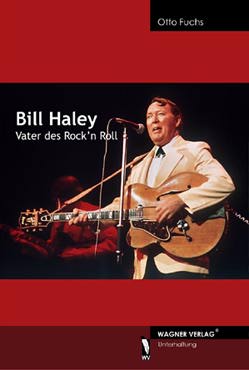 OTTO FUCHS would like to inform you about the publication of his book "Bill Haley" (Wagner Verlag ISBN 978 3-86683-351-7) - if you have a website or any other media where you could use - please help Otto to inform the public about the book. Otto Fuchs sites:
www.rocknroll-magazin.de
www.stompinnews.de
www.ukrock.net
www.wagner-verlag.de


---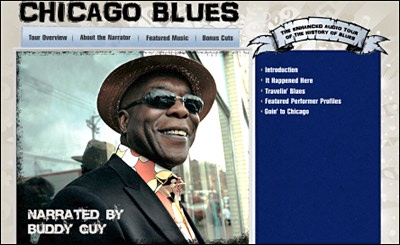 Hey Blues Fans
The 2008 Chicago Blues Festival
&nbsp Be sure to mark your calendars for the first weekend in June 2008. It will mark the 25th anniversary of one of the biggest and best Blues events on the planet, The Chicago Blues Festival. This FREE four day Blues extravaganza in downtown Chicago's Grant Park is the Mecca for Blues fans, musicians and international visitors from all over the globe.
&nbsp Of course if you make it to Chicago you are in one of the BEST places on the face of the earth for live Blues music. In a nod to the rich Blues Music heritage of this fine city, the Mayor of Chicago's office has created a multi-media website that offers us a virtual tour of Chicago Blues History narrated by Chicago's favorite son of the Blues, Buddy Guy! Audio versions of the tour can be downloaded in 5 languages! To see this historical video tour in English, CLICK HERE

BLUES BASH MAGAZINE website


---


Mark Your Calendars: Sat., Jan. 19, 2008
Deke Dickerson's
Guitar Geek Festival #5
&nbsp Posted December 5, 2007 - Here's first warning on a big shindig happening January 19th - with THE COLLINS KIDS first return to the Los Angeles area since a show at the Palomino in 1993, and before that not for decades! The best guitar festival in the entire world comes back to Anaheim for the NAMM convention weekend featuring your host and MC Deke Dickerson. Mark your calendars and we'll see you there!

SATURDAY, JANUARY 19, 2008
at the Jolly Roger Hotel Ballroom
640 W. Katella, Anaheim, CA

STARRING:

THE COLLINS KIDS - LARRY AND LORRIE! Straight from the stage of "Town Hall Party" we present Larry and Lorrie Collins, in their first Southern California appearance in 15 years, and their first show in Anaheim in decades! Singing their big hits such as "Mercy," "Rock Boppin' Baby," "Let's Have A Party," "Whistle Bait" and others, the show also includes Larry Collins playing the snot out of his double- necked Mosrite on such tunes as "Rockin' Gypsy" and "Hurricane!" Larry and Lorrie never fail to put on an amazing show, and we feel this will make the most exciting Guitar Geek Festival headlining act yet!

TESICO DEL REY - KING OF THE GUITORGAN featuring Paul "Mr. Moto" Johnson! Many remember Teisco Del Rey as the columnist for Guitar Player magazine for many years. Many more remember Teisco Del Rey from his astounding instrumental albums, where he tackled everything from surf to soul, channeling the spirit of Duane Eddy. Even more will remember him as the only man to seriously play the "Guitorgan" in the last 3 decades! All this and more will be revealed in Teisco Del Rey's first ever Southern California live appearance, with an all- star band featuring Paul Johnson of the Bel-Airs (who came and rocked his song "Mr. Moto" at last year's fest!) and Pete Curry of the Halibuts and Los Straitjackets! A set not to be missed.

DEKE DICKERSON & CRAZY JOE - TWIN GUITAR SPECIAL! See your host team up with the King of Nerd-A-Billy from Enon, Ohio in a special set of guitar duets! Don't think this will be two guys sitting down with a couple of acoustic guitars though - this promises to be EXTREME and DANGEROUS!

BRIAN LONBECK - THE BARN BURNER OF BAKERSFIELD! In a dangerous attempt to see how many Mosrite doubleneck players we can fit onto the bill, we bring back the perennial favorite Brian Lonbeck of Bakersfield to tear down the house with more Maphis-inspired mayhem!

MAESTRO ALEX GREGORY - MAESTRO OF THE HEAVY METAL MANDOLIN! If you haven't heard of this guy go to the internet and look up his name. What you see is hard to believe with your own eyes! English born Gregory was given the title "Maestro" by the H.M. Queen Elizabeth government in 1983. After years of studying classical music, he entered the field of rock music, where he has mastered such inventions as the 7-string guitar (Gregory holds two patents on the 7- string guitar!) and finally the electric mandolin. His last CD shows Gregory holding an electric mandolin while urinating on the graves of Steve Vai and Yngvie Malmsteen! We think this will make for an interesting set!

JUNIOR WATSON - SOUTHERN CALIFORNIA BLUES KING! We're excited to get "Junior" Watson on the Guitar Geek Festival bill. Junior has been playing around Southern California for the last three decades, first as a founding member of the Mighty Flyers with Rod Piazza, after which Junior did a ten-year stint with Canned Heat. Since then he's played with just about everybody in the blues world, and has amassed a cult following as the blues cat with "THE TONE!!!!"

THE "ALL-BIGSBY BAND!" - FEATURING JEREMY WAKEFIELD & T.K. SMITH! It is rare to see an instrument made by Paul A. Bigsby, inventor of the Bigsby vibrato. Many people know that Bigsby was an important instrument maker who invented the first modern solidbody electric guitar for Merle Travis, but many people have never seen one of these instruments in person! For one evening we will have a band on stage playing exclusively instruments made by Bigsby. The band will be led by festival stalwarts Jeremy "J.W." Wakefield on steel guitar and "T.K." Smith on electric guitar, along with a slew of other older and younger players - all living Bigsby owners have been invited to participate! This will be a photo opportunity never to be repeated ever again! Several vintage guitar dealers have already been rushed to the hospital!

LESTER PEABODY WITH SPECIAL GUEST MARTI BROM! Hailing from Finland, Lester Peabody is a double threat to be reckoned with - not only as a great Chet-styled finger-picker on the guitar, but also as a great steel guitar player as well! Bonus for all the lonely guitar fans will be an appearance by sultry-voiced Texas singer Marti Brom, who will sing a number or two with Lester on his great set!

JAMES CALVIN WILSEY - THE GUITAR BEHIND CHRIS ISAAK! Jimmy Wilsey has an impressive resume, not only is he the guitarist who played on Chris Isaak's breakout hit "Wicked Game," with it's haunting atmospheric guitar parts - he was also in the seminal punk band The Avengers, who can say they actually shared a bill with the Sex Pistols, at their very last show at the Cow Palace in San Francisco in 1978! Jimmy Wilsey has a brand new band called "Wilsey" with a new album out, and they will be showcasing their exciting brand of tunes at the Guitar Geek Festival!

OPENING SET - BREAKOUT TALENT SHOWCASE! The most difficult thing about putting together the Guitar Geek Festival each year is that we have so much phenomenal talent and not enough time on the festival to get everybody involved that we'd like to, so this year we're going to have a bunch of great guitarists open the show with one tune each to get the evening rolling! Guaranteed you'll want to be there from the opening bell as these guitarists are every bit as talented as our featured acts!

All ages! Full bar available! Booths from Hallmark, TNM Custom and more! Deke's Amazing Guitar Museum with a special Bigsby exhibit! DJ Dan Moses! Guitar Raffle courtesy Fender/Gretsch guitars!

Early show! Doors at 3 pm, Show at 4 pm sharp!

Tickets are $35 advance - $40 day of show and only $35 with NAMM pass! Buy advance tickets at www.guitargeekfestival.com or www.dekedickerson.com


---


New Dates, New Location
Red Hot & Blue Rockabily Weekend
&nbsp The 2008 edition of the Red Hot & Blue Rockabily Weekend will take place August 29-31 (labor day weekend) and Yep! We are moving the festival to Montreal so you have no more excuse for not coming!

LINE UP:
We are now completing the line up for RHB 2008. To play at the festival, contact Nathalie Lavergne at: info@rockabillyjam.com

PRICING FOR THE WEEKEND:
* Be one of our 25 lucky buyers! Book before December 31 and pay only 50$ for your wristband!
* For bookings received between January and July 30th '08- 75$ CAD
* At the event 90$ CAD or, per night, 35$ CAD

ADVERTISEMENT:
Take an ad in the program for only 160$/page or 350$ for the back program full colored page. info@rockabillyjam.com

BOOTH:
Wanna have a booth? The price is 250$ and you get 2 wristbands for the weekend. Plus; the vendors are located in the showroom so you won't be missing any concert! info@rockabillyjam.com

CARSHOW:
For informations regarding the carshow, contact Rejean Gauvin at: rejean_gauvin@yahoo.ca
&nbsp See you in Montreal!
&nbsp Nathalie


---
Just Released From Bear Family Records
Buddy Knox and Jimmy Bowen
With the Rhythm Orchids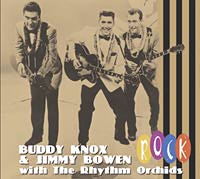 &nbsp [BCD 16872-AR] - Following their national emergence in 1957, the achievements of two small town Texas boys would shake the music world for decades to come. Still remembered for the enduring classic Party Doll, Buddy Knox was the first rockabilly singer-songwriter to score a number one pop hit, and enjoyed more follow up successes than many of his peers (Hula Love, I Think I'm Gonna Kill Myself and several others). Jimmy Bowen, whose Roulette waxing of I'm Stickin' With You was a solid Top 20 hit, later produced major smash hits by Dean Martin, Frank Sinatra, Mel Tillis, Reba McEntire, and George Strait. In the process, he revolutionized the Nashville sound. Knox and Bowen began their careers in the Rhythm Orchids, a freewheeling quintet that rose from college fraternity parties to national prominence virtually overnight. 'Those were the pioneer days of rock,' Knox said in an interview, 'most of us won't trade those days for anything.' The complete story is told here by Johnny Vallis. Every hit and every rockin' single from every significant label affiliation.
&nbsp Party Doll - Maybelline - Mary Lou - I'm Stickin' With You (Jimmy Bowen) - Cause I'm In Love With You - Rock Your Little Baby To Sleep - Devil Woman - My Baby's Gone (Jimmy Bowen) - Rockabilly Walk (instrumental) - Rockhouse - Rock Around The Clock - Warm Up To Me Baby (Jimmy Bowen) - Hula Love - Whenever I'm Lonely - Swingin' Daddy - Money Honey (Jimmy Bowen) - C'mon Baby - That's Why I Cry - Somebody Touched Me - Can She Kiss (Jimmy Bowen) - I Think I'm Gonna Kill Myself - All For You - Long Lonely Nights - Stick With Me (Jimmy Bowen) - Storm Clouds - The Girl With The Golden Hair - Lovey Dovey - I Got You - Ling Ting Tong - She' s Gone - Good Lovin'


---


Wilburn Brothers News
&nbsp November, 26, 2007 - Thought I'd update ya'll on Wilburn Brothers information. First, they have a website run by the family at www.myspace.com/thewilburnbrothers.
&nbsp Secondly last years' Wilburn Brothers Tribute was held in Hardy, Ark Memorial Day Weekend. Don Helms was the headlining artist with the Malpass Brothers. A Blvd and Bridge were both named in honor of the Wilburn Brothers and the family attended. Mrs. Geraldine Wilburn Grisham was given the key to the City. They are raising money in Hardy to build a Wilburn Brothers Museum. The event will become an annual event with the next one scheduled for May 24, 2008.
-Susan Brant, maggdoodle@yahoo.com


---


Steel Guitarist John Hughey Dead at 73
&nbsp John Hughey, who made his musical reputation as a steel guitar player for Conway Twitty and Vince Gill, died Sunday evening (Nov. 18) in Nashville. The native of Elaine, Ark., was 73. According to details posted on his website, Hughey got his first guitar-a Gene Autry model from Sears-when he was nine. In the seventh grade, he became friends with classmate Harold Jenkins, who would later adopt the name Conway Twitty. Inspired by the sounds of Little Roy Wiggins, Eddy Arnold's steel player, Hughey persuaded his father to buy him a lap steel. While still in high school, he and Jenkins formed the Phillips County Ramblers and briefly starred in their own radio show on a small local station. In 1953, Hughey joined Slim Rhodes & The Mother's Best Mountaineers out of Memphis. For the next several years, Hughey alternated between playing in Rhodes' band and performing in nightclubs. In 1968, Jenkins-by then appearing as Conway Twitty and aspiring to switch from fledgling rock star to country crooner-drafted Hughey into his band. Hughey toured and recorded with Twitty for the next 20 years. After that, he worked with Loretta Lynn for nearly two years before joining Gill's band, where he remained for 12 seasons. He was inducted into the Steel Guitar Hall of Fame in 1996. In recent years, he was a member of the Time Jumpers, an ad hoc band of studio and touring musicians that plays each Monday night at Nashville's Station Inn bluegrass club. An active session musician, Hughey's work was also featured in movies, television series and specials, commercials and music videos.


---


Lee Denson R.I.P.
&nbsp Posted Nov. 13, 2007 - Lee passed away last week and was buried Saturday. November 10th. A rockabilly singer who reportedly taught Elvis Presley how to play the guitar, Lee Denson is one of rock's little-known pioneers. Active between 1956-1965, Denson, who also recorded under the name Jesse James, is best-remembered for the stellar cast of musicians and vocalists that he featured on his recordings, including Eddie Cochran, Sam "The Man" Taylor, Dorsey Burnette, and Kenny Burrell & the Jazz Guitar Band. Two songs - "Mississippi Bridge" and "Sixteen States" - featured the harmonies of Richard and Karen Carpenter, the only commercial recording with Karen singing background vocals. Denson had his greatest success as a songwriter when Elvis Presley recorded his hymn "Miracle of the Rosary."


---


Fundraiser At Trouts Nightclub
&nbsp Inez Savage has organized a double headed event at Trouts Nightclub, 805 No. Chester Ave, Oildale, CA on Sunday December 2, 2007 from 12:30pm-2:30pm. This will be a fundraiser for The Alliance Against Family Violence as well as a tribute to Bakersfield's First Ladies Of Country Music. Live music will be provided by The Oildale Shadee Ladies (plus 2) with surprise guest artists. They will be selling raffle tickets for many donated items as well as door prizes to raise funds. The tribute will be to the following ladies Carolina Cotton, Wennel Crapo, Anita Cross, Eyvonne Gathings, Jeanne King, Rose Maddox, Lori Malone, Dorothy Maynard, Jo Ann Miller, Marcia Nichols,Jeanne O'Neil, Bonnie Owens, Delores Shaw, Coylou Shepherd and Sandy Thomas. All of these ladies at one time or the other performed in and around Bakersfield in past years and are an integral part of what became The Bakersfield Sound. If you cannot attend and wish to donate you may send a check made out to Alliance Against Family Violence and mail to 1921 19th Street, Bakersfield, CA 93301. For more info call Inez at at (661) 399-3981.


---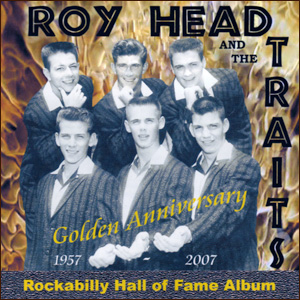 Roy Head & The Traits 50th Anniversary/RHOF CD
Contact royheadandthetraits@yahoo.com


---


Lee Rocker On Tour,
On Air, and Online
&nbsp As Lee Rocker and Company promote the latest "Black Cat Bone," fans have the opportunity to catch Lee Rocker on tour across the United States during 2007, and in Europe during March 2008. In the meantime, Lee's recent performances are now available online, including a National Public Radio appearance (click here to listen). Lee was also recently featured on Rockabilly Magazine's Rockabilly TV. leerocker.com.


---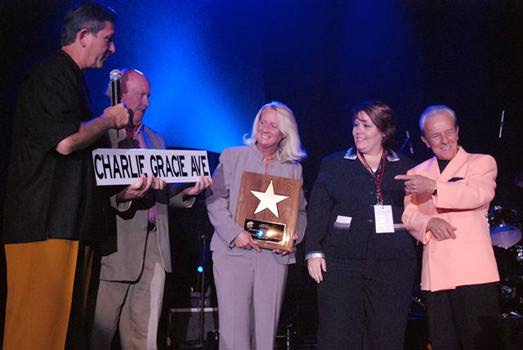 CHARLIE (far right) presented with street sign and gold star plaque (actual sign was placed at OAK and ATLANTIC AVES, next to the BOLERO RESORT HOTEL). PRESENTERS: MAYOR ERNIE TROIANO, COMMISSIONER, BILL DAVENPORT and CHAMBER OF COMMERCE EXECUTIVE DIRECTORS: LAURIE ROACH and PRESIDENT TRACEY DUFAULT. HEARTFELT THANKS TO ALL OF YOU!

Charlie Gracie Avenue
&nbsp Over 7,000 people witnessed the special street dedication in WILDWOOD, NEW JERSEY - awarded to CHARLIE GRACIE - Philly's Pioneer Rocker to commemorate the 50TH ANNIVERSARY of his performing at that great U.S. family resort. CHARLIE, who ushered in the "Philly Sound" back in 1957, performed 3-times this past weekend at the "FABULOUS FIFTIES FESTIVAL" along with his South Philly buddy, BOBBY RYDELL, the CADILLACS, LITTLE ANTHONY, the CHANTELLS and Cornell Gunther's COASTERS. All were FABULOUS!


---


Bill Haley Museum Opens
Its Doors October 27, 2007
&nbsp Schleissheimerstr.321, 80809 Munchen, Germany - "We're Gonna Party" at the museum from 3 to 5 pm with special guests including Bill Turner (Bill Haley's Comets), Mike Berry,Paul Wurges,.... and from 7.30 pm at the "Max Emanuel Brauerei", Adalbertstr. 33, Munchen with a live show including Bill Turner (USA), Mike Berry (UK), 45 RPM (D) and Marty & The Rocking Comets (D).
&nbsp After our pre opening with the Original 1955 Comets in March this year, we?re proud to have another Comet opening the museum - Bill Turner who was touring with Bill Haley around the world in the 1970s.
&nbsp For many years now, Hydra Records has been in the forefront of promoting the rockin' music and influence of Bill Haley and his Comets. To take this a logical step forward, we are proud to announce the establishment of a museum devoted to all matters relating to Bill Haley.
&nbsp With the song 'Rock Around The Clock', Bill and his Comets not only launched a musical revolution but changed youth culture forever. All in all, the outfit has sold in excess of 150 million records and are still rock 'n' roll leaders. It is not exaggerating to state that they are one of the most important bands in musical history.
&nbsp In their Bill Haley museum, Hydra Records has on display a never before seen quantity of their records, original documents, music instruments, gold records, awards, movie posters, pictures and much more relating to the genius that was Haley. There are also additional exhibits concerning Bill's musical contemporaries and the musical styles involved. In short, this is a breath taking in-depth overview of one of the leading figures of rock 'n' roll. It has all been carefully set up to entertain and be of interest to anyone who has an interest in music, both past and present.
&nbsp The legend and importance of Bill Haley and his Comets cannot be over estimated and should be preserved in our memories forever.

Museum concept: Dr. Winfried Grundel / Klaus Kettner
Bill-Haley-Museum
Schleissheimerstr. 321
80809 Munchen
Germany
Tel: +49/89/3113918
rockithydra@t-online.de
Opening hours: Tuesday - Friday 12 - 6 pm / Saturday 10 am - 3 pm


---


Tony Wilkinson's
Mini Review of Hemsby #39
&nbsp October 15, 2007 - Just back from Hemsby. Reasonable crowd and overall, a lot better than I had anticipated.
&nbsp * Alvis Wayne was unable to make it. Apparently he had caught an infection in his leg from a bite by a dragon fly and this turned serious. He has had to have one leg amputated at the knee.
&nbsp * Erwin Travis was two members of his band short due them having ben involved in a serious car crash in France on the way to Hemsby. However, with stand in UK musicians and some of his own, put on an excellent Gene Vincent show.
&nbsp * Nick Willet has improved greatly since I last saw him. Much more his own person now as opposed to being an Elvis copyist. Very entertaining.
&nbsp * Art Adams once again gave 110% of himself. Very enjoyable rockabilly come rock 'n' roll. I like this man. Nice to see Bill Stewart back with him after a successful battle with cancer
&nbsp * James Intveld was bloody marvellous. Somewhat in the same vein as Dwight Yoakam but with a more pronounced harder rockin' edge. Superb showman who knew how to work the stage and had three brilliant back up musicians with him
&nbsp * Mischief. A fine Dutch rockabilly trio who, once again, were good. They were deputising for Kick 'Em Jenny whose Italian backing band had also been involved in a bad car crash.
&nbsp * The Keytones had to play four encores but, personally, I am unsure about this trio who seemingly are better known on the Continent than here in the UK. Song selections ranged from 'Mr. Sandman' through 'Volare' and 'Marie' to 'Slow Down' and 'The Train Kept A Rollin' with 'Miserlou' also thrown in. For me, they were the rockabilly revival's answer to the Four Freshmen or The Hi Los or The Gaylords.
&nbsp * The Slapbacks ware an Australian Rockabilly trio (without a drummer). Adequate but are not going to set the world on fire.
Regards,
Tony Wilkinson


---


Actor Matt Dillon in Chess Movie
&nbsp Fans may be interested to know that Oscar-nominated actor Matt Dillon, star of movies including "There's Something About Mary", "Crash" and "You, Me and Dupree", is in final negotiations to play the role of Leonard Chess, the co-founder of Chess Records along with his brother Phil, in the new Sony/BMG Films musical biopic "Cadillac Records".
&nbsp The period piece follows the rise and fall of Chess Records, which launched the careers of blues and rock & roll greats including BO DIDDLEY, Chuck Berry, Etta James, Little Walter, Muddy Waters, Sonny Boy Williamson and Howlin' Wolf.
&nbsp The script and direction is by Darnell Martin, (2005's "Their Eyes Were Watching God"), with Sony/BMG's Sofia Sondervan and Andrew Lack producing. Filming is set to begin in January in Chicago and New Jersey.


---

New Gene Vincent Book
&nbsp "Just a short note to tell you about a new book covering Gene Vincent short life in cartoon. The 70 page book is just out and is a great tribute to the "Screaming End" who left us in October 1971. The book is in French but can be easily understood by english readers. You can find it on Amazon or Virgin web sites. I promise you they don't give me any money for this plug. I just bought my copy for 13.50 Euros. The book cover Gene's whole life from childhood to his sad passing. If, like me, you miss Sweet Gene Vincent ... This book is for you!" - Dominique "Imperial" ANGLARES (France)


---


Charlie Gracie Heading for France
&nbsp Philly's first rocker prepares to cross the Atlantic for shows in Leon, France: Oct. 10-16. This will mark the 3rd time Charlie will play "LA FRANCE" where "roots rock" is still very popular. He comes home to play the Fabulous Fifties Festival in Wildwood (Oct. 20/21) where the city fathers will dedicate "Charlie Gracie Blvd" in the heart of town. Charlie begins a BRITISH TOUR on OCT. 24 which ends NOV. 20. Details, go to: www.charliegracie.com.


---


Whole Lotta Shakin':
The Life and Music of Jerry Lee Lewis
&nbsp CLEVELAND - 2007 series will mark the FIRST time the Rock & Roll Hall of Fame honors a living master - 1986 Inductee Lewis will join celebration. The Rock and Roll Hall of Fame and Museum and Case Western Reserve University will celebrate the legacy of one of the founding fathers of rock and roll, the legendary Jerry Lee Lewis, during the 12th Annual American Music Masters series this November. The weeklong event begins on Monday, November 5, and will feature panels, films, educational programs, a daylong conference at Case and a tribute concert at Playhouse Square's State Theater.
&nbsp The tribute concert will take place on Saturday, November 10 at 8 p.m. at Playhouse Square's State Theater. The concert will feature an all-star lineup. Tickets for the tribute concert are $30, $40 and $50. Tickets are on sale through tickets.com and at the Playhouse Square box office (216) 241-6000.
&nbsp Artists performing in the Tribute Concert include George Thorogood, Shelby Lynne; Kris Kristofferson; Terry Adams from NRBQ; Wanda Jackson; Narvel Felts; Billy Lee Riley; Cowboy Jack Clement; and Jason D. Williams. The program will also feature appearances by Jerry Lee Lewis's cousin the Reverend Jimmy Swaggart and sister Linda Gail Lewis.


---


Songwriters Hall of Fame
Gets a Place to Call Home
&nbsp NASHVILLE - Red top, black miniskirt, high heels, pink highlights and lots of flashbulbs: Nashville Songwriters Hall of Famer Dolly Parton entered the room at the old Columbia Records building and proclaimed herself quite glad to not be homeless anymore.
&nbsp She was referring to the Mike Curb-owned building at 34 Music Square East, where the Songwriters Hall of Fame - previously a virtual entity that could be accessed by computer but not on foot - will be housed.
&nbsp The building is where Kris Kristofferson used to sweep up during his pre-fame job as a janitor. Now, he, Parton and the other 160 members will be honored there, thanks to a partnership between the Mike Curb Family Foundation, Belmont's Mike Curb College of Entertainment & Music Business and the Nashville Songwriters Hall of Fame Foundation.
&nbsp The building sports the famed Quonset Hut Recording Studio, where Kristofferson, Johnny Cash, Marty Robbins, Patsy Cline and thousands of others recorded. That studio and the rest of the building will be used by Belmont University students seeking a songwriting major at the school. That major was made available beginning this semester, and its instructors include hit writers Thom Schuyler and Bob Regan.
&nbsp The Quonset Hut is being renovated with assistance from notables including session musician great Harold Bradley. And Nashville Songwriters Foundation board chairman Roger Murrah said he expects that the physical Songwriters Hall will be ready by the end of 2008. - Courtesy: Peter Cooper, The Tennessean


---


Albert Lea's Cochran Days
Celebrate Legend, Oct. 6th
&nbsp ALBERT LEA, MN - A birthday party for rock music legend Eddie Cochran will be held Saturday, Oct. 6, at the Albert Lea Civic Theater. The concert begins 7:30 pm. Oct. 6.
&nbsp Eddie Cochran Days are celebrated in Albert Lea each June. He achieved music fame after his family moved to Bell Gardens, Calif. First, he played country, then rockabilly and finally rock n' roll. "Sittin' in the Balcony," "Comon Everybody" "Something Else" "My Way" and "Nervous Breakdown."
&nbsp Musicologist say his biggest hit "Summertime Blues" had a lasting effect on rock music both lyrically and musically. He died in a traffic accident in the United Kingdom in 1960 when he was only 21. His biggest hit in the UK was "Three Stars" a recording released posthumously that was a tribute to Buddy Holly, J. P. Richardson (The Big Bopper) and Richie Valens all killed in a 1959 plane crash near Clear Lake, Iowa.
&nbsp He was inducted into the Rock and Roll Hall of Fame in 1987 and is also honored in the Rockabilly Hall of Fame®.
&nbsp Tickets are $15 for adults and $10 for seniors and students. Reserved seat tickets may be purchased at Doyle Hallmark, Northridge Mall and Apold Music, Austin.
&nbsp The special Cochran birthday bash is sponsored by Power 96 Classic Rock, Sundal Instant Printing and KOWZ 100.0 FM. For more information or to make reservations, call (507) 377-4372.


---
Linden, TN Rockabilly Show
Saturday, November 10th

Click to see enlarged poster
---


"Rockabilly Radio" Update:
September 17th, 2007
Hi All,
Our scheduled relaunch date is still October 1st but I have a few items that I would like to share with you. I've added a new, more secure forum. Please feel free to use it for informal Rockabilly related postings. A new chat room has been added. I plan on being in there on Thursday evenings. Drop in and say hi. There has been a new Rockabilly events calendar added. You can list any Rockabilly related events or artist schedules there. I have received 14 new CDs from artists in the last 2 weeks. If you want your music played on Rockabilly Radio, send your CD to:
&nbsp Rockabilly Radio
&nbsp PO Box 5046
&nbsp Baltimore, Md. 21220
I would like to thank those listeners who have donated to Rockabilly Radio. We remain $77 short of our goal for October 1st. If those funds can't be raised the station will launch on Live365 instead of independently through Loudcity. The important thing to me is that we broadcast, if it's through Live365, that's fine. Live365 poses a 100 free listener limit and will only allow a maximum 64k stream.
&nbsp On the subject of station finances, I honestly think it's unfair to rely on the same people to support the station. I have added a new subscribe button for those who would like to contribute $5 a month. If you enjoy the station, please consider this.
&nbsp Thanks,
&nbsp Don Freeman
&nbsp Rockabilly Radio



---
Hank Thompson Honored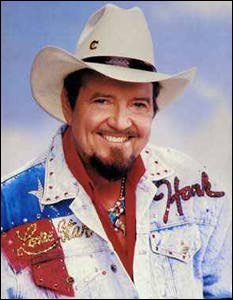 Information: Contact: David Stallings 936.569.8650
To set up interviews, please e-mail: athompson@hankthompson.com
Tickets to the event: phone 254.776.1660
&nbsp Country Music Legend Hank Thompson will be honored in his hometown whenhe performs at 5:30pm on October 8th at The Heart O' Texas Fair in Waco. Governor Rick Perry and Mayor Virginia DuPuy have declared October 8, 2007, "Hank Thompson Day" in The State of Texas and in The City of Waco.
&nbsp Few country music artists can claim a longevity and track record to equal that of Hank Thompson. Between 1948 and 1974 he scored no less than twenty-nine Top Ten hits, with another nineteen in the Top Twenty, and continued to chart into the 1980s. Many of these, including "Green Light," "Whoa Sailor," and "Waiting in the Lobby of Your Heart," he penned himself, thus proving his stature in country music's great singer-songwriter tradition. Along the way Thompson forged a potent blend of honky-tonk and western swing that has long served as a source of continuity amid country's experimentation with rock and pop sounds.
&nbsp Like many country stars, Henry William Thompson took an early interest in music, winning several amateur contests on the harmonica. After he became enthralled by cowboy movie idol Gene Autry, however, the guitar became Thompson's instrument of choice. With a Christmas present from his parents, a four-dollar guitar bought at a secondhand store, young Hank was on his way. By the time he finished high school he was broadcasting over radio station WACO as Hank the Hired Hand, sponsored by a local flour company.
&nbsp After graduating, Thompson enlisted in the U.S. Navy. While stationed in San Diego, he persuaded his superiors to let him play area clubs, and after putting out to sea, he entertained his shipmates as well. He kept on broadcasting, too, over a network of small stations organized by American military personnel in the South Pacific. While in the navy he also took advantage of training programs and studied electrical engineering at Southern Methodist University, the University of Texas, and Princeton Universitymaking him one of country music's better-educated stars.
&nbsp Although he pondered an engineering career after his navy stint was over, radio work and his first hit record, "Whoa Sailor," kept him on a show business track. Assisted by prominent DJ Hal Horton of the 50,000-watt KRLD in Dallas, this Globe Records release became a minor regional success. Thompson also recorded four sides with the Blue Bonnet label before Tex Ritter, then a prominent star on Capitol Records, helped him gain a contract with this larger, major label. During 1948­1949 Thompson justified Ritter's faith in him with hits such as "Humpty Dumpty Heart" (based on the children's nursery rhyme), "Green Light," and a remake of "Whoa, Sailor."
&nbsp During the 1950s Thompson's songwriting talents, smooth baritone, precise diction, and powerful combination of western swing and honky-tonk sounds helped him continue his string of hits. The year 1952 brought his first #1 disc, "The Wild Side of Life," a song that inspired the hit that launched Kitty Wells's career: "It Wasn't God Who Made Honky-Tonk Angels." Subsequent Thompson chartmakers of the 1950s included "Waiting in the Lobby of Your Heart," "Rub-A-Dub-Dub," "Yesterday's Girl," "Wake Up, Irene," "Honky Tonk Girl," "Most of All," "The Blackboard of My Heart," and "Squaws Along the Yukon," all in the Top Ten.
&nbsp During these years Thompson also made inroads into television, hosting a variety show on WKY-TV in Oklahoma City from 1954 to 1957. In addition, he was one of the earliest country performers to entertain in Las Vegas showrooms, and he recorded one of country's first live albums, Live at the Golden Nugget, there in 1960. Meanwhile, he brought his engineering knowledge to bear on his stage show and built top-flight sound and lighting systems that heightened his drawing power at the more than 250 show dates he typically played each year. Thanks to his musical and technical leadership, his Brazos Valley Boys were Billboard's top-ranked band from 1953 to 1965, a record that has yet to be equaled.
&nbsp Into the 1960s and beyond, Thompson's easy manner made him a welcome guest on network TV variety shows, as did a dynamic stage presence magnified by his size (he stands six feet, two inches tall); a rough-hewn, handsome appearance; and custom-made western outfits for which he became famous. But following "A Six Pack to Go" (#10, 1960) and "Oklahoma Hills" (#7,1961), he didn't make the Top Ten again until 1968's "On Tap, in the Can, or in the Bottle" and "Smoky the Bar," both recorded early in his association with Dot Records, which he began after a brief stay at Warner Bros. in the late 1960s. Two more Top Ten hits came in 1974, but the 1970s belonged to country pop, and Thompson's chart success dwindled to the point where he pared down his road schedule and spent more time hunting or tending to his various real-estate, broadcasting, and music publishing interests.
&nbsp In the 1980s, however, as harder-edged sounds enjoyed renewed popularity, Thompson hit the road again in earnest, playing dates in Europe, Africa, Asia, and South America as well as in the United States. He also kept recording, and he signed with Nashville's Step One Records in 1987. In 1997 Curb Records released Hank Thompson and Friends, a critically acclaimed collection of duets pairing Thompson with Lyle Lovett, Vince Gill, George Jones, Kitty Wells, and others. Thompson's 2000 HighTone Records album Seven Decades featured his sure handling of both new material and classic country songs he'd never recorded before. Thompson's hard-core honky-tonk­western swing soundmarked by a strong rhythm section of piano, bass, guitar, and drums; lead and fill parts supplied by twin fiddles, electric guitar, and steel; frequent shifts from 2/4 to 4/4 time, and above all his powerful vocalscontinues to influence country artists such as George Strait, Dwight Yoakam, Asleep at the Wheel, and others among country's newer generation. Hank Thompson was elected to the Country Music Hall of Fame in 1989. He still performs throughout the world. He and his wife of 37 years, Ann, reside in the Fort Worth area.
&nbsp For ticket information to the event, please contact the Heart O' Texas Fair ticket office at 254.776.1660




---


BO DIDDLEY: I'm A Man/The Chess Masters, 1955-1958
Early Bo Diddley 2-CD Set
&nbsp Fans may be interested to know that "I'm A Man/The Chess Masters, 1955-1958" is the title of a major new BO DIDDLEY 2-CD compilation set released by Hip-O Select.
&nbsp Currently Hip-O Select's Featured Release, this CD Edition is limited to 5,000 non-numbered limited edition copies and comes complete with a free guitar magnet while stocks last.
&nbsp The 49 tracks (see the complete track listing, below) comprise every master recorded for Checker Records by BO DIDDLEY during the years 1955 to 1958, plus 12 alternate takes. There are 8 previously unreleased tracks, highlighted by a pair of alternate takes of "Bo Diddley", a ballad titled "Our Love Will Never Go" and a take on the Mickey & Sylvia hit "Love Is Strange".
&nbsp The music comes with complete discographical information compiled from the Chess files, tape boxes and with the input of BO DIDDLEY's biographer and discographer, George R. White. The set also includes comprehensive liner notes by noted journalist/critic/disc jockey Chris Morris and was produced by three-time Grammy Award-winning reissue producer Andy McKaie.
&nbsp These are among the most important rock & roll recordings ever and this is the first time that they have been released in this fashion.
&nbsp Hip-O Select is an Internet-only retail site specializing in reissues of hard to find and out of print titles from the Universal Music Group. Selling directly to customers through its website, the label has released close to 200 projects featuring such diverse artists as The Animals, James Brown, Jimmy Cliff, Etta James, Peggy Lee, The Supremes, DJ Shadow, Suzanne Vega and Joe Walsh.

DISC 1
1. Bo Diddley (alternate - 1)
2. I'm A Man (alternate)
3. Little Girl (alternate)
4. Bo Diddley (alternate - 2)
5. Bo Diddley - master
6. I'm A Man - master
7. Little Girl - master
8. You Don't Love Me (You Don't Care)
9. Diddley Daddy
10. She's Fine, She's Mine
11. Pretty Thing
12. Heart-O-Matic Love (partial/alternate)
13. Heart-O-Matic Love - master
14. Bring It To Jerome (unedited version)
15. Bring It To Jerome - master
16. Spanish Guitar
17. Dancing Girl
18. Diddy Wah Diddy
19. I'm Looking For A Woman
20. I'm Looking For A Woman
21. I'm Bad
22. Love Is Strange
23. Who Do You Love
24. Cops & Robbers
25. Down Home Special

DISC 2
1. Hey! Bo Diddley
2. Mona
3. Say Boss Man (undubbed alternate)
4. Say Boss Man - master
5. Run Diddley Daddy (early version)
6. Before You Accuse Me
7. Say Man (alternate)
8. Say Man - master
9. Hush Your Mouth (alternate)
10. Hush Your Mouth - master
11. Bo's Guitar
12. Dearest Darling (alternate)
13. Dearest Darling
14. The Clock Strikes Twelve
15. Willie & Lillie
16. Our Love Will Never Go
17. Bo Meets The Monster
18. I Love You So (first version)
19. The Great Grandfather
20. Crackin' Up
21. Don't Let It Go
22. I'm Sorry
23. Oh Yea
24. Blues, Blues

Hip-O Select website: http://www.hip-oselect.com


---


Bo's Feelin' Good
&nbsp We are delighted to be able to report that BO DIDDLEY has now left the medical center in Gainesville, FL where he was admitted after suffering a heart attack last month.
&nbsp With his health greatly improved, BO DIDDLEY is now resting at home and happy to be back with his family. His family and friends would like to thank his fans for the outpouring of cards, letters and good wishes that followed his stroke last May and lastmonth's heart attack.


---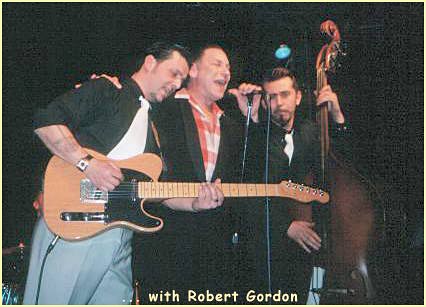 Robert Gordon & Marco Di Maggio:
A Dynamite Collaboration
&nbsp October 17, 2007 will mark the beginning of yet another major Robert Gordon tour, and this time it will bring him to countries like Finland, Estonia, Spain and Denmark. Gordon, whose career is enjoying a genuine revival lately, is very excited about this tour: "The audiences in Scandinavia and Spain always bring out the best in me, and I look forward to returning to Europe in October. This is where some of my most loyal audiences are, and I really want to give them my best".
&nbsp A nice scoop for this tour is the fact that Robert will be backed by the great Marco DiMaggio and his band. Though Robert has done one-off gigs together with the DiMaggio band in the past, this will mark the first time that they tour together. It's also interesting to note that for DiMaggio, one of the brightest names on the current rockabilly scene, this tour will be the first time that he performs in Scandinavia.
&nbsp The present tourdates are as follows: Oct 17 - On The Rocks, Helsinki (FI); Oct 18 - 45 Special, Oulu (FI); Oct 19 - Hotelli Ellivuori, Vammala (FI); Oct 20 - Rock Café, Tallinn (EE); Oct 25 - Club Nasti, Madrid (ES); Oct 26 - Sala Wah-Wah, Valencia (ES); Oct 27 - Orihuela Alicante Fiesta Concentracion Motorista (ES); Sala Be Cool, Barcelona (ES); Oct 30 - Juelsminde Golfklub (DK); Oct 31 - Stengade 30, Copenhagen (DK); Nov 2 - 100 Club, London (UK). For more info, please go to www.robertgordon.dk or visit our MySpace at: www.myspace.com/rockbillyboogie


---


Carl Perkins Screenplay
&nbsp When rockabilly legend Carl Perkins died in 1998, he left behind a musical legacy rich with hits including "Blue Suede Shoes," "Matchbox" and "Honey Don't." Among those recording songs he'd written were The Beatles, Elvis Presley and The Judds.
&nbsp But it wasn't until Perkins was on his deathbed that he shared what some say is his greatest story of all: The Thinkin' Place, his view of heaven.
&nbsp Perkins' daughter Debbie Perkins Swift, his business associate Rick Korn and Nashville songwriter Randy Moore spent the past several years adapting Perkins' account of The Thinkin' Place into a screenplay of the same title reflecting the guitarist's life. With financing of $30 million to $40 million secured (Johnny Cash's Walk the Line cost an estimated $28 million to make), and production company Fastlane Entertainment in place, The Thinkin' Place is expected to be in theaters nationwide no later than 2009.
&nbsp The script starts with Perkins at the end of his life. He's sitting in his living room in West Tennessee holding a snow globe encasing a pair of blue suede shoes. When he goes to sit the globe back on the table, it shatters and time travels back to his early years in the cotton fields and follows throughout his life. The screenplay isn't an exact retelling: Facts and situations are accurate, Korn said, but the writers took some creative license in further developing the theme of the thinkin' place into the story. - Cindy Watts, Tennessean


---


New Studio Album Out October 23, 2007 On New West Records
Dwight Sings Buck
&nbsp Multiple Grammy® Award winner and entertainer Dwight Yoakam is set to release Dwight Sings Buck, a one-of-a-kind new album honoring the legendary Buck Owens, out on October 23, 2007, as both a CD and a Limited Edition 180 gram vinyl record, from New West Records. "After his death, it was the clearest way I could express my love for him and acknowledge the depth of our friendship" said Yoakam on why he chose to record an album of Buck Owens songs. A portion of the proceeds from sales of the album will be donated by Dwight Yoakam and New West Records to the "Buck Owens American Music Foundation" a charity devoted to the preservation of the Bakersfield sound and the Buck Owens legacy. The emotional "Close Up The Honky Tonks," will be released as the album's first single which incidentally was written by Bakersfield legendary singer/songwriter Red Simpson.
&nbsp Dwight and Buck's profound initial musical connection turned into a life-long friendship. Yoakam demonstrates the enormous amount of love and respect he had for his friend with this special album honoring Owens' legacy and showcasing his many hits. The Bakersfield sound was developed in Bakersfield and throughout California in the 1950s and 60s by the likes of Merle Haggard and Buck Owens and the Buckaroos. Bakersfield country was an alternative to the Nashville country sound of the late 1950s. It was a sound that added electric instruments and other stylistic elements, borrowed from rock and roll. Buck Owens was one of the first to bring this Bakersfield sound to mainstream audiences and his music also influenced later country stars. Yoakam pays tribute to this amazing artist and his music with Dwight Sings Buck , a fifteen track collection of many of Owens' most memorable singles including 11 top five hits, eight of which reached #1 on the country charts; "Act Naturally," "My Heart Skips A Beat," "I Don't Care (Just as Long as You Love Me)," "Only You (Can Break My Heart)," "Love's Gonna Live Here," "Your Tender Loving Care," "Think of Me," and "Together Again."
&nbsp Hailed as a "Renaissance Man" by Time Magazine, this Kentucky native, who was raised in Ohio, migrated to Los Angeles and blazed out of the LA club scene in 1986. Yoakam shared stages with LA roots-rock acts such as X, Lone Justice, the Blasters and Los Lobos. Beginning by revitalizing the Buck Owens/Bakersfield sound for a new generation, Yoakam would later push the envelope of the country music genre and transcend its parameters by experimenting with big band, American and British pop elements. Yoakam fashioned memorable hits ranging from "Ain't That Lonely Yet," "Fast As You," "I Sang Dixie," "Thousand Miles From Nowhere," "Little Sister" and "Guitars, Cadillacs." With the success of the albums Guitars, Cadillacs, Etc. Etc, Hillbilly Deluxe and Buenas Noches >From a Lonely Room, he was soon considered the hottest young country star in ages. In the '90s he reached a commercial apex with the multi-platinum-sellers If There Was A Way and This Time. To date Yoakam has 17 Top 10 country hits and has sold more than 23 million albums worldwide.
&nbsp Since his 1993 film debut opposite Nicholas Cage in Red Rock West, he has worked steadily in movies and television with exceptional performances in Sling Blade, The Minus Man, Panic Room, and Crank. In 2000 he also directed, wrote and starred in a film of his own South of Heaven, West of Hell.

Dwight Sings Buck Track Listing:
1. My Heart Skips A Beat
2. Foolin' Around
3. I Don't Care (Just As Long As You Love Me)
4. Only You
5. Act Naturally
6. Down On The Corner Of Love
7. Cryin' Time
8. Above And Beyond
9. Love's Gonna Live Here
10. Close Up The Honky Tonks
11. Under Your Spell Again
12. Your Tender Loving Care
13. Excuse Me (I Think I've Got A Heartache)
14. Think Of Me
15. Together Again
For more information on Dwight Yoakam, including message boards, tour dates and more, please visit www.newwestrecords.com and www.dwightyoakam.com. For a photo of Dwight & Buck and additional press materials please visit www.newwestrecords.com/press.


---
Billy Burnette and Shawn Camp,
"Bluegrass Elvises"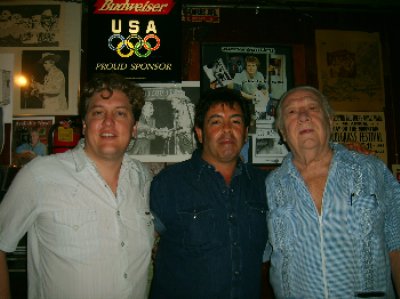 Shawn Camp, Billy Burnette and Jack Clement

PRESLEY CLASSICS REPACKAGED AS BLUEGRASS STOMPERS
Courtesy Ron Wynn (Nashville City Paper)
&nbsp Singer/songwriter and bandleader Billy Burnette remembers when the Elvis Presley hit "It's Now or Never" was released in 1960.
&nbsp "My father (legendary rockabilly performer Dorsey Burnette) told my mother after hearing that song that he really thought Elvis was a great, great singer as a pure vocalist, "Burnette said, "I actually saw him quite a bit was a young kid because he was always hanging around and playing with my father an uncle (another famous rockabilly star who was part of a seminal trio with Dorsey Burnette and Paul Burlison.)
&nbsp Billy Burnette has achieved international fame and status in several capacities since those days, but he has also remained an avid Elvis Presley fan.  Now he's joined forces with longtime playing and writing partner Shawn Camp, as well as several other outstanding musicians, on the new CD Bluegrass Elvises, Vol 1 (Thirty tigers).  It's being released this week, and features rousing versions of vintage Presley tunes with guitarist Burnette and bassist Camp Backed by banjo players Scott Vestal and Cave Talbot, mandolinist Chris Henry, fiddler Aubrey Haynie and two other bassists Terry Eldridge and Mike Bub.
&nbsp The Bluegrass Elvises signed copies of their new CD Friday at the Country Music Hall of Fame and Museum store, and perform Sunday night at 3rd and Lindsley, 818 3rd Ave. S (call 259-9891).
&nbsp Since Aug. 16th is the 30th anniversary of Presley's death, Burnette feels the timing and value of the project is perfect.
&nbsp "You know there's actually quite a bit of similarities between bluegrass and early rock 'n' roll when you really get into the music," Burnette said.  "Shawn is also a huge Elvis fan, and we wanted to pick some songs that we felt really reflected that energy and spirit, and ones that also would work in the format that we envisioned."
&nbsp The song list includes "Don't Be Cruel," "All Shook Up," "Jailhouse Rock," "Mystery Train," "Hound Dog," "Blue Suede Shoes" and "Good Rockin' Tonight," and the pace is consistently frenetic, with everyone's enthusiasm for and love of the material shining through in not only spirited, joyful lead vocals and harmonies, but also impressive arrangements, solos, interaction and responses.
&nbsp The spontaneous sound and freewheeling sensibility reflect the experimental vibe and attitude of Presley's '50s music.
&nbsp But Burnette's own career has been as varied and extensive.  Growing up in a musical family, he was already recording at age seven, and making albums for A&M Records at 11.
&nbsp "One major change between the way things were in Nashville my first time around and today is in the speed with which you can get things recorded," Burnette said.  "I can remember when you would sit down and write something, then you'd pitch it to someone, and next week it would be out.  Today you have to go through a lot of layers to get things to the people that you want to hear it, then there are more layers before you can ever get it recorded.  But this has always been a great songwriter's town and it's even more so today.  There are more great songwriters here than in any other city in the world."
&nbsp Burnette honed his writing and playing skills while emerging as a successful solo performer during the '70s.  Things changed again when he met Mick Fleetwood in the early '80s while both were working on a Dick Clark anniversary special.  That began a friendship and professional relationship that still extends today, and includes his lengthy stint in Fleetwood Mac.
&nbsp At the same time Burnette was steadily becoming an in-demand writer and session player in country circles, with Conway Twitty, Loretta Lynn and the Everly Brothers among others recording his tunes.  He was nominated for Best Male Vocalist by the Academy of Country Music in 1986.
&nbsp Burnette branched out into acting during the '90s, and continues a busy multimedia career.
&nbsp "For me it's always been a question of whether I enjoyed the music rather than what category it was in our whether it might fit a certain style," Burnette said.  "I've done some things when I was doing rockabilly records that some people felt were taking the genre out too far.  There have been times when I mixed country and rock and some might have thought we were going too far in either direction.  but one constant that I've noticed with great musicians my whole career is that they are open to work in whatever context that you're playing." &nbsp Besides the Bluegrass Elvis CD, Burnette and Camp have a duo project coming out.  In addition, Burnette hopes to make a CD featuring his versions of originals that other like Ray Charles or Jerry Lee Lewis have turned into huge hits.  But there's a good chance that a second volume of Bluegrass Elvis material will be recorded as well. 
&nbsp "When we got to the end of the session and started mixing and finishing the disc, we realized we hadn't done "Blue Moon of Kentucky," Burnette said.  "You absolutely have to do that one at some point, so I think there will be another coming eventually."  


---
Vote for Country Elvis Song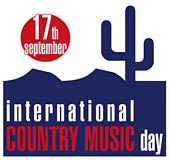 &nbsp One Elvis song will be designated Official Song of the International Country Music Day 2007. 2007 marks the 30th anniversary of Elvis' passing, and therefore, the country music associations and websites that celebrate the International Country Music Day would like to honor the legend of the King.
&nbsp By his own admission, Elvis was not strictly a country artist, but he always showed a great deal of respect for the genre and went on to record countless country numbers, giving country music his own special touch. That is why we have decided to honor Elvis and his musical legacy by designating one of his songs as the Official Song of the International Country Music Day 2007, next 17th September.
&nbsp The winning song will come out of votes cast in Argentina, Spain, the United States, France, Greece, Uruguay, and the rest of the world. The songs entering the poll have been selected among Elvis' best country releases according to their quality, chart position, and success of Elvis' performance. They are the following: Blue Moon of Kentucky (1954), I'm Left, You're Right, She's Gone (1955), I Forgot to Remember to Forget (1955), (Now and Then) There's a Fool Such as I (1958), There's Always Me (1961), Guitar Man (1967), I Was Born About Ten Thousand Years Ago (1970), Little Cabin on the Hill (1970), Always On My Mind (1972), I'm So Lonesome I Could Cry (1973) and Moody Blue (1977).
Everyone is welcome to vote


---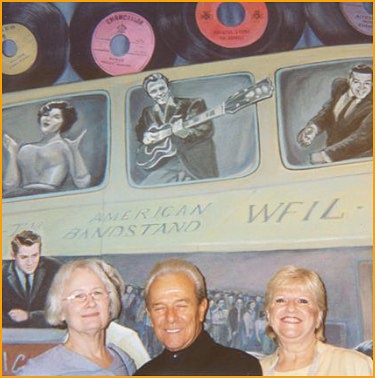 AMERICAN BANDSTAND'S 50TH ANNIVERSARY was held Sat, 4 Aug 2007 from the famous Studio-B: Charlie and Joan Gracie pose with artist Diane Keller who created the MURAL which pays tribute to the tv-program that took rock 'n' roll music into the living rooms of millions of Americans. Note the images of Connie Francis, Cjarlie Gracie and Cubby Checker in the above photo. Not seen in this shot are Danny & The Juniors - of "At The Hop" fame.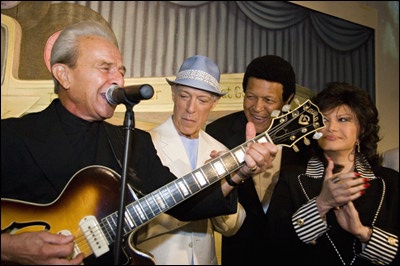 This celebration was held at the West Philadelphia Enterprise Center - formerly the headquarters of Philly's ABC-TV affiliate WFIL-TV - and Studio-B, site of the program's national broadcasts from, 1957-1963. About 300 invited guests jammed into 40 ft.by 80 ft. studio for the dedication of a mural by Diane Keller portraying Bob Horn, Dick Clark,the fabulous Bandstand Dancers, Charlie Gracie, Danny and the Juniors, Chubby Checker and Connie Francis. Charlie Gracie, Philly's Pioneer rock star ... performed "live" at the event which was shown nationally on ABC-TV's "Good Morning America." The building was declared a National Historic Site in 1986.

---

Tapio Vaisanen Reports
Bear Family Dale Hawkins CD
&nbsp (35 great rockers with FIVE UNISSUED songs & many alternate takes, with great guitarist such as James Burton & Roy Buchanan this really does ROCK!! - includes: Susie-Q, See You Soon Baboon, Baby Baby, Number Nine Train, Teenage Dolly, Tornado, Sweetie Pie, Little Pig, My Babe, Wild Wild World, Lulu, Lifeguard Man, Caldonia, Lovin' Bug, One Dozen Roses, Who Can Say, Four Letter Word (Rock), Gooblie Booblie, Every Little Girl - digi-pac)
&nbsp Dale Hawkins originated Susie Q ... the original garage, punk, rockabilly classic!
A new search through the Chess vaults reveals FIVE unreleased songs and very different alternate takes!

Incredible audio engineering brings these classics to life as never before.

A bonanza of great guitarists including James Burton and Roy Buchanan!

Dale is still out there ... still performing, and still rocking.
&nbsp He will be forever identified with just one hit ... but what a hit! Susie Q. Creedence Clearwater Revival recorded it, Elvis recorded it, the Everly Brothers recorded it, and so did many others. But Dale Hawkins originated it and James Burton played the guitar lick that is forever etched in a rock 'n' roll fan's subconscious mind. But there was much more to Dale Hawkins on Chess Records than Susie Q, and fifty years later the full story is revealed on Bear Family. Dale came from the thriving Shreveport scene, alongside Elvis, Johnny Horton, Tommy Sands, and many others. Win, lose, or draw, he was always able to find the all-time greatest guitarists. After James Burton quit to join Ricky Nelson, Dale recruited Roy Buchanan, who is heard on several tracks here. And so, fifty years after Susie Q first set the airwaves alight, we now have the complete story of Dale Hawkins on Chess Records.
&nbsp I seem to remember that awhile ago someone wrote a letter to NDT's "Why Don't You Write Me" pages and mentioned that Dale's ACE CD "Rock & Roll Tornado" contains an alternate take of some track, which wasn't mentioned in the liner notes or CD sleeve. I have misplaced some of my NDT's, I would apprieciate if someone could find this little piece of information for me. I seem to remember that awhile ago someone wrote a letter to NDT's "Why Don't You Write Me" pages and mentioned that Dale's ACE CD "Rock & Roll Tornado" contains an alternate take of some track, which wasn't mentioned in the liner notes or CD sleeve. I have misplaced some of my NDT's, I would appreciate it if someone could find this little piece of information for me. Thanks in advance!

BEAR FAMILY BCD 16826 AR
EAN-Code: 4000127168269
TRACK LISTING CD:
1. Susie Q CHECKER 863
2. See You Soon Baboon CHECKER 843
3. Four Letter Word (Rock) CHECKER 843
4. Don't Treat Me This Way CHECKER 863
5. Number Nine Train NORTON 45-055
6. Baby, Baby CHECKER 876
7. Mrs. Mergritory's Daughter CHECKER 876
8. Juanita CHESS LP 1429
9. Teenage Dolly ACE CDCHD 693
10. Boogie Woogie Teenage Girl ACE CDCHD 693
11. Tornado CHECKER 892
12. Sweetie Pie ACE CDCHD 693 13. Little Pig CHECKER 892 / (alt.) CHECKER UK LP 6467301
14. La-Do-Dada CHECKER 892
15. Who Can Say UNISSUED
16. My Babe CHECKER 906 / (alt.) CHESS LP ACRR 703
17. Someday, One Day CHECKER 913 / (alt./fast) MATTUCI AG-3315
18. Take My Heart CHECKER 913 / (alt.) CHESS LP ACRR 703
19. Liza Jane CHECKER 934
20. Wild Wild World CHESS LP 1429 / (alt.) CHESS LP ACRR 703
21. Ain't That Lovin' You Baby CHECKER 923
22. Gooblie Booblie CHESS LP ACRR 703
23. Lifeguard Man CHECKER 929 / (true stereo) ACE CDCHD 693
24. Lulu CHESS LP ACRR 703
25. Back To School Blues CHECKER 934 / (alt.) CHESS 6445 201
26. Caldonia MATTUCI AG-3315 / (alt.) ACE CDCHD 693
27. Every Little Girl CHECKER 944
28. Linda CHECKER 962
29. Who CHECKER 962
30. Lovin' Bug PHONOGRAM LP 9124213
31. One Dozen Roses ACE CDCHD 693
32. I Want To Love You CHECKER 970
33. Liza Jane (alt) UNISSUED?
34. My Babe CHECKER 906 / (alt.) CHESS LP ACRR 703
BONUS: The Wind UNISSUED
-Tapio - tapiov@pcuf.fi


---


Need Rockabilly Bands ... The Perry County Cultural Arts Center, located in Linden, TN, is looking for one or two good rockabilly bands to play their benefit show, scheduled for Nov. 10, 2007. Contact number: 931-589-2453.


---


Dynamite! Magazine: Part of Huber Verlag
&nbsp Dynamite! Magazine is now part of Huber Verlag which is the publisher of the magazines TaetowierMagazin, TattooStyle, BIKERS NEWS, CUSTOMBIKE, DREAM-MACHINES and enduro supermoto szene.
&nbsp The team of editors will mostly remain the same in order to keep up the unique trait of the magazine. Together with Andy, Jessica and Eric we will present you an adequate medium for the scene with thrilling interviews, personalities and stories about events. It will still be mainly about music, of course. But lifestyle issues like clothing, Hot Rods, Bikes and Pin ups will also be discussed in the Dynamite! Magazine. In addition to that there will be the very popular free and slapping cd included in every issue.
&nbsp Plus: they will enhance the Dynamite! Magazine: there will be 100 pages printed in colours and the number of copies will be 18 000 which is four times as high as before in order to be able to distribute the magazine everywhere in Germany. Be sure to place your company in the mag right from the beginning on - the Dynamite! is the right platform for your advertisement.
&nbsp They will send you a free copy of the next issue which will be out on August 31st! Just send an e-mail with the subject Dynamite! Magazine and your postal address to: c.nagy@huber-verlag.de. Deadline is August 15th, 2007


---


"It's Now or Never" CD - Release Date: July 31st
Robert Gordon & Chris Spedding Are Back
&nbsp New album features 15 Elvis Presley songs as performed by Robert Gordon, Chris Spedding and the legendary Jordanaires in honor of the 30th anniversary of Elvis' death
&nbsp Back in the disco and arena rock era, Robert Gordon put a fist through the heart of the music industry with his first on-fire rockabilly hit, "Red Hot." Now reunited with legendary guitar ace Chris Spedding for the first time in twenty years, Robert is back to spread the gospel and shake things up again.
&nbsp This time they are taking it to a higher level, fortifying their sound with Elvis Presley's own mighty Jordanaires, who return to their own roots, pumping up songs by the King on the 30th anniversary of his death.
&nbsp "It's Now or Never," scheduled for release on July 31st via Rykodisc, is a no-joke salvo from the heated depths of rock'n'roll. Fifteen tracks, a riveting combination of favorites and lesser-known Presley tunes, and no slouching. Recorded in Nashville and produced by Gordon himself, this adult-sized dose of fun is the return to roots that the world has been waiting for.
&nbsp "I'm singing better than I ever have," Gordon says with the confidence of a man who ruled the airwaves with his iconoclastic blast of good-time music including the hit song, "Fire," a gift from Bruce Springsteen and "Someday, Someway."
&nbsp From rippers like "Lawdy Miss Clawdy" and "My Baby Left Me" through a stirring reading of "Peace In the Valley," "It's Now or Never" mines the depths of Elvis' oeuvre without the smack of ironic revisionism that has been the hallmark of lesser talents.
&nbsp Robert Gordon and Chris Spedding will be playing select dates, picking up where they left off twenty years ago. Together they are nothing short of explosive. "This music is not a museum piece," Gordon declares. "I'm not trying to recreate something. This is how I feel."
&nbsp New Media Contact: John DeCicco, Rykodisc ­ john.decicco@rykodisc.com<

Also see Robert Gordon & Chris Spedding Interviewed


---
Wildest Cats In Town Weekender
Photos: Rod Pyke

Ervin Travis and Graham Fenton performing a duet of Baby Blue.
Saturday 30th June 2007.
Wildest Cats In Town Weekender, Pakefield, Lowestoft, UK


Rock 'n'Roll will never die Joey D'Amrose with the next
generation of fans: Gerry Lee and Buddy with their father.
Sunday 1st July 2007.


Kathy Cole with Weekend Organiser Ritchie Gee. Friday 29th June 2007.


Sonny Burgess, Kern Kennedy, Andy Munday and Bobby Craford.
Friday 29th June 2007.


Terry Wayne and The Rhythm Aces, Saturday 30th June 2007.


Jack Neal (Blue Caps), Dick Richards & Marshall Lytle (Comets)
Kern Kennedy (Pacers). Saturday 30th June 2007.
---


Cartier's Rock Exhibit
&nbsp Fans in Europe may be interested to know that the Fondation Cartier pour l'art contemporain in Paris, France is currently staging an exhibition devoted to the genesis, evolution and history of rock & roll in the US between the years 1939 and 1959.
&nbsp The exhibition, titled "Rock 'n' Roll 39-59", is divided into two parts. The first captures the hedonism and incredible surge of freedom that were at the heart of the rock & roll explosion in the mid-1950s, while the second historical sequence examines the origins and guides visitors through the history of its key figures, places and events.
&nbsp With its priceless period posters, records and rare objects, its photographs, films, music and sounds, this exhibition invites visitors to relive a key cultural phenomenon in American history, one that mirrored and drove a major social transformation whose heritage remains vibrantly alive today. The exhibition is now open every day, except Mondays, until Sunday October 28th.
&nbsp The Fondation Cartier pour l'art contemporain is located in Paris at 261 Boulevard Raspail.
&nbsp The "Rock 'n' Roll 39-59" exhibition is open every day, except Mondays, from 10.00am to 8.00pm and open Tuesday evenings until 10.00pm. Admission: 6.50 euros. Reduced price: 4.50 euros (students, under 25, Vermeil cardholders, Amis des Mus©es, unemployed).


---


Boots Randolph R.I.P.
&nbsp NASHVILLE, Tenn.   Boots Randolph, a saxophone player best known for the 1963 hit "Yakety Sax," died Tuesday July 3, 2007. He was 80. Randolph suffered a cerebral hemorrhage June 25 and had been hospitalized in a coma. He was taken off a respirator earlier Tuesday, said Betty Hofer, a publicist and spokeswoman for the family.
&nbsp Randolph was born Homer Louis Randolph in Paducah, KY, and grew up in the rural community of Cadiz, KY, where he learned to play music with his family's band. He said he didn't know where or why he got the nickname "Boots," although his Web site at the time of his death suggested it was to avoid confusion because he and his father shared the same first name.
&nbsp Randolph began playing the ukulele and then the trombone, but switched to the tenor sax when his father unexpectedly brought one home.
&nbsp Survivors include his wife, a son, a daughter and four grandchildren.


---

John Carter Cash
&nbsp NASHVILLE, June 27, 2007 - The son of June Carter and Johnny Cash did a book signing in the Mall of Green Hills, TN. John also spoke to the audience and answered several questions about his mother and the Carter family. He said he was very happy with the way his parents' romance story was portrayed in the "Walk the Line" movie. The book, "Anchored in Love" was penned by John and reflects the loving side of June. It is available at Amazon.com. Photo: Rockabilly Hall of Fame


---


Festival Competitions on CMR Nashville
&nbsp In association with The Americana International Festival and GuilFest , CMR Nashville are offering 5 pairs of weekend tickets for both festivals. Full details can be found on our homepage www.cmrnashville.net 
&nbsp Lee Williams and some of the presenters will be appearing at the Americana Festival (6-8 July) on a booth along with one of their sponsors Mad Gold Rum. www.americana-international.co.uk & www.mad-gold.com. 
&nbsp The following weekend 13-15 July Lee goes to cover GuilFest at Stoke Park, Guildford. Winner of last years best Family Festival in the UK Festival Awards, and known as a mini Glastonbury. Visit their site via the Banner link on our home page for a full line up of acts and attractions. Headliners this year include Supergrass, Squeeze, Madness, Magic Numbers and for Country Fans, Sunny Sweeney, The Redlands Palomino Company, and Richard Thompson. Next year it is hoped that GuilFest will increase the Country Music artists along with Folk and associated music styles. www.guilfest.co.uk 
&nbsp Star Interviews continue every Monday on CMR Nashville with Lee Williams. Next week he interviews The Pirates of the Mississippi and Tammy Cochran. Catch them this Monday 25 June at 1 pm, 7pm, 1am, 7 am, and repeated on Saturday 30 June at 1 pm and 11 pm all UK time. This Saturday 23 June catch the repeat of the Interviews with Lantana and John Berry at 1 pm and 11 pm. 
&nbsp 'CMR Nashville is quite frankly the best we've ever listened to, and 100% how a 'real' country radio station should be run.' Chris and Bev Jackson - Americana Festival 
&nbsp 'CMR Nashville could just be the best country radio station in the world!' DAVID ALLAN, former BBC Radio 2 and BBCTV Presenter. 
&nbsp 'I think this is the best station on the Internet at this very moment' Erik Kamphius webmaster of COBCMS who have chosen CMR Nashville as their favourite Country Music Station. COBCMS is an online service hosting the leading country music stations around the world. 
&nbsp 'I've just clicked on to the radio stream, Excellent.' Terry Clements - Nashville Convention and Visitors Bureau 
&nbsp 'Finally, an on line radio station that plays the best classic country! I love it!' Debbie Stromquist, Chicago, IL USA 
&nbsp Click onto our schedule page at www.cmrnashville.net and see the times of our 24/7 service with the various styles of Country Music we offer. They include Today's Country, Weekly Chart Show, Bluegrass, Americana, Country Roots, Alt Country, Irish Country, Australian, Golden Classics, Hits from the last twenty years, Positive Country, Selected album tracks and of course all the best Country Music from around the world. All shows presented by leading personalities from England, Ireland, Scotland, USA, France, Brazil, Australia, Canada and Germany. For a service without presenters tune into CMR Hot a 24/7 service of hits from now and the last couple of years 
&nbsp On the home page we offer you the latest news from the Country Music world updated daily, along with competitions, special offers plus details of our many sponsors and advertisers.  Contact: Lee Williams +44(0)845 890 1913 or +44(0)7956 888587 lee@cmrnashville.net 

&nbsp Lee Williams 
&nbsp CMR Nashville 
&nbsp 51 Union Street 
&nbsp Farnborough
&nbsp   Hants 
&nbsp GU14 7PX 
&nbsp England 
&nbsp Tel: +44 (0) 845 8901 913 
&nbsp Fax: +44 (0) 870 3612 913 
&nbsp Mob:+44 (0) 7956 888587 -- +44 (0) 7717 810587 
&nbsp www.cmrnashville.net 


---


New Rockabilly Book by Billy Poore
Scheduled for Release in Early '08
&nbsp Linden, TN ­ June 25, 2007 -- It will be ten years in 2008 since "Rockabilly ­ A 40 Year Journey" by Billy Poore was first released by the Hal Leonard Corp. (Milwaukee, WI). This book is still on the market and has steady yearly sales. It remains the most comprehensive book worldwide ever written on the subject.
&nbsp Mr. Poore tells us his new book, "Rockabilly Rumors, Untold Tales and More", will be on all of the stories of Rockabilly artists that were cut out of his first book due to restrictions of space available for print. Also included will be the changes Rockabilly music and its artists have gone through over the past ten years, the politics of Rockabilly today, the best artists to see doing live shows and so much more.
&nbsp When asked how it will compare with his first book, Mr. Poore stated, "Hundreds of fans have constantly asked me to tell more stories of accounts, good or bad, that I've had with artists they love, so I intend to let it fly, and if it's the truth and I've got proof, you're gonna read about it. I'll even air out my dirty laundry from past years, so you know others will get it too if they deserve it."
&nbsp For more information, go to The Official Billy Poore Website at www.billypoore.net and sign up to read the early releases of the chapters as they become available.


---


Wanda Jackson in Paris
camilledad58@yahoo.com Reorts:
Here, in Paris, France, start a big exhibition about Rock and Roll music set by La Fondation CARTIER (very hip jewel maker) for four months. That exhib had the support of Greil Marcus, Robert Palmer and Peter Gulranick, all well know and good rock writters. Are in display Elvis first Martin guitar ... that's the one he played on his first Louisiana Hayride show on 16th october 1954. He later put a leather clothing on that guitar. Also in display are Buddy Holly and Carl Perkins guitars, records, lots'a pictures and a placard for Hank Williams one for Canton show on Jan 1, 1953. There's also jukeboxes and a fake 50's recording studio. I don't know if there's anything about The Louisiana Hayride, The Town Hall Party or the Big D Jamboree but it sounds like a good exhib. I will visit the exhib in July and will tell you more then.
&nbsp For the grand opening of the exhibition was with a very hush hush diner and, of course, there was no cats, teds or rockers allowed. However Wanda Jackson and Wendell Goodman were special guests with Little Richard. Wanda was coming from a long tour in Australia and stayed in Paris for few days.
&nbsp On Thursday morning, I got a phone call from Wendell welcoming us for a drink at them hotel before they fly back in Oklahoma city on Friday. We met at 6 PM in a very fancy hotel near The Champs Elysees and spend 1-1/2 together talking about our first meeting in 1980 and about the 50's. Wanda doesn't came 'cause she was really tired by various press conferences and was resting. That was a real nice and friendly meeting and Wendell treated me and my wife like old friends. Of course, we talked about Wanda and the forthcoming movie on her. We talked also about the other R'n'R Queen, Janis Martin, and about Marti Brom and Rosie Flores.


---


Ferlin Husky Update
&nbsp Sat Jun 16, NASHVILLE, Tenn. - Country singer Ferlin Husky was resting in a Missouri hospital after surgery on his leg, his spokesman said.
&nbsp Doctors at St. John's Hospital in Springfield, Mo., on Friday inserted a number of stents into the arteries in his left leg to aid his circulation, said Tracy Pitcox, president of Heart of Texas Records, Husky's label.
&nbsp Husky, 81, has been having problems with his legs for the past few months. Tests showed that arteries in both legs were nearly blocked. Surgery is planned on his right leg in the next two weeks.
&nbsp At the height of his career, Husky was a movie and TV star and recorded such hit songs as "Wings of a Dove," "Gone" and "Country Music Is Here to Stay." He made 18 movies with co-stars such as Jayne Mansfield ("Las Vegas Hillbillies" in 1966) and Zsa Zsa Gabor ("Country Music Holiday" in 1958). Husky, who also recorded under the names Terry Preston and Simon Crum, sold more than 20 million records, mostly in the 1950s and early 1960s.


---
This Book is Available at Amazon.com
Sex, Drugs and Rock & Roll
&nbsp Sex, Drugs and Rock & Roll: Haight-Ashbury in the Summer of Love 1967: An Eye Witness Account by the "de Tocqueville of Tokeville" (Paperback) by Barry M. Klein (Author). Barry has written numerous articles and reviews for the Rockabilly Hall of Fame over the past eight years. His real music passion is "rockabilly" and the early rock 'n' roll pioneers.
&nbsp Barry Klein recounts the "highs" and "lows" of his many adventures during "The Summer of Love," 1967, as he leaves Detroit for San Francisco to fully experience the hippie movement. Although it has been said (tongue-in-cheek) that if you remember the '60s - you weren't really there, Klein disproves this statement in his sometimes painful, more often humorous account of his personal "Trip" through the Summer of Love.
&nbsp Barry will attending the upcoming Indianapolis Weekender, June 21-23. You'll have a good chance to meet him there.


---


Rockabilly Underground-London 1980s
&nbsp This book is finally available for sale after two years of hard work. It's a part autobiographical story of the London Rockabilly scene in the 1980s and includes interviews with fans and stars like Mac Curtis, Ray Campi, Boz Boorer, Mouse, Tom Ingram, The Polecats, Paul Roman, '50s Flash, Johnny Powers, etc. It also contains 100 pictures of '80s Rockabilly Guys and Girls.
Contact: Rockabilly-Underground-London-1980s


---


Album Review - Anchored in Love:
A Tribute to June Carter Cash
&nbsp Under ordinary circumstances, it would be a truly difficult task to ruin a tribute to June Carter Cash. With the involvement and guidance of her son, it becomes an utterly impossible outcome. Much like he so magnificently extolled the virtues of his ancestors The Carter Family on The Unbroken Circle in 2004, John Carter Cash assembled a stellar cast of characters, and he didn't have to look outside the province of his kin and friends to accomplish his goal.
&nbsp Looking beyond the headlining acts, whose names appear on the cover of Anchored in Love: A Tribute to June Carter Cash, the more detailed liner notes that lie within it reveal that Ronnie McCoury, Norman and Nancy Blake, Randy Scruggs, Marty Stuart, Larry Perkins, and Dennis Crouch -- to name a few -- also helped to shape the proceedings. It's no wonder, then, that the outing exudes such a lovingly timeless air, one that connects the past with the present by enveloping it within a shroud of intimacy. This is an excerpt. To read the complete review, please visit: http://www.musicbox-online.com/reviews-2007/june-carter-cash-tribute-06042007.html - mlr6629@webtv.net


---
Elvis 30th Anniversary Signature
Collection Harley Davidson
&nbsp Two of the great icons of the 20th Century, Elvis Presley and Harley Davidson have teamed together in what appears to be a match made in heaven. Elvis was always a keen Harley rider, from the mid 50's until his death in 1977. The brainchild of Bruce Rossmeyer, the first motorcycle in the highly anticipated "Elvis Presley 30th Anniversary Signature Collection" was unveiled on April 22, 2007 at the "Elvis Rock n' Roll Ride for Life" in Memphis. Rossmeyer is the CEO of 11 Harley-Davidson® locations including the World's Largest Harley-Davidson® dealership at Destination Daytona in Ormond Beach, Fl and the new Graceland Harley-Davidson in Memphis.
&nbsp The bike coincides with the 30th anniversary of Elvis Presley's death, and is based on the 1957 Black Harley-Davidson FLH model that Elvis owned. The bike will have panniers, crash bars, screen etc as per the original design, with fishtail pipes and dummy kick-start lever based on Elvis' original. Before you get too excited about owning one of these peaches, here's the bad news - only 30 models will be built. Bike number "1" was sold for $100,000 with $40,000 of the price donated to the American Diabetes Association. Bike number "30" (thirty) will be auctioned in Memphis, TN on August 15th during Elvis Week. Bikes numbered 2-24 will retail for $58,815, with bikes 25-29 being sold at a later date. Each motorcycle in the collection also comes with a painting by David Uhl and a sculpture by Jeff Decker. Each exclusive piece created by Uhl and Decker will be numbered from one to 30 and paired with the corresponding motorcycle. For further details visit [file://www.gracelandharleydavidson.com] www.gracelandharleydavidson.com - Shaun Mather, June 2007


---


Fats Domino Returns to Stage
&nbsp NEW ORLEANS, Sat., May 19th - Despite sixty-plus years in the business, New Orleans R&B icon Fats Domino is an exceptionally reluctant, nervous performer. His anxiety prior to closing the 2006 New Orleans Jazz & Heritage Festival was such that he canceled his performance mere hours before the set, causing friends and fans to wonder whether he would ever perform again.
&nbsp But that Saturday, the 79-year-old Domino returned to the stage for the first time since his rescue from Hurricane Katrina's floodwaters. The hiatus diminished neither his sweet-tempered voice nor his robust piano chops. Taking the stage at fabled New Orleans venue Tipitina's, the still-hearty legend squeezed eleven songs and a sprinkling of medleys into a scant thirty minutes.
&nbsp Done up in his trademark natty attire, Domino opened with the loping "I'm Walkin'," backed by a five-piece horn section that featured longtime tenor saxophonist Herb Hardesty. The band followed him through "Blueberry Hill," "My Girl Josephine" and "I'm In Love Again" in quick succession.
&nbsp With that, Domino stood up and attempted to exit stage right, only to be intercepted by friend and local news anchor Eric Paulsen, who gently suggested that perhaps a few more songs might be in order. How about "Blue Monday"?
&nbsp So Domino returned to the piano, rolling his ample shoulders and grinning broadly as he pumped out trills and other flourishes. The sold-out crowd of 500 roared its approval for each familiar melody: "I'm Ready." "Ain't That A Shame." "Shake, Rattle and Roll." "Valley of Tears." After a brief detour into "Natural Born Lover," he circled back to "So Long," his farewell. He barely paused long enough for Louisiana State Senator Diana E. Bajoie to proclaim May 19th Fats Domino Day before hustling off-stage and disappearing into the New Orleans night.


---
Only 1000 Sets Pressed
Six Sun 7" Singles Box Set
&nbsp If Memphis was the birthplace of Rock 'n' Roll, then Sun Records was its cradle where artists flocked from all over the Southern US to record the new sound. With pioneering producer Sam Phillips at the helm, the influential Sun label quickly became synonymous with Rock ' n' Roll, made stars of many, and created a catalogue of recorded music whose significance and longevity speaks for itself.
&nbsp This stunning boxed set comprising six highly collectable singles from the legendary Sun label, faithfully reproduced on 7" vinyl. Carefully compiled in conjunction with Rock 'n' Roll vinyl expert Bob Thomas of Bim Bam Records, it includes some of the label's most collectable titles. Also included is a full-colour, fold-out poster booklet with liner notes and annotation by Sun authority Trevor Cajiao of Now Dig This magazine.
Order: WWW.BIM-BAM.COM
E-Mail: bob@bimbamrec.freeserve.co.uk
Phone/Fax: 02380 600329


---


Eddie Cochran 2-CD Set
Title: Guitar Picker: Rare Recordings 1954-1960
Label: Castle Music
Release Date: 5/7/2007
Catalogue Number:CMXBX1452
&nbsp Eddie Cochran had it all. A consummate musician at home both on stage and in the studio, he also had the looks and composure of a Hollywood star. His distinctive guitar playing and moody vocals encapsulated 50s' Rock'n'Roll at its absolute pinnacle and, in an era of identikit teen idols, Cochran stood out as a true original, writing and arranging his own material. His untimely death at the end of a hugely successful UK tour in April 1960 only served to enhance the legend that surrounded him.
&nbsp This gem-laden 2-CD set draws together early recordings from Cochran's relatively obscure beginnings on the West Coast country circuit and his subsequent session material for LA-based indie label Crest, right up to and beyond his departure for Liberty Records and the international stardom that followed.
&nbsp Also Included is a superb fully illustrated 30-page booklet and liner notes by Stuart Colman.

TRACK LISTING:
Disc 1 -
* Live Fast, Love Hard, Die Young
* She Done Give Her Heart To Me
* Eddie Cochran & Carl West - Remington Ride (Instrumental)
* Bob Denton - That's All Right Mama
* Candy Kisses
* Hearts Of Stone
* Eddie Cochran & Chuck Foreman - Rockin' It (Instrumental)
* The Cochran Brothers - Mr. Fiddle
* The Cochran Brothers - Two Blue Singin' Stars
* The Cochran Brothers - Guilty Conscience
* The Cochran Brothers - Your Tomorrows Never Come
* Eddie Cochran & Chuck Foreman - Two Of A Kind (Instrumental)
* The Cochran Brothers - Latch On
* Yesterday's Heartbreak
* Jerry Capehart - Heart Of A Fool
* My Love To Remember
* Pink-Peg Slacks
* Nice 'N' Easy (Instrumental)
* The Cochran Brothers - Fool's Paradise
* The Cochran Brothers - Open The Door
* The Cochran Brothers - Tired And Sleepy
* The Cochran Brothers - Slow Down
* Hank Cochran - I'm Ready
* Mighty Mean
* Dark Lonely Street

Disc 2 -
* Skinny Jim
* Jerry Capehart - Latch On
* Half Loved
* Bo Davis - Let's Coast Awhile
* Guitar Blues (Instrumental)
* Cruisin' The Drive-In
* Ray Stanley - Kiss And Make Up
* Jack Lewis - I.O.U.
* Bob Luman - Guitar Picker (Demo)
* One Minute To One
* Bob Denton - Pretty Little Devil
* Derry Weaver - Itty Bitty Betty
* Nervous Breakdown
* Song Of New Orleans (Instrumental)
* The Four Dots - Hide And Go Seek
* Don't Bye, Bye Baby Me
* Jelly Bean
* Guybo (Instrumental)
* Excerpt From Freeman Hover's Interview (Part 1) with Eddie Cochran * Sittin' In The Balcony (Live)
* Excerpt From Freeman Hover's Interview With Eddie Cochran (Part 2), Buddy Holly, Jerry Allison & Connie 'Guybo' Smith
* Sweet Little Sixteen (from ITV's Boy Meets Girls, Broadcast 27 February 1960)
* Eddie Cochran & Gene Vincent - White Lightnin' (from ITV's Boy Meets Girls, Broadcast 27 February 1960)
* Hallelujah! I Love Her So (from BBC Radio's Saturday Club, 5 March 1960)
* Milk Cow Blues (Instrumental) (from BBC Radio's Saturday Club, 12 March 1960)


---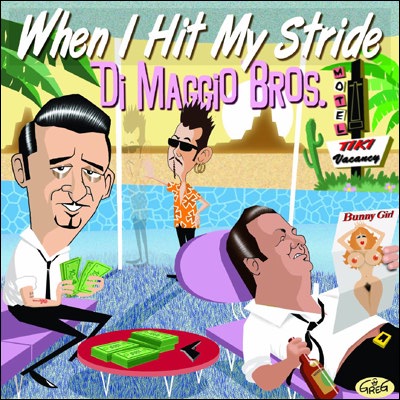 The Di Maggio Bros:
"When I Hit My Stride"
NEW CD - Area Pirata Rec./Thunderball Rec. 2007
(Rockabilly, Hillbilly, Western/Jazz, 60's Country) 15 Tracks
Contact Marco Di Maggio


---


Johnny Cash Home Destroyed by Fire
&nbsp It burned down on Tuesday, April 10th while renovations were being carried out for its new owner, Bee Gee Barry Gibb. The interior of the house, in Hendonsville, Tennessee, was used in the video for Cash's final hit, his 2002 cover of Nine Inch Nails' Hurt. Cash and his wife, June Carter Cash, lived in the house from 1968 until their deaths, months apart, in 2003.
&nbsp The cause of the fire has not yet been identified. According to AP, one firefighter was hurt tackling the blaze. The agency said the fire spread quickly because construction workers had recently applied a flammable wood preservative to the exterior of the house during renovations. After a few hours, little remained of the house except its stone chimneys.
&nbsp "So many prominent things and prominent people in American history took place in that house - everyone from Billy Graham to Bob Dylan went into that house," country singer Marty Stuart, a neighbor, was quoted as saying by AP.
&nbsp "It was a sanctuary and a fortress for him," Stuart said. "There was a lot of writing that took place there. The Folsom Prison prison record came from there, the San Quentin record, The Holy Land, the Man in Black book came from there."
&nbsp Another neighbor, Richard Sterban of country and gospel band, the Oak Ridge Boys, is quoted as saying the fire may be "the good Lord's way to make sure that it was only Johnny's house". -Courtesy: BBC News


---


Show Review - 30 Mar - 1 Apr 2007:
Chippenham Eddie Cochran Weekender
&nbsp Another great weekender in Chippenham with full credit to every Artiste, Band and DJ for outstanding performances. Sadly it was not possible to include Glen Glenn and Connie 'Guybo' Smith on this occassion. The problem was that the advance ticket sales were much too low making it impossible for me to purchase the air tickets from the USA for Glen and Guybo. Right until the end I did my best to get them over but it was not to be. I take full responsibility for their non- appearance and I know that both Glen and Guybo were very dissapointed that they were not here to meet with fans and take part in the show.
&nbsp Thursday kicked off with the 4 Seasons warm up gig where The Hearbeats gave a superb performance.
&nbsp At the West End Club, with DJ Rich Marsh, The Sugar Bullets, Memphis 56 and Jack Rabbit Slim, the fans were thrilled with outstanding performances from all of the artistes.
&nbsp With a great opening by Wildcat Pete on Saturday, once again every band/artiste gave their very best performances. Fresh from the warm up gig The Heartbeats showed what a fantastic band they are, followed by The Eager Beavers amd The TT's both giving excellent performances. First time in Chippenham, Rip Masters backed by The Eager Beavers was superb. As always firm favourite Mike Berry with The Outlaws gave an outstaning performance especially with his rendering of many Buddy Holly classics, then it was time for Darrel Higham & The Enforcers who played a powerhouse rockabilly set with their first Chippenham perfomance since 2002. The finale was with the ultimate Gene Vincent tribute by Ervin Travis and his band who gave one of their greatest performances ever.
&nbsp Sunday at the West End was sadly without The Firebirds but DJ Rich Marsh and The Zig Zag Band kept the fans entertained throughtout the day.
&nbsp So ended another Eddie Cochran Weekender in Chippenham. Now looking forward to the September event (7-9) and also the 2008 weekender in October (3-5) to commemorate the 70th Birthday of Eddie Cochran.
&nbsp See the web page: www.rockabillyhall.com/rockinforeddie.html for all details. Thanks to all the fans who continue to support this event and to everyone who participated in making this event a success.
-John Knight, johnknight1@lineone.net


---


Show Review
Narvel Felts Rocks the Cape
&nbsp On March 24th, 2007, a balmy Saturday night, Bill Barnett and his band cranked out an opening set of fast numbers and slow ballads to set the mood at Cape Giraudeau, Missouri's Eagles Club No. 3775 for legendary Narvel Felts' long awaited appearance. Narvel's show, originally scheduled for February 17th, had to be cancelled due to laryngitis, only one of a handful of cancellations during his incredible 51-year career.
&nbsp Every table was full, every seat was taken, and many more stood throughout the night at the bar or continually on the dance floor as they welcomed Narvel to the stage of their new 1100 member facility. He opened with one of his 12 Top 10 numbers, "Funny How Time Slips Away," and followed up with his first Top 10 breakthrough song of 1973 "Drift Away" becoming an overnight sensation (after 30 recorded songs and 17 years in the music business).
&nbsp With songs on the charts for the past six decades from the late '50s to the 2000s, Narvel included songs from most of those decades as he mournfully sang "Somebody Hold Me," a tearjerker about a jilted guy watching the love of his life walk down the aisle into the arms of another, "Pink & Black Days," highlighting his early Rockabilly era, "Blue Darlin'", a 1979 Top 10 "Everlasting Love," and the 1975 CMA Record of the Year, "Reconsider Me."
&nbsp He set the stage for us of being at Sun Records Studio, 706 Union Street, Memphis, Tennessee, for his first recording session with Jack Clements in the control room, Harold Jenkins by his side (later to become Conway Twitty), the great Roy Orbison and a new kid, Jerry Lew Lewis, who had yet to have a hit, but it wouldn't be long, as he jumped into "Great Balls of Fire."
&nbsp We then settled down to hear his 1957 Rockabilly hit "Kiss-A-Me Baby." He had planned to do "Drummer Boy" in his February show since it was close to Christmas, and even though it was now late March, decided to do it anyway. Having lost his only son Bub, also his drummer and best friend in a September 14, 1995, car accident, "Drummer Boy" is always a sentimental favorite. Then it was back to 1974 for another Top 10, "When Your Good Love Was Mine."
&nbsp Cousin Carl, local DJ of the Cape's Country Station 106.1, was called onstage to do a duet with Narvel, "Rollin' In My Sweet Baby's Arms." Cousin Carl who should never give up his day job was offered money from individuals in the crowd NOT  to sing. So, instead, he collected hundreds of dollars for the Eagles Club upcoming Make-A-Wish Foundation Benefit Show and left the stage without singing, but with a pocketful of money.
&nbsp Narvel then switched to a medley of "Fraulein" and "Blue Eyes" and then added "God Bless America" a cappella dedicating it to America's troops, telling us that Kate Smith sang it for the first time ever on the day that he was born, November 11, 1938.
&nbsp He rounded out his hour and a half on stage with a rockin' "Lonely Teardrops," a beautiful rendition of "My Prayer," and closed with "Headin' Home," complete with 10 onstage pushups, always a crowd favorite to see.
&nbsp When leaving the stage, he vowed to keep his autograph line open "until the last person leaves." Close to two hours later, that's exactly what he did, signing CDs and photos, posing for pictures, never in a hurry, greeting fans and old friends, making new ones, always giving a hundred and ten percent both during and after his show. Fan Club members traveled from as far away as Minnnesota to the north and Louisiana to the south and many states in-between to see him and can't wait for the next opportunity to hear his unique voice onstage and visit with a dear friend offstage.
&nbsp Faye Huffman
&nbsp Baton Rouge, Louisiana


---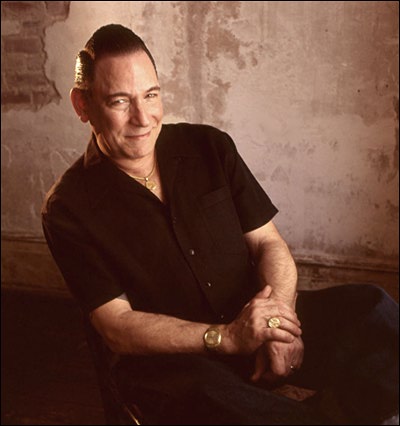 Birthday / 30th Anniversary Tour
Robert Gordon Hits 60
&nbsp As Robert Gordon is celebrating his 60th birthday (Born: Washington D.C. March 29th, 1947), he's getting ready to embark on a major European tour, his biggest in 15 years. "I'm sure looking forward to my upcoming April tour", Robert says. "I hope you're all out there to help me celebrate the 30th anniversary of my first hit record, 'Red Hot'. I know you're going to dig the 'Red Hot' band too. See you soon!".
&nbsp The tourdates are Randers, Denmark (12/4); Naestved, Denmark (13/4); Lycksele, Sweden (14/4); Warshawa, Poland (16/4); Halden, Norway (18/4); Vänersborg, Sweden (20/4); Zaragoza, Spain (21/4); Castellon, Spain (22/4); Madrid, Spain (23/4); Basel, Switzerland (25/4); Paris, France (27/4) and London, England (28/4).
&nbsp Robert will be performing various songs from his early years that he's never performed on stage before. Going through all of these songs brought back a lot of fond memories of that first year, 1977 ("It was very exciting. My first real touring experience. Major tours in America and all over Europe").
&nbsp One special moment on the upcoming tour will be Robert's visit to "Buddy's", a restaurant / bowling alley in Trollhättan, Sweden. "Buddy's" is a salute to Robert Gordon, and uses his face as their logo: www.buddys.se Another highlight is his first-ever appearance in Poland. Robert will also appear on television in Poland, on a programme called "Mc2", where he will perform several signature songs. This appearance will be broadcast on the TVP2 channel on Thursday 19/4, at 19.00 (local time). For more information about this tour or other future shows, please visit the official website at: www.robertgordon.dk or contact: robert@robertgordon.dk


---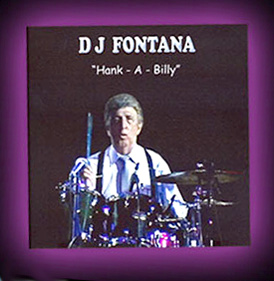 Reviewed in the new May issue of Modern Drummer Magazine:
DJ Fontana: Hank-A-Billy
&nbsp It took half a century for this architect of rock drumming to release his own album, but here it is. Best known as Elvis's original drummer of 14 years, here DJ Fontana leads a quartet of seasoned vets, lending rockabilly beat to Hank Williams favorites. It's a low-budget affai, but the needle hits (sorry, I mean laser) and BOOM! -- these boys are locked into a wide-pocketed bouncing groove from heaven. DJ laid it down for love, not "rock stardom." This is the real deal.
- Jeff Potter (Modern Drummer, May, 2007)
More info here: http://www.djfontana.com/


---


Rockabilly Hall of Fame
10th Anniversary
&nbsp Well what can I say, happy birthday Bob just doesn't seem enough. The debt that this music owes to Bob Timmers is massive. To go into this venture ten years ago using all his savings in the process is something that very few (sane!!) people could undertake. To put all your future into the past is a novel concept, and all for the love of the music. I know Bob has got to meet a lot of his idols along the way (and he's very proud of that) but he has also helped me meet a few of mine as well. I hope someone like Dickie Harrell knows just how much Bob loves him - I'm sure he does, and hopefully it's mutual. Bob's dedication to his site holds no barriers, he works from sunrise to sunset, only letting his hair down when the neon lights start glowing down the road in Nashville.
&nbsp It was purely co-incidental that I met Bob. For some reason, I started writing about Charlie Feathers and really enjoyed myself. I wasn't planning on doing anything with it but one day I was driving along the M4 in South Wales with Phil Davies when I showed him what I'd written. Phil said "Shaky baby, I love it and I want your babies". Well, he didn't really, but he did say that Rod Pyke had recently suggested that Phil and I write some stuff for a Welsh page on the RHoF. Call it fate or whatever, but it's a day that changed my life. I now get to listen to my music and write about it, and it's something that I really enjoy. Bob gives me and Phil free rein to write whatever, and never comes back to me offering a difference of opinion or suggesting changes. I'm sure he cringed at some of the things I wrote in my recent Just Don't Get It piece, but he appreciated that it was my views and he published it.     
&nbsp I know the past ten years have given Bob some great moments, but I also know there have been a lot of heartaches along the way. Family life was bound to suffer, but he has pressed on, obsessed with bringing us the best rockabilly site in the world. There was hassle from the money grabbing scum bag over in Jackson, and I'm sure there have been other obstacles that I don't know about. Bob has overcome them all and the site continues to thrive - long may it continue. Bob, it's a pleasure be your friend, here's to the next ten years. I love ya baby.
Shaun Mather
March 2007


---


   Charlie Gracie's 50th Anniversary Concert
&nbsp YouTube's Broadcast of Charlie Gracie's 50th anniversary concert @ the Tin Angel: View the video here 05:42. Charlie received two awards at the Tin Angel. One from Councilman Frank Rizzo and another from Angelo Cataldi, WIP sports radio host. Band intro by Giant Gene Arnold.
A George Manney film. Copyright 2007.
http://www.blastmovie.net
http://www.geosound.org
Camera men: Mike Fraticelli & John Sweeney


---


Big Bopper Autopsy Results
&nbsp March 7, 2007 - J.P. "The Big Bopper" Richardson suffered massive fractures and likely died immediately in the 1959 plane crash that also killed early rock 'n' rollers Buddy Holly and Ritchie Valens, a forensic anthropologist said Tuesday after exhuming the body.
&nbsp There have been rumors a gun might have been fired on board the plane and that the Big Bopper might have survived the crash and died trying to get help. X-rays of the body showed nothing to support those theories.
&nbsp The Civil Aeronautics Board determined pilot error was the cause of the crash. A gun that belonged to Holly was found at the crash site, fueling rumors that the pilot was shot, but no one has ever proved a gun was fired during the flight.
&nbsp Richardson's son watched Bass open the coffin and observed his examination. He said he was pleased with the findings because it proved the investigators "knew what they were talking about 48 years ago."
&nbsp The body was reburied in the cemetery but in a different plot where there will be room for a graveside statue to be installed later. (AP)


---


Chuck Berry DVD Wins
&nbsp Director Taylor Hackford's celebrated 1987 feature film "Hail! Hail! Rock 'n' Roll", which captured the musical event commemorating the 60th birthday of Chuck Berry, won top honors yesterday (Tuesday, Amrch 5, 2007) at the third annual Music DVD Awards presented in West Hollywood, CA. A panel of entertainment journalists judged the contest, in which music DVDs released in 2006 competed in eight categories.
&nbsp "Hail! Hail! Rock 'n' Roll", released last year by Image Entertainment in two-disc and four-disc configurations, was named "Best of Show", beating more than 100 contenders that were entered into the annual contest produced by "Home Media Magazine". It also won in two other categories, for best vintage concert and best special features/bonus materials.
&nbsp The documentary is widely acclaimed as one of the most significant filmed musical events of the past few decades. Bo Diddley appears in the movie in several sequences with Chuck Berry and Little Richard.
&nbsp Distributor Image Entertainment's standard two-disc "Special Edition" and four-disc "Ultimate Edition" boxed set of the movie feature a wide array of bonus content, including over seven hours of never-before-seen footage, extended interviews with many of the original founders of rock & roll, documentaries and more. The 4-disc box set is bolstered with "Witness To History", an hour-plus round table with Chuck Berry, Little Richard and Bo Diddley discussing their shared experiences for the first time.
&nbsp The third annual Music DVD Awards were part of the third annual Music DVD Conference, produced by "Home Media Magazine" in partnership with "The Hollywood Reporter", DEG: The Digital Entertainment Group and the Entertainment Merchants Association.
Chuck Berry Official Website: http://www.chuckberry.com/
Chuck Berry - Mr. Rock 'n' Roll website: http://www.chuckberry.de/
"Home Media Magazine" website: http://www.homemediaretailing.com/
Image Entertainment website: http://www.image-entertainment.com/


---


Ponderosa Stomp at SXSW
&nbsp The Ponderosa Stomp SXSW Showcase, slated to take place at Opal Divine's in Austin, Texas, on Friday, March 16th, will offer a sneak preview of the 6th Annual Ponderosa Stomp, scheduled for the Big Room and The Parish at the House of Blues in New Orleans on Wednesday, May 2, 2007. Performers at the SXSW showcase represent a veritable dream team of music pioneers from the fringes of America's music scenes of the 1950s and '60s. Kicking off the seven-plus hours of high-octane insanity are rockabilly great Jay Chevalier and the ever-enigmatic Ray Sharpe. Both have been tearing up the South for nearly five decades with hard-boppers like "Linda Lu" and "Come Back To Louisiana." Upping the ante, Sharpe Fort Worth, Texas' only black rockabilly star will be performing with Texas Tornadoes veteran and Doug Sahm sideman Augie Meyers, San Antonio's favorite son, while Louisiana group The Haunted Hearts will pair off with Jay Chevalier. Next, Texas Playboys alum and pedal steel master Herb Remington will take fans on a rollicking "Remington Ride," followed by Lafayette, Louisianas Lil Buck Sinegal and his Buckaroos, featuring Stanley "Buckwheat" Dural on organ. Segue to the funky side of the night, as A.F.O. vocalist Tammy Lynn serves up her absolutely sublime version of "Mojo Hannah" and pianist Willie Tee, famed for fronting one of New Orleans' grittiest psych-funk instrumental groups, the Gaturs. Just before the witching hour, The Flaming Arrows Mardi Gras Indians with special guest Big Chief Roddy of the Black Eagles will transform Opal Divines into an untamed New Orleans battleground, representing just two of the 38 tribes who traditionally parade on St. Joseph's Day. A royal revue is up next, beginning with the President of Soul himself, New Orleans-born southern soul maestro Mr. Rockie Charles. After a sweet soul set, he'll hand his mic over to Barbara Lynn, the Empress of Gulf Coast Soul and author of such classics as "You'll Lose A Good Thing" and "Oh Baby (We Got A Good Thing Goin')," later covered by the Rolling Stones. At midnight, legendary Motown guitarist Dennis Coffey will take the stage, coming to Austin straight from the Motor City. Houston native Archie Bell will then teach the crowd how to do the "Tighten Up." Mississippi soulman Mr. Herbert Wiley and his group, The Checkmates, are up next, with special guest Harvey "Disco Lady" Scales. Closing out the night is Texas-born R&B renaissance man Bobby Patterson, guaranteed to sing the audience home.


---


        'Ozzie and Harriet' Emerges on DVD
&nbsp   The TV DVD boom has resurrected hundreds, if not thousands, of classic TV shows from the '50s and '60s. So has the rise of TV Land and other nostalgic cable-television blocks.
&nbsp   But one classic has been conspicuously absent: "The Adventures of Ozzie and Harriet," the feel-good sitcom about the real-life Nelson family. Once the longest-running live-action situation comedy on American television, "Ozzie and Harriet" aired on ABC from 1952 until 1966 after a long run on radio. Ricky Nelson, the younger of the Nelson's two sons, became a pop star in the late 1950s, scoring such Top 40 hits as "Hello Mary Lou"and "Travelin' Man."
&nbsp   Even so, "The Adventures of Ozzie and Harriet" hasn't been seen in syndication since the 1980s, and its DVD presence has been limited to public-domain budget discs of questionable quality.
&nbsp   Now, the Nelson family has partnered with independent DVD supplier Shout! Factory to produce an elaborate four-DVD boxed set featuring 24 of the series' most beloved episodes. The Best of the Adventures of Ozzie and Harriet ($34.98) hits stores May 1. Each episode has been digitally remastered; the set also features a wealth of bonus materials, including a featurette on Ozzie and Harriet Nelson, a documentary on Rick Nelson's singing career, early radio show episodes, vintage home movies and even a trivia game.
&nbsp   "The way we see it, the show has been out of the market and out of people's consciousness for so long that it really is time to get it back out there," said Sam Nelson, the youngest son of Rick Nelson, who perished in a plane crash on Dec. 31, 1985.


---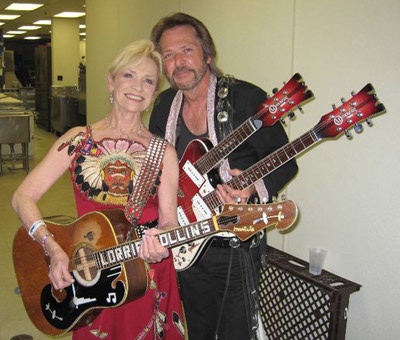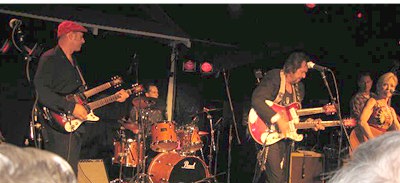 The COLLINS KIDS and DEKE DICKERSON were just some of many featured artists at the recent 2006 Link Wray Tribute held in the Washington DC area. Photos: John Hall


---


Legendary Bassist Bob Moore
Next "Nashville Cat" at CMHoF
&nbsp Posted Feb. 1, 2007 - The Country Music Hall of Fame® and Museum's quarterly program series Nashville Cats: A Celebration of Music City Session Players returns on Saturday, February 17, with a salute to legendary bassist Bob Moore. The 2:00 p.m. program, which will be held in the Museum's Ford Theater, is included with Museum admission and is free to Museum members.
&nbsp In a career spanning sixty years, Nashville native Bob Moore has played bass on over 17,000 recordings, making him one of the most recorded musicians in history. From the 1950s on, Moore contributed to a host of #1 country hits including Bobby Helms' "Fraulein," Marty Robbins' "El Paso," Roger Miller's "King of the Road," Loretta Lynn's "Coal Miner's Daughter" and Conway Twitty's "Hello Darlin'." Moore also played on classic recordings like Elvis Presley's "It's Now or Never" and Patsy Cline's "Crazy."
&nbsp As a member of Nashville's celebrated "A-Team," his impeccable meter along with his subtle yet commanding style made Moore's bass lines the foundation for a myriad of artists recording in Nashville for four decades. Moore's studio credits span several genres with artists including Julie Andrews, Sammy Davis Jr., Bob Dylan, Connie Francis, Burl Ives, George Jones, Quincy Jones, Jerry Lee Lewis, Wayne Newton, Roy Orbison, Elvis Presley, Frank Sinatra, Andy Williams, Loretta Lynn, Tammy Wynette and many more. Moore even saw success on his own accord with the 1961 instrumental pop hit "Mexico" on Monument Records.
&nbsp Bob Loyce Moore was born November 30, 1932, in Nashville to humble beginnings. Barely out of diapers, he was drawn to the sounds of his grandmother's phonograph and broadcasts of the Grand Ole Opry. By age 15 Moore had transitioned from shining shoes outside the Ryman Auditorium to playing bass onstage with country comedians and Opry regulars Jamup & Honey. Soon afterward, Moore landed a prestigious job playing bass for Paul Howard's Arkansas Cotton Pickers, which would help open the door for him to back the likes of Eddy Arnold, Jimmy Dickens, Flatt & Scruggs and Andy Griffith, among others.
&nbsp By age 20 Moore was playing with Red Foley in Springfield, Missouri, and Marty Robbins in Nashville, Tennessee. Tired of commuting between the two cities, Moore returned in 1954 to Nashville where he became primarily a studio musician. As part of the "A-Team" of virtuosos, Moore helped usher in the lushly orchestrated Nashville Sound, which attracted top artists and producers to Music City.
&nbsp He provided the bass for a decade of Elvis Presley hits and, in 1959, became one third owner of Monument Records, where he brought Roy Orbison to the label. He is credited as orchestra leader Orbison's many million selling records including "Crying" "Only the Lonely" "Dream Baby" and more. He served as the original music contractor for the Johnny Cash TV show. Moore toured the world backing Crystal Gayle during 1981-1982. He continued on the road during 1983-1985 performing with Jerry Lee Lewis with whom he'd recorded for decades.
&nbsp Although widely known as a successful country session musician, Moore also performed at the Newport Jazz Festival and recorded with Arthur Fiedler and the Boston Pops, experimental rock guitarist Harvey Mandel and premier jazz guitarist Hank Garland, to name a few.
&nbsp The interactive Nashville Cats programs include in-depth, one-on-one interviews with the players themselves; audio-visual elements, including vintage recordings, photos and film clips culled from the Museum's Frist Library and Archive; and, in some cases, instrument demonstrations. Visitors will be encouraged to ask questions. Museum Instrument Curator Bill Lloyd hosts the sessions.
&nbsp Museum memberships ($25/adults and $10/youth) include one year of unlimited admission to the Museum, discounts in the Museum Store, SoBro Grill and Hatch Show Print, and more. Membership support helps fund research, education and public programs that make country music history available to a worldwide audience.
&nbsp These programs are made possible, in part, by grants from the Metropolitan Nashville Arts Commission and by an agreement between the Tennessee Arts Commission and the National Endowment for the Arts.

FOLLOW UP: An article on Bob Moore's Nashville Cats appearance.


---


Big Bopper to be Exhumed
&nbsp Jan. 22, 2007 - The Big Bopper, who died in a 1959 plane crash that also killed Buddy Holly and Ritchie Valens, will be exhumed in an attempt to clear up a mystery around their deaths.
&nbsp Jay Richardson, son of the Big Bopper, whose real name was J.P. Richardson, has hired a forensic anthropologist to help with the investigation.
&nbsp On February 3, 1959, Holly chartered a four-passenger plane because the bus was cold and prone to breaking down. It crashed, killing all on board - a tragedy memorialised as "the day the music died" in Don McLean's song American Pie.
&nbsp After the crash, an autopsy was performed on the pilot, but not on the passengers. Two curious discoveries at the crash site have given rise to rumours about what might have happened on the flight from Mason City, Iowa.
&nbsp The first is that Richardson's body was discovered 12m from the wreckage, while the other bodies were found at the site.
&nbsp The second is a gun, registered to Holly, which was discovered in a farmer's field two months after the crash.
&nbsp Newspaper accounts of the gun discovery fuelled rumours among fans that the pilot was somehow shot, causing the crash.
&nbsp The owner of the flying service added to the conspiracy theory by insisting his pilot was not at fault.
&nbsp The location of Richardson's body is also a mystery.
&nbsp Jay Richardson, who performs tribute shows as the Big Bopper Jr., has hired Dr Bill Bass, founder of the research facility at the University of Tennessee nicknamed the Body Farm, to study his father's body.
&nbsp The Big Bopper, who achieved success with hits such as Chantilly Lace, will be exhumed from his grave in Beaumont, Texas, in March.
&nbsp After the investigation, his remains will be reburied and a statue erected on the site. Bass is an expert in determining identities and causes of death who confirmed the identity of the Lindbergh baby, who was kidnapped in 1932 and murdered.
&nbsp Bass said his goal is to "document all the fractures and get an idea of how many broken bones and which ones are critical and give them as much information as I can about the crash and how it affected his father." X-rays of the bones have the potential to show up lead from a bullet.
&nbsp The forensic anthropologist also might be able to determine if the Big Bopper was thrown from the wreckage or if he walked away.
&nbsp He never met his father, as his mother was pregnant with him at the time the Big Bopper died.


---


"Rebel Beat" DVD Update
&nbsp DISTRIBUTION "Rebel Beat" is now in the Red Eye catalog. Red Eye is the distribution arm of "Yep Roc" records, the company that distributes Big Sandy, Dave Alvin, Reverend Horton Heat, and others. Red Eye is taking "Rebel Beat" to the usual suspects of retail distribution, including Borders, Virgin, Amazon, etc., as well as to all the indie music stores across the nation. That means Rebel Beat is now on Amazon.
&nbsp Our friends at Lou's Records in San Diego have taken good care of the Rebel Beat title. They sold 30 units over Xmas 06, and put Rebel Beat at the top of their January 07 web page. They also included Rebel Beat in their monthly email blast in Jan 07, which went to 3,000 subscribers.
&nbsp Rebel Beat is also available at Amoeba in Hollywood, but so far they haven't done anything special to promote the title...what-ev!
&nbsp FILM FESTIVALS Rebel Beat is programmed in the rock block of the #1 LA hipster film festival, the Silver Lake Film Festival, 2007. This is a festival garnering more and more attention as Silver Lake becomes the indie rock hot spot of LA (home to Keifer Southerland's studio and the conservatory established by Red Hot Chili Pepper bassist Flea). The screening locale and dates for the May 07 festival are not yet set. However, the film will probably screen at the Los Feliz theater on Vermont or The Echo rock club. I'm also organizing a "bass off" event where young standup bass players can riff for old guard bass legends, hopefully in conjunction with the Ronnie Mack Barndace which is held the first Tuesday of every month right in the heart of this neighborhood at the El Cid on Sunset Boulevard.
&nbsp PRESS Rebel Beat will be featured in 3 rockabilly magazines in Feb/March of 07. Rockabilly Magazine, Blue Suede News and Now Dig This will all feature an article on the DVD. I will be sending out a ton of press kits to the LA press in February 07 to promote Rebel Beat's screening at the Silver Lake Film Festival. I expect coverage in the LA Weekly, OC Weekly, City Beat, Tu Ciudad, La Opinion and the indie/documentary press. My focus will be how rockabilly has endured over 50 years, despite the lack of corporate music industry attention, and on the "low brow" fashion culture.
&nbsp CELEBRITY CONTACT I've hand-delivered copies of the Rebel Beat DVD to these celebrity artists: Dennis Quaid, Phil Alvin, Jonathan Dayton and Valerie Faris (directors of "Little Miss Sunshine" and many award-winning music videos), Fred Willard, Quentin Tarrantino. More to come!
&nbsp ADVERTISING Rebel Beat currently has an ad on the Viva Las Vegas website, with My Baby Jo as its sponsor.
&nbsp Rebel Beat will also advertise in the SXSW film and music program guide and the Austin Chronicle, coinciding with the SXSW festival.
&nbsp Rebel Beat will also be advertising in the spring issue of Blue Suede News and the summer issues of Rockabilly Magazine and Barracuda.
&nbsp Rebel Beat will also have advertising in the LA press to coincide with the Silver Lake Film Festival screening, including in the LA Weekly.
&nbsp STREET PROMOTION 1500 post cards advertising Rebel Beat, with My Baby Jo as its sponsor, were distributed throughout Hollywood and Venice in December of 06. I will distribute a similar number of these post cards to this same area in Jan/Feb of 07, and also to the Rhythm Bound festival in Pomona.
&nbsp I will be attending SXSW as a writer for "Documentary" magazine and will distribute post cards and posters promoting Rebel Beat to Austin-area record stores and bars at this time, March of 07.
&nbsp Betty
&nbsp Elizabeth Blozan
&nbsp Betty-vision.com
&nbsp Also visit: rebelbeat.com, now out on DVD


---


"Hey! Bo Diddley" Series
&nbsp January 17, 2007 - Episode 1 of "Hey! Bo Diddley", the major 3-part celebration and exploration of BO DIDDLEY's life and career, aired January 16, 2007 on the British Broadcasting Corporation (BBC) Radio 2 network.
&nbsp This 30-minute program included discussions on the origins of his songs "Bo Diddley" and "I'm A Man" plus the enduring popularity of the BO DIDDLEY beat. Contributors were BO DIDDLEY, in a recently recorded interview, along with Billy Boy Arnold, Paul Barrere (Little Feat), Dave Davies (The Kinks), Wilco Johnson (Dr. Feelgood, Solid Senders etc), Phil May and Dick Taylor (The Pretty Things), Tom McGuinness (Manfred Mann, The Blues Band, John Mayall etc) and Benny Speer of popular Detroit rock & roll band Benny & The Jets, who gave the following succinct quote: "Bo really built the building. He put the door on and everyone came in. Without Bo, the house wouldn't have been there to walk in. He really built the house of rock & roll..."
&nbsp Listeners around the world are able to listen on-line to this episode streamed in RealMedia format for an additional 7 days by visiting the BBC Radio 2 Documentaries webpage located at http://www.bbc.co.uk/radio2/documentaries/ and clicking the "Listen Again" link.
&nbsp Episode 2 of "Hey! Bo Diddley" airs next Tuesday (January 23rd) between 9.30pm-10.00pm (GMT/UTC). Hosted by Roger Daltrey of The Who, next week's program recalls BO DIDDLEY's upbringing, assesses his impact on 1960s British rock and pop acts and explores the West African sensibility in some of his music. In addition to BO DIDDLEY, Billy Boy Arnold and Jody Williams, contributors include Don Everly, Wilko Johnson and The Pretty Things.
&nbsp Next week's program will feature music by BO DIDDLEY, The Animals, The Kinks, The Pretty Things, Jimmy Reed, The Rolling Stones and pop singer Britney Spears, (the latter born in BO DIDDLEY's home town of McComb, MS).
&nbsp Episode 3 of "Hey! Bo Diddley" is scheduled to air on Tuesday January 30th from 9.30pm-10.00pm (GMT/UTC). The series is written and produced by Neil Rosser for Above The Title Productions Ltd.
&nbsp Listeners around the world will be able to listen on-line to this 3-part series streamed in RealMedia format by visiting the BBC Radio 2 Documentaries webpage located at http://www.bbc.co.uk/radio2/documentaries/ and clicking the "Listen Live" link or, for an additional 7 days after each of the 3 programs has aired, by clicking the "Listen Again" link.
BBC Radio 2 Documentaries webpage: http://www.bbc.co.uk/radio2/documentaries/
Above The Title Productions Ltd. website: http://www.abovethetitle.com/


---


Buckaroo Doyle Holly R.I.P.
&nbsp 1/13/07 - Doyle Holly passed away this morning after a long battle with cancer. Doyle Holly Born Perkins, Okla. - June 30th, 1933 / Died Nashville -13 January 2007. There will be no memorial service. Doyle's request was to be cremated.
  A Message From Doyle:
&nbsp "Doyle has asked me to convey to all of his wonderful family, friends, and all who have prayed for him, that he truly feels and appreciates everyone of their prayers, concerns and well wishes. It is difficult at this time. He has valiantly fought the cancer for nearly 5 years. He is resting in peace now with the Good Lord and there is no pain." - Doyle's wife Ginny.
&nbsp Of the great country bands of the 1960's, none was more successful than Buck Owens and the Buckaroos.
&nbsp Although the band's lineup shifted from time to time during the '60s (even employing Merle Haggard as the group's bassist during one brief period in early 1962), their classic '64-'67 lineup - Owens, lead guitarist Don Rich, drummer Willie Cantu, steel guitarist Tom Brumley and bassist Doyle Holly - is today revered as one of country music's all-time great bands, thanks to the driving rhythms of the group's singles, the tight vocal harmonies of Owens and Rich and Rich's virtuoso lead guitar work.
&nbsp "I think what it boils down to was that combination," says Holly - who released his new solo album, "Together Again," in early May - in a telephone interview from his home in Hendersonville, Tenn. "Everybody was in the right place at the right time."
&nbsp Holly, 66, was born in Oklahoma and spent his young adult years working in the oil fields of Oklahoma, Kansas and California.
&nbsp Upon landing in Bakersfield, he discovered that the city had a music scene as rich as its oil wells and soon found himself performing with a wide assortment of country and rock 'n' roll musicians, including Joe and Rose Lee Maphis, Jimmy Wakely and Johnny Burnette and also touring the rodeo circuit with the pre-"Hawaii Five-O" Jack Lord.
&nbsp Holly says that he was brought into the band by Don Rich in August 1963, adding that it was common practice for them to collect the phone numbers of musicians who impressed them as possible future Buckaroos should the need arise.
&nbsp "I was playing in a band at the Lucky Spot, got to be friends with Don, and Don hired me when Kenny Pierce quit. I really don't know who hired Tom Brumley. It could have been Buck and Don. Me and Don hired Willie Cantu."
&nbsp During Holly's tenure in the Buckaroos - 1963 to 1971 - the act batted over 30 singles into the country top 40, more than half of which went to number 1, usually staying there for several weeks.
&nbsp During what was arguably the band's peak year - 1966 - Buck Owens singles occupied the number 1 position for 17 weeks or about one-third of the year.
&nbsp Holly's time as a Buckaroo wasn't continuous: He left the band for a 9-month period between late 1966 and the summer of '67. During those months, Holly went to Washington and was replaced by Wayne Wilson, who appears on the 1967 live album "Buck Owens and His Buckaroos in Japan" and a few studio recordings.
&nbsp "I recommended Wayne for the job when I left. Me and Buck had a love/hate relationship. He'd fire me a couple of times a month, and I'd quit a couple of times a month. And this was one of those times where neither one of us made up until nine months later. I always regretted leaving Buck. That was the Buckaroos' heyday."
&nbsp "Buck made a film during the time that I missed out on," adds Holly. "There was a film crew that traveled on the bus with them. I've never seen it to tell you the truth. I don't think he's very proud of it."
&nbsp After returning to the band, Holly remained with the group for another 4 years, leaving for the last time in November 1971 and forming his own band, the Vanishing Breed.
&nbsp "I just wanted to try it on my own. I felt I went just as far as I could go (as a Buckaroo), although Buck was featuring me on a couple of songs on every album. He was always good like that. I can't think of anybody that had Buck's stature that would do that."
&nbsp Although Holly had a small degree of solo success in the early '70s, scoring 2 top 40 country hits under his own name and releasing 2 solo albums on the Barnaby label, he eventually grew tired of life on the road and in 1982 opened a musical instrument shop in Hendersonville, where he concentrated his energies for the next couple of decades.
&nbsp "I just quit all of a sudden; stopped touring and stopped recording. And Johnny Russell wanted to do this CD, so I said, 'Well, why not?' I didn't have anything else to do."
&nbsp Though Russell enjoyed a string of solo hits during the '70s, during his life he was known primarily as a songwriter, his calling card being "Act Naturally," which was a hit for Owens in 1963, for The Beatles in 1965, and for Owens and ex-Beatles drummer Ringo Starr when they teamed up to re-record the song as a duet in 1989.
&nbsp Russell proposed to record an album of bluegrass-influenced versions of Buck Owens hits with Holly on vocals. Unfortunately, Russell's health declined sharply when recording was about two-thirds completed, and the album was shelved until OMS label head Hugh Moore stepped in to revive the project following Russell's death in 2001. "Hugh Moore (who also contributes banjo to the album) is a bluegrass producer," says Holly. "His forte is bluegrass, and I love bluegrass. It was supposed to have been a little more bluegrass than it was. I tried to get more of Del McCoury's band on there."
&nbsp Released in early May by OMS Records, "Together Again" is a fine blend of bluegrass and Bakersfield featuring ' fel low ex-Buckaroos Brumley and Cantu as part of the core band, as well as Owens himself on two duets with Holly; "Foolin' Around" and "Love's Gonna Live Here." Also appearing as duet partners are Bobby Osborne and Jeannie Seely.
&nbsp Perhaps surprisingly, Holly doesn't play bass on the new album, explaining, "It's because I haven't done it for a while, although I do still have one. And we had Mike Bub, Del McCoury's bass player. I was busy doing vocals, so I never did give it much thought."
&nbsp The only member of the classic Buckaroos lineup absent from "Together Again" is guitarist Don Rich, who died during the summer of 1974 in a motorcycle accident at the age of 32. Rich's death was devastating to Owens; both personally and in terms of his career.
&nbsp Holly still clearly misses Rich as well. "Don was just a great big old teddy bear who'd set the world for you," says Holly. "I remember an incident where somebody called up Don about two or three o'clock in the morning and said, 'My battery's dead. You've got to give me a jump.' And (this person) figured Don knew who he was talking to. So he said, 'Yeah, I'll be there in a minute. Tell me where you're at.' He gave him the directions where he was at, and Don got up to get ready and said, 'By the way, who is this?'"
&nbsp Although Holly's new album marks the only occasion on which the four surviving members of the classic Buckaroos lineup have recorded together since 1967, he says that RCA Records had approached him about recording a Buckaroos reunion album in the early '90s. Though the project never got past the planning stages, the idea had been to reunite the group's famed '64-'67 lineup, as well as bringing in other ex-members.
&nbsp "They wanted me to get all the original Buckaroos, plus a few other musicians who'd worked with Buck. As a matter of fact, one of the ideas was to make 'Together Again' an instrumental with Tom Brumley, Ralph Mooney and Jay Dee Manness," the last two of whom had also played on Owens' '60s recordings.
&nbsp "Probably it didn't happen fast enough for RCA," says Holly when asked why the project never saw the light of day. "Somebody was probably dragging their feet. I was probably one of the guiltiest. I know there was a problem with using the Buckaroos name. Buck had a patent on the Buckaroos name, and he had a project going where he couldn't release permission to use the name."
&nbsp During the group's mid-'60s peak, it seemed like everyone was a Buckaroos fan; none more so than the Beatles, who covered Owens' 1963 hit "Act Naturally" (the Buckaroos returned the compliment with a spirited cover of "Twist and Shout" on 1966's "Carnegie Hall Concert" while wearing Beatles wigs) and who, it is said, had a standing order for all new Buck Owens records to be forwarded to them in England.
&nbsp "We went to a brunch with Ringo and John in Liverpool. I didn't stay very long because I wanted to ride a steam locomotive. Don was a big Beatles fan. I was a fan, too, but not as big as Don. If I had to do it over, I would have stayed there and eaten with them."
&nbsp Asked to name his favorite Buckaroos album today, Holly says, "Beyond a shadow of a doubt, the Carnegie Hall album. The album is still selling very well. The shows were oversold. The people came to Carnegie Hall in their tuxedos and evening gowns, and they had to sit in the aisles."
&nbsp "Carnegie Hall Concert," in some respects, represented the high water mark for Buck Owens and the Buckaroos. Owens and his crew were only the second country band to record a live album there (following Flatt & Scruggs' lead in 1962, and the album captures a flawless performance from the group.
&nbsp Although Holly says - perhaps surprisingly - that the album is a little more laid back than a typical Buckaroos show of that era, he says that the group pulled back a bit on the reins for the Carnegie Hall shows since they knew that the performances were being taped.
&nbsp "We were nervous about being recorded," says Holly. "When you're doing a tape, you don't want to make any mistakes. We were probably more concerned with making the record than with entertaining the audience. I asked Buck if he wanted to do comedy and he said, 'No, just play everything straight.' Then it got back into the groove of a regular show, and we started doing the comedy and the impressions."
&nbsp And Holly took some pride in the fact that the records he played on have had such a lasting influence on later performers including The Eagles, the Desert Rose Band and The Derailers.
&nbsp "You bet. We weren't really country, although we thought we were. I would [say] that we were a bunch of bluegrass musicians with electric guitars. Don was so versatile. He dug the Beatles. He dug The Band ... in fact we recorded three or four songs by The Band."
&nbsp "If we heard a good song, we'd record it."
-Country Standard Time

---


Vegas Soles4Souls Benefit Show

January 9, 2007 - Little Richard has now been added to the bill for next month's historic "The Legends of Rock 'n Roll" spectacular at the MGM Grand Garden Arena in Las Vegas, NV, joining BO DIDDLEY, Chuck Berry, Jerry Lee Lewis, Booker T & The MGs and Mary Wilson.
A benefit concert for Soles4Souls Inc. and the Two Ten Footwear Foundation, this once in a lifetime show to be staged Thursday February 1st on the opening night of the 4-day World Shoe Association (WSA) Show, is a private party for the footwear industry. Admittance to the concert will be strictly by Opening Night at WSA ticket only and children under the age of 16 will not be admitted.
Soles4Souls facilitates the donations of shoes, which are used to aid the hurting worldwide. Shoe companies, retailers, and individuals can donate footwear (both new and used). Soles4Souls is a 501(c)3 recognized by the IRS and donating parties are eligible for tax advantages.
During 2007, Soles4Souls Inc. has pledged to donate 100,000 pairs of shoes to needy people in Africa in the name of James Brown. This footwear donation is in addition to the organization's current pledges and will be distributed in various African countries. A number of international relief agencies have agreed to assist Soles4Souls in this tribute to the Godfather of Soul in order to benefit hurting people in the region.
The Two Ten Footwear Foundation is committed to the well-being of the footwear community. With financial, social and educational support and services, Two Ten fosters a spirit of giving with the focus on action, improvement and change.
The WSA Show is the largest and most comprehensive footwear and related accessories show in the world. Its twice-yearly show in Las Vegas pulls in more than 36,000 participants and nearly 1,600 exhibitors who represent the cream of the multi-billion dollar global footwear manufacturing industry.
WSA Show website: http://www.wsashow.com/
Soles4Souls Inc. website: http://www.soles4souls.org/
Two Ten Footwear Foundation website: http://www.twoten.org/


---

Johnny Meeks: Guitars For Sale

Johnny is seeking help in selling these guitars. Do you know of someone or someplace that might be interested? According to what we've been told, these are the guitars given to Johnny by Leo Fender in the '80s. Johnny has been using them since, playing with the Blue Caps and at the many other appearances he has made. Obviously, they were use not used on any of Gene Vincent's sessions If you need any more information, or have any questions, please contact: Jerry Williams


---


Del Reeves, 1933-2007
&nbsp Nashville, Jan. 2, 2007 - Nearly 40 years after joining the Opry, Del Reeves remains one of the show's most entertaining regulars. He's loved as much for his comic timing and impressions of other country singers as for twangy, truck-driver hits like "Girl on the Billboard" and "Looking at the World Through a Windshield."
&nbsp Born Franklin Delano Reeves in Sparta, North Carolina, July 14, 1933, the youngest of 11 children, he was playing a regular gig on a local Saturday radio show by age 12. As Del tells it: "I had four brothers in World War II and when they left home they left their old guitars lying around. I got to playing around with them, and little by little, learned to play. My mother used to tune the guitar for me."
&nbsp Del attended Appalachian State College in Boone, North Carolina, and then served four years in the Air Force. While stationed at Travis Air Force Base in California, he began writing songs, singing on country music television shows, and recording with Capitol Records. After his military discharge, he stayed in California, where he was building a strong reputation as a singer-songwriter-performer with songs recorded by Carl Smith and Roy Drusky. Friend and fellow songwriter Hank Cochran talked Del Reeves into moving to Nashville from California in 1962. And he's still here.
&nbsp Three years after moving to Music City, Del's 1965 United Artists recording of "Girl on the Billboard" went to No. 1, sold a million copies, and earned Del the nickname of The Doodle-Oo-Doo-Doo Kid for the nonsense syllables that he sang with the song's guitar intro. That same year, "The Belles of Southern Bell" went Top 5. In 1966, "Women Do Funny Things to Me" hit the Top 10, and Del hit the Opry stage as a full-fledged member. After Porter Wagoner introduced him as an Opry member, Del - whose parents were in the audience to witness the night's events - burst into tears and could only sing the chorus and the end of his song.
&nbsp Del's other top singles include: "Good Time Charlie's," "Be Glad," and "The Philadelphia Fillies." He has had more than 25 hits.
&nbsp The tall, thin performer has appeared in eight movies, including the 1969 film Sam Whiskey with Burt Reynolds and Angie Dickinson, as well as cult classics like Second Fiddle to a Steel Guitar and Forty-Acre Feud. He also hosted his own television show, Del Reeves Country Carnival.
&nbsp Recently, Del could be found on stage pleasing audiences with one of his signature hits or one of his engaging impersonations of any number of other country acts. Off stage, Del lead a quiet, rural life with his wife and family, raising horses and cattle.


---


ROBERT GORDON'S
"Red Hot" 30th Anniversary Tour
&nbsp In April 2007, it will be 30 years ago that Robert Gordon recorded his first hit "Red Hot". The song was so radically different from everything else that was going on in the charts at the time, that a lot of fans today still remember the impact of first hearing it. The song was released right in the middle of the disco craze, so hearing "Red Hot" was like a breath of fresh air. Today, the song is regarded as the start of the 2nd rockabilly wave. As Robert himself says: "It opened a lot of doors for a lot of people". To celebrate that fact, Robert will go on a major European tour in April. He will perform all the classic Robert Gordon songs, as well as a couple of favorites from his forthcoming album. He will be backed by the aptly-named "Red Hot", a terrific 4-piece band from Finland who have backed Robert on various occasions in the past. This band is specialized in reproducing the original sound on Robert's albums very authentically, so he felt that they would be perfect for this special tour. Come and celebrate this special milestone, and try to catch a show near you. Robert will also be celebrating his 60th birthday, so enough reason to make this tour one great celebration of the man and his achievements. For more info about the tour or booking shows please make contact through the official website: www.robertgordon.dk

The dates booked so far are as follows:
April 13 - Musikstalden, Naestved, Denmark
April 18 - Feelgood, Halden, Norway
April 20 - Buddys, Uddevalla, Sweden
April 25 - Casino Basel, Switzerland
April 27 - Euro Disney, Paris, France
April 28 - 100 Club, London, England


---


Music Related
Those We Lost in 2006
&nbsp Tommie Wix, producer.
&nbsp Prentiss Barnes, Bo Diddley's drummer.
&nbsp Tommy Casassa, Publisher.
&nbsp Danny Dollar, Rockabilly Legend.
&nbsp Joel Marshall Shumaker, Jerry Lee Lewis guitarist for 15 years.
&nbsp Ruth Brown, R&B legend.
&nbsp Freddy Fender, Tex-Mex legend.
&nbsp Johnny Grande, original Bill Haley comet.
&nbsp Wilson Pickett, R&B legend.
&nbsp James Brown, R&B legend.
&nbsp Syd Barret, Pink Floyd.
&nbsp Denis Payton, sax, Dave Clark Five.
&nbsp Cindy Walker, Genres: Country, Cowboy/Western. Based in: Mexia Instrument: guitar, piano, vocals. Birthplace: Mart Birthdate: 7/20/1917 Deathdate: 3/23/2006. Cindy Walker was the first woman inducted into the Nashville Songwriters Hall of Fame. Her songs were recorded by artists from Willie Nelson to Elvis presley, and Ray Charles to Bob Wills. Her greatest hits include "Bubbles in My Beer" and "You Don't Know Me". She was an inaugural inductee into the Texas Country Music Hall of Fame in 1998.
&nbsp Janette Carter, the daughter of two members of country music's Carter Family who helped preserve folk and country music. Age 82. Jan. 22.
&nbsp Fayard Nicholas, who with his brother Harold wowed the tap dancing world and inspired generations of dancers from Fred Astaire to Savion Glover. Age 91. Jan. 24. Pneumonia and stroke complications.
&nbsp Gene McFadden, R&B singer-songwriter who as a member of McFadden and Whitehead had Top 20 in 1979 with Ain't No Stoppin' Us Now. Age 56. Jan. 27. Cancer.
&nbsp Moira Shearer, the ballerina and actress whose debut film, The Red Shoes, created an international sensation in 1948. Age 80. Jan. 31.
&nbsp Ray Barretto, Grammy-winning Latin jazz percussionist. Age 76. Feb. 17.
&nbsp William Cowsill, lead singer of the 1960s singing family band The Cowsills, which inspired the television series The Partridge Family . Age 58. Feb. 18.
&nbsp Bruce Hart, who wrote the lyrics to the Sesame Street theme. Age 68. Feb 21.
&nbsp Anthony Burger, a Dove Award-winning gospel-music pianist who played for the popular Gaither Homecoming shows. Age 44. Feb. 22. Suspected heart attack.
&nbsp King Floyd III, the soul singer and songwriter best known for his 1970 hit Groove Me, which can be heard on the We Are Marshall soundtrack . Age 61. March 6, of complications from a stroke and diabetes.
&nbsp Ali Farka Toure, a two-time Grammy Award winner and one of Africa's best-known performers. About 66. March 7.
&nbsp Vocalist Pio Leyva, one of the aging Cuban musicians who gained international fame through the Buena Vista Social Club. Age 88. March 22.
&nbsp Gene Pitney, whose keening tenor voice produced a string of hits including Town Without Pity Age 65. April 5. He also wrote Hello Mary Lou for Rick Nelson.
&nbsp Helen Cohn, who along with her husband helped clothe Elvis Presley, Roy Rogers and a host of stars with rhinestone creations during the height of cowboy chic. Age 92. April 7.
&nbsp June Pointer, the youngest of the Pointer Sisters, known for the '70s and '80s hits I'm So Excited, Fire and Slow Hand. Age 52. April 12. Cancer.
&nbsp Phil Walden, the Capricorn Records co-founder who launched the careers of Otis Redding and the Allman Brothers Band. Age 66. April 24. Cancer.
&nbsp With Buck, Bonnie Owens, a singer who married Buck Owens and later Merle Haggard, and helped build the careers of each. Age 76. April 24, less than a month after Owens' death.
&nbsp Johnny Paris, who had late '50s hits such as the burbly Red River Rock with Johnny & the Hurricanes. Age 65.
&nbsp Johnnie Wilder Jr., the soulful lead singer of R&B band Heatwave (Always and Forever). Age 56. May 13.
&nbsp Freddie Garrity, lead singer of '60s band Freddie and the Dreamers. Age 69.this; people watch has him at 64 in 2004 May 19. Emphysema.
&nbsp Billy Walker, the Grand Ole Opry legend whose hits included Charlie's Shoes and Cross the Brazos at Waco. Age 77. May 21. Van accident that also killed Walker's wife and two of his band members.
&nbsp Ian Copeland, a rock music agent and entrepreneur who represented the Police (whose drummer was Copeland's brother, Stewart), R.E.M., Adam Ant, the Go-Go's and other groups that emerged in the 1970s and 1980's new wave and punk scenes. Age 57. May 23. Melanoma.
&nbsp Clifford Antone, owner of the namesake Austin blues club credited with launching the careers of Stevie Ray Vaughan and other musicians. Age 56. May 23. Henry Bumstead, an Academy Award-winning production designer who created sets for such classic films as To Kill A Mockingbird and Vertigo in a career spanning 70 years. Age 91. May 24. Prostate cancer.
&nbsp Desmond Dekker, whose 1968 hit Israelites was one of the first reggae songs to hit the U.S. top 40. Age 64. May 25. Heart attack.
&nbsp Vince Welnick, the Grateful Dead's last keyboard player and a veteran of other bands, including the Tubes and Missing Man Formation. Age 51. June 3.
&nbsp Billy Preston, musician often referred to as "the fifth Beatle" for his keyboard contributions to the Fab Four's music. Age 59. June 6. Preston also had several solo hits in the '70s, including Will It Go 'Round in Circles and Nothing From Nothing.
&nbsp Arif Mardin, the legendary Grammy Award-winning producer who worked with stars including Aretha Franklin, Chaka Khan and Norah Jones. Age 72. June 25. Pancreatic cancer.
&nbsp Willie Denson, singer/songwriter, perhaps best known for the hit Mama Said. Age 69. July 1. Lung cancer.
&nbsp Irving Green, the co-founder of Mercury Records; promoted Sarah Vaughan, Dinah Washington. Age 90. July 1.
&nbsp Paul Nelson, influential Rolling Stone critic who was an early champion of Bob Dylan. Age 40. July 4. Heart disease.
&nbsp Bill Miller, Frank Sinatra's longtime pianist. Age 91. July 11.
&nbsp Jessie Mae Hemphill, Award-winning blues musician. Age 71, July 22. Complications from an ulcer.
&nbsp Arthur Lee, front-man for influential '60s psychedelic rock group Love. Age 61. Aug. 3. Leukemia.
&nbsp Johnny Duncan, known for songs like She Can Put Her Shoes Under My Bed Anytime and It Couldn't Have Been Any Better . Age 67. Aug. 14 in Stephenville. Heart attack.
&nbsp Bruce Gary, Knack drummer whose beats introduce the kitsch classic My Sharona . Age 55. Aug. 22. Non-Hodgkin's lymphoma.
&nbsp Jumpin' Gene Simmons, rockabilly musician and songwriter (Tim McGraw's Indian Outlaw). Age 69. Aug. 29.
&nbsp Danny Flores, played saxophone and shouted "tequila!" on 1950s hit Tequila! Age 77. Sept. 19.
&nbsp Raymond "Boz" Burrell, original bass player for rock group Bad Company. Age 60. Sept. 21. Heart attack.
&nbsp Etta Baker, blues guitarist who influenced Bob Dylan. Age 93. Sept. 23.
&nbsp "Uncle Josh" Graves, whose bluesy playing adorned hundreds of bluegrass, country records. Age 79. Sept. 30.
&nbsp Sandy West, drummer for the influential '70s rock band the Runaways. Age 47. Oct. 21. Lung cancer.
&nbsp Marijohn Wilkin, country songwriter whose works included The Long Black Veil, covered by such artists as Lefty Frizzell, Johnny Cash and the Band. Age 86. Oct. 28.
&nbsp Buddy Killen, Nashville songwriter and producer who helped launch Dolly Parton's career. Age 73. Nov. 1.
&nbsp Paul Mauriat, French composer who had a No. 1 U.S. hit in 1968 with Love is Blue. Age 81. Nov. 3.
&nbsp Ellen Willis, feminist author and the New Yorker's first rock critic. Age 64. Nov. 9. Lung cancer.
&nbsp Gerald Levert, the fiery singer of passionate R&B love songs and the son of O'Jays singer Eddie Levert. Age 40. Nov. 10.
&nbsp Robert Lockwood Jr., a Delta blues guitarist who became the torchbearer of Robert Johnson's guitar legacy and a revered musician in his own right,. Age 91. Nov. 21.
&nbsp Anita O'Day, a singer with drummer Gene Krupa's swing band in the early 1940s who became one of the most distinctive voices in the history of jazz. Age 87. Nov. 23.
&nbsp John R. Pepper II, co-founder of Memphis' WDIA-AM, the first nationwide radio station with programming targeting a black audience. Age 91. Nov. 20.
&nbsp Jay "Hootie" McShann, jazz pianist and bandleader who helped refine the blues-tinged Kansas City sound. Age 90. Dec. 7.
&nbsp Georgia Gibbs, hitmaking 1950s singer ("Kiss of Fire," "Dance With Me, Henry.") Age 87. Dec. 9.
&nbsp Fred Marsden,the drummer in the "British Invasion" group Gerry and the Pacemakers and brother of band leader Gerry Marsden. Age 66. Dec. 9. Cancer.
&nbsp Ahmet Ertegun, who helped define American music as the founder of Atlantic Records, a label that popularized the gritty R&B of Ray Charles, the classic soul of Aretha Franklin and the British rock of the Rolling Stones. Age 83. Dec. 14, of complications from a fall suffered in late October.
Is there a name you'd like to add?.


---
Famed Soul Label's 50th Anniversary to Include Reissues, New Artists, etc.
Stax Records Reactivated
&nbsp December 18, 2006 - Year of Releases, Events, Films Mark Milestone; Maurice White/EWF Tribute First Release on Reactivated Stax; Angie Stone, R&B Icon Isaac Hayes Among New Signings ...
&nbsp In honor of the 50th anniversary of the legendary label Stax ­ home to many of soul music's most enduring recordings ­ Concord Music Group is pleased to announce a year of activity that will include deluxe reissues, special events and the reactivation of the label with a slate of new signings.  
&nbsp Stax's contribution to popular music is enormous. Releasing hit after hit from Otis Redding, Booker T. & the MGs, the Bar-Kays, Isaac Hayes, Sam and Dave, the Staple Singers, Eddie Floyd, Johnnie Taylor, William Bell and Rufus and Carla Thomas, among many, many others, the Memphis soul label established itself as a one-of-a-kind brand.  With a grittier sound than Motown's and arguably the greatest house band of all time (Booker T. & the MGs), Stax pushed soul music to new heights.  But the strength and commitment of the artists was also socially significant, as was the undeniable symbolism of the MGs' black and white musicians playing together in the segregated South. Stax grew up during years of enormous socio-political turmoil.  The label's legacy stands as a testament to their extraordinary commitment and dedication to civil rights, both politically and culturally. Songs like "Hold On I'm Comin'," "(Sittin' On) The Dock of the Bay," "Respect Yourself" and "Knock on Wood" defined a generation.
&nbsp It's a fitting tribute to Stax that not only will its past glories be suitably honored during 2007, but its future will be assured as well. The first new signings to Stax include soul luminary and Stax patriarch Isaac Hayes and superlative vocalist Angie Stone. Isaac Hayes remains an integral force in Stax and beyond, and Angie Stone is widely regarded as one of her generation's few heirs to the grand tradition of R&B.  
&nbsp "Stax always has been and always will be Soul Music, I was a part of that," said Hayes.  "I am coming back to Stax because there is still so much to do. It's like coming home."
&nbsp "The thrill of putting out music on the label that brought the world Otis, Booker T, the Staples and so many other artists who made me want to sing in the first place is simply indescribable," added Stone.  "I simply can't believe that I will be a Stax artist ­ and I'll be label mates with Isaac Hayes.  The staff at Stax share my belief that soul has to stay in touch with its origins.  We're going to make beautiful music together."
&nbsp "These two signings sum up our vision for Stax ­ they represent the roots and the future of the soul tradition," noted Concord executive VP of A&R John Burk.  "As the co-writer, producer and arranger of Stax hits like 'Soul Man' and 'Hold On, I'm Coming,' as well as the genius behind 'Shaft,' 'Hot Buttered Soul' and other hugely influential records, Isaac has established himself as a visionary of modern music.  And Angie Stone, with her extraordinary voice, artistic intelligence and soulful sensibilities, is ideally suited to carry on the tradition. We're thrilled that she's joined us as we enter a new era in which Stax will once again be the home for the greatest artists in soul and R&B."
&nbsp The first new release on Stax will be Interpretations, a star-studded tribute to the songs of Earth Wind & Fire mastermind Maurice White.  The disc will boast performances by such EWF acolytes as Chaka Khan on "Shining Star", Musiq Soulchild "Reasons", Meshell N'degeocello "Fantasy", Kirk Franklin "September", The Randy Watson Experience (aka ?uestlove of The Roots) featuring Bilal "Can't Hide Love", Dwele "That's The Way of the World", and the aforementioned Stax family member Angie Stone on "Be Ever Wonderful" among other stellar artists.  "Concord came to me with the Interpretations concept," says Memphis native White, who helped match the artists with his songs for the project. "Right away I felt very positive about it.  I could tell it was a labor of love."  
&nbsp Concord, which acquired the legendary Memphis label as part of its purchase of Fantasy Records in 2004, will also honor Stax's 50th year by releasing definitive collections, rare performances, unreleased tracks and more from the Memphis R&B imprint in deluxe new packages. The first of these will be Stax 50: A 50th Anniversary Celebration, a two-CD, 50-track anthology brimming with hits from Sam & Dave ("Soul Man," "Hold On, I'm Comin'"), Otis Redding "(Sittin' on) The Dock of the Bay," "Respect"), Booker T. & the MGs ("Green Onions"), Isaac Hayes ("Theme from Shaft," "Never Can Say Goodbye"), The Staples Singers ("Respect Yourself," "I'll Take You There"), Eddie Floyd ("Knock on Wood"), Rufus Thomas ("Walkin' the Dog"), Carla Thomas ("B-A-B-Y"), Jean Knight ("Mr. Big Stuff") and many more. Featuring a unique lenticular cover and extensive notes from Stax historian Rob Bowman's acclaimed book Soulsville U.S.A.: The Story of Stax, this extraordinary compilation is an authoritative display of Stax's creative vitality and unbridled chart power.
&nbsp Plans for digital releases, remixes and other projects are also in the works; the anniversary year's releases are slated to include more than 20 CDs and DVDs.  "This is about honoring an extraordinary legacy," said CMG General Manager Gene Rumsey.  "We look forward not only to providing indispensable collections of the most famous Stax recordings, but also to shining a spotlight on many lesser-known and undiscovered gems."
&nbsp In tandem with Soulsville USA, the City of Memphis Convention and Visitors Bureau and the Stax Museum of American Soul, Concord will also participate in numerous live, broadcast and other events as part of an extensive year of activity heralding "Memphis Celebrates 50 Years of Soul" including a feature length documentary illustrating the staggering Stax story.
&nbsp "Our partnership with the Concord Music Group has been extremely gratifying," said Deanie Parker, President/CEO of Soulsville USA and former Director of Publicity, Artists and Community Relations at Stax.  "The people at Concord get it.  I appreciate the respect that they have for Stax's music and the legacy, their ability to embrace the spirit and philosophy of Stax, and their marketing savvy."  
&nbsp Concord looks forward to a joyous celebration of Stax's 50th anniversary, a productive relationship with Soulsville USA and the City of Memphis, and an exciting new chapter in the story of one of music's all-time greatest labels.
&nbsp For more information on Stax, please contact: Joel Amsterdam, Concord Records, 310-385-4206 - jamsterdam@concordrecords.com


---


Lady Bo Plays New Orleans New Years Eve
&nbsp BO DIDDLEY's original girl guitar player LADY BO headlines a special New Year's Eve show on Sunday December 31st at the Circle Bar, 1032 St. Charles Avenue (on Lee Circle) in New Orleans, LA. Booking info is available by calling (504) 309-0653.
&nbsp 2006 marked the 50th anniversary of the chance meeting outside New York's Apollo Theater between BO DIDDLEY and Peggy Jones aka LADY BO that was to eventually lead to the transformation of his sound from that of a fairly basic-sounding one-chord bluesman into that of a truly versatile musician, able to create music in any number of different styles.
&nbsp The 2 of them soon began to work closely together to develop his ideas for new material and new sounds, whilst at the same time LADY BO taught herself to play the guitar in BO DIDDLEY's unique tunings so that she could play in unison with him and thus add yet a further dimension to his already dynamic sound, both on-record and on-stage.
&nbsp As the world's first female rock group guitarist, LADY BO went on to play on such classic BO DIDDLEY recordings as "Say Man", "Story of Bo Diddley", "Road Runner", "Cadillac", "Ride On Josephine", "Bo Diddley's A Gunslinger", "Pills", "Bo's Bounce" and the underground instrumental classic "Aztec", which, although released in the spring of 1961 as a BO DIDDLEY single (Checker 976), features LADY BO playing overdubbed electric guitars.
&nbsp Thursday February 8th 2007 will mark the 50th anniversary of the recording of BO DIDDLEY's seventh single "Hey Bo Diddley"/"Mona" (Checker 860) at the Beltone Studio in New York, NY with LADY BO on vocals and electric guitar and Wednesday August 15th, the 50th anniversary of the recording of BO DIDDLEY's eighth single "Say Boss Man"/"Before You Accuse Me" (Checker 878) at the Chess Records Studio in Chicago, IL with LADY BO on electric guitar and vocals on "Say Boss Man".
Circle Bar website: http://members.cox.net/circlebarnola/home.html


---


Atlantic Founder Ahmet Ertegun Dead at 83
&nbsp Ahmet Ertegun, founder of Atlantic Records, died December 14, 2006, in New York City. He was 83 years old. The legendary executive had been in a coma following an October 29 fall backstage at a Rolling Stones concert. It was a fitting conclusion to a life that both was shaped by rock'n'roll and helped shape rock'n'roll.
&nbsp The son of the United States' Ambassador to Turkey, Ertegun was born in Isanbul, Turkey in 1923 and spent his childhood traveling the world. He founded Atlantic at the age of 24 in 1947 with $10,000 borrowed from his family dentist. Through the label, Ertegun would go on to cultivate the careers of stars in virtually every era of rock history.
&nbsp In the 1950s, Ertegun helped lay the groundwork for American soul and r&b as we know it by signing such artists as Aretha Franklin, Wilson Pickett, Otis Redding, and Ray Charles. Concurrently, Atlantic also released seminal jazz records by the likes of John Coltrane, Charles Mingus, and Ornette Coleman.
&nbsp In the 1960s, Ertegun and Atlantic virtually invented classic rock, putting out albums by Led Zeppelin, Yes, Buffalo Springfield, Cream, King Crimson, Crosby, Stills & Nash, and Blind Faith. He signed the Rolling Stones in 1971 and Genesis in 1973.
&nbsp Atlantic was sold to the company that would go on to become Warner Communications in 1967. It continues to be a powerhouse to this day, with artists ranging from Diddy, Lupe Fiasco, Death Cab for Cutie, and Bjork to Gnarls Barkley, Bloc Party, the Streets, and Missy Elliott.
&nbsp Ertegun wasn't just a corporate suit who sat back and counted his money from on high. In the early days in particular, he was involved in producing records and even songwriting, contributing to such classics as Ben E. King's "Don't Play That Song (You Lied)" and Ray Charles' "Mess Around". He is often credited under the name "Nugetre", which is "Ertegun" spelled backwards.


---


Georgia Gibbs, 87, R.I.P.
&nbsp Tuesday, December 12, 2006 - Georgia Gibbs, 87, a versatile, bold-voiced singer whose biggest hits were pop versions of songs first popularized by black rhythm and blues singers, died Dec. 9 at Memorial Sloan-Kettering hospital in New York. Georgia performed with big bands and on radio shows She had complications from leukemia.
&nbsp Ms. Gibbs, along with Pat Boone, Patti Page and other white singers of the 1950s, won more airplay and television exposure than many of the black artists of the era who recorded the same songs.
&nbsp Ms. Gibbs, often accompanied by a bright-sounding orchestra and bob-bopping male singers, covered LaVern Baker's "Tra La La," Ruth Brown's "Mambo Baby" and Etta James's risque "Roll With Me Henry (Wallflower)." Ms. Gibbs's version of the last was renamed "Dance With Me Henry." Baker was particularly mad that Ms. Gibbs's identical arrangement of "Tweedle Dee" overshadowed Baker's version on the 1955 pop charts and went on to sell more than 1 million copies.
&nbsp Ms. Gibbs, a daughter of Russian-Jewish immigrants, was born Frieda Lipschitz in Worcester, Mass., on Aug. 17, 1919. After her father's death, she and three siblings went to live in a nearby home for Jewish orphans. She became active in variety shows at the foundlings' home and, after seven years, was reunited with her mother.
&nbsp Addicted to pop music from the radio, she began singing at local ballrooms and by eighth grade was making $20 a week at the Raymor Ballroom in Boston. In 1936, she quit school to travel with the Hudson-DeLange Orchestra. "I did about six months, and it was the most unbelievably hard work in my life," she told interviewer Karen Schoemer for a book about 1950s singers. "Every night was 200, 300 miles. We didn't have a bus. It was a broken-down car with the shift between my legs and bleeding, chapped thighs because there was no heater ... It was marvelously horrible."
&nbsp Recording periodically as Fredda Gibbons or Gibson, Ms. Gibbs had changed her name by the early 1940s because a music industry executive had raped her and threatened to ban her from the airwaves, according to Rochelle Mancini, the executor of Ms. Gibbs's estate.
&nbsp Ms. Gibbs freelanced with the big bands of Artie Shaw and Frankie Trumbauer; became the "girl singer" of the Jimmy Durante-Garry Moore "Camel Caravan" program, where she earned the nickname "her nibs, Miss Gibbs"; and toured with comic entertainer Danny Kaye, sometimes as his straight man.
&nbsp Her first solo hit was a cover of Eileen Barton's novelty tune "If I Knew You Were Comin', I'd've Baked a Cake" (1950). Soon after, she was signed by Mercury and had several minor successes, including "While You Danced, Danced, Danced," before her breakthrough in 1952 with the No. 1 hit "Kiss of Fire," inspired by the tango standard "El Choclo."
&nbsp She continued with a mixed repertoire of R&B, jazz, cha-cha, romantic ballads and novelty numbers, including "The Hula Hoop Song," which played into the national sporting craze. In the summer of 1957, she hosted an NBC-TV program, "Georgia Gibbs and Her Million Record Show," that showcased her singing the most popular songs of the day.
&nbsp Approaching 40, and with rock-and-roll making her largely obsolete in sales, she began scaling back her career. She performed at clubs for several more years but was largely content to settle into marriage with journalist Frank Gervasi, the official biographer of Israeli prime minister Menachem Begin. Her husband died in 1990. Ms. Gibbs's survivors include a brother.
&nbsp In recent years, Ms. Gibbs, who lived modestly in a rent-controlled apartment on New York's Fifth Avenue, worked successfully with entertainment lawyer Mark Sendroff to receive royalty payments from reissues of her master recordings.
-Adam Bernstein, Washington Post
---


The show of the year - buy tickets now, this one will sell out!
Sat., Jan 20th - 4th Annual
"Deke's Guitar Geek Festival"
&nbsp FEATURING: DEKE DICKERSON Your host & MC, with some new surprises for this years performance, including the unveiling of the new Hallmark Deke Dickerson model guitar!

LEGENDS OF SURF GUITAR! For one night only, we will pack the festival with as many of the original 60's surf guitarists as we can get on one stage! This will be a once in a lifetime opportunity and photo op you won't want to miss!! So far we have confirmed members of the Belairs, Eddie & the Showmen, the Pyramids, the Lively Ones, the Challengers, and are working on many more, with many big stars set to make guest appearances! The end of the set will feature an all-star surf jam that everybody is allowed to participate in!

HERB REMINGTON -- BOB WILLS' STEEL GUITAR MAN! It's hard to believe, but one of the key members of Bob Wills & the Texas Playboys classic 1940's lineup is alive and well--and playing GREAT steel guitar--in Houston, Texas! The GeekFest is proud to bring Herb Remington to Los Angeles to play many of the great Bob WIlls numbers he recorded on and made famous, not to mention a steel guitar standard that bears his name--"Remington Ride!" 2007 will mark the 60th anniversary of playing with Bob Wills AND being one of the very first sponsors of Fender Musical equipment! Herb will be backed up by an all-star band featuring members of the Ecco-Fonics, Dave & Deke, and the Lucky Stars!

KID RAMOS -- KILLER BLUES FROM O.C.! Kid Ramos has a resume that would make any blues guitarist jealous-- from his early years with the legendary Hollywood Fats band to a stint with the Fabulous Thunderbirds! This will be the first blues guitarist we've had at the Geekfest, and we guarantee you won't be disappointed with Kid Ramos' awesome playing and tone!

BRIAN LONBECK -- BAKERSFIELD SPEED DEMON! This guy never fails to tear the house down--that's why we always keep bringing him back! Brian Lonbeck hails from Bakersfield and absolutely kills everybody when he plays like Joe Maphis (which, incidentally, is only one of the styles he excels at)! After much prodding, Brian has got himself a doubleneck Mosrite (like the ones he played back in the old days with Barbara Mandrell) and a new batch of tunes to wow the Geekfest crowd!

MARK NEILL & THE UNKNOWNS - TRIBUTE TO AL CASEY AND DUANE EDDY! We had tried to get legendary guitarist Al Casey on the Geekfest bill the last few years, but his health didn't allow him. He expressed a real desire to come do it, so it was a real shock when his death was announced a few months ago. In tribute to the great sound that Al Casey pioneered in the 1950's with Duane Eddy and many other artists, Mark Neill & the Unknowns will reprise their twang-a-riffic appearance from last year with a big bang tribute to the Big Twang!

DEL CASHER -- LEGENDARY L.A. STUDIO CAT! Talk about a resume!!! Del Casher has played with everybody from the Three Suns to Frank Zappa, not to mention he got to play behind Elvis Presley in the movie "Roustabout!" From his well-known friendship with Les Paul to his behind-the-scenes career as one of L.A.'s top session guitarists, Del has truly done it all. Don't miss this amazing set, which among other things will feature a live recreation of the famous VOX "wah-wah" pedal demonstration record!

CRAZY JOE TRITSCHLER - NEW WHIZ KID FROM OHIO! Every now and then, a new guitar player comes down the pike that raises eyebrows and changes people's expectations of what "greatness" is. From Yellow Springs, Ohio comes the new wunderkind of roots guitar, "Crazy" Joe Tritschler! He's the undisputed king of "nerd-a- billy" and a mindblowingly great picker. You don't want to miss it-- he will blow you away!

JEREMY "J.W." WAKEFIELD - DEMONSTRATES THE TALKING STEEL GUITAR! In the 1940's, guitar genius Alvino Rey designed what he called the "Sonovox," which was a crazy apparatus for making a steel guitar come out of a woman's mouth, which was documented in a number of old films and recordings. No one but our resident non-pedal steel whiz Jeremy "J.W." Wakefield would take it upon himself to recreate this sensation! You really won't believe it when J.W. demonstrates the talking steel guitar using a pretty girl singer!

DARREL HIGHAM - FROM THE U.K. - TRIBUTE TO EDDIE COCHRAN! Darrel Higham is a well-known name in the United Kingdom, where he fronts one of the most popular rockabilly bands around. He's also well known for his mastery of the Eddie Cochran guitar style, which we're proud to showcase at the Guitar Geek Festival for the first time. Rockabilly fans won't want to miss this one!!!!

AND ... THE ALL-STAR SURF JAM! Friends, this year the end of the night spectacle is not limited to just double-necks! Following the Legends of Surf Guitar set, we will have an all-star Surf Jam that everybody is allowed to participate in! Bring your singlenecks, doublenecks, triplenecks, whatever for a crazy photo op you won't forget! Important! Don't forget to bring a cord, and those of you who have battery powered amps, bring those too! (No discount at the door this time, just fun for all!!!)

MANY CELEBRITY GUESTS INVITED - YOU NEVER KNOW WHAT MIGHT HAPPEN! PLUS THESE ADDED ATTRACTIONS!
&nbsp DJ DAN MOSES!
&nbsp DEKE'S AMAZING GUITAR MUSEUM!
GUITAR RAFFLE FOR CHARITY--WALK AWAY WITH A FENDER OR GRETSCH GUITAR FOR $10! BOOTHS FROM HALLMARK GUITARS, TNM CUSTOM, STANDEL, AND MORE!

FULL BAR AVAILABLE! ALL AGES WELCOME - MUST BE 21 TO DRINK

ADMISSION $25 ADVANCE $30 DAY OF SHOW $25 WITH NAMM PASS - THIS IS AN EARLY SHOW! DOORS ARE AT 3:30 PM, SHOW STARTS AT 4 PM UNTIL 11

AT THE JOLLY ROGER HOTEL BALLROOM (amazing 1960's pirate themed ballroom!) 640 W. KATELLA (at Harbor), ANAHEIM, CA - only one block from the NAMM show/Convention Center!
Buy advance tickets ONLY from www.guitargeekfestival.com or www.dekedickerson.com


---


H-Bomb Ferguson Remembered
&nbsp Cincinnati, Nov. 27, 2006 - The man known as "H Bomb" because of the way his voice exploded on stage, died Sunday morning in a local hospice room. Robert Ferguson was 77 years old. Ferguson, thought by many as a blues legend, was one of the last survivors of an almost forgotten style of blues.He had been fighting Emphysema for years and was hospitalized for it a few times, but had always been able to recover.
&nbsp Ferguson was well known and well respected in the blues world when he settled in Cincinnati in the late 1950's. Originally from South Carolina, he began playing piano at age six and was writing music shortly after.
&nbsp He began creating his style of "honkytonk shag blues" as a teenager, and served in the Merchant Marines during World War II. After coming home, Ferguson almost immediately began traveling the country on the blues circuit.
&nbsp He had a gold record at 23, and quickly earned a name not only for his music ability, but for the jokes he told in between songs. He was a frequent and popular emcee at the Apollo Theater.
&nbsp After growing tired of traveling and living in bigger cities like New York, Ferguson made his home in Cincinnati in 1957, the heyday of blues here.  After a brief retirement, where he worked as a garbage man, Ferguson continued writing and playing music at local clubs.
&nbsp The highlight of his long career may have been in 1992 at the Chicago Blues Festival. Ferguson was the only act not signed to a record label. The crowd reacted so strongly to his set, they would not let him leave the stage until he performed a few encores.
&nbsp After that day, Ferguson signed to another record label and made another album. He traveled all over the world promoting it and in the years that followed, never stopped playing shows in Cincinnati.
&nbsp Ferguson was known for his aggressive style of playing piano and for the colorful wigs he wore on stage, almost as much as he was known for his booming voice. But friends say his personality and wit, out shined all of it.


---


Surf Ballroom, Feb. 1-3
&nbsp The SURF BALLROOM presents: Tommy Allsup and Friends, Nelson Brothers, Mike Harvey's Supergold Sock Hop, Jimmy Gilmer and the Fireballs, The Cleftones, Dale Hawkins, Barbara Lewis, The Crickets, Bobby Vee
Thursday Feb. 1, 2007
&nbsp Coupe de Bille
&nbsp Tommy Allsup and Friends
&nbsp Nelson Brothers
Friday, Feb. 2, 2007
&nbsp Johnny Star and the Meteors
&nbsp Mike Harvey and The Super Gold Sock Hop
Saturday, Feb. 3, 2007
&nbsp Jimmy Gilmet and The Fireballs
&nbsp The Cleftones
&nbsp Dale Hawkins
&nbsp Barbara Lewis
&nbsp The Crickets
&nbsp Bobby Vee


---


"Buddy" Killen Dead at 73
&nbsp Nov. 1, 2007 - W.D. "Buddy" Killen, a music publisher, songwriter, record producer and musician who became one of the most influential figures in the Nashville entertainment business, died Wednesday. He was 73.
&nbsp He was recently diagnosed with liver and pancreatic cancer.
&nbsp In 1951 Killen joined forces with Jack Stapp, founder of Tree International, to create a music publishing empire. He recruited such songwriters as Dolly Parton, Roger Miller and countless others. Killen himself wrote hundreds of hit songs, including "Forever" recorded by the Little Dippers in 1960 and others.
&nbsp After Stapp died in 1980, Killen became Tree's sole owner. He sold it in 1989 to CBS, now Sony/ATV.
&nbsp As a record producer, he worked with Parton, Miller, Jerry Lee Lewis, Joe Tex, Dottie West, George Jones, Carol Channing, Fats Domino and others. Killen produced the Tex hit "I Gotcha" in 1972.
&nbsp After selling Tree, Killen created his own company, the Killen Music Group, and published music by OutKast, including the soundtrack to their feature film "Idlewild."
&nbsp Killen also was a co-publisher of the recent hit "Me and My Gang" by Rascal Flatts. Additionally, his company published songs by Faith Hill, Kenny Chesney, Reba McEntire and many others.
&nbsp Killen was born in Florence, Ala., and began his music career less than 24 hours after his high school graduation by going to work as a bass player at the Grand Ole Opry. He went on to work numerous road shows with Hank Williams Sr., Eddy Arnold, Jim Reeves and Ray Price among others.
&nbsp Survivors include his wife, two daughters, a stepson, two grandsons and five sisters. A memorial service is planned at Nashville's Ryman Auditorium.


---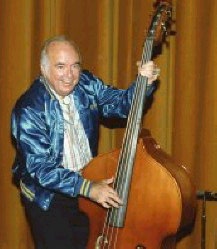 Tillman Franks R.I.P.
&nbsp Tillman B. Franks, a figure of near-legendary status in the world of country and popular music locally, nationally and beyond, died October 26, 2007 in hospice after a lengthy illness. He was 86.
&nbsp Franks' work in entertainment began in the 1940s and his advice, production skills, intuition and understanding of the nuances of the public's tastes in music touched the careers of figures ranging from Elvis Presley and Hank Williams Sr. to Bob Dylan and Pete Seeger.
&nbsp Franks, 86, was a veteran and debut performer at the original Louisiana Hayride and managed the careers of many of the show's alumni, including Johnny Horton, Claude King and Jimmy C. Newman. He played standup bass for the Bailes Brothers on the famed radio program's first broadcast on April 3, 1948.
&nbsp Franks, an Arkansas native who moved to Shreveport at age 2 and grew up in Cedar Grove, attended Byrd High School and learned to play guitar at age 14, inspired by his father and listening the Grand Ole Opry.
&nbsp He formed his first band at Byrd, called it the "Rainbow Boys" and performed such standards as "Take Me Back to Tulsa," "Wabash Cannonball" and "Walkin' the Floor Over You" at square dances, hootenannies and, he told the defunct Shreveport Journal in 1976, "any place we'd find someone to listen to us."
&nbsp After graduating from Byrd in 1940, he joined the U.S. Army Air Forces and was stationed in the Pacific during World War II. He wound up on the island of Saipan, formed another lineup of the Rainbow Boys, including a then-obscure banjo player named Pete Seeger.
&nbsp But he couldn't find anyone to play standup bass, and shifted to it from his beloved guitar, beginning an association with the instrument that lasted six decades. Dressed in a Nudie Suit and slapping his trademark standup bass, he became a familiar figure on stage with many of the artists he managed or assisted.
&nbsp Franks was a passenger with Johnny Horton in the 1960 crash in which the singer was killed. Franks was badly injured in that accident, and bore a scar on his forehead from that wreck the rest of his life.
&nbsp In a 1979 interview in The Times, already a music industry legend but only halfway through his career, he said he didn't look back, only ahead.
&nbsp "I can still get excited about the music business," he told The Times. "I could talk about what I did in the past, and I appreciate your interest in it, but I'm more excited about the future."
&nbsp It was as a bassist that Franks got his introduction to professional music after the war, performing first with the late, great Webb Pierce. He also played standup bass with Harmie Smith and the Ozark Mountaineers, then went on to manage Pierce, Horton, Newman and King, as well as Slim Whitman, David Houston, Jimmy and Johnny, Billy Walker, Tony Douglas, The Carlisles and Billy Walker.
&nbsp In the same 1979 article in which Franks, a modest man in a most unmodest business, demurred talking about himself, his praises were sung by friend and peer Billy Deaton, veteran Nashville talent agent.
&nbsp "He's one of the most energetic, influential and great men in country music," Deaton told The Times. "If he works for you, he's fully devoted to you."
&nbsp Family members said he was known for his ability to spot, encourage and develop talent in players.
&nbsp "He would find talented performers and encourage them in ways that other promoters could not," his children penned in a tribute. "He devoted countless hours to helping performers perfect their talents and find just the right song to match their abilities."
&nbsp Sometimes he would create that music and pass it on. Among the classic tunes he wrote or co-wrote are "Honky Tonk Man," "North to Alaska," "Springtime in Alaska" and "How Far is Heaven."
&nbsp He was a charter member of the Country Music Association, a member of the Louisiana Hall of Fame, a member of the Rockabilly Hall of Fame, is on Shreveport Chamber of Commerce Walk of Stars, in the Byrd High School Hall of Fame and was invited to perform at the Smithsonian Institute.
&nbsp Franks is survived by his widow, Virginia. Other survivors include two daughters, two sons, two brothers, eight grandchildren and one great-grandchild. - John Andrew Prime jprime@gannett.com


---


Bo Diddley Guitar on Auction
&nbsp A handmade guitar that Bo Diddley presented to the popular TV personality and businessman Dick Clark is one of over 900 rock & roll-related lots from Dick Clark's collection to be auctioned December 5th-6th by New York's Guernsey's auction house. The guitar has an estimated selling price of between $30,000 to $40,000.
&nbsp Affectionately known as America's oldest teenager, the Dick Clark memorabilia to be auctioned in December includes items from such popular TV shows as "American Bandstand", "Dick Clark's New Year's Rockin' Eve" and "The $10,000 Pyramid" as well as scores of made-for-television movies and specials.
&nbsp Bo Diddley made numerous headline appearances on Dick Clark TV music specials over the years, including "Dick Clark Presents The Rock & Roll Years", "Dick Clark's Good Old Days" and several of the popular American Bandstand Anniversary Specials. In the 1960s, he headlined with artists including the Byrds, Chubby Checker, Duane Eddy and Paul Revere & The Raiders on the "Dick Clark's Caravan of Stars" nationwide tours.
&nbsp Other items in the auction, to be held at New York's Frederick P Rose Hall at the Home of Jazz at Lincoln Center, include the famous microphone that Dick Clark used each day on "American Bandstand", a bass guitar that Sir Paul McCartney played when he was a member of the Beatles, a white beaded glove worn by Michael Jackson, a bustier worn by Madonna, a guitar formerly owned by Bruce Springsteen and a harmonica played by Bob Dylan. Proceeds in part from the sale will go to benefit the Bogart Pediatric Cancer Research Program, a Division of the TJ Martell Foundation, founded by the music industry to raise money for the treatment of leukemia, cancer and AIDS.
Dick Clark Productions, Inc. website: http://www.dickclarkproductions.com/
Guernsey's Auction House website: http://www.guernseys.com/
TJ Martell Foundation website: http://www.tjmartellfoundation.org/


---

Haggard and Jones Together Again
Available October 24, 2006 is the latest collaboration between George Jones and Merle Haggard. It's been 25 year. since these two icons have recorded and believe you me it was well worth the wait. As the title indicates George sings Merle's songs and Merle sings George's songs on this endeavour as well as four duets. There are fourteen cuts on this CD, here is the list:
Footlights (Duet)
The Race Is On (Haggard)
The Way I Am (Jones)
She Still Thinks I Care (Haggard)
All My Friends Are Strangers (Jones)
Things Have Gone To Pieces (Haggard)
I Think I'll Just Stay Here and Drink (Jones)
Born With The Blues (Duet)
Sick,Sober & Sorry (Duet)
I Always Get Lucky With You (Haggard)
Sing Me Back Home (Jones)
The Window Up Above (Haggard)
You Take Me For Granted (Jones)
Don't Get Around Much Anymore (Duet)
Available at www.banditrecords.com, www.merlehaggard.com and at most WalMart stores.



Tex-Mex Singer Freddy Fender, 69, Dies
&nbsp Freddy Fender, the "Bebop Kid" of the Texas-Mexico border who later turned his twangy tenor into the smash country ballad "Before the Next Teardrop Falls," died Saturday, October 14, 2006. He was 69.
&nbsp Fender, who was diagnosed with lung cancer in early 2006, died at noon at his Corpus Christi home with his family at his bedside, said Ron Rogers, a family spokesman.
&nbsp Over the years, he grappled with drug and alcohol abuse, was treated for diabetes and underwent a kidney transplant.
&nbsp Fender hit it big in 1975 after some regional success, years of struggling - and a stint in prison - when "Before the Next Teardrop Falls" climbed to No. 1 on the pop and country charts.
&nbsp "Wasted Days and Wasted Nights" rose to No. 1 on the country chart and top 10 on the pop chart that same year, while "Secret Love" and "You'll Lose a Good Thing" also hit No. 1 in the country charts.
&nbsp Born Baldemar Huerta, Fender was proud of his Mexican-American heritage and frequently sung verses or whole songs in Spanish. "Teardrop" had a verse in Spanish.
&nbsp More recently, he played with Doug Sahm, Flaco Jimenez and others in two Tex-Mex all-star combos, the Texas Tornados and Los Super Seven.
&nbsp He won a Grammy of Best Latin Pop Album in 2002 for "La Musica de Baldemar Huerta." He also shared in two Grammys: with the Texas Tornados, which won in 1990 for best Mexican-American performance for "Soy de San Luis," and with Los Super Seven in the same category in 1998 for "Los Super Seven."
&nbsp Among his other achievements, Fender appeared in the 1987 motion picture "The Milagro Beanfield War," directed by Robert Redford.
&nbsp In February 1999, Fender was awarded a star in the Hollywood Walk of Fame after then-Texas Gov. George W. Bush wrote to the Hollywood Chamber of Commerce endorsing him.
&nbsp He said in a 2004 interview with The Associated Press that one thing would make his musical career complete - induction into the Country Music Hall of Fame in Nashville.
&nbsp Fender was born in 1937 in San Benito, the South Texas border town credited for spawning the Mexican-polka sound of conjunto. The son of migrant workers who did his own share of picking crops, he also was exposed to the blues sung by blacks alongside the Mexicans in the fields.
&nbsp Always a performer, he sang on the radio as a boy and won contests for his singing - one prize included a tub full of about $10 worth of food.
&nbsp But his career really began in the late '50s, when he returned from serving in the Marines and recorded Spanish-language versions of Elvis Presley's "Don't Be Cruel" and Harry Belafonte's "Jamaica Farewell." The recordings were hits in Mexico and South America.
&nbsp He signed with Imperial Records in 1959, renaming himself "Fender" after the brand of his electric guitar, "Freddy" because it sounded good with Fender.
&nbsp Fender initially recorded "Wasted Days" in 1960. But his career was put on hold shortly after that when he and his bass player ended up spending almost three years in prison in Angola, La., for marijuana possession.
&nbsp After prison came a few years in New Orleans and a then an everyday life taking college classes, working as a mechanic and playing an occasional local gig. He once said he sang in bars so dingy he performed with his eyes shut "dreaming I was on 'The Ed Sullivan Show.'"
&nbsp His second break came when he was persuaded to record "Before the Next Teardrop Falls" on an independent label in 1974 and it was picked up by a major label. With its success, he won the Academy of Country Music's best new artist award in 1975. He re-released "Wasted Days and Wasted Nights" and it climbed to the top of the charts as well.
&nbsp Fender's later years were marred by health problems resulting in a kidney transplant from his daughter, Marla Huerta Garcia, in January 2002 and a liver transplant


---

Charlie Gracie CD on ABKCO Available Now
&nbsp October 10, 2006 - "THE BEST OF CHARLIE GRACIE"  is finally here! The long awaited compilation of Philly's very first rock 'n' roll star (and the first hit artist on the Cameo-Parkway label) debuts WORLDWIDE today - Oct. 10th. The cd contains 20 Gracie cuts (1956-1958) featuring all his U.S./U.K. chart hits, b-sides and unreleased material. JODY KLEIN, Executive Vice President of ABKCO Records stated: "Its a great pleasure for us to do this ... a tribute to Charlie's great talent and influence as an artist ... and a tribute to the man himself!" THANK YOU JODY!  
&nbsp Those who wish to order the Best Of Charlie Gracie  should go to WWW.OLDIES.COM. Be sure to check out the other great Cameo-Parkway artist's cds too!  
&nbsp "Charlie Gracie's impact remains enormous - half a century later!" -JEFF TAMARKIN-liner notes


---

Linda Gail Lewis Rocks Scotland
&nbsp Linda Gail Lewis does it again. On September 30, 2006 she performed at the Maybole Town Hall in Maybole, Scotland with the great Scottish rockabilly band the Peas, whom she preformed with in 2005 during her 2 shows in Scotland. The Town Hall was standing room only with a crowd that truly loves the music and were really enjoying themselves dancing from the opening song by the Peas to the 2nd curtain call by Linda Gail. Linda Gail was also joined on stage by her daughter Annie. When Annie began to sing you could hear the talent in the Lewis family just doesn't stop. Annie is the next up and coming rockabilly star in this family. 
&nbsp On Sunday night October 1, 2006 Linda Gail, Annie and the Peas put on another excellent show at the Glasgow Grand Ole Opry in Glasgow, Scotland. The show was also well attended and the music just as rocking as the night before. Linda Gail and Annie did two curtain calls like the night before with the audience yelling for more.
&nbsp Linda Gail has a new CD out, Haunted Hill, with her daughter Annie and The Peas have a new CD out Rockin' Live in Scotland which was recorded last year in Scotland. The Peas are fantastic rockabilly band tucked away in a small corner of Scotland, making them a hidden treasure of that beautiful country well worth a listen. Linda Gail can really rock 'n' roll as good if not better than her older brother, and her daughter Annie is following in those footsteps.


---


Brian Setzer Is Back With '13'
&nbsp Three-time Grammy winner Brian Setzer is poised to win over legions of new fans with the release of '13' on Surfdog Records. This newest album of original material features 13 tracks of blazing guitar and swaggering vocals that proves there's more than one way to rock.
&nbsp "We Are the Marauders," the testosterone-rich track on '13,' is a veritable fight anthem against rock 'n' roll conformity. Setzer wrote the heart-thumping track for the Pennsylvania rockabilly band The Marauders whose music and we-don't-give-a-damn attitude struck a chord with the former Stray Cat.
&nbsp For the rising band, working with their rock idol was "almost too good to be true!" A grateful Ben Dumm, lead singer and guitarist for the group, remembers "We were just hanging out drinking a beer, and he [Setzer] says 'I'm gonna write you guys a song.' I almost fell over! This is an incredible thing for us...he's pretty much our biggest influence and a musical genius."
&nbsp For Setzer, The Marauders' commitment to their music represents what's missing from popular music and performers today. "The Marauders are these guys in western Pennsylvania who are trying to play their own version of rockabilly in a sea of Eminem wannabes," explains Setzer. With the music business turning into more of a popularity contest than anything else, "you're taught that you only need to put on a cool outfit and warble something," laments the the rock legend. "But that's not how it's supposed to be. You're supposed to be like these guys who live their music every day."
&nbsp Surfdog Records will released the aptly titled '13' on October 24th.


---


David Blakey, Bo Diddley's Webmaster reports:
Moonglows' Prentiss Barnes, R.I.P.
&nbsp Oct. 3, 2006 - We note with sadness and regret the passing of Prentiss Barnes, former bass singer with the vocal group the Moonglows, who died at the weekend in a traffic accident in south-west Mississippi, aged 81.
&nbsp As a member of the Moonglows, Prentiss memorably provided backing vocals on BO DIDDLEY's mid-1950s singles "Diddley Daddy" and "Diddy Wah Diddy".
&nbsp In common with Bo Diddley, Prentiss Barnes was a native of Pike County, MS and was inducted into the Mississippi Musicians Hall of Fame in the rhythm & blues category. Prentiss was inducted into the Rock & Roll Hall of Fame in 2000 and was a founder member of the Vocal Group Hall of Fame and a Rhythm & Blues Foundation Pioneer.
&nbsp Signed to Chess Records in the fall of 1954, the Moonglows enjoyed considerable international success with R&B classics such as "Sincerely", "See Saw" and "Ten Commandments of Love" and the group went on to become the most successful of the mid-1950s doo wop groups.
&nbsp We send our sincere condolences to Prentiss' family and friends at this sad time.
Mississippi Musicians Hall of Fame website


---


Announcing: NYCRockaBilly.com
&nbsp September 28th, 2006 - Hey there Rockabilly fans! Well it's finally here! It's been a long road but we've finally taken one huge step into unifying the Rockabilly scene. NYCRockaBilly.com has been in the works for about 6 months with over 111 hour work weeks striving to put together a worth-while site. And its finally here! I'm so proud to have everything you need to live your Rockabilly stylin' lifestyle all in one place!
&nbsp The reason I started NYCRockaBilly Inc., came about a year ago, when I started going out to 2-3 shows a week. I heard so many people say, "the New York Rockabilly scene is dying out!", but no one seemed to think that they should do something about it. There was always an unsaid "I wish something would change about that".
&nbsp So, I decided that I was going to hold myself personally responsible for the Rockabilly scene die-out, and do something about it. I've always thought of Rockabilly fans as the type of die hards that don't go down without a fight, and a dirty fight at that. NYCRockaBilly is for those die hard fans that won't let the scene die out with out a dirty fight, but it's also for the would-be fans, the closet fans that don't have enough information, no clue where shows are, or seemingly can't find a place in the Rockabilly community.
&nbsp I hope you all like the site, its a work in progress and my work is only beginning, in terms of taking Rockabilly and bringing it out of the shadows. I'm glad NYCRockaBilly has such great fans helping us become a force in the Rockabilly revival. - Gem, CEO


---


Getting Songs in Commercials
&nbsp Universal Music, the world's biggest music group, has formed a venture with the London, England-based advertising group WPP to specialise in licensing music for commercials. The new business, BrandAmp, will be jointly owned by Universal and WPP. Under the deal, WPP, which counts Ford, IBM, Mattel, Nestle and Pfizer among its clients, gets access to Universal's massive back catalog.
&nbsp The Universal Music Group represents some of the most influential recording artists of the century and owns the most extensive catalog of music in the industry, including the Chess label recordings of artists such as Bo Diddley, Chuck Berry and Muddy Waters. Universal's many record labels control about one-quarter of the worldwide market for recorded music.
&nbsp Over the past decade, a number of Bo Diddley's songs have been successfully used in TV advertising campaigns around the world, including Juicy Lucy's version of his song "Who Do You Love" for the Burger King fast food restaurant chain, George Thorogood & The Destroyers' version of "Ride On Josephine" for the UK's Territorial Army volunteer force and Dawn Penn's "You Don't Love Me (No No No)" and Everything But The Girl's "Love Is Strange", both featured in recent years in TV commercials for the Nissan Micra and for General Motors' Hummer sport utility vehicle respectively.


---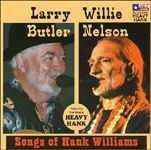 Willie Nelson's "Heavy Hank" Duet
&nbsp (Nashville, September 23, 2006) - Texas country singer, Larry Butler and his long time friend, Willie Nelson, have collaborated on a unique collection of Hank Williams songs. The project is an 11-track CD: "Heavy Hank." Ten of the duets are Hank, Sr. classics. In contrast, the title song, written by Cheryl Durham-Owens, captures the heartrending mood Hank's music personified while still offering that true traditional country sound. You'll immediately get the feeling when you hear them sing ... "I feel some heavy Hank comin' on."
&nbsp Larry's lifelong dream of paying tribute to Hank Williams has been accomplished with Willie stepping in to help make it happen.
&nbsp Putting together the magical songs of Hank Williams, Sr. with the world-wide legendary performer Willie Nelson sharing the vocal duties, Larry makes this CD a "must have" and an instant "collectible."
&nbsp The play list on the disc is: "Heavy Hank," "Take These Chains From My Heart," "May You Never Be Alone Like Me," "Jambalaya," "My Son Calls Another Man Daddy," "Why Should We Try Anymore," "Hey, Good Lookin'," "I Can't Help It," "Weddings Bells," "Mind Your Own Business" and "I Told A Lie to My Heart."
The album (NLT-CD-2006) is distributed by
NLT Records
211 College St.
Burns, TN 37029
Web Site: www.nlt-records.com/heavyhank.html
E-mail: musicman@nlt-records.com
Phone: 615-446-0835



---


Danny 'tequila!' Flores, dead at 77
&nbsp HUNTINGTON BEACH, Calif., Friday, Sep 22, 2006 - Danny Flores, who played the saxophone and shouted the word "tequila!" in the 1950s hit song "Tequila!," has died. He was 77.
&nbsp Flores, who lived in Westminster, Calif., died Tuesday at Huntington Beach Hospital, said hospital spokeswoman Kathleen Curran. He died of complications from pneumonia, the Long Beach Press-Telegram newspaper reported.
&nbsp The man sometimes called the "godfather of Latin rock" was born in Santa Paula, Calif., but grew up in Long Beach. By age five he was playing guitar in church and at 14 he was a member of a trio that performed Mexican music.
&nbsp In 1957, Flores was in a group that recorded some work with rockabilly singer Dave Burgess. One of the songs was based on a nameless riff Flores had written. He played the "dirty" saxophone part and repeatedly growled the single-word lyric: "Tequila!"
&nbsp The next year it appeared as the B-side of a single, credited to the Champs. Flores used the name Chuck Rio because he was under contract to a different record label.
&nbsp "Tequila!" went to No. 1 on the Billboard chart and won a Grammy in 1959 for best rhythm and blues performance. Flores continued to play it for the next 40 years.
&nbsp The song has been used in numerous commercials and TV shows. It became popular with a new generation after it was used in the 1985 movie "Pee Wee's Big Adventure."
- The Canadian Press, 2006


---

Robert Gordon / Chris Spedding New CD
&nbsp "After the success of 'Rockin' Paradiso', and of the reunion tour, we are pleased to inform you of the re-release of "Live in NYC" and 'Live at the Lone Star', on one CD. It shows Robert and Chris at their best, when they were playing the clubs in." - patrick mathe. lastcall@wanadoo.fr - CAT#: 3117222 - BARCODE: 3596971172220
TRACK LISTING:
1 ­ Heartful Of Soul (Gouldman, Manchester Music) ­ 3:08
2 ­ My Babe (W. Dixon, Arc Music) ­ 2:48
3 ­ Something's Gonna Happen (M. Crenshaw) ­ 2:24
4 ­ Someday Someway (M. Crenshaw) ­ 2:11
5 ­ Undecided (J. Burnette, D. Burnette, Mitchell Music) ­ 2:44
6 ­ One More Heartache (W. Robinson, W. Moore, R. White, M. Tarpin, R. Rogers, Jobete Music) - 3:37
7 ­ Just Because (Lloyd Price) ­ 3:10
8 ­ Three Time Loser (D. Covay, Miller, Pronto Music) ­ 2:56
9 ­ Love You So (Jerome, Mitchell Music) ­ 2:39
10 ­ Linda Lu (Ray Sharpe, Gregmark Music) ­ 3:19
11 ­ Love Me (Leiber, Stoller, Hill & Range) ­ 2:42
12 ­ Nervous (M. Parver, Ted Music, BMI) ­ 2:50
13 ­ So Young (D. Sherman, Renda Music, Desert Palms Publ.) ­ 2:46
14 ­ I'm Dreaming Of You (J. Scott)  1:58
Bonus tracks (live at the Lone Star)
15 - The Way I Walk ( J.Scott) ­ 4:00
16 - Train a Riding (G.Moore, M.Subotsky) - 3:30
17 - Remember to Forget (Kesler, Feathers) - 2:30
18 - Rockabilly Boogie (J & D Burnette, Hawkins, Jerome) - 2:34
19 - Twenty Flight Rock (Fairchild) - 2:45
20 - Treat a Dog (M.Price, D.Walsh, S.Barri, M.O'Martian) - 3:52
21 - There you go (J.Cash) - 2:04
22 - Lonesome train ( G.Moore, M.Subotsky)
23 - It's Only Make Believe ( Twitty, Nance) - 1:56
24 - Black Slacks ( Bennett, Denton) - 3:46
25 - Red Hot ( Emerson) - 2:00


---

Jumpin' Gene Simmons dead at 69
&nbsp TUPELO, Miss. - Rockabilly musician and songwriter Morris Eugene "Jumpin' Gene" Simmons died Tuesday, August 29, 2006 at North Mississippi Medical Center in Tupelo after a long illness. He was 69.
&nbsp Simmons was born in Itawamba County on July 10, 1937. He spent most of his life in Northeast Mississippi although he lived for a time in Memphis. Simmons worked for more than 50 years in show business, performing for the first time in a backup band for Elvis Presley during an appearance in Tupelo.
&nbsp Simmons signed with Sam Phillips, owner of "Sun Records," after performing in a number of Memphis clubs. Simmons later joined the "Bill Black Combo" as lead singer and appeared on "The Ed Sullivan Show" and "American Bandstand."
&nbsp After the death of Bill Black, Simmons signed with "Hi Records" and released "Haunted House" in 1964. It would be his first hit and launch him on a world tour. He turned to songwriting, writing "Indian Outlaw" with Tommy Barnes in 1994 for Tim McGraw.
&nbsp Survivors include a son; his mother; a sister; two brothers; and several nieces and nephews. Burial: White Zion Presbyterian Cemetery in Pontotoc County.


---

Gotta Roll! The Early Recordings
1949-1955, Buddy Holly
(Cherry Red / Rev Ola CR REV 174)
&nbsp Buddy Holly, American singer songwriter, pioneer of rock and roll and the first in person to be inducted into the Rock & Roll Hall Of Fame in 1986. "Gotta Roll!" is a first-time compendium of all of the existing demos cut by Buddy Holly before he signed his first commercial recording contract in January 1956. Including the four rockabilly demos sent to Nashville in December 1955 which resulted in his first contract with US Decca, the record label that spelt his name wrong on the contract, unintentionally immortalizing Buddy Holly, instead of his birth name Holley.
&nbsp Buddy plays rhythm, lead guitar and mandolin, accompanying himself, Bob Montgomery, Jack Neal. Sonny Curtis and Ben Hall. Here are the complete Lubbock and Wichita Falls demos, made before sessions in Nashville, Clovis and New York City and before the influence of his band The Crickets, which Buddy formed in Lubbock and had the bulk of his success with. The audience at a UK Buddy Holly and The Crickets show included a young John Lennon and Paul McCartney, who would later sight them as a major influence, including the name The Beatles which was inspired from The Crickets.
&nbsp This CD also features covers of Bill Monroe, Flatt & Scruggs and Elvis hits and celebrated Holly-billy such as "Gotta Get You Near Me Blues", "Down The Line", "I Wanna Play House With You" and the early demos of songs which he later cut commercially "Don't Come Back Knockin"', "Love Me", "I Guess I Was Just A Fool" and "Baby, Won't You Come Out Tonight".
&nbsp A treasure trove of history in the making from this popular and beloved performer this is a vital piece of Rock 'n' Roll history, remastered in the classic Rev Ola style and beautifully packaged with rare memorabilia and extensive notes by Mr. Dave Penny in a newpaper style 6-folded front cover. A superb collection for all rock 'n' roll, rockabilly and roots music fans.
&nbsp Tracklisting: Down The Line #1 / Don't Come Back Knockin' / I Guess I Was A Fool / Love Me / Moonlight Baby (Aka Baby Won't You Come Out Tonight) / I Wanna Play House With You (Aka Baby, Let's Play House) / You And I Are Through #1 / Down The Line #2 / Memories / Gotta Get You Near Me Blues / You And I Are Through #2 / Because You Love Me / This Bottle / I Hear The Lord Callin' For Me / I Saw The Moon Cry Last Night / I'll Miss My Heart / Queen Of The Ballroom / Rose Of Monterey / All >From Loving You / Dallas Boogie / One In A Million / My Two-Timin' Woman (Edited Version) / Let's Pretend (Aka I'll Just Pretend) / Take These Shackles From My Heart / Footprints In The Snow / My Two-Timin' Woman (Unedited Version)
Cherry Red Records
Unit 3A
Long Island House
Warple Way
London W3 0RG UK
http://www.cherryred.co.uk
http://www.revola.co.uk
Information provided by Doug Shipton, doug@cherryred.co.uk


---


New ... to be Released in February 2007
Hayden Thompson Country CD
&nbsp Hayden Thompson, the legendary Sun Records rockabilly artist from the 50's, has made a country recording to be released in February 2007. The pictoresque recording location, an old school house at a lakeside, is situated in the very heart of the Finnish countryside. The musicians on the album represent the top Finnish country pack. "The talent of these guys really knocked me out", says Hayden. "The head of the record label was a little bit worried about having only five days for the recording. By the afternoon of the third day we had cut 18 songs and the only problem now is what to leave out."
&nbsp "Cutting a country album does not mean that I am turning my back to my rockabilly fans", states Hayden. The songs with a country flavor suit this Southern gentleman beautifully and when Bluelight Records from Finland offered a chance to record a country CD he accepted it without hesitation. Actually, the 1966 Kapp Records LP "Here's Hayden Thompson" can be regarded as a paragon for this forthcoming CD.
&nbsp Hayden's own favorites of these 18 songs are the energetic "Midnight Blues" written by Charlie Rich and Waylon Jennings' seductive "Just To Satisfy You". The list of the pieces cut is long and impressive, among them the Johnny Cash classic "Big River" and Ed Bruce's "Ninety Seven More To Go". You can also find two Hayden Thompson country originals "16:88" and "I Wanna Get Home"; according to Hayden himself, these new fabulous versions proudly contest the original ones.
&nbsp The Hayden Thompson rockabilly fans will be pleased to discover the new version of his original "Drive Me Out Of My Mind" as well as the eight-minute- long exhilarating and enterprizing interpretation of the Elvis number "Mystery Train". This train got going so fast that the first take proved the quotation " One-Take Thompson": no need for subsequent ones.
&nbsp On August 12th, right after the recording session, Hayden Thompson performed in a Helsinki rock club called Virgin Oil Company, giving a memorable experience to a full house of country and rockabilly fans. He played both a wild and excited country set with the masterly recording combo and a tad more traditional rockabilly set with his old Finnish friends, Hal Peters & His Trio. The enthusiastic audience was captivated by the powerful yet effortlessly agile baritone voice and the deep musical insight of this charismatic performer.
Record company & media contact:
Mr. Mika Myyryl"inen / Bluelight Records
tel. +358-40-543 2776, email bluelight.records@co.inet.fi


---


Wanda Jackson and Amy LaVere
Performing at the Mercy Lounge, Nashville, Friday, August 11th


Photos: Bonnie Tankersley


---


Music City Walk of Fame
&nbsp NASHVILLE, Aug. 10, 2007 - Under a sweltering sky, amid the sound of construction near Hall of Fame Park, plans for the Music City Walk of Fame were announced today at a 10 a.m. press conference.
&nbsp "This is exactly the right next big thing to happen in the City of Nashville," said Mayor Bill Purcell from a platform framed by two Gibson guitars. "It ties together all the things that we care so much about."
&nbsp A number of big names from the local music community braved the heat to witness the event: Earl Scruggs, Steve Cropper, Sam Bush, Pam Tillis and newcomer Megan Mullins.
&nbsp The Walk of Fame will be a sidewalk gallery of embedded brushed steel and terrazzo stars each bearing the name of a musical contributor. The Walk of Fame will stretch from Hall of Fame Park, starting at the new Schermerhorn Symphony Center, to Music Row on the newly named Music Mile, which is Demonbreun Street. The first induction announcement is scheduled for November 2006, coinciding with CMA Music Week.
&nbsp NOMINATIONS REQUIRE SEVERAL STEPS. How does a name become a star on the Music City Walk of Fame? In addition to a lifetime contributing to the musical landscape of Nashville, there are a few other requirements.
&nbsp The nomination process is undertaken by an anonymous committee of members of the entertainment and music community. Nomination does not guarantee induction, though names not picked will roll over for a second review. If an individual is not accepted then, the name must be resubmitted. Nominations may be submitted by anyone, provided that the star and his management agrees with the nomination. Nominations of deceased individuals must wait two years. And those selected must pay $7,500 (the cost of a star) and a $50 processing fee. Nomination forms are online at www.visitmusiccity.com/walkoffame.
-Peter Gilstrap - TENNESSEAN.COM


---


Elvis Episodes of "The Ed Sullivan
Show" To Be Released on DVD
&nbsp In the months ahead, probably in either November 2006 or January 2007, the three complete episodes of The Ed Sullivan Show that Elvis appeared on will be released on a 3-disc DVD set.  This release by SOFA Entertainment, the owner of the Ed Sulllivan Show catalog, is in partnership with Elvis Presley Enterprises.  The distributor is Image Entertainment.  Click here for the content details.  A formal press release will be issued closer to the release date of the DVD set.  It should include details from SOFA Entertainment regarding the remastering of the sound and picture and point out special aspects of the footage, including the restoration of a "lost" medley.
&nbsp Andrew Solt, who heads up SOFA Entertainment, will present a preview of the DVD set in a segment of Day Two of this year's Elvis Insiders Conference during Elvis Week 2006.  He will be joined by Gordon Stoker of The Jordanaires, who appeared on all three Sullivan episodes with Elvis.


---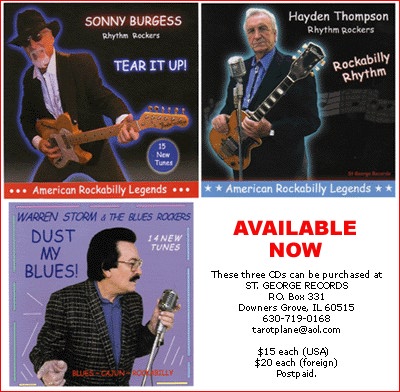 ---


Toronto Rockabilly Weekend
&nbsp Rockin' It Up Toronto Rockabilly weekend! Friday August 11th- Saturday August 12th 2006 at the Cadillac Lounge 1296 Queen St. West Toronto
&nbsp It's a well known fact that Toronto is a very top 40 kinda town. So six years ago, avid rockabilly music fans Jenny & her husband Johnny, took up the challenge to help revive the vintage rock 'n' roll pulse and to keep Rockabilly alive in Toronto. John & Jenny started up a monthly rockabilly DJ night called "John & Jenny's Rock 'n' Roll Party.
&nbsp Their DJ nights have featured many rockabilly and psychobilly artists from the UK, the US and from across Canada. John & Jenny have appeared on CBC Television & CBC Radio and Jenny sometimes hosts a fill-in radio show on CIUT 89.5 FM called "Pass The Dynamite".
&nbsp John & Jenny's Rock 'n' Roll Party is proud to present a weekend of rockabilly and 50's style rock 'n' roll to celebrate John's 40th birthday!
&nbsp This event features some of Canada's best and most energetic rockabilly and 50's influenced bands, plus and top local DJ's. Bands: The Alley Dukes, The Cockroaches, Real Gone, Alistair Christl, The Gunsmoke, Lefty McRighty & The Boxcar Cadavers. From Butler Pennsylvania, Ace Brown & His Helldivers.
&nbsp DJ's Mark & Sarah from Guelph radio show "Backwoods Beach Party", David from Bamalama Records, Serge & Elaine from CIUT's Pass The Dynamite provide the rockin' sounds before, between and after the bands.
&nbsp Rockin' It Up is the biggest event Jenny has organized, let's hope this is a start of a yearly event. For more information, please contact Jenny: rocknrollparty@yahoo.ca - and don't forget to visit www.rocknrollparty.com


---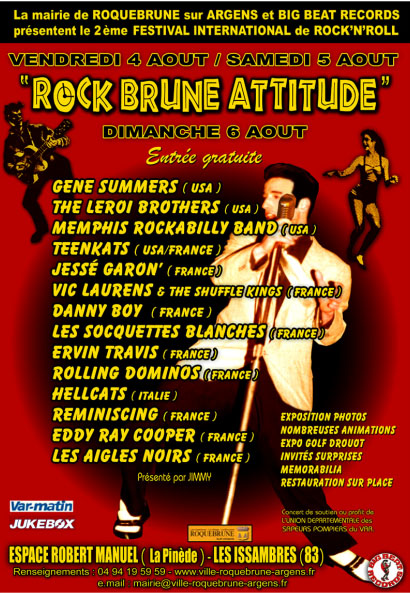 ---

Early Elvis Songs and
Out Takes on 2 Discs
&nbsp FTD announced that they will release in July a special double CD presentation of the classic album Elvis Presley. Elvis will be presented in the 7" format as like previous releases in the Classic Album Series. It should feature the original album plus outtakes on two discs. As a bonus this release should contain an unreleased radio interview with Elvis from 1956, the sound was done by Kevin Budd.
&nbsp The Album: Blue Suede Shoes ; I'm Counting On You ; I Got A Woman ; One Sided Love Affair ; I Love You Because ; Just Because ;Tutti Frutti ; Trying To Get To You ; I'm Gonna Sit Right Down And Cry (Over You) ; I'll Never Let You Go (Little Darlin') ; Blue Moon ; Money Honey.
&nbsp Out Takes: Multiple out takes of: Shake Rattle And Roll ; Lawdy Miss Clawdy ; I Want You, I Need You, I Love You ; plus others and a previously unreleased 1956 interview with Elvis by Don Davis.


---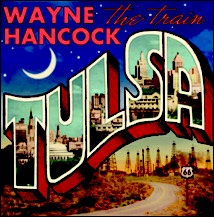 Extensive U.S. Tour Dates Announced
Wayne Hancock Embraces Bill Wills
with CD in Stores October 10th
&nbsp "Wayne Hancock has more Hank Sr. in him than either I or Hank Williams Jr. He is the real deal." Hank III
&nbsp Wayne "The Train" Hancock, the artist who Hank Williams III claims sounds more like his grandfather than he himself does, actually finds a more applicable comparison to the legendary Texan and big-band leader Bob Wills. Hancock's latest release on Bloodshot Records, Tulsa, is a tip of the ten-gallon hat to Wills, who settled in Tulsa, Oklahoma early in his career. As Bob Wills and the Texas Playboys did in the '40s and '50s, Wayne Hancock takes his show out on the road for more than 250 days out of the year, filling dance halls with uncompromising sets of his infectious brand of Western swing.
&nbsp Wayne Hancock's early performances caught the attention of Texas steel guitar legend and producer Lloyd Maines (Wilco, Joe Ely, Richard Buckner, Uncle Tupelo, Dixie Chicks featuring daughter Natalie), who went on to produce Hancock's stunning debut, Thunderstorms and Neon Signs (1996). The album garnered enough critical acclaim to earn Hancock appearances on two of the nation's best showcases, NPR's "Prairie Home Companion" and PBS's "Austin City Limits." Rightfully deemed "the undisputed king of Juke Joint Swing," Wayne Hancock will kick off a summer/fall U.S. tour on July 21 in Houston.
&nbsp Tulsa, also recorded by Hancock ally Maines, captures Wayne's signature "call-outs" to his stellar touring three-piece cast including Eddie Biebel, Chris Darrell (doghouse bass), and a range of rotating guest musicians.
&nbsp Hancock, who is, in his own words, "the stab wound in the fabric of country music," has long been viewed as an anomaly among his country music peers. The Stranger in Seattle called Hancock "one of the last independents." AllMusic.com referred to him as "a rare breed of traditionalist, one who imbues his retro obsessions with such high energy and passions that his songs never feel like the museum pieces he's trying to preserve." And No Depression put it best: "Anyone this authentic has a lot to offer in these unauthentic times."

WAYNE HANCOCK ­ THE 2006 U.S. TOUR:
Fri 07.21  Houston, TX Fitzgerald's
Sat 07.22  Austin, TX Continental Club
Wed 08.02  Asheville, NC Grey Eagle
Thu 08.03  Nashville, NC Nashville Arts Center (that's NC, folks!)
Fri 08.04  Morgantown, WV 123 Pleasant Street
Sat 08.05  Edwardsville, PA Spitfire's Theater
Mon 08.07  Cleveland, OH Beachland Ballroom
Wed 08.09  Newport, KY Southgate House
Thu 08.10  Saybrook, IL Shady Nook
Fri 08.11  Chicago, IL Beat Kitchen
Sat 08.12/13  East Lansing, MI Great Lakes Folk Festival
Sat 08.19  San Antonio, TX Casbeer's
Wed 08.23  Kansas City, MO Knucklehead's Saloon
Fri 08.25  Des Moines, IA Hairy Mary's
Sat 08.26  St. Croix Falls, WI The Dalles House
Mon 08.28/29  St. Paul, MN Minnesota State Fair - Heritage Square Stage
Fri 09.01  Seattle, WA Tractor Tavern
Sat 09.02  Portland, OR Dante's
Sun 09.03  Eugene, OR John Henry's Tue 09.05  McKinleyville, CA Six Rivers Brewery
Wed 09.06   Casper, CA Casper Inn
Thu 09.07  San Francisco, CA Hemlock Tavern
Sat 09.09  Hollywood, CA Safari Sam's
Sun 09.10  Scottsdale, AZ Rhythm Room
Wed 10.04  Austin, TX Continental Club
Tue 10.17  Atlanta, GA Smith's Olde Bar
Fri 11.03  Irving, TX Silverado Ranch
Sat 11.04 Nocona, TX Nocona Nights
Thu 11.23  Austin, TX Continental Club

For more information on Wayne Hancock, please contact:
Cary Baker, conqueroo, (818) 501-2001, cary@conqueroo.com
Angie Mead, Bloodshot Records, (773) 604-5300 - angie@bloodshotrecords.com


---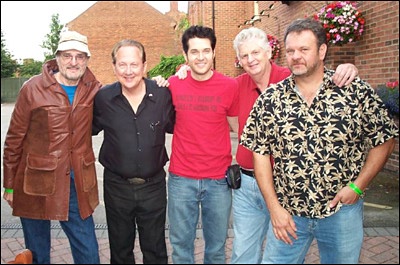 AT THE 2006 AMERICANA: Narvel Felts, Jay Chevalier, Travis LeDoyt and his band at hotel before appearing at the big event in Newark, UK.


---

Update on the Comets
&nbsp Branson, MO, July 3, 2006, from bassist Marshall Lytle - Hi to All, This is the first time I could report on The COMETS' progress since Johnny's passing. It was nice to see all the condolences sent out by so many. The old saying, that the Show must go on,is true and we did. We got very lucky with a replacement for Johnny. His name is D'Vaughn Pershing, he was brought to Branson MO 10 years ago by Andy Williams, as his conductor/pianist. He is an amazing musician and has played for a number of big stars. He loves being a COMET. He is 72, really fits in and we all love him. He is standing just behind me in the photo above.
&nbsp Another bit of news, Franny is retiring on July 9th. We will miss him and we have another guitar player that will start with The COMETS on July 17th. His name is Jackson Haney, from Oklahoma City. He is really good, sings and has a great personality. Jackson will be a wonderful addition to The COMETS. There is a review of our show at Dick Clarks AB Theatre www.1branson.com/forum/t20201.html. Love to all, Marshall


---


Ralph Rebel a/k/a
Ralph Santiago RIP
&nbsp July 2, 2006 - From MIKE SPENELLA: We just heard the terrible news that Ralph Rebel AKA Ralph Santiago passed away. The news story will likely run in tomorrow's local NY newspapers - we just received a phone call from one of Ralph's former band members.
&nbsp Ralph was an extremely talented musician who released five fantastic Rockabilly records and a great Surf Instrumental record. He almost single-handedly revived the Long Island Rockabilly scene in the late 1990s. He had boundless energy and was always looking to encourage local musicians to play, write and record music.
&nbsp Ralph was one of the important artists who helped launch the Golly Gee Records label back in 2001 (Golly Gee releases are noted with a GGR catalogue number). He was instrumental in the signing of The Supertones and The Spinouts as well as bringing his own catalogue of releases. A short list of his accomplishments follows:

Full length albums:
The Rebel Rockers "Red T Bird"
The Rebel Rockers "This Is The Night"
Ralph Rebel "Big Town Boogie" (GGR 1003)
Ralph Rebel "Rockabilly Vampire" (GGR 1004)
Ralph Rebel "Surfin' & Rockin" (GGR 1005)
Peter and The Wolves "Trouble With Girls" (GGR 1002)

Compilations:
V/A "Rockabilly Rumble" (GGR 1016)
V/A "Rockabilly Rumble Deuce" (GGR 1026)
V/A "War of The Surf Guitars" (GGR 1017)
V/A "Supertones Surf/Modern Surf Band Spotlight" (GGR 1022)
V/A "Yule Boogie"

Producer and Engineer:
The Found Cats "Full Gospel Rockabilly" (GGR 1025)
Rhythm Bound "Born To Love You"

About Ralph Rebel
Ralph Rebel "Big Town Boogie"
Ralph Rebel "Rockabilly Vampire"
Ralph Rebel "Surfin & Rockin"
Peter and The Wolves "Trouble With Girls"
V/A "Modern Surf Band Spotlight"

&nbsp I have listed links below where you can listen and read more about Ralph. You can see the many favorable reviews of Ralph's recorded work from around the world. You can also find pictures of Ralph with a number of Rockabilly greats such as Brian Setzer, Lee Rocker, Big Sandy, and Robert Gordon.
&nbsp Here's a brief quote from one of the reviews: "It might be too early to print up buttons stating that "Rebel is God," but he's just this side of Cardinal in my book ... Rebel charges headfirst into the classic territory and reminds us of why the surf guitar was so damn cool in the first place." -- Wilhelm Murg, Cool & Strange Music Magazine, Issue #23, November 2001
&nbsp Yours sincerely,
&nbsp Mel Spinella, Chairman,
&nbsp Golly Gee Records, Inc. -
&nbsp "Where The Cats Are Rockin'" -
&nbsp www.gollygeerecords.com


---
Courtesy: www.briansetzer.com web site
---


Eddie Cochran Award
&nbsp On Saturday 26th May 2006 Eddie Cochran was inducted into the Minnesota Rock and Country Hall of Fame The award was accepted on behalf of the Cochran family by Bev Jackson. Following the induction the Cochran family donated the plaque to the Freeborn County Museum in Albert Lea.
&nbsp The story of this by Bev Jackson and photos of the handing over of the award to the museum will be in the next issue of the Eddie Cochran Connection magazine. Details for subscriptions can be found on the website at: /www.rhis.co.uk/cochran/


---


Bill Beard Visits Eddie's Hometown
&nbsp Albert Lea, Minn. The love of Eddie Cochran's music drew Englishman Bill Beard to the singer's hometown over the weekend. Beard, his wife, and other members of the Eddie Cochran Connection fan club members, traveled to Albert Lea to participate in the Eddie Cochran Days celebration that featured a car show, street dance and cruise around Fountain Lake.
&nbsp Beard, president of the fan club, runs a Web site with information about the musician and publishes a biannual newsletter containing interviews with Cochran's friends and family.
&nbsp The 1950s music star died at 21 years old in 1960 after a car accident in Wiltshire, England.
&nbsp Beard's been a fan since he first started listening to the singer in the 1970s. He began the fan club in 1998 and started researching Cochran's life. Cochran is highly regarded in England, Beard said. "I like rock 'n' roll music," he said, "and Eddie Cochran stands head and shoulders above other artists."
&nbsp Beard said he spoke with Cochran's childhood friends and was most excited to meet those who knew Cochran. "Everyone's making us feel welcome," Beard said. "You can't fault the hospitality here. Except people keep thinking we're Australian." - AP
www.rhis.co.uk/cochran/


---

Rhino "Rockin' Bones" Box Set
&nbsp By the time you get to the second disc on "Rockin' Bones: 1950s Punk and Rockabilly," and some guy calling himself the Phantom comes screaming out of your speakers, you realize the clergy of this country got off easy. Elvis Presley, after all, might have seemed like he was corrupting a generation but this Phantom dude sounds like he was ready to march kids double-time into hell. Too bad nobody was listening. Decades later, stuff like "Love Me" by the Phantom (real name Jerry Lott) remains such savage slabs of rock 'n' roll that they can't be denied. Hit or no hit.
&nbsp Rhino Records has long recognized this with its three must-have "Nuggets" box sets. Now get ready for "Rockin' Bones," the label's four-disc attempt to capture rock 'n' roll at its most primitive.
&nbsp Sure, the box boasts a handful of well-known tunes Jerry Lee's "Whole Lot of Shakin' Going On" and Eddie Cochran's still-brilliant "Summertime Blues" are two of the biggies but another collection of oldies this ain't. Most of the music here lives up to its punk billing.
&nbsp Released date: Tuesday, June 27th. I can't recommend it enough for anybody who says they care about rock 'n' roll. The artists on the set, for however briefly they made music, were rock 'n' roll true believers. Apparently undaunted by the fact that there were few rockabilly hits, they kept at it well into the early '60s.
&nbsp Who exactly ignited rock 'n' roll and when remains open to debate, but like every other collection of underground noise be it this rockabilly stuff or '60s garage or '70s punk "Rockin' Bones" dedicates itself to those who chased the original spirit.
&nbsp Some became famous. Johnny Cash, Buddy Holly, Roy Orbison, Ricky Nelson, Carl Perkins, Gene Vincent, Jackie DeShannon and, yes, Elvis all turn up on "Rockin' Bones." But like garage rock after it, the untamed marriage of R&B and country known as rockabilly seems to have been a worldwide phenomenon.
&nbsp Therefore, there's too much music out there to be contained by four compact discs. But, even though a little rockabilly can go a long way, this is a killer start, giving a whole bunch of no-namers on rinky-dink regional labels like Vulco and Bo-Kay their moment of overdue glory.
&nbsp Still, being on a major label didn't guarantee success. Case in point: the Collins Kids. The sibling duo of Lorrie and Larry went completely hitless on big boy Columbia back in the late '50s. What were people thinking? At sweet 16, Lorrie sounds punk before punk on their two box-set entries, "Whistle Bait" and "Mercy." And at 14, Larry commands his double-necked guitar like a little madman. I'll definitely be scrounging around for some more Collins Kids stuff.
&nbsp After all, a box set like "Rockin' Bones" shouldn't be seen as an alpha and omega kind of project. Instead, it's like a doorway to a new path. Back then, the squares would have called it the gates of hell. -Andrew McGinn


---

New Elvis Tribute CD with the Jordanaires
&nbsp Rockabilly legend Robert Gordon and guitarhero Chris Spedding just returned from Nashville, where they recorded 15 Elvis songs for their upcoming album, a tribute to the King Of Rock 'n' Roll. Gordon, who still remembers the impact of hearing 'Heartbreak Hotel' at the age of nine, says that recording this album together with the Jordanaires was "exciting, exhilerating and exhausting ... but wow, what an album! I can't wait for everyone to hear this album, which features the fabulous Jordanaires on 9 of the 15 tracks". Arjan Deelen, who arranged for the Jordanaires to sing on the album, contacted bass-vocalist Ray Walker, and Ray wrote that, "a good time was had by all, working with Robert, again. He brought the right talent to work with him in Chris Spedding. They, both, are 'right on'. We hope the best for your project and get a copy to us when it comes out!".
Source: www.robertgordon.dk


---


Sound Engineer Bill Porter to
Appear at Elvis Week August 2006
&nbsp On the occasion of his 75th birthday year Legendary Sound Engineer Bill Porter, a noted figure in the recording industry formally retires:  
&nbsp Mr. Porter who audio engineered classic hits such as "Stuck On You", "Its Now Or Never" and "Are You Lonesome Tonight?" will not address the fans this August during Elvis Tribute Week 2006. Originally, Porter planned to meet and greet Elvis fans from across the globe at the annual Elvis Insiders Conference August 11th, 12th and 13th however; Porter will not attend this year's celebrations. On the occasion of his 75th birthday year, sound engineer Bill Porter, a noted figure in the recording industry wishes to formally retire. Over the years Porter has made numerous public appearances as a consulting expert and historian in the field of audio engineering with respect to his historically significant technological processes, evaluations and methodologies and as an award winning engineer and artist affiliated celebrity.
&nbsp Considered a friend and business associate by Elvis and the Presley family, Bill has remained true to the King's memory. Plans are well underway to share Porter's story including remembrances of what it was like "in studio" and on the road with Elvis.   Bill Porter recorded nearly all of Presley's number one hits upon the King's return from his tour of duty for the U.S. Army in which ended in 1960. Porter's recordings of Elvis include the albums "Elvis Is Back", "His Hand In Mine", "Pot Luck", and "Something for Everybody". Porter also traveled with Elvis Presley from 19691977 and recorded many of the Live in Las Vegas shows.  In addition to his work with Elvis, Mr. Porter has recorded many great artists such as Roy Orbison, the Everly Brothers, Rosemary Clooney, The Browns, Ann Margaret and Sammy Davis Jr. just to name a few. 
&nbsp If you are interested and would like to see and hear more about memories of Elvis from Mr. Bill Porter, the man behind the glass, look for his official website set to launch this July.
CONTACT: Jeri Porcaro
Porcaro & House Multimedia Entertainment
(360) 794-1075
j.porcaro@gmail.com


---


Jones, Haggard to Record
&nbsp June 2, 2006 - Country legends George Jones and Merle Haggard will hit the studio this summer to record their first album since 1982's "A Taste of Yesterday's Wine." Due in October via Bandit Records, "Kickin' Out the Footlights ... Again" will feature the Haggard-penned title cut.
&nbsp The track list will be comprised of the 74-year-old Jones recording five of his favorite Haggard songs and vice versa, with a handful of duets sprinkled in. "Jones and I can't help but be competitive and we'll make each other work even harder in the studio," says Haggard, who turned 69 in April.
&nbsp Among the tunes already tipped for inclusion are Jones' "She Thinks I Still Care" and "The Window Up Above" as well as Haggard's "Silver Wings" and "The Way I Am."
&nbsp Both artist remain touring mainstays; Jones has 40 dates on tap through the end of the year. Haggard will hit the road beginning July 27 in Mt. Pleasant, Mich.


---


Light Crust Doughboys® Commemorative Series
&nbsp The Light Crust Doughboys (theLightCrustDoughboys.com) are the longest-running band in the history of recorded music and are credited with inventing Western Swing music. Formed in 1931, the group won a Grammy in 2003 and has been nominated eight times in the past nine years, including a nod this year for their most recent effort, "Southern Meets Soul: An American Gospel Jubilee," an album combining R&B, Soul, Roots, Southern, and Country Gospel music.
&nbsp ASC, America Sejung Corporation, is now offering retailers a limited edition series consisting of seven fretted instrument models commemorating the band's 75th Diamond Anniversary in 2006. These are instruments that will appeal to pros and working musicians, fans and collectors, as well as students, and even beginners - because this is the first time that a limited edition commemorative series is offered at entry-level price points. The seven instruments - a banjo, mandolin with pickup, cutaway flat-top with active electronics, hollow body jazz box, electric bass, and single- and double-cutaway solid-body electrics - are available singly or in sets, and ship with hard-shell case. Built at the Sejung plant, the world's largest single-site guitar and piano factory, all feature the Diamond Anniversary LCD Logo and the new, custom "Biscuit Brown" burst finish.
&nbsp LCD bassist, band leader and producer Art Greenhaw (ArtGreenhaw.com) has been helping to spread the word around the country, including appearances before music merchants in Anaheim and Indianapolis. Art - and even the whole LCD band - is available for store-sponsored appearances, workshops, concerts, and seminars.
&nbsp Please contact ASC at 909-839-0757 or guitarsales@ascguitars.com for further information.


---

Above pic: Live at the Nevada in Porvoo, Finland, February 1, 2006. (Photo: Arjan Deelen)

Robert Gordon & Chris Spedding
To Tour with Link Wray Band
Robert Gordon and Chris Spedding will be embarking on their third tour in July, and this may well be their best one yet. The big surprise is that for this tour, they will be backed by the X-Ray Men, with Eric Geevers on bass and Rob Louwers on drums. This is a tremendous band that Link Wray used extensively in the 90's (more than 200 concerts). You can see them perform with Link on the "Rumble Man" DVD, and they're also on Link's final albums "Barbed Wire", "Walking Down A Street Called Love" and "Shadow Man". Both Robert and Chris are very excited about working together with Eric and Rob, and no doubt this special collaboration will produce some real fireworks on the July tour.
The tourdates are as follows:
July 6 - Tante Olga, Randers, Denmark
July 7 - New Morning, Paris, France
July 11 - Airport Basel Casino, Basel, Switzerland
July 12 - Cale de la Marine, "Summer Shows Villeneuve Sur Lot", France
July 14 - Carretera 13, Badalona (Barcelona), Spain
July 15 - Caldas de Rey Cultura Quente Festival, Galicia, Spain
July 16 - Gruta 77, Madrid, Spain
July 17 - Loco Club, Valencia, Spain
Meanwhile, their live DVD "Rockin' The Paradiso" is doing quite well, and it has received rave reviews in magazines like "Now Dig This". In late May, Robert and Chris will head for Nashville to record a new studio album, and the fact that The Jordanaires are singing on this may indicate that Robert will come up with something very special. For more info, please visit the website.


---
One Of The Most Recognizable Instruments
In Country Music History
Lefty's Guitar Goes to Brooklyn
Home to a thriving alternative country music scene, Brooklyn will be home, at least temporarily, to the signature guitar used by Lefty Frizzell, the greatest Honky-Tonk singer of them all. Retrofret, a vintage and rare instrument dealer located in Carroll Gardens, is proud that it has been entrusted to handle the restoration and sale of the 1949 Gibson SJ-200 customized for Lefty by the equally legendary Paul Bigsby.
Lefty Frizzell is one of the most influential artists in country music's roots. Echoes of his unique plaintive vocal style are still heard in many country singers today, more than 30 years after his death in 1975 at age 47. Along with Hank Williams, Frizzell defined the post WW II Honky-Tonk country sound, and had a major impact on Merle Haggard, Willie Nelson, Dwight Yoakam, and many other classic and contemporary 'hard country' performers. Lefty's song writing and recordings set the standards of the genre.
Lefty bought this top-of-the-line Gibson flat-top guitar with money earned from his first hit records in 1951. He took the instrument to Paul A. Bigsby, the most innovative guitar designer of his day, and had him retro-fit it with a custom neck and flamboyant pickguard bearing the Lefty Frizzell name. Bigsby is considered the father of the solid body electric guitar and pedal steel guitar. He worked alone in a small shop in Downey, California, crafting each piece by hand. These rare instruments built or modified by Bigsby are among the highest valued and collectible of any vintage guitar today.
Gibson SJ-200's built in the 1940's and 1950's are regarded as the ultimate "cowboy guitars" ­ super jumbo bodies with an ornate "mustache" bridge, flamed maple back and sides, and a larger than life sound. They have long been the top choice by many of the world's biggest music stars including Elvis Presley, Emmylou Harris, The Everly Brothers, Bob Dylan, and Pete Townsend. With its Bigsby neck and signature pickguard, this particular guitar is one of the most recognizable instruments in pop music history. For many years it had been on loan to the Country Music Hall of Fame. In January, 2005 it was returned to the Frizzell family.
Lefty used this guitar throughout his career, playing it on many of his hit recordings including "Always Late (With Your Kisses)" and "Long Black Veil". He was photographed with it countless times, and the guitar was prominent on numerous album covers and in virtually any book or article detailing his career. Structurally, it has remained perfectly intact and playable. While it may not sing with Lefty's distinctive voice, it is rich with the imprint of his character ­ down to the belt buckle wear and pick scratches. This instrument is a unique piece of Americana ­ to borrow the title of Lefty's classic 1950's album, it is "The One and Only".
Lefty Frizzell's personal guitar is currently offered for sale priced at $350,000. For further information please contact: Steve Uhrik at Retrofret ­ New York String Service, 233 Butler Street Brooklyn, NY 11217 - www.retrofret.com Phone: 718 237 6092 - steve@retrofret.com


---
---


Johnny (of the Hurricanes) R.I.P.
&nbsp John M. Pocisk, 65, known worldwide as Johnny Paris of Johnny & the Hurricanes for such hit records as "Red River Rock" and "Beatnik Fly," died May 1, 2006 in University Hospital at the University of Michigan Health System, Ann Arbor. Johnny was the leader and sax man for the group.
&nbsp He was in the hospital almost two months, but his illness and the cause of death won't be known pending an autopsy, his son, Jeff, said.
&nbsp Mr. Pocisk of Rossford, a tenor saxophonist, toured Europe regularly, most recently Sweden in November. "Over in Europe, he was still popular," his son said. "He liked that he could come back here and have his own peace and be a regular guy and go someplace else and be a star."
&nbsp Mr. Pocisk was a Rossford High School student when he formed his first band. His next group, the Orbits, developed a following. They backed a vocal group on a demo tape. A management agency preferred the musicians, who became Johnny & the Hurricanes.
&nbsp "Crossfire," was a regional favorite in 1959. Big hits followed, especially "Red River Rock," which, with its distinctive organ sound, sold more than a million copies and reached No. 5 on charts in the United States and No. 3 in Britain.
&nbsp Johnny & the Hurricanes played the Star Club in Hamburg in 1962, headlining a bill that included an unknown English group, the Beatles.
&nbsp Mr. Pocisk later had his own record label. In the Toledo area through the years, he sold real estate and owned an antique shop and a vending machine business. He lived in Germany in the late 1980s and into the '90s.
&nbsp He was previously married to Sharon Venier Woodson. Surviving are his wife, Sonja Reuter, whom he married in November, 1996; daughters, Sheri Sobel and Monica Morgan; son, Jeffrey Pocisk; sister, Janice Gurtzweiler; brother, James Pocisk, and five grandchildren.
&nbsp ED. NOTE: In 1960, the band I was in was "Jerry Williams & The Rockets." We had the opportunity to share the stage with Johnny & The Hurricanes at the Riverside Ballroom in Green Bay, Wisconsin. We played set, they played a set, and repeated that (a 4 hour show). It was a real thrill for me. All great guys! Lead and bass men were using Danelectro guitars. - Bob Timmers


---

Jody, Charlie and Teri Landi

Big Turn Out for Special Showing
Of Charlie Gracie Documentary
&nbsp ABKCO Record's President JODY KLEIN (see abovephoto) was among 360-plus fans and friends of Charlie Gracie who turned out at the Plymouth Meeting REGAL for the Philly premiere of "CHARLIE GRACIE: FABULOUS! last night! The one-hour program will be televised on several PBS stations in the Tri-State region in June. WHYY in Philadelphia will air it the week of June 5th!   Reaction was,  well ... "fabulous!" To see the trailer, go to www.charliegracie.com.
&nbsp Steve Caldwell and the ORLONS, Ceaser Berry of the TYMES, Marc Stevens of the DOVELLS, FULL BLOWN CHERRY,  Donnie Allen of GO VAN GOUGH and Bill Turner of BLUE SMOKE joined radio personalites: Harvey Holiday and Bob Charger (WOGL), Corky Warren, Lou Costello and R.J. (WVLT)and syndicated talk host Rollye James at the premiere.
&nbsp Look for the ABKCO WORLDWIDE RELEASE OF a special Charlie Gracie CD SET this summer to coincide with the documentary. Jody Klein announced "the project is underway! chas, jr.


---

Johnny Meeks at Film Festivals
&nbsp The former Gene Vincent "Blue Cap" legendary guitarist will be on hand July 12-15, 2006 in Charlotte, North Carolina for the The Western Film Fair. This is a big three day event which attracts fans from all over the US and some international destinations. The format of the show consists of:
*Daily screenings of more than 120 16mm movies and TV shows
*large dealers' memorabilia room with approximately 100 tables
*Daily autograph sessions with the guest stars
*Daily panel discussions with the stars
*A big Awards Night Banquet with live entertainment
*Trivia contests
*Nightly entertainment
*Presentation of the Ernest Tubb Memorial Award


JOHNNY is also scheduled to appear at the Asheville Film Festival in November, 2006.


---

3 Years on the Pop Charts ... 50 Years Underground. An exclusive musical tour of the history of LA rockabilly, featuring interviews and music by Glen Glenn, Ray Campi, Rockin' Ronny Weiser, Big Sandy, Dave Gonzales (Padalins), Omar Romero, Little Luis, Moonlight Crusiers and more! A great musical tour of the La cars. DVD Running time: 106 minutes. For information, please e-mail
Rebel Beat.


---


Elvis' 1956 Audubon Drive Home Open For Bids
&nbsp MEMPHIS, Tenn. - April 11, 2006. Bidding for Elvis' first home, made possible by the huge success of "Heartbreak Hotel," begins on eBay on Friday, April 14, 2006, 50 years after Elvis and his family moved in. The property, like Presley's Graceland, was recently added to the National Historic Register of Homes.
&nbsp 1034 Audubon Drive is where Elvis lived when he took America by storm, exploding on the pop scene with a string of gold records including "Hound Dog," "Don't Be Cruel," and "Love Me Tender," where he returned after appearing on the Ed Sullivan, Steve Allen, and Milton Berle Shows, where he came home after filming Love Me Tender and Loving You, and where he entertained Hollywood stars Natalie Wood and Nick Adams.
&nbsp It was a period of extraordinary access, but within the year the fans and photographers overwhelmed him. With his transformation into the "King of Rock 'n Roll," Elvis and his family moved to secluded Graceland, thirteen months after purchasing his dream home, the first home the Presleys owned since he was a child.
&nbsp To enable all Elvis Presley fans the opportunity to own this unique property at 1034 Audubon Drive, Memphis, TN, this house is being auctioned exclusively on eBay® www.ebay.com. Bidding begins April 14 and ends May 14.
&nbsp The traditional one-story Ranch style house (ca. 1954) has a broad rambling facade and a low-pitched hip roof of vertical redwood board-and-batten siding with a brick wainscoting. There is a two-car attached garage and Elvis' pool and motorcycle garage are in the backyard. The house interior retains the improvements made by Elvis that allow the pool area to be visible from all the family areas. The front of the property is enclosed with a brick and metal fence installed by the Presley family. The home today looks much as it did during Elvis's tenure and will be sold as is.
&nbsp The sale is being facilitated by Nashville-based Honky Tonk Hall of Fame, LLC, a touring exhibit and memorabilia company. For more information, visit their website at www.honkytonkhalloffame.com or www.elvistyle.com.


---

Hail! Hail! Rock'n'Roll" on DVD in June
&nbsp Image Entertainment, Inc., a leading independent licensee, producer and distributor of home entertainment programming in North America, has secured the DVD rights to Taylor Hackford's movie "Hail! Hail! Rock'n'Roll", the celebrated 1987 feature film that captured the musical event commemorating the 60th birthday of Chuck Berry. Bo Diddley appears in the movie in several sequences with Chuck Berry and Little Richard.
&nbsp Image Entertainment plan to release the DVD on Tuesday June 27th as both a 2-disc "Special Edition" and as a 4-disc "Ultimate Edition" boxed set, featuring a wide array of bonus content, including over seven hours of never-before-seen footage, extended interviews with many of the original founders of rock & roll, documentaries and more. The 4-disc box set is to be bolstered with "Witness To History", an hour-plus round table with Chuck Berry, Little Richard and Bo Diddley discussing their shared experiences for the first time.
&nbsp "Hail! Hail! Rock'n'Roll" is widely acclaimed as one of the most significant filmed musical events of the past few decades.
Image Entertainment, Inc. website: http://www.image-entertainment.com/


---
Gene Pitney R.I.P.

&nbsp April 5, 2006 - Gene Pitney has been found dead aged 65 in his bed in a Cardiff (Wales) hotel. Pitney - who found fame with Twenty Four Hours From Tulsa - was pronounced dead at the Hilton hotel at 1000 BST. He was on a UK tour and had shown no signs of illness. He had nine dates left on his 23-date UK tour and was due to appear at Bristol's Colston Hall on Wednesday.
&nbsp Born in Hartford, Conn., on Feb. 17, 1941, Pitney had his first success as a songwriter with "Rubber Ball," a Top 10 hit for Bobby Vee in 1961. Later that year, Ricky Nelson had a hit with Pitney's "Hello Mary Lou."
&nbsp As a performer, Pitney had his first success that same year with "Love My Life Away."
&nbsp But Burt Bacharach and Hal David provided the songs that put Pitney in the Top 10: "The Man Who Shot Liberty Valance" and "Only Love Can Break a Heart." "Only Love Can Break a Heart" was Pitney's biggest U.S. hit, peaking at No. 2 on the charts in 1962. The No. 1 song at the time was The Crystals' "He's a Rebel," written by Pitney.
&nbsp Pitney's songs have been recorded by some of the world's biggest stars - Roy Orbison recorded Today's Teardrops as the B-side to his million-selling single, Blue Angel.
&nbsp The son of a mill worker, Pitney said childhood ambitions of becoming a performer could not have been further from his mind. He once recalled how his first solo performance at school degenerated into an embarrassing whimper as Pitney was petrified by the expectant audience.
&nbsp Overcoming his nerves over the next few years, Pitney learned to play the guitar and piano and formed a schoolboy band. It was during one of their gigs that his distinctive voice was discovered by the "the proverbial fat man with a cigar" who took him off to New York.
&nbsp He is survived by his wife Lynne and three sons who live in his native Connecticut.


---


Stars Pay Tribute to Buck Owens
&nbsp BAKERSFIELD, April 4, 2006 - Some of country music's biggest names gathered in this Central California farming city on Sunday to pay tribute to Buck Owens, the flamboyant cowboy who shaped the genre with his trademark honky-tonk twang.
&nbsp Dwight Yoakam, Trace Adkins and Garth Brooks were among the more than 2,000 friends, family members and devoted fans who crowded Valley Baptist Church in Bakersfield, where the country legend died of a heart ailment at his home on March 25. He passed away just hours after returning from one last Friday night performance.
&nbsp Sunday's service opened with a photo montage set to some of Owens' greatest hits, and included performances by Yoakam, who sang the hymn, "In The Garden," and Adkins, who sang "Wayfaring Stranger."
&nbsp The service also featured a surprise appearance by Brad Paisley, who sang "When I Get To Where I'm Going" off his latest album.
&nbsp "I never thought I'd be singing this for my friend," Paisley said as he began the heartfelt ballad.
&nbsp Owens' three sons, John, Buddy and Michael remembered their father as a stern but loving figure, whose advice they still carry with them to this day.
&nbsp "My father told me opening the door to success is the easy part, but staying there with pride is the challenge," Buddy Owens said.
&nbsp Inside the modern church complex in Bakersfield, flowers were arranged in the shape of Owens' trademark red, white and blue guitar.
&nbsp Outside, a huge American flag hoisted on a fire rescue ladder flapped above the church. While some people arrived in black suits and dresses, others wore cowboy hats, boots, jeans and big belt buckles.
&nbsp Owens influenced the sound of country music from outside of Nashville with hits like "Act Naturally" and more than 20 No. 1 records, most released from the mid-1960s to the mid-1970s. He also brought the genre to TV on the long-running show "Hee Haw."
&nbsp Owens' honky-tonk twang was known as the "Bakersfield Sound," after the truck-stop town on Highway 99 where he moved in 1951 to find work in its thriving juke joints.
&nbsp "Buck gave birth to a movement," Paisley said. "At the time when he came through, his music was so different. He was a maverick in the true sense of the word."
By Olivia Munoz, AP


---
---
For More THTM NEWS, Go To...
e-mail your news item
CLICK HERE FOR MORE INFORMATION ON THIS GREAT RECORDING STUDIO