"That's News to Me" - Archive #7
Back to the Current That's News to Me" Page
A Mix of Music Related Text and Photos That You May Find Interesting
Lisa Marie Officially Opens Presley Place in Memphis
The 12-Unit Housing Complex Funded by the Elvis Presley Charitable Foundation is Designed to Meet the Needs of Homeless Families.
MEMPHIS - July 10, 2001 - The Elvis Presley Charitable Foundation (EPCF), the charitable arm of Elvis Presley Enterprises (EPE), and the Metropolitan Inter-Faith Association (MIFA) opened Presley Place, a 12-unit transitional housing facility funded by the EPCF today in Memphis. Lisa Marie Presley, chairman of EPE, was present to cut the ceremonial ribbon and to greet the new residents.
In June of 1999, the EPCF announced its commitment to fund the creation of Presley Place, a $1 million plus development that will be managed by MIFA as part of Estival Communities, MIFA's housing program for homeless families. The grand-opening ceremony provided the public an opportunity to view the facility and learn more about this program to assist families in crisis. "All of us with the EPCF and Elvis Presley Enterprises are extremely proud of this amazing facility," stated Presley. "The work that MIFA does truly has an impact on peoples' lives and we look forward to this collaboration."
The 12-unit apartment complex, designed by Looney Ricks Kiss Architects and constructed by Patton and Taylor Enterprises, will contain both four- and two-bedroom apartments as transitional housing for homeless families. The four bedroom units, the first of their size in Estival Communities, will allow MIFA to serve the needs of larger families. The two-story brick apartments have an open floor plan downstairs with living room, dining room and kitchen. The complex's design, with the apartments facing into a courtyard and each unit having a porch, promotes a sense of community among residents.
"The development of Presley Place is exciting on so many levels," said Meghan Altimore, MIFA director of housing. "Transitional housing for families, especially for large families, has been determined to be a high priority need in our city according to an annual report on homeless needs."
The property is located at 709 St. Paul Ave. in the Peabody/Vance neighborhood. Presley Place and its residents will be managed by MIFA. Like the families living in Estival Communities, Presley Place residents will be provided a variety of services. Residents receive up to one year of rent-free housing; child care at the Les Passees Center; employment counseling; life-skills education; and case management to identify the steps that brought them to homelessness and to gain the skills to prevent it from reoccurring.
"Presley Place is going to provide families throughout the Peabody/Vance Neighborhood an opportunity to grow work toward achieving positive goals," said Margaret Craddock, MIFA executive director. "These families are trying to overcome powerful barriers: poverty, homelessness, education opportunities and discrimination. We need to nurture them and provide them with all we can; especially throughout the early stages of their lives. If we do that, we're changing the lives of people who otherwise aren't offered some of life's most important opportunities."


---
Nick Curran's Second Album: "Nightlife Boogie"
Nick Curran and the Nitelife, TexJam 0063 CD. With their sophomore release, "Nitelife Boogie," jump blues sensations Nick Curran and the Nitelife once again prove that they are the hottest band on the scene today. The Nitelife's sound is quite simply unparalleled. More than just a rehashed revivalist, Nick manages to breathe new fire and life into a genre that many had long since proclaimed dead. Of the fourteen tracks, half were penned by Curran, showcasing his strong songwriting skills. He is also an extraordinary guitar player and often draws upon his heroes - from Clarence Gatemouth Brown to Charle Christian and all points in between - to create his own infectous sound. As if those elements were not enough, Nick also possesses a rough-hewn voice that is reminiscent of the decades past, yet uniquely his own. Nitelife Boogie is destined to become an instant favorite of everyone who listens to it. Available at Hepcat Records, 1-800-404-4117. Released by Texas Jamboree Records, PO Box 161148, Austin, TX 78716 USA.


---
Elvis Has Entered the Site - Presley on MP3.com;
Release of a Special BMG CD Boxed Set
PRESS RELEASE, July 9,2001 - Elvis Presley, who starred in 33 films, and recorded 64 albums and 51 singles, can now be heard at www.mp3.com/elvis. Presley passed away 24 years ago but still has a huge international following. It's estimated that more than 600,000 tourists visit his Memphis estate, Graceland, every year according to Elvis Presley Enterprises (EPE). EPE says 625 fan clubs for Presley are still active worldwide.

Music publisher BMG is slated to release a special boxed set, "Elvis Live in Las Vegas," which will hit stores July 10. Elvis fans can order the collection by visiting by www.mp3.com/elvis. Fans of the Mississippi-born artist also can register to win a three-day trip to Graceland and Elvis merchandise, including T-shirts, boxer shorts, gold records and swiveling hip clocks by visiting www.mp3.com/elvis. The MP3.com Elvis site also boasts a rare March 1960 interview with Elvis from Graceland, after his two-year stint in the Army. Fans also can view a virtual Elvis live performance, get information about the original band and take a virtual tour of Graceland.

Presley sold more than 1 billion record units worldwide, more than any artist in recording history, in addition to receiving 14 Grammy nominations. Presley had no less than 149 songs appear on the Billboard Hot 100 pop charts, of which 114 were in the Top 40, and 18 of those hit No. 1.


---
Rick Nelson News: Guestbook and Discussion Group
RICK NELSON WEBMISTRESS ANNOUNCEMENT - "RickNelson.com now has a completed discography. Including a Picture Sleeves archive. New Album cover section forthcoming. *Discog and Sleeves Compliments of Kenneth Wingate, Kent McCombs and Don McLaughlin. We need your help! Currently we are listing the photos provided by family and EMI/EPE right now. What we need from you are any and all photos of Rick throughout his years! This is not limited to personal photos. So many articles, covers and memorabilia have been created over the years that we simply don't have copies of it all! Help make this site a complete complete tribute to Rick's life.... You can email scans to this address (in JPG format please). Mailing address is located in the Contact Section of RickNelson.com. We found a new server for our guestbook so be sure to pop over and leave your thoughts on Rick. The kids do stop by and read them! Also the Yahoo Group will remain open. So you can chat, post and mingle with other fans ..."
Rick Nelson Guestbook.
Rick Nelson Yahoo Groups.


---

LESLEY BAKER, Rockabilly/Patsy Cline Tribute Artist. Baker Productions, 325 Clyde Wix Rd., Westmoreland, Tennessee 37186, 1-615-644-4317


---
Rogers Family to sell estate items to pay Death Taxes
"The many hopes and dreams that the family shared have to be sold to cover the 55% "Death Tax." Yeah, yeah, the Senate has finally passed a bill that will do away with this unfair tax by the year 2010. That doesn't bring any relief to families now. The business and the few assets it took their parent's a lifetime to earn have to be sold to cover the debt. However, everyone involved knows that the property is being offered at an IRS fire sale and the family is forced to sell for pennies on the dollar. Not only has the family suffered a staggering loss, so have all of your employees who have relied on your family for their employment for decades. Now there will be no more business to tax, no income to tax-a loss of revenue for everyone in the community. But the government really does not care, for they do all of this "for the good of the country." I really wonder!!!"
Roy "Dusty" Rogers Jr

. The Rogers family is forever trying to keep The Roy Rogers-Dale Evans Museum in Victorville, California going. It is a wonderful museum full of artifacts and mementos from the long careers of Roy and Dale. For information about the museum, please visit our website Lioned above. For information on how you can help the museum by becoming a member or a sponsor, please call (760) 245-5503, or email: administrator@royrogers.com


---
Roy Nichols RIP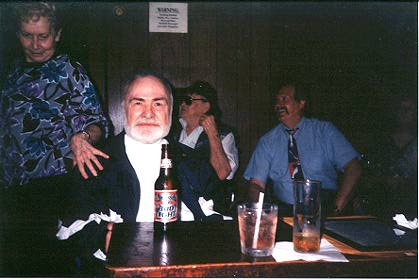 From: GlennJPogatchnik@aol.com - 7/4/01. "I am just heartbroken. I turned on my computer this morning to find out from my friends the sad news of Roy Nichols passing.He was only 68 and that was far too young for us to lose him. The first time I met Roy was at that tribute on May 3,1998 at Trout's in Oildale and even though he didn't know me he was a very gracious man. He let me take several pictures of him with Bill Woods and other folks. Then I got to sit down with him and talk about guitars. He created much excitement that day because he was very rarely seen since his stroke. The lady next to Roy in this picture I'm sending you is his lovely wife Quita. In the background is Bill Woods and Mayf Nutter. The story of Roy's passing is in the Bakersfield Californian at www.bakersfield.com. Go to local news and then click onto more local news. Rest in peace Roy. I know there is some great music going on in Heaven today."


---
Passings:
Thoughts from Bill Kennedy. Posted July 2, 2001
As the time passes, and rock & roll grows older: it is only natural to see the beginnings of the passing of the legends that help lay the ground work for the most important American culture change of the twentieth century. "Rock & Roll."

Indeed, Elvis Presley and a host of others whose names are graced on the AM oldies airwaves daily. Most recently Joey Ramone and Carl Perkins. Completely opposites in their approach, but bound together in the furious excitement that only a pounding "E" chord can deliver behind a solid drummer. It goes on, and it will continue until the day the very last of the first generation of those pioneers who created an exciting music for the young, and the young at heart, are gone.

In the last week we have learned of the loss of two opposite influences in rock & roll. One, a grizzled old black man who wore his life on every line in his face. Growled, mumbled and spit out lyrics about big legged women, cheating and gettin even. Played the most simple of guitar techniques, but made it sound so unique that it was difficult, if not impossible to duplicate. John Lee Hooker was his name. And what a name. Just to say it sounds strong and powerful. A name that would fit a steel driven man on a railroad gang or a prize fighter. He died at peace in bed. How ironic, I always thought he would get shot in a barroom after messin with some mans old lady. Hooker was one of the very last of Chicago blues men. There are dozens of recordings available that showcase his music. Christ, one of his songs, "Boogie Children" or "Chillen" was recorded fifteen times by him at least. Several years ago he released a CD on Capricorn called "The Healer." It has various artist on it. Carlos Santana and Bonnie Raitt are two. Raitts rendition and guitar work with Hooker on "I'm in the mood" is a classic. The CD got five stars from everyone who reviewed when it was released. A good one for any collection.

On the other end was a quiet, shy country guy that everyone who ever met-liked, or even loved. Married to the same woman for a thousand years, no arrest, no dope, no nothing. Chet Atkins was a guitar genius. What Les Paul did for the electric guitar and recording magic, Atkins did for the "picker." While Atkins didn't invent the finger picking method he used, he did refine it to a science. By using the thumb pick to play the bottom lower strings as bass, or counter notes, and using the others fingers to pick the melody of the song. In essence, he could play three parts at once.

In the 50's and 60's he was a producer and guitarist on many early rock & roll records. The majority of the early Everly Brothers records feature his artistry.

There is a Christmas CD that Atkins produced that is beautiful. His version of "Silver Bells" is the best. There was also an album release in 1976 called "Chester & Lester." Yep, Les Paul and Chet Atkins actually together on one album.

So, two more shoot on through to the other side. There sits John Lee Hooker with his hat sitting sideways on his head, a hand rolled cigarette dangling from his mouth, clutching his red Gibson ES-320 looking over at Chet Atkins. Neatly sitting with his legs crossed, picken on a mint green Gretsch Country Gentleman.

They're probably wondering who gonna play first, and what, and in what key. Since John Lee didn't care much about being in tune ... God bless'em.

Bill Kennedy - Bill0666@aol.com


---
Ryman Designated Historic Landmark
Country fans know the Ryman Auditorium as "The Mother Church of Country Music" and the home of the Grand Ole Opry from 1943 to 1974. The National Park Service recently named the Nashville hall, built in 1892, a National Historic Landmark. In honor of the designation, the Ryman will host a ceremony Monday morning (June 25) featuring presentations by government dignitaries and Opry and Ryman executives. "If I could pick one structure that truly embodies our country music heritage, it would have to be the Ryman Auditorium," Congressman Bob Clement said. "The Ryman is a facility of national significance which elicits a certain devotion and reverence from country music stars and fans alike." Clement was a driving force behind the Ryman's citation. 06/22/01

Stuart Keeps Hall of Fame Post, Wendell Elected Chairman
Grand Ole Opry star Marty Stuart will serve a sixth consecutive term as president of the Country Music Hall of Fame's Board of Officers and Trustees. E.W. "Bud" Wendell, who was inducted into the Hall of Fame in 1998, replaces Bruce Hinton as the board's chairman. 06/22/01


---
This is BR549's Time to Shine
By PETER COOPER, Staff Writer. of The Tennessean


---
GreazeFest 2001 Down Under
Every year Robot International holds a 3 day rockabilly festival known as "The GreazeFest. The GreazeFest is not a nostalgia festival - it's put on by rockabilly fans for rockabilly fans who like their music loud and are most likely into custom car culture. The GreazeFest is coming up again real soon on August 17 - 19, at Redcliffe, some 30 minutes north of Brisbane, Australia. This year, the Hot Rod Girl, Josie Kreuzer, is coming downunder to headline the weekend. This will be Josie's only Australian show, so all the cats from around the country and NZ will have to rumble inta Redcliffe to witness some sizzling hot filly rockabilly.
Also playing are:
The Satellites (Wrapping up their world tour)
The Chrome Daddies (Excellent debut cd just out, these guys are knockin 'em dead)
Satellite V (Australia's best hillbilly bop outfit)
The Tailgaters (not the Austin Tailgators, but excellent backwoods swamp r'n'r)
Johnny Green's Blues Cowboys (Unstoppable vintage honky tonk cowboys from the southern mountains)
Tractor Jacks (Hot new Link Wray inspired rockabilly outfit from Brisbane)
The Starlite Ramblers (Fine fillybilly from Brisbane)
The Fuelers (Hillbilly boogie from Canberra)
You can check out all the info at www.robot-int.com.au/greazefest

The GreazeFest weekend run down:

Friday August 17
4pm Meet and greet at The Fish Bowl
8pm bands:
Satellite V
Johnny Green's Blues Cowboys

Saturday August 18 all day:
Rats'n'Rides Show featuring:
Kustom kulture and vintage vendor stalls
plus live rockabilly:
Tractor Jacks
The Starlite Ramblers

Saturday August 18 from 7pm:
Josie Kreuzer
The Chrome Daddies
The Satellites
The Tailgaters

Sunday August 19 from 11am
Seaside Rat Ride from The Fish Bowl
4pm The Fuellers at The Fish Bowl

Saturday Rats'n'Rides Display
Spaces are very limited for the GreazeFest Rats'n'Rides display - there are only 65 car spaces at The Fish Bowl. Therefore entry has been restricted to GreazeFest patrons only. You can book your vehicle [pre-1969] when ordering tickets. It costs $5 to show your vehicle, with net proceeds being donated to the rockabilly stabbing benefit. www.myrockabilly.com.

Sunday Seaside Rat Ride Roll up to The Fish Bowl by 11am on Sunday. Destination to be advised. All pre-1969 vehicles welcome.


Contact: Lori Lee Cash
Robot International
Greazefest 2001


---
"Mississippi On My Mind" CD Review
Courtesy: Up & Coming Magazine

I recently gave a listen to a CD released by a (somewhat) local boy by the name of Bobby Joe Swilley, entitled "Mississippi on My Mind." I took the CD, not really sure what to expect, and popped it into my player and sat back. Though not really a big fan of the "rockabilly" genre of music, I must say that I was pleasantly surprises by "Mississippi On My Mind, and maybe you will too.
Swilley grew up in Northern Mississippi, where he used to sneak into the "local black church" because he liked listening to the music they sang there. "I loved that gospel rhythm, harmony and emotion in that music." said Swilley, which :influenced me to form my own rockabilly style."
Swilley's music flowed smoothly, blending obvious elements of blues, country, old-fashioned rock and southern style. Closing my eyes I could easily picture myself sitting in a northern Mississippi honky tonk, tapping my feet after a long, hard dry working in cotton field.
The Music was technically superb. The instruments blended together seemlessly while Swilley crooned with a smooth voice dripping with natural talent and the superb skill that only a veteran craftsman can master. The music was a reminder of a sound long gone in most of the music on the market today. "Mississippi On My Mind" showcases Swilley's powerful voice and is a must have for any "rockabilly" fan or avid country lover.
"Mississippi On My Mind" not only play like a normal CD, but it also has a multimedia section when run on a computer as a DD-ROM. This multimedia section contains a photo, artist information, lyrics and downloadable mp3s that will run on any mp3 player. For more information on Bobby Joe Swilley, you can check out "Mississippi On My Mind" at http://mp3.com/bobbyjoe


---
Hello to all Wynn Stewart fans!
from Wren Stewart Tidwell - www.wynnstewart.com
There is a new CD now available (just released this month) of my dad's music that I thought you might like to know about. If you have already bought the box set, don't worry ... this CD does not contain any new material. So if you are one of the blessed that have the box set, please forgive this email. Maybe you have a friend who didn't want to pay that much for the box set but they might be interested in a $12 CD.
This is not the "Greatest Hits" CD that I have had my heart set on doing (which is still "in the works"). But it is a re-release of Wynn Stewart's earlier recordings, similar to the "California Country" CD that was put out in the early 90's and is virtually impossible to find nowadays. This CD will be available from my website as soon as I get my shipment (which I just ordered today and am expecting in 2 weeks). If you want to be put on the reserved list, let me know and you will be one of the first to receive it. I will be selling it for $12. The following is a list of the songs included on this CD:

1. Come On
2. The Long Black Limousine Come On
3. How The Other Half Lives - (with Jan Howard)
4. Above And Beyond (The Call Of Love)
5. Wishful Thinking
6. Wrong Company - (with Jan Howard)
7. Heartaches For A Dime
8. Playboy
9. Big City
10. If You See My Baby
11. Big, Big Love
12. I Don't Feel At Home
13. One Way To Go
14. Falling For You
15. Three Cheers For The Losers
16. Couples Only
17. Another Day, Another Dollar
18. Don't Look Back

The CD is called "The Very Best of Wynn Stewart (1958-1962)". While it is not what I consider "the very best", it is still some very good music and contains many of the songs that people have selected as their favorites thru my song survey. To those of you who requested that I send them a schedule of when the K-mart commercial featuring "It's Such a Pretty World Today" was playing on TV, I apologize, but I never got one either. The ad was pulled after only being played for 2 weeks. A real bummer since they said it was scheduled to play for 7 months. But, oh well. At least it got played a little bit. It was fun while it lasted.


---
Lightcrust Doughboys' Smokey Montgomery RIP
Country music pioneer and Texas music legend, Marvin "Smokey" Montgomery passed away on Wednesday, June 6, 2001. A member of one of country music's top history-making bands since the 1930's and the man known worldwide for introducing Dixieland-style jazz banjo to western swing music, Marvin "Smokey" Montgomery has died in Dallas at the age of 88. Since joining The Light Crust Doughboys band in 1935 and continuing through concert appearances as late as May 2001 with The Light Crust Doughboys, the influence of musician/arranger/composer/producer Smokey Montgomery can be heard every time western swing music, Dixieland-style jazz banjo or intricate, swinging banjo solos are played. In an eight-decade-spanning career which has seen Smokey recognized in virtually every western swing and banjo hall of fame in the world, he has more than earned the title of "Mr. Tenor Banjo" and "Mr. Light Crust Doughboy".

As recently as February 2001, Smokey was honored with a Grammy Nomination in the gospel music field for his work with The Light Crust Doughboys, and he has earned Grammy Nominations for the past three out of four Grammy periods, 1997, 1998, and 2000 for best recorded work in his category.

Since turning 80 years of age and in just the last handful of years alone, Smokey and Light Crust Doughboy Art Greenhaw have produced highly-successful musical collaborations with Amarillo's Lone Star Ballet, various orchestras including The Abilene Philharmonic, The Texas Wind Symphony, The Dallas Wind Symphony and others, Southern Methodist University's Mustang Band, gospel music's legendary James Blackwood, The Jordanaires, Ventures' guitarist Nokie Edwards, steel guitarist Tom Brumley and other notables. One of Smokey's major contributions to the legacy of American banjo music is found in his guidance and direction of The Dallas Banjo Band, one of the premier educational and performing banjo ensembles in the country.

The 74th Texas Legislature in 1995 called Marvin "Smokey" Montgomery a "national treasure" along with his fellow Light Crust Doughboys, and The Light Crust Doughboys were designated Official Music Ambassadors for The State of Texas. Bob Wills called Smokey "a genius on that banjo". Countless professional musicians and banjoists call Smokey a major influence, and through motion picture musical performances by The Light Crust Doughboys such as the Gene Autry film "Oh Susanna", Smokey's virtuoso banjo playing launched a thousand tenor banjoists.

In Smokey's last few days of earthly life, he often repeated, "The Light Crust Doughboys have never given anything less than a great performance .... We've always given fans so much more than their money's worth.....We've given 'em everything we had."

Memorial services are scheduled for Saturday June 9, 2001 in the Hall of State Museum located at Fair Park in Dallas, Texas and are open to the public. For information, please call 214-421-0281.

The Light Crust Doughboys have recently released a CD of the Rockabilly Hall of Fame label.


---
.
Five Days, Five Days of Rockin' 'n' Rollin'
VIVA LAS VEGAS 4 The Gold Coast Casino and Hotel Las Vegas 12th - 15th April 2001. By Tony Wilkinson
Whilst I and younger offspring were all for returning to the bright lights of Las Vegas for the rockin' delights Viva Las Vegas 4, She Who Must Be Obeyed was not quite so enthusiastic. However steady cajoling and some outright bribery worked wonders and the end result that was that we were Vancouver and Las Vegas bound at the beginning of April. After spending a week sampling what the marvelous city of Vancouver and surrounding area had to offer, including acouple of visits to 'Krazy Bob's' at Langley, pure vinyl heaven and whose proprietor had a great line in chat such as 'how do you confuse the lead guitarist of a rock band? - put some sheet music in front of him', we boarded the aircraft for the flights to Vegas. Once there, we were again the guests of Chuck and Linda Baker. Chuck played on the session that produced Hugh Barrett's & The Victors 'There Was A Fungus Amongst Us' for Madison Records and he also produced the Barrett follow up on Lucky Four Records as well as making the answer version 'Return Of The Fungus'. Today he is a respected writer, journalist and TV presenter as well as running his own newspaper for US armed forces veterans.

Thefirst of five days rockin' in Vegas commenced with a pre-festival party and a meet 'n' greet session at Ronny 'Rollin' Rock' Weiser's rancho on the Wednesday afternoon at which all were made welcome. Paradise, meeting personalities such as Matt Lucas, sipping beer in pleasant sunshine and watching the gathered musicians jamming together.

That night at Gilleys in the Frontier Casinoon the strip, this is the establishment where Elvis made his first Vegas appearance, there was a five act line up headlined by HAYDEN THOMPSON. This was a particularly good set from Hayden and covered the majority of his Sun / Phillips International recordings. He was backed up by a trio lead by UK's Malcom Chapman and together they shone on 'Love My Baby', 'Fairlane Rock','Blues, Blues, Blues' and 'Rockabilly Gal'.

The'Viva Las Vegas 4" festival commenced at the Gold Coast Casino on Thursday, 12th April and at checkin, it became apparent that the event was a sell out. Up in the ballroom, performances commenced with 13 STARS who were followed by the HAYWOODS, both being young rockabilly bands from California. The latter was especially good on 'Drinking, Crying And Moaning' and 'Broken Hearted' and bodes well for their forthcoming UK appearance. This evening was closed out in the ballroom by the British act CARLOS & THE BANDITS who turned in a performance that was still being talked about at the end of the weekender.

However as with last year, the Rockabilly Internet Hall Of Fame were also staging shows in the West Lounge and for this evening they included DAVE CRIMMEN, THE LUSTRE KINGS, MARCO DiMAGGIO and, for myself a real revelation, BILLY ADAMS. For some time now there has been considerable confusion as to whether Billy was still with us or had departed this earth. The truth of the matter is that there were at least two Billy Adams. One recorded for Sun and Pixie Records and it was he who unfortunately died in 1986. The Billy who is still with us is he of 'Rock Pretty Mama', 'You Heard Me Knockin', and 'You Gotta Have A Ducktail' fame, all of which he performed with consummate rockin' perfection. Boy, this guy is good and possesses a powerful voice together with playing a mean marvelous lead guitar. On the guitar boogie instrumental 'Mama Don't Allow', he really shone and I noticed Paul Burlinson in the audience looking on with keen interest. Billy looked every inch of a fifties rocker and was dressed in a white jacket and shoes with black trousers and shirt. He sang and picked great versions of 'C C Rider', '9-lb Hammer' and 'Mystery Train' which were served up with originals such as 'Honey Bee', 'Sweet Sugar Blues', 'If You Run With TheW olves', 'I Feel Old Memphis Calling Me', 'That's My Baby' and 'I'm Gonna LeaveT his Lonesome Town'. For sure, he is areal rockin' talent and thankfully for us in Europe there is talk of a possible UK appearance next year.

Friday saw the festival accelerate away at a pace that was to be continued for it's remainder, literally there was rock 'n' roll music everywhere you turned. The main shows were held in the upstairs ballroom whilst new bands were demonstrating their talents in the downstairs dancehall together with afternoon performances taking place in the east lounge. In the west lounge, Bob Timmers and the Rockabilly Hall Of Fame [RHOF] crew continued with their evening shows featuring a mixture of seasoned veterans and new acts. Like last year, most of my time was spent dashing between the upstairs ballroom and the afore mentioned west lounge which was at the other end of the casino. By the end of Viva Las Vegas [VLV], I certainly ended up a slimmed down sex machine but was bloody nackered at the same time.

A suggestion for next year, the wealth of talent on display in the West Lounge makes it worthy of moving this part of festivities to a larger hall within the Gold Coast. People were tripping over themselves at times in the West Lounge.

Up in the ballroom, the evening show kicked off with the SKINNY McGEE AND THE MAYHEM MAKERS who were followed by Britain's own BLUE STAR BOYS. They have impressed previously but on thisoccasion they pulled out all the stops demonstrating their authentic sound and are one of the few acts not to include a drummer. Their set was nice and varied in tempo and included a mixture of covers and originals such as 'Rock 'n' Roll Ruby', 'I'd Rather Be Safe Than Sorry', Long Gone Daddy', 'If You Don't Know, 'All I Could Do Is Cry', 'Half Hearted Love' and 'Love Love Love'. Next up was the legendary MARVIN RAINWATER who commenced his set with rather subdued interpretations of 'Roving Gambler [Gamblin' Man]','Whole Lotta Woman' and 'Mister Blues'. It then kicked up several gears with 'Dance Me Daddy' which Marvin explained had originally been titled 'Rock Me Daddy' but the executives at MGM fearing charges of contaminating American youth insisted on the change. The pace and uplifted excitement continued with 'Rockin' Down The Walls' a new number from his forth coming CDa nd then went into a tasty bluesy feel with 'Why Did You Have To Go And Leave Me' and 'Moanin' The Blues'. By now the set was rattling along nicely and nearly went into orbit with 'Boo Hoo' but then went off boil with 'Gonna Find Me A Bluebird' which was served up complete with changes in tempo and a Fats Domino impression. However it was back to full throttle with 'Hot And Cold'. After a short break, it was another new number 'I'm A Wild Man' followed by reprises of 'Rockin' Down The Walls' and 'Hot And Cold'. Overall, an enjoyable set but I have seen Rainwater better.

However the direct opposite has to be said for the next turn in the ballroom, MARTI BROM. I first saw her at the Vegas festival in 1999 and was bowled over then. In the ensuing two years, she has come on leaps and bounds and is now an even better performer on stage. She looks delicious and has a singing voice that angels would kill for. Backed up by The Barnshakers, she launched into 'Welcome To The Club' and followed this with a great mixture of numbers like 'Crazy For Loving You', the immaculate 'Blue Tattoo' and 'No Good Lover' Demonstrating her full versatility, she sexily strutted around the stage singing Eartha Kitt's 'Loving Bug Itch' before switching the pace again for 'Love Hound', 'I'm Drinking Too', a marvelous 'Tom Cat' and a great interpretation of Loretta Lynn's 'Fist City'. The set rolled on and on with the audience getting more and more enthusiastic as Marti performed her own' Unproclaimed Love', 'You're The Boss, a tremendous workout on Joyce Green's 'BlackCadillac' and LaVern Bakers 'Voodoo Voodoo' before climaxing with 'Boo HooB oogie' and 'Here Today and Gone Tomorrow Love'. Marti Brom is a natural successor to the likes of Wanda Jackson and has talent by the bucket load. The final act in the ballroom for this evening werethe FLEA BOPS who came complete with a lady upright bass player. This gave a whole new connotation to the word slap.

However things had also been rockin' away nicely back at the RHOF presentations in the West Lounge all evening. LOU HOBBS came on and performed a few numbers. Clearly he is an unwell man and it took a lot of courage to stand up there and perform. He did a reasonable version of 'Great Balls Of Fire' as well as a selection of his own numbers. He was followed by the by MARCO DiMAGGIO who picked away nicely at a selection of Eddie Cochran numbers before being joined on stage by GARY LAMBERT. The pair of ace pickers performed a selection of dueling guitar instrumentals as well as 'Mystery Train' (this had to be the most repeated number during the festival, I must have heard at least ten different interpretations of it). On their final number, they were joined byt he sax player from the Lustre Kings and collectively they knocked out a powerhouse performance and duly received astanding ovation.

After a respectable interval to cool things down a bit, MATT LUCAS stepped foot on the stage. He socked out a selection of rock 'n' roll standards such as 'Roll over Beethoven', 'Kansas City', 'Memphis', 'Ruby Baby',' Roll Over Beethoven' together with his unique interpretations of 'Oobie Doobie' and 'I'm Movin' On' before finishing with 'Matchbox'. Matt told me that he is UK bound next year and based upon this performance, I will be there for sure.

The final act that I saw for this night was a portion of ROCKIN' ROARYfrom Germany. He worked hard and eventually won the crowd over with a performance based on the boogie side of rock 'n' roll. I went to bed a tired but happy bunny.

Due to personal considerations, I had to miss the first two acts in the ballroom on Saturday who were the Denver based BLUE RIBBON BOYS and CAVE CATT SAMMY but was there for the performance by the FABULOUS HARMONAIRES from Dallas, Texas. These are a young multi-racial doo wop group, dressed in plaid jackets and really looked the part. Their harmonies on 'Shrine Of St. Cecilia' were spot on. They then attempted a few original numbers such as 'It's Been Too Long' and 'You Want To See More Of Me' but they and the backing band were at odds on occasion which detracted from otherwise excellent performances. Observing this, the group stuck to tried and tested numbers like 'When You Dance', Little Girl Of Mine', 'Gee', Tell Me Why' and 'Daddy's Home'. However the co-ordination problem with the backing band continued which presumably more rehearsal would have solved. The Fabulous Harmonaires have the potential to be a killer act but do need to learntheir trade a bit more.

Next on stage was BIG SANDY AND THE FLYRITE BOYS (2001) including the great Jimmy Roy on steel guitar. Previously I haven ot been too sold on Big Sandy's performances but on this night he won me over completely, especially with the new Flyrite Boys line up who were so slick and competent. Gone was the frantic thrash to be replaced a balanced set. There was a tasty mixture of western swing and honky tonk boogie with ditties such as 'Blackberry Wine', 'It's A Mystery', 'Honky Tonk Queen', 'True Blue Poppa', 'The Greatest Story Ever Told', 'Hot Water','Let's Drink Some Juice' and 'I Can Hear Tequila Calling'. These were followed by 'Hey Girl, Hey Boy' and 'Baby, Baby Me' a couple of real nice duets with a delightful young lady whose first name was Vicki, and a doo wopish ballad in 'I Can't Believe I'm Saying This To You'. The set concluded with a great workout on 'Jumping From Six To Six'.

The Flyrite Boys returned to the stage to back the next act, the incomparable WANDA JACKSON who can do little wrong in my book. Opening up with 'Rockabilly Fever' complete with slinky movements, she then proceeded into 'Stupid Cupid', 'Mean Mean Man' and 'Hot Dog That Made Him Mad' in which her growling tonsils were well to the fore. Boy the hair on the back of my neck was standing upright by this time. To change the pace, she then went into intense tributes to Jimmie Rodgers and Hank Williams before launching into 'I Gotta Know' which drew such a crowd response that the number had to be instantly reprised. Wanda was well and truly cooking by now and number after number followed in her own inimitable manner. 'Tunnel Of Love' was followed by 'Riot In Cell Block No. 9', 'Right Or Wrong', a splendid 'Fujiyama Mama', 'Hard Headed Woman', a bluesy workout on 'Trying To Get To You' before her normal religious number 'I Saw The Light'. The set exploded into a savage 'Let's Have A Party' and concluded with 'Whole Lotta Shakin' Goin' On. Without doubt, she is the Queen of rock 'n'roll. The shows in the ballroom concluded this evening with performances bythe ROYAL CROWN REVUE and Sweden's own JACK BAYMORE. Many described the last mentioned as having a great stage presence with an excellent sound.

However things had not been quiet at the RHOF stage in the West Lounge. The first act that I was able to catch herewas part of a set by SUE THOMPSON, a lovely friendly lady to talk to and who performed her hits. Next up was GLEN GLENN who, backed up by GARY LAMBERT, rocked his little socks off. For sure, 'Everbody's (was) Movin' with 'One Cup Of Coffee' along with 'Laurie Ann' in 'Blue Jeans And A Boy's Shirt' whilst 'Baby Let's Play House' concluded the set. Good stuff indeed.

There then followed a number of acts under the general heading of the 'Rollin' Rock Review' who were there to celebrate thirty years of the existence of Rollin' Rock Records. RAY CAMPI performed at the Vegas festival for the first time and pulled all the stops out with his crowd pleasing performance. Newish Rollin' Rock artist RIP CARSON gave his all whilst JOHNNY LEGEND came across as acomplete nutter. A totally wild and original act, this was top notch enjoyment and concluded with 'Rockabilly Bastard'. They don't make them like Mr. Legend anymore, sad to say. The Rollin' Rock tribute concluded with a sparkling rockabilly set from ALVIS WAYNE who seemingly goes from strength to strength. Opening up with 'Swing Bop Boogie', he proceeded to fully arose the crowd with 'Rockabilly Daddy', 'Here I Am' and 'Thanks A Lot'. He then performed a couple of duets with Jessica Ruth on 'These Lonely Teardrops' and' You Can Have Her' before throwing the set list way and graciously letting Jessica sing a solo 'In Care Of The Blues'. We then got the classic 'Sleep, Rock-A-Roll Rock-A-Baby', 'Lay Your Head On MY Shoulder and 'Don't Mean Baby. People were standing, dancing and cheering. A standout performance.

The last act that I saw on Saturday night in the West Lounge was a complete surprise, and a most welcome one at that. The legendary band THE FIREBALLS stepped onto the stage lead by George Tomscoand with Chuck Tharp, Paul Goad and Dan Aguilar. They looked every inch seasoned professionals and presented themselves in matching outfits, even down to the guitar straps. The set was a mixture of vocals like 'Bottle Of wine', Rockin' In The 50's', 'Oobie Doobie', 'That'll Be The Day', 'Susie Q', 'Sugar Shack' and a number they credited to The Crickets 'Most All Of The Time'. Instrumentals obviously could not be left out and these included 'Vaquero', 'Bulldog' and 'Torquay'. These were played with routines described as being those originally performed on Dick Clark's 'American Bandstand'. Certainly it made one wonder if the Shadows had ever seen these little workouts as they did bear similarities. A nice tight set which sent me off to dreamland in a happy frame of mind.

I also caught part of the [American] Rock 'n' Roll Hall Of Fame induction show on television. The Flamingos were on and sang an emotional 'I Only Have Eyes For You'. In addition, Paul Simon was being inducted and his thank you speech, he made several references to Alan Freed. He said that in return for a cash payment and signing over the composers credits to the flipside, Freed played their [Tom & Jerry] first record 'to death' and thus 'Hey School Girl' became a hit. He concluded by saying that he wished that the same scene existed today. Paul Simon also declared that it was his wish that one day he will make the peace with his long time singing partner but then added, after a pause, 'no rush'. I switched off when Aerosmith started to crucify 'The Train Kept A Rollin'.

Sunday,the final night of the festival saw acts such as CARI LEE, the BARNSHAKERS [great set], the SATELLITES and the FLATFOOT SHAKERS [both from Australia] plus the INFERNOS and the RACKETEERS rockin' away in the ballroom. However when one of the all time great groups of rock 'n' roll, the CADILLACS bounded on to the stage, it was obvious that we were in for something special. Lead by Earl 'Speedo' Carroll, the four man outfit were nattily dressed in lilac pink suits and had their own musical director and band. What a performance, undoubtedly the best ofthe whole VLV, they rocked, they rolled and sang their hearts out complete with great stage presence and routines. Opening up with 'Peek A Boo' and 'No Chance' it was great to see that they were oh so tight with the band and arrangements. This was followed by some great harmonies on 'The Girl I Love' before rockin' out again on 'Zoom' and the ballad 'You Are'. Next up, Earl Carroll demonstrated the years he spent as part of the Coasters by taking the lead on 'Yakety Yak' and 'Charlie Brown'. These were great performances for sure but I personally would have preferred numbers such as 'Please Mr. Johnson' or 'Jaywalker', however that is rather churlish of me and is a only a minor gripe. The set continued on with rockers and ballads such as 'Betty My Love' which was announced as an answer version to the Teen Queens 'Eddie My Love', 'Down The Road' and 'Gloria' before climaxing in 'Speedo' which segued into 'Shout'. The audience was going wild and each movement was being rapturously received, the Cadillacs were in total control. Sadly there was only one encore, 'Speedo Is Back' but what an act, what a performance. Literally, showstoppers.

Meanwhile back in the West Lounge, RUSTY EVANS commenced the proceedings with a very very Johnny Cash style show. I think this is the same guy who recorded 'I Got My Eye On You' for Eagle Records back in the fifties but tonight it was J C style all the way and he turned in a pleasing and relaxing performance with numbers such as 'Five Feet High And Rising', 'Big River', 'Get Rhythm', 'Sea Of Heartbreak', Ring Of Fire and 'Cocaine Blues'. There were first rate versions of 'Ghost Riders In the Sky' and Folsom Prison Blues'.

Next up was veteran RUSTY YORK who performed okay versions of many rock 'n' roll standards like 'Lawdy Miss Clawdy', 'Peggy Sue', 'Teen Angel', 'Oh Boy' and 'The Girl Can't Help It' before really igniting on 'Sugaree'.

There then followed another musical highlight of VLV. Backed up by the likes of Rick Keen on rhythm guitar and harmonica, one time Blue Cap Bill Mack on bass and Marco DiMaggio on lead guitar and, wearing a pork pie hat, BILLY SWAN took the stage and produced a spell binding set. Starting out with 'Spoonful', he proceeded with 'My Bucket's Got A Hole In It' and a powerful 'Rockhouse' before taking over the piano. He then tore into' Lover Please', 'Shake Rattle And Roll, 'I Love Paris' [from the forthcoming' Sunatra' album] and a slow jazzy workout on 'Heartbreak Hotel'. Reverting to a guitar, it was time for 'Bop To Be', 'Driving Wheel', Since I Met You Baby' and 'I Can Help' His section of the show concluded with a pounding Jerry lee style interpretation of 'Me And Bobby McGee'. This guy is so talented, I only hope we can get him over here again before not too long.

The RHOF shows at VLV closed out with another set from MARCO DiMAGGIO during which he was joined by ROCKY BURNETTE and PAUL BURLINSON for fine versions of 'Tear It Up' and 'The Train Kept A Rollin'. That was it for another year and once again, it was a fine fine festival which rocked from start to finish. Hopefully we shall be able return.

© Tony Wilkinson
April 2001


---
Jack Scott "Brilliant" at Hemsby 26 R&R Weekender
(Radio West Suffolk) Jack Scott and his band left a sold out crowd at Hemsby cheering for more Saturday Night. From the minute Jack opened the show with "Baby, She' s Gone" there was magic in the air. Fans hung on to his every lyric, sang along with many of their favorites and renewed a long-standing love affair with an artist whose talent has not diminished over time.

The audience consisted of ages ranging from 10 years to 75. The veteran fans did not, at first, believe this was truly Jack Scott. He looked too young, his voice too pure and the band too "spot on" to be an old artist revisiting his past. No, this was a brand new talent who sang with clarity and strength and they loved every minute of it because it was the songs they loved and wanted to hear. Jack's 75-minute show was a non-stop list of songs he had written and recorded. His encore included a rocking rendition of Elvis Presley's "I'm Evil" and he walked off stage leaving the fans truly breathless.

Pete Owen, DJ on 1350am - Radio West Suffolk writes: "Seeing Jack Scott. I was not disappointed - he was brilliant. The repertoire of songs was just what I had hoped for, and the re-creation of the sound achieved on record was amazing, including the American band backing him and 'deputizing' for the Chantones. Thank Jack on behalf of all his fans for coming to the UK again."

Willie Jeffries, Promoter of the Hemsby shows: "I thought Jack and his excellent band with their fine back up vocals gave a superb show. Over the past 23 years I have seen Jack many times in Paris, Detroit and London and his his performance at Hemsby was by far the best. Writer, Ian Wallis and I both rated Jack's show the highlight of the weekend."

Jack's band consists of Rudy Varner (Standup Bass), Steve Nardella (Lead Guitar), Lonnie Varner (Drums), and a special appearance by Clive Osborn (Saxophone).

Jack ended the evening after spending over two hours at the autograph table visiting with fans who had come from all over the world to see their hero. Had time allowed, it would have lasted well into the next day, as the line had not diminished. Some Love affairs never die; they simply lie dormant in anticipation of the next rendezvous.

Contact: Chuck Kaiser, 248-644-2885 - kaiser_c@msn.com
---
TRIBUTE - posted May 17, 2001
Death of a Fantastic Man
Who Made People Dance
Creator of "Rock Around the Clock" dies of leukemia in Fort Myers, FL.
By Mike Kaylan
James E. Myers had handled a Mickey Mouse toy lovingly recently at his home in Bonita Springs, Florida, and smiled. "Mickey," he told me, "will rock soon. He is in production right now." Then he pushed a button and the robotic Mickey Mouse began to rock to the tune of the 1950s hit Rock Around the Clock.
The robotic Mickey Mouse copyrighted to Disney and designed by Blue Ridge Design, rocks to the original song of Bill Haley and His Comets.
It was almost 50 years ago that James E. Myers (a.k.a. Jimmy DeKnight) co-wrote this song with the late Max Freedman. Years later the Guinness Book of World Records called it the "Biggest Pop Record."
In less than half a century, James E. Myers had figured that the song had earned him about $10 million. Myers had told me, "It is still going strong around the world and the royalties are still coming in. A little here, a little there, they add up."
James E. Myers, 81, who made millions of people so happy for so long with his music that they just wanted to dance and rock, died on Wednesday, May 9, at Hospice of Fort Myers, Florida. Catherine Brookshaw, Myers' 16-year companion, said in Bonita Springs: "He was a fantastic man. We found out 8-weeks ago that he had leukemia. Doctors had said then that James could live only 3 to 4 weeks. Philadelphia was his hometown, and we are taking him there. He will be buried in Philadelphia next to his mother's grave."
James E. Myers still owns the copyright to the song Rock Around the Clock. The success of Rock Around the Clock was a pleasant surprise to Myers. He had said: "We never knew when the song came out that it was to become the anthem of Rock 'N' Roll. Its success even surprised me, although I had a good feeling about it. You could tell that people liked it, because when it played, they all wanted to sing and dance."
Rock Around the Clock has been recorded in more than 30 languages, it was performed in more than 40 movies and recorded on about 500 record labels.
Myers had said: "The song's melody had developed in my mind over several years. One day, long after my World War II service in the South Pacific, I was in my music publishing business in Philadelphia, playing the tune. My friend Max Freedman came in."
"We collaborated and Rock Around the Clock was born. I had Bill Haley in mind to sing the song. It didn't happen that way at first. I had the song copyrighted in 1953 and it was first recorded by Sonny Dae and His Knights. When Bill Haley, who loved the song, recorded it with the Comets in April 1954, the song took off and gained world fame. And that was it."
According to the Rockabilly Hall of Fame, Rock Around the Clock is the most played rock song in the world. Rolling Stone Magazine estimates that the song had more than 25 million in sales. Myers used to say that was a low figure.
Anyone who was somebody in the entertainment business praised the song. Dick Clark called Rock Around the Clock "The national anthem of Rock and Roll." Al Martino said, "The song of the century" and Alan Freed described it as "The Daddy of Rock 'n' Roll." According to the Rockabilly Hall of Fame, "Throughout the years, the importance of this song has grown ..."
The Rockabilly Hall of Fame has a big section on their website rockabillyhall.com about James E. Myers and Rock Around the Clock.
During an interview with Playboy magazine in January 1981, the late John Lennon of Beatles fame, said, "I had no idea about doing music as a way of life until Rock 'n' Roll hit me." Lennon explained that it was Rock Around the Clock that had impressed him.
Myers began playing his father's drums when he was only 2 years old. "When I was 6," he had said, "I played in a school band in Northfield, New Jersey."
While living in Bonita Springs, Florida, James E. Myers always remembered his four years service in the South Pacific during World War II and receiving numerous medals for his bravery. He was commissioned a lieutenant while still in combat. As a long time movie actor and song writer, he also met famous Hollywood stars and movie producers. The pictures of himself in their company, the awards he received for his songs, and his medals for his World War II bravery, cover the walls of his home in Bonita Springs. Myers also wrote his war experiences in a book titled "Hell is a Foxhole."
Mike Kaylan Copyright © 2001
9395 Pennsylvania Ave #26
Bonita Springs, Florida 34135
E-mail: makaylan@aol.com
Phone: (941) 992-8061



---
New Releases - Vampirella Music May 2001
Various artists - A tribute to Sun Records CD1020083-2
feat. High Noon, Rhythmaires, Crawdads, Russ Be Bop, Pete Hodgson, Rick Hollow, Country Cattin', Marco Di Maggio, Sugar Creek Trio and many more. Contains previously unreleased material. 48 minutes playing time. Liner notes by Steve Aynsley of "Now dig this".

Rayburn Anthony - Jackson was Jumpin' CD1020086-2
Yeah! - This is the real thing -Original Sun Recording artist Rayburn Anthony rocks through an unbelievable session. Rockabilly at its very best.

Rock'n'Roll Universe Magazine, brandnew issue 2001!
A4, 44 pages, high quality print, coloured sleeve, high class artwork & paper. Detailed articles & exclusive interviews: Mark Harman, Linda Gail Lewis, Brian Setzer, Gretsch guitars, Ian Calford, Muskrats, Sugar Creek, Marco Di Maggio, CD & Vinyl Reviews and more.

MCG Music & Communication Group Medien GmbH
Postfach 170433, 60078 Frankfurt am Main
Tel. +49-(0)69-707 20 707
Tel. +49-(0)700 MCGMEDIA
Fax: +49-(0)69-707 20 708
Internet: http://www.mcg-media.de
email: info@mcg-media.de


---
Sleepy LaBeef Adds More Coast-To-Coast Dates
M.C. Records exclusive artist Sleepy LaBeef is hitting the road this summer to promote his hot Americana CD Tomorrow Never Comes. You can also catch Sleepy LaBeef will be live at a computer near you. The Human Jukebox recorded the April 30 concert at The Casbah in San Diego and is available now at www.dcn.com, You can also catch Sleepy with his band on The Woodsongs Radio Hour starting the week of June 23 on over 200 outlets across the U.S. and in Canada. Sleepy LaBeef's latest CD Tomorrow Never Comes was released in August of 2000 features special guest Maria Muldaur on two songs.

The lead track from the CD, "Detour" spent five weeks on the Gavin Americana Chart through October of 2000. Since August Sleepy LaBeef has appeared on The World Cafe , Western Beat, This Week In Americana, Rollingstone.com & P.R.I.'s American Routes. He's previously appeared on The Conan O'Brien Show & Austin City Limits. M.C. Records will be advancing Sleepy's tour dates. For interviews please get in touch.

"Like a Rockabilly juke-box come to life" New York Times
" fresh & inspired" All Music Guide
" irresistible, rootsy, rocking set" Montreal Gazette
"patience & sympathetic production catch Sleepy at the top of his game." Philadelphia Inquirer
"Sleepy you can handle more kinds of songs than any other picker I know" Tom T. Hall
" Sleepy speaks... liars tremble!" Nick Lowe

Sleepy LaBeef was born in Smackover Arkansas 65 years ago and made his name in Houston, Texas coming up with George Jones and Roy Orbison. He spent much of his early years opening shows for Elvis Presley and playing with the likes of Buddy Holly, Gene Vincent, Fats Domino and Chuck Berry. Sleepy is a former Sun Recording artist and Tomorrow Never Comes is his first release for the M.C. Records label and was released in August of 2000.

SLEEPY'S REVISED TOUR DATES
* Aug. 18 Private Function, Tauton MA
* Aug. 24 Muddy River Music Fest., Winnipeg Canada
* Aug. 25 Crawdaddy's Voodoo Lounge, Saskatoon Canada
* Aug. 26 Edmonton Labatts Blues Festival, Edmonton Canada
* Tour of Australia in September

M.C. Records
PO Box 1788 Huntington Station NY 11746
Fax: 631-262-9274
Ph : 631-754-8725
e mail: mc@mc-records.com
Web:www.mc-records.com


---
Brian Setzer Unveils Latest Project with
A New Album and Summer Tour
Brian Setzer, the man credited with single-handedly briging two forgotten genres of music back to the popular forefront, is shifting gears once again. The new project, "Brian Setzer '68 Comeback Special." features Brian along with two members of the Brian Setzer Orchestra, drummer Bernie Dresel, and slap-bassist Nashville's Mark Winchester.

What started out as a fun diversion has turned into a new album and full-fledged U.S. tour for the pompadoured, tatooed guitar slinger who helped revive rockabilly in the '80s and launch the swing explosion of the late '90s. Just for kicks, a couple of Southern California shows were set up in November 2000 for the sole purpose of getting out and playing a bunch of new songs Brian had written, Brian had so much fun and the audience response to the new line-up was so overwhelming that the decision was quickly made to book a world tour, which will begin on the U.S. West Coast June 15 and run for 2 month, followed by a month of dates in Europe.

The new three-piece "'68 Comeback Special" will give Setzer an opportunity to serve up his very unique brand of hot-rodded rockabilly-roots music and, at the same time, demonstrate what a versatile musician he really is, as he will be bringing out his banjo and pedal steel to add even more flavor. Audiences can expect a lot of great new songs, some revived-up Stray Cats classics, and stripped-down versions of their favorite BSO tunes.

With all of the excitement building around the "Brian Setzer '68 Comeback Special," it seemed natural to record the new material and release a new record. The album, titled "Ignition." has a release date set for June 12, 2001 on Encinitas, CA-based independent, Surfdog Records. Brian co-produced the CD with John Holbrook who (engineer of "The Dirty Boogie" and "Vavoom!"). To capture excitement and feel of the live show, the album was completely recorded and mixed in 10 days. The new disc features all-new Setzer original "Hot Rod Songs and Make-Out Tunes."

Because of the name, many people ask if this going to be some kind of Elvis Presley tribute and tour. Brian's response: "Isn't all music an Elvis Presley trubute?" As for why he picked the name: "Because it's cool." The same criterion he's always used.

Brian Setzer '68 Comeback Special TOUR DATES:
7/11 - Westbury, NY - Music Theater
7/12 - Late Night with Conan O'Brien
7/13 - Atlantic City - Caesar's Casino (BSO)
7/14 - Atlantic City - Caesar's Casino (BSO)
7/15 - Atlantic City - Caesar's Casino (BSO)
7/16 - David Letterman (Tentative>
7/17 - Albany, NY - McGeary's
7/19 - Hampton Beach, NH - Hampton Beach Ballroom
7/20 - Uncasville, CT - Mohegan Casino
7/21 - Boston, MA - Avalon Ballroom
7/22 - Hyannis, MA - Cape Cod Music Theater
7/24 - Pittsburgh, PA - Club Laga
7/25 - Cleveland, OH - Odeon Club
7/27 - Dayton, OH - Courthouse Square
7/28 - Chicago, Il - House of Blues
7/29 - Kansas City, MO - Beaumont Club
7/31 - Boulder, CO - Fox Theatre
8/1 - Beaver Creek - Vilar Theatre
8/4 - Los Angles, CA - Greek Theatre (BSO)
8/9 - Albuquerque, NM - Sunshine Theatre
8/10 - Tucson, AZ - Rialto Theatre
8/11 - Las Vegas, NV - House of Blues
8/15 - San Mateo, CA - San Mateo County Fair
8/16 - Santa Cruz, CA - Catalyst
8/17 - Santa Ynex, CA - Gainey Vineyard
8/18 - Reno, NV - Sliver Legacy Casino

Contact information: SURFDOG, 1126 South Coast Highway 101, Encinitas, CA 92024, phone 769-944-SURF (7873), fax 790-944-7808 - www.surfdog.com.

ALSO SEE: Brian Setzer 68 Comeback Special, by Shaun Mather


---
Rudy Tuti Grayzell in a Play This Fall
The play, "Nighty Nite San Fancisco" will run at the Shelton Theater in San Francisco near Union Square, Thursday, Friday & Saturday nights 8-10 PM October, November, December. Tickets $30.00. Play is sponsored by AIRBORNE, the natural cold remedy. For tickets or information please call the AIRBORNE hotline 800-590-9794. Nighty Nite SF is a broad hilarious parody of a late night talk show and stars Johnny Whitaker (former child star of Family Affair), and Rudy Tutti Grayzell, as musical director. Rudy sings DUCKTAILS during the performance!


---
Stax Museum to Break Ground in Memphis
A piece of American music history will be honored and resurrected with the Soulsville GroundShaking on April 20th. The event will mark the groundbreaking for Soulsville U.S.A.'s site for the Stax Museum for American Soul Music and the Stax Music Academy, at the site of the original legendary Stax Records, the Capitol Theater, on 926 E. McLemore Avenue in Memphis.

The museum will pay tribute to one of America's unique and beloved musical institutions. Beginning in the late-Fifties, Stax came to define gospel-influenced southern soul music, and featured a roster that included Otis Redding, Booker T. and the MGs, and Sam and Dave, to name just a few of the artists who helped the label produce 300 albums and more nearly 800 singles (167 of which reached the Top 100) during its sixteen-year existence.

Stax legends Isaac Hayes, Steve Cropper and William Bell will all speak at the groundbreaking, as will Estelle Axton, who co-founded the label with her brother Jim Stewart. Also attending will be a number of state and local officials, a representative for Fantasy Records (who hold the rights to the Stax catalog) and a group of local youths (four each on guitar, bass, drums, keyboards and brass) recruited to serve in a new Stax house band. Gospel great Anita Louis will lead the group, who will be armed with instruments provided by Play it Again Memphis, a local organization that distributes musical instruments to aspiring musicians who can't afford them.

Plans for the museum were announced in February of 2000, as part of a cooperative agreement between Soulsville (formerly the Ewarton Museum), the city of Memphis and LeMoyne-Owen College. Preliminary designs for the actual building, which will include a performance center, were designed last year, though a finalized blueprint was delayed until certain Stax artifacts were found due to structural and design issues. "The museum, to some extent, has to be build around the pieces we're able to get," says Deanie Parker, a Stax recording artist and publicist during the label's heyday and now, as the President and Executive Director of Soulsville, one of the primary driving forces of the project. "Because once you break ground you have to keep moving."

Plans call for a complete restoration of the Capitol Theater, which had fallen into a state of immense disrepair after the closing of the label in January 1976, as well as the adjacent performing arts center and the Music Academy. The Academy will host its second summer program this year. "One of the things that we have stressed is that we're looking for diversity," Parker says of the education programs. "Racial diversity, because that's what Stax promoted, harmony among people who enjoyed making music and sharing their creative knowledge and talent. We're going to stay with that philosophy."

For more information on the project visit www.soulsvilleusa.com.
(RS)


---