"That's News to Me" - Archive #8
Back to the Current That's News to Me" Page
A Mix of Music Related Text and Photos That You May Find Interesting
Hurricane "Little Bo" Savich Passes On
The Rockabilly Hall of Fame has received this note:
This message is being sent to you from Dick Stanford, of Dick and the Teenbeats. I am writing to let you know that William "Little Bo" Savich, drummer for Johnny and the Hurricanes, passed away Friday, January 4, 2002, at 9:32pm, at his home in Simi Valley, CA, after a couragious battle with cancer. Cards and condolences can be sent to Mrs. Jane Savich at 3083 Omega Ave., Simi Valley, CA 93063. Funeral Arrangements have been made for Saturday, January 12, 2002. "Little Bo" Savich was a member of the instrumental group The Royaltones, before joining Johnny & the Hurricanes. Remarkable fact, Jubilee 5362 was dedicated to him, according to its title "Little Bo", b/w "See Saw" (1958). These tracks, together with "Poor Boy" and "Wail" (all four great instrumentals) can be found on the very good Sequel's "Leapin' Guitars" CD. Regards, Henk - Henk.Gorter@atosorigin.com
Ed. Note: I had the good futune to be on the same bill with "Little Bo" and Johnny & The Hurricanes, a great, solid band, with their Danelectro gear. Our group "Jerry Williams & The Rockets" played two sets and the Hurricanes played two sets (every other hour) in Green Bay, Wisconsin, '58 or '59. -Bob T.


---
Cash Does America Proud
By Fish Griwkowsky, Edmonton Sun - Enter the New Patriotism. You know its symbol, the bold American flag. It's everywhere you look, magazine covers, restaurants downtown and, of course, for a while, stapled to our music. Ryan Adams just put it on his album cover, upside down, mind you (printed before September). The Strokes removed a song about New York City cops being dumb, a very un-American thing to push in these times of being "careful what you say." And maybe you've noticed the score of tribute albums splashed in red, white and blue. This is probably just the beginning, at least for a while, of turning up American iconography on the world, so get used to it, especially in country music, its roots and HQ dug deep into the South. You can't accuse Johnny Cash of anything with this re-release, however. America is a great album, dealing with some very American concepts. Indeed, pretty much every song has some reference to the blazing gun as he slowly goes through the nation's history. Here's Lincoln getting shot, now a song about the Alamo. Mind you, Cash also makes mention of the natives who had his country before the cowboy came along with his own weapons. Before each sung history, Cash gives a spoken preamble, his quavering take on the events since 1776. Mister Garfield is an excellent tune, full of fire, and while Cash's stab at The Battle of New Orleans isn't quite as heavy-metal as Johnny Horton's, it fits in well. As much poetry as music, this has the feel of something lodged right in between a clever kid's social studies essay and an A&E documentary, not too full of propaganda. If nothing else, it illustrates the rise of a country that even though the most powerful on the planet, nonetheless claims a certain victim status when justifying its massive need for defence, ever since Paul Revere rode through town with his bullhorn.

Track Listing: 1. Opening Dialogue
2. Paul Revere
3. Begin West Movement
4. The Road To Kaintuck
5. To The Shining Mountains
6. The Battle Of New Orleans
7. Southwestward
8. Remember The Alamo
9. Opening The West Webster
10. Lorena
11. The Gettysburg Address
12. The West
13. Big Foot
14. Like A Young Colt
15. Mister Garfield
16. A Proud Land
17. The Big Battle
18. On Wheels And Wings
19. Come Take A Trip In My Airship
20. Reaching For The Stars
21. These Are My People

Other upcoming Johnny Cash titles for 2002 (more details coming soon) include:

FEBRUARY 12 JOHNNY CASH - "The Essential Johnny Cash"
(Columbia/Legacy/Razor & Tie)
This 2-CD set will be the cornerstone for Columbia/Legacy's year-long celebration of Cash's 70th birthday. The set includes 36 tracks drawn from Cash's tenure at Sun, Columbia, and Mercury. Also included is his 1993 collaboration with U2, "The Wanderer."

MARCH 12 FIVE NEW CASH TITLES IN THE "AMERICAN MILESTONES" SERIES: None of these titles have been previously on CD in the U.S. All will be expanded editions featuring bonus tracks, new liner notes, and classic archival photography.
"The Fabulous Johnny Cash" 1958
"Hymns By Johnny Cash" 1959
"Johnny Cash - Ride This Train" 1960
"Carryin' On With Johnny Cash and June Carter" 1967
"Johnny Cash - Orange Blossom Special" 1965

Also coming up in the American Milestones series:
MARCH 19 - JOHNNY PAYCHECK - "The Soul & Edges: The Best of Johnny Paycheck" (Epic/Legacy) Tracks include working man's country classics like "Take This Job and Shove It," "She's All I Got," "Mr. Lovemaker" and "Slide Off of Your Satin Sheets."


---
---
Roy Orbison's Widow Sues TV Company
Roy Orbison's widow has filed a more than $10 million lawsuit against a Tennessee television production company, claiming documentary makers failed to make required payments to her and misrepresented their connections to television networks and cable outlets. Barbara Orbison's lawsuit, filed in Davidson County, Tenn., Circuit Court, says Barbara and Gregory Hall produced two documentaries that aired on television and were released on home video. It claims the Halls did not make the payments required under their contract and did not provide an accounting of earnings they made from the productions. The lawsuit seeks to block the Halls from finishing a documentary on Barbara Orbison's life.

Orbison's estate sued Sony Music Entertainment in 1998 seeking $12 million in royalties for use of his recordings. That lawsuit is still pending in federal district court. Barbara Orbison also went to court last year against Napster, claiming more than one million copyright violations involving Orbison's songs.
---
Shaky Faces Drink-Drive Charge
Shaky was a Top Of The Pops regular in the 80s
UK - Jan. 2, 2001 - Pop singer Shakin' Stevens is facing a drink-drive charge after being arrested in the early hours of New Year's Day. The Cardiff-born singer, who had 38 hit singles in the 80s and early 90s, was held for hours in police custody after being arrested in Gloucestershire at 0245 GMT. The court date was set as 16 January. Shaky, who lives in Woking, Surrey, was charged under his real name of Michael Barratt and was bailed by police to appear before Forest of Dean magistrates on 16 January. He will face a charge of driving with excess alcohol on his breath. Gloucester police spokeswoman Kate Nelmes said: "At 2.45am on Tuesday, 1 January, a 53-year-old man from was arrested in Clearwell High Street on suspicion of drink driving. "He was in custody at Gloucester Police station for several hours before being released."

Welsh Success. Born in Cardiff's Ely area in March 1948, Shaky became one of Wales's top pop exports in the 1980s, racking up four number ones and a dozen hit albums. One of his finest moments was the oft-repeated seasonal tune Merry Christmas Everyone. In 1999, he resurrected his career to undertake a tour of the US and Europe before performing at a concert to mark the inception of the Welsh Assembly in May that year. At the dawn of the new millennium, he headlined an open-air concert in his home city, performing live to an audience of over 100,000 people.
A spokesperson for his Manchester-based agents Kennedy Street Enterprises did not confirm the arrest when contacted. "I have just come back from a holiday and have not heard anything," she said.
---
Matt Lucas at Chicago's Smoke Daddy:
As Succulent as the Cuisine!
Posted Dec. 24, 2001 - By Bill Dahl - Matt Lucas moved on to the Windy City December 21-22, headlining for two exciting nights at Smoke Daddy, a comfy barbeque joint and music room in the fashionable Wicker Park neighborhood owned by his longtime pal Mark Brumbach. Chicago hasn't enjoyed such a fundamental, old-fashioned house rocking in many a moon, rendering the impending holidays all the merrier.

Brumbach called in some estimable sidemen for the weekend's festivities. In addition to ably manning the electric keyboards himself and recruiting his brother John to head a improvisatory three-piece sax section, Brumbach recruited two fine guitarists - ex-Eddy Clearwater axeman Mark Wydra and tasteful Milwaukeean Billy Flynn - and impeccable drummer Bob Carter to join in the fun. Veteran Chicago blues harpist Little Arthur and dazzlingly attired ex-Paul Butterfield Band timekeeper Sam Lay were also on hand to provide a few guest vocals, Lay eschewing the traps to concentrate on singing a combination of tough blues and '50s rock and roll ("Whole Lotta Shakin' Going On," "Roll Over Beethoven") while Arthur animatedly took things in earthier, more downhome directions with equal impact.

But it was Lucas the sizable Friday evening crowd came to see (it was his first Chicago visit since 1983), and he certainly didn't disappoint. Displaying the energy and stamina of a man half his age, he engagingly mixed blues, rockabilly, country, and soul influences into a tasty stew as singular as the man himself. Now based in Florida, the Memphis-born singer fittingly lit into Chuck Berry's "Memphis" utilizing Johnny Rivers' basic arrangement as well as some timeless Jimmy Reed blues. Best of all, Lucas climbed up to man the drum kit while delivering the last few numbers of the evening, pounding out a torrid "Drinking Wine Spo-Dee-O-Dee" with a socking backbeat. He counted off his relentless 1963 smash "I'm Movin' On" to close out the night, Wydra uncorking a barrage of slashing slide licks. Hopefully it won't be another 18 years - or even 18 months - before Matt Lucas ventures this way again.
---
Some Notable Entertainers Lost in 2001
JANUARY
Ray Walston, 86. He played the lovable extraterrestrial Uncle Martin on the 1960s TV sitcom "My Favorite Martian" and the devil in "Damn Yankees." Jan. 1.

Les Brown, 88. His Band of Renown scored a No. 1 hit with "Sentimental Journey" during America's big band era of the 1930s and '40s. Jan. 4.

Luis Floriano Bonfa, 78. Brazilian guitarist and composer who helped found Bossa Nova music. Jan. 12.

Gregory Corso, 70. One of the circle of Beat poets that included Allen Ginsberg and Jack Kerouac, known for the 1958 poem "Bomb." Jan. 17.

O. Winston Link, 86. His dramatic nighttime photographs of smoke-puffing steam engines documented a vanished era of railroads and became valued as art. Jan. 30.

Jean-Pierre Aumont, 90. French actor who brought continental charm to romantic roles on stage and in film. Jan. 30.


FEBRUARY
Hal Blair, 85. He co-wrote songs such as Hank Lockliln's "Please Help Me, I'm Falling" and Lorne Greene's "Ringo." Feb. 2.

Freddy Wittop, 89. Tony Award-winning costume designer for "Hello, Dolly!" Feb. 2.

Anne Morrow Lindbergh, 94. The wife of aviator Charles Lindbergh, who became his co-pilot and wrote extensively about their adventures in flight. Feb. 7.

Dale Evans, 88. Singer-actress who teamed with husband Roy Rogers in Westerns and wrote their theme song, "Happy Trails to You." Feb. 7.

Lewis Arquette, 65. Actor who played J.D. Pickett on "The Waltons"; son of Cliff Arquette and father of Rosanna. Feb. 10.

Balthus, 92. French painter, one of the 20th century's greatest realist artists known for his erotic portrayal of adolescent beauties. Feb. 18.

Charles Trenet, 87. French singer and songwriter whose fanciful ballads and poetic love songs captured the hearts of his countrymen for more than six decades. Feb. 18.

Stanley Kramer, 87. Producer and-or director of some of Hollywood's most celebrated "message" films including "High Noon," "The Defiant Ones" and "Judgment at Nuremberg." Feb. 19.

Malcolm Yelvington, 82, died Feb 21, 2001 - A great Sun legend and a great man

Ted McMichael, 92. A founder of the popular 1940s quartet the Merry Macs, which had the novelty hit "Mairzy Doats." Feb. 27.


MARCH
Ann Sothern, 92. Blond beauty who starred as the movies' wisecracking "Maisie" and as the busybody Susie McNamara in the 1950s TV series "Private Secretary." March 15.

Norma Macmillan, 79. The voice of television's Casper the Friendly Ghost and Gumby. March 16.

John Phillips, 65. Co-founder of the '60s pop group the Mamas and the Papas and writer of its biggest hits, including "California Dreamin'" and "Monday Monday." March 18.

William Hanna, 90. Animator who with partner Joseph Barbera created such cartoon characters as Fred Flintstone, Yogi Bear and Tom and Jerry. March 22.

Toby Wing, 85. Striking actress who appeared in 1930s films such as Eddie Cantor's "The Kid From Spain" and the musical "42nd Street." March 23.

John Lewis, 80. Pianist who masterminded one of the most famous ensembles in jazz, the Modern Jazz Quartet. March 29.


APRIL
Paul Peek passed away Tuesday, April 3, at 4:30 pm at a hospital in Atlanta. Paul was with Gene Vincent's Blue Caps and had a fine solo career.

Ed "Big Daddy" Roth, 69. His fantastic car creations helped define the California hot rod culture of the 1950s and '60s. April 4.

Joey Ramone, 49. Punk rock icon whose signature yelp melded with the Ramones' three-chord thrash. April 15. Lymphoma.

Jack Haley Jr., 67. Son of the man who played the Tin Woodman in "The Wizard of Oz," he produced several Academy Awards shows and documentaries about Hollywood such as "That's Entertainment." April 21.

Al Hibbler, 85. Jazz singer with Duke Ellington and later as a solo, known for his rich baritone and exaggerated phrasing. April 24.

Ken Hughes, 79. He wrote or directed dozens of films, including the children's movie "Chitty Chitty Bang Bang." April 28.


MAY
Jerry Lee Merritt died of heart failure Friday, May 4, 2001. He was 67. Besides Jerry's own fine music career, he spent time songwriting and touring with Gene Vincent in the late '50.

James Myers, 81. His tune "Rock Around the Clock," recorded by Bill Haley & His Comets, became the granddaddy of all rock 'n' roll songs. May 9.

Deborah Walley, 57. Actress in such quintessential 1960s teen movies as "Gidget Goes Hawaiian" and "Beach Blanket Bingo." May 10. Cancer.

Perry Como, 88. The mellow baritone famous for his relaxed vocals on hits such as "Catch a Falling Star," who entertained TV audiences in the 1950s on "The Perry Como Show." May 12.

Willie Foster, 79. Harmonica-playing bluesman who teamed with Muddy Waters and other greats. May 20.

Whitman Mayo, 70. He played junk dealer Fred Sanford's sidekick, Grady Wilson, on the 1970s television series "Sanford and Son." May 22.

Arlene Francis, 93. Witty actress and television personality who was a panelist on the long-running game show "What's My Line?" May 31.


JUNE
Hank Ketcham, 81. Comic strip artist whose lovable scamp, "Dennis the Menace," tormented cranky Mr. Wilson and amused readers for five decades. June 1.

Imogene Coca, 92. Elfin actress-comedian who co-starred with Sid Caesar on television's classic "Your Show of Shows" in the 1950s. June 2.

Anthony Quinn, 86. The barrel-chested Oscar winner remembered for his roles as the earthy hero of "Zorba the Greek" and the fierce Bedouin leader in "Lawrence of Arabia." June 3.

John Hartford, 63. Versatile actor and musician who wrote the standard "Gentle on My Mind." June 4. Marvin "Smokey" Montgomery, 88. Longtime banjo picker for the seminal Western swing band the Light Crust Doughboys. June 6.

Carroll O'Connor, 76. Actor whose gruff charm as the cranky bigot Archie Bunker on "All in the Family" pioneered a new era of frankness in TV comedy. June 21.

John Lee Hooker, 80. Bluesman whose rich, sonorous voice, coupled with a brooding rhythmic guitar, inspired countless musicians. June 21.

Chico O'Farrill, 79. Afro-Cuban jazz artist who composed ballads and fiery, big band be-bop for such greats as Benny Goodman, Stan Kenton and Dizzy Gillespie. June 27.

Jack Lemmon, 76. Actor who brought a jittery intensity to his roles as finicky Felix Unger n "The Odd Couple," the boastful Ensign Pulver in "Mr. Roberts" and a cross-dressing musician in "Some Like It Hot." June 27.

Joe Henderson, 64. Four-time Grammy winning tenor saxophonist, considered one of jazz insiders' best-kept secrets. June 30.

Chet Atkins, 77. Guitarist and music executive who played on hundreds of hit records, influenced a generation of rock musicians and developed country music's lush Nashville Sound. June 30


JULY
Arnold Peyser, 80. Half of the husband-wife team that scripted such TV shows as "The Brady Bunch" and "My Three Sons." July 1.

Johnny Russell, 61. Grand Ole Opry star whose song "Act Naturally" was recorded by Buck Owens and the Beatles. July 3.

Maceo Anderson, 90. Founding member of the tap-dancing Four Step Brothers. July 4.

Ernie K-Doe, 65. Flamboyant New Orleans rhythm and blues singer who had a No. 1 hit with "Mother-In-Law." July 5.

Fred Neil, 64. Folk singer who wrote "Everybody's Talking," a hit for Harry Nilsson. July 7.

Frances R. Horwich, 94. Her 1950s show "Ding Dong School" helped change children's television and led the way for shows like "Sesame Street" and "Mister Rogers' Neighborhood." July 22.

Leon Wilkeson, 49. Bass guitarist who was one of the founding members of legendary rock band Lynyrd Skynyrd. July 27. Emphysema.


AUGUST
Ron Townson, 68. Centerpiece singer for the Grammy-winning pop group The 5th Dimension, who had a string of hits in the 1960s such as "Aquarius/Let the Sun Shine In" and "Up, Up and Away." Aug. 2.

Christopher Hewett, 80. British-born stage actor who played television's endearing English butler, "Mr. Belvedere." Aug. 3.

Lorenzo Music, 64. Writer and voice actor who provided the distinctive voices of "Garfield" the cartoon cat and Carlton the doorman on "Rhoda." Aug. 4.

Alan Rafkin, 73. Emmy-winning director whose credits include four decades of TV's most popular comedies, including "The Andy Griffith Show" and "M-A-S-H." Aug. 6.

Larry Adler, 87. The harmonica virtuoso who charmed kings and commoners with an instrument once disparaged as a toy. Aug. 7.

Betty Cavanna, 92. She wrote children's books such as "Going on Sixteen" that appealed to generations of teen girls. Aug. 13.

Betty Everett, 61. Soul singer whose record "The Shoop Shoop Song (It's in His Kiss)" was a top 10 hit in 1964. Aug. 19.

Kim Stanley, 76. Acclaimed as one of the theater's finest actresses in the 1950s in plays like "Bus Stop," "A Touch of the Poet" and "Picnic." Aug. 20.


SEPTEMBER
Troy Donahue, 65. Heartthrob actor of the 1950s and '60s who starred in teen romances like "A Summer Place" and "Parrish." Sept. 2.

Jay Migliori, 70. Jazz saxophonist who worked with singers ranging from Frank Zappa to Frank Sinatra and a founding member of the Grammy-winning jazz group Supersax. Sept. 2.

Justin Wilson, 87. Cajun chef whose down-home humor, gumbo-thick accent and "ga-ron-tee" of authentic cuisine delighted television audiences. Sept. 5.

Fred De Cordova, 90. Producer of "The Tonight Show Starring Johnny Carson" - and butt of Carson's jokes - for 22 years and director of Ronald Reagan's "Bedtime for Bonzo." Sept. 15.

Samuel Z. Arkoff, 83. His American International Pictures exploited the youth market with pinch-penny movies that bore such bizarre titles as "I Was a Teenage Werewolf" and "How to Stuff a Wild Bikini." Sept. 16.

Dougie Millings, 88. The London tailor who helped create the Beatles' famous collarless suit. Sept. 20.

Isaac Stern, 81. The master violinist who saved Carnegie Hall from the wrecking ball and helped advance the careers of generations of musicians who followed. Sept. 22.


OCTOBER
Jimmie Logsdon, popular country and rockabilly singer songwriter and radio/TV personality in the '50s and '60s, died Sunday, Oct. 7th at his daughter's home in Louisville, Kentucky.

Dagmar, 79. She parlayed her dumb blonde act into television fame in the early 1950s on the late-night variety show "Broadway Open House." Oct. 9.

Etta Jones, 72. Prolific jazz vocalist whose soulful, blues-influenced recordings over more than a half-century won her acclaim and two Grammy nominations. Oct. 16.

Jay Livingston, 86. Oscar-winning composer and lyricist whose collaboration with Ray Evans led to such hits as "Silver Bells," "Que Sera, Sera" and "Mona Lisa." Oct. 17.

Russell "Rusty" Kershaw, 63. A guitarist who performed with such greats as Neil Young, Chet Atkins, Charlie Daniels and his older brother, Doug. Oct. 23.

Eugene Jackson, 84. Actor who appeared as "Pineapple" in several "Our Gang" comedies in the 1920s and was Diahann Carroll's Uncle Lou on TV's "Julia." Oct. 26.


NOVEMBER
Robert Linville of The Roses passed away Saturday, November 3, 2001 of heart failure.

David "Panama" Francis, 82. Drummer whose work was featured both in top Harlem nightclubs and rock songs such as Bobby Darin's "Splish Splash." Nov. 13.

Tommy Flanagan, 71. Jazz pianist who worked with such artists as Ella Fitzgerald. Nov. 16.

Jerry Jerome, 89. Tenor sax player who was a soloist with the bands of Glenn Miller and Benny Goodman. Nov. 17.

O.C. Smith, 65. He had a Grammy-winning hit in 1968 with "Little Green Apples." Nov. 23.

Kal Mann, 84. He wrote lighthearted lyrics for rock hits such as Elvis Presley's "(Let Me Be Your) Teddy Bear" and the Dovells' "Bristol Stomp." Nov. 28.

George Harrison, 58. The "quiet Beatle" who added rock 'n' roll flash and a touch of the mystic to the band's timeless magic. Nov. 29. Cancer.


DECEMBER
Thomas D. Tannenbaum, 69. Longtime television producer who had a hand in such hits as "Love, American Style," "The Brady Bunch" and "Kojak." Dec. 1.

Guitarist Grady Martin, one of country music's most acclaimed sidemen, died Monday night (Dec. 3)

Pauline Moore, 87. Actress in such 1930s films as "Heidi," "Young Mr. Lincoln" and "Charlie Chan at Treasure Island." Dec. 7.

Faith Hubley, 77. An animation artist and filmmaker whose work, featuring abstract images and jazz accompaniment, won three Academy Awards. Dec. 7.

Musician Rufus Thomas, whose "Bear Cat" helped Sun Records get its start and whose "Funky Chicken" gave a boost to the Stax Label, died Saturday, Dec. 15th.
---
Brenda Lee, R&R Hall of Fame Inductee for '02
The 4'10" native Georgian, whose signature sound and string of hits defined the '60's, is the sole female artist to be inducted into the Rock And Roll Hall Of Fame in the class of 2002. The ceremony will be held in New York City on March 18th. The current voting results marked Brenda Lee's third time as a serious contender for the honor with the nominating committee composed of 70 rock historians, music journalists, and experts on the art form. Ballots were then sent out to a select industry mailing of 1,000 to determine inductions in the hallowed Hall. The third time proved the charm for the singer dubbed "Little Miss Dynamite."

"I was behind thrilled when I got the call," Lee commented from Nashville, "It was for one of the few times in my life I was speechless! Then I cried. This is such an unbelievable honor." Ironically, the announcement came just two days after Lee's December 11th birthday. She just turned 57, a fact that will make hepcat "boomers" perhaps feel just a tad grayer. Married to her childhood sweetheart, Charles "Ronnie" Shacklett since 1963, Brenda and her manager husband are the proud parents of two grown daughters and the grandparents of two granddaughters. Brenda continues to perform a regular touring schedule of concerts, casinos, and performing acts center across the U.S. and Canada, as well as internationally.

Making her March 2002 induction all the sweeter will be the release that same month of her long awaited autobiography, "Little Miss Dynamite: The Life And Times Of Brenda Lee." Published by Hyperion Books, the 320 pages reveal the never before told stories of the "behind the scenes" rise of one of America's premiere rock pioneers. The book was written as a collaboration of Lee, noted music historian, and personal friend, Robert K. Oermann, (a regular commentator on A&E and VH-1) and Lee's oldest daughter, Julie Clay, a publisher author and former Nashville director of NARAS. Noted Brenda in commenting on the book: "I always knew that my story had the potential of perhaps hurting some people who were close to me. Quite honestly, I really had to reach into my soul and actually face a lot of things about my life for first time when I finally saw these things committed to paper the writing of the book has been a remarkable two year journey for me."

Brenda Lee is long credited as being the definitive female voice of rock music in the '60's. Her classic 1960 million seller "I'm Sorry," began what was destined to become a string of signature songs for the then sixteen-year-old young rocker. Her international stardom grew out of a childhood marked by dire poverty in the Deep South. Her rise from sharing rockabilly root influences with Elvis Presley in the '50's, led Brenda Lee not only to become a true rock music idol of the '60's but to become a true classic American success story of "rags to riches." She's toured more than fifty countries on five continents and has recorded in several languages specific to her internationals markets. Her albums continue to mature into gold and platinum status around the world from the strength of her catalogue and the legions of young fans daily being born into her music and to the appreciation of the musical icon that is Brenda Lee.

In 1997, Brenda was inducted into the Country Music Hall Of Fame in Nashville, the country cousin of Cleveland's rock shrine. Only a handful of artists have managed to achieve this dual tribute - a visible homage to the amazing sweep of influence from rockabilly to rock to country that Brenda Lee has had on America's musical landscape. She has been credited as a major career influence by female artists as diverse as Madonna, Cyndi Lauper, Barbara Mandrell, Trisha Yearwood, England's '60's rocker, LuLu, and Ann Wilson (of "Heart").


---
---
The script is done, Johnny and June love it.
James Mangold, the director of Meg Ryan's new movie, Kate & Leopold, is now planning to film the life of country music legend Johnny Cash. There's been a lot of speculation about this project in the past, but Mangold told me last night at the premiere of K&L that Cash is a "go," as they say in the biz. "The script is done, Johnny and June [Carter Cash] love it, so we're hoping for a September start," said the director. "I know you're thinking of some actors who could play Johnny and so are we," Mangold said of the casting. "And think, we've got to cast a lot of other famous types from music history like Jerry Lee Lewis. It should be a lot of fun to do." Cash, like K&L and Cop Land, will probably be made at Miramax, where Mangold has had a home now for some time. But before he cashes in, Mangold will make I.D. over at Columbia Pictures, where he also made Girl, Interrupted.
Nashville's Independent MusicFest 2002
Music! Music! Music! Like a little of this style and a lot of that? We have it all as the Tennessee State Fairgrounds come alive once again with Independent MusicFest 2002 to be held in Nashville, TN June 12-15, 2002. With 3 days of great music of all styles including pop, country, rock and roll, gospel, R&B, blues, jazz and roots music of all kinds, attendees will enjoy free parking, free admission, and family oriented entertainment throughout each day. This event provides an excellent networking opportunity for independent artists, music industry products and services vendors, and local and national sponsors. The event is designed to bring to the public a cross section of music often neglected by the mainstream music industry, yet loved and sought after by music fans everywhere.

Expectation is to exceed the 83 artist and industry related booths at the 2001 premiere event last June. Music industry workshops will again be a free feature of IMF. Performing artists will be selected to showcase. What better place could there be to hold such a diverse musical event than right here in Nashville - "Music City"? While it has long been noted for its country music, in the last two decades Nashville has opened its arms to every kind of music heard today and is recognized as the recording capitol of the world. Join us in Nashville as IMF continues to bring great music, family fun, and commerce to our unique city. Together we can give our nation and the world one more reason to come back again and again to Nashville.

www.nashvillemusicfest.com
---
"It Came From Memphis" Holiday Bazaaroe to be
Held at Earnestine & Hazel's (Memphis) Sat., Dec. 22
Q: How did factors as diverse as matinee cowboys, professional wrestling, and Holiday Inns conspire to turn Memphis into the birthplace of rock and roll?
A: Read Robert Gordon's It Came From Memphis ­ the first book to fully explore the bizarre culture that gave birth to music movement that became a revolution. Unlike other books about Memphis' place in the annals of rock, It Came From Memphis doesn't focus on Elvis, Al Green, or the saga of Sun Records. Instead, it's a tale of street-corner jug bands, seedy nightclubs, outdoor music festivals, delta bluesmen, and the white teenagers who broke through the walls of racism to usher in a new and exciting era of popular culture. Focusing on the shadows cast by this collage of divergent influences, It Came From Memphis concentrates on artists like Jim Dickinson, the Mar-Keys, Furry Lewis, and Alex Chilton. The result is an informative and entertaining chronicle of the birthplace of rock and roll.

Pick up the brand-new paperback edition of It Came >From Memphis (Pocket Books) and listen to the music that inspired the stories ­ Vol.2 of the companion cd was just released on Birdman Records, and is available at fine book and music stores everywhere. Here's what last Friday's New York Times had to say about it: "IT CAME FROM MEMPHIS, VOL. 2" (Birdman). As Mark Twain might have put it, you don't know about this music without you have read a book by the name of "It Came From Memphis" (Pocket Books), but that ain't no matter. That book was by Robert Gordon, and he told the truth, mainly, though it is unapologetically a guide to the self-styled eccentric's Memphis, with its prominent heroes ‹ the producer and keyboardist Jim Dickinson, the clarinetist Robert Palmer (a former New York Times critic), and the guitarist Tav Falco ‹ rather than the ones you might expect (Elvis, Sam Phillips, et al.). The eccentrics' music lies herein; it's raw and funny and powerful. - BEN RATLIFF

And ­ come celebrate the city that spawned it all at Robert Gordon's It Came From Memphis Holiday Bazaaroe on Saturday, December 22, 2001. The party will get started at 8:30 PM sharp, at Earnestine and Hazel's (84 EG Patterson, 901.523.9754) in downtown Memphis. Music will be provided by Jim Dickinson, B.B. ³Let It All Hang Out² Cunningham, the Reigning Sound, the Bo-Keys, and the Bluff City Backsliders. Special guests include Sid Selvidge, Jimmy Crosthwait's puppets, a phone-in from Jerry ³The King² Lawler, and many more surprises. Artists ­ including Charlie Miller, Dan Zarnstorff, Jimmy Crosthwait, and John McIntire ­ will be selling holiday crafts upstairs. Hours of rare Memphis videos will be shown in the back room. $10 at the door ­ don't miss the last great party of 2001!
---
Rock 'N' Roll Lyricist Kal Mann Dead at 84
By Steve Gorman. December 3, 2001. Lyricist Kal Mann, who co-wrote some of rock 'n' roll's biggest hits of the 1950s and '60s, including Elvis Presley's "Teddy Bear," Chubby Checker's "Let's Twist Again" and Bobby Rydell's "Wild One," has died at age 84, longtime songwriting partner Dave Appell said. Mann, a major influence on the Philadelphia sound and dance-craze music popularized by Dick Clark's television show "American Bandstand" in the years before the Beatles burst on the scene, succumbed to Alzheimer's disease (news - web sites) last Wednesday in Pompano Beach, Fla., where he had lived in retirement.

"He was a very talented writer," Appell said, speaking from his own home in Pompano Beach. "He had his finger on the pulse of what was going on in those days. Very simple lyrics, about romancing and dancing. ... And the teenagers dug it at the time." Clark, whose long-running program showcased many of the songs Mann co-wrote, remembered the lyricist as "a very prolific, imaginative guy. ... He was very, very commercial in his treatment of music. Though he was much older than the audience he was writing for, he was very contemporary."

A Philadelphia native, Mann began his show business career in the 1940s and '50s as a comedy writer for Danny Thomas, Red Buttons and Jack Leonard. In the late 1950s, friend and songwriter Bernie Lowe convinced Mann that if he could write comic parodies he could write lyrics, proving his point when the two collaborated on "Teddy Bear (Let Me Be Your)," which became a hit for Presley.

Lowe and Mann went on to co-found Cameo/Parkway Records, the Philadelphia-based music label that launched the careers of "Twist" king Chubby Checker, teen idol Bobby Rydell and groups like the Orlons and the Dovells. The artists owed much of their success to the label's close links with Clark's "American Bandstand," which gave them instant national TV exposure
---
Bo Diddley Newsletter
Hey, BO DIDDLEY Fans! Just a further reminder from us that one of the founding fathers of rock & roll, BO DIDDLEY, celebrates his 73rd birthday on Sunday December 30th 2001, and we encourage all his many fans around the world to visit the BO DIDDLEY - The Originator website at http://members.tripod.com/~Originator_2/index.html and sign the Site's Guestbook with your birthday greetings and messages. This is your opportunity for you to convey your appreciation and best wishes to one of the founding fathers of rock & roll music.

Also on Sunday December 30th 2001, Bob Ancheta, the host of "The Sunday Night Blues Show"on Adult Rock Radio Station KINK 101.9 FM in Portland, OR, is currently putting together a "Top 50 Blues Tunes Of All-Time" special for broadcast on that day. We invite BO DIDDLEY fans around the world to submit your choice of your 5 favorite blues tunes at the following link: http://www.kink.fm/programs/snb.asp This special will be broadcast between 7.00pm and midnight local time on KINK 101.9 FM in Portland, OR on Sunday December 30th 2001.

"Fantastic....", "Wowie zowie, Bo knows rock & roll...." and "I have seen all the great rockers now, and he blows them all away...." are just a few of the many comments that we received in the Guestbook from some of BO DIDDLEY's many fans in Europe, following his week-long tour there last month. We have some great new photos and a review sent in by fans from his recent gigs in Basel, Switzerland and the world-famous Cavern Club in Liverpool, England that can now be found on the Gallery pages of the website, along with reviews of both his Liverpool and his London, England shows on the Hot News page of the site.

Just a reminder that our good friend Mike Marti on his "Night Train" Show on Public Alternative Radio Station WWUH 91.3 FM in Hartford, CT is due to broadcast the next in his all-BO DIDDLEY record specials on Friday December 14th 2001, between midnight and 3.00am local time. We are very pleased to have provided Mike over the past couple of years with various BO DIDDLEY-related items of news and information for these great biannual BO DIDDLEY music program specials that he puts together in the months of June and December each year. His "Night Train" Shows, broadcast between midnight and 3.00am local time Fridays (5.00am-8.00am GMT/UTC Fridays), can also be heard on the Internet via WWUH-FM's website at http://www.wwuh.org/

Finally, it just remains for us to wish you all a happy and above all a very peaceful holiday season. Our thoughts at this time of the year especially, remain with all those people in the USA as well as those around the world, who have been touched in any way by the unspeakable events of September 11th and their aftermath.

David Blakey, Webmaster
Lynn Cameron-Blakey, Technical Support
BO DIDDLEY-The Originator
http://members.tripod.com/~Originator_2/index.html
A Celebration of his unique contribution to Popular Music.


---
New Elvis CD release - November 2001
"LET'S TAKE IT ON HOME AGAIN! -
A collection of spoken word rarities volume II"
Courtesy: Red Mill ("Deelen") - deelen@elvis.dk

Our first CD, 'Let's Take It On Home!', was welcomed by Elvis fans, as it contained quite a few rarities that had never been released before in any form. In fact, several fanclubs have since 'borrowed' tracks from that CD for their own releases. Despite the success of 'Let's Take It One Home!', we decided to take our time for its follow-up, since we wanted it to be at least as good as its predecessor. And it's been worth the wait, because we have succeeded in assembling an amazing collection of rarities.
Some of the recordings on this release have never appeared on CD before, while others are ultra-rare. We have even succeeded in finding more unreleased Elvis dialogue from the extremely rare ELVIS ON TOUR interview, with Presley saying a.o.: "People wonder how I do it night after night. I'm perfectly at home out there. I might lose four or five pounds a show usually, but I don't mind it". Another stunning find that even longtime collectors didn't know existed is a monologue from 1961, in which Elvis talks about his new 'Blue Hawaii' film. "It's a story about a boy who just got out of the Army, and he's in love with this girl, this Hawaiian girl, and his parents don't go for it because they are high class. But it's all in colour, and there's about 11 songs in it. We're doing 'Hawaiian Wedding Song', 'Hawaiian Sunset' and 'Blue Hawaii'", he says.
Further highlights include an amateur interview recorded in Munich (München), Germany on June 19, 1959. This charming recording is yet another example of Elvis' respect and consideration for his fans. He is aware of the fact that the interviewers' english is rather limited, and he answers her questions very slowly and clearly, and even asks her twice whether she understands his answers. A wonderful piece of 'Presleyana'. The same can be said about an unreleased soundboard recording from April 1975, where Elvis pays tribute to his friend and childhood hero, the great J.D. Sumner.
Many fans believe that Elvis never endorsed any product, but that is not correct. During our search for the rarities on this CD, we even found an amazing 1956 commercial in which he promotes RCA's Elvis Presley Autograph Model Record Players ("Hurry while this great offer lasts, friends"). Quite a scoop! Some of the remaining tracks include:
Rare radio promo for "Frankie & Johnny"

Interviews from the set of "Charro!" (July 1968)

Interview with Elvis and the Colonel, August 1956

NBC's Monitor: Elvis interviewed, September 1956

The complete Johnny Paris interview, March 1960

Elvis meets Peter Noone ("Herman's Hermits"), August 1965

Ray & Norma Pillow interview, August 1956

Elvis talks "turtle", February 1970

and more (including some surprises!)

This 75-minute CD is packaged in a beautiful full colour cover with rare pix and extensive liner notes with all the necessary details about all the tracks. This CD actually represents a "first" in the Elvis world, in that the disc itself has been pressed in a bright purple colour! This is one of the latest new techniques in the music industry, and the look of the disc is just amazing!

For more info please contact me at: efe.eap@rendo.dekooi.nl
---
The Night of 100 Elvises - Saturday, Dec.1, 2001
Lithuanian Hall
851 Hollins St.
Baltimore, MD
6:45 PM -- Main Stage
9:15 PM -- The Jungle Room


This is a wild event -- 46 bands on 3 stages. J.P. McDermott & Western Bop, The Boom Boom Cats, The Peashooters, The Flea Bops, The Fabulettes, '52 Pickup, American Song, & Sookey Jump. Also featured will be some even more colorful acts, like the Graceliners -- a contingent of 10 middle-aged Canadian women in leather jumpsuits and sideburns! All in all it promises to be quite a night. The Lithuanian Hall is a great big place right near downtown Baltimore (east of Charles St). Admission gets you in to all 3 stages -- the Main Stage, The Elvis Lounge, and The Jungle Room. Food, drink, and souvenirs will be widely available. Tickets are $30, and the money goes to charity (Johns Hopkins). There are a limited number of tickets available at the door, but your best bet is to get them in advance. They are available all over the place in Baltimore, and locally at Iota in Arlington. Directions, ticket outlets, a full band roster, and more information is available at http://www.nightof100elvises.com.


---
Less Tourists & Elvis Is Getting Lonely
MEMPHIS - Nov. 19, 2001 - Hard times and a slump in foreign visitors since the Sept. 11 attacks on New York and Washington have turned Elvis Presley Boulevard into Lonely Street. The company that keeps the singer's memory alive in a complex of tourist attractions centered around his grave and home said on Friday it has had to lay off 50 people recently, about 15 percent of its work force. Elvis Presley Enterprises said revenues were down on the back of a drop in visitors from outside the country, who account for nearly a third of its business. Tourism was already down before the Sept. 11 attacks but the trend has continued, it said. Jack Soden, chief executive officer of the company, said the drop-off of business at Graceland parallels what other U.S. tourist spots have been experiencing. He said he had no figures on the drop-off in visitors, but those from outside the country "appear to be the segment that has been most dramatically impacted." In a normal year Graceland and related properties usually draw about 650,000 visitors.


---

FRANCE

About the Ervin Travis Concert
Comments courtesy of Didier Delcourt - phis.records@libertysurf.fr

Recently Paris (France) Rockin' Ervin Travis and the Viginians were in town and that's was great. A Beautiful and sincere tribute to Gene Vincent. Evrin dressed in a black leather trouser and a blue Shirt and the virginians whith red shirts very good lookin'. The Show started with an excellent Lotta Lovin' cover. The voice of Ervin is incredible he sing like Gene and the band rockin' good. a very exciting show included Baby Blue, Should I Ever Love Again, Right Now, Yes I Love You Baby, You Are My Sunshine, Lavender Blue, Over the Rainbow "amazing", Frankie and Johnny, Dance in the Street, Dance to the Bop, You Are the One for Me, Say Mama and many more. Do you agree Yann?

Ervin gave a very good show, I do agree with you Didier! These are a few points I'd like to add.

The songs. Vincent's Blues, Lavender Blue... It's unusual to hear such numbers! Most of Ervin's playlist includes the 1958-1964 material. "Be Bop A Lula" was the 1962 version. Only a few 1956 tunes were played (Blue Jean Bop...). The band performed two sets, maybe 15 songs each one. Ervin could sing some 1966, 1969 and 1970 songs. He sings so good.

The stage act. As Didier writes, Ervin is sincere and sings with the heart. "This is for you, Mr Gene Vincent", he says sometimes between 2 songs. You close your eyes and you hear Gégène. The man is thin and tall, with brown hair - he could wear his hair a little bit longer, with a ducktail... He's got a good look: black leather trouser and a black western jacket like the white one Gene wears on the Blue Jean Bop LP and on stage in St Paul (USA) in the late 50's. (You can find these jackets on the net: http://www.daddyos.com/retro/jackets.html.

Ervin plays with the mike stand: up and down... He even put his leg over it one time. Great! A little difference with Gene: he doesn't sing much looking at the roof; he sometimes closes his eyes and sometimes look at the audience; he often sings on his knees like he was praying.

The musicians. A good lead guitarist (with three guitars: Fender stratocaster and Telecaster and an Epiphone hollow body), a drummer, a electric-bassman, a guy who plays piano and acoustic rhythm! Both pianist and drummer sings the backing vocals.

The audience. There were several tables with fans and rockers - maybe 30 people - who came to celebrate 30th Gene's Passing date. Some other customers joined us, appreciating the music. I was with Dennis, ex Sprites drummer, who enjoyed the gig very much! We clapped our hands and screamed as we could! I was glad to met Didier.

Dear Gene Vincent's fans, don't miss the next Ervin Travis show!

Yann
---
Ronnie Spector Victorious in Long Royalty Battle
On November 13, 2001, legendary rock icon Ronnie Spector won a 13-year court battle against ex-husband/producer Phil Spector over royalties due her 1960's group The Ronettes. A New York State appeals court ordered Phil Spector to pay close to $3 million dollars plus interest to Ronnie and the Ronettes. The Supreme Court's Appellate Division ruled in a unanimous decision that upheld a lower court ruling (of $2.6 million in June 2000). The ruling basically stated Phil Spector breached a 1963 contract with the Ronettes for royalties and payments of licensing for hit songs such as "Be My Baby," "Walking In The Rain" and "Baby I Love You."

Ronnie Spector, the original bad girl who redefined and helped shape the look and sound of rock & roll has truly become a champion of artist's rights. She joined the Recording Artists Coalition to help oppose a law that amends the Copyright Act, making sound recordings work for hire and impossible for artists to reclaim as their own in the future. This past year, Ronnie Spector has also put her energy back into the studio to record music for a much-anticipated album. She is currently negotiating a new recording deal.


---
Looking for "Traditional Country" Material...
The Traditional Country Hall of Fame is seeking songs to feature on a series of "sampler" (limited pressing) compilation CDs. We encourage veteran artists, today's talent and songwriters to submit material to us for consideration. The songs must be "traditional country" in theme and sound. Performers will maintain all rights to their material, as these CDs will be made available simply to showcase their talent. The Traditional Country Hall of Fame will use any profits from the sale of this product to maintain and expand its website. Only 1000 copies will be made of each.
Interested? Know someone who might or should be?
Contact
TCHOF
Bob Timmers
P.O. Box 639
Burns, TN 37209
E-mail


---
Rockabilly, Other Retro Rock Items Featured at UK Wembly Show
The biggest music retail show on earth returns to the world famous venue on 24th & 25th November when VIP Events present the 9th Wembley Music fair.
The following special guests will be at the event -- Ian Anderson of Jethro Tull, Vic Godard of Subway Sect, Beatles expert Keith Badman, and Chris Welch. A unique rock poster exhibition will also take place at the event, courtesy of Soho Music. Hard Rock Cafe with their book and memorabilia from their museum. Last minute guests booked for signings on the MOJO Collections stand Steve Diggle (Buzzcocks) and John Foxx.
The fair takes place in Exhibition Hall Three that is bigger than Wembley Arena, and crammed full of music dealers that are travelling from ALL OVER EUROPE, USA, Brazil, Australia and even Croatia just to trade at this annual extravaganza. In addition, independent dealers from all over the UK will be in attendance. The Wembley show has developed into a massive music retail show for the discerning music fan! Visitors will be able to grab CD's at bargain prices, browse through the biggest selection of rare and deleted vinyl, buy out of print books, videos and posters, pick up autographs and memorabilia on their favourite bands along with concert programmes, badges, tour shirts - the list is endless!
This year's fair is the biggest yet, offering a feast of exhibitors selling everything from Presley to Indie, Beatles to Rave music, Fat Boy Slim to Progressive, Queen to Brit Pop, Kylie to Northern Soul, Rolling Stones to Reggae, Led Zep to Glam Rock, Oasis to Rock & Roll, The Manics to Heavy Metal, Robbie Williams to Punk, Madonna to Surf - the whole spectrum of popular music is at the event - AND IT'S ALL FOR SALE!.
SHOW SPONSORS: The event will be sponsored by VIP-24.COM - the portal for the discerning music fan and MOJO COLLECTIONS - the music magazine, who will have a stand at the show.
VISITOR DETAILS: Admission - £4.00, 10 to 5 Sat 24th November. 10 to 4 Sun 25th November. Tube Wembley Park (Courtesy bus to the fair.). Parking on site for 6000 cars.
CONTACTS - Rob Lythall, Show Organiser, VIP Events. Phone 0116 2244300 - E-mail info@vip-24.com - http://WWW.VIP-24.COM


---
UK: December 9th, Bristol ... Be There!
By Mike Tobin
Way back in December 1960, all of the best R 'n' R bands and singers on the Bristol (UK) scene ganged together to put on a gig at the main concert venue, The Colston Hall. Remember this was when we had seen very few American acts over here. There was (thank God) no such thing as a disco. Bristish radio played very little Rock 'n' Roll and, apart from the odd visit from our home grown stars (Cliff Richard, Billy Fury, Joe Brown, etc), we had to rely on the local bands to keep us up to date with what was happening in music. The gig was a triumph, all 2200 tickets sold and the audience went wild. The show,called" Groups Galore" became a regular event, every six months for the next 5 years.

Fast forward to the late 90's. Someone said one night, "Hey, do you realise its almost 40 years since the first 'Groups Galore' show" ... Someone else said, "yeah maybe we should do an anniversary show" ... a lot of beer was consumed that night, But by late autumn 2000, by some miracle and a lot of hard work, we had succeeeded in recreating exactly the same line up as 40 years before! Some of the musicians were still active on the local scene, others had not set foot on stage for years. December 16th 2000 will be remembered by 2200 bopping, jiving and rocking fans as one of the best nights of their lives. Yep, we sold out again, and shedding all those years all the bands and singers performed some of the best R 'n R you will ever hear this side of the Atlantic.

So ... we are set to do it again. December 9th 2001. Colston Hall, Bristol. Johnny Carr & The Caddilacs / The Bristol Comets / Sandra McCann / Les Watts / Johnny Vince / Ricky Forde / Pete Budd / Dale Rivers & The Ramrods / Last Chance / and ... um ... whats his name? Oh yeah ... me!!

If you ever plan to motor west ... head for Bristol on Dec.9th and come join us in this celebration of unique, rocking talent. Hey we might even do it again next year, and if anybody can offer us all a free holiday we would love to bring the entire show over to the USA!
Mike Tobin - mikeboppintobin@netscapeonline.co.uk


---
Jack Scott Returns to T-Bonz, Nov.17th
The Godfather of Detroit Rock 'N' Roll, Jack Scott, has scheduled a live show for Saturday, Nov. 17, from 9 p.m. to 1 a.m. at T-Bonz, a nightclub/restaurant in Rochester Hills, Michigan. The performance will be Jack's fourth at T-Bonz since he first played there in June. Jack's performance schedule this year also included two outdoor shows during this year's annual Woodward Dream Cruise in August; the Detroit 300th anniversary celebration in July; the Hemsby Rock and Roll Weekender concert series in England in May; and the Rockin' at the Ryman show in Nashville just before that.

And to the delight of his legion of Canadian fans, Jack and his band will travel to Winnipeg, Manitoba, Canada, for a Nov. 10 show at the Pantages Playhouse Theatre. Jack enjoys playing at T-Bonz because it brings him full circle back to his roots. In the mid-1950s, he began his career performing at Bill's Barn, which was just a quarter-mile down the road from T-Bonz. At T-Bonz, Jack frequently reaches back and selects songs that date back to the Bill's Barn days, and often even takes audience requests. Jack's previous three shows at T-Bonz have all been sellouts.

Jack Scott - born Giovanni Scafone Jr. - was the first rock 'n' roller from metro Detroit to gain nationwide recognition. Born in Windsor, Ontario, Canada, he grew up in the Detroit suburb of Hazel Park. Greatly influenced by country music, he learned to play guitar and formed a band as a teenager. In 1957, he had two regional hits and then stormed the national charts in 1958 with "Leroy" and the number 3 smash, "My True Love." Solid follow-ups included "With Your Love" later in 1958 and the Top 10 hit "Goodbye Baby" in the winter of '58-'59. "I Never Felt Like This," "The Way I Walk" and "There Comes A Time" all entered the charts during 1959. Although Jack's career was interrupted by a brief stint in the Army, he came back stronger than ever in 1960 with the million-selling "What In The World's Come Over You" and the equally-popular "Burning Bridges." All told, he had 19 chart hits in a 41-month span - with nine reaching the Top 40 and four of those in the Top 10. Jack Scott's website is jackscott.rudysden.com. -NEWS CONTACT: S.R. Boland, 313-882-7448

WHO: JACK SCOTT, the Godfather of Detroit Rock 'N' Roll
WHAT: Concert/show, cover charge of $10; reserved seating at $15
WHEN: Saturday, Nov. 17, 2001 from 9 p.m. to 1 a.m.
WHERE: T-Bonz, 1711 E. Auburn Road, Rochester Hills, Michigan; call 248-293-9000 for reservations


---
Black Raven Returns
After 6 years of recording studio absence, here it is at last: The new Black Raven LP/CD. 100% pure Rock 'n' Roll in 15 brand-new songs, available at their online shop. Black Raven recorded their first EP in 1994, the first long playing record 1995, another EP followed 1996. All records sold very well, and still today their version of Summertime (1995) is #1 at ROCKABILLYMP3-Top100. Their online shop (with this new CD/LP, T-shirts and older Black Raven recordings), more information and new free MP3 downloads you will find at: http://www.blackraven.de ... the official homepage of Rockabilly band BLACK RAVEN - Free MP3s, all about the band and Rock 'n' Roll online shop. You can find this CD/LP also at "House Of Wax", http://www.houseofwax.de
Last but not least all their songs are downloadable via RockabillyMP3.com, too: http://www.rockabillymp3.com


---
New Album from Linda Gail Lewis & The Firebirds
One of Britains best Rock 'n' Roll, Jive and Rockabilly bands 'The Firebirds' just finished a new album with Jerry Lee's sister Linda Gail Lewis. The album, called 'The Rock 'n' Roll Special', contains 17 new songs, 10 songs from Linda Gail backed by The Firebirds and 7 from The Firebirds. It is released on the brandnew record label; Rockville Records. The Firebirds, formed in 1981, is one of Europe's finest Rock 'n' Roll bands. With three first class Musicians / Vocalists, The Firebirds are able to cover the complete spectrum of 1950s' and 1960s' music, from Commercial Rock 'n' Roll, Rockabilly, Harmonized Doo Wop, Instrumentals, Ballads and their own Compositions. They backed some of the great American Singers of yesteryear including Jerry Lee Lewis, Charlie Feathers, Ray Campi and Sleepy La Beefe to name but a few. The Firebirds have undertaken extensive tours both in Britain and abroad. The foreign tours included Belgium, Germany, Holland, France, Denmark and Spain. During May 2000 The Firebirds made their first visit to the USA, playing venues in Memphis and Las Vegas. Whilst in Memphis, the band was booked in the Memphis Convention Centre to perform at the 25th Anniversary of the death of Elvis in 2002.

LINDA GAIL LEWIS and brother Jerry Lee grew up in Ferriday, Louisiana along with cousins Jimmy Swaggart and Mickey Gilley . Linda has had an interesting recording career, on Sun, Smash and Mercury with Jerry (highlight being the 1969 Together lp on Smash, (great rockin' Roll Over Beethoven duet) and in 2000 she teamed up with the legendary Van Morrison and recorded the album 'You Win Again². Her recent solo career deserves far more attention than given here. She's a great solo live performer doing the incomparable Lewis Boogie in the Lewis way.

The new album (and others) can be obtained from www.roots-music.info.


---
Chuck Berry, Turning 75, Says He'd "Live This Life Again'
By JIM SUHR, AP - ST. LOUIS, October 17, 2001 - Chuck Berry still unleashes the bent-kneed duck walk and one-legged hop pushed him to popular heights the days of sock hops and soda shops. "Sometimes I forget, and the fans remind me I can still do it. So I'll fire back," says Berry, who is 75 as of October 17th. "If they want it, they got it." For the flashy showman behind "Johnny B. Goode," life hasn't been bad. "Rock's so good to me. Rock is my child and my grandfather," he said a few days before his birthday bash Thursday night at The Pageant, a club in his hometown of St. Louis. He was to perform, along with his friend Little Richard.

"I'd live this life again, with the exception of a few mistakes," Berry said. "But you can't live without the negatives, and the positives have outweighed the negatives." One of rock 'n' roll's most important architects, Berry pioneered a musical revolution that began decades ago when couples bopped to his guitar-driven hits like "Maybellene," "Roll Over Beethoven," "Sweet Little Sixteen," "Rock and Roll Music" and "No Particular Place To Go." He helped inspire Elvis and the Beatles, was inducted into both the Rock and Roll and Songwriters halls of fame and last year got one of the nation's highest awards as a Kennedy Center Honor recipient.

"I think he's enduring," says Little Richard, who with Berry was among the first inductees into the Rock and Roll Hall of Fame, in 1986. "I think he's a great songwriter, great entertainer and one of the greatest businessmen - black or white - in the business. He knows what he's doing." Berry learned to play guitar in his teens. Even Little Richard can't believe he's turning 75. "I didn't know he was that old. I was really shocked," the 68-year-old says. "But I'm glad to see him make that age and still be energized to do what he's doing, still doing the split and all that stuff. That's a blessin' and a lesson."

Together, Berry and sideman Johnnie Johnson - another St. Louisan and the inspiration for "Johnny B. Goode" - blended blues, boogie and country to help shape rock music in the early 1960s. Johnson composed the music on piano, and Berry converted it to guitar and wrote the lyrics.

Along the path to fame, Berry hit some sour notes. At 18, he spent time in prison for armed robbery. More prison time followed in the 1960s after he illegally took a 14-year-old girl across state lines. In 1979, he was sentenced to a few months behind bars for tax evasion. In the past dozen years, Berry pleaded guilty to harassment and paid a small fine after being accused of punching a woman in New York; the woman sued him for $5 million. Another lawsuit alleged Berry secretly videotaped women using a restroom in his one-time St. Louis-area eatery. Lately, he's been fending off a federal lawsuit by Johnson, who says Berry took sole copyright for some songs they co-wrote, depriving Johnson of royalties. To Berry, such matters are among the "negatives" he doesn't care to revisit. "Even the Kennedys had difficulties," he says. "I'm not an angel."

Berry hasn't made an album in nearly two decades, but he still draws crowds. On the road, he plays hour-long gigs in venues ranging from ballparks to casinos, amphitheaters to armories. "I'm glad to be anywhere," says Berry, who has four children and six grandchildren. "I'll be doing the same thing as long as it doesn't hurt anybody, especially if it brings somebody happiness." He isn't worried about his legacy, and casts himself only as a man "trying to do my best." "I have very little concern for sure about time and age," he says. "If I feel 14, I act like it. If I feel old, I'll lay down." "My grandfather smoked a pipe when they found him lying deceased in his bedroom. I'm hoping I'll have just finished a practice in my room, with a guitar in my arms. That's the way I want to go."


---
30th Anniversary of Rock Icon's Tragic Death
In California on 12th October 1971, rock 'n' roll legend Gene Vincent met his untimely end at the age of 36, following years of alcohol abuse. Crippled in a motorcycle accident whilst in the US navy in the early 1950s, he became fascinated by the new exciting music being created in synthesising white country music and black rhythm and blues by the likes of Carl Perkins and Elvis Presley, and was an instant worldwide smash hit with his very first record release in 1956, the now much re-released multi-million selling "Be-Bop-A-Lula", recorded with his famous band The Blue Caps. Vincent was propelled into a life on the road.

Touring endlessly, the pioneer of on and off-stage wild antics, he managed to pack in another three hit singles, including the smash "Lotta Lovin'", and appearances in two Hollywood films, including star-packed "The Girl Can' t Help It" in 1957, before fading from the public eye in his home country, as record companies promoted insipid records by teenage heart-throbs. His career underwent a dramatic revival, however, in 1959, when he was brought over to the UK for stage and TV appearances. In 1960, when friend Eddie Cochran was brought over to join his tour, they were involved in a tragic car accident that killed Cochran. Vincent never really recovered from the trauma of losing his closest confidante and fellow hell-raiser. Contracts with promoter Don Arden ensured that the rock 'n' roll life had to go on, and Vincent caused a sensation throughout Europe with his unique, wild, black leather clad stage persona. Further singles recorded in the UK, where he had taken up residence, entered the best selling charts, and until the explosion in fame of The Beatles, on whom he was an early influence, Vincent was the biggest live draw in Europe, packing them in whether he had a hit single or not. He also made appearances in two British films, "It's Trad Dad" and the Joe Meeks vehicle "Live It Up".

In the mid 1960s, he returned to the USA, recording in Hollywood, and hanging out in bars with Jim Morrison, singer of The Doors, who adopted the leather clad image of his idol. The recordings met with little success. He returned to Europe in 1967, previewing his new material to sold-out clubs and bars, but personal and legal matters prevented him from visiting the UK. After recording an album for John Peel's Dandelion label (its biggest selling LP) in Hollywood with producer Kim Fowley, Vincent did return in 1969 for a brief tour, including headlining at the London Palladium. The early days of the tour were filmed by the BBC and became "The Rock 'N' Roll Singer" documentary, aired with little or no publicity on late night television. The film all too clearly revealed a man in decline and in financial straits. Vincent cut another couple of albums in California with American producer Tom Ayres, released in the USA and Europe, but they failed to sell. He continued to appear in small clubs and bars with pick-up bands until he died of a bleeding ulcer, shortly after telephoning his mother. Vincent was belatedly inducted into the Cleveland Rock 'N' Roll Hall Of Fame in the 1990s by Creedance Clearwater Revival's John Fogerty. His continued influence and popularity can be gauged by a number of tribute records, and the steady stream of record releases, including newly discovered material, ever since his demise. All of his back catalogue of hundreds of recordings encompassing rock 'n' roll, country, blues, ballads and doo wop, is currently available on CD.

©Derek Henderson 2001
Spent Brothers Productions
Also see: Gene Vincent Special Tribute


---
Jim Phantom & "Col. Parker" - The Band
Elvis might be dead, but his infamous manager lives on. The group "Col. Parker" -- has been appropriated by a bunch of music notables who hope to bring their classic rock influences to record-buyers perplexed by what passes for commercial rock these days. The group, headed by former Guns N' Roses guitarist Gilby Clarke and ex-Stray Cats drummer Slim Jim Phantom, has teamed up with a record label owned by actor Mel Gibson to release its debut album, simply titled "Rock & Roll Music."

Col. Parker's influences are proudly derivative of no-nonsense rock 'n' roll that seems to have been replaced on the charts by angry young groups with rapping vocalists, turntables and members in masks. Clarke and Phantom, longtime pals on the Hollywood club circuit, formed the nucleus of Col. Parker about two years ago. It started as a covers band whose fluid lineup allowed celeb chums like Rod Stewart, Jimmy Page, Jeff Beck and Axl Rose to make impromptu performances during the group's Thursday night gigs at Phantom's tiny Cat Club bar on the Sunset Strip.

Michael Lustig, a friend of Phantom who runs Gibson's Icon Records, signed them to a deal. Icon usually releases soundtracks, but Gibson allows Lustig to sign one act annually. The members of Col. Parker have yet to have direct contact with Gibson or with Richard Branson, the British billionaire whose V2 Records label is distributing the album. The initial idea was to make a covers record with various guests, but Clarke and Phantom then focused on original material and the project became more serious. Bass player Muddy Stardust (L.A. Guns) came aboard to share vocal duties, while Teddy Andreadis (Slash's Snakepit) played keyboards.

Chastened by their experiences with their former bands, Clarke and Phantom said the main idea was to keep the process fun, simple and democratic. "No blond guys who sing," said Phantom, jokingly referring to his friend and former Stray Cats colleague Brian Setzer. "They're right out! The two of us have both been on the opposite end of it, like dealing with the lead singer dynamic of the business, and we both know that that's not kinda what we want."

Phantom (born Jim McDonnell), 40, found stardom in the early 1980s with rockabilly trio the Stray Cats, whose hits included "Rock This Town" and "Stray Cat Strut." After the group broke up, Phantom and Stray Cats bass player Lee Rocker rebounded in 1985 with Phantom, Rocker & Slick, a short-lived combo with veteran session guitarist Earl Slick. Setzer reinvented himself as a swing revivalist at the helm of the Grammy-winning Brian Setzer Orchestra.


---
Artist Howard Finster RIP
The Rev. Howard Finster, a folk artist who created sermons in paint featured on the covers of rock albums and in galleries worldwide, died Monday Oct. 21, 2001 of congestive heart failure at age 84. He died at Redmond Regional Medical Center in nearby Rome. Finster, a Baptist minister since his teens, began his art career in his late 40s, creating works that ranged from wooden cutouts to paintings to assemblages, many of which he adorned with messages like "Hell is a hell of a place" in block letters. He often used pop culture icons such as the Coca-Cola bottle, Cadillacs and Elvis Presley in his work. "When Christ called his disciples, he called fishermen, he didn't call nobody from a qualified university," Finster said in a 1990 magazine interview. "He used common people to reveal parables. That's what I do. I use Elvis because I'm a fan of Elvis. Elvis was a great guy. By using him I get people's attention and they read my messages." Finster was considered a pioneer among self-taught artists, advancing the "outsider" movement with his unique personality, unflagging salesmanship and resolute work ethic. Such artists work "outside" the aesthetic of formal art training. Finster was born on a small farm in DeKalb County, Ala., on Dec. 2, 1916, and became a Baptist preacher at age 16. For more than three decades, he traveled Alabama, Georgia and Tennessee preaching at tent revivals and supplementing his income with odd jobs, including plumbing and bicycle repair. In recent years, most of Finster's work was advertised on his Web site, with the artist himself working at an almost assembly-line pace.


---
Composer Jay Livingston Dies at 86
By JEFF WILSON, AP - October 17, 2001 - Oscar-winning composer and lyricist Jay Livingston, whose collaboration with Ray Evans led to such hits as "Silver Bells," "Que Sera, Sera" and "Mona Lisa," died Wednesday. He was 86. Livingston, whose songwriting partnership with Evans spanned 64 years, died of pneumonia at Cedars-Sinai Medical Center. Often called the last of the great songwriters, Livingston and Evans had seven Academy Award nominations and won three - in 1948 for "Buttons and Bows" in the film "The Paleface" in 1950 for "Mona Lisa" in "Captain Carey, USA," and in 1956 for "Que Sera, Sera" in "The Man Who Knew Too Much". They wrote the television theme songs for "Bonanza" and "Mr. Ed," and were honored by the American Society of Composers, Authors and Publishers for "the most performed music for film and TV for 1996." The members of the Songwriters Hall of Fame also produced such hits as "The Cat and the Canary" from the 1945 film "Why Girls Leave Home," "Tammy" from the 1957 movie "Tammy and the Bachelor," "Almost in Your Arms" from the 1958 film "Houseboat" and the title song of the 1964 film "Dear Heart." Livingston was born on March 28, 1915, in the Pittsburgh suburb of McDonald. He met Evans in 1937 at the University of Pennsylvania, where they were both students. The team's final project was the recording, "Michael Feinstein Sings the Livingston and Evans Song Book," due for 2002 release.
---
From: Bo Diddley ...
In common with many other people, BO DIDDLEY and his family have been deeply upset by the terrorist attacks in New York, Washington DC and Pennsylvania on Tuesday September 11th 2001, and the subsequent crisis that has ensued both in America and around the world in the weeks since the attacks took place.

In light of these tragedies, BO DIDDLEY has asked that his fans, radio deejays and other people working in the media should play and listen closely once more to the lyrics to a song that he recorded in 1989 titled "Wake Up America", a track that can be be found on his "Breakin' Through The BS" CD released on Triple X Records 51017-2.

In the past 20 years or so, BO DIDDLEY has recorded and released a number of songs that reflect not only his great love of the American nation and and its people but also his concerns for the country's future stability and well-being. The songs "Ain't It Good To Be Free" and "Gotta Be A Change" are both good examples of his impassioned vocal concerns for his nation and its people. Both of these tracks are currently available on the CD "The Mighty Bo Diddley" released on Triple X Records 51161-2.

We hope that during this time of national crisis that BO DIDDLEY's fans, together with the nation's deejays and other people working in the media across America, will perhaps find the time to listen and to reacquaint themselves once again with the inspirational messages contained in some of these important, but perhaps lesser-played, songs that have been written and recorded by BO DIDDLEY.

David Blakey, Webmaster
Lynn Cameron-Blakey, Technical Support
BO DIDDLEY-The Originator
http://members.tripod.com/~Originator_2/index.html
A Celebration of his unique contribution to Popular Music.


---
IEBA Honors Brenda Lee
The International Entertainment Buyers Association (IEBA) presented singer BRENDA LEE with their coveted 'Lifetime Achievement Award,' at ceremonies in Nashville marking the association's 31st annual conference of entertainment professionals. Lee, whose international record sales top 100 million, and whose signature song, "I'm Sorry," established her as one of the leading voices in pop/rock music of the '60's, was on hand to receive accolades from many of the top industry professionals from Nashville's entertainment community, as well as from the international membership of IEBA at the Founder's Award Dinner, a highpoint of the conference's October 7-10th schedule. Obviously moved at the presentation, and the giving of the award by Jo Walker Meador, former executive director of the Country Music Association, Brenda commented to the audience laden with top industry entertainment buyers and music professionals: "It's been a wonderful ride - thank you for giving me a stage, an audience, and the opportunity you've given me for so many years to do what I love to do most - sing."

Brenda Lee's career, birthed in the rockabilly era, has had significant impact in the multiple genres of music--pop, rock and country music - an accomplishment unique to only a handful of artists. She was elected to the prestigious Country Music Hall Of Fame in 1997, given the Lifetime Achievement Award by the Rockabilly Music Foundation in 2001, and is again this year nominated for induction into the Rock & Roll Hall Of Fame.

The recent subject of a television profile by A&E "Biography," LEE maintains an active schedule of concert touring - nationally as well as internationally. Her highly anticipated autobiography, written with top musicologist and music historian Robert K. Oermann, is due out in the spring of 2002. A major multi-city media/book tour is being planned to support the Brenda Lee release.
---
Click It
Sam Phillips Calls Hall of Fame Induction A Personal Glory Legendary producer among 12 new members entering Country Music Hall of Fame.

Chubby Checker Feeling Left Out. Chubby Checker says the music industry has left him twisting in the wind.


---
RCA Releases Special Elvis Benefit Disaster Relief CD
MEMPHIS, Sept. 25th, 2001 - In response to the tragic events of September 11, 2001 in America and with a tremendous wave of encouragement from Elvis fans worldwide, RCA Records will soon release a special Elvis CD to serve as a fund-raiser for disaster relief efforts. An official press release will come from RCA in the days ahead and we'll immediately update this article with all the details. The disc, which should be out within a week or two, will be comprised of three Elvis recordings: If I Can Dream, America, The Beautiful and Amazing Grace. This will be an enhanced CD in that it will be encoded with special information and links one can access when playing the disc on one's computer. Included on this disc for computer viewing will be a video component - Elvis' performance of the song If I Can Dream from his 1968 TV special. (Enhancements for computer viewing do not affect normal playing on a regular CD player.)

The disc will be in record stores soon, including the record shop at Graceland and in Shop Elvis here on Elvis.com. All RCA's proceeds from the sale of this disc will benefit the American Red Cross Disaster Relief Fund. Graceland/EPE is honored to cooperate fully with this effort, and has donated the video clip and waived all artist and music publishing royalties it would normally receive from an Elvis record or video release. Graceland/EPE will also donate to the Red Cross all its own retail proceeds from its sales of the disc.

"In his lifetime, Elvis always responded to people in need. We know he would rush now to give his voice and spirit to the aching hearts and shattered families left behind in this tragedy. If his music can bring even a moment of shelter from the pain and resources to the recovery, then his legacy will have all the meaning he could ever have hoped for." - Jack Soden, CEO - Elvis Presley Enterprises, Inc.
---
Colonel Tom Parker: The Curious Life of
Elvis Presley's Eccentric Manager
By James L. Dickerson, Cooper Square Press, 262 pp., $27.95, 2001
A REVIEW from Country Standard Time by Jon Johnson

Just as Eric von Stroheim embodied the stereotype of the demanding motion picture director for decades after he had actually quit directing, Colonel Tom Parker lives on in the public's mind as the archetypal show biz manager; puffing on a cigar, a bit uncouth and more than a bit underhanded; always looking for an angle.

Although Parker's story (at least so far as it was known) has been covered to varying degrees in numerous biographies of Elvis Presley before now, he's always come across as something of a sphinx; shrouded in a certain amount of mystery and, ultimately, unknowable.

Which is almost certainly how Parker preferred things to remain. To this day, Parker's origins are shrouded in mystery. It is now generally believed that he was actually born Andreas van Kuijk in Holland in 1909 (something not widely known until after Presley's death), entering the U.S. illegally in the late '20's or early '30's.

But even this might not be accurate. Author James L. Dickerson favors another theory: Parker was actually born a Russian Jew who moved to Holland in his teens and then to the U.S. Dickerson's reasons for believing this are unclear, other than the fact that Parker tended to gravitate towards Jews during his life.

Dickerson, author of "Goin' Back to Memphis," has dug deep and comes a bit closer to unraveling Parker's story than most. And the results may strike some as more than a little sensationalistic, with accounts of ties to organized crime and segregationist groups, a gambling addiction, and hints (though never more than that) of possible latent homosexuality. That said, Parker never claimed to be - and was certainly never mistaken for - a choirboy.

Though Dickerson's case for a gay Colonel Parker is as thin as his argument for Parker's origins as a Russian Jew, Dickerson appears to be on solid ground with other discoveries. Court records support the assertion that Parker's gambling losses during the late '50's and '60's were astronomical, perhaps accounting for the preposterously high percentage of Presley's income that the Colonel took for his services.

Though Dickerson is a little vague on this point, as well, it appears likely that Presley's 1967 contract with the Colonel - which raised Parker's take of Presley's income to 50 percent - was directly linked to Parker's gambling losses; that he had either outstripped his ability to pay his debts or had gambled and lost some or all of his original 25 percent cut of Presley's income in an ill-advised bet.

A thread in Parker's personality that Dickerson returns to throughout the book is his hatred of weakness in others; a common symptom of those with serious addictions themselves, as Dickerson points out. Still, Parker was not without his fans. Many in the entertainment industry had great affection for the man, and Parker seems to have been capable of surprising acts of generosity.

The full truth behind Parker - who he really was, the full extent of his links with the mob and the nature of his private life - will almost certainly never be fully known. Though some of Dickerson's assertions about Parker are extremely speculative - perhaps too much so without more evidence - "Colonel Tom Parker" gives a rare look into the behind-the-scenes machinations of a man who was perhaps the 20th century's most notorious show business figures. Just don't be surprised if you feel like you need a long hot shower afterwards. - Jon Johnson


---
Everlys, Crickets Impress in Concert
South Shore Music Circus, Cohasset, Mass., Aug. 24, 2001
From Country Standard Time: By Jon Johnson
COHASSET, MA. - It was a pleasantly cool late summer evening on the Massachusetts south shore when two of the greatest rock 'n' roll acts of the late '50's shared the stage again. Both the Everly Brothers and Crickets have continued to inspire and impress over the years since the hits stopped coming; the Crickets having worked with the likes of Paul McCartney and, most recently, Nanci Griffith.
And though the Everlys no longer record (due primarily to the brothers' inability to agree on a musical direction), they're still regarded as the torch bearers for a long line of sibling harmony groups that has included the Delmores, the Wilburns, and the Louvins; not to mention Simon & Garfunkel, who got their start as a blatantly Everlys-inspired duo called Tom and Jerry.
And it's worth remembering that both groups, taken together, were easily two of the biggest influences on The Beatles, who took from the Crickets both an insect-inspired monicker and the concept of a self-contained group that wrote their own material. And from the Everlys came the tight, complex harmonies that both acts excelled at.
Backed by the classic Holly-era rhythm section of drummer Jerry Allison and bassist Joe Mauldin, amiable guitarist/vocalist Sonny Curtis was and still is the best of the various frontmen The Crickets have had since Holly's death in 1959. Though Curtis had left the band shortly before the group hit it big with 1957's "That'll Be the Day," he had nonetheless played on most of their early recordings, including his own "Rock Around With Ollie Vee" (oddly enough not performed this night) and has been an extremely successful songwriter over the years, writing such hits as the Bobby Fuller Four's "I Fought the Law" and Keith Whitley's "I'm No Stranger to the Rain," as well as "Love Is All Around" (the theme to "The Mary Tyler Moore Show"; also a college radio hit in the mid-'80's for Hüsker Dü), all of which were performed this evening.
But as one would expect it was the Buddy Holly-era material that the audience reacted most favorably towards. Opening with the one-two punch of "Oh Boy" and "Maybe Baby," the Crickets were in fine form from the start, with Allison's playful, propulsive drumming anchoring the group on "Peggy Sue" and other hits; also taking lead vocals on a cover of Eddie Cochran's "Summertime Blues" (though "Real Wild Child," a minor hit for Allison in 1958, might have suited better). And though Mauldin was never as flashy as contemporaries like Bill Black and Marshall Lytle, his playing suits the Crickets' style admirably.
Also worth mentioning is the rendition of Floyd Cramer's 1960 hit "Last Date," featuring some terrific piano work from former Elvis Presley/Emmylou Harris pianist Glen D. Hardin, who did a superb job in augmenting the Crickets' traditional trio lineup, making his presence particularly felt on quieter numbers such as "Everyday" and "True Love Ways."
Judging by the audience's reaction, The Crickets' 45-minute set was regarded as all too brief. A canny booker at the Music Circus would do well to keep them in mind next summer as headliners.
If, as reports suggest, this is the Everly Brothers' final tour, they're going out on a high note. Though rumors persist that the brothers don't get along all that well, rarely interacting offstage, the impression left from the performance is that the Everlys still have as much fun and energy onstage as acts half their age.
Opening with a medley of songs about their home state of Kentucky (including 1967's magnificent "Bowling Green," their final top 40 hit), the brothers fronted a white-hot band of ringers, including guitarist/mandolinist Jamie Hartford (son of the late John Hartford; also singing lead on a spirited rendition of George Jones' "White Lightning") and steel guitar legend Buddy Emmons, plus veterans of their triumphant 1983 Royal Albert Hall comeback show.
More so than The Crickets' set - only half of which was made up of Holly-era material - the Everlys relied primarily on their long string of hits, with the likes of "Bye Bye Love," "Cathy's Clown," "When Will I Be Loved," "All I Have to Do is Dream" and "Love Hurts" making their expected appearances.
That's not to say that the performances were identical to the original recordings. The brothers played around with their phrasing considerably, Don Everly in particular going for a more blues-influenced approach that he would never have dreamed of in his youth. And a high-energy rendition of "Wake Up Little Susie" owed as much to mid-'60's Who as anything else. It says much of the depth of the Everlys catalog that audience favorites such as "Take a Message to Mary," "Bird Dog," "I'm Just Here to Get My Baby Out of Jail," "Poor Jenny" and Paul McCartney's "On the Wings of a Nightingale" (a mid-'80's near-hit) were left off the evening's setlist, with no perceptible grumbling from the audience. Most endearing, perhaps, was a mini-acoustic segment featuring the Everlys on guitars and Hartford on mandolin. "Long Time Gone," from 1958's classic "Songs Our Daddy Taught Us," led into a cover of the Delmore Brothers' "Blues Stay Away From Me," on which the Everlys and Hartford were rejoined by their band halfway through the song. Leaving the stage after a rave-up rendition of Jimmie Rodgers' "T For Texas" (from 1968's underrated "Roots") and "Walk Right Back" (another chestnut from the Sonny Curtis songbook), one couldn't help but be saddened by the brothers' retirement from studio work. Given better material than what was usually available on their hit-and-miss '80's recordings for Mercury, it's hard to imagine that there isn't still a place in the world for the Everly Brothers.
More Everly Brothers news below.


---
Review: "GreaseFest in Redcliffe, Australia
For your viewing pleasure, I have posted photos from the GreazeFest rockabilly weekender, held downunder in Redcliffe, Australia. Check 'em out at: http://www.robot-int.com.au/greazefest/photos.htm GreazeFest supporter, Brett from Smart Arts Marketing, has also published heaps of GreazeFest photos on line - take a look at: http://www.smarta.com.au/greazefest

Here's a rundown on the weekend:
The sleepy seaside town of Redcliffe didn't know what hit it, when hundreds of greazers and their rides, rumbled into Redcliffe for what turned out to be a HUGE party weekend of red hot rockabilly and real gone rats and rides. The rockabilly gods blessed the weekend with warm and sunny weather - just perfect for the seaside setting.

The Fishbowl welcomed our crowd of tattooed, greazy haired, wallet chained, sharply dressed greazers with open arms. This venue is just too good to be true. Every available space (including the ceiling) is filled with 1950's paraphernalia. There are two huge balconies that look out over the bay, where you can hang out in the open air and still see the band. There are motel rooms upstairs that were decked out and themed for the GreazeFest weekend. My room was totally 50's, complete with Tretchikoff print on the wall. Other guests stayed in the zebra room (wall to wall zebra stripe), or the Cowboys and Indians room. THANK YOU FISHBOWL, you made the GreazeFest weekend extremely memorable.

The Bands
Topping the list of performers is of course, Josie Kreuzer, who travelled all the way from San Diego to charm everyone with her fabulous brand of traditional rockabilly and hot rod rock and roll. Doug, Jon and Geoff from the Chrome Daddies backed Josie and pulled it off like true professionals. The Chrome Daddies also played their own show earlier in the evening and gave the crowd one of their best performances ever. The Satellite V and Johnny Green's Blues Cowboys kicked off the GreazeFest on Friday night and had the joint rocking until the wee hours of the morning. The Satellites from Adelaide tore up the Fishbowl early Saturday evening with a killer set of high performance rockabilly. The Tailgaters cranked up the volume with their brand of swamp rock, leaving half the crowd begging for more and the other half a bit shell shocked. Those who were still partying on Sunday evening were lucky enough to witness a very entertaining performance by The Fuelers. I fell off my chair laughing at some of their antics.

The Cars
The Rats'n'Rides Show was full of cool and wild customs, real gone rats, flamed bodies, flamed dogs, cool custom cycles, hundreds of greazers, records, cds, vintage clothing, model cars, hamburgers, beer, beer and more beer. The Rats'n'Rides Show was my favourite part of the GreazeFest. The Starlite Ramblers and The Tractor Jacks got the crowd rocking with two outstanding sets of hot rockabilly. The car cruize on Sunday was well attended and had the whole town of Redcliffe frozen in their tracks to watch the hot rods and customs roll by.

Rats'n'Rides Trophies
GreazeFest Trophies were awarded as follows:
One Real Gone Rat - Richard Thornton - 1929 Hi Boy
One Helluva Hot Rod - Anthony Brandar - 1932 Ford
One Kool Kustom - Craig Fountain - 1950 Buick
The Longest Haul - Anthony Brandar - 1932 Ford
One Cool Custom Cycle - Gary Winmill - Johnny Chopper Cycle
Outstanding Support - Cruzin Magazine
From all reports, everyone had a ball at the GreazeFest weekend. And yes, it'll be on again next year.
Lori Lee Cash
Robot International
Greazefest 2001


---
Bye, Bye Everlys?
From the Boston Herald: Music Review/by Brett Milano
If you didn't see the Everly Brothers this summer, it's likely that you never will again. Earlier in the current tour, Don Everly told an audience in Seattle that they were about to retire from the road. "This is probably our last tour," he told them last month. "We'll play Vegas or Tahoe a couple of times a year from now on, and that's it."

The brothers didn't make any similar pronouncements at the South Shore Music Circus this weekend. But if they are going out, they're doing so in style. Now well into their 60s, Don and Phil Everly still sound impossibly youthful, having lost very little vocal range over the years. They still don't seem especially close personally: Don does all the talking, and they hardly ever interact. But their harmonies remain some of the most striking that rock 'n' roll has ever produced. And when they lock into a ballad like "Devoted to You" or Carole King's sublime "Crying in the Rain," it takes a hard heart to resist.

Not much has changed since the brothers got back together, after a 10 year estrangement, in 1983. Their band is still anchored by the British musicians who played that year's reunion show at the Royal Albert Hall, with the more recent additions of steel guitar master Buddy Emmons and, just added this year, the late John Hartford's son Jamie on lead guitar (replacing the great English guitarist Albert Lee). Though he seemed about half the age of anyone else onstage, Hartford fit in comfortably, even joining the brothers on vocals during "T for Texas."


---
"Those Were Our Songs: Music of World War II"
PRE-ROCKABILLY RELATED -- On November 6, 2001, Capitol Records will release a 2-CD compilation of music from World War II titled "Those Were Our Songs: Music of World War II." Forty of the most memorable songs of the era have been collected and digitally remastered for this set. This, just in time for the 60th anniversary of the United States' entry into the war and the founding of Capitol Records (Spring of 1942). This double-disc set serves as a musical soundtrack for those who lived through the era and those who are caught up in the current nostalgia wave.

What song rates as the definitive tune of the entire World War II experience? No doubt a difficult choice. There were so many popular and memorable songs in the years 1941-1945. Bold rhythmic numbers like "Ac-Cent-Tchu-Ate The Positive," which served to embolden the individual listener while never specifically mentioning the Allied effort, were sharing radio and jukebox time with sentimental songs like "Amor" and "Long Ago (And Far Away)."

"Green Eyes," both sentimental and inspiring with the added kick of a rhumba beat, shared airtime with swing ("Jukebox Saturday Night"), boogie-woogie ("Cow-Cow Boogie") and inspirationally derived music ("Straighten Up And Fly Right," reportedly started as a sermon by Nat Cole's father). Other rhythms were being incorporated into pop music such as polka ("Strip Polka") and calypso ("Rum And Coca-Cola"). "Praise The Lord & Pass The Ammunition," a phrase supposedly uttered by U.S. Navy Chaplain William Maguire during the attack on Pearl Harbor, became the first hit song directly associated with the war. By 1945 the "coming home" song became the order of the day ("Sentimental Journey" and "Waitin' For The Train To Come In"). All manner of forces were at work in this music, as stated by the CD's essay writer, music historian Will Friedwald. This collection comes as WWII nostalgia is again in the forefront of popular culture with the summer hit movie "Pearl Harbor" (Touchstone), HBO's upcoming fall mini-series "Band Of Brothers" and the 60th anniversary of the actual Pearl Harbor attack on December 7 (also the tentative release date for the "Pearl Harbor" DVD/VHS).

"Those Were Our Songs: Music of World War II"
Tracklisting: DISC 1
Artists & Tracks:
1. Andrews Sisters - I'll Be With You In Apple Blossom Time
2. Helen O'Connell - Green Eyes
3. Kay Kyser & His Orchestra - Who Wouldn't Love You
4. Benny Goodman & His Orchestra - Jersey Bounce
5. Freddie Slack/Ella Mae Morse - Cow-Cow Boogie
6. Harry James & His Music Makers - A Sleepy Lagoon
7. Johnny Mercer - Strip Polka
8. Helen Forrest - I Had The Craziest Dream 9. Tex Beneke & The Modernaires - Jukebox Saturday Night
10. Kay Kyser & His Orchestra - Praise The Lord & Pass The Ammunition
11. Andrews Sisters - Boogie Woogie Bugle Boy
12. Harry James & His Music Makers - I've Heard That Song Before
13. Ella Mae Morse - Shoo-Shoo Baby
14. Andy Russell - Amor
15. Nat King Cole - Straighten Up And Fly Right
16. Jo Stafford - Long Ago (And Far Away)
17. Johnny Mercer - G.I. Jive
18. Martha Tilton - I'll Walk Alone
19. Betty Hutton - It Had To Be You
20. Pied Pipers - The Trolley Song

DISC 2
Artists & Tracks:
1. Andrews Sisters - Rum And Coca-Cola
2. Johnny Mercer - Candy
3. Les Brown & His Band Of Renown - Sentimental Journey
4. Pied Pipers - Dream
5. Ray Anthony - Chattanooga Choo Choo
6. Spike Jones & City Slickers - Chloe (Song Of The Swamp)
7. Johnny Mercer - On The Atchison, Topeka & Santa Fe
8. Stan Kenton & His Orchestra - Tampico
9. Peggy Lee - Waitin' For The Train To Come In
10. Harry James & His Music Makers - It's Been A Long, Long Time
11. Betty Hutton - Doctor, Lawyer, Indian Chief
12. Kay Kyser - Jingle, Jangle, Jingle
13. Freddy Martin & His Orchestra - The Hut-Sut Song
14. Freddy Slack & His Orchestra - Mr. Five-By-Five
15. Nat King Cole - It's Only A Paper Moon
16. Stan Kenton & His Orchestra - Do Nothing 'Til You Hear From Me
17. Jo Stafford - I Love You
18. Pied Pipers - Mairzy Doats
19. Dick Haymes - It Might As Well Be Spring
20. Johnny Mercer - Ac-Cent-Tchu-Ate The Positive


---
Earl Scruggs with New CD
Earl's new CD, "Earl Scruggs and Friends," is his first album in a decade. It's an extension of The Earl Scruggs Revue. Over 12 songs, he collaborates with an impressive stable of admirers. Elton John, Dwight Yoakam, Travis Tritt, Sting, Melissa Etheridge, Leon Russell, Vince Gill, Rosanne Cash, John Fogerty, Don Henley, Johnny Cash and actor Steve Martin (on banjo) are all featured. Randy Scruggs produced the album, and Gary Scruggs performs on it. Steve Scruggs died in 1992. Except for a burning all-star "Foggy Mountain Breakdown," the album is contemporary rock and country music. Scruggs is more interested in seeing how his banjo can fit into a Sting or Etheridge song than revisiting past glories.

Born in Flint Hill, N.C., he took up the banjo as a child, and had forged his own style by the time he was a teenager. When Scruggs joined Flatt in Monroe's band in 1945, the combination - including fiddler Chubby Wise and bassist Cedric Rainwater - was so potent that it spawned imitators and launched the bluegrass movement.

Flatt and Scruggs broke away from Monroe in 1948 to form Flatt & Scruggs and the Foggy Mountain Boys. That group was also popular and influential, with Flatt & Scruggs featured periodically on the TV sitcom "The Beverly Hillbillies" as well as scoring a hit with the show's theme song. The group rode the folk music revival in the 1960s, scoring another hit when "Foggy Mountain Breakdown" was featured in the 1967 film "Bonnie and Clyde."

Flatt and Scruggs broke up in 1969, with Flatt sticking with bluegrass until his death in 1979. Scruggs went into country-rock with his sons, with the act lasting until he retired from touring in 1980 because of back problems. In 1996, Scruggs suffered a heart attack in the recovery room of a hospital shortly after hip-replacement surgery.


---
Recently Launched:
An Internet Petition to Save the Shell,
in conjunction with Elvis fans worldwide ...

CLICK HERE
---
"Heavy Rebel Weekender 2001
Revisited: July 6th, 7th and 8th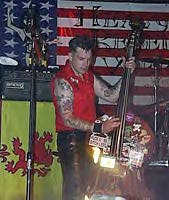 Rockabilly, Rock and Roll, Old School Punk and Country and Honky Tonk! What more could a roots music lover ask for in a weekend? Well, how about; Jell-O Wrestlin' , Car Show, Burn-Out Contest, Tattoo Contest, 15 Vintage/Retro Vendors and 9 Tattoo Artists! This years HRW was the first of many, with plans for the 2nd Annual Heavy Rebel Weekender in the works already. On July 6-8th, 49 bands showed up in Winston Salem, NC to play the largest privately funded roots Rock and Roll event ever to hit the East Coast.

The Heavy Rebel Weekender was headlined by the Frantic Flattops on Friday night, The Belmont Playboys on Saturday night and the Finale was Rocket 350 on Sunday. With a slew of bands all in between. With Bands such as Psycho Charger in full underwear and blood attire, GO-FAST, Car Bomb Inc., Big Dixie, Flat Head Mike and the Mercury's, Jimmy and the Teasers, She-Bang and Tri-Pod, there was a music assortment for everyone.

As for events and contests; The Car Show was held on Saturday, on a blocked off street next to the weekender. With awards being given to the Best and Worst Paint, Best Custom, Longest Haul and most Unusual. After the Awards were presented the highlight of the Car Show started ... the Burn-Out contest! This event seems to have been the crowd favorite by far! Jell-0 wrestling was also on Saturday, in the loading dock area, with 8 contestants, 6 of which where die hard party girls! Prizes were awarded from Sailor Jerry.com and this was the second Favorite contest of the Weekender! The Tattoo Contest (best and worst), was on Saturday Night on the Ballroom Stage, and was quiet interesting. Between the normal assortment of Bettie Paige and Pin-up girls was the GREAT variety of artists, taste and styles! The Best Tattoo was Awarded to the fellow with the 1-1/2 foot pin-up girl on his LEG! The worst was the easiest; a huge tribal back piece, from shoulder to shoulder, COMPLETLY messed up! Now, granted a few contests did not happen as planned, due to time and a few confusions, However, 2002 will be as planned to the "T"!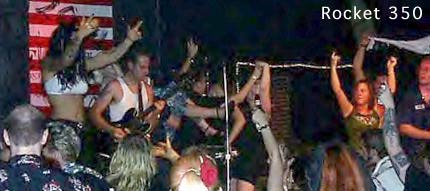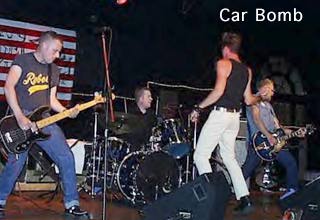 .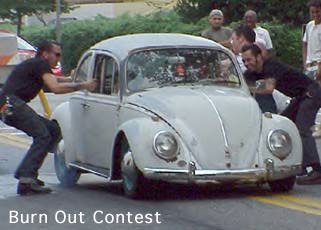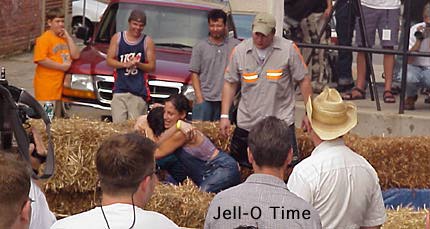 In a short, the HRW 2001, was a great sucsess for being the first year ever to happen! With Bands and attendees from all over the us (from as far as California and Vegas to Texas to Canada!) With a crowd of over 550 people, and vendors from as far as Los Angeles, and tattoo artists from as far as Atlanta, we foresee 2002 as being a great adventure!

The promoters, Dave Quick and Mike Martin, put together the Heavy Rebel Weekender to be both; an event for bands to meet new contacts and network and for the East Coast to have an event to look forward to each year! The East is in need of a large scale event to bring everyone together and draw people out of the dark corners of small towns and large Cities to a festival that all can enjoy. Both Mike and Dave have been involved in the Music scene in some fashion or another for many years and hope that the HRW will help keep the scene that they so love together and growing.


---
"WELCOME TO THE CLUB -
THE WOMEN OF ROCKABILLY" COMPLETED!!
Filmmaker Beth Harrington is pleased to announce the completion of her new film, "Welcome to the Club - The Women of Rockabilly." The film tells the story of the pioneering women of this beloved music and features interviews and performances with Wanda Jackson, Brenda Lee, Lorrie Collins and Janis Martin as well as lots of great archival photos and footage of these and other rockabilly greats. It also depicts the current rockabilly scene and visits the Viva Las Vegas Rockabilly Weekender, so present-day fans may see themselves in the film.

"Welcome to the Club" had a sneak preview broadcast in Oregon last Friday night, August 3, 2001, generating an incredible amount of e-mail from all over the world. Filmmaker Harrington is enormously grateful for the support this represents, but she also recognizes this outpouring brings with it an obligation. Much of the e-mail asked the same question: "How do I get a videotape of this film?"

The short answer is, "We don't know yet." Because the film was a sneak preview, negotiations with a home video dsitributor have not yet been completed. BUT AS SOON AS WE KNOW, THE ROCKABILLY FANS WILL BE THE FIRST TO KNOW!!

Harrington is also awaiting word on a decision from PBS to do a national broadcast, so this news will also be forthcoming as soon as a date is firmed up. So, on behalf of everyone who worked on the film, thanks for your support and patience.
---
REVIEW:
The "Rockabilly Masters" Release Long-Awaited CD
The Rockabilly Masters' 20-track CD was recorded at Phillip's International Studio in Memphis under the keen production ear of Ed Morgan. Legendary Sun guitarist Roland Janes did a superb job of engineering. The results are nothing short of "spectacular." These old boys have been doing this music all their lives and it really shows. There is a confidence and an understood comradery between the players that cannot be faked.

Listen to Stan Perkins (Carl's son) rip into "Rockabilly Fever," the opening cut or any of Carl's hit that Stan revisits ... it's like listening to out-takes of Carl! Burl Boykin's take on Johnny Cash is downright eerie .. like hearing the man in black for the first time. And young Travis LaDoyt is an Elvis sound-alike who truly has The King running through his veins .. try Travis' "Trying to Get to You" on for size!

C.W. Gatlin, guitarist extraordinaire, is a also a fine vocalist, whose rewrite of Chuck Berry's Memphis (titled here as "Little Marie), shows the heavy influence of the early Memphis rock sound. Mack Self, a Sun recording artist in the '50s, offered an appreciated change of pace with "Mexican Limbo" and "Shadows" while his "Jody McClain," a rockin' ballad, shows Mack still has "it" for singing and songwriting. W.S. "Fluke" Holland (drummer for Carl Perkins and then for Johnny Cash) keeps things rock-solid in the skins.

Others appearing the on album are: Kent Blanton, Joe Fick, Henry "Butch" Carter, Nick Real, Morgan Graham and Bob Timmers. Bottom line: put this disc on your player and hit "repeat!"
The CD is available at The Rockabilly Masters' site
or right here through the Rockabilly Hall of Fame's Shopping Cart.


---
Robert Johnson Gets Headstone
Blues historian Gayle Dean Wardlow, who spent more than three decades searching for the location of Robert Johnson's grave, is initiating the first annual Robert Johnson Cross Road Memorial Days celebration of the blues giant's life and music. The two-day event is scheduled for August 16th and 17th, beginning at the Little Zion Baptist Church near Greenwood, Mississippi, which includes the Little Zion Baptist Church Cemetery, where Johnson was buried, sixty-three years earlier to the day. The festivities include a ninety-minute discussion of Johnson's recordings by Wardlow (who penned the book Chasin' That Devil Music), Frank Driggs and Larry Cohn. Driggs was responsible for the production of the first Johnson reissue on Columbia in 1961, and Cohn put together the Grammy-winning 1991 box set that collected all of Johnson's known recordings. The day's events will also feature testimony from more than forty musicians about Johnson's work and influence, and the unveiling of a new headstone for Johnson's previously unmarked burial site.

On August 17th, blues fans will take a tour of the Delta Bar-B-Que at a nearby plantation where Johnson actually died, before taking a tour of Mississippi blues gravesites, which includes the final resting places of Mississippi John Hurt and Willie Brown.

Wardlow's lengthy search began in 1968 when he discovered the front page of Johnson's death certificate. He found the backside of the certificate in 1996, which was filed without the benefit of an attending physician, and included the opinion (of a plantation owner) that Johnson died of syphilis. Shortly afterwards, Wardlow was led to Johnson's actual burial site by eighty-six-year-old Rosie Eskridge, whose husband dug Johnson's grave on August 16, 1938. (Andrew Dansby, Rolling Stone, July, 2001).


---
Review: GENE VINCENT,
"The Town Hall Party TV Shows 1958/1959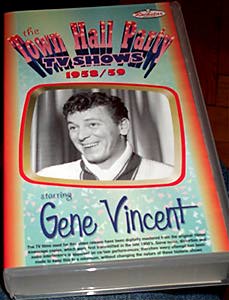 Rockstar Video RSRV 2002
Introduction (Jay Stewart) / Be-Bop-a-Lula / High Blood Pressure / Rip It Up / Introduction (Jay Stewart) / Dance To the Bop / You Win Again / For Your Precious Love / Introduction (Jay Stewart) / Rocky Road Blues / Pretty Pearly / Be-Bop-a-Lula / Introduction (Jay Stewart) / High School Confidential / Over The Rainbow / Introduction (Jay Stewart) / Roll Over Beethoven / Over The Rainbow / She She Little Sheila
Approximate Viewing Time: 45 minutes. Hot on the heels of the Eddie Cochran "Town Hall Party TV Shows 1959" video (Rockstar RSRV 2001) comes a follow up starring one of the greatest rock 'n' roll originators, Gene Vincent. Our thanks have to go to the good people at Rockstar Records for their considerable effort in overcoming the numerous obstacles and making this video available to us, the panting rock 'n' roll fraternity. This issue contains three performances by Gene on the famous Town Hall Party television show broadcast from Los Angeles, and the first is oh so historically important as it features Vincent with one of the line-ups of the famous Blue Caps.
First broadcast on 25th October 1958, it has Johnny Meeks on lead guitar, Grady Owen on electric bass, Clyde Pennington on drums and Cliff Simmons on piano and they rock out well on a selection of six numbers, two of which were not normally associated with Gene. These are "You Win Again" (performed a la Jerry Lee Lewis style) and Vincent's hair tingling vocalising on "For Your Precious Love," a vocal group classic which was originally by The Impressions featuring an 18 year old Jerry Butler.
The other songs comprise two of the more obscure songs from Vincent's catalogue, "High Blood Pressure" and "Rip It Up" (obscure as they are better known by versions from Huey Smith and Bill Haley/Little Richard respectively) and two of Gene's classics in "Be-Bop-A-Lula" and "Dance To The Bop." The sound and vision are a trifle dodgy on this set but it does not hardly detract from the electictyfying performance being played out before our eyes as frontmen Vincent, Meek and Owen bop away with Messrs. Simmons and Pennington providing the beat. The video is worth it for this set alone.
The last mentioned numbers were all included on the CD issue "The Town Hall Party TV Shows" (Rockstar RSRCD 016) but that is not the case with the second performance from 25th July 1959. On this occasion, Gene was backed up by Town Hall Party regulars such as Merle Travis on lead guitar, Jimmy Pruitt on piano, Harold Hensly on fiddle and saxophone, Cliff Crawford on trumpet, Johnny Bond on rhythm guitar, Skeets McDonald on electric bass, Pee Wee Adams on drums and Rose Maphis providing the hand claps. From the performance, it can be assumed that little or no rehearsal tookplace as the backing musicians are somewhat all over the place. That is apart from Jimmy Pruitt who on more than one occasion holds the song together with some masterful pounding of the 88 keys, especially outstanding on "Rocky Road Blues." Again a mixture of numbers, some well associated with Vincent such as the afore mentioned and a further "Be-Bop-A-Lula" workout whilst "Over The Rainbow" and "Pretty Little Pearly" are lesser known. That does not detract from Gene's performance and indeed it is good to see such numbers, especially the former which suits Vincent's ballad styling oh so well. Regrettably "High School Confidential" does not really work.
For the third set, which was shown on 7th November 1959, Jimmy Pruitt and Pee Wee Adams are retained but Gene's friend Jerry Merritt takes over on lead guitar whilst the bass guitar is played by Pat Patterson and the hand clapping is provided by Fiddlin' Kate and Jeannie Sterling. Of the three shows, this is probably the most satisfying with both Gene's vocals and Merritt's guitar playing being absolutely spot on. All three numbers, "Roll Over Beethoven" / "OverThe Rainbow" / "She She Little Sheila," are excellently performed by all concerned, a real joy to watch and listen to.
Like the previously mentioned Eddie Cochran video, this part of rock 'n' roll history and is available in both VHS PAL and American formats. Copies can be obtained from Rockstar Records, c/o 96D Southchurch Road, Warrior Square East, Southend on Sea, Essex, SS1 2LX, England at £14.50 (UK) or £16.00 (Europe), both prices include postage. These two videos are pretty much fundamental.
©Tony Wilkinson
July 2001


---