"That's News to Me" - Archive #9
Back to the Current That's News to Me" Page
A Mix of Music Related Text and Photos That You May Find Interesting






ELVIS, THE NEW RAGE;
A Radio History From 1945 to 1955 (Book)
Aaron Webster - Copyright 2002 - ISBN 1-55622-943-7 - 264 pages
$19.95 US, $29.95 Canada - Republic of Texas Press - www.wordware.com
This fully-illustrated non-fiction work focuses on a young, energetic singer who had one foot in poverty and one foot in fame. And both feet never stood still. This time period was truly the Adventures of Elvis, in every sense of the word. His southern ascension. Taking place across twelve states, a grassroots phenomenon of hysteria was in its very genesis. In fact, it was a long-gone time and place he admittedly felt nostalgic for during the final years of his life. "...go back...do it all over again." Elvis Presley missed the Fifties...his lean and hungry early days in a regional music scene...when he was a rising star on a syndicated weekend radio show...when he was cutting sides for an independent label called Sun...when his manager was a deejay named Bob...when his mother Gladys was still there for advice and guidance.
Within these pages, discover a self-styled guitar-pickin' cool cat who immersed himself in Rhythm & Blues, Southern Gospel, Pop and Country. Distinguish how the in-dash AM radio in a pink Cadillac inspired Presley's repertoire in the studio and on stage. Identify all the notable Elvis wanna-be's who grabbed guitars when his debut record hit stores and airwaves. Some of these guys went on to make their mark on the music business...alas, some didn't. Be there at an annual music memorial event Elvis participated in once...and stole the show. But learn why he failed his first New York TV audition.
Presley, destined to become a music legend, was crossing paths with future Legends of Rock and Country music. Some he admired and befriended ...but some become an upstaged casualty from the driven force that is The Memphis Flash! The Rock-em Sock-em Singer. A hard act to follow.
The important role of the Disc Jockey is ascertained at the same time. Many of Elvis' life-changing opportunities quite often stem from the daily and nightly efforts of the common wax-spinning jock at the turntables and the mike. From the Deejay who gave a certain Tupelo boy acoustic guitar lessons . . . to the Deejay who provided office space for the original Elvis Presley Enterprises . . .

ABOUT THE AUTHOR:
AARON WEBSTER, an artist, musician, and collector of vintage records, is a Southern Illinois disc jockey with programming/production experience in AOR Rock, Oldies and Country & Western formats. His very first concert was a birthday present which happened to be Elvis Presley's final appearance in St. Louis on March 22, 1976. Six weeks after Aaron's first trip to Memphis to see the famed Graceland music gates, he and his father were back on Elvis Presley Boulevard - this time to eyewitness the funeral motorcade for the entertainer on August 18, 1977. As a life-long fan, Aaron has been able to express that on the airwaves. He produced "Elvis: Southern Roots" (a two-hour 2001 Elvis Birthday Special) for Great Gold on WDDD 107.3. As host and producer of "The King on the Q" on WQRL 106.3, a thirty-hour serialized radio documentary sponsored in-part by Elvis Presley's Graceland, Aaron's on-air work received the 1999-2000 National Finalist for Best Audio Program in the 16th Annual Silver Microphone Awards. Contact: adw1@shawneelink.net
PREFACE BY JACQUELINE OWENS, a 1950s teenage disc jockey at WEIC in Charleston, Illinois who met Elvis in his Atlanta suite in 1973. She nervously presented him with a poem she penned entitled "I Was The One." Elvis read that poem aloud to a gathering of his friends, family and entourage, then gave Jacqueline a jeweled ring off his own finger as a gift and gesture of appreciation.

REVIEWS:
"Having met Elvis at the very beginning of Presleymania - 1954 - and having watched closely his dealings with the press, radio and television over the years - I can truly say this book provides an incredibly accurate, compelling, informative and entertaining overview of Presley's dealings with the media. I give this volume Four Stars!"
WINK MARTINDALE, WHBQ 560 (1952-1959) "The Elvis Presley Story" (Watermark Radio 1975)
"Different from the others, by a lot. Excellent." - ROBERT RITTER, WTUP 1340 Tupelo, MS

EXCERPTS:
As he walked down to the hotel, loud acoustic strumming, electric guitar licks and a caterwauling voice could be heard, near and distant, blasting from the in-dash radios of cars cruising through town. The song was coming from open windows in nearby apartments. It seemed like the entire city was listening to this new voice in the night. - from the chapter "A Voice in the Night"
"Sam Phillips brought Elvis to my house and tried to get me to manage him. . . My wife thought he needed a haircut, and she thought he needed his neck washed. But he was a good kid and we became close friends, but at the time, I didn't think it was the thing to do. That shows you how clever I was." - from the chapter "Cradle of the Stars"
Marlo Lewis, producer of The Ed Sullivan Show, was on the Godfrey set at Randle's request that he take a gander at the singer in hopes it might lead to a Sullivan booking. Lewis, having no interest in what he saw, reluctantly divulged to Randle the real reason why Elvis failed the audition. - from the chapter "Northern Aspirations"
Elvis was bruised, barefoot, bare from the waist up, and he was pale as a ghost. As he gathered his composure, and sought a comb to run through his hair, he said, "Damn, chief, them little girls are strong." - from the chapter "Pink and Black"
Included in Elvis The New Rage is a definitive Broadcast Concordance highlighting every live radio broadcast involving Elvis Presley from, as the title states, 1945 to 1955 (his pre-RCA Era). A decade worth of on-air moments (over 100) ranging from a grade school boy singing in a talent show...to the legendary late-night interview he mumbled and shrugged his way through...to the broadcast premiere of a new blues tune Elvis and his four-piece band were trying out on the road before recording...a song that would eventually earn the singer his first gold record.
Also included is a Broadcast Map showing the geographic location of every radio station in America which carried Elvis live either as a performer or subject of a personal interview during the time period covered in Elvis The New Rage.


---


Classic Tracks Set For Sun Records Compilation
Recordings from Elvis Presley, Carl Perkins, Johnny Cash, Jerry Lee Lewis, and Roy Orbison will be among those featured on a 44-song, two-disc set chronicling the history of Sun Records. Due Aug. 6 from BMG Heritage, "Sun Records 50th Anniversary," which will retail for $21.98, will contain such legendary tracks as Presley's "Mystery Train," Perkins' "Blue Suede Shoes," and Sonny Burgess' "Red Headed Woman."
The Memphis label, launched by producer Sam Phillips after he recorded such artists as B.B. King, Howlin' Wolf, and Jakie Brenston for blues label Chess Records, melded R&B and country to pave the way for rock'n'roll's mainstream acceptance. While a full tracklist was not available at deadline, the set begins with Sun' first release, "Driving Slow" from sax player Johnny London, and highlights some early '50s recordings such as Junior Parker's "Feelin' Good," the Prisonaires' "Just Walking in the Rain," and Jimmy & Walter's "Easy." A lesser-known take on "Mystery Train" from Parker, who wrote the song, is also featured.
"Anniversary" will come with a booklet that contains track-by-track commentary and a label history penned by Colin Escott. Additional artists featured on the album include James Cotton, Jack Earl, Ray Harris and Tommy Blake. Warren Smith's "Red Cadillac and a Black Mustache" and an alternate take of Little Milton's "Looking for My Baby" are also represented.


---


Birth of the Cool
When Bill Haley and the Comets came on the scene, nothing would ever be the same. Because rock-and-roll was here to stay ...
By Michael Satchell - usnews.com - He had the teenage attitude'surly lite, with a veneer of indifference. We had the threads'Edwardian-style draped jackets, drainpipe pants, and crepe-soled "brothel creeper" suede shoes. What we didn't have yet, on my side of the Atlantic nor in the States, was the music.
England in the early 1950s was a nation of rigid convention and white-bread culture, enveloped in the lingering depression of the post-World War II era. I lived in the drab and dreary industrial Midlands, and entertainment was mostly whatever mischief you could scare up. High school was Latin verbs and English Lit boring. Food was fish and chips and mushy peas boring. The weather was leaden skies and eternal drizzle boring.
Television, still in its flickering infancy, was black and white and talking heads boring. There was no commercial radio, and the BBC wireless diet of news from Whitehall and weather that never changed was boring to the point of stupefaction. As for music, Auntie Beeb offered either classical chestnuts or innocuous American pop'Rosemary Clooney, Doris Day, Kay Starr, Perry Como, Mario Lanza, Nat King Cole'a schmaltzfest guaranteed to induce crashing ennui.
And then, outta nowhere, came Bill Haley. It was on the jukebox in a coffee bar called the Casa de Bolero that I first heard it in late 1953 or early 1954: "Crazy Man, Crazy," an exuberant, pulsating blend of guitars, sax, and piano, riding the beat of a slap-back bass and a whip-crack snare. It was utterly different from any music we had ever heard. Unlike teens in America, we had no opportunities to twirl the radio dial and listen to gospel, country, swing, rhythm and blues, boogie, rockabilly, or the other styles that birthed rock-and-roll. We had yawned through "Once I Had a Secret Love" and "How Much Is That Doggie in the Window?" for the last time. Now, we had music you could dance to. It was exciting. It was cool. It was ours.
Cowboy poet. But who was this chubby chap with a spit-curl who looked like he should be wearing a straw boater and a butcher's apron instead of a tartan tux and a rhythm guitar? We didn't know Bill Haley had been the leader of a Pennsylvania cowboy band who had tired of country, yodeling, and Western swing; who added drums and sax to his lineup, changed the band's name from the Saddlemen to the Comets, and was about to became the first'and one of the most successful'of the early blue-eyed rockers. Like others who soon followed'Jerry Lee Lewis, Elvis, the Everly Brothers, even Pat Boone'Haley borrowed (or stole) styles and beats and licks and tunes from black artists who had a tough time getting airplay and gigs, and then sold millions more records than the "race music" versions.
After "Crazy Man, Crazy," for example, Haley's next big hit was "Shake, Rattle and Roll," a cover of Big Joe Turner's R&B classic. In what was to become a familiar pattern, the earthy lyrics were rewritten to skirt the American censors'and the BBC bluenoses. In 1954, with "Shake, Rattle and Roll" on its way to becoming the first million-selling rock platter, we bounced in front of the Casa de Bolero jukebox, singing: "Wearing those dresses, your hair's done up so nice; you look so warm, but your heart is cold as ice." We had no idea that Haley had bowdlerized the lyrics from: "When you wear your dresses, the sun comes shining through; I can't believe my eyes that all of this belongs to you."
In 1955 came one of those seminal events that captured the first fusion of rock music and teenage rebellion and dramatized the birth of an era when youth culture found its identity and expression through its own music. The American movie Blackboard Jungle, a switchblade drama of violent high school kids and their passion for rock-and-roll, featured Haley's recording of "Rock Around the Clock," a reworking of a blues number entitled "My Daddy Rocks Me With a Steady Roll." The film was a hit, and the song became history's most successful rock single, selling more than 25 million copies.
Death threats. It helped make Haley a megastar in his homeland, where he toured with black artists like the Platters, the Drifters, and Bo Diddley, drawing big teenage crowds but triggering riots, vandalism, and death threats in the segregated South. Kids everywhere loved the raw, primitive music that parents, politicians, and clergy saw as harmful, perhaps even a Communist plot to undermine teen morals. J. Edgar Hoover put his FBI gumshoes on Haley to dig for dirt, and Frank Sinatra declared: "Rock-and-roll is phony and false, and sung, written, and played for the most part by cretinous goons." A Jersey City ordinance banned Haley and the Comets from performing: "Rock-and-roll music encouraged juvenile delinquency and inspired young females in lewd bathing suits to perform obscene dances on the city's beaches." Said Haley, who took to carrying a gun for protection: "Everybody hates us . . . except the kids."
He also inspired fear and loathing in England. When Haley's first movie, the biographical Rock Around the Clock, opened in the summer of 1956, we caught the bus to the Trocadero cinema'me resplendent in a hand-me-down, powder-blue Edwardian suit'and bopped in the aisles while gangs of authentic Teddy Boys, with their street punk attitude and straight-razor weapons, tossed light bulbs from the balcony, slashed theater seats, and scared everyone half to death. The same thing happened across the country, and the movie was banned in many cities.
Soon after, Fleet Street tabloids were apoplectic when it was announced that the pied piper of rock-and-roll havoc would tour England in February 1957. "Bill Haley, music's Attila the Hun with guitar and drums, plans another path of destruction across Great Britain," thundered one editorial. "Theater owners and police officials quiver as he readies to lead his legions of Teddy Boys on to greater heights of wanton mayhem and civil disorder."
Street-fightin' men. Haley was actually horrified by the violence, and it was to bedevil him the following year with serious riots in France and Germany that cost him a small fortune in damages and canceled dates. In what was dubbed the "Second Battle of Berlin," the Comets were forced from the stage as rival gangs fought each other and the police in a massive and bloody battle. Once again, the former singing cowboy with the world's most famous cowlick was blamed'this time in a Communist propaganda broadside. "Rock-and-roll gangster Haley produces an orgy of American uncivilization [turning] the youth of the land of Bach and Beethoven into raging beasts," charged a newspaper in East Berlin. Still, his 1957 sellout British concerts were peaceful'although huge throngs of fans besieged hotels and train stations in scenes that weren't to be repeated until Beatlemania erupted some six years later. (John Lennon, then 16, and his pal Paul McCartney were in the audience at the Liverpool concert.)
Biographers have anointed Haley as the Father of Rock and the genre's first international superstar, but his pre-eminence lasted just four years. After 1958, despite several successful overseas tours, his career spiraled slowly downward in a welter of financial woes, divorce, tax problems, alcohol, self-imposed Mexican exile, and his lonely 1981 death in Harlingen, Texas, at the age of 55.
But all that was in the future. For an English kid who loved his music and could sing the lyrics of every Haley hit, I knew his days were numbered when my cousin Suzanne took me to a youth club in 1957 where the kids were spinning singles on the record player. It was the zenith of Haley's popularity in Britain, but nobody was jiving to "See You Later, Alligator," "Rudy's Rock," or "Rip It Up." They were sitting around mooning over a guy singing about heartbreak in some hotel down at the end of some lonely street someplace.
FOR COMPLETE BILL HALEY INFO, VISIT: EXTRA: Bill Haley& The Comets


---

Bill Woods: "Live At The Blackboard" CD
Now available, please make checks payable to Glenn J. Pogatchnik, 1675 Los Osos Valley Rd., Space 130, Los Osos, Ca 93402.
Total cost in the U.S. is $15.00 (includes S&H); Europe $18.00.
Part of the profits will be donated to the Rockabilly Hall Of Fame to preserve traditional roots music.


---


Singer Rosemary Clooney Dies At 74
Rosemary Clooney died shortly after 6 p.m. Saturday, June 29th at her Beverly Hills home surrounded by her family, her publicist said. She had been hospitalized earlier this month after suffering a recurrence of lung cancer. Clooney soared to fame with her 1951 record of "Come on-a My House," and became a star in television and films. Her career was sidelined by her marriage to Oscar-winning actor Jose Ferrer and the births of their five children. The pair divorced, and her attempts to return to performing were sabotaged by her erratic behavior.
Born in Maysville, Ky., on May 23, 1928, Rosemary Clooney started singing with her younger sister, Betty, on WLW radio in Cincinnati in 1945. Their salary: $20 each. Bandleader Tony Pastor heard the girls when he was touring Ohio and hired them. "The Clooney Sisters" made their debut with the band at the Steel Pier in Atlantic City in 1947. Two years later, Betty tired of barnstorming with the Pastor band and returned to Cincinnati. Rosemary also decided it was time for a change. She headed for New York. Clooney played a few dates on radio and early television shows and recorded for Columbia. One day in 1951, Mitch Miller, the mentor of Columbia Records, offered her "Come on-a My House," by Armenian-American author William Saroyan. When she refused to record the song, Miller threatened to fire her. She agreed, using an Italian accent instead of Armenian "because it was the only kind of accent I knew." The song became a huge hit, and her first royalty check amounted to $130,000. She catapulted to stardom. In 1952 she signed a contract with Paramount Pictures. (AP)


---


RCA Unearths 100 "Lost" Elvis Recordings,
Just in Time to Celebrate His Death Date
By Robert Wilonsky - Twenty-five years after he died, Elvis Presley is once again at the top of the pops. He's dead, right? Dead 25 years come August 16, Elvis Presley is, once more, the hottest corpse in the ground. Just a few days ago, he topped the pops in the United Kingdom for the first time since he died on the dumper - with a song, no less, that was relatively unknown to all but the hardcore till its use in Ocean's Eleven last year and a new Nike ad tied to the World Cup. Now, the Mac Davis-Billy Strange-penned "A Little Less Conversation" is about to become the ubiquitous single of the summer of 2002, thanks to a groovy redo by Junkie XL that polishes an already sparkling song, the funkiest thing Elvis cut in the 1960s. Released first as a single in 1968, when the song appeared in Live a Little Love a Little, the remix hits U.S. outlets this week, only days after Presley bumped the Beatles from the history books. Where both were tied at the top, with 17 U.K. number ones, now Elvis walks alone.
The Elvis-JXL single, which marks the first time Elvis Presley Enterprises has allowed such a remix, is but the beginning of an Elvis onslaught. In coming weeks, majors and minors will begin revving up the money machine to capitalize on - pardon, celebrate- - the anniversary of the King's dethroning. Tomato Records, which has been plundering Townes Van Zandt's tomb in recent weeks, has slated for release Elvis' recordings from the Louisiana Hayride in the mid-'50s, which have been circulating in legit and illegit forms for years. And RCA's got two monster releases forthcoming, chief among them September 24's ELV1S 30 #1 Hits, which parent company BMG insists is the "first ever collection of 30 Presley number-one singles on one CD."
But the most significant release tied to the anniversary of Presley's death is Today, Tomorrow & Forever, a four-disc boxed set containing 100 previously unreleased Elvis tracks, a fairly astonishing claim given that Elvis allowed the release of alternate tracks during the '70s, when he needed to fill space on albums to which he'd committed. (At one point, he was under contract to RCA for three albums a year, a burden he'd become too weary to bear.) And only five years ago, RCA released Platinum: A Life in Music, which proffered Presley's chronological history in the studio using 77 outtakes among its 100 tracks. Besides, it's not as though even the casual fan is unfamiliar with the bulk of what appears in this collection; here, for the 432nd time, are "Heartbreak Hotel" and "Hound Dog" and "In the Ghetto" and "Are You Lonesome Tonight?" and on and on. There's even some real crap here, an admission made plain in Colin Escott's track-by-track liner notes: "Elvis had good reason to sleepwalk through 'The Love Machine.' It was, by any yardstick, a ghastly song."
Yet Today, Tomorrow & Yesterday is one of those compelling listens, a best-of-and-rest-of that offers an alternate history, a what-if? time line. It begins with a July 1954 recording of "Harbor Lights" (a hit for Bing Crosby only four years earlier), cut during Elvis' very first days in the Sun studios, and it ends with a February 1976 rendition of "Hurt," which had been a concert staple and, Elvis used to insist, one of his favorite songs. In between are legendary live recordings from shows seen on old footage but never heard (specifically, the May 16, 1956, performance at the Robinson Memorial Auditorium in Little Rock), outtakes from movie soundtracks (including the collection's title song, a long-lost duet with Ann-Margret originally recorded for Viva Las Vegas) and copious alternate takes from sessions made at home and in the studio. Throughout, Elvis can be heard cracking jokes (including one about the Vietcong at the height of the Vietnam War), making small talk with the band and trying to figure out just how the hell to give depth to the fluff he was stuck with throughout the latter part of his career.
"This is an intimate way of getting to know Elvis," says Ernst Jorgensen, calling from his garden in Denmark. Jorgensen has been handling RCA's Elvis reissues for years, and the Great Dane has become a beloved figure amongst Elvis devotees, second only to biographer Peter Guralnick. "I am a foreigner, so I look at Elvis with an element of surprise. In America, Elvis was ridiculed, a victim of the way he died and looked, the abuse of medicine, all that. In a small country like this, we would have been much kinder to him. When we started in the early '90s, it was like nothing of Elvis' music was left. I was trying to get people back to where he came from. The music is where the real greatness is, and we wanted to tell that story."
Alex Miller, head of BMG's reissue department, says the 100 tracks were collected from myriad disparate sources--from collectors (the label gets at least one call a day from someone claiming to have a long-lost tape), from the label's estimable vaults, from engineers who worked on sessions, from radio stations that broadcast Elvis concerts in the '50s. Jorgensen and Roger Semon began compiling the box five years ago - around the time the 300,000-selling Platinum was released - in preparation for the 25th anniversary of his death. Theirs would be a revisionist history of sorts: They wanted the world to hear "In the Ghetto," for instance, stripped of its garish ornamentation; they wanted to show the playful Elvis, the thoughtful Elvis, the goofy Elvis, the disinterested Elvis.
It would be a chronological story, much as Platinum, but without the reverence that collection showed. Today, Tomorrow & Yesterday is almost a blasphemous box; it's like a fÍte to which the guest of honor shows up a little out of it and makes one hell of a mess. But since Elvis often had little regard for his own legacy - some 12 years after Elvis stepped into the Sun, he wound up recording "Yoga Is as Yoga Does" - why shouldn't the men charged with maintaining it muck with the myth? The icon is resilient enough to withstand reevaluation, indestructible enough to stand up to the skeletons falling out of the closet. But here, too, is Elvis ripping the guts out of Ray Charles' "I Got a Woman." And, yeah, here's another version of "Snowbird" (already a hit for Anne Murray when Elvis got to it); but here, too, is a "Pieces of My Heart" done in 1975 that may be the most revelatory and heartbreaking thing the man ever recorded ("Now I'm holding on to nothing/Trying to forget the rest").
"He's not here to protest what we're doing," Jorgensen says. "But since outtakes and even the songs Elvis hated were released when he was alive, I don't think we overstepped any borders. And being such a major influence on the past century - and this one, as well - I think you get to the point where you're writing history. You wouldn't discard early sketches of Picasso because you think that's not what he should be known for. At some point, history takes over. We always keep Elvis' official masters available so people can hear the real thing.


---
James Wayne Boyer Had Rockabilly on His Blood
Dearborn, MO - June 25, 2002 (by may@freepress.com) - Rockabilly artist James Wayne Boyer died Friday from complications of cancer at Oakwood Hospital in Dearborn. He was 60 and lived in Woodhaven.
In 2000, he was inducted into the Rockabilly Hall of Fame, based in Burns, Tenn., and his lastest CD is called "Rockabilly Hall of Fame Artist James Wayne Boyer's Favorite Collection."
Mr. Boyer was born in Ste. Geneviene, MO. with music in his blood. His mother played the bass, his father the guitar. By the time their son was three, he had won a singing contest. Before he was a teen, he was singing with small bands. At 15, he started playing drums and singing with the Red John Band. At 19, he teamed up with Billy Swan.
"He came to Michigan in 1962." his wife Joan said. "He came up there for two weeks and ended up staying." In the '60s, James played with the Newports, recording songs including "Little Miss Heartbreak" and "Summertime." In the 1970s, he recorded with the band Marshall, Newell and Boyer, and then joined the Billy Swan Band, touring the United States and overseas. Time away from music was often spent on the golf course. In addition to his wife, survivors include two daughters, Bonnie Boyer-Shaw and Suzette Frazho; a son, Brian, a stepson, Rick Bizon, and six grandchildren.


---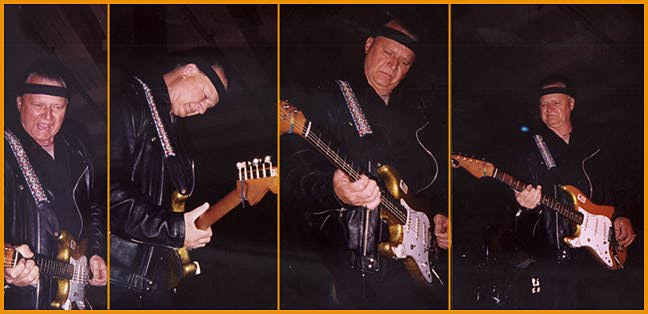 Dick Dale Rocks
"The show was at the Majic Stick in Detroit, standing room only. Dick, even though feeling sick, played a wide variety of music ... some of the most tasteful sounds ever heard. He was extremely kind to all fans, including myself and Nick pictured below. Thanks again, Majic Stick, for always putting on great shows." - Rachel. [Photos: Rachel Malinowski]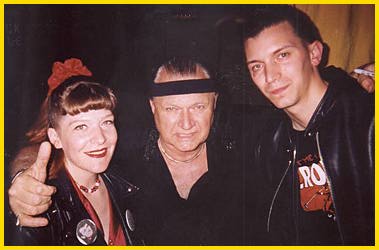 ---

LILO AND STITCH: GRACELAND. Walt Disney Pictures' Memphis Red Carpet Screening of "Lilo and Stitch" with a post party held at Graceland. James Barton of Elvis Presley's band plays to Lilo at the after party held at Graceland.


---


Announcement for Rockabilly & Traditional Country Artists and Fans
New Texas Venue Opening Spring, 2003
FORT WORTH, TEXAS - Joy2UEntertainment is a privately held minority woman-owned company based in Texas. Joy2UEntertainment strives to be a leader in family-oriented entertainment. Our goal is to be a step ahead of the competition. We want our customers and their families to have more fun during their leisure time. We promote family-oriented entertainment. The universal appeal of good values and spending time with family has never been higher. A high growth area such as Granbury has an annual influx of new residents from many other parts of the country. This trend is true in the Southwest in general. Many new residents and many existing ones are potential customers. Granbury's lake, antique shops, and bed and breakfasts' offer a big influx of potential customers. The close proximity to the seven million residents of the DFW Metroplex allows for an extremely large customer base.
Joy2UEntertainment was founded by Yamillie Hurst and Ronnie Hurst to capitalize on the ever growing market demand for family and Christian themed entertainment. Joy2UEntertainment is looking to promote itself through the operation of a successful theater and entertainment complex in Granbury, Texas. Yamillie Hurst is the principal owner. Ronnie Hurst is the manager and show producer.
Mrs. Hurst varied background includes experience in fashion design, theater, singing and makeup artistry, and restaurant. Ronnie Hurst has an entertainment background that spans over twenty five years. He has performed at country music and gospel venues throughout the Midwest. He has worked as a personal manager to various artists for the past ten years. He has booked talent in venue locations from Atlanta to Hollywood, including Nashville, Branson, and Las Vegas. He has produced many live music shows throughout the Midwest as well. Joy2UEntertainment plans to bring in entertainers from Branson, Nashville and host the American Kids Talent competition. We plan on having open mic nights to help promote our local talent.
Joy2UEntertainment plans to be an active member in community events and will work with local business to increase local tourism. We also will assist the city/county in luring more revenue producing establishments to help lock an entertainment stronghold similar to Branson Missouri, Pigeon Forge, Tennessee etc.
Contact: Joy2u Entertainment
3832 Lawndale Ave
Fort Worth, TX 76133
Phone: 817-551-0411
Email: yamillie@swbell.net


---


Elvis Re-release Might Top Chart
June 11, 2002 - Nearly 25 years after his death, the re-release of a little-known Elvis Presley track is poised to climb to the top of the chart and possibly change chart history in the U.K. A remix version of "A Little Less Conversation" was released in the U.K. on Monday (June 10). For decades, Elvis Presley and the Beatles have been tied with 17 U.K. Number One singles, but if this new release makes it to Number One, Presley will become the sole artist with 18 chart toppers. "A Little Less Conversation" first appeared in a '60s Presley film, and was the B-side to the 1968 single "Almost In Love." A previously unreleased version of the song showed up late last year on the soundtrack to the remake of the "Rat Pack" comedy Ocean's Eleven. Sports giant Nike chose to use "A Little Less Conversation" in its massive advertising campaign for the World Cup and hired progressive Dutch DJ Tom Holkenborg - also known as DJ JXL - to remix the song after securing permission from the Presley estate. Early radio support for the single is strong - Radio 1, one of England's biggest stations, placed the song on their top playlist weeks ago. "A Little Less Conversation" will be released in the U.S. on June 25.


---


Lewis the Killer Still So Good, It Hurts
REVIEW By Donnie Snow - snow@gomemphis.com - June 8, 2002.
Take the Killer off your dead pools, people, ol' Jerry Lee is gonna outlive us all. Strolling confidently onto the stage - 10 minutes late - Jerry Lee Lewis dropped a bomb on the pittance of an audience wise enough to catch his show Friday night, June 8th at Sam's Town, opening his nearly 90- minute set with fellow hall-of-famer Chuck Berry's Roll Over Beethoven.
Watching Lewis, who is recently divorced, there was good news and bad news for rock and roll fans. The good news is that Jerry Lee is singing, and playing, just fine. (How fine? Elton John should pray his skills hold up this well.) The bad news, you can't understand any two words the man says. However, the crowd had no trouble making out the words when he was delivering renditions of Georgia, Blue Suede Shoes, Somewhere Over the Rainbow and Drinkin' Wine Spo Dee O Dee. They couldn't get enough of any of them, considering the long line of fans in front of the stage waiting to take a picture of the living legend.
But music has never been The Killer's only strong suit. Humor is every bit as important to his mystique as his driving left hand and speed-demon right. And Lewis hasn't lost it either. "Take it off?" he asked, responding to a woman after he started to loosen his tie. "That's what got me in trouble the first time . . . and the next time, and the next time, and the next time. "This time, I'm going to be more choosy."
Great Balls of Fire brought the gray hairs and surgically altered to their feet, clapping and singing, dazzled by the sheer virtuosity still very much alive in the still very virile Golden Wild Child of Rock and Roll's fingers. Whole Lotta Shakin' got them all onto their chairs. Lewis is more than rock royalty, and not just because he can still kick his leg up on the ivories like a spoiled teenager, but because he knows who he is and if you don't, just listen to any of his records - he'll tell you all about himself. Lewis finished the show, clad in a dazzling navy pinstripe, kicking out the piano bench and slamming down the cover. The Killer hitched his pants indignantly, and exited stage left.


---


Johnny Cash Churns Out More Vintage Albums
(Reuters) - Country icon Johnny Cash may have turned 70 recently, but it's his fans who are receiving the spoils. Some three months after Columbia Records' Legacy imprint issued five vintage Cash albums on CD for the first time in the United States, the label said on Sunday, June 2nd it would follow up with another five-pack on September 3. The albums are: "Songs Of Our Soil" (1959), "Johnny Cash Sings Ballads Of The True West" (1965), "Live At Madison Square Garden" (1969), "The Johnny Cash Show" (1970) and "Silver" (1979).
Cash, who turned 70 on Feb. 26, and producer Rick Rubin are also finalizing the track listing for their fourth collaboration, "American 4: The Man Comes Around," which is scheduled for a fall release as well. Cash recorded about 26 songs for the set, half of which will make the final cut, said Cash's manager Lou Robin. Columbia offered vague details on only one of the vintage albums, the previously unreleased "Live at Madison Square Garden." It was recorded during his Dec. 5, 1969 stand at the New York arena before a record 21,000 people. According to a full-page Variety ad at the time, the show grossed $110,326, a new benchmark for a single performance at the venue.
Cash's band included his Tennessee Three -- guitarist Bob Wootten, bass player Marshall Grant and drummer W.S. Holland -- as well as Sun Records alumnus Carl Perkins on guitar, fiddler Doug Kershaw, the Statler Brothers and the Carter Family (sans his pregnant wife June Carter Cash, who was expecting their child, John.) A track listing was not provided, nor were details of the other albums. The Rolling Stone Album Guide gives "True West" two stars (out of five) and "Silver" three stars, describing the latter as boasting "strong tunes revelatory of Cash's inner feelings, promoting no cause save that of unburdening his soul."


---

Ervin's Gene Vincent Tribute CD from France
The frantic, french Gene Vincent tribute from Ervin Travis & his Virginians is now available! Dedicated to Gene "From TIDEWATER to DALLAS." Here's the track list of Ervin Travis album:
Dance to the Bop
Yes I Love You Baby
Right Now
Beautiful Brown Eyes
Over the Rainbow
Dance in the Street
Rollin' Danny
I've Got to Get to You Yet
My Heart
Vincent's Blues
Lavender Blue
You Are the One for Me
Should I Ever Love Again
Somebody Help Me
And an original: Rock'n'Roll Heaven
An amazing record. Probably the best tribute ever made. The voice and the backing are incredible ... "If Gene was here, he would have been honoured to hear they did such a good job. Very good sound close to Gene and the Blue Caps. Close your eyes and you will think you are hearing Gene sing." -Dickie Harrell
If you interested in purchasing this frantic and fantastic "Tribute," write to: Philippe Fessard - 109 rue St Martin - 91150 Etampes - FRANCE Tel :01 64 94 52 36
e.mail: phis.records@libertysurf.fr - http://membres.lycos.fr/virginians/. Price with postage: 20 Euros for Europe - 22 Euros for others country.


---


Fans to Mark Last Elvis Show
(AP) The last building that Elvis left may be gone, but some fans are doing their part to make sure it's not forgotten. When Elvis Presley took the stage at Market Square Arena during the summer of 1977, no one knew it would be his last show. On June 26, the 25th anniversary of that concert, a group of Presley fans will dedicate a historical marker at the site where the arena stood until it was demolished last year. The marker will bear an inscription in bronze reading "Ladies and Gentlemen, Elvis has left the building" atop a granite column. The marker will be erected on a street corner overlooking the gravel parking lot where the arena once stood. A time capsule encased within it will hold Presley memorabilia. Al Dvorin, whose trademark announcement, "Elvis has left the building, thank you and good night," closed each of Presley's shows, will be on hand for the marker's dedication.


---


"Rock It to the Moon" - The Bop Kings
(El Toro ETCD-3030) - The Bop Kings are a three piece traditional rockabilly outfit hailing from San Antonio, Texas. They are striving to keep real rock 'n' roll alive and well. Casey Miller's vocals are in a style all his own, he can belt out a deep bluesy number and switch over to a lazier hillbilly tune quicker than you'd kiss a duck. Casey also plays the acoustic guitar and has played with several rockabilly bands in the past such as The Texas Thundertones, K.C. Miller and the Kozmik Kowboys and the Hectic Hepcats. He finally formed The Bop Kings in order to play true rock 'n' roll "the way it oughta be played." Tomcat Miller plays the doghouse bass. He gets all riled up and really slaps the bass like a wild man. Tomcat also used to play with The Texas Thundertones, The Hectic Hepcats and The Kozmik Kowboyz. Mike Nesloney plays the electric guitar and is very traditional in his style. He really throws a gone solo and keeps his own brand of juices flowin'. Mike has been on the scene for a while, playing in various holes-in-the-wall around south Texas.
In just one year, The Bop Kings have released this record, played the Rockabilly Hall of Fame stage in Las Vegas, were voted "The Best New Rockabilly Band" at Viva Las Vegas and have a deal to record their next album at Rollin' Rock records in September and as if these boys aren't busy enough, they are planning a national tour starting in mid-September. "Rock It To The Moon" was engineered and mixed by Billy Horton at Fort Horton Studios in Austin, Texas, and released on the Spanish El Toro label. The album consists of 13 original songs, all written by Casey Miller and arranged by The Bop Kings. Some tunes are available in MP3 format from The Bop Kings' website, check 'em out!
True rock 'n' roll "the way it oughta be played". That's quite a statement, because I'm pretty sure many people have as many different opinions on the subject. What is "rockabilly" really? Originally it was a raw mix of hillbilly and rhythm & blues music, revved up with a slapping bass and recorded with a lot of feeling in a small studio or even a garage or living room. That's not what what The Bop Kings are playing. Apart from a single track, there's not much blues to be found, but there's a lot of hillbilly and a magnificent slapping bass. Is it rockabilly? Oh yeah! In fact, it sounds awesomely! Tomcat's upright bass is overwhelming (a little too much sometimes) and Casey's voice has a true hillbilly sound. Like dubbing Hank Williams' songs with Dorsey Burnette's upright bass. What's missing, in my humble opinion, is a bit of frenzyness, especially on the lead guitar. Just a little touch of Paul Burlison, Cliff Gallop or Scotty Moore maybe ...
All tracks are selfpenned, and that's a big plus. Not one cover on this album, and although the band has an authentic fifties sound, they also have managed to put in a lot of their own style. All this, and the fact that the overall sound is just perfect, makes this platter a welcome addition to any rockabilly collection. I really look forward to their forthcoming Rollin' Rock recordings. A little bit of Ronnie Weiser's influence will most likely result in another great rockabilly album!
Tracklisting: Fool With The Blues / Snake Eyed Baby / Seein' Double / Blue Moon Bop / Devil On My Shoulder / Hepcat Jive / Toobin' Boogie / Cold Lonesome Memories / Brylecream Boogie / Hepgal / Hoppin' Mad Daddy / Duck Duck Goose / Snake Eyed Baby (Alternate) / El Rancho Grande The Bop Kings are: Casey Miller - Vocals, Guitar; Tomcat Miller - Slap Bass, Backing Vocals; Mike Nesloney - Electric Guitar, Backing Vocals
Contact information: Casey Miller, c/o The Bop Kings, 6348 W. Prue Rd. Lot #9, San Antonio, Texas 78240 (USA) Tel: +1 (210) 859-2643. http://www.bopkings.com - bopkings@hotmail.com - Reviewed by The BlackCat, 2002. Additional information by The Bop Kings


---


FYI:
"MAD" Magazine Cartoonist Dies
(AP) - Dave Berg, who affectionately spoofed what he called "the human condition" in the pages of Mad magazine for more than 40 years, has died of cancer at the age of 81. Berg, who created the satirical magazine's enduring "The Lighter Side of" comic strip, died May 16 at his home in Marina del Rey.

He began working for Mad as a free-lancer in 1956, introducing "The Lighter Side of" in 1961. "They were satirizing commercials, movies and TV programs," he once told Contemporary Authors. "I added something new - people. That's when 'The Lighter Side' was born. It was more than just gags, it was a psychological and sociological study of the human condition, and truth in humor."

He often put friends, family members and colleagues into his cartoons, among them Mad's late publisher William M. Gaines, whose head appeared mounted, like a deer's, on the side of a wall. He also drew himself into the strip regularly, as Roger Kaputnik, an everyman with an always-present pipe. "Dave was a visual critic, but a warm-spirited critic, not a hard-nosed critic," said Nick Meglin, co-editor of Mad. "He saw the American scene as a wonderful example of our culture, our society and our life, and did comments on that."

Born in New York City, Berg attended Cooper Union Art School in New York, landing a job inking backgrounds for the newspaper comic strip "The Spirit" when he was 20. Later, he worked under Stan Lee at Timely Comics (now Marvel Comics), before moving on to Mad, which he described as "the main attraction, the big event, the grand opening." During World War II, he was a member of the Army Air Corps and served as a war correspondent in Iwo Jima, Guam, Saipan and Japan.

In addition to his magazine work, he wrote and illustrated 17 books for Mad, including "Mad's Dave Berg Looks at Living," "Mad's Dave Berg Looks at Things," and "Mad's Dave Berg Looks at the USA." He also produced two humorous books on religion, "My Friend God" and "Roger Kaputnik and God." His final "Lighter Side" panels are scheduled for the September issue of Mad, marking the magazine's 50th anniversary.


---


"The Best Of Doo Wop"
All the Original Greatest Hits From 'Only You' to 'Little Darlin',' 'Book of Love' to 'Sea of Love,' From the Platters, Diamonds, Moonglows and More. The doo wop of the '50s was the first pop music movement created for and by teenagers, and the first do-it-yourself music -- just friends getting together to sing on the street corner. Today, in its second half-century, doo wop is still flourishing, whether under its own name or called "R&B harmony" or even in the guise of "boy band." Now 12 "greatest hits of doo wop," nine of them Top 10 pop charters from the original golden age of the vocal group, have been compiled for "The Best Of Doo Wop" edition of "20th Century Masters/The Millennium Collection" (Hip-O Records), released July 2, 2002.

Three of the acts on "The Best Of Doo Wop" need no further introduction; each has been inducted into the Rock and Roll Hall Of Fame for its achievements and influence on the music that followed: The Platters, represented by "Only You (And You Alone)" (#1 R&B/#5 pop, the first rock 'n' roll record to out-chart its white cover record); The Moonglows (with the #9 R&B/#22 pop "The Ten Commandments Of Love"); and The Flamingos (#5 R&B "I'll Be Home").

Other groups heard on the collection are distinguished in other ways. The Dell-Vikings (#2 R&B/#4 pop "Come Go With Me") were one of the few racially integrated doo wop groups, while The Diamonds were a white group from Canada that was perhaps the most consistently successful to cover the records of black groups, with its rendition of "Little Darlin'" (#2 R&B and pop), its biggest hit.

In the competitive singles world of the '50s, even many of the most renowned doo wop ensembles hung their fame on just one hit -- but oh what a hit it could be. "The Best Of Doo Wop" includes such all-time classics as "Book Of Love" (#3 R&B/#5 pop for The Monotones), "Sea Of Love" (#1 R&B/#2 pop for Phil Phillips & The Twilights), "One Summer Night" (#4 R&B/#7 pop for The Danleers), "Little Star" (#1 pop and R&B for The Elegants), "Let Me In" (#2 R&B/#4 pop for The Sensations), "Tear Drops" (#4 R&B/#20 pop for Lee Andrews & TheHearts) and "You Cheated" (#2 pop/#11 R&B for The Shields).

When it first began to be heard, doo wop was a refreshing change from the heavily-orchestrated, staid and adult pop of the post-war years. Today, the doo wop from back in the day still sounds fresh and young and pure.


---


FYI:
Library of Congress Puts American History On Line
Anyone who wants to hear Buffalo Bill's own voice at home or John Philip Sousa's original band can tune in by computer now, courtesy of the Library of Congress. [http://www.loc.gov/] Many new computers have the necessary soundboard. The library announced Monday, May 20th it has put on line the 111th and 112th collections of materials on its "American Memory" Web site. The site now includes more than 7.5 million items, which the library says is the world's largest collection of online educational material.

"Emile Berliner and the Birth of the Recording Industry" includes more than 400 items from the library's collection of Berliner's papers and 108 of his sound recordings beginning in 1894. Berliner was an immigrant from Germany. He patented the flat disc gramophone records that superseded the original cylindrical recordings. Buffalo Bill - William F. Cody - rode for the Pony Express and fought in the Civil War. Soon afterward he won his nickname hunting buffalo, or bison, to feed workers who built the Kansas Pacific Railroad, His outdoor exhibition "Buffalo Bill's Wild West" remained on the road for 30 years, with Annie Oakley and Sitting Bull among its performers. On the Web site, he can be heard expressing his views on the situation in Cuba that led to the Spanish-American War.

Sousa played in the U.S. Marine Band when he was only 13 and in later life became its leader before forming his own group. The Sousa band toured the United States and abroad for decades, playing some of his famous marches, including "The Stars and Stripes Forever." The other new collection on the site is "The First American West: The Ohio River Valley, 1750-1820," which contains more than 15,000 pages of original material. It covers the area west of the Appalachian mountains that fascinated the republic's founding fathers. There are comments from Thomas Jefferson and James Madison, letters, diaries, tales of migration, trade on the Ohio River, contacts with American Indians and the lives of African Americans in slavery there. By Carl Hartman (AP)


---


PROFILE
Ray Doggett - Singer, Writer and Producer
Ray Doggett was born Elmer Ray Doggett in a little town called Big Spring, Texas, not far from Houston. By playing guitar in several high school bands he acquired a taste for it and in the mid 50s he tried his luck as a solo artist. In 1956 he had luck with a recording with Spade Records in Houston, Texas. This record company was founded by country and rockabilly singer Bennie Hess and had six releases in 1957; Bennie's own, Vern Pullens, Royce Porter and Ray Doggett's.

He re-opened the label in the 70s when he released some of his old and some new records. Ray Doggett's first record on Spade 1928 was the rockabilly song "Go Go Heart" b/w "Fallin' Teardrops". Unfortunately none of the Spade releases were very successful, because the only distribution company in the area would have been Pappy Daily with whom Bennie Hess didn't want to cooperate at first. So he sold his records himself meeting only little response from the DJ's. Then, when finally a contract with Pappy Daily was established it was already too late and Bennie had to shut down the label.

After his first record on Spade, Ray Doggett started to play as a session musician, like in Royce Porter's second record "A Woman Can Make You Blue" B/W "I End Up Crying" (Spade 1931) which was recorded in the ACA studios in Houston. Ray and Bennie got along quite well, so they released a second record of Ray on Spade 1932 "It Hurts The One Who Loves You" b/w "That's The Way Love Is With Me". All the same this recording was appreciated with a little success, so that Bennie was able to persuade the recording giant Decca to bring out the record in license. Not even this major label could bring Ray to a success.

He had more luck with song writing that with records. Besides his own records, he also co-wrote "On My Mind Again" and "Rakin' And Scrapin" under his pseudonym Elmer Ray. His partners in writing these songs were Slim Willet (singer and owner of several Texas labels, such as Winston and Edmorals) and Dean Beard, who was also the first to record these songs. He further wrote songs for Bob Denton, Ace Ball, Johnny Guidry, Jan Moore, Darrell Rhodes and Bruce Channell.

Musically it went on for him in 1957 with the release of KIX 102 "Love Is Made Of This" b/w "Now It's Over" and TNT 159 "High School Wedding Ring" b/w Whirlpool Of Love", but again he didn't exceed local popularity. On his own label Ray issued Ken-Lee 101 "Beach Party" b/w "So Lonely Tonight", but this didn't change things. So in 1958 he returned to Bennie Hess and his new Pearl label. The first record, Pearl 716 "No Doubt About It" b/w I'm Afraid" was soon followed by the second one "We'll Always Have Each Other" which was coupled with the already twice releases "That's The Way Love Is With Me". After this, the increasing popularity of Ray Doggett caused Top Rank to record his last record on Top Rank 2025, ""Can I Be The One" b/w "Restless Heart".

Being sick of traveling around Ray took to producing other artists. His first attempt a year earlier showed that he had the talent for this. In 1958 he produced his first record for country superstar Kenny Rogers (then Kenneth Rogers) on Carlton 454 "We'll Always Have Each Other", which he had also recorded himself. Ray kept on producing during the 60s, when he produced artists as Tommy Clay, The Counts, Huey Meaux and Lelan Rogers. In the early 80s Ray ran "Big H. Sound Distributors" in Houston, Texas. A publishing company which was resident in the Goldstar Studios. Willi Gutt, 1989 (Source: Doggone It Doggett, Hydra Records BLK7709)>

Mr. Ray Doggett passed away Saturday March 16, 2002, he was 67. He died of a massive heart attack in Nashville at his bedside. -Courtesy: Paul Allsup (CEO - The Independent Music Association)
---


1957 ... Elvis Plays Canada
Courtesy newsletters@elvis.com. Elvis' only concert performances outside the United States were five shows in three Canadian cities during 1957. The dates and the three cities were: April 2 at Maple Leaf Gardens, Toronto; April 3 at Ottawa Auditorium, Ottawa; and August 31 at Empire Stadium Vancouver.

A fourth city, Montreal, that was slated for April 1957 had to be canceled due to both civic concerns as well as pressure from devout Catholic officials. Elvis was still very controversial then and his movements and dress were considered vulgar by many. Teenaged girls often worked themselves into a frenzied state while watching Elvis perform. Some students in Canada were told they would be expelled if they were caught attending his shows. Indeed, eight girls from Notre Dame Convent School who attended the Ottawa show were expelled.

The shows were booked through an Australian promoter who had hopes that Elvis' manager Colonel Tom Parker would agree to a booking in Australia as well. The Colonel never did agree to an Australian show, [because the Colonel was not an official US citizen and couldn't obtain a passport to travel with Elvis] but he covered all bases in Canada by selling both "I Love Elvis" buttons as well as buttons that said "I Hate Elvis".

Elvis ended his shows in those days with the song "Hound Dog". The show in Vancouver had to be ended abruptly as the crowd kept rushing the stage. The cordon of police officers surrounding the stage managed to hold hands and stop them several times. Colonel Parker had to pull Elvis off stage twice and threatened the crowd that the show would stop if they didn't stay in their seats. Elvis performed only about thirty minutes and overzealous fans overturned the stage and instruments as he was departing the stadium.

Elvis did not get to tour in more foreign cities [Colonel Tom wouldn't let him], something he always wanted to do. However, a modern-day production called "Elvis The Concert" (Elvis via video starring, accompanied by a live orchestra and a group of his own original band-mates live on stage) has toured all over the world to rave reviews since 1998. The show also garnered a Guinness World Record for being the first live tour headlined by a performer who is no longer living.


---


Generations Meet in Rockabilly Tour
By Steve Morse, Boston Globe Staff - Scotty Moore was there at the dawn of rockabilly, playing lead guitar for Elvis Presley. Lee Rocker helped revive rockabilly in the '80s and '90s, first as the bassist for the Stray Cats, then with his own groups. Today, the two artists are touring together, and to hear them describe it, they're having as much fun as is legally possible.

"Scotty always says this is 'feel-good' music," Rocker says. "And that's just what it is. It feels good to play and to listen to." This year brings the 25th anniversary of Presley's death (on Aug. 16), but Moore and Rocker, who team up at Cambridge's House of Blues May 19, are not touring to mark any milestone. They're touring because they love to, period. "There's a whole new crop of fans for rockabilly," says Moore. "I'm seeing that by working with Lee. I see some older people in the crowd, but I see a lot of younger people, too."

Rockabilly, a jumped-up strain of roots rock, was defined by Moore, a Rock and Roll Hall of Famer whose classic fingerpicking riffs on Presley tracks such as "Mystery Train" and "That's All Right" are being reprised with Rocker's band. Each night, Rocker does about 30 minutes of his own material (including some Stray Cats tunes), then is joined by Moore, who to this day carries his own guitar and amp and won't let any roadies touch them. The two met in the mid-'90s in Memphis, where Rocker helped lure Moore out of semiretirement. They became fast friends, and Rocker played on the Moore tribute CD, "All the King's Men" (1997), which also featured Keith Richards, Jeff Beck, Joe Ely, and Steve Earle.

They've been touring the country, and New England is the last region they've gotten to. To his knowledge, Moore has never played in Boston. The Long Island-born Rocker says he discovered rockabilly by hearing the Beatles do some songs by Carl Perkins. "Obviously, rockabilly exploded when Scotty played with Elvis in the '50s, but then it went underground again," Rocker says. "It came back to the forefront in the '80s when the Stray Cats started doing it. "It's often been ignored by the mainstream music business. But there isn't a city in the country today without a rockabilly scene." The music is often viewed as a souped-up type of rock, but Moore says that can be misleading. "I do have to pull the boys back in intensity once in a while, kind of ease them back a notch," Moore says of his gigs with Rocker's group. Rocker admits, "With Scotty, I play more traditionally than I'm used to, but there's a certain power in pulling the tempos back a little bit. There can be more swing that way."


---


LOOKING BACK - 1988-1991
Ireland's Biggest Rockabilly Band: BREAKAWAY.
In three short years, this trio from the south of Ireland, captured the spirt of the fifties with an infectious sound that brought them widespread acclaim. Fronted by 17 year old Darren Holden, a cross between James Dean and Brian Setzer, the group immediately hit with the females, who in turn told their folks about this new sensation on the Irish scene, who played music from their heyday. The band was special in that it featured a female bassist and vocalist Jacqui Long, who was a ringer for Suzi Quatro, Her cousin, Richard Foley on drums. They hit big on Radio in 1989 and 1990 with a cover of the old Matchbox hit "One More Saturday Night", and the follow up EP was a big seller in the Emerald Isle. However, after three years of flatops and "Stray Cats" style quiffs, Holden decided it was time to move on and disbanded the group in 1991. Long and Foley all but dissapeared from the music scene, while Holden had a string of top thirty hits in the late nineties. Courtey: rivermerch@msn.com


---
DAVE CRIMMEN'S NEW CD - "BIG DADDY" - REVIEWED
Slamming, Jamming, Revving, Sizzling ...
Crimmen's new CD lifts you up and takes you away on sweeping surge of rocking magic that literally leaves you breathless! But, with enough strength left to cry, "ONE MORE TIME!" I had to hit the replay button 5 times on "Let's Get Gone"-- a hot number that just plain takes over and makes you rock , ready or not! "Revved Up" is hot with a rockabilly edge. Believe me, there is "nothing not to like" on this new CD. Plus, the "shocker" is Crimmen's inclusion of 2 very traditional C&W tunes - sang in the "traditional style" to the max!! "Somewhere In My Mind" is unforgettable (takes you back to Hank Williams days). Also, the clean, crisp, top production quality of this CD complements the powerful song selection and seasoned musicians. This is an absolutely must have CD - it rocks, it sizzles, it takes you away! Get it on your CD player NOW! It will make you smile!
--By Kay Wheeler,
"Rock Baby Rock It", 1957 Rockabilly Classic
---


Acclaimed Guitarist Gene Moles Dies
Courtesy: The Bakersfield Californian - Gene Moles, widely regarded as one of the best guitarists to come out of the Bakersfield Sound era of country music, died Sunday, April 28th at his home in east Bakersfield. He was 73. Moles suffered from pulmonary fibrosis, a progressive lung disease.

The "doctor of guitars," as he called himself, played with Merle Haggard, Buck Owens, Red Simpson, Tex Ritter and many others. He also wrote surf-rock instrumentals for The Ventures. He was the quality control man for Bakersfield-based Mosrite, which manufactured guitars for several country music stars of the late 1960s, and over the last 30 years he operated a guitar repair shop that traded on his nickname. "He was the most highly thought-of musician in Bakersfield," said Sandy Holly, a Bakersfield singer who fronted bands that often featured Moles. "People loved him."

Denver Eugene Moles Sr., the sixth of seven children, was born in June 1928 in Wetumka, Okla., 16 miles from Henryetta. His family moved to Selma, just south of Fresno, in 1936. He got his first guitar seven years later at age 15.

Moles got his first nightclub job in 1946 at Paris Gardens in Selma, where he made $3 a night working for a matronly boss he knew only as Texas Mom. He moved to Bakersfield in September 1949 to play in Tex Butler's band at the Blackboard, alongside pianist George French, for $10 a night.

"The Jimmy Thomason Show" made him a regional TV celebrity in 1953, and also earned him a solid reputation as a musician. In 1959 that reputation got him into Capitol Records' Hollywood studios, where he helped Owens cut "Sweet Thing" and other tracks.

In 1961 he met Nokie Edwards of The Ventures, and the two co-wrote three songs eventually recorded by the surf-sound legends: "Sunny River," "Night Run" and "Scratch." He and Edwards, performing as the Marksmen, cranked out "Scratch" one Saturday on "American Bandstand."

The Ventures were one of several prominent acts using Mosrites, which were built in a small plant near where Centennial Garden stands today. Moles worked the assembly line as chief inspector, plucking the first notes on guitars that ended up in the hands of people like Barbara Mandrell, Little Jimmy Dickens and Joe Maphis. After Mosrite went out of business in 1969, Moles opened a guitar-repair shop known as Gene Moles/Doctor of Guitars. The store settled on Niles Street in 1991.

Moles is survived by his wife of 46 years, Joan Moles, and four children: daughters Cathy Sheer and Marisa Blomberg, and sons Eugene Jr. and Jody. Both sons are guitarists: Eugene, who has played at the Grand Ole Opry and on "Hee Haw," lives in Tennessee and Kansas; Jody will continue to run the Doctor of Guitars repair shop.
---


Killer's Anniversary Present: Divorce Papers
By William C. Bayne - April 24, 2002 - After 18 years of marriage, Jerry Lee Lewis's wife wants a divorce. The couple was wed on this date - April 24, 1984. Kerrie Lewis, 39, filed a divorce complaint in 1998 against the entertainer known worldwide as "The Killer," but she didn't push for the case to be heard, and Lewis was never served with papers. That changed Monday. H. R. 'Randy' Garner, Kerrie Lewis's attorney, said she simply tired of waiting for negotiations to end. He predicted the formal breakup of the marriage will be amicable, however. "This is not going to be some wild mud-slinging divorce trial," he said. The couple still live in the same house on Malone Road in DeSoto County, he said. When Kerrie Lewis filed the initial complaint June 19, 1998, she cited irreconcilable differences. She said they hadn't lived together as man and wife since that date. In the amended complaint filed Monday, she reiterated the irreconcilable differences but added "habitual cruel and inhuman treatment." Garner said the language wasn't important. "That's just a standard statement in a divorce case. It'll probably be settled on the irreconcilable differences issue." The couple created a stir when they married at her parents' home in southeast Memphis.

It was her first marriage and his sixth. Kerrie's father, Bob McCarver, was a Shelby County deputy sheriff. Jerry Lee Lewis, 66, a cousin of televangelist Jimmy Swaggart and country singer Mickey Gilley, has earned his reputation as an entertainment bad boy. Worldwide outrage followed his marriage to his 13-year-old second cousin, Myra Brown, in 1957. That was his third marriage. But Jerry Lee and Kerrie Lewis's marriage - which lasted longer than any of his others - was less controversial. They had a unit at the old Claridge Apartments on North Main in Memphis and the house on Malone Road. Their son, Jerry Lee Lewis III, was born Jan. 28, 1987. Kerrie Lewis asked for unspecified alimony, custody of their son, child support, and the house at 1595 Malone Road, a tourist attraction since 1994. Lewis has until May 22 to answer the divorce petition. Garner said he doesn't expect a formal trial.
---


PRESS RELEASE:
Rockabilly Review (www.rabreview.com)
The Rockabilly Review is made up by 2 of us (The Psycho Avenger and DFJ). We hope to cover every aspect of the Rockabilly Genre and it's offshoots. Everything from Rockabilly to Psychobilly and beyond. We don't care about pompous attitudes, Elitism, or snobbery what so ever. What we do care about is the music, the bands that make the music, and the labels that bring that music to us the people. We are far more interested in the music than any 'dress code' or fashion crazed nonsense. So relax, enjoy the site and remember, when all the grease washes out it's the music that keeps us coming back!

BANDS/LABELS/DISTROS:What do we review? We review Rockabilly, Psychobilly, Cow Punk, Rock N Roll, everything that has to do with rock n roll! We also have an internet radio station!

ALL PROMO CAN BE SENT TO: The Rockabilly Review, PO BOX 39, San Gabriel, CA 91778. When sending promo if possible, please include 2 copies per release. One for our reviewer and the other for our archive (which will later be used to supply our Radio Show). For those of you that send in 2 copies per release, you will also receive 2 different reviews on The Rockabilly Review. We also ask that you DO NOT send CDR'S UNLESS it's a band demo or your release is officially on a CDR. Labels/Bands that submit CDR's from now on (that do not meet the cdr review criteria) will not have their material reviewed, and it will be thrown away and not returned to the label/band. Remember folks, when we sit down to do a review, everything presented to us is a part of the review, presentation/production/packaging all play a part in our review as well as the music.
---


'State of the art' Neo-Rockabilly
If you like neo rockabilly ' Stray Cats, Blue Cats, Polecats etc. ' you've gotta check out the Danish trio The Jime. Here's a few words about their latest CD "Mean Side Of Town": "State of the art' Neo-Rockabilly. This is how production should be! Imagine how it was when you heard the First Stray Cats stuff - that great Rockabilly sound with today's 'BIG' production. This is truly superb stuff. The sound is just HUGE, and the playing has that Rockabilly 'verve' and 'sass' that tells you that this guy KNOWS he's cool." Roy Williams, Managing Director, Nervous Records. -- "The opening track of this CD 'Gotto Be' blew me right away. It has a great sound and is such a catchy song. The last time a song hit me like that was probably the first time I heard 'Runaway Boys' by the Stray Cats. This band appear to be Danish and they're fantastic."' Alan, Deathrow Magazine, UK -- "Modern Rockabilly with a production you'd normally only expect from the Stray Cats... authentic fifties rockabilly, rough neo rockers and cool ballads. Very well done, superb quality with good vocals and great guitar-art by Vince Gordon. Gotta have it!" Marijn Raaijmakers, The BlackCat Website.

Check out the rest of the reviews, mp3s, CDs, bio and loads of other rockabilly stuff http://www.the-jime.dk/ - "Mean Side Of Town" is available here: http://www.nervous.co.uk/ (Nervous Records) - U.S.A.: Hepcat Records -Ý Holland: http://www.cdexpress.com/ (Rockhouse Records) - Finland: http://www.junglerecords.fi/ (Jungle Records) -Ý Switzerland: http://www.bronxnroll.com/ (Bronx'n'Roll).
The Jime homepage is http://www.the-jime.dk/


---


Little Richard Ponders Retiring
(Courtesy: the Washington Post) - Little Richard is still a shiny-curled, spangly-outfitted pop-culture icon. But 69-year-old Richard Penniman, as Little Richard is less well known, claims that this is his last year of performing. So tomorrow night's appearance at the Marriott Wardman Park Hotel for the Best Friends Foundation, a group that urges teens to abstain from sex, drugs and alcohol, might be a last chance to see the self-described "Emancipator, Originator and Architect of Rock-and-Roll" in full cry.

"While I still feel good and look decent, I think this is when you're supposed to do it," Little Richard told us about his retirement plans. "You're not supposed to wait until you fall off the wagon. I'll be 70 years old at the end of this year and I've had quite a run."

That's for sure. A lot has happened since he first sang "Wop bop a loo bop a lop bam boom!" in his 1956 hit "Tutti Frutti." Little Richard said: "I've seen a big change in it from what it used to be. They call a lifestyle 'rock-and-roll' because they drink a lot and do drugs. But you can stand flat-footed and sing it and play, and that's rock-and-roll. Wop bop a loo bop - that's rock-and-roll. You don't have to regurgitate on anybody. You just have to sing with your God-given talent."

A sometime minister who used to preach the evils of rock-and-roll, Little Richard added: "I sing rock-and-roll, but I always believe in God." He gave us an appropriately spiritual take on the Arab-Israeli conflict: "Some of that stuff has been going on for years, hasn't it? Many, many centuries. I think we have to pray and put it in God's hands. We have to remember that God is omnipotent and He is omnipresent. We have to remember those things. We have to let both sides learn to be guided by God, guided by the Word. I just love all people and hope the violence stops."

Catch him while you can ...
03.08.02 - Easton, PA - State Theatre
04.08.02 - Westbury, NY - Westbury Music Fair
28.09.02 - Galveston, TX - Grand Opera House
19.10.02 - Mahnomen, MN - Shooting Star Casino


---


The Best of Johnny Cash's Mercury Recordings Features 'The Night Hank Williams Came To Town' and Re-Recordings of the Classics 'I Walk The Line,' 'Folsom Prison Blues' and 'Wanted Man'
The first person ever inducted into both the Country Music Hall of Fame and the Rock and Roll Hall of Fame (in 1998, Elvis became only the second), Johnny Cash is the quintessential American artist. After beginning at Sun Records and then nearly 30 years on Columbia, Cash signed to Mercury in the mid-'80s. Though his stay would not be long, the best of his recordings for the label, many of them reprises of his greatest hits, are classic Cash.

THE BEST OF JOHNNY CASH: THE MERCURY RECORDINGS EDITION OF 20TH CENTURY MASTERS/THE MILLENNIUM COLLECTION (Mercury Nashville/UME), released May 21, 2002, brings together the highlights of his late '80s tenure with esteemed producer Jack Clement. Each of the dozen selections has been digitally remastered.

John R. Cash joined Mercury in 1986 and his debut album for the label, JOHNNY CASH IS COMING TO TOWN, appeared the following year. From that album, THE BEST OF JOHNNY CASH features the country hit "The Night Hank Williams Came To Town," with its guest vocal by Waylon Jennings, co-penned by country rebel Bobby Braddock and Charlie Williams.

The follow-up later that same year was the aptly-titled CLASSIC CASH, for which The Man In Black re-recorded many of his best-loved vintage tracks. Included on THE BEST OF JOHNNY CASH are new versions of his signature Sun hits "Cry! Cry! Cry!," "Folsom Prison Blues" and "I Walk The Line" as well as his Sun-era "Home Of The Blues." Also culled from CLASSIC CASH are fresh takes on Columbia favorites "Tennessee Flat Top Box," "Get Rhythm," "I Still Miss Someone," "Long Black Veil" and "Blue Train." On 1990's BOOM CHICKA BOOM, Cash put his stamp on Harry Chapin's pop-folk hit "Cat's In The Cradle." "Wanted Man" (co-written with friend and influence Bob Dylan) is taken from yet another disc of re-recordings, 1990's THE MYSTERY OF LIFE.

Cash would exit Mercury but he was far from done. His American Recordings albums have gained him further acclaim from yet another generation of fans. In 1999, he received a much-belated Grammy Lifetime Achievement Award. On February 26, 2002, he celebrated his 70th birthday. The next day he won his 11th Grammy as one of the performers on Best Country Album TIMELESS, an all-star tribute to, who else, Hank Williams.


---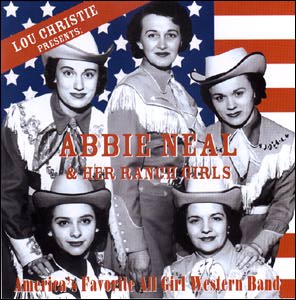 Abbie Neal & Her Ranch Girls - CD"
A wonderful, have-must CD by "America's Favorite All Girl Western Band". Lou Christie, pop/rock singer for the past 30 years has fulfilled one of his life-long dreams by producing a CD on one of his childhood idols, Abbie Neal. Miss Neal was one of the first women of country music to have her own legion if fans who followed her career from coast to coast. Abbie is now in her 80's, retired and living in Reno, Nebada. This CD has brought her story to a new generation of traditional country music fans, as well as reacquainting her former fans with the music they grew up with. If you would like further information about Abbie Neal, please visit www.louchristie.com and click on the picture of Abby. You may e-mail from Lou's website or contact: Lightning Strikes Music, P.O. Box 2172, Hillside Manor, NY 11040, 516-741-0102.


---
Lee Rocker with "Special Guest"
February 9, 2002 - Live at the Magic Stick, The Missing Links with Jack Earls and Lee Rocker with Scotty Moore! What a show! This action packed show was so crowded you could hardly move. One of the best performances I've seen in a very long time. "The Missing Links" are fantastic, check them out of you get a change. Their special guest turned out to be Jack Earls. Wow, what a performer.

Lee Rocker was amazing as usual, sporting his new paint job on his upright bass. He told me later that an auto painter from Nashville did the work - "16 coats on it!" He was very proud. A new song, "Bullet Proof" really stood out to me, he wrote it with Slim Jim. Look for it on his new CD coming out soon. Up on stage, he finally said, "Well, I guess I'd better do a couple of 'Stray Cay' tunes." After "Stray Cat Strut", he went into "Rock This Town." Right in the middle of it, the incomparable Scotty Moore just walks out on stage and play along. They did a lot of Elvis tunes and it was al all out hot show. I would like to thank Lee Rocker and Scotty Moore for their time and kindness ... and always, the Magic Stick in Detroit for their wonderful cooperation with the Rockabilly Hall of Fame. -Rachael Malinowksi


---
Barbara Bennett in Louisiana Hall of Fame
One of the French Quarter's most loved entertainers, Ms. Barbara Bennett, who has sung and pounded the piano keys at Pat O'Briens for more than 40 years, will be inducted into the Louisiana Hall of Fame on Sunday April 21, 2002. The ceremonies honoring Louisiana's finest will take place in Lafayette, Louisiana, according to Lou Gabus, President and Founder of the Louisiana Hall of Fame. Barbara Bennett is one of the unsung heroes of contemporary music and for her early influences of Jerry Lee Lewis, Mickey Gilley and Jimmy Lee Swaggart, all with whom she grew up with in the Ferriday area. All piano players. . . all were friends.

She recently recorded her first CD project, "Barbara Bennett ... Finally!" which was produced by long time friend Frankie Ford and Ken Keene and Travis Hatcher for Sea Cruise Productions, Inc. The CD was released on Digi-Tek Records, a division of Chef John Folse Enterprises in Gonzales, Louisiana. Barbara Bennett is represented exclusively by Sea Cruise Productions, Inc., P. O. Box 1875, Gretna, Louisiana 70054-1975. Telephone (504) 392-4615. Contact Ken Keene@aol.com or at www.frankieford.com
---
Dick Hiorns Obituary
by Shane Hughes and Larry Lee Phillipson
Wisconsin based hillbilly warbler and one-time rocker, Dick Hiorns, passed away on March 10 in California from natural causes. Little seems to be known about Dick. His obscurity contradicts his famed rendition of Hank Snow's "I'm Movin' On". Released on James Kirtchstein's Cuca label in 1961, it is probably one of the most prized platters on the Wisconson label. He was born in 1921 and, according to long-time Wisconsin singer Larry Lee Phillipson, became active on the Wisconsin country music scene during the early fifties. However, a Dick Hiorns was active in California during the immediate postwar years, recording sides for the Aristocrat label and as vocalist with Speed Coley (nee Coey) on Wrightman in 1947 and with Bob Martin on the Potter label. Whether this is the same Dick Hiorns has not, as yet, been substantiated. Larry recalls working with Dick in Wisconsin from 1952 and has fond memories of his time working with this talented singer.

Dick and I worked at the same time on The Hot Shot Revue" on WTMJ-TV, Milwaukee, Wis. from 1952 until 1959, a show that was emceed by Milwaukee's popular T-V and radio personality Gordon Hinkley. We would appear with the Hot Shots on stage shows in a perimeter around the Milwaukee area on certain occasions. For awhile I worked for Dick alternating singing, entertaining and tending bar when Dick operated the "Club Western" on Center Street in Milw. [in] 1955. Dick was a showman through and through. He liked to set a shot glass of whisky on his forehead with his head bent back while walking around behind the bar and then flip the glass with a jerk of his head and catch the glass with his mouth and swallow the whisky. Sometimes Dick would put a chicken to roast on the rotisserie, slowly turning during our night of work and voila! At the end of the night when the Club closed we enjoyed a delicious feast after we scrubbed and mopped the floors in preparation for the next day. Dick was a good hearted sort of a person. He always treated people well that were connected with him. Jimmy Sun visited me one time here in Amery and when our conversation turned to Dick Hiorns he related that, "When I used to play lead guitar for Dick I sometimes almost felt guilty accepting my pay because Dick emceed and told jokes so much that I didn't have to work very hard". Jimmy Sun left Amery and went over to Green Bay, Wis. for awhile and the last I heard he was in the Twin Cities (Minneapolis, St. Paul). During the last few years I lost track of Dick but through the Îgrape vine' I heard that he would come back to Milwaukee once a year to perform in someone's club. I received the news of Dicks' passing with a call from June Spaulding, who is sister to the hot guitarist on my recording of "Bitter Feelings".

By the early sixties Dick was based in Wausau, in central Wisconsin. He signed with Cuca in 1961, cutting his first sides for that label during the same year. Backed by guitarist Jimmy Sun and his band the Radiants, Dick laid down a torrid version of "I'm Movin' On", a tune that has since become a veritable Îclassic', garnering US$60 and upwards price tags. A second disc followed on Cuca's sister label, Sara, in 1965 and in 1968 Dick cut two more seven inchers for Cuca. The nineteen seventies saw Dick recording in Nashville and still very much active in country music.

Had it not been for Larry Lee Phillipson's foresight in contacting me about this tragic event, Dick Hiorns' death may have passed unnoticed. Regrettably, Dick's achievements will remain almost anonymous, as very few people know who Dick Hiorn's really was. Hopefully, this brief obituary will renew interest in Dick's valued Cuca recordings and his name and talent will not be forgotten.
---
A JOHNNY CASH CHRONICLE
I'VE BEEN EVERYWHERE
Peter Lewry
Helter Skelter Publishing
Chronicle, Webster defines as "A record of events chronologically arranged" so does this this JC Chronicle do exactly "what it says on the tin?" Indeed it does, and with some style and panache too. Our Man In Black editor finally turns his detailed eye to the life and times of the incomparable Mr J R Cash. It's surprising to find in the blurb that Peter has authored several other musical books in differing genres before turning to this great labour of love.
It's a lovingly compiled piece of comprehensive research with many, many hours being spent in various archives or in correspondence/communication with other Cash experts. The fact that no less a figure than Lou Robin (the Cash's personal manager) provides the foreword speaks for itself.
Other major musical figures like the Beatles and Elvis have had chronicles published previously but with respect to those authors, Peter takes on a 45+ year career here and one spent consistently at the peak of success too. Whether you're a Walk The Line-r or a Solitary Man-r, this detailed overview will impress you. Well illustrated in b&w throughout, with stage shots, adverts, sheet music, sleeves etc to break up the prose. It's easy to read, either straight through or to dip in to occassionally.
I would strongly recommend that the publisher considers including a brief index in any future updates, particularly of geographical information for concerts tv shows etc. I understand that it may well have been a space problem but I strongly feel this would have enhanced the book further as a definitive reference tool to sit alongside the "bibles" of John L. Smith. Peter's concise discography at the rear points correctly to Mr Smith's awe inpiring works.
I've had great fun checking out what ole Golden Throat was doing on various family anniversaries, or even the stereotypical When "Kennedy Got Shot/When Elvis Died" game. Helter Skelter have done a fine all round job from the eye catching cover through the detailed 255 pages of this book. Hopefully it will trigger many a laugh and tearful reminisce amongst a certain family in Jamaica when they read through this.
We are given the Cash performed song titles from the legendary 69-71 JC TV series and I feel it would've been a useful indicator of musical evolvement to have included say a set list from either each major tour, or from each year or even when there was a major band change. Again it was probably down to space. This criticism is meant to be constructive and not sour grapes simply because my er "complicated" Welsh surname is spelt wrong in the acknowledgements!!!! And as for Ian Calford's claims of being able to operate a camera - - - my lawyers have been informed.
All readers of Man In Black and indeed anyone you know of with any kind of interest in the life and times of Country's longest serving king will eagerly devour every detail of this book. A grand piece of work young Mr Lewry, mind you this anorakian obsessive attention to detail, leads me to suspect your surname is more than likely that found on page 214, the venue of the April 16th 1993 Cash show ;-) !!
The dedication of this book to the memory of the great Luther Perkins is absolutely spot on. Well done PL for remembering.
Start those letters to Santa now. File this next to the Bear Family boxes, the autobiographies and the discographies. Soooooeyyyy!
Phil Davies


---
THE CLIFF RICHARD SHOW
Live At The ABC Kingston 1962
The Shadows: - Apache/Shazam; Shadoogie; Wonderful Land; All My Sorrows; Quarter To Three; Nivram; Little B; FBI.
Cliff & The Shadows - Do You Wanna Dance; Dim Dim The Lights; My Blue Heaven; Razzle Dazzle; Rovin'Gambler; Save My Soul; When The Girl In Your Arms; I Got A Woman; Lessons In Love/Got A Funny Feeling/The Young Ones (medley); We Say Yeah.
Whilst R & B artists of the golden era like Muddy Waters, Ray Charles and James Brown were given live album releases way back when its surprising to find that none of the major rock n roll names of the era were given the same treatment. Imagine the impact a live 56 Elvis or Little Richard album would've had. Columbia did shelve a planned Carl Perkins live 50s album and Jerry Lee had to bring one out on a European label affiliate of Mercury's (the stellar JLL Live At The Star Club Hamburg)
Cliff Richard's debut album in 1958 was simply named Cliff and recorded "Live" in Abbey Road studio in front of some of his fans, this great new release finds him at the peak of his early popularity with his superb backing group (and instrumental hit makers in their own right) The Shadows. Recorded live on tour in March 1962 at the ABC Theatre in Kingston near London, Cliff was the Ukase biggest star and the Shadows were the most popular group. They open proceedings with their latest band member Brian Bennet on drums.
The excellent packaging, photos and notes confirm that both acts were riding high in the UK charts on March 7th. The sound quality is excellent on this time capsule, which has amazingly sat in the EMI vaults for 40 years. The Shads zip through instros Apache/Shazam, Shadoogie, Wonderful land with plenty of panache and to much audience acclaim, a folkie vocal in All My Sorrows before fendering their way through Quarter To Three, Nivram, Bennet's drum solo Little B and a rousing foot stomping FBI to close. Their corny stage patter and jokes add to the charm. A cracking performance and well worth buying for this alone if you're not a Cliff fan.
From his early Elvis clone days on Oh Boy in 58, Cliff had changed into an all round family entertainer/movie star in 62 (signs of things to come), but luckily for us, instead of churning out his biggest hits or latest product he takes several dips back into the rocking stuff that first made him a fan and then later a singer of some style.
He opens with Bobby Freeman's Do You Wanna Dance to audience approval, visits his early hero Mr Haley twice for Razzle Dazzle and Dim Dim The lights and Fats for My Blue Heaven before a folk styled Rovin'Gambler. This old 30s/40s hillbilly/folk tune is credited to one Mr Omar, apparently a pseudonym for David " Hippie" Crosby, Hmmm a bit more research in future please EMI! Earlier versions of this old Anglo traditional folk song inc Carson Robinson, Everlys, T Ernie Ford and the Brothers Four! Bet Cliff knew it from the Evs version off Songs Our Daddy taught Us.
Jack Scott's gospel mover Save My Soul is most welcome (this first surfaced on Cliff's RnR Years box set a few years back) as is his Presleyish take on I Got A Woman interspersed with a ballad from his latest movie. We also get a medley of the title The Young Ones/Got A Funny Feeling/Lessons In Love before closing with the stonking hand clapper We Say Yeah from the movie. I'm not a great fan of Sir Cliff but this was a really good performance and is recommended. There's an air of youth club/school prefect in Cliff's on stage demeanour and his somewhat patronising comments to the audience but all in all he rocks well when it matters.
This limited edition cd has stunning packaging, a cracking 7" triple gatefold EP with period cover photo and back sleeve, absolutely brilliant. RCA/BMG for instance, should look at this and quiver with shame at the much more expensive FTD series of meagre digi pack Elvis cds. Later editions will be housed in an ordinary jewel case so get this whilst its hot (and available). A second run of this edition has been made, testament to quality product and packaging selling well in the collector's marketplace.
Photos are priceless, like the post gig shot of Cliff and Shads'Bruce Welch staring out of the dusty back window of their tiny Thames van! The cod sits inside a pick of the Kingston ABC on the day of the gig, there's a list of the tour dates and the UK top 10 for that week. The inner sleeves house four loose b&w concert/Cliff ep sized photos and to cap it all, a mini replica of the actual tour brochure. All in all, as memorable a set of packaging as I've seen on a major label cd. Well done to all concerned especially Peter lewry and Nigel Goodall (authors of some of the best Cliff research books).
This is a fine souvenir of the final flourish of UK rock n roll just prior to Mersey beat sweeping the world. Whilst Cliff and the Shads remained popular both in the UK, Europe and all corners of the British Empire, they never made the same impact in the US during the so-called British Invasion. Perhaps if this had been released at the time - - - - - -
My thanks to Emi for the review copy
Phil Davies
March 2002


---
Elvis: Caught in a Trap (Book)
(publication date: early May 2002). The forthcoming book ELVIS: CAUGHT IN A TRAP (hardback, 128 pages) has already been called "the book event of the year", and not without reason. This fabulous book contains some of the most amazing photographs ever taken of Elvis, including about a dozen of Elvis performing on stage with a toy monkey on his back, and coming on stage on Lamar Fike's back! In all, there are circa 135 photographs in this book, 80 of which are in full color. These unique photos were taken by renowned Dutch rock photographer Laurens van Houten, and the majority of them have never been published. They were taken at several concerts during Elvis' Summer Festival in Las Vegas in August / September 1973, and really capture the drama and excitement of Elvis in concert.

The September 3rd, 1973 Closing Show is regarded by many as the most remarkable and unusual show that Elvis ever gave, and there are many stunning shots from that show in this book. Laurens van Houten's photographs are complemented by his detailed account of seeing and photographing Elvis in Las Vegas, fascinating observations from Elvis' musicians about the Vegas years, and an insightful introduction by Elvis' piano-player and arranger Glen D. Hardin. The book also contains memorabilia relating to these concerts, like original reviews and clippings, advertisements for the shows, Las Vegas Hilton Menus, original Hilton reservations for the shows, various Dutch magazine covers from the 70's featuring Laurens van Houten's Elvis photography, and more. ELVIS: CAUGHT IN A TRAP is a deluxe hardbound coffee table size book, printed on high quality paper. This is one Elvis book you don't want to miss! Arjan Deelen / Peter Haan - itselvistime@planet.nl - You can read more info on: http://www.itselvistime.nl/IEThotNEWS.htm
---
REVIEW - by Rob Humphreys
Surfin' at the Sinbad: The Fabulous Plantones
Man From P.L.A.N.K/Swellwoody/Air Raid/Wave Knockin'/Hayseed Surfer/Planktone Stomp/Music To Watch Girls Go By/Gandy Dancer/Surfin' Holiday In Cambodia/Davy Jone's Locker/The Sea Urchin/Surf Don't Swim/Channel 9/The Colour of Love/Viva Las Vegas (hidden last track) - EL TORO RECORDS 38m
The Fabulous Planktones play the indigenous instrumental surf sounds of Southern California and this is their first full length album and is released on a Spanish label - El Toro Records.
Formed in Glendale California in 1984 by guitarists Marty, Kevin and Jim Tippens and drummer Art Chianello. The band played the So Cal area in the mid '80's and then disbanded while Art and Marty went off to finish their degrees. In the meantime Jim put out several CD's with a punk band called Das Klown and Kevin started a family. The Fab Planktones reformed in 1997 adding Jon Green on bass and have been playing clubs and recording.
So what are a Californian band doing on a Spanish label you may ask? Well, for a start, playing some pretty innovative and driving Surf music is my answer. But there's more - all sorts of links to other genres like Punk and some of the numbers are Ventures influenced.
The set kicks off in surf territory with four from that genre in a row. Swellwoody has a driving insistent beat and like all the numbers on this CD is underpinned by the relentless drumming of Art Chianello. Wave Knockin' conjures up the surf scene well and you can imagine this as a sound track to a surf movie. Hayseed Surfer turns out more jazzy then surf and then the whole album takes off again into some more different sounds and styles. Planktone Stomp is a bright rocker quickly followed by the old easy/lounge classic Music To Watch Girls Go By which is given the full Planktones treatment. Gandy Dancer and Surf Don't Swim sees the boys in Ventures mode but they do bring something else to the party - particularly in the latter of these two. Channel 9 (Have they been watching 'The Fast Show') has a country feel and leads in well to the slowest number The Color Of Love which is a quite beautiful instrumental and maybe they should do some more like this. Not credited on the sleeve is the final track Viva Las Vegas - somewhat of a gimmicky intro with a nod to a Ventures live track and it carries on in this vein with false applause throughout.
To sum up - a nicely crafted debut full length CD. The more you listen you find more bits to appreciate.
The Fabulous Planktones can also be heard on the following compilations: American Graffiti Revisited , That's New Pussycat (a tribute to Burt Bacharach) , Fiberglass Jungle ( a modern surf compilation), and Better Than Average Weekend (a tribute to the Shadowy Men From a Shadowy Planet). -Rob Humphreys
---
Tommy Hill Deceased
One of Nashville great record producers and record execs has passed away. Tommy Hill, who ran Starday Record so many years and has continued to produce records over the past several years, passed away Thursday, March 21 at 11:50 PM. He was born on April 27, 1929.

According to TWANGTOWNUSA.COM - Tommy Hill never quite made it as a country star, despite a couple of decades of trying, and crossing paths with (and even working for) stars and legends like Smiley Burnette, Webb Pierce, Hank Williams, and Johnny Horton. He wrote some very successful songs, and produced important hits by others, and also left some hot rockabilly sides behind. Born on a farm near Coy City, Texas on the eve of the Great Depression, Tommy Hill was one of four children. He spent a good part of that childhood picking cotton in order to help his family survive. He also listened to the radio and especially enjoyed the music of Jimmie Rodgers, and the Delmore Brothers, Cowboy Slim Rinehart, and Wayne Raney. It was while dragging sacks of cotton through the fields that Hill vowed to try for a career as a musician. He learned guitar listening to Ernest Tubb's lead player, Jimmy Short, and was proficient enough as a teenager to get a gig playing on radio with Big Bill Lister in San Antonio ã he was good enough, in fact, to blow the competition out of the studio.

With his brother Ken, Tommy Hill got gigs working with Red River Dave McEnery, and one day in 1948, musician/actor Smiley Burnette (of Gene Autry and Roy Rogers fame) passed through San Antonio, and found himself in need of a guitar player of two. Tommy and Ken were hired for the gig and stayed with Burnette, who brought them to California, which got them into the background scenes in his movies as extras and musicians.

The Hollywood work only lasted for 18 months before Hill and his brother returned to Texas to try and really make it in the music business. Sometime in 1949, Hill was playing in a group called the Texas Hillbillies, and he managed to cross paths during the years that followed with Hank Williams and Johnny Horton. A couple of years later, Hill got picked up by Webb Pierce as a fiddle player. They only worked together for about four months, during which Pierce cut one of Hill's original songs, "Slowly," before Hill decided to form a band of his own. Pierce's manager, Tillman Franks (who also later managed Johnny Horton), got Hill a contract with Decca Records in 1952. He formed his own band in Shreveport, Lousiana, with his sister Goldie, who had a hit with Hill's "Let the Stars Get in My Eyes" (retitled "Don't Let the Stars Get in Your Eyes"), which he had originally written for Kitty Wells.

Hill had little success with Decca, and was persuaded to join Hickory Records, the recording arm of Acuff-Rose publishers. By that time, rock & roll was rumbling out of the South and the Midwest, and Hill ran across a fellow Texan with a yen to record, steering him to Decca in Nashville ã that marked the start of Buddy Holly's commercial recording career. He also saw Ronnie Self in concert and took to heart the kind of music that the kids were listening to. He tried his hand at rockabilly, recording a single session one night that took more than 35 years to see the light of day.

Somehow, however, success eluded Hill. He had no hits during his three years at Hickory Records, and he subsequently hooked up with Starday Records, where he eventually became a producer, handling many of the label's releases until 1968. After a stint with MGM Records, Hill went into partnership with his fellow guitarist, Pete Drake, in the Stop label, which recorded the Jordanaires and Johnny Bush, among others, during its brief existence. Finally, in 1972, Hill formed Gusto Records, and two years later went into partnership with Moe Lytle; the two eventually bought out the King and Starday labels, and Hill was the producer of Starday's biggest hit, "Teddy Bear" by Red Sovine.

Hill hasn't been heard from since the early '60s as a recording artist, and none of his country sides are currently in print. In 1993, however, Bear Family Records released his long-lost rockabilly session from that June night in 1958. Despite his talent and his years of playing and writing, Tommy Hill never scored a hit; however, as he observed in Colin Escott's notes for Get Ready Baby, he had a habit of always giving his best songs away to others. ã Bruce Eder
---
Brenda Lee "Rocks the Hall"
One of the first women to achieve teen idol status in the pop/rock '60's, BRENDA LEE proved last night that the sheer magnetic power of star quality simply transcends the decades. As the assembly of music industry moguls, peers, and young artists arrayed before her last night at the Waldorf Astoria Hotel rose in a series of standing ovations during Lee's performance set at the 17th annual "Rock & Roll Hall Of Fame," induction ceremonies in New York, Brenda Lee was enshrined as the sole female artist in the class of 2002.

She was presented for her induction by Jewel, who commented that she was "really excited" to get to pay homage to Lee. Lee's set, backed by Paul Schaffer and his A-team of musicians, rocked the house with three of the classic hits from the '60's that rocketed her to international stardom and record sales of over 100 million worldwide. "Dum Dum," and "Sweet Nothin's" were her uptempo offerings, capped by her signature imprint, "I'm Sorry," which in 1960 gave Lee, then a teenager of 15, her first million seller. Offstage, Lee was surrounded by a flotilla of national press and news cameras as she made her way through the media area. Lee, 57, beamed and hoisted her award high as one 20's something admirer called out from the crowd as she passed "You rock!" "I feel like Cinderella at the ball," commented the 4'9" singer as she made her way through the throng. "It's was a long way from the Georgia cotton fields to the Waldorf Astoria here tonight."

As thrilled as the assembly was with Brenda Lee, she seemed equally enthralled with the star power on hand. Clutching an autograph from mega hot singer/songwriter, Alicia Keys, Lee was frank about her vison for the trails she helped blaze. "I love so many of the young artists coming up right now - their music, and their courage to really put their heart and convictions into music as an art form of expression. The business is so much harder now than when I was coming up - everything moves faster and longevity in a career is more difficult to maintain. There are a lot of young musical champions out there right now - and I applaud them all. You rock!"
---
Rock and Roll 50th Anniversary Inc. Announces Bobby
Curtola as "Official Canadian Spokesperson"
March 20, 2002 -- Rock and Roll 50th Anniversary (sm) is pleased to announce that Bobby Curtola, "Canada's Rock and Roll Legend" has agreed to spearhead our Canadian activities in celebration of this event. "We are thrilled that Bobby Curtola is working with us. His legendary career and commitment to the music typifies what we are trying to achieve in our celebration of this unique art form." Said executive director, Elliot Tarabour.

Rock and Roll 50th Anniversary (sm) is working with Bobby and his team to develop a series of exciting events during the year long celebration from July 5, 2004 through July 5, 2005. These will include concerts, personal appearances, and other activities bringing the celebration across Canada.

About Bobby Curtola -- Bobby Curtola, "Canada's Rock and Roll Legend", has performed for over 40 years and was the first Canadian artist to receive a gold record. He has a total of 25 gold records and his hits include, "Aladdin", "Hitchhiker", and "Fortune Teller". A Thunder Bay native, Bobby was awarded the Order of Canada (the highest honor a citizen can receive from the Canadian government) for his commitment as an Ambassador for care around the world, for his humanitarian work, and for his pioneering success in Canadian Pop Music. Bobby's singing of the "Things go better with Coke(R)" jingle is credited with starting a new trend in advertising. Bobby continues to perform to sold out audiences and committed to several charitable activities. For more information visit www.bobbycurtola.com. He will appear at the Sock Hop Reunion April 27, 2002, Brandon, Manitoba. For details and tickets visit www.sockhopreunion.com.

About Rock and Roll 50th Anniversary (sm) Inc. --- Rock and Roll 50th Anniversary(sm) is organizing the activities and events surrounding this passage. We are committed to doing this in a respectful and historically appropriate manner to honor the form and its pioneers, celebrate its contributions, and educate the public about its significant cultural impact. Rock and Roll 50th Anniversary(sm) Inc. is a wholly owned subsidiary of Software Tool and Die, America's first dialup internet service provider. Web Site: www.rockandroll50th.com -- (c)Rock and Roll 50th Anniversary Inc. (sm) All rights reserved. Coke(R)is a registered trademark of the Coca Cola(R) Company
---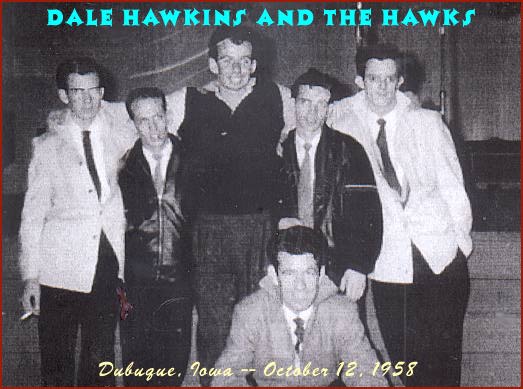 LEFT to RIGHT:
Roy Buchanan - Great Blues Guitarist
Dean Maphis - New Beats "Bread & Butter"
Dale Hawkins - "Suzy Q"
Marc Maphis - New Beats "Bread & Butter"
Melvin Rogers - Drums for Dale & Jim Reeves
Bill Mack (front> - Many groups including the Blue Caps
---
Tennessee Quarter Has Sour Notes
Musicians and perfectionists have been studying the new Tennessee quarters very closely and believe they have caught Uncle Sam making two boo-boos. Under great magnification, this two-bit scandal remains tiny but still mysterious. It is clear that the coin's guitar has six tuning pegs, but only five strings. The trumpet's three valves that alter its pitch are oddly placed for what could be a left-handed trumpet - if such a thing exists.

U.S. Mint spokesman Matt Kilbourne was asked if anyone would be fired over these apparent mistakes. Will they pull the plug for a while on the giant quarter-making machines to fix the Tennessee design for the rest of its production schedule? No, and definitely not, he said.

First, they are not "mistakes," he said. The Mint carefully planned all of this. "You've heard of artistic license," he said. "Art a lot of time is about compromise, especially when we're working on images this small. The goal of our artists is to convey an image that is both visually appealing and physically accurate. It's a balancing act. Adding a sixth would produce 'kind of a blur' to the naked eye."

While most people have never seen a sort of left-handed trumpet in real life, they are in fact made. The Selmer Co. of Elkhart, Ind., which has made band and orchestra instruments in this country since 1922, may get one special order for a left-handed trumpet for about every 20,000 "right-handed" trumpets made, vice president Tedd Waggoner said. Most people, left- or right-handed, choose the standard design, he said.

Stephen Bobbitt, a spokesman for the American Numismatic Association, said no coin-collecting members have complained about any glitches in the Tennessee quarter's design, but they have been talking about it, he said.

Perhaps 700 million to 1 billion Tennessee quarters will be minted before their 10-week production schedule ends March 10, Kilbourne said. Then the Ohio quarter goes nto production. The next coin controversy? Look closely later this year when new Louisiana quarters are distributed, displaying a trumpet slightly different than the one on Tennessee's quarter. The public will decide which trumpet it likes better - if anyone can notice the difference.
---
The Best of Austin City Limits
Country Star Charlie Robison To Host CMT Weekly Series BEST OF AUSTIN CITY LIMITS - CMT's Debut Episode Is AUSTIN CITY LIMITS 1975 Pilot Starring A 42-Year Old Willie Nelson
The most memorable performances from the critically acclaimed concert series AUSTIN CITY LIMITS debut on CMT: Country Music Television beginning Friday, March 15 at 9:00-10:00 PM, ET/PT. The new CMT weekly series BEST OF AUSTIN CITY LIMITS will offer viewers the opportunity to relive, or experience for the first time, performances spanning the last 27 years by country's elite including the Dixie Chicks, Vince Gill, George Strait, Faith Hill, Trisha Yearwood, Alan Jackson, and many more. Hot country star Charlie Robison will host BEST OF AUSTIN CITY LIMITS on CMT. The Friday, March 15 debut episode was the 1975 pilot episode for the world famous PBS series and stars a 42-year old Willie Nelson.
Robison, a Texas native, says CMT's weekly series featuring the best episodes of AUSTIN CITY LIMITS will help introduce a whole new generation of country fans to the genre. "Having grown up watching AUSTIN CITY LIMITS, I'm completely excited about it," Robison says. "AUSTIN CITY LIMITS had such a big influence on me being a musician and now I get to be on the set introducing these episodes to CMT viewers. It couldn't be cooler."
The original showcase series, taped before a live audience in Austin, Texas, has been a springboard for some of music's brightest stars since it debuted 27 years ago on the Public Broadcasting System (PBS) offering gratifying programming to the discerning ear. Reba McEntire, Martina McBride, Dwight Yoakam, Patty Loveless, Charlie Daniels, Jimmy Buffett, Ricky Skaggs, The Judds, the Dixie Chicks, Vince Gill, George Strait, Faith Hill, Trisha Yearwood, Alan Jackson and a score of others have appeared, many still new to the music scene at the time; all will be featured in upcoming CMT episodes.
Since its premiere in January 1976, AUSTIN CITY LIMITS has been a showcase of musicians and songwriters in and out of the mainstream, including artisans from folk, blues, country, rock 'n' roll, and Zydeco. Produced by KLRU-TV in Austin, Texas, AUSTIN CITY LIMITS has featured more than 400 artists. KLRU will continue to produce new episodes of AUSTIN CITY LIMITS for distribution to public television and these new episodes will continue to be seen exclusively on PBS.
---
French Tribute CD to Gene Vincent
A beautiful French EP includes four titles. A great tribute to the genius of the unforgettable GENE VINCENT. Ricky Norton sings 3 originals of Gene: Teenage Partner, Wear My Ring, Cat Man and his own tribute called The Man Dressed In Black with the legendary Chris "Guitar jamboree" spedding on lead guitar. This EP his made in the 60's standard Glossy color cover a real collector (in limited edition)
The amazing EP of RICKY NORTON is available now from:
SAPHYR
BP14
F 68230 TURCKHEM, FRANCE
The price of this real collector is 9 euros for France included postage. For the others countrys contact SAPHYR RECORDSat liesenth@calixo.net


---


From the New Times Broward-Palm Beach: Yodelin' with the Devil
Hank III Sells His Rock 'n' Roll Soul to Sing Like Granddad

BY JUAN CARLOS RODRIGUEZ. Almost ten years ago, Shelton Hank Williams made a deal with the devil. Even though the grandson of country-music legend Hank Williams and son of Hank Williams Jr. owed $24,000 in delinquent child-support payments, the self-described long-haired, tattooed slacker with a taste for weed and whiskey was barely eking out a living in backwater dives across the South, playing drums with alternative hard-rock bands. That is, until a judge demanded the young man make some changes.

To hear Shelton -- who goes by the stage name Hank III -- tell it, he looked the black-robed devil in the eye and came to terms. His own terms.

"The judge told me to get a real job," he explains just before taking the stage last month in Boulder, Colorado. "He said making 25 to 50 bucks a night playing drums in a band was not a job. So I said, "All right, motherfucker, I'll show you what I can do.'"

Shelton looked up some of his famous father's music-industry friends and told them he was ready to cash in on the promise of his pedigree. Once he tied back his stringy hair in a footlong braid and showed off a remarkable likeness to his grandfather, Hank III was on his way to milking country music for all it was worth. Without apology, the artist formerly known as Shelton embraced the country-music legend that always hung over his head like the echo of Grandpa's yodel.

For the young metalhead, it was a walk on the dark side -- a venture into the commercial country-music industry that he abhors and had always rebelled against. It was a step into an industry dominated by pretty-boy patriots and twangy pop divas with names like Garth and Shania and Tim and Faith.

He signed on the dotted line and found a manager who hooked him up with country label Curb Records. Soon, the skinny slacker freak was paying his dues (and child support) beneath a cowboy hat and clean country suit in Branson, Missouri, a two-lane strip of "thee-ay-ters" where country music has-beens play to packed houses of retired folk.

"I went to Branson because I knew I could pretty much take anybody in the audience there," he says. "It's nothing but a senior citizens' retirement place, man. It's where all the old country people that can't do it on the road go."

With a "full on" tribute to his granddaddy, Shelton sparked a career where others end. He morphed into his new persona, Hank III: an eerie apparition whose melancholy yodels and honky-tonk twang sound hauntingly similar to Hank Sr. Add to that the whiskey grin and redneck swagger that take over when Hank III covers his tattoos and dons a cowboy hat and the old-timers in Branson were seeing ghosts.

"It was weird, man, going from kids being all energetic in bars to people that are just kinda smiling at you or falling asleep in front of you," Hank III laughs. "It's just like being with your grandma -- it don't take much to thrill "em."

Musically, Hank III was learning to strum and sing ever so sweetly, techniques he'd rejected as a hard-ass rock 'n' roller. After more than a month of back-to-back shows in Branson, Hank III was ready for the road. He toured with Beck and the Reverend Horton Heat. He started to make a name for himself in the country-music industry he had resisted for so long. Early this year, he began touring as a headliner in support of his second Curb release, Lovesick, Broke & Driftin'.

Hank III may have tricked the devil but not without a constant struggle for his soul. Despite some critical nods and decent sales of his first release, Hank III publicly disavows Risin' Outlaw, blaming Curb for what in his opinion is a canned, Top 10 radio sound. "The first CD was all politics," he vents. "It was done their way, using their writers and all that crap. They are used to dealing with puppets, and I'm not one of those people."

Instead, Hank III sees himself as a country outlaw with an underground following. Despite predictions on Music Row that Hank III may one day make it big, he laughs at the prospect of ever being a country-music star and singing fluffy duets with Faith Hill or LeAnn Rimes.

But then, he is not the only one banking on his name. Since Hank III stepped onto the country scene, his label has made much of his legendary bloodline. Also home to superstar Hank Jr., Curb releases discs from father and son at the same time, even though Junior and Hank III have never been close and their music is even more estranged. Curb frowns on the album's worth of rock 'n' roll material Hank III says he already has in the can but refuses to release him from his contract so he can record the stuff.

Still, Hank III has not lost every battle. He produced Lovesick, Broke & Driftin' with longtime friend Joe Funderburk and brought in his own musicians for the studio sessions. He wrote 12 of the Lovesick songs and opted to round out the album with a cover of Bruce Springsteen's "Atlantic City" rather than rehash a country great. But if Hank III rejects commercial country, his mood has not fallen far from Granddad's melancholy, substance-fed tree. With a delivery alternately wry and brooding, he sings of booze, marijuana, rehab, losers, and faithless women.

"I'd rather sing about something dark instead of something bright," he muses. "If it's drugs, if it's drinking, if it's partying, or even if it's four-wheeling -- I've always been attracted to the dark side. I don't know why, but it reflects in both my metal and my country music."

The darkness keeps Hank III interested in honky-tonk swing; he just hopes someday he'll have the opportunity to release rock as well. "Then people will see how versatile I am and how much stuff I write and try to create," he says. In the meantime, Hank III performs his unreleased Black Flag- and Melvins-inspired thrash between country sets at his live dates. The result, he reports, is an eclectic mix of fans from cowboys and hard-rocking grandmas to bikers and stoned-out kids. "The show is total Jekyll and Hyde," Hank III grins. "We're one of the few bands that go from honky-tonk to almost the verge of death metal."

That doesn't mean Shelton hasn't earned the scorn of some country and hard-rock fans. But Hank III stands his ground. "If people are getting pissed off at me for sounding like Hank Williams," he rails, "if that's the worst compliment they can give us, then fine. I'd much rather sound like Hank Williams than Brad Paisley or Chad Brock or some shit like that. If people say I'm selling off that sound, well, sorry, dude, I got the look and the sound for some reason."

And just because that look and sound sell doesn't mean Hank III has to be grateful. It's just that for the moment, he can't live with Nashville -- and he can't live without it. As he moans on the Lovesick track "Trashville": "Now I would pack up and I'd leave this dirty town/But they done taken me for so much, that I can't get out now/Maybe one day but not right now." --newtimesbpb.com | originally published: February 14, 2002
---
Muddy Waters' Real Folk Blues Album: '40s to Early '60s
The blues has been a wellspring for rivers of pop, rock and R&B and there's nothing quite like returning to the source. In the mid-'60s, Chess Records released a series of legendary "best of" albums for Muddy Waters, John Lee Hooker, Sonny Boy Williamson and Howlin' Wolf. Under each artist's name, The Real Folk Blues was issued in 1966 and a More Real Folk Blues in 1967 (though the latter album for Hooker wasn't discovered and released until 1991).

Now the two albums for each artist have not only been digitally remastered but conveniently combined onto one CD, with original artwork and liner notes plus a new historical essay. The four MCA/Chess/UME albums, all released March 12, 2002, are the latest additions to Blues Classics Remastered & Revisited, a major UME series of the most significant and popular blues albums in history.

Muddy Waters' The Real Folk Blues/More Real Folk Blues is a 24-selection definition of Chicago electric blues. The Real Folk Blues is an eclectic overview: Half of its tracks come from Muddy's earliest Aristocrat and Chess sessions, while the other half draws from later, more urban, material. The songs range from his debut Aristocrat release as frontman, 1947's "Gypsy Woman," to 1964's "The Same Thing" and "You Can't Lose What You Ain't Never Had." A handful of Waters classics are here, led by "Mannish Boy." Also featured are the Delta standards "Walking Blues" and "Rollin' & Tumblin'" plus "Canary Bird," "Walking Thru The Park," "Screamin' And Cryin'," "Little Geneva," "Just To Be With You" and "Forty Days And Forty Nights."

A year later, Waters' More Real Folk Blues offered songs from 1948-1952, spotlighting his evolution from the guitars-vocals-bass of his first triumphs to his influential and adventurous band sound. Four 1948 songs, among them Robert Johnson's "Kind Hearted Woman," are simply Muddy, his slide guitar and bassist Ernest "Big" Crawford. Also included are "Down South Blues," "She's Alright," "Honey Bee," "Sad Letter Blues," "You're Gonna Need My Help I Said," "Sittin' Here And Drinkin' (Whiskey Blues)," "Train Fare Home Blues," "Appealing Blues (Hello Little Girl)," "Early Morning Blues," "Landlady" and "Too Young To Know."


---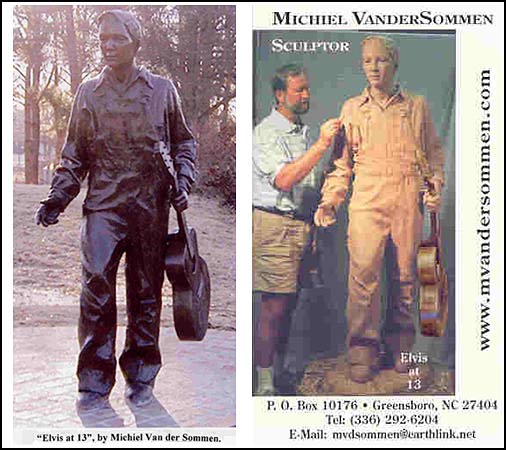 Giving an Irish 'Lad' His Due
TUPELO - During the unveiling of the 350-pound bronze statue of a 13-year-old Elvis Presley, Henry Dodge, chairman of the Elvis Presley Memorial Foundation, mentioned that a fan from Ireland suggested the idea for the statue.

That's what I wrote in the story, but Dodge was more precise than that. In fact, Maurice Colgan of Swords, Ireland, was the fellow who first dreamed up the idea. Colgan was initially left out of the story for a very important reason: I wasn't sure how to spell his name.

"Sure," you say, "but you could have asked somebody." I asked a lot of people a lot of things and could have asked that, but it fell through the cracks. So I get this call the other day from a very nice gentleman with an Irish accent. He says his name is Maurice Colgan.

"I was reading your story about the statue on the Internet," he says. "You never say whose idea it was." "It was you, right?" "Well," he says, "I'm such a fan. It would be nice to have it mentioned in Elvis Presley's hometown paper, you know?" "How does Friday sound?"

First off, it was pretty cool to get a phone call all the way from Ireland. The guy even waited patiently on hold while I finished up another interview. Secondly, if everybody who called to complain was as polite as Colgan, I'd be leaving all kinds of names out of the paper.

Thirdly, it's great to have it reinforced yet again what kind of following that 13-year-old boy eventually commanded. But Colgan isn't just your average European Elvis fan. He's got a personal connection to the King of Rock 'n' Roll that few in Tupelo can claim.

It's all documented at Colgan's Web site, quicksitebuilder.cnet.com/melvis3, how he was walking down the street during a "lad's night out in England in 1957," when he heard an Elvis tune blaring from a nightclub. He went inside and met the lovely Maureen, and the two danced while a romantic recording of Tupelo's favorite son provided the soundtrack. Marriage bells rang in 1959, then trouble hit in 1961. Maureen became critically ill.

Colgan decided to drop the King a line and let him know about his wife's situation, and less than a week later a pair of letters arrived at the Colgan home. Maureen's letter reads: "Just a short note to say I hope you are feeling much better. Take care of yourself and don't worry - everything will be alright." It was signed "Elvis Presley."

Colgan's letter reads: "I sent your wife a get well message. Take care of her and yourself. May God bless you both." It was signed "EP."

Many years later, the Colgans received another letter from another son of Tupelo. "Your story is indeed very impressive!" wrote Mayor Glenn L. McCullough Jr. "Even in Tupelo, Mississippi, Elvis' birthplace, to have a letter written by Elvis himself is quite unique."

Colgan, who's visited Tupelo and Memphis, said he likes to spread word of the letters so people will know that at the height of his fame, Elvis took time out to send encouraging words to complete strangers. "You hear about the bad things. A lot of people focus on that," Colgan said. "It's good to let people know what a good person he was."

And now there's a statue that focuses on, as Dodge said, "the humbleness and innocence" of Presley's Tupelo youth. There are many people to thank for bringing that 350-pound statue to Tupelo, and Maurice Colgan of Swords, Ireland, certainly deserves his due.

-M. Scott Morris is the Daily Journal entertainment writer.


---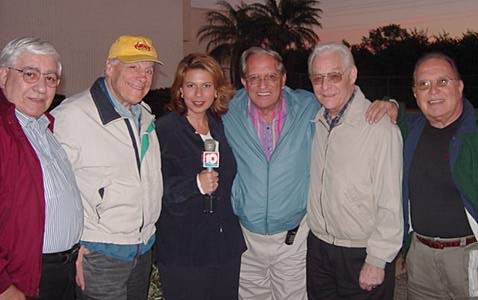 The COMETS at a recent TV interview on Channel 10 in Tampa Bay, Florida
"You're Never to Old to Rock"
by Ross Jackson
A lot of Oldies fans may read this review and think, "What the hell does a 39 year-old kid know about Rock Roll History?" My answer to you is, "Plenty." You see, I've been a music freak since I was old enough to reach the knobs on the radio, and have been a working Disc Jockey since I was 15. I've had the pleasure of meeting, and in some cases even jamming (I am a VERY amateur musician) with some of them. A very select few, I have the pleasure of calling friends. Such is the case, with Bill Haley's Original Comets. Now, let me tell you about the music.

Rock and Roll history? This is the band that had THE FIRST Rock and Roll song EVER. The FIRST NUMBER ONE SONG, EVER. How much more historical can you get? When I was first approached about working with the Comets on a concert date, my initial reaction was, "They're alive?" (Sorry guys, but honesty counts) Brothers and Sisters, I'm here to tell you, "They ain't dead yet!"

The show that I worked with The Comets in Florida, was simply the most kick-ass Rock and Roll concert I've seen in about ten years. Put on by consumate professionals, who are also some of the most down-to-earth human beings you'll ever meet. And you can cash that at the bank.

It's really funny to be backstage at a Comets show, and hear the guys. Frannie, (Guitar) was talking about, "I can't warm my hands up. I hope they get limber enough for me to play." And then went on stage, and not only didn't miss a note, he brought the house down, THREE TIMES with solos. I should play HALF as well. Marshall (bass) was talking about his bad hip. Then went out and took his stand up bass, (which has gotta weigh a TON) and rode it like a horse. Not to mention, played it upside down, behind his head, and held it up with his feet. Joey on sax? That man dances better than I do. And it doesn't hurt him near as bad. Dick, on drums, had to be helped up and down the steps. But, didn't miss a beat on the drums, and is the ham of the group. He also plays drums so fast that you can't see his hands. He is 78. Jesus.

But enough of my rambling. You think this is a CD from a bunch of old has-beens? LISTEN TO THE MUSIC! I dare you. The music itself, will prove you dead wrong. You think that all of today's music is plastic, with no feeling? No rythym, and you can't understand the words? LISTEN TO THE MUSIC! You think that music nowadays has to be filled with electronic gismos and cuss words? LISTEN TO THE MUSIC! It will prove you wrong, on all counts. If this doesn't make you feel great, check your pulse.

When you hear Rock and Roll history on this new CD, you're gonna be hooked all over again. The music speaks for itself. And just one more note, to the guys in the band. Thanks, for letting me be a part of it all.

Ross Jackson
Program Director,
WNFB/Lake City, Florida
1 February 2002
---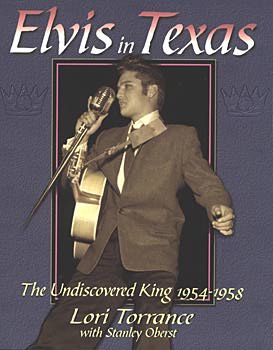 REVIEW (New book on The King's Rockabilly roots in Texas)
ELVIS IN TEXAS - The Undiscovered King 1954-1958
by Lori Torrance with Stanley Oberst. This is the "must have" book by every rockabilly fan of Elvis as it rolls out the pink and black carpet and tells the untold story of the King's rockabilly beginnings and the very significant part that these early rocking Texas tours played in his launch to stardom. The edition features dozens of never before seen photos (some shockingly great) along with a refreshing, fun writing style that truly captures the times and the moments! Well documented with newspaper articles covering various venues across Texas -- this book is authentic true-blue of the early beginnings of Elvis.

Starting in 1954 - Elvis, Scotty and Bill tore up the Texas highways playing high school hops, Lion's Club fund raisers and little honky tonk country & western dives. And brother, did the word spread--the girls all the way in Dallas were hearing wild stories about the hot, good looking, singer who played down in Gladewater while plumb shaking his legs and almost everything ELSE off his body! The word was out and the heat was on - TEXAS LOVED ELVIS!

Available through AMAZON. COM
or Wordware Publishing, 2320 Los Rios Blvd, Plan, TX 75074
---
'Jamboree' Harks Back to Jumping Dallas Music Scene
By MATT WEITZ / Special Contributor to The Dallas Morning News. It just goes to show you what marketing can do: Austin, with a musical heritage that stretches back to the '60s, is known as the Music Capitol of the Known Universe while Dallas ' with a legacy many times richer ' is known as, well, Dallas.

Dragon Street Records' David Dennard has worked heroically to counter this inequity, focusing primarily on the Big "D" Jamboree, a post-World War II concert series that convened every Saturday night at the Sportatorium, and attracted thousands in its heyday.

Mr. Dennard has visited the Library of Congress and sifted through mounds of vintage acetates, radio transcriptions, reel-to-reel tapes and vinyl in order to better highlight the homegrown talent that contributed so much to the popular Jamboree (which also featured national performers like Hank Williams and the Delmore Brothers).

The Guys of the Big "D" Jamboree is the latest installment of a series that includes The Gals of the Big "D" Jamboree and the two-disc The Big "D" Jamboree Live!. As with its predecessors, the most impressive thing about Guys is the way it captures country music in flux, moving from the genre's hillbilly roots (listen to Leroy Jenkins' Jimmie Rodgers-sounding "Hard Luck Hard Time Blues") to a more urban honky-tonk sound (Joe Bill D'Angelo's "Everybody Knows I Tried").

The sense of transition is palpable and exciting, with the music moving past honky-tonk and on into rock 'n' roll (Riley Crabtree's "Go Cat Go") and even pop (the very Everly Brothers-sounding "Be Bop Crazy" by Orville Crouch and Eddie McDuff).

Equally fascinating is the way the guys of Guys reflect the vicissitudes of the music business, a mirror greatly enhanced by the excellent liner notes of local musicologist Kevin Coffey. For every success story like Lefty Frizzell ' represented here by two demos, one of which was never commercially released ' there were scores of men who drifted into obscurity like Buddy Walker ("Red Rose") and Douglas Bragg (check out the way he handles the wordplay on "Barbed Wire Love" and "Tiger Lily").

Despite the difference in their styles ' and fates ' the amazing thing about the artists on Guys here are the ways in which they all sound the same ' mostly young, all excited by music that was helping define them even as they were helping to change it. It's not exactly a lakeside statue; but The Guys of the Big "D" Jamboree is a fitting memorial nonetheless.

To order, go to www.dragonstreet.com - The Guys of the Big "D" Jamboree (Dragon Street Records) In stores Feb. 12; available online now.
---
Nashville's Studio B to Reopen
NASHVILLE - RCA's old Studio B, one of country music's richest treasures and most productive hit factories from 1957 to 1 977, will become a working studio again, this time as a laboratory for students from Belmont University and Middle Tennessee schools. Officials from Belmont and the Country Music Hall of Fame and Museum announced January 24th that they'll work together to operate the studio, which was a tourist attraction run by the Hall from 1977 to 1998 but has been closed to the public since then.

The Mike Curb Family Foundation bought the studio on Roy Acuff Place from the Hall for $650,000 and will lease it back to the Hall for $1 a year. "That's a pretty good deal from where I stand," said Keel Hunt, chairman of the Country Music Foundation's education committee. Hunt said Belmont students will use the studio to make demo recordings and to lead tours. The studio also will continue to be available to Metro music teachers for day-long workshops with Music Row songwriters and musicians, and students from Midstate schools will get to learn about music production.

Elvis Presley, the Everly Brothers, Waylon Jennings, Bobby Bare, Chet Atkins, Dolly Parton, Jim Reeves and Willie Nelson are among the artists who have recorded at the studio. Atkins, who died last year, also produced many hits there when he ran RCA's Nashville operation.

"There's no studio more historic than this," said Mike Curb, owner of Curb Records. "What a wonderful thing for students." Belmont, whose school of music business is named for Curb, announced in October its acquisition of Ocean Way Studios, another Music Row powerhouse. The university's president, Bob Fisher, said the combination of Ocean Way, Studio B and on-campus facilities will give Belmont students "the most extraordinary opportunities of any students in the world in music business."

Kyle Young, director of the Country Music Hall of Fame and Museum, said officials are still discussing some details, including the extent to which Studio B will be open to the public and to professional musicians. Gillian Welch recorded her latest album, "Time (The Revelator)," while the studio was closed to the public in preparation for the Hall's move from Music Row to its new home on Fifth Avenue. -couresty: Michael Cass, The Tennessean
---


REVIEW: Phoenix, Arizona, December 11, 2001
The Blue Caps at The Rhythm Room
By ALAN CLARK
On December 11th, 2001, Glen Glenn, his wife Mary and myself drove from Ontario, California to Phoenix, Arizona. We had the pleasure to appear with the Blue Caps at the Rhythm Room that night.

The club was about half full, but they were there to have a rockin' good time.

The opening act was Russell Scott and the Red Hots. They did a great set. Russell has a very unique voice and I really enjoyed this group. They played a great variety of tunes.

Next up, of course, were Gene Vincent's original Blue Caps including Johnny Meeks, Tommy Facenda and Dickie Harrell. Sitting in on acoustic bass was Russell Scott and his lead guitar player, Twisty Lemon, who is a real picker.

They opened up with "Say Mama" with Johnny Meeks, who also wrote the song, on lead vocal. He followed that up with "Rocky Road Blues" Tommy 'Bubba' Facenda clapped and moved all over stage. You can sure tell he still enjoys performing. Meeks continued with "Ready Teddy" with Tommy and Russell Scott joining in on vocals. Scott then went into one of Vincent's classics, "Woman Love." Tommy handled the lead vocal on "Frankie and Johnny." He puts everything he's got into his singing. Next, he went into a rockin' version of "My Babe" with Dickie really rockin' out on the drums. Harrell is a great drummer and he makes it look easy.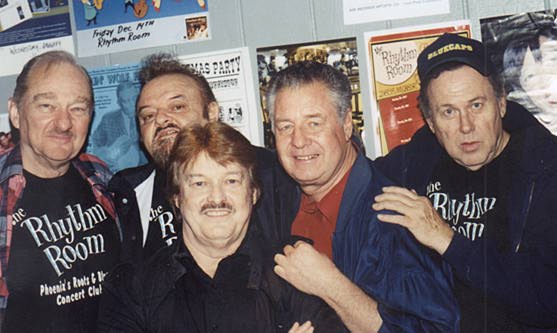 The Blue Caps with Glen Glenn and Alan Clark
The Rhythm Room, Phoenix, AZ, Dec. 11, 2001

Tommy then called me up for a few songs. I opened up with Eddie Cochran's classic hits, "Summertime Blues" and "C'mon Everybody." Next we did Cochran's version of "Milk Cow Blues." We never had a chance to really practice some of these songs, but they did an outstanding job on them. Then we went into Jerry Lee's "Whole Lot of Shakin' Goin' On" with Johnny and Tommy sang along with me. It was just great. The crowd made me feel right at home. But, how could I go wrong with the Blue Caps backing me up? Next, we did a Vincent tune called "Wild Cat." I had never performed this song before, anywhere, Here I was doing it for the first time with the fabulous Blue Caps. I finished up with "Twenty Flight Rock" with Bubba singing along with me. It was amazing. I did miss not having Paul Peek on stage that night.

Coming up next was Rock-a-Billy Legend, Glen Glenn. He went into "one Cup of Coffee" and the crowd went wild. He introduced the Blue Caps as the best Rock-a-Billy/Rock and Roll band of the 1950's and Gene Vincent as one of the greatest Rock-a-Billy singers of all time. Next, Glen did a rockin' version of "Down The Line" with Johnny and Twisty sharing leads. Glen then went into "Jack & Jill Boogie." I shared leads with Twisty and Johnny and this number really rocked. Glen Glenn finished up his part of the show with his signature song, Everybody's Movin'," He went over really well. Truly, one of the best Rock-a-Billy performers still going strong today.

The Blue Caps then went into "Shake, Rattle and Roll" and "Flip, Flop and Fly" with Johnny, Bubba, Russell and Dickie sharing lead vocals. Next, Johnny went into "Little Queenie." This was followed by "Land of a Thousand Dances." with Dickie really pounding out the beat, "Wear My Ring" was next with Russell Scott taking the lead vocal. I have always liked this Vincent cut. He then went into a great version of "Race With The Devil" and followed that with another Vincent classic, "Right Now." Next came "Blue Jean Bop," again with Russell taking the lead vocal. They continued with a rockin' version of "I Got a Baby" with Johnny on vocal and picking some great guitar leads.

To end the show, the Blue Caps went into the classic, "Be Bop-A-Lula." This was really wild. Tommy brought up some girl dancers from the crowd on stage. The place was really going crazy. They called Glen and myself back up on stage for the finale.

After "Be Bop-A-Lula," the Blue Caps left the stage, but the crowd wanted more. They returned with "What'd I Say" with the whole group sharing the vocals.

It was a night to remember, being on stage with the legendary Blue Caps and my friend Glen Glenn. This is one show I will never forget. Thank you for letting me be part of it.

See Alan Clark's Photo Archives.

---

LEFT: Comet drummer Dick Richard with Matt
RIGHT: Matt's wife Barbara with Comet bassist Marshall Lytle

Matt Lucas Joins Zimmerman Entertainment Group
International Gold Record Artist and Rockabilly Hall of Famer, Matt Lucas, has joined Zimmerman Entertainment Group's roster which includes Marshal Lytle and the Original Comets / Herb Reed's Platters / Danny and The Juniors / The Contours / Maurice Williams and the Zodiacs / The Reflections/ and Jimmy Jones. Matt will be touring Europe in May, starting with the Hemsby Festival in the UK. For booking information contact Chad Zimmerman at 727-943-0977 - website: www.americasgoldenmusic.com
---


FEATURE: The Story of a Song
"Rock Around the Clock" Made
People Dance for Almost 50 Years
By Mike Kaylan
James E. Myers handled a Mickey Mouse toy lovingly in December 2000 at his home in Bonita Springs, Florida, and smiled. "Mickey," he had told me, "will rock soon. He is in production right now." Then he pushed a button and the robotic Mickey Mouse began to rock to the tune of the 1950s hit Rock Around the Clock.

The robotic Mickey Mouse copyrighted to Disney and designed by Blue Ridge Design, rocks to the original song of Bill Haley and his Comets:

One Two Three O'clock Four O'clock Rock,
Five Six Seven O'clock Eight O'clock Rock,
Nine Ten Eleven O'clock Twelve O'clock Rock,
We're going to rock around the clock tonight.

It was almost 50 years ago that James E. Myers (a.k.a. Jimmy DeKnight) co-wrote this song with the late Max Freedman. Years later the Guinness Book of World Records called it the "Greatest single of all time." Rock Around the Clock beat the Beatles, Elton John's Candle in the Wind and Queen's Bohemian Rhapsody and made a name for itself as the Song of the Century of Popular Music.

In less than half a century, James E. Myers had figured, the song earned him about $10 million. Myers had told me, "It is still going strong around the world and the royalties are still coming in. A little here, a little there, they add up."

James E. Myers, 81, who made millions of people so happy for so long with his music that they just wanted to dance and rock, died on Wednesday, May 9, 2001 at the Hospice of Fort Myers, Florida. Catherine Brookshaw, Myers' 16-year companion speaking at James E. Myers home by the Imperial River in Bonita Springs, said: "He was a fantastic man. We found out 8 weeks ago that he had leukemia. Doctors had said then that James could live only 3 to 4 weeks. Philadelphia was his hometown, and we are taking him there."

The songwriter, who wanted to buy a boat a few months before his death, was buried in Philadelphia next to his mother's grave. He was born there on October 26, 1919.

The success of Rock Around the Clock was a pleasant surprise to Myers. He had said: "We never knew when the song came out that it was to become the anthem of Rock 'n Roll. Its success even surprised me, although I had a good feeling about it. You could tell that people liked it, because when it played, they all wanted to sing and dance."

Rock Around the Clock has been recorded in 32 languages; it was performed in 40 movies and recorded on about 500 record labels, with such artists as Ray Anthony, Pat Boone, Chubby Checker, Freddy Cannon, and Buddy Knox.

Myers had said: "The song's melody had developed in my mind over several years. One day, long after my World War II service in the South Pacific, I was in my music publishing business in Philadelphia, playing the tune. It was a happy sound, and as I played it I wanted to get up and dance. My friend Max Freedman came in and showed interest. We collaborated and Rock Around the Clock was born. Friedman wanted to call the song Dance Around the Clock. You see, we didn't have rock 'n roll then. I had a gut feeling about the word rock and I said it's got to be Rock Around the Clock.

"I had Bill Haley in mind to sing the song. It didn't happen that way at first. I had the song copyrighted in 1953 and it was first recorded by Sonny Dae and his Knights. When Bill Haley, who loved the song, recorded it with the Comets in April 1954, the song took off and gained world fame. Decca, the record company supported it. I bought hundreds of promotional records from Decca at a quarter each and distributed them to disc jockeys all over the country. Alan Freed who was a big disc jockey in New York really came up with the type of the melody, rock and roll. And that was it."

Before Alan Freed's idea, most people thought the melody was a Foxtrot. When Alan Freed broadcasted the song from his New York studio, he said on the air: "It's a good rocking motion, it rolls along, ah, rock and roll."

James E. Myers told Freed: "You've got it." It became the most successful song among Myers' 300 songs. Four years later on doctor's orders, he had to quit the music business, and he went to California to work in feature films as an extra and stunt man. He stayed there 20 years and acted in movies with famous movie stars, like Jane Fonda in China Syndrome and Dolly Parton in Nine to Five. In 1955, Rock Around the Clock was the title track for the teen rebel movie The Blackboard Jungle. In 1973, the film American Grafitti was released using Rock Around the Clock. It further boosted the sales of the song. Thirty-nine other movies featured the song as well.

According to the Rockabilly Hall of Fame, Rock Around the Clock is the most played rock song in the world. Rolling Stone Magazine estimates that the song had more than 25 million dollars in sales. Myers used to say that was a low figure.

Anyone who was somebody in the entertainment business praised the song. Dick Clark called Rock Around the Clock "The national anthem of Rock and Roll." Al Martino said it was "The song of the century," and Alan Freed described it as "The daddy of Rock 'n Roll." According to the Rockabilly Hall of Fame, "Throughout the years, the importance of this song has grown." The Rockabilly Hall of Fame has a large section ("EXTRA") on their website, www.rockabillyhall.com, about James E. Myers and Rock Around the Clock.

During an interview with Playboy magazine in January 1981, the late John Lennon of Beatles fame said, "I had no idea about doing music as a way of life until Rock 'n Roll hit me." Lennon explained that it was Rock Around the Clock that had impressed him. Elton John said once in Tonight Show that Rock Around the Clock had influenced him from the beginning.

Myers began playing his father's drums when he was only 2 years old and once broke his father's bass drum. "When I was 6," he said, "I played in a school band in Northfield, New Jersey." "My father was a sheet metal worker, an electrician and a drummer. I had my own band when I was 14 named Jimmy Myers and his Truckadeers. The name was changed later to Jimmy DeKnight and his Knights of Rhythm. My father had built us a portable bandstand."

While living in Bonita Springs, Florida, James E. Myers always remembered his four years service in the South Pacific during World War II and receiving numerous medals for his bravery. He was commissioned a lieutenant while still in combat.

The pictures of his life as an actor, the awards he received for his songs, and the medals for his World War II bravery cover the walls of his home in Bonita Springs. Myers considered his home the Rock Around the Clock Museum. He also wrote his war experiences in a book titled Hell is a Foxhole.

The song made such an impact on James E. Myers' life that even when he honked the horn of his Mercedes-Benz, it played Rock Around the Clock.

Bill Haley died in 1981.
---
Bobby Austin Dies
Bobby Austin died Sunday, January 6, 2002 at 11:10 PM. He had been in ill health for several years. Bobby lived in Washington state for the last twenty years. Not only was he a great superb singer and songwriter but he was a marvelous artist as well. He became quite well known for his numerous paintings and murals. Some of the songs he wrote were: "TRY A LITTLE KINDNESS" and "APARTMENT NUMBER NINE." If you would like to send a card to his wife Fern, this is the address: P.O. Box 623, Camas, WA 98607.


---