"That's News to Me" - Archive #10
Back to the Current That's News to Me" Page
A Mix of Music Related Text and Photos That You May Find Interesting






Billy Mitchell, 71; R&B Singer with the Clovers RIP
Billy Mitchell, 71, a former singer with the Washington-based rhythm-and-blues group the Clovers who was best known for his rollicking rendition of Love Potion No. 9, died Nov. 5, 2002 at Washington Hospital Center after strokes. He had colon cancer. The Clovers were one of the biggest acts in that early era of R&B and bridged the period between smoother pop groups such as the Ink Spots and the rise of rock-and-rollers, said Howell E. Begle Jr., founder of the Rhythm and Blues Foundation in Washington. Mr. Mitchell was one of the last surviving members of the Clovers, which consisted of four singers and a guitarist. Only Harold Winley, who now sings with a successor to the original Ink Spots, survives.
In the early 1950s, the Clovers was a powerhouse on rhythm-and-blues charts and helped transform Atlantic Records into one of the major R&B recording studios. The group had more than a dozen top-10 recordings, including Don't You Know I Love You, One Mint Julep, Fool, Fool, Fool and Ting-A-Ling. With the noted Bill Harris on guitar, the Clovers' sound had a vibrant, bluesy harmony and a relaxed shuffling rhythm.
In 1998, a Los Angeles Times critic reviewing a reissue of the band's work called the Clovers one of the most appealing of all the early R&B groups.
Mr. Mitchell, a tenor, joined the Clovers in 1953 and soon was alternating lead vocals with John Buddy Bailey and Charles White. With a more gutbucket blues feel than balladeer Bailey, Mr. Mitchell sang the lead on such songs as Your Cash Ain't Nothin' but Trash and Down in the Alley. The Clovers continued making R&B hits throughout the decade, including Devil or Angel, Blue Velvet and Love, Love, Love. The band appeared in such top-flight performance halls as the Apollo Theater in Harlem and on an Alan Freed television special in 1957. The group's last hit was Love Potion No. 9, a song written by Jerry Leiber and Mike Stoller and which was a crossover sensation on the pop and R&B charts. Mr. Mitchell sang lead.
The Clovers split up about a year later as individual members pursued other recording opportunities and as the music labels cultivated younger doo-wop and rock groups. Mr. Mitchell tried to extend his singing career, recording with Clovers member Harold Hal Lucas songs such as The Bootie Green, which plugged into the twist dance craze. Those efforts did not equal his earlier successes, and Mr. Mitchell sought a more stable job in Washington, where he lived at his death. He did stockroom work for St. Elizabeths Hospital until he retired in 1992. Once he stopped singing, he said that was it, Winley said yesterday. He said he wouldn't do it anymore.
They reunited, however, in 1988 at a Rhythm and Blues Foundation benefit in Austin. The Clovers said they never saw much money from their work in the 1950s, and several members said they felt they had been mismanaged.
William Joseph Mitchell was a native Washingtonian and attended Armstrong High School. He left, with his mother's permission, at age 17 to sing professionally. Among those he worked with was a blues band led by Joe Morris, a former trumpeter with Lionel Hampton.
By the time Mr. Mitchell joined the Clovers, it was well established. Lucas had formed the group in 1946 with friends at Armstrong, and they sang at area clubs before Atlantic signed them. The breakthrough recording was Don't You Know I Love You in 1951. Mr. Mitchell served in the Army during the Korean War and was hired as a replacement for Bailey, who had been called away for military duty.
Fellow singer Matthew McQuater told a reporter in 1997 that it was obvious why Mr. Mitchell was kept in the band even after Bailey returned: Cause he was a singin' fool!
Survivors include his wife of 48 years, Helen Gibbs Mitchell of Washington; five children, William Jeffrey Mitchell, Robin Patricia Jones, Tracey Althea Mitchell, Robert Lamar Mitchell and Victoria Lynn Mitchell, all of Washington; 11 grandchildren; and five great-grandchildren. -Adam Bernstein, Washington Post Staff Writer


---


İ İ Veteran Character Actor Larry Dobkin dies at 83
Larry Dobkin, a veteran character actor whose television and film career spanned seven decades, has died. He was 83. Dobkin, who appeared in more than 65 feature films including The Ten Commandments and Sweet Smell of Success, died of heart failure Oct. 28 at his Los Angeles home.
Born in New York City in 1919, Dobkin began acting off-Broadway in his teens. On radio in the 1940s, he was one of five actors who played famed detective Ellery Queen. Turning to television in the 1950s, Dobkin appeared in shows such as I Love Lucy and The Adventures of Superman. He also appeared in a number of TV westerns, including Gunsmoke, Lawman, The Rifleman and Rawhide. Dobkin also directed episodes of The Donna Reed Show.


---
A Hunk, A Hunk of Burning Love 1956 Memory Shared
By First National Elvis Fan Club President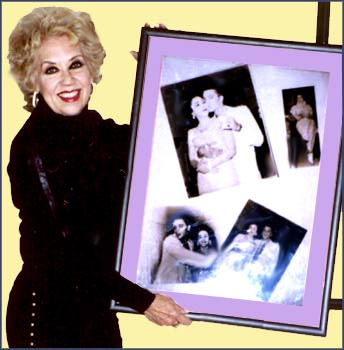 OAKLAND, CA - November 1, 2002-The original National Elvis Presley Fan Club founder, Kay Wheeler, will release her audio CD narrating her autobiographical account of her personal 1956 memories of her life and association with Elvis Presley.
Kay Wheeler was interviewed on Tom Brokaw's NBC Nightly News program on August 16, 2002 . When she was asked to explain Elvis' phenomenal popularity, Kay replied: He's what every girl wants; what every man wants to be-and on stage, he's a hunk, a hunk of burning love!
In 1955, when Elvis Presley was still a regional singer hoping for his big break, Kay, a young teenager in Dallas, Texas, heard Elvis' first record, That's All Right Mama on a radio broadcast of the Big D Jamboree. She became Presley's first national fan club president and met him on several occasions and visited the Presley home in Memphis.
Elvis Presley Enterprises released their Elvis Box, a product containing reproductions of the most authentic artifacts of Elvis Presley's life. Kay Wheeler's 1956 Nation's First & Largest Elvis Presley Fan Club card was the first item of the product.
Wheeler was a movie star in her own right, starring in the 1957 rock & roll film classic Rock Baby Rock It and Hot Rod Gang with rock legend Gene Vincent. Currently, Kay makes regular appearances at the VIVA LAS VEGAS annual Rockabilly event in Las Vegas. In June 2002, she was Guest of Honor at the Professional Elvis Impersonators' Convention in Las Vegas where she demonstrated her 1956 version of the Presley Bop on stage.
In 1997, she was inducted into The Rockabilly Hall of Fame. She has written an autobiographical book titled, Growing Up with the Memphis Flash. Plans are for a movie that covers the story of Kay's life as a rebel teenager growing up in the 50s with the birth of rock and roll.
www.kaywheeler.com.


---
Gold Coast Hotel, Las Vegas ...
Getting Ready for Viva Las Vegas 2003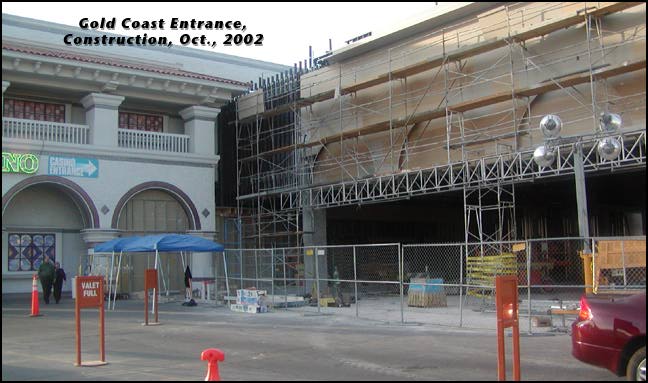 The Gold Coast's SHOWROOM - where the Rockabilly Hall Of Fame's Stage will be located.


---


Linda Gail Lewis: New Internet Country Show
Linda Gail Lewis, one of the world's foremost female rockabilly and country music entertainers, is the latest celebrity to host a special edition of the Internet Country Show.
Introduced by the site's resident presenter David Allan, the new show finds the Ferriday, Louisiana born singer/songwriter talking about her career, which ' naturally ' includes comments about her infamous brother, Jerry Lee Lewis, in particular the recording of their 1969 hit duet, Don't Let Me Cross Over, which is included in the show alongside a solo offering from The Killer, Night Train To Memphis.
Turning to some of her favorite country music artists, Linda Gail's prime choices include Alan Jackson (Chattahoochee), Faith Hill (The Kiss), Patsy Cline (Why Can't He Be You), Mandy Barnett (Funny Familiar Forgotten Feelings), Garth Brooks (Friends in Low Places), Dixie Chicks (Wide Open Spaces), Johnny Cash (I Was There When It Happened) and Shania Twain (Man, I Feel Like A Woman).
The program is completed with What A Beautiful Day and I Just Want To Stay Home And Rock ån' Roll, a couple of tracks from her current album release, Out Of The Shadows.
More information on Linda Gail Lewis can be found her newly launched website - www.lindagaillewis.com
Other programs recently added to the Internet Country Show include Randall Lee Rose's special tribute to Elvis Presley and David Allan's choice of All-Time Favourite Country Records.


---


N.Y. Court Rules Against Ronettes
Oct. 18, 2002 - The contract The Ronettes originally signed with Phil Spector is still haunting them. The New York Court of Appeals has ruled The Ronettes cannot collect royalties from the use of their music in movies, TV and ads -- so-called synchronization rights.
The court ruled Spector has those rights based on what they signed in 1963. The judges noted the contract doesn't mention synchronization rights, which is a modern concept. However, since it's not specifically mentioned in the contract, The Ronettes don't have control of those rights. The judges said however sympathetic they may be to The Ronettes, the stability of contract law demands they rule in Spector's favor.
There is some good news for The Ronettes. Spector had also been using their music in reissues and compilations. The case has been ordered back to a trial-level court to determine how much the group is entitled to for that, since they have royalty rights to the music.
The Ronettes' lawyer calls it a mixed decision. Spector's lawyer says it confirms his belief that courts must enforce contracts as written. (AP)


---


9th Night of 100 ELVISes:
Have you heard the news ? There's good rockin' 2 nights!! The 9th Night of 100 ELVISes will be held on Friday, December 6th & Saturday, December 7th, 2002, from 6:00pm until 2:00am. The doors to Lithuanian Hall will open at 5:00pm. Lithuanian Hall is located at: 851-3 Hollins Street, Baltimore, Maryland 21201. Profits benefit The Johns Hopkins Children's Center.
Each night the Ballroom will host at least 15 bands and 15 Elvis Tribute Artists. The Jungle Room and Viva Las Vegas Lounge will offer additional live entertainment, Elvis nostalgia, Elvis movies, Elvis cuisine and additional seating. All entertainers will perform all Elvis music, all night. In the Ballroom, no song will be duplicated.
In addition to some new surprises, the event's customary ice sculpture of Elvis with his guitar, carved by Olympic Bronze Medalist Vivat HongPong and the Honeymoon in Vegas jumpsuit will be on display. The Elvis Prize Wheel & Duck Pond, Searchlight and the FREE Stretch Limousine Shuttle from The Radisson at Cross Keys are standard features of this event.
General Admission Tickets are $35 in advance and go on sale Halloween (October 31st) at the following locations: Atomic Books, Cafe Tattoo, The Full Moon Saloon, The Whistling Oyster, Galvanize, Nacho Mama's, Peter's Inn, Ten Car Pile Up, allİRecord and Tape Traders and in Arlington, VA. at the IOTA Club & Cafe.
A limited number of reserved tables for 4 or 10 are still available for Friday's show at $55 per chair. For additional information, tickets by mail, or to reserve a table for Friday night call: (410) 494-9558 or toll free 1-(888) 494-9558. Web site: http//:www.nightof100elvises.com
Performers Booked To Date (performers subject to change): Altered Boy -- Tony Anthony -- Atomic Mosquitos -- Danny Beissel -- The Beltways -- The Billroys -- The Blue Flames -- Norm El -- Extreme Kicks -- The Fabulettes -- '52 Pickup -- Gale Force V -- Garage Sale -- The Graceliners, A Female Tribute to Elvis from Ontario, Canada -- Honky Tonk Confidential -- The Lonely Hog Callers -- J.P. McDermott & Western Bop -- Melvis & The Jungle Katz - -Monsters From The Surf -- Chris Presley & All The King's Men -- Mark Reno A Tribute to Elvis -- The Rockin' Bones -- Eric 'El' Rose -- Jeff Sarli -- The Steubenville Knights! -- Sterling Riggs -- SuperSwank -- T.T. Tucker & The Bum Rush Band -- ThElvisMan -- The Tail Draggers -- Treasured Memories of Elvis -- Mark Waddel -- Lionel Ward -- Janine Wilson and many more to be added ...


---


Review: Blasters: Trouble Bound
The original lineup of the Blasters hadn't performed together in nearly two decades when Trouble Bound was recorded, but you'd never know it. Culled from a half-dozen reunion shows at Hollywood's House of Blues in the spring of 2002, the album captures not only the rockabilly heat the band was known for, but also the excitement of the early Eighties Los Angeles music scene. At that time, the Blasters and cohorts like Los Lobos, X and the Gun Club met at an intersection of Americana, drawing from blues, rockabilly, country and punk, and creating music that sounded fresh to ears dulled by Seventies rock bloat. Trouble Bound is a reminder of the Blasters' versatility and top-notch musicianship. Dave Alvin's supreme guitar wrangling, brother Phil Alvin's distinct throaty croon and Gene Taylor's twinkling barroom piano stretch across chugging rock & roll vamps (Blue Shadow), New Orleans-flavored honky tonk (Hollywood Bed) and harmonica-laced boogie blues (I Wish You Would). Add to this old hits like Rudy Toombs' I'm Shakin' and never-before-released gems like Johnny Guitar Watson's Too Tired, and it's like the Nineties never happened. (MEREDITH OCHS - Rolling Stone, issue #909).


---


Radio Legend Horace Logan Has Left the Building
Sunday, Oct. 13th - Horace Lee Logan, who started the country music program Louisiana Hayride and first said what became the catch-phrase Elvis has left the building, died Sunday. He was 86. Logan had pancreatitis and acute respiratory distress syndrome, said his wife, Linda.
Logan began in radio when he was 16, after winning a contest to become an announcer on KWKH-AM in Shreveport, La., Mrs. Logan said.
He began producing the Hayride, a country music show performed before a live KWKH audience in Shreveport's Municipal Auditorium, in 1948. It survived only two years after Logan's departure in 1958. In between, he introduced a number of country music's top names to the nation. Elvis Presley (news), Johnny Cash and Hank Williams were among people who got their first big break on the Hayride.
When Presley debuted in 1954, Logan wrote in his 1998 memoir, Elvis, Hank and Me, he wanted to say something reassuring to the nervous young man, but didn't have time. Instead, he grabbed the microphone. Ladies and gentlemen, you've never heard of this young man before, but one day you'll be able to tell your children and grandchildren you heard musical history made tonight, he told the audience.
Two years later, tring to quiet a frenzied Hayride audience after another Presley performance, Logan announced, Elvis has left the building. With his voice of authority, all of those kids shut up and believed him. Of course, Elvis really had left the building. (AP)


---


Composer Ray Conniff Dies at 85
Conniff died Saturday, October 12th at Palomar Medical Center in Escondido after falling down and hitting his head, San Diego medical examiner's investigator Angela Wagner told The Associated Press. He had suffered a stroke in April. Conniff had more than 100 recordings and produced 25 Top 40 albums for Columbia Records. He rendered such classics as Besame Mucho and New York, New York, in a career that spanned six decades.
His most memorable song may have been Somewhere My Love. The song was adapted from French composer Maurice Jarre's Laura's Theme from the film Dr. Zhivago. It rose to the top of the pop and easy-listening charts and won Conniff a Grammy in 1966. Conniff produced 10 gold and two platinum records. He won CBS Records' Best Selling Artist for 1962 for the recording, We Wish You A Merry Christmas.
The Ray Conniff Orchestra and Singers typified the lounge-singing style of the 1950s and 1960s with a mix of wordless vocal choruses and light orchestral accompaniment. Though he got his start as a trombone player in the Big Band era playing with Bunny Berigan, Bob Crosby and Artie Shaw, Conniff broke out as a solo artist after being hired as a house arranger with Columbia Records in 1951.
He was responsible for Johnny Mathis (news)' Chances Are, Frankie Laine's Moonlight Gambler, Johnnie Ray's Just Walking in the Rain, and Guy Mitchell's Singing the Blues. He also did arrangements for Frank Sinatra, Rosemary Clooney (news) and Marty Robbins. It was Conniff's arrangement of Band of Gold for singer Don Cherry that hit the first high note of both men's careers. The song made No. 5 on the Top 40 and was widely thought to be Cherry's hottest recording.
In 1956, Columbia decided to try out Conniff as a featured performer with a big-band mix that included guitarists Al Caiola and Tony Mottola. His debut album, S'Wonderful, in which he combined a chorus of four men and four women with a traditional big band mix of 18 instruments, stayed on the Top 20 charts for nine months. (AP)


---

Billy Adams Rolls into England
In what can best be described as a media blitz, Billy Adams and the New Rock-A-Teers rolled into Hemsby, Norfolk, England, for his first European appearance, on October 4, 2002, at the 29th Hemsby Rock 'N' Roll Show. Visibility was high for the stalwart rockabilly steward, as it was the week of his highly-anticipated CD release on Sanctuary Records, Billy Adams Rockin' Thru The Years 1955-2002 (Castle Music CMRCD581). To amp up the spotlight, Adams was given front-cover feature treatment in Now Dig This magazine, who also reviewed his CD and the limited edition vinyl single which was released simultaneously, of his 1957 Quincy original track, Rock, Pretty Mama (CMN07581). Blue Suede News magazine ran a generous feature spread on the man, and even the Hemsby program booklet had a wild silhouette that was copied from a late-50's promotional picture of Adams. Full page ads for the retrospective CD release abounded in numerous publications, courtesy of his UK record label, and that, coupled with press and radio interviews, including the BBC, proved that Adams' arrival in the UK was eagerly anticipated, and they rolled out the red carpet for him like he was arriving royalty.
Media hype aside though, after waiting for this moment for many years, Adams kept the focus on the music, and he came with his band from the U.S. all set to deliver the goods to what some critics have called the toughest Rock 'n' Roll crowd on the planet, and deliver he did. That night, Adams started the show with what is becoming his signature opener, Rockabilly Rock It and instantly got the crowd on his side. Continuing right along, he rocked thru his repertoire of rockabilly sides, and brought an uproar of approval from the crowd when he nailed a rendition of his Return of the All American Boy from 1959. Continuing the musical journey through his recorded history, he called up sax and keyboard men to support sounds from his early 60's belter, Darlin' Take My Hand and the Antoine Fats Domino inspired, Blue Eyed Ella. However, the real showstopper came when Adams brought out his legendary lard bucket lid and played it during Mama Don't Allow, and the hard-pounding rhythms from the amplified lid drove the crowd into a wild frenzy. Just when the huge gathering thought that they had seen everything he possessed in his bag of tricks, Adams then introduced Wayne Hopkins, noted Hemsby perennial upright bass man, who joined Rock-A-Teers upright player Bobby Smith, in a recreation of Adams double attack 50's line-up of two basses playing at once (historians say that he was the only band of the era to perform that way). In fast succession, he poured out his 1998 Sun session Legacy cuts, Rockabilly Special, and the edgy Hey Jesus before closing out the set like the roar of a bass 'n' drum-driven freight train, on his previously unheard song, Hot Dog, I'm A Real Cool Cat. Then Adams waved, and left the stage. But it was only momentarily, as the crowd screamed for more, until he and the band came back for two encores, True Love Will Come Your Way, from his 1958 Dot Records release, and he closed the show with the one that they had all been waiting foräthe big-bang that started Adams' career, his first record, Rock, Pretty Mama.
After the show, Adams was joined backstage by many well-wishers, including Hemsby promoter, Willie Jeffery who was heard congratulating him with the words: That show was brilliant manä.spot-on perfect!!! Jack Earls, a Sun-era artist who was also on the festival, yelled out to Adams, Man, you better keep your bags packedäyou'll be coming back to Europe soon. Other luminaries, including Sam Szczepanski, of Sanctuary Records (who came from London to attend the show), posed for pictures with the man-of-the-hour and his band, and gave kudos all around. Cameras flashed as Adams was quickly ushered into a several hour autograph session with a waiting line of fans, and he stayed until the last person was greeted. Pretty heady stuff for his first appearance outside of the USA, but he came prepared, and he surely put to rest any rumors that he was deadäfor good. No proper dead man rocks like Billy Adams!
Visit Billy Adams at the Rockabilly Hall of Fame: http://www.rockabillyhall.com/BillyAdams.html - Sanctuary Records Group, Ltd.: http://www.sanctuaryrecordsgroup.co.uk - CDA Promotions, Nashville E-mail: CDAnashville@aol.com


---


Great Southern Blues and Rockabilly Festival in Narooma, Australia
&nbsp Jeanne Medlicott - Friday, 11 October 2002 - The Great Southern Blues and Rockabilly Festival was held in Narooma on the weekend and was blessed with perfect weather for the first two days. Over 10,000 visitors passed through the gates to enjoy three-days of fantastic performances.
&nbsp With four stages operating most of the time, there was no shortage of great musicians playing at any one time. Narooma Chamber of Commerce President Malcolm Bale said the Chamber would like to thank festival organiser Neil Mumme for his continued hard work. I knew the festival brought a significant number of people to the area each year, but I had no idea there would be this many, Mr Blake said, It was absolutely brilliant!
&nbsp The festival also received a great deal of national media coverage with WIN TV filming a documentary for their Destinations program, national newspapers from Sydney and Melbourne reporting the event and The Basement Sydney filming six hours of the festival and Narooma surrounds. Event organiser Neil Mumme said that the weekend went off without too many problems, though it would take a Mr. Mumme denied rumours that the event may be moved elsewhere in the shire next year.


---
October, 2002
New Narvel Felts CD: Super Songs NARVELIZED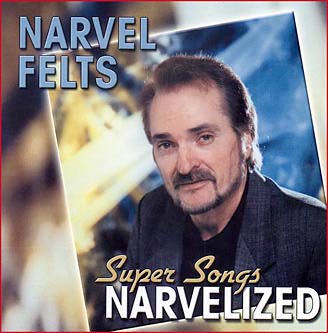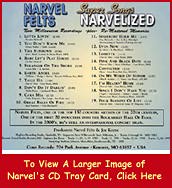 A must have CD! - Great variety of music! - One of his best ever! ...
all pertain to Narvel's latest release. What more can we say, other than to inform you where you may obtain your copy. Contact: Norma Williams, 247 Abelia Drive, Parma, MO 63870 USA. Phone 573-396-5816. Enjoy!


---

Review by Kay Wheeler
The Trini Lopez New CD - Legacy: My Texas Roots
(Released by Art Greenshaw Records)
I've just finished listening to Trini Lopez's new CD Legacy: My Texas Roots and I'm just stunned and delighted! His voice is remarkably powerful and moving! Trini Lopez deserves to be up there with Roy Orbinson and yes, even Elvis as far as quality, range and tone are concerned! It is a kick to hear Trini return to his rockabilly roots - with songs like I'm Walkin; Baby, Baby, Baby ROCK ON!; Real Love in a Spin-out World; 'It's No Sin To Rock, among others. And to think that the great Buddy Holly's Crickets are the ones who brought Trini out to Hollywood! I guess that lets everybody know what Buddy Holly thought about Texas Rocker Trini Lopez! Each song on this CD reflects the incredible strength and intensity of Trini's early and unforgettable rockabilly style. Trini Lopez is better than ever and he has not lost that rock nor lost that note! -- Kay Wheeler, Star of Rock Baby Rock It


---


Life Could Be A Dream - The Doo Wop Sound
&nbsp Bravo! NewStyleArtsChannel proudly presents the world premiere of Life Could Be A Dream - The Doo Wop Sound, a 90-minute documentary produced by Dramarama Productions and directed by Paul Eichgrun. Life Could Be A Dream traces the evolution of Doo Wop, a wildly popular style of group harmony singing in the 1950s and the first music created expressly by and for teenagers. But belying its simple origins and innocent lyrics, the music has had a powerful impact on audiences and artists ever since. Its unmistakable influence can be heard in the music of Brian Wilson, Billy Joel, Paul Simon, Frank Zappa, The Beatles, Boyz II Men, N'Sync and many others.
&nbsp Produced in association with Bravo! and MuchMoreMusic, Life Could Be A Dream features some of the sweetest music ever put on record. Doo Wop was simple, beautiful music for a simpler, more innocent time; a time before Rock became an industry; a time when half the fun of joining a group was just for the pure joy of being in harmony. The youth and musical sophistication of the groups is surprising, especially considering how many of them were comprised of kids just barely into their teens. Doo Wop was the first real music created expressly by and for a teen audience.
&nbsp Life Could Be A Dream is supported by archival visuals and seldom-seen performances, and includes input from key members of some of the most important and popular groups of the era: Earl Speedo Carroll (The Cadillacs); Arlene Smith (The Chantels); Pookie Hudson (The Spaniels); Dave Sommerville (The Diamonds); and Jimmy Merchant (Frankie Lymon & The Teenagers). Providing important colour and context for the period are authors Anthony Gribin (The Complete Book of Doo Wop) and Phil Groia (They All Sang on the Corner). Radio personalities Don K. Reed and Bobby Jay of WCBS Radio supply insights into the music and amusing anecdotes about the groups and the industry that grew up around them.


---


Forbert Pays Tribute to Blue Yodeler
By JIM PATTERSON (AP) - Oct. 2 - The Father of Country Music was actually a rock 'n' roller ahead of his time, argues a folk-rocker who's recorded a tribute album to Singing Brakeman Jimmie Rodgers. Any Old Time by singer-songwriter Steve Forbert will be released Tuesday by KOCH records. It's the tenth studio album by the 47-year-old Forbert, who, like Rodgers, is a native of Meridian, Miss. Rodgers, also known as America's Blue Yodeler, was 35 years old when he died in 1933. Although his recording career was brief ã just six years ã he set the tone for the early country music industry. Suffering from tuberculosis, he was forced to give up railroad work in 1924. His big break came when he was recorded by talent scout Ralph Peer. Rodgers became a major star with songs such as Blue Yodel (T for Texas), Waiting for a Train and TB Blues.
&nbsp Jimmie was called a hillbilly singer, but that was not his attitude, Forbert said. He really had kind of a Gene Vincent attitude, and kind of an Elvis attitude. He was drinker and partied and he had that joy for life, and he wasn't interested in being like Fiddlin' John Carson. One of the songs on the album, My Rough and Rowdy Ways, is a galloping Buddy Holly-style romp. And, to Forbert, it's a small leap from Ben Dewberry's Final Run to Chuck Berry's Johnny B. Goode.
&nbsp Rodgers was the first artist to be inducted into the Country Music Hall of Fame in 1961. Twenty-five years later, he was inducted as a founding father at the Rock and Roll Hall of Fame. Growing up in Meridian, Forbert took guitar lessons from one of Rodgers' relatives and played in a band with another. But he doesn't see any parallels with Rodgers' career or identify with him. Doing a relevant tribute album to Rodgers was tricky because many of the songs are dated, trading on things such as the romance of hopping trains.


---


Elvis 30 #1 Hits Debuts at No. 1 in 17 Territories ...
INCLUDING U.S., U.K., CANADA, FRANCE, AUSTRALIA AND BRAZIL.
Oct. 2, 2002 - RCA Records' Collection Of Elvis's #1s Sets New Record As First Ever Elvis Album to Debut at the Top of the Charts in U.S. More than 25 years after his death, Elvis Presley - recognized the world over as one of the most important figures in 20th century music and pop culture - has set a new record by debuting at No. 1 in 17 territories including the U.S., U.K., Canada, France, Australia and Brazil.
&nbsp In addition, ELV1S 30 #1 HITS, the definitive Presley collection released by RCA Records on September 24, has become the first album ever released by Elvis Presley to debut at the top of the charts in the U.S.
&nbsp The album also debuted in the top spot in Spain, Belgium, Argentina, New Zealand, Ireland, Denmark, Sweden, Chile, Switzerland, Austria and the United Arab Emirates.


---


Mickey Newbury Passes Away In His Sleep
Sunday, September 29, 2002 - Last night Mickey Newbury passed away in peaceful sleep. He struggled with great courage for years against his illness, (emphysema) but his body finally gave in and he nows rests in ease and peace ... His legacy is great and will remain long after he and we are gone. He was a dear man, great friend and an artist of the highest order. We will all miss him but we also take comfort in knowing he is at last free of pain and resting at peace. We send our love to Susie and his family. (Posted by Bill Littleton)

Mickey Newbury - Born May 19, 1940 in Houston, TX
Courtesy TWANGTOWNUSA.COM - Along with fellow songwriters such as Kris Kristofferson, Willie Nelson, and Tom T. Hall, Mickey Newbury helped revolutionize country music in the 1960s and '70s by bringing new, broader musical influences as well as a frank, emotional depth to the music - while at the same time never losing respect for tradition. Newbury infused his country music with haunting beauty and spiritual melancholy, creating an impressive collection of introspective, emotionally complex songs that are more spiritual cousins of the work of Leonard Cohen than that of Roy Acuff. (Newbury, in fact, calls himself a folksinger, and has never toured with a band, prefering the ambience of a quiet coffeehouse.) The fact that many of his songs became hits for singers from Don Gibson to Elvis Presley was proof that the industry and the public were hungry for a change.
&nbsp Like many of his generation, however - such as his friend Townes Van Zandt Newbury is better known as a songwriter than as a singer. Newbury has recorded 15 albums over a nearly 30 year period - right up to 1996's Lulled By the Moonlight, a limited-edition release sold by mail order - but his soft, beautiful tenor voice has rarely reached the charts.
&nbsp Newbury spent his teens in Houston absorbing a wide range of music, learning to play guitar, and writing poetry, which he began reading in local coffeehouses. Folk music was on the rise at the time, and he soon turned to writing songs. He sang in a vocal group called the Embers during this time (they were briefly on Mercury), and played and hung out in Houston's black R&B and blues clubs, where he was nicknamed The Little White Wolf by Gatemouth Brown.
&nbsp Newbury joined the Air Force and was stationed in England. After his discharge, he turned back to music. In 1963, a friend of his landed him a writing job with Acuff-Rose, and Newbury moved to Nashville. During the next several years, he became friends with such singers as Roy Orbison, Roger Miller, Kris Kristofferson, and Townes Van Zandt. He was also instrumental in getting both Kristofferson and Van Zandt - among others - noticed in Nashville.
&nbsp In 1966 Don Gibson had a Top 10 hit with Newbury's Funny Familiar Forgotten Feelings, and Newbury's writing career was off and running. A long string of hit songs followed, recorded by such artists as Kenny Rogers and the First Edition (Just Dropped In), Eddy Arnold (Here Comes the Rain, Baby), and Andy Williams (Sweet Memories).
&nbsp Newbury's first album of his own was Harlequin Melodies for RCA in 1968, recorded in RCA's big Nashville studio (it's an album he now detests). He quickly got out of his RCA contract and instead turned to a small four-track studio run by engineer Wayne Moss in a converted garage (becoming, before the word outlaw ever became fashionable, one of the first Nashville artists to work outside the studio system). It was here that he recorded some of his best solo albums, starting with Looks Like Rain for Mercury; this contained initial versions of two of his most enduring songs, San Francisco Mabel Joy (which he's recorded several times more) and 33rd of August.
&nbsp But Mercury didn't support the album, and so Newbury switched to Elektra in 1970. With this label, he released a string of superb albums, including Frisco Mabel Joy, Heaven Help the Child, and the acoustic Live at Montezuma Hall; the latter was paired with a rerelease of Looks Like Rain. These contained such songs as Cortelia Clark (about a blind street singer), the almost painfully lonely Frisco Depot, and Heaven Help the Child, a sweeping mini-epic of a song that makes references to Fitzgerald and Paris in the 1920s. In 1972 Newbury had a Top 30 hit with American Trilogy, a suite-like arrangement of Dixie, Battle Hymn of the Republic, and All My Trials. The song later became a major hit for Elvis Presley and a standard in his repertoire.
&nbsp Newbury recorded three albums for ABC/Hickory in the late 1970s, and was inducted into the Nashville Songwriter's Hall of Fame in 1980, but he was more and more becoming something of a recluse. He had given up concert touring some years before, and also had moved to Oregon. In the 1980s, he only released two albums. In 1994 he resurfaced with Nights When I Am Sane, an acoustic album recorded live with guitarist Jack Williams; Lulled by the Moonlight followed in early 2000. Since he's been out of the spotlight for more than a decade, though, and his catalog is largely out of print, he's little known in contemporary country circles. People familiar with his work, however, recognize Newbury as one of country music's most inspired and moving artists. -Kurt Wolff


---


Johnny Cash's Birthday Party Continues
by John Goodspeed, San Antonio Express-News - Johnny Cash may have celebrated his 70th birthday earlier this year, but the party is far from over for one of the most influential artists in country music history. Re-releases of his classic albums are being joined by two tribute CDs. One is from 18 alternative country artists including Hank III, Raul Malo, Rodney Crowell and Rosie Flores, and the other leapfrogs genres with the likes of Bob Dylan, Bruce Springsteen, Keb' Mo' and Little Richard.
&nbsp İİİİİ You know you're a true icon when you have a birthday year,'' said Chuck Mead of the alt-country group BR549, who co-produced Dressed in Black, A Loving, All-Star Tribute to 'The Man in Black''' (Dualtone), now store shelves.
&nbsp He's part of our culture, part of the air we breathe,'' said Marty Stuart, an edgy country star and one-time Cash guitarist who produced Kindred Spirits: A Tribute to the Songs of Johnny Cash'' (Lucky Dog/Sony Nashville), which will be released Tuesday, Sept. 24th. He is like Woody Guthrie in a way,'' Stuart said. He was on the edge of our culture during his time in the 20th century, and his take on our lives' trials and troubles helped write the script that moved the American story along.''
&nbsp İİİİİ Born in Kingsland, Ark., Cash learned guitar while in the Air Force in the early 1950s. After the service, he moved to Memphis, Tenn., and signed on with Sun Records, the pioneering rock and rockabilly label. He had a hit with his first song, Cry, Cry, Cry,'' in 1955, with others soon following - Folsom Prison Blues,'' I Walk the Line'' and Give My Love to Rose.''
&nbsp İİİİİ Lean and muscular lyrics, spare arrangements somewhere in the middle of country, folk, rockabilly and rock, and his penchant for dressing in black quickly made Cash stand out from the rest of the artists of the day - and for the next four decades.
&nbsp İİİİİ He wrote lighthearted records about A Boy Named Sue'' and stealing parts to build a Cadillac One Piece at a Time'' alongside songs of pain, prison, misery, heartache, murder, love, patriotism and God. They resonated with millions and inspired generations of artists who grew up believing there always had been a Johnny Cash.
&nbsp İİİİİ The first record Stuart bought was The Fabulous Johnny Cash.'' Today he has every recording Cash ever released. I was a die-hard Cash fan - still am,'' said Stuart, 43, who recalls his mother taking him out of school in 1970 and driving 90 miles to catch a Cash show in Jackson, Miss.
&nbsp İİİİİ I don't remember flying out of my seat and running to the stage the minute he came out, but the next thing I knew a security guard was hauling me back. Some people felt that way about the Beatles, but this was my guy.'' Stuart, once married to Cash's daughter Cindy, ended up in Cash's band in the early 1980s. &nbsp İİİİİ The first night I played with him we did 'Folsom Prison Blues,' and that all came rushing back. I hung my head and cried.''
&nbsp So when Sony's Blake Chancey asked Stuart to do a tribute album with country hit-makers singing Cash songs, Stuart expanded on the idea. I thought Cash was never celebrated as a great American songwriter, someone who has influenced several genres of music,'' he said, adding that because Cash's music is rhythm-based he never could be classified as pure country or rock.
&nbsp İİİİİ It never ceases to amaze me when you look at his body of work - over a thousand songs - and they're all 1:50 to 2:30 minutes long, in and out in just a couple of minutes but there's a whole lot that goes on in between. Along with his truth and honesty, that's one of the brilliant things about his songwriting. Simplicity is one of the hardest things to write.''
&nbsp İİİİİ Stuart had no trouble assembling a roster, including the country stars Dwight Yoakam, Travis Tritt and Hank Williams Jr. alongside Dylan, Springsteen and more. Like Stuart, BR549's Mead cannot recall life without Cash. He's always been there, ever since I can remember, he and Hank Williams,'' said Mead, who was approached by Dave Roe, Cash's longtime bass player, to put together a tribute album and co-produce it with him. Dave called and wanted a tribute featuring people like us, a little left of center in the country music world, who are out there playing this kind of music all the time,'' Mead said. Cash is a staple for anyone doing roots-based music. There's nobody cooler.''
&nbsp İİİİİ Although Cash's persona often overshadowed his gifts, Mead believes he elevated country music to a higher ground spiritually and intellectually, He's the only guy I know of that everybody knows, around the world,'' he said. He's a true American icon, and he deserves for us to celebrate his birthday for a whole year.'' The San Antonio Express-News web site is at http://www.express-news.net


---


Kenny Lovelace Honored in Alabama
Ken Lovelace has been Jerry Lee Lewis' friend and band leader for 35 years. On Saturday, it was Lovelace's turn to take center stage as the Alabama Music Hall of Fame unveiled a bronze star in his honor. Kenny's stood beside me through ups and downs and thick and thin - I love him like my own brother, Lewis said of the soft-spoken Cloverdale native. I wouldn't have missed this for anything.
&nbsp Lovelace's star on the Walk of Fame will be in good company. It's surrounded by stars honoring his cousin, Sun Records founder Sam Phillips, as well as soul legends Percy Sledge and the Temptations and gospel greats Gold City. What a wonderful honor. I couldn't be in better company, Lovelace said after the ceremony. I told Jerry that this makes me want to bring that old 1966 black limousine out of storage and hit the road again.
&nbsp Lovelace started playing music when he was 7, said his aunt Christine Lovelace Gentry, who lives in Florence. When it's born in your soul, it just comes out, said Gentry, a pianist. When Kenny found an instrument, he had no trouble learning how to play it on his own. Now, he's truly a virtuoso. He's so versatile with his talent, and he's gracious with it. When he's playing, you can tell he's in seventh heaven.
&nbsp Lovelace toured with singer Bud Deckleman and performed shows with Sun artists Johnny Cash and Carl Perkins. Then, he joined his cousins Raymond and Jimmy Lovelace in the Go-Go Five, later called the Five Jets. We started traveling a lot, and from that point on, it was one thing after another, Lovelace said.
&nbsp Jimmy Johnson, who was a guitarist for the Muscle Shoals Rhythm Section, believes the Five Jets had a big impact on the area's music scene. The Five Jets came out of here and wound up going to Vegas and Louisiana and everywhere, said Johnson, chairman of the music hall of fame's board of directors. They were the complete catalyst, I think, for the music that followed here in Muscle Shoals.
&nbsp Lovelace was performing with the Five Jets when he experienced his fateful first encounter with Lewis in 1967. The band was backing up Lewis's sister, singer Linda Gail Lewis, at the Rendezvous club in Monroe, La. Jerry came in one night and heard the show, Lovelace said. He really wanted to hire the whole band, but they weren't free to travel at the time because of their families. So he said, 'Well, I'd like to hire you, Kenny.' I was free to travel at that time, and the rest of the guys encouraged me to go.
&nbsp Lewis had burst onto the national charts in the late '50s with the classic Sun hits Whole Lotta Shakin' Goin' On and Great Balls of Fire. We used to work 28 dates out of the month, doing rock shows and country shows, Lovelace said. We'd work almost every night and travel 400 to 500 miles a day. At the very end of the tour, on the last night, Jerry and I would hop in the back seat. He'd get the guitar and I'd get the fiddle, and we'd play all the way into Memphis.
&nbsp Lovelace has performed on such chart-topping Lewis hits as the No. 1 country-pop crossover hit Chantilly Lace, the rambunctious Rockin' My Life Away, the honky-tonk favorite 39 and Holding and the classic cover version of Judy Garland's Over the Rainbow. Kenny's the world's only real rock 'n' roll fiddle player, Lewis said. We've shared great times and great music together. You just can't beat him as a player or as a person. He's the best there is.
--Courtesy: Times Daily, Tuscaloosa, AL


Singer helped create 'Big D Jamboree'
Homer Callahan dies at 90
09/13/2002 By MARIO TARRADELL / The Dallas Morning News
&nbsp Homer Callahan ' half of the Callahan Brothers, who launched Dallas' country variety show the Big D Jamboree in the 1940s ' died Thursday of congestive heart failure. He was 90. Mr. Callahan, a North Carolina native, died in Dallas, where he lived part of the year with his son, Buddy Callahan.
&nbsp With brother Walter, using the stage names Bill and Joe Callahan, he founded the Big D Jamboree after the pair moved to Dallas to perform on KRLD. Initially titled Texas Jamboree, it was renamed and broadcast from the old Sportatorium on Industrial Boulevard. The popular show drew thousands every Saturday night and featured top artists such as Roy Acuff, Ernest Tubb and a young Elvis Presley.
&nbsp After selling their share of the Jamboree in the early '50s, the Callahan Brothers went to Hollywood to make Western movies. They eventually came back to Dallas and continued to perform.
&nbsp The brothers sang close- harmony country duets during a recording career that spanned 20 years. They tried to evolve with country music's mainstream sound but never adopted Nashville's smooth countrypolitan style of the '60s. Brother Walter quit show business, moved back to Asheville, N.C., and died there in 1971. Homer continued performing and for a while managed the late country legend Lefty Frizzell.
&nbsp Son Buddy, grandsons Kelly and Michael, and five great- grandchildren survive Mr. Callahan.


---


Frank Andy Starr, The Haywoods ...
THE HAYWOODS, an exciting and talented rockabilly band from California, are back home after spending a week recording at Oat Central in Nashville. They're part of the new CD/film documentary project showcasing the rockin' return of the original '50s rockabilly artist (and member of the Rockabilly Hall Of Fame) FRANK ANDY STARR. The legendary Mr. Starr recorded for the first time in many years here at Oat Central in July, and sounds great !
&nbsp They currently looking for one more rockabilly act to be part of this historic project, and to appear on both the CD and in the documentary. For more information, e-mail info@wildoatsrecords.com. And feel free to e-mail The Haywoods (thehaywoods@yahoo.com) to get their feelings about taking part in the CD and film.
&nbsp Meanwhile, another excellent rockabilly act featured in the project, GAIL & THE TRICKSTERS, has been picking up favorable reviews (below) here, there and everywhere. Gail, by the way, recorded two great duets with Frank Andy Starr during his sessions in July.


---


Capitol Records to Release a Tribute to the King
September 9, 2003 - John Lennon once remarked that, Before Elvis, there was nothing. This might have put him at odds with several better-established creation myths, but when it comes to the Rock n' Roll Book of Genesis, John was perfectly right. In the beginning, there was Elvis. The length, breadth and depth of his influence are immeasurable and he is inarguably the single-most important person in the history or popular music.
&nbsp The release of the thirteen-track A TRIBUTE TO THE KING shows just how far-reaching his influence was. Elvis contemporaries Jerry Lee Lewis pounding out Jailhouse Rock, Del Shannon doing (Marie's The Name) Of His Latest Flame, and Eddie Cochran with Blue Suede Shoes seem only natural in such a collection. Lennon belting Hound Dog (live) and McCartney rendering All Shook Up amount to giving Elvis his propers since they were the ones who followed most closely in those blue suede footsteps.
&nbsp Compare and contrast, though, Lou Rawls smoothing out the bumps in (Now And Then There's) A Fool Such As I with Bryan Ferry's Are You Lonesome Tonight? or Kenny Rogers' sweet version of Love Me Tender with Suspicious Minds by Fine Young Cannibals and Willie Nelson's and Leon Russell's relaxing Heartbreak Hotel to Canned Heat's essaying of That's All Right to see that eclectic doesn't begin to describe The King's reach.
&nbsp Most fitting on the album, though, might be Otis Blackwell singing Don't Be Cruel with Jersey rockers The Smithereens and Candi Staton's In The Ghetto. Blackwell, who passed away this spring, wrote Don't Be Cruel along with All Shook Up and several other early Presley hits. R&B and gospel legend Staton's version of Ghetto was said to be Elvis's favorite. Their inclusion here is a nice reminder that before Elvis there was gospel and there was R&B.
&nbspAll Shook Up - Paul McCartney
&nbspBlue Suede Shoes - Eddie Cochran
&nbspHeartbreak Hotel - Willie Nelson & Leon Russell
&nbspAre You Lonesome Tonight? - Bryan Ferry
&nbspIn The Ghetto - Candi Staton
&nbspJailhouse Rock - Jerry Lee Lewis
&nbspThat's All Right Mama - Canned Heat
&nbspDon't Be Cruel (live) - Smithereens w/Otis Blackwell
&nbsp(Marie's The Name) His Latest Flame - Del Shannon
&nbspLove Me Tender - Kenny Rogers
&nbsp(Now And Then There's) A Fool Such As I - Lou Rawls
&nbspSuspicious Minds - Fine Young Cannibals
&nbspHound Dog (live) - John Lennon


---


Gene Vincent's Daughter Files Lawsuit Over Father's Estate
The heirs of late rockabilly pioneer Gene Vincent could soon be facing off in court. Vincent's British-born daughter Sherri Vincent Murray filed a lawsuit Friday (August 30) against her father's ex-wife Jacqueline Vincent Craddock, her half-sister Melody Jean Vincent Craddock, and her half-brother Vincent Eugene Craddock, claiming fraud and concealment, copyright infringement, accounting, declaratory relief, and constructive trust, all regarding the administration of the Gene Vincent estate and musical legacy.
Murray's mother, Margaret Ann Craddock, married Vincent (born Eugene Vincent Craddock) in January 1963, and gave birth to Murray in May of that same year. Vincent filed for a Mexican divorce in 1965 that was not recognized by British courts. Craddock later filed for divorce in 1970.
Murray's lawsuit names Vincent's second wife, Jacqueline Craddock, also known as Jacqueline Frisco, who toured with Vincent in 1964, had an affair with the singer, and then married him.
Also named in the lawsuit are Murray's half-sister, Melody Jean Vincent Craddock and half-brother Vincent E. Craddock, the offspring of Gene Vincent and Darlene Tidwell, born prior to Murray. The lawsuit claims Tidwell and the rockabilly star never married.
0 The suit states that Gene Vincent never paid child support to Murray's mother and upon his death, Murray was not named as one of his heirs. It also states that Jacqueline Craddock claimed Vincent died penniless and without copyrights and obtainable royalties. However, copyrights were then renewed under the names of all three defendants in the lawsuit.
Murray is seeking a one-quarter interest in all musical composition and sound recordings as well as damages and compensation to be determined by a court of law. She has also demanded a trial by jury.
Gene Vincent's biggest hit was Be Bop A-Lula, in 1956. Throughout the 1950s, he toured with his band the Blue Caps, made television appearances, and also performed in Hollywood films including The Girl Can't Help It and Hot Rod Gang. Vincent was inducted into the Rock And Roll Hall Of Fame in 1998.
-- Darryl Morden, Los Angeles


---


Elvis Hayride CD Released
On August 13th, Tomato Records released Elvis Presley/Roots Revolution: The Louisiana Hayride Recordings, a 16- track edition of the historic Elvis Presley live radio performances from 1954, 1955 and 1956 on the fabled KWKH radio program The Louisiana Hayride. Undergoing a complete sonic restoration using state of the art digital technology, the original recordings which previously suffered from inferior sound quality, have been brought back to life allowing the magic of a 19-year old Elvis Presley to shine through. Commemorating the 25th Anniversary of Elvis' death, Roots Revolution: The Louisiana Hayride Recordings is a testament to the enduring impact Presley and his music have had on the world.
We're still trying to catch up with Elvis Presley after 50 years. These recordings began the sea change that was to follow, the great moment when the flood gates were opened-the innocent, raw, profoundly unique Elvis Presley like we would never hear him again. Anyone who ever picked up a guitar after is still having a conversation with what Elvis started, whether they know it or not. This is as close as you get to the Genesis in terms of what was to follow in popular culture-musically, sexually and racially-for the rest of time, states Tomato Records' Kevin Eggers.
Originally released in 1982 on Eggers' The Music Works record label as two separate albums: Elvis: The First Live Recordings and The Hillbilly Cat, the releases were plagued by badly distorted fidelity due to the limited technology of live radio broadcast recordings in the mid-50s, as well as, tape degradation over the years to follow. While serving the purpose of documenting Presley's performances at the Louisiana Hayride, the sound quality never allowed for the Hayride recordings to be more than collector's items, satisfying fans curiosity as to how the live Elvis sounded at the beginning his career. For Roots Revolution, however, Eggers and Tomato have gone to great lengths to digitally restore the performances for the best possible repeated listening experience. Eggers states: We attempted to recreate The Blue Moon Boys, Scotty, Bill and D.J., as Elvis would have heard them on the bandstand.
Using new musicians to help restore the bass and acoustic guitar parts, which were all but lost to hiss and crackle on the existing tapes, Elvis' vocals and Scotty Moore's guitar were able to be increased within the mix, highlighting the dynamic interplay between the two. Bass player Paul Nowinski, who's recorded with the likes of Keith Richards, Rickie Lee Jones, Les Paul and New York Voices rebuilt Bill Black's parts, while Jon Paris, previously a member of bands including those of Bo Diddley, Robert Gordon, Link Wray, Johnny Winter and Johnnie Johnson, helped to refurbish Presley's rhythm guitar. Top session drummer Steven Wolf was brought in on Hound Dog, the lone track with drums to strengthen the presence of D.J. Fontana. Eggers and company were careful to only restore the already existing parts performed by Elvis and his band. There were no new arrangements, additional instruments or extra musical sections added. In addition, authentic period instruments were used including gut strings on the upright bass and '50s ribbon microphones.
We approached this much like that of restoring a master painting. Our intent was to bring out the original colors and energy of the music being created. Great care was taken to make sure the musical enhancements were 100 percent faithful to the original parts played by Elvis, Scotty, Bill and D.J., states Eggers.
The end results are nothing short of magical, as Elvis' voice cuts through crystal clear whooping, stuttering and roaring through utterly groundbreaking performances of That's All Right, Mama (included here with both the restrained '54 debut version, and the rambunctious, freewheeling '55 version made 8 months later after Elvis had already hit the top of the charts), Baby, Let's Play House, Blue Moon of Kentucky, Maybellene and Tweedle Dee. Also present are many of the classic introductions by hosts Horace Logan and Frank Page, including the infamous Elvis Has Now Left the Building announcement.
Roots Revolution: The Louisiana Hayride Recordings features a gorgeous 20-page booklet designed by renowned graphic designer Milton Glaser, including rare black and white photos by longtime Elvis Presley photographer Alfred Wertheimer; liner notes telling of Elvis' first appearance on the Louisiana Hayride by noted Memphis music journalist Andria Lisle; detailed track information and complete restoration notes.
It's been almost 50 years since a 19-year old kid from Tupelo, Mississippi wearing a pink blazer, black shirt, white pants and two- toned loafers, appeared at the Louisiana Hayride slamming together America's most indigenous styles of music-R&B, Country, Blues, Gospel and Swing-dropping his very own rockabilly style on an unsuspecting nation. It truly was a roots revolution. Music would never be the same, and some might argue that it would never be better.
For more information on Elvis Presley/Roots Revolution: The Louisiana Hayride Recordings and/or EMAIL
abby@taconic.net
www.elvis2001.net


---
The Elvis 'Mystery Guitar
On the televised comeback show of Elvis Presley, the one in which he wears the black leather outfit, Elvis played several guitars. One of them was the Gibson Super 400 that Jody Reynolds gave Elvis in 1967. Jody purchased the guitar in 1962 from a music store in Palm Springs, California and played it at hundreds of performances, both recordings and live until 1967 when he opened his own music store, called The Music Room, in Palm Springs.
Elvis came in to The Music Room one day and saw the Gibson Super 400 hanging on the wall and said to Jody I know what that guitar is and I want it! . Jody took the guitar down and plugged it in to an amplifier and Elvis strummed a few chords on it and said how much?. Jody then told Elvis that he could have the guitar because Elvis' Heartbreak Hotel was the inspiration for Jody's multi-million seller Endless Sleep. For the next five to seven years, Jody sold to Elvis, many guitars as well as a piano.
With the recent publicity swirling around the auction of Elvis' guitars, interest has surfaced as to the fate of this particular guitar. To identify this guitar more closely, a brass plate measuring two and a half inches by two inches can be found screwed on to the guitar. There is also a Van Epps feedback damper attached to the head stock of the guitar that could be placed on the nut to keep the feedback down.
Jody Reynolds was photographed in 1963 playing this very same guitar and can be seen on the cover of his current double CD package Endless in which he plays this guitar on various songs.

This guitar can be seen and heard on Jody Reynolds' latest double CD package of 53 songs, Endless which can be ordered from:
Tru-Gems Records
P.O. Box 3683
Beverly Hills, CA 90212
Lee Silver
trugems@earthlink.net


---
Paul Galaxy & The Galactix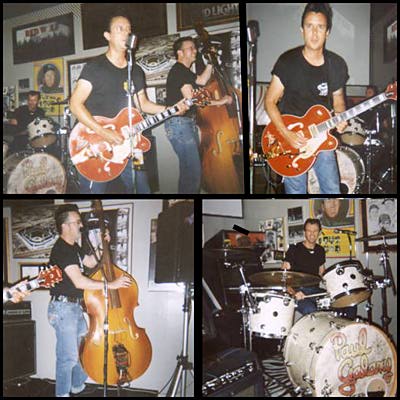 At a July gig at Sports 50s in Wyandotte, Michigan - Paul, Chopper and Mad Dog rip it up again! Look for their new CD Cross the Line in stores and on line. Listen to Desert Air, a great track. These boys are electrifying!! Photos: Rachel Malinowski


---


Gretsch Online Store
The Gretsch Company is proud to announce the opening of the Gretsch Online Store, www.gretschstore.com. Players and enthusiasts can now enjoy a piece of the Gretsch tradition with apparel, accessories and collectibles. All merchandise features the original designs and logos that identify Gretsch as an American Classic. This stuff is cool! The Online Store is the only place you'll find this exclusive merchandise that celebrates over 100 years of Gretsch. Whether it's a Drum T-shirt or a Guitar Catalog circa 1950, you'll definitely find what you need at the Gretschstore.com. And be sure to visit often as new products are continually being added. They're just getting started!


---
Don Winters, The Yodeling King, Dead at Age 73

Country music singer Don Winters, 73, known to fans as The Yodeling King, died yesterday at his home in Nolensville after a yearlong battle with liver cancer. Born in Tampa, Fla., and raised in southern Georgia, Mr. Winters began his musical career with his father's band, Pop Winters and the Southern Strollers, in the late 1940s. He moved to Nashville in the 1950s to launch his solo career, recording on RCA and Decca Records labels. He showed up on the Billboard charts with songs Too Many Times and Shake Hands with a Loser.
In 1960, country music legend Marty Robbins asked Mr. Winters to join his band, a move that launched a lifelong friendship between the two entertainers. Together they serenaded audiences, along with Bobby Sykes, as the Marty Robbins Trio. Mr. Winters and Robbins collaborated until Robbins' death in 1982. Don Winters recorded the classic rockabilly song Pretty Moon.
Mr. Winters' sons, Donnie and Dennis, represent the third generation in the Winters family musical legacy, with their recording career as The Winters Brothers. Burial site: Nolensville Cemetery.


---


Vince Maloy RIP
August 16, 2002 - Dear Friends and Music Fans,
It is my unfortunate duty to inform you of the death of Southern Maryland's Original Rockabilly Cat, Vince Maloy. Vince passed on after a long battle with leukemia.İVince released several 45s between 1957 and 1968. You might remember Vince for his most famous song Hubba Hubba Ding Ding which was covered by California's Sugar King Boys who released it as a cut on the band's 1996 EP. Vince also made well over 50 appearances on The Milt Grant Show - Washington DC's version of American Bandstand - in the late 1950s and early 1960s.İ
İ Vince was a good friend of the Wray brothers, Link, Doug and Vernon. Vince recorded a few sides at the legendary Wray's Shack in Accokeek, andİgigged occasionally with Link Wray and the Wraymen.İİOne of my favorite stories of Vince's was the time heİmentioned to Link that he had a gig at a bowling banquet at a Southern Maryland Fire Hall. Link said the bandİhad no bookingsİthat night, so they played as Vince's band ... at the same time they had Jack the Ripper on the national charts!
In the early 1970s, Vince began a career in law enforcement. He was a past chief of the North Beach Maryland Police Department, and retired as an investigator for the Department of Defense. He continued playing music for local charity events and fund raisers. In 1994 Vince and his wife Shirley were National West Coast Swing Dance Champions in the Gold Division, and they were featured in a segment on The Nashville Network's Club Dance TV show.
After he retired, Vince and his wife Shirley ran a successful antique business in Leonardtown Maryland. Shirley passed away in 2000.
İ Vince was a great friend of mine.İİRecently, just before Vince became very ill, I had the outstanding honor ofİ getting him back into the studio, for the first time in 30 years, to play with the FleaBops, known as the best traditional rockabilly band on the East Coast.
Ironically, interest in Vince's career really seemed to be picking up. Last month he was mentioned in CAPITOL ROCK, a book on Washington DC rock and roll. Later this month, Buffalo Bop Records of Germany will be releasing the rockabilly compilation LIVE IT UP, featuring four of Vince's songs. This release will include the song FLYING LOVE which was the only one of Vince's 45s thatİhe did not have -İbut was always looking for. Additionally, he recently received a request for an interview by the French magazine ROCK AND ROLL REVIEW. Unfortunately, this interview did not take place.
To learn more of Vince's long life, music career, and profession as a police officer, you can check out his website, VINCE MALOY - SOUTHERN MARYLAND ROCKABILLY CAT at http://vincemaloy.tripod.com. You can also reach this site at www.fullcirclepros.com/vincemaloy/index.htm. Vince is an inductee of the Rockabilly Hall of Fame (www.rockabillyhall.com). You can find his web page on the Hall of Fame at www.rockabillyhall.com/VinceMaloy.html. God bless ya Vince and thanks for that great rockabilly bop!
Greg Laxton - laxton@starpower.net


---
The Party of '56 Home Recording from
Roy Orbison and Faron Young at Judy Baker's Home

The party of 56 is a home recording of Roy Orbison, Faron Young and friends at Judy's Baker's home, recorded in Corpus Christi, Texas 1956. After fourtysix years, finally this unique home recording will be released on CD, in the 2nd week of September, 2002.
Entitled: The Party Of 56, this tape was discoverd nearly six years ago on a reel to reel tape (100 minutes). For the Roy Orbison fans this seem to be the most ULTIMATE HIGHLITE, of Roy Orbison's ultra rare recording CAREER to be released ,to have this in their private collection.
But, for Elvis fans this must be a great suprise too, because Roy Orbison sings on most songs of this CD ... Elvis Hits. Roy's real break through as an artist was in 1960 with his Hit: Only The Lonely. Here is the tracklisting of the home-recorded songs that Roy Orbison sings : Miss Fanny - Marylou - You're My baby - Slippin' And A Slidin - Ready Teddy - Hound Dog - Don't Be Cruel - Lawdy Miss Clawdy- That's All Right Mamma - I Want You, I Need You, I Love You - I Was the One.
Many times Roy is (while they were messing around, talkin, laughing) singing the Elvis songs later on this cd again...sometimes two or three times, this goes also for Faron Young. Faron Young sings: Mrs.Brown - Honky Tonky Man - Heartbreak Hotel - Blue Suede Shoes - Good Rocking Tonight - Hound Dog - Tutti Frutti - I Walk The Line.



Read this incredible story of that day: The Party Of '56
Written by David Banner (2002.)
1956 Party TAPE . It was the Fall of 1956. The 20-year-old Roy Orbison was touring with his band, The Teen Kings, still enjoying the popularity of their hit Ooby Dooby released by Sun Records. The song peaked at number 59 on the Billboard Pop Chart and re-entered a couple of times. They were being booked by Stars Inc. in Memphis, sharing the stage with some other Sun Records acts like Carl Perkins, Johnny Cash and some Country singers also. Some of them where Johnny Horton, Sonny James and Faron Young. Faron was a Capitol Records artist and had just had his first No. 1 Country hit with Joe Allison's Live Fast, Love Hard, Die Young sometime back.
It is not clear exactly when this recording was made, possibly around or after September 1956 after Hound Dog was released, but it would be wise to assume that it took place after a show with Roy and Faron. Some sources indicate that the location was Corpus Christy, Texas. For sure we know that it was made by Judy Baker into a home tape recorder using a hand microphone. Judy became a Country Music hostess but little we know about her. She was born in 1924 and died in February 2000, now buried in Goodlettsville, Davidson County Tennessee, USA. The tape stayed in her position through the years and surfaced after her passing. A few pictures were taken that night while the guitar was passed around to the hands of Roy and Faron. Elvis was Roy's favorite singer, and vice versa. Roy had seen a few of Elvis shows in Texas, and they met at the Overton Park Shell in Memphis in June, 1956. Both Roy and Faron sing mainly Elvis songs, Roy also does a few Little Richard tunes and one of his first recordings Hey Miss Fanny, a hit by The Clovers a few years back.
The importance of this recording is enormous. To Roy Orbison fans, this reveals an early Orbison, casual and relaxed singing songs they have never heard him sing before, and we know how a fan feels like when something like this comes across. For Elvis's fans this means the discovery of new versions sung by Elvis's favorite singer. Either way, an early piece of history not to be missed.

2002/08/14 - Courtesy of Andylon Lensen / www.epgold.com


---


Great Scott! What A Wild Weekend!
by Larry Shell - lawrenceshell@comcast.net
I'm a little late posting but I wanted to add my comments on what a great time I had on Sunday 8/11! The Lincoln Center root rock show was top-notch! I arrived just as Jim Weider and the Rockabilly Gurus were warming up the crowd with bass player Lee Rocker belting a few. I stopped to say howdy to Bob Timmers of the Rockabilly Hall of Fame who was set up under the trees waaay in back. When the first act, Narvel Felts came out, I hightailed it closer as I'd never had the pleasure of seeing him live and in person. Narvel did a mix of his rockabilly and country hits. He opened with Pink and Black Days, Since I Don't Have You (a tribute his late son, Bub), 1975 country hit of the year Reconsider Me and other great tunes. If you dug Narvel's performance, check out his CD, Narvel Felts At Rolliní Rock, which are his most recent recordings and its a great album. His earlier material is available on 3 Bear Family CDs. Narvel was pretty amazing, what a voice! He's still got it and I hope to see him again! I got to meet him afterwards and he is an extremely nice guy!
Next up was Rosie Flores and her band which included Chris Scruggs on upright bass. Chris tore up the Rodeo Bar on Friday night opening for Three Bad Jacks. He's got a killer voice and energy like you wouldn't believe, he was crazy-man-crazy! Rosie did some rockiní tunes including Crazy Mixed Emotions, Rock Your Baby, Funnel of Love and others.
Then Rosie brought out the Queen of Rockabilly, Wanda Jackson, and backed her set. Wanda as usual, wowed the crowd with a selection of her rockiní hits including Mean Mean Man, and Fujiyama Mama, ending with Let's Have A Party.
Next up was acapella group, The Persuasions, doing a tribute to Elvis. I'd heard of these guys but never heard anything by them, and they were pretty amazing doing doo wop versions of the King's hits opening with Hound Dog, and continuing with Good Luck Charm, Don't, Heartbreak Hotel and more. I'm definitely going to check out their cds, these guys are great!!!
One of my all-time favorite singers is Jack Scott, I own a lot of his original 45s, and I could not believe he was here in person! Jack did the longest set of the night to my great delight, almost an hour, all the other acts got about 30 minutes each. With a well-oiled band which included Rockin' Rudy on bass and the great Steve Nardella on lead guitar, Jack opened with Go Wild Little Sadie, and sang his heart out covering almost all his classic hits like The Way I Walk, What In The World's Come Over You, Save My Soul, Leroy, and many more. A highlight of the day to be sure!
After Jack's set, I made my way to the back of the park where the merchandise tables were set up as I didn't want to miss my chance to meet Jack and get his autograph! I first stopped at Wanda Jackson and asked her to sign the booklet from my Bear Family box. I told her it was great seeing her again which it was! I then checked out how Bob Timmers of the RAB-HOF was making out and noticed Narvel Felts set up next to him with an open suitcase containing a couple of different photos and several CDs. I shifted over and spoke to him briefly and picked up a signed photo. Narvel is one of the nicest people I have ever met and that's saying something as most of the people in this scene are nice. Great singer and a great person!
I then made my way to Jack Scott's short but very slow line as I couldn't miss my chance to shake the man's hand and get his autograph being the real fanboy I can be at times. I missed Billy Lee Riley's set as I spent the entire time in the line. I could hear him from where I was but not that well. Finally I got to the front of the line and asked Jack to sign several items for me and a friend. I then told him what a big fan I was and shook his hand. Damn, what a treat to meet the great Jack Scott in person and see him perform!!!!
The Burnette cousins, Rocky and Billy, closed the show in high fashion, unfortunately I was still at the back of the park hanging out with some friends and only caught a little of the action onstage. I then made my way over to the Rodeo Bar as the evening wasn't over yet as there was going to be an after party at the club and some of the performers were going to appear there!
When I arrived, the regular Sunday night show was still going on with Jack Grace, a country performer who was singing Staying Alive of all things! He actually wasn't that bad and thankfully his set ended shortly thereafter. Rosie Flores was the advertised performer but many guests were to appear from the Lincoln Center show. Chris Scruggs opened the show to everyone's delight with a half-dozen hard driving rockabilly and honky-tonk tunes, then Rosie came up and continued the rockiní party and did a bunch of songs she hadn't performed earlier like You Tear Me Up, and James Intveld's Crying Over You.
After a brief set, Rosie managed to get Jack Scott to come up and do a few songs which ended up being a good half hour's worth to everyone's delight. Two Jack Scott sets in one day and to see him the intimate confines of the Rodeo Bar was an added treat!!! Jack was backed by his sax and bass player (Rudy) and Chris Scruggs and Chris the drummer, both from Rosie's band. Jack opened with Go Wild Little Sadie, and performed several of the tunes he'd sung earlier in the day, The Way I Walk, What In The World's Come Over You, and ended with a couple he hadn't performed at Lincoln Center, Kaw-Liga and his own Geraldine. Another solid set with a standing ovation!
Rosie then called up Nashvilleís Duane Denison of the country band, TOMAHAWK, who proceeded to wow the crowd with an amazing display of guitar pickin'í but it went on for almost five minutes denigrating to guitar wanking of the first order. We were more glad when he stopped, sorry but its true.
Unfortunately none of the other acts from Lincoln Center came over, not that they were expected to. I was hoping to renew my acquaintance with Rocky Burnette but I guess that will have to keep for another time.
The show ended after 2am with one more number by the amazing Chris Scruggs, who at 19 is off to a great start and is carrying on the proud name of his grandfather, one of the all-time country greats.
All in all, I'd have to say this day was one of the best, musically speaking, I've ever had, and at my advanced age that's saying a lot!!! :)
--Larry Shell


---


From the New York Times:
Rockabilly? It's Alive and Kicking, Daddy-O
By JON PARELES
NEW YORK, NY, Aug. 12, 2003 - Survivors from the rockabilly era and their next-generation disciples gathered for the Red Hot Rockabilly Party at Damrosch Park on Sunday afternoon to show that their music can still kick. From the 1950's came Narvel Felts and Jack Scott, two singers who had not performed in New York City for decades, along with two more frequent visitors, Wanda Jackson and Billy Lee Riley. They shared the four-hour Lincoln Center Out of Doors concert, with Rosie Flores, the Persuasions, Lee Rocker (formerly of the Stray Cats) and Rocky and Billy Burnette, the sons (respectively) of the rockabilly pioneers Johnny and Dorsey Burnette.
The younger musicians, by and large, played rockabilly as a style they respected and doted on, an idiom of guitar twangs and vocal yelps salvaged from a bygone era. But Mr. Riley, Ms. Jackson and Mr. Felts sang their old songs as taunts, crows of triumph, moans of heartbreak and cackles of lust, barely less immediate than they were when they were recorded. For them, rockabilly was not just a fond memory but a continuing insurrection.
Their voices still held the moment when rockabilly was at the flash points of American culture. It was music that drew power from defying racial boundaries: white hillbilly music ignited by black blues. It was music of uninhibited sexuality, where, as Mr. Riley sang in his mid-1950's hit, My gal is red hot/your gal ain't doodly squat. It was music of reckless aggression, as when Ms. Jackson sang, When I start erupting ain't nobody gonna make me stop in Fujiyama Mama; with its references to the destruction of Hiroshima, the song became a No. 1 hit in Japan in 1959.
Mr. Riley, born in Arkansas in 1933, was the concert's patriarch, with his upswept hair now white. He spoke briefly about contemporaries who are now dead. We're droppin' one at a time, he said, then added, My time's coming up ó whoa, about 20 years from now. But when he rasped through Red Hot or Flying Saucer Rock 'n' Roll, making his voice quiver as he jabbed at the beat, he was ornery and sly. All he had to sing was, Rock-bop-bop-bop, baby, ow! and shake a leg, and he was still a defiant Don Juan.
The concert held nostalgia, too. Both Mr. Felts and Ms. Jackson started their mini-sets with songs about rockabilly memories from the days of, as Mr. Felts sang, the pink and the black, the chicks and the Daddy-O's. Mr. Felts, who recorded for Sun Records in the 1950's, went on to become a country hit maker in the 1970's, and he divided his set between his rockabilly songs and his country hits. He has a wiry tenor voice that, like Roy Orbison's, could open up to a near-operatic vibrato when he sang ballads; he also leaped into falsetto. And even his country songs, like Reconsider Me and My Prayer, were rooted in blues and rhythm-and-blues.
Ms. Jackson also switched between rockabilly and country, going back to songs by Jimmie Rodgers and Hank Williams, who entangled blues and country before rockabilly, to let loose her yodel. Her rockabilly songs had a sharp, raspy edge as she sang about mean men and the sacrifices she'd make for them, and she whooped and growled her rockabilly anthem, Let's Have a Party. Mr. Scott's songs, like Goodbye Baby and The Way I Walk, also seethed with resentment and pride, but he sang them blandly.
The Persuasions, the 40-year-old a cappella quintet, recast Elvis Presley songs as doo-wop, working up some class resentment in Hound Dog. Rosie Flores sang in a wry, girlish voice and played pointed guitar solos. Mr. Rocker played bass with the backup band, the guitarist Jim Weider's Rockabilly Gurus, and revived a Presley swagger when he sang. With Rocky Burnette singing and Billy Burnette and Mr. Weider trading barbed guitar lines, the Burnettes turned the finale into good-time music, a party for a rebellion that succeeded long ago.


---


New Hayride Release: Presley's Earliest Live Performances
A collection of historic early Elvis Presley recordings, aided by new instrumentation, will be released on August 13th as Roots Revolution: The Louisiana Hayride Recordings on Tomato Records. The sixteen-track set features songs recorded from radio performances in 1954, 1955 and 1956, prior to Presley's superstardom. Broadcast from Shreveport, The Louisiana Hayride was an immensely popular radio program that launched the careers of numerous country and rockabilly performers, including Presley and Hank Williams. The recordings, which were largely unheard among the public due to shoddy sound quality, were issued in 1982 as Elvis: The First Live Recordings and The Hillbilly Cat, but issues with the sound kept all but completists away. For Roots Revolution, Elvis' vocals and Scotty Moore's guitar parts were both cleaned up, while other components of the performances, which were virtually inaudible on the original recordings, have been restored with new parts performed note-for-note on actual period instruments. Jon Paris (who played with Bo Diddley, Link Wray, Johnny Winter and others) played new acoustic guitar parts for Elvis, while bassist Paul Nowinski (Keith Richards, Rickie Lee Jones) stepped in for Bill Black and Steven Wolf plays on Hound Dog, the only one of the tracks to feature drummer D.J. Fontana. Baby Let's Play House, Blue Moon of Kentucky, Maybellene and Tweedle Dee are among the other tracks included. - Andrew Dansby, Rolling Stone


---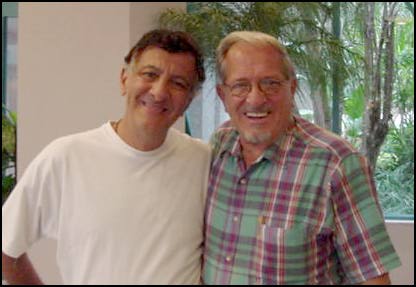 NEWS from The ORIGINAL COMETS
Pictured above is the great promoter, Richard Nader and Marshall Lytle at Mr Naders office in Clearwater Florida, right after completing an agreement for the Original Comets to play at the RICHARD NADER SHOW IN MADISON SQUARE GARDENS NYC on OCTOBER, 19th. The show is a tribute to Alan Freed. Many other show possibilities were discussed and we hoping for some great things to happen, with the NEW YORK SHOW being the first to feature THE ORIGINAL COMETS. look at www.richardnader.com and www.originalcomets.com. We are gonna Rock Till We Drop, İ says Marshall.


---