"That's News to Me" - Archive #15
Back to the Current That's News to Me" Page
A Mix of Music Related Text and Photos That You May Find Interesting






Festival Tax in the UK? HELP!
By Chris Jackson - Well by now most of you will have read or heard in the newspapers and radio/tv about a new tax on festivals/shows. It seems the current government is hell bent on destroying themselves and those who dare to risk their livelihoods to produce an event that is enjoyed by thousands (millions more likely) of leisure fans in the UK. The losers will ultimately be us, the general public, as numerous festivals cease to exist due to the promoters/organiser not being able to meet this insanely high tax burden. Ranging from £5000 for the smaller festivals/shows to £50,000 for the big ones like Glastonbury (we'll probably be hit with a £25,000 to £40,000 tax). This will have to be paid upfront before we are granted a licence, I'm sure you can all see the implications, its okay if you've got a major sponsor (or several) to swallow this extra cost, but we have not so things could get a bit sticky for us. So if it happens to us, what chance has the smaller festival/show promoters got? Please take a look at this article in the TIMES go to the link below. www.timesonline.co.uk/article/0,,2-1414825,00.html
I urge you to send a letter to your local MP the more noise we make the better the chance of this 'bill' being thrown out ...
Chris & Bev Jackson
www.americana-international.co.uk


---


High School Honours Ronnie Hawkins
Courtesy CBC Arts - A high school in Guelph, Ont., honoured rock legend Ronnie Hawkins with a national leadership award on Thursday, Jan. 13th. The 70-year-old musician, known for his hearty laugh and full-out rockabilly style, accepted the accolade with his usual good humour.
"It's wonderful to be here in an institute of higher learning," Hawkins, a self-described hillbilly, told the crowd of about 800 students at Our Lady of Lourdes High School. "The only thing that ever kept me out of college was high school." Students laughed at the remark as teachers grinned politely.
Known as The Hawk, the Arkansas native came to Canada in the 1950s and became a fixture in Toronto's burgeoning music scene. He is credited with inspiring a generation of musicians, and was instrumental in forwarding the careers of those who backed him up, including the musicians who went on to form The Band. The school chose Hawkins for his contributions to Canadian music, as well as his work on behalf of numerous charities.
Former Prime Minister Brian Mulroney and Olympic sprinter Donovan Bailey are among the people who have received the same award in the past. Diagnosed with pancreatic cancer in 2002, Hawkins declared himself cured last year.
During his brief speech, the veteran performer gave students some blunt advice: "You've heard all of the stories about drugs but take it from an old pro, if someone ever offers you drugs, you might as well get them to hit you in the head."
He also took time to answer questions. When answering questions from female students, he pointed out how pretty each girl was. "There's a lot of good-looking girls in this school," he said. "You boys are lucky to be going here."
When Hawkins recruited Robbie Robertson and the other future members of The Band to play with him he could not afford to pay them much, but he famously promised they would "get more [sex] than Frank Sinatra." The students seemed to appreciate The Hawk's candour.
"I know some of the teachers were starting to get a bit uptight at times but it just showed Ronnie's true character," Meaghan Coker, a Grade 12 student, told the Canadian Press. "A lot of my friends said this is the best assembly we've ever had."


---


Yee-hah, It's Country Time in Australia
By Jonathon Moran, National Entertainment Writer, January 13, 2005 - Thousands of people are expected to descend on Australia's country music capital this weekend as Tamworth braces itself for another year of boot scooting.
The annual Telstra Country Music Festival at Tamworth kicks off on Friday with thousands of people setting up camp in the rural NSW city ahead of the 10-day event. Australia's country music capital has rolled out the welcome mat for the nearly 80,000 visitors expected for the rockabilly extravaganza. "There is a buzz already around town," Country Music Association of Australia general manager Cheryl Hayes said. "People are here and people are ready to have fun."
Whether you are into rockabilly, bluegrass, ballads, western swing, gospel, a bit of rodeo or even a few lines of bush rhyme, the festival boasts something for everyone. Not to mention performances from Sara Storer, Adam Harvey, Troy Cassar-Daley, Kasey Chambers, Catherine Britt Lee Kernaghan and Melinda Schneider. "It is not the typical old style country music anymore," Ms Hayes said. "It is definitely crossing over to more mainstream popularity."
Last year's festival featured a special tribute concert to the late Slim Dusty with performances by a host of big name acts. Ms Hayes said Dusty's memory would live on in the nations country music capital forever. "The man was so important to the industry," she said. "The fact he's still being recognised shows you the level of input he's had. He is irreplaceable."
Dotting the festival calendar are large scale ticketed performances by the bigger-name stars plus an unending dawn-to-dusk array of free concerts in halls, pubs, parks and shopping malls.
Up and comers vying for their own taste of limelight will also spruik their talents along Peel Street - dubbed the Boulevard of Dreams - which is where Chambers first burst into the spotlight. "The new direction of Australian country music is popular, it's getting across to a whole different mix of people, a new breed of young, contemporary performers," Hayes said. "There are so many musicians now that are just making their stance and there are so many different cross sections of the industry that we're finding worthwhile showcasing at the event." The festival runs from January 14 to 23.


---

Americiana Festival: July, 2005
The above photo is crowd shot of the Americana festival audience in front of the main stage on Friday night, last year, this scene was repeated on the Saturday & Sunday. Closing band that night was Bill Wyman's Rhythm Kings, Paul Jones & The Manfreds on Saturday night and  Dave Edmunds Rockpile on Sunday (all Brit legends).
This year its the turn of the Americans to close each night, DENIS LOCORRIERE & HIS BAND (the superb 'voice' of Dr Hook), HAYSEED DIXIE, THE BELLAMY BROTHERS all very well known artists (not just by the hardcore country fans either!) in the UK, so can they be more than a match for last year's closers?
With five stages and approximately fifty great artists and not forgetting those thousands of fabulous American automobiles, trucks, motorcycles and recreational vehicles to choose from, our regular supporters and new visitors are going to be spoilt for choice, that's for sure. Bob Timmers, curator of the Rockabilly Hall of Fame, The Traditional Country Hall of Fame, Gene Vincent's official web site and That Bakersfield Sound web site, will be hand to meet and great fans ... Roll on July! - Chris & Bev Jackson (Promoters)
www.americana-international.co.uk


---


Ian and Willie Report:
The 22nd Rockers Reunion Winter Party
(UK) Saturday 22nd January 2005
The 22nd Rockers Reunion Winter Party will be held at the Rivermead Leisure Complex, Richfield Avenue, Reading RG1 8EQ, 5pm till 1am.
RAY CAMPI will headline our show. If you've never seen him slap that bass, even as he climbs on top of it, then you're in for a treat. Ray is a great entertainer and you will not want to miss him singing the likes of 'Pan American Boogie' and 'Rockabilly Man'.  We make no apology for rebooking CRAZY CAVAN AND THE RHYTHM ROCKERS who have become perennial Rockers Reunion favourites. Once again the Pride of Wales will close our show in their own inimitable style. LUCAS AND THE DYNAMOS are another band who are always welcome at Rockers Reunion. They went down a storm in 1995 and 1998 so this will be a hat trick of appearances for the ultimate 50's showband. ERVIN TRAVIS AND THE VIRGINIANS travel from France to entertain you and are without doubt the closest thing to Gene Vincent and The Blue Caps that you will ever see anywhere. They are sensational. THE UGLY DOG SKIFFLE COMBO are a buch of nutters from Norfolk who feature tea chest bass, fiddle, banjo and washboard among their wide range of instruments. Is it finally time for a skiffle revival? Many people will remember the SUNDOWNERS who were for many years one of the most popular bands on the circuit and who backed several Americans including Sonny Burgess and Johnny Carroll. They have recently reformed and are racing back to the top.  Spinning the wax at the 22nd Rockers Reunion, The Two Petes, Pete Bruce and Wild Cat Pete. SIDE STALLSThere will be the usual shoppers paradise to help you spend your money. All our regular stalls will be in attendance supplying everything from fifties clothes, records, vidoes and badges. The 59 club and our resident tattooist will also be on hand. The Rockers Reunion stall will be selling brand new tee shirts, metal badges, a brand new patch and other goodies.
Tickets On Sale Now - Prices Unchanged! Tickets are on sale now for £20 if purchased in advance, £23 on the day. We strongly advise you book quickly to avoid disappointment! Cheques or postal orders should be made out to Dixie Fried Music and sent with an SAE to:
Ian Wallis
111 Worlds End Lane
Orpington, Kent, BR6 6AW
Callers are welcome between 9am and 5pm Mondays-Fridays.
Telephone: 01689 860980
Tickets can also be purchased from the Rivermead Box Office on: 0118 901 5000Or at any Rock 'n' Roll venue from Wild Cat Pete 01494 672605. Credit Card purchases (subject to a £2 booking fee) can be made from Viv Brittan on: 01522 752453. Stall enquiries should be directed to Wild Willie Jeffery on: 01883 714289.
Special Offer!'American Rock 'n' Roll - The UK Tours 1956-72' is a new book written by Ian Wallis. It is the very first detailed account of live Rock 'n' Roll music in Britain and contains over 400 pages of tour itineraries, show reports, TV appearances etc., plus many rare and previously unpublished photos. The book is available through Rockers Reunion at the specially discounted price of £20. Simply include payment when booking your tickets or pick up a copy from the Rockers Reunion stall.
The years pass by and life never seems to get any easier. Sometimes you find yourself running just to stay in one spot and nothing seems as good as it used to be...well hold on...there is still one thing you can rely on. They will come on bikes, in vans and cars, by train or bus or taxi. Some will trudge on foot or hitch lifts. Boats will glide up the river and planes land at Heathrow, skateboards, pogo sticks, stilts and even Hansom cabs are expected to be seen outside the Rivermead on the 22nd January when the most beautiful women and hunkiest guys congregate once again for a great night of music, drinking, dancing and fun. Be sure to join us, 'cos you won't want to miss...
Ian and Willie


---


Elvis Left Glen Glenn All Shook Up
By David Allen Columnist, Inland Valley Daily Bulletin in Ontario, Calif (Jan. 6, 2005) - GLEN GLENN is perched on a stool in his Ontario living room, his 1952 Martin guitar on his leg, doing a run-through of "Baby, Let's Play House," his favorite Elvis Presley song.
"Oh, baby, baby, baby, b-b-b-b-b-baby, baby, baby ... come back, baby, I wanna play house with you." Elvis would have been 70 on Saturday -- except for the little matter of his death in 1977, when he left the building permanently.
Glen Glenn is 70 and still breathing. And he's the rockin'-est grandfather of two you'll ever meet. OK, maybe you've never heard of him. Until a couple of years ago, neither had I, and I've got a lot of '50s records. He's got a good excuse: Days after recording his first single, he was drafted. Unlike Elvis, two years of military service ended his career.
Rediscovered in the 1980s, he's basking in acclaim in his golden years - a gig opening for Bob Dylan, concerts in Europe, and lavish CD anthologies of his 1950s records. More on that in a minute. First, let's talk Elvis.
On April 4, 1956, Glenn and his buddy, Gary Lambert, made the drive from San Dimas to San Diego to see Elvis' first West Coast concert. They were accustomed to country singers who stood stock-still onstage. Elvis' shtick was to shake like his body was crawling with spiders. "People went crazy when he walked out there," Glenn recalls of the San Diego show. "He came out and shook for about five minutes, while D.J. (Fontana) played the drums behind him."
It sounds like a burlesque act. Then Elvis launched into his songs - although "you could barely hear him, the girls were screaming so loud," Glenn notes. Afterward, country singer Fred Maddox introduced him to Elvis, who was a captive audience - the building was surrounded by screaming women, so he couldn't leave. Glenn has photos of himself with hundreds of musicians, but Elvis is the one who rocked his world.
He forgot about being a country singer and went rock. "I did it because of girls," Glenn says with a laugh. "If you played country, girls might want your autograph. If you did this kind of music, girls freaked out."
He was so excited to be in the business, he saved everything with his name on it, and didn't even fuss when his record company changed Glen Troutman, his real name, to Glen Glenn. He admits it's a dorky name. But as he puts it: "I wanted on a record so bad, they could've called me Jack the Ripper." Recorded in the rockabilly style of early Elvis, his songs were "Laurie Ann," "Everybody's Movin"' and "One Cup of Coffee and a Cigarette."
Stuck on an Army base in Hawaii, he watched helplessly as his records stiffed. An invitation from Dick Clark to appear on "American Bandstand" to sing "Laurie Ann" fell through when Glenn's commanding officer refused to give him a weekend pass. By the time he got out in 1960, music had passed him by.
So the Bonita High dropout hung up his guitar, got married, bought a home in Ontario and spent the next three decades in the stockroom of missile-makin' General Dynamics. (Crazy, man, crazy.)
A rockabilly revival in the 1980s led by the Stray Cats resulted in his unlikely comeback. An English record label put out an album of Glenn's 1950s tracks. Fans wanted to find out more. "I started getting calls from Europe," Glenn marvels. Aficionados hold him in high regard, perhaps not so much for his thin body of work as for what he represents: a link to Elvis-style rock. As he brags: "You could go on Google and type in "Glen Glenn' and you'd be there all day."
Dylan, a fan, chose him as opening act for a 1995 concert at the Hollywood Palladium. They met backstage. "Dylan hugged me," Glenn says.
When he was introduced to the Stray Cats' Brian Setzer, Glenn says, "Setzer bowed to me. I said, "Why are you bowing to me? You're bigger than I am.'"
Is it hard to perform at age 70? As Mary, his wife of 43 years, likes to tease him: "Around the house you're dead, but once you get onstage, you come alive." "When those lights come on," Glenn adds, "it perks me up." - Thankyewverramuch.


---


Jerry Lee Among GRAMMY Achievers
Los Angeles, Jan 4, 2004 - Jerry Lee Lewis, Led Zeppelin and Janis Joplin will receive lifetime achievement awards at this year's Grammy Awards. Also receiving plaques from the Recording Academy will be Eddy Arnold, Art Blakey, the original Carter Family, Morton Gould, Jelly Roll Morton, Pinetop Perkins and the Staple Singers. The awards will be presented at a ceremony on Feb. 12, the day before the 47th annual Grammys are handed out at Staples Center.
Also at the Feb. 12 event, late songwriter Hoagy Carmichael, "Soul Train" founder Don Cornelius, late Blue Note Records founder Alfred Lion, and pianist Dr. Billy Taylor will receive Trustees Awards, which go to non-performers. Additionally, Grammy-winning producer Phil Ramone and speaker maker JBL Professional will receive Technical Grammy awards. This year's Lifetime Achievement honorees cut a wide genre swath.
The Carter Family (A.P., Sara and Maybelle Carter), whose repertoire of tradition-based songs is the bedrock of American country music, and hit-making vocalist Arnold represent the country camp. Piano-pounding rockabilly pioneer Lewis representes early rock 'n' roll.
Pianist-bandleader Morton, who took "hot music" out of New Orleans' brothels and into the mainstream, and drummer Blakey, whose combos incubated a host of hard bop stars, will be honored for their contributions to jazz.
This field is completed by composer-pianist and former ASCAP president Gould; pianist Perkins, a mainstay of bluesman Muddy Waters' band; and the Staple Singers, whose fusion of gospel and R&B produced a string of '70s hits for Memphis' Stax Records.
The Carters, Joplin, Morton, Gould and Blakey are deceased, as is Led Zeppelin drummer John Bonham and Staple Singers frontman Pops Staples.


---


GRAMMY®-Nominated Music on Gold Buckle Network
Online Network Streams Art Greenhaw and The Light Crust Doughboys with Nokie Edwards and The Jordanaires to Worldwide Audience.
Gold Buckle Network (www.goldbucklenetwork.com) announced the online network is streaming digital selections from Art Greenhaw and The Light Crust Doughboys' GRAMMY®-nominated album "20th Century Gospel: From Hymns To Blackwood Brothers‹Tribute To Christian Country." The complete compact disc (CD) is also available for purchase in the GBN General Store.
The Recording Academy announced their 2004 Grammy Nominees for top artistic albums of the year on December 7th. In the Best Southern, Country, or Bluegrass Gospel Album category, Art Greenhaw and The Light Crust Doughboys were nominated for their "2004 release 20th Century Gospel: From Hymns To Blackwood Brothers‹Tribute To Christian Country." Music legends The Jordanaires and Nokie Edwards perform on the album, which marks Greenhaw's seventh GRAMMY nomination in the past eight years.
Produced by Greenhaw Records, 20th Century Gospel is an acclaimed addition to the Greenhaw's label and marks the continued creative collaboration with his mentors The Jordanaires and The Ventures lead guitarist Nokie Edwards. Edwards and The Jordanaires also received GRAMMY nominations for their artistic contributions to the album. Album highlights include Greenhaw's Christian Country original "Gospel Woman," which can be heard on GBN Radio at www.goldbucklenetwork.com. The album also features Nokie Edwards playing great hymns of the century and a unique, multi-generational remix of the historic Blackwood Brothers Quartet.
The Doughboys are the longest-running country band in the world as well as the Official Texas Music Ambassadors, a designation awarded to them by 74th Texas State Legislature. Each band member has been inducted into the Texas Cowboy Hall of Fame, and The Doughboys received "Western Swing Heroes" status by The Cowtown Society of Western Music and Rockabilly Hall of Fame.
The Light Crust Doughboys' 2002 Grammy Winner for Best Southern, Country or Bluegrass Album, "They Call Him Mr. Gospel: A Tribute To James Blackwood" is also available for listening and purchase on GBN. Along with the music, GBN offers a series of free videos, including "Texas Swing," "Country Swing Meets Black Gospel," and "Art Greenhaw's International Guitar Celebration," on which Nokie Edwards cuts loose on some sizzling Country Swing. Also included are videos showing The Doughboys backing up Edwards on notable performances of "Wipeout" and the theme song to the television series "Hawaii 5-0."


---


Deke's Guitar Geek Blowout #2
NAMM Show Weekend Blowout!
SATURDAY JANUARY 22nd
at the ODD FELLOWS HALL
721 S. Anaheim Blvd.
Anaheim, CA 92805
This year ain't no sophomore slump! We've got some of the faves from last year, along with some sonic surprises and supreme star power!

Featuring this lineup of stars:
DEKE DICKERSON & THE ECCO-FONICS
Deke and the boys return with their usual brand of guitar related mayhem, including a followup to last years showstopper that will leave everyone's jaw hitting the floor! We are promising a double-neck trainwreck of epic proportions!

SPECIAL GUEST OF HONOR
NOKIE EDWARDS of the Ventures
appearing with VENTURESMANIA!
You loved Venturesmania last year doing their tribute to the Ventures 1965 classic sound, now this year we bring you the man who played lead guitar on those classic records: NOKIE EDWARDS HIMSELF! Don't miss this opportunity to see a true music legend in action!

T.K. SMITH tribute to Gene Vincent's lead guitarist CLIFF GALLUP
featuring vocals by BIG SANDY!
Cliff Gallup was the original lead guitar player for Gene Vincent & the Blue Caps, and his playing set the standard for all rockabilly guitar players who followed him! T.K. Smith is a household word among guitar players, for his work with Big Sandy & the Fly-Rite Trio, the Smith Ranch Boys, and the Bonebrake Syncopators - now watch in amazement as he pulls off those classic Cliff Gallup licks with his old boss Big Sandy singing the tunes! If you miss this, your friends will never let you forget it!

JEREMY "J.W." WAKEFIELD
STEEL GUITAR CAVIAR!
Known as one of the best steel guitar players in the world, specializing in the non-pedal steel guitar jazz of the 1940's, Jeremy Wakefield has played with the Lucky Stars, Wayne Hancock, and Asleep at the Wheel (not to mention the steel guitar sound effects heard on the "Spongebob Squarepants" show!). He has an upcoming album entitled "Steel Guitar Caviar" and he'll be wowing you with some great western swing and steel guitar jazz!

BRIAN LONBECK!
FASTEST GUITAR IN THE WEST!
Last year Brian Lonbeck did a tribute to Joe Maphis that blew everybody away! Brian is a legendary guitar player from Bakersfield that used to play with Barbara Mandrell back in the 1960's, and he is a guitar player of frightening ability. This year we're going to let Brian stretch out a bit more and show how versatile a musician he is! Prepare to have your hat blown in the creek!

DEL CASHER!
TRIBUTE TO LES PAUL
Del Casher is a legendary guitar player that you've probably heard a hundred times even if you don't know it! He's played on a thousand studio recordings, as well as being a member of the Three Suns and appearing behind Elvis in the movie "Roustabout." He demonstrated Ecco-Fonic tape echo units with Joe Maphis in the 50's, so we feel his pedigree for the Guitar Geek festival is flawless! In addition, Del has been friends with Les Paul since the 50's and can play in his style better than anyone else! Del will amaze you with his versions of the Les Paul classics like "How High The Moon" and others!

DAVE BUNKER!
MASTER OF THE DOUBLE NECK "TOUCH GUITAR!"
Dave Bunker invented his double-neck style of guitar playing in the 1950's in the Pacific Northwest. He has been making doubleneck guitars (as well as standard single-necks) to teach his amazing technique for almost 50 years! You will not believe your eyes when Dave starts playing—it's a revolutionary style of playing of which he is the master! He plays melodies on the top neck by tapping the strings with his right hand, while playing bass by tapping with his left hand on the bottom neck! You must see it to believe it!

PLUS BOOTHS BY HALLMARK GUITARS, TNM GUITARS, BUNKER GUITARS!
FENDER GUITAR TO BE RAFFLED FOR CHARITY!
DEKE'S GUITAR GEEK MUSEUM!
LOTS OF GUITAR GEEK MERCHANDISE FOR SALE!
And the first chance to buy the new DVD "Deke's Guitar Geek Festival #1" which will not be sold before this night! See all the sights and sounds of last years festival!
DOORS OPEN AT 6 PM! SHOW GOES FROM 7 PM UNTIL 1 AM!
SHOW IS "BYOB" with 21 and over strictly enforced!
ADMISSION IS $18 ADVANCE or $20 DAY OF SHOW!
ADVANCE TICKETS MAY BE PURCHASED with PAYPAL from www.dekedickerson.com - Make sure you put "for Guitar Geek Festival Tickets" in the subject matter of the paypal payment so we don't confuse it with a merchandise order!
THIS SHOW WILL SELL OUT! DON'T MISS A NIGHT YOU WON'T FORGET!


---


Hank "Sugarfoot" Garland R.I.P.
Legendary country, rock and jazz guitarist Hank Garland, who performed with Elvis Presley, the Everly Brothers, Roy Orbison, Patsy Cline, Charlie Parker and many others, died yesterday (Dec. 27, 2004) of a staph infection in Orange Park, Fla. He was 74.
Born Walter Garland, he started playing guitar at age 6 and appeared on radio shows at age 12. He was discovered at the age of 14 at a South Carolina music store where he had gone to buy a guitar string. He had his first million-selling hit at 19 with "Sugar Foot Rag," a famous country tune.
In the 1950s and '60s, Walter "Hank" Garland was the talk of Nashville, known for musical riffs that could take a recording from humdrum to dazzling, as he did on Elvis hits like "Little Sister" and "Big Hunk of Love."
In addition to performing with Elvis and other stars in Nashville, he was at the forefront of the rock'n'roll movement, enjoyed a prestigious career as a country virtuoso, pioneered the electric guitar at the Grand Ole Opry and inspired jazz instrumentalists such as George Benson. He jammed in New York with George Shearing and jazz great Charlie Parker.
His detailed session logbook reads like a "Who's Who" of the stars of country music, including Brenda Lee, Mel Tillis, Marty Robbins, Boots Randolph, Conway Twitty, Hank Williams Sr.
Garland worked with Elvis from 1957 to 1961, and was playing on the soundtrack for his movie "Follow That Dream" in 1961 when a car crash put him in a coma for months. Billy Garland claims the crash was no accident, but an attempted killing by someone in the Nashville record scene.
The crash injuries and a series of 100 shock treatments administered at a Nashville hospital left him a shadow of his former self. He had to relearn everything from walking and talking to playing the guitar.
Garland spent the final years of his life fighting ill health, trying to pry royalties out of record companies and talking with Hollywood about a movie based on his life.


---


Elvis on Wall Street
By David Lieberman. Elvis Presley has left the building ‹ and headed to Wall Street with some help from radio and concert entrepreneur Robert F.X. Sillerman. That means Elvis fans could soon be able to invest in The King. Sillerman unveiled an unusual two-part business deal Thursday that will give investors an opportunity to gamble on his ability to find new markets for all things Elvis. It's predicated on the belief that the world is "under-Elvised," as he puts it.
"Even in the U.S., the only way to get in contact with the Elvis experience is at Graceland," The King's estate in Memphis which attracted 650,000 visitors last year, he says. "If you go to Las Vegas, you can't find authorized Elvis memorabilia."
He expects to find more opportunities overseas: "Would a tour of Elvis jumpsuits, guitars and memorabilia be interesting to people in Japan? I'll bet it is."
And bet he has: He'll pay $100 million, about half in cash, for an 85% interest in most of Elvis' assets. Elvis' daughter, Lisa Marie Presley, will control the other 15%. The assets include revenue from the use of her father's name and image, the tour operation at Graceland, publishing rights to songs such as Love Me Tender and All Shook Up, and other payments for his music, films and TV specials.
The Elvis business generated $12 million in operating profit on nearly $45 million in revenue in 2003, and $9.4 million in profit on about $38 million in revenue for the first nine months of 2004.
Sillerman plans to fold his Presley holdings into Sports Entertainment Enterprises, a publicly traded company that currently has no operating assets. He expects to pay about $3.5 million for 94% of that firm's stock and rename it CKX. Lisa Marie Presley can join the board or name a director.


---


Rockabilly Documentary
Sheree Homer and Character Driven Productions are working on a major rockabilly documentary. They will start filming after the holidays. About 150 artists/promoters/disk jockeys are lined up for interviews, including Les Paul, Hank Cochran, Harold Bradley, Glen Glenn, Sonny Burgess, Wanda Jackson, Ray Campi, Ronnie Weiser, JM Van Eaton, WS Holland, Roland Janes, Martin Willis, Don Maddox, Linda Gail Lewis, The Crickets, Mac Curtis, Gene Summers, Sleepy LaBeef, Pat Cupp, Ray Walker and Gordon Stoker of The Jordanaires, just about anyone you can think of. Sheree thinks it will be huge for the scene, help to get the respect and recognition that the music so rightly deserves. If you have any input or questions, please contact Shawn Swords at 610-590-0444 or Sheree Homer - homersm2001@yahoo.com


---


Presley's "Memphis Boys" Historical Music Project
LOS ANGELES, December 19, 2004 - Destiny Continues Its Materialization Of The Entertainment World's Greatest Miracle; The Entire Elvis Presley "Hit Making Team" Is Back In Operation And The Engines Are Roaring.
Fate has been knockin' on Heaven's door; the powers at be and Elvis' spirit have answered. The prophets have spoken - "Get The Band Back Together, Save The Music"! And so it is fans, the word of the Rock 'n' Roll Gods. Elvis Presley's entire "Hit Making Team" has re-assembled in a history making new music venture with singer/songwriter John Krondes and The Jordanaires. For the first time since Elvis' death, The "TCB" Band, The Jordanaires, Sweet Inspirations, and now the Elvis "Memphis Studio Band" have been put back in place together to record new music.
The Heavens shook, and the universe is rockin' and cheerin' on the news of this divine assembly. This historic convocation has just mustered up the Elvis troops named the "Memphis Boys." The Memphis Studio team for Elvis, Mike Leech (Bass), Bobby Emmons (Organ), Bobby Woods (Piano/Keyboards), Shane Keister (Piano/Keyboards), Gene Chrisman (Drums) and Reggie Young (Guitar) have all been united in this league of rockers with front man John Krondes and the Jordanaires. At "American Studios" in Memphis, "The Memphis Boys" played on such Elvis hits as "Suspicious Minds", "Kentucky Rain", "In The Ghetto", "Don't Cry Daddy", "Long Black Limousine", "It Keeps Right A Hurtin", "Momma Liked The Roses", "Rubberneckin" and "Trouble" to name a few.
As preordination continues to call the shots in this dazzling story, The "Memphis Boys" recently joined rocker John Krondes and the Jordanaires at Emerald Recording Studio in Nashville for their first recording session together in this monumental musical undertaking. "TCB" Band Member and Rock 'n' Roll Hall of Famer James Burton will be adding guitar parts to the new tracks, and The "Sweet Inspirations" have just added their "Sweet" Vocals to the new tracks in Los Angeles.
<

---


The Bim Bam Records Top 20
December, 2004 - The Bim Bam Records Top 20 - compiled from sales and all available right now on-line at www.bim-bam.com or email bob@bim-bam.com.
1 GLEN GLENN - DIM LIGHTS, THICK SMOKE AND LOUD, LOUD MUSIC (BEAR FAMILY)
2 VARIOUS - GENE VINCENT CUT OUR SONGS (ACE)
3 VARIOUS - LINK WRAY & THE RAY MEN - "THEY'RE OUTTA HERE" SAYS ARCHIE (ROLLERCOASTER)
4 KENNY PARCHMAN - I FEEL LIKE ROCKIN' (HYDRA)
5 VARIOUS - WE'RE GONNA BOOGIE (CRAWDAD)
6 DEL SHANNON - HOME AND AWAY - THE COMPLETE RECORDINGS 1960-1970 (BEAR FAMILY)
7 JOHNNY KIDD & THE PIRATES - THE UNRELEASED BBC SESSIONS 1959-1961 BLAKEY
8 JOHNNY RESTIVO - THE SHAPE I'M IN (TEENSOUND)
9 THE STRAY CATS - RUMBLE IN BRIXTON (SURFDOG)
10 RICHARD BERRY - YAMA YAMA! THE MODERN RECORDINGS 1954-1956 (ACE)
11 VARIOUS - DOUBLE UP AND CATCH UP (RPM)
12 TEXAS MIKE BELL - FOR THE LOVE OF BUDDY (BLUE AVENUE)
13 MARCIE BLANE - BOBBY'S GIRL (PRESIDENT)
14 VARIOUS - WHERE THE GIRL'S ARE VOL. 6 (ACE)
15 VARIOUS - ROCKIN' HILLBILLY VOL. 8 (CACTUS)
16 DARREL HIGHAM - BELIEVE WHAT YOU HEAR (FOOT TAPPING)
17 CRAZY CAVAN 'N' THE RHYTHM ROCKERS - ROUGH, TOUGH AND CRAZY (CRAZY RHYTHM)
18 VARIOUS - WELL, NOW DIG THIS (CASTLE)
19 VARIOUS - EAST COAST TEEN PARTY VOL. 7 (ECM)
20 BRENDA LEE - GRANDMA, WHAT GREAT SONGS YOU SANG!/MISS DYNAMITE (ACE)


---


Bobby Darin: "Beyond the Sea"
12/10/04 - For Bobby Darin (Kevin Spacey), performing was his life. It kept his heart beating. He came alive onstage, even when he was near collapse offstage. In BEYOND THE SEA, Bobby tells his own story. At age seven, Bobby gets rheumatic fever that damages his heart forever. The doctor tells his mother Polly (Brenda Blethyn) that he'll be lucky to live to the age of 15. Polly and Bobby's older sister Nina (Caroline Aaron) take care of him, along with Nina's husband Charlie (Bob Hoskins). Modern medicine and determination keep him alive. By age 20, with the help of his best friend turned manager Steve Blauner (John Goodman) and musical irector Dick Behrke (Peter Cincotti) Bobby began working his way up, from tacky clubs to performing in Vegas, finally scoring a hit with 'Splish Splash'.
But Bobby wants more. As he tells Life Magazine, he wants to be a legend by age 25. 'MACK THE KNIFE' makes him the star he's dreamed of becoming but for him this is only the beginning. The hits keep coming and his life keeps evolving, including an Academy Award nomination for Best Supporting Actor in the movie CAPTAIN NEWMAN MD.
Never satisfied with success, Bobby continues to reinvent himself and moves from rock and roll into pop, gospel, country & western and folk music. By the end of his brief 14-year career, Bobby Darin had more hits in more genres of music than any recording artist except Elvis Presley and Ray Charles.
When he kicks off his acting career, he meets movie star SANDRA DEE (Kate Bosworth) while filming COME SEPTEMBER in Italy. He falls for her, but has to jump through hoops to get around MARY (Greta Scacchi), Sandy's possessive and overbearing mother. Despite her protests, Bobby and Sandy get married and they seem like the perfect Hollywood fairytale couple. But the conflict of her acting career and his touring puts a strain on the relationship. His dogged pursuit of fame and fortune isolates him from the very people who love him and believe in him.
His master plan for 'Bobby Darin the star' doesn't leave much room for 'Bobby Darin the man'. Confused and directionless, Bobby leaves Sandy in the late 1960s and looks for new meaning in his life by becoming politically active and leaving behind the Las Vegas glitz for anti-war protest songs and hippie hairstyles. But the new 'Bob Darin' doesn't work for the fans. In the end, during the early 1970s, with his childhood illness finally catching up with him, Bobby must look to his friends, family and extraordinary talent to quell his demons and return to the stage to accept who he is and what his life has meant. Bobby Darin remains one of the great entertainers of all time with a rags to riches story unknown.
(Written by Barbara Bassett}


---


New Book on Musical Icons and Plane Crashes
From: Susan Everitt, severitt@edsaugusta.com - It started February 3, 1959 ... A small airplane carrying three of the music world's hottest stars crashed into a snow-covered Iowa stubble field, killing everyone on board. While the nation mourned, who could have foreseen that the fiery crash that claimed the lives of legendary singers Buddy Holly, Ritchie Valens, and The Big Bopper was just the beginning?
Stevie Ray Vaughan, Lynyrd Skynyrd, Rick Nelson, Jim Croce, Otis Redding, Buddy Holly, Ritchie Valens, "The Big Bopper." John Denver, Aaliyah, Patsy Cline ... We knew them as musical superstars, larger-than-life legends who took the entertainment world by storm before their dazzling careers were cut short by tragic airplane crashes. Now, for the first time in a single volume, veteran journalist Rich Everitt explores the lives of these remarkable celebrities before they became superstars and offers new light on the cruel disasters that struck them down in the prime of their musical careers.
FALLING STARS: Air Crashes that Filled Rock & Roll Heaven goes behind the headlines and datelines to reveal the shocking truth behind each crash, starting with "the day the music died" in 1959, and ending with the catastrophic deaths of Denver and Aaliyah. At the same time, Everitt ­ a skilled pilot and musician himself ­ explores the early careers of the stars, offering intimate insights into their personal lives as well as the final moments aboard their ill-fated flights.
For more information (excerpts, celebrity endorsements, reviews, etc.) go to www.richeveritt.com.   Contact Rich at 706-364-7564 or rich@talentapes.com.


---
Tony Maserati: "The Cat"
TONY MASERATI REPORTS:
"Man, that guy can play!" A few weeks after playing my first session with Dave Biller, I took a copy of the rough mixes to John Reed's gig with the Texana dames on a Sunday afternoon. For those who don't know John Reed, he is one of Austin's finest & most respected guitarists. I told him that I had something I wanted him to hear to get his thoughts. The first cut was "Keepin' All My Lovin'" & the above quote was his response as soon as it was over.
I have another similar tale to tell regarding "Keepin' All My Lovin'". A few months before visiting family & friends in Florida I sent a copy of the rough mixes from that first session to Skip Wiese, my old guitar player in Florida. When I arrived at his house he had not yet listened to it. So he put it on immediately. One of Skip's strongest points as a guitarist is that he likes to listen to certain things great guitar players do & try to emulate them. I told him that he was going to have a very tough time figuring out Biller. He kind of smirked (you know, that kind of "heh-heh-heh" sound) & said, "We'll see." The first cut was "Keepin' All My Lovin'" and before the vocal even started he said "Whoa! I think you're right." It only took a couple of seconds for him to come to that conclusion.
On that same Florida trip I stopped by my friend, Ray Ehmen's, record store in Orlando, "Rock & Roll Heaven." I've know Ray since about 1978 &, even though he's not a musician, he's been a collector for many more years than me (I've been at it since 1975), his collection dwarfs mine (and I have a lot), & he knows & understands music quite well. Upon listening to the cuts I had to offer he responded, "I think that guy might be the greatest guitar player I've ever heard in my life!" With the vast amount of material he has listened to over the years that is quite a statement.
I know I'm tooting Biller's horn more that anything else, but it is so deserved. Plus, you'll never hear it from him. He is quite the modest fellow. I told him about the above written things & his response was that there was a lot of great playing on the CD from other people as well, mainly citing John Reed.
John Reed's involvement in this project started with the recording of "The Cat", which was recorded prior to my first session with Biller. Toward the conclusion of the second session with Biller, John stopped by the studio & joined everybody on "Tom the Boogie Woogie Tomcat". Biller's playing on the cut is, as usual, great, but it's really John's muted boogie woogie line that really makes this "groove". He knew that I wanted to record the cut totally live in the studio & after we got a good cut, he insisted that we do it one more time. Everyone hesitated but gave in to his request. Upon the completion of it we understood why. The harmony guitar part he plays at the conclusion is a thing of beauty. Not only that, we got a better performance of the song anyway.
I got John further involved by having him do a little post-production work. When we recorded the bass player's original, "Only a Fool Like Me", I flubbed a vocal line in the very last verse. But the rest was so good I decided to go with it anyway. Several months later I had second thoughts but could not bear to let it go unreleased & unheard because of Biller's unbelievably great solo on it. It's actually my favorite solo of his on the whole CD. (I re-recorded the tune at the third session with Biller, prior to the post-production work on version #1 & that is version #2 on the CD. I loved the tone of his guitar on this version & it's also a more relaxed-sounding version, but still could not let that first version go unheard.) My rhythm guitar was mic'd on the session & there was too much bleed-over of the vocal into the rhythm guitar track. So I had John record a replacement rhythm guitar track & I also overdubbed a new vocal track.
I had John listen to all of the tracks for the CD & he said it still needed a little work. He replaced my rhythm guitar parts on "But I'm Not" & "Too Hot to Handle". He assisted in the final mixes for the rest of the cuts & did an outstanding job. It's great to have a pair of ears like his at my disposal (he hears "everything").
It is my hope that you will enjoy the recordings on this CD. Many more cuts were recorded with Biller in a total of four sessions but the ones used on this release are the ones with a particularly good "feel" to them. He is quite a pleasure to listen to but there's nothing too shabby about the cuts recorded prior to his sessions. As a bonus & to give the CD a decent playing time I've included five earlier-recorded cuts, presented in reverse chronological order of when recorded. The last three were recorded at my very first session in 1985!
Thanks for listening. -Tony
Tony Maserati
Poverty Records
P.O. Box 152964
Austin, TX 78715-2964
(512) 707-2472 (home)
(512) 413-0554 (cell)
e-mail: tonyptmf@yahoo.com


---


The Stray Cats: "Rumble in Brixton"
(By Jason Johnson Release Date: Nov. 9, 2004 - After a 12-year hiatus, The Stray Cats are back and are still just as good - possibly better - than before. Their double CD, "Rumble in Brixton," is a raucous collection of fantastic material from the rockabilly trio, Brian Setzer (guitar, vocals), Lee Rocker (upright bass) and Slim Jim Phantom (drums).
The double CD is a live recording of the Stray Cats performing at the Brixton Academy in London, marking its 25th anniversary as a band. Along with the double CD, The Stray Cats also released a DVD version of the concert which, unfortunately, I haven't had a chance to view.
All of your Stray Cats favorites are on the double CD, such as "Rock This Town," "(She's) Sexy and 17," "Rumble in Brighton," "Runaway Boys" and probably its biggest hit, "Stray Cat Strut." Not only is it incredible to hear these songs being played again in a live venue, but Setzer is absolutely smoking on the guitar leads.
I've always been a fan of Setzer, but I think even if you're not a fan, you have to give him credit as one of the great guitar talents of our time. There aren't many artists in the popular music scene today that can even come close to playing in Setzer's league.
Even my father, who believes there is no music in the world other than Elvis Presley, told me last year, "I saw this Setzer guy on TV the other night. Man that guy can play!" That's saying quite a bit coming from my dad.
Also on the CD is a brand new studio track entitled "Mystery Train Kept a Rollin'" which is the band's first studio recording in 13 years. A Brian Setzer original, "Mystery Train Kept a Rollin', " is sure to become a favorite of any Stray Cats fan, relying heavily on the Cats' early influences of Johnny Cash, Carl Perkins and Elvis Presley.
Rockabilly obviously isn't a genre that has mass appeal to the public, but for those of you that were Stray Cats fans back in the '80s, or became Brian Setzer fans in the '90s when he revived swing music, this could be a nice little gem for your CD collection.
The High Spots: A nice double CD live performance sold at a very reasonable price. The Low Spots: Being a live performance, there are a few times where I wish the production was a little better, but overall it doesn't detract from the CD. Rating: 8 out of 10. See: www.briansetzer.com - www.surfdog.com (Jason Johnson trom The Plainview Daily Herald).


---


Ray Condo Tribute: Limited Pressing 45-rpm
To pay tribute to RAY CONDO, members of his original band, the Hardrock Goners, and his last band in Vancouver have joined together to release a special limited edition of five hundred copies of a 45 rpm record, with two songs: , "Sweet Love On My Mind", from the Ray & the Hardrock Goners, recorded in 1987, and "Big Dog Little Dog, from the last recording session Ray did in 2004.
There will be a record launch in Montreal on November 26th (at Le Swimming, 3643 St. Laurent), with the Crazy Rhythm Daddies, Bloodshot Bill and L'il Andy, celebrating the 20th anniversary of the founding of RAY CONDO & HIS HARDROCK GONERS.
To order copies and for details on where to send payment please email: Peter Sandmark in Montreal (drummer in the Hardrock Goners) psandmark@yahoo.com - or - Stephen Nikleva in Vancouver (guitarist in the Ricochets) s-nikleva@shaw.ca
Single copies are $5.00 US (plus $1 postage in North America, $2 extra to Europe). Discounts for bulk orders are available. You can pay by Paypal by going to: www.slimsandy.com Proceeds from the sale of the single will go towards making a DVD documentary with film footage of RAY CONDO. Crazy Productions - info: psandmark@yahoo.com - www.slimsandy.com


---


Supported by Deke Dickerson on Debut Album, "Kitty, Kitty...GROWL!"
Retro Glamour Girl Dulcie Younger
"Femme Fatale is a thing of the past for rockabilly singer/songwriter Dulcie Younger - literally. Like a young Elizabeth Taylor, Miss Younger keeps her hair in tight curls, her lips painted red, and the neckline on her vintage dresses daringly low. Younger announces the release of her debut CD album, "Kitty, Kitty ... GROWL!", which features rockabilly guitar legend Deke Dickerson.
There are only a handful of women nationally who perform rockabilly, and even fewer who write their own music. Dulcie Younger not only writes and performs her own songs, but she"s created an image for herself based on the glamour of 1950s Hollywood starlets.
As a child, Younger"s father was an amateur record collector. He occasionally took her on buying trips, and it was through these that she discovered classic singers - Peggy Lee, Elvis Presley, Connie Francis. She became interested in vintage fashion, but quickly found that her unique style was too sophisticated for her high school peer group. As her isolation grew, she turned to writing music as a creative release.
"Kitty, Kitty ... GROWL!" was recorded at the historic Paramount Recording Studios in Hollywood, California. Barry Conley (Sugar Ray, L7, The Stray Cats) engineered the album. The album was recorded using vintage recording techniques to replicate the warmth of the 1950"s era sound. Against music-industry odds, Younger's independently released CD caught the attention of buyers at Tower Records, Virgin Megastores, and Barnes and Noble, and a large number of chain stores now carry the album in stock.
For more information on Dulcie Younger, please visit www.dulcieyounger.com. Dulcie Younger's "Kitty, Kitty ... GROWL!" CD is distributed by Golly Gee Records, Inc. and can be purchased on-line at www.gollygeerecords.com or through Tower Records, Virgin Megastores, and other music retailers.


---


Barbara (Mrs. Paul) Peek R.I.P.
Barbara Peek died Thursday morning, November 4, 2004. Her husband Paul Peek (who passed away April, 2001) was one of Gene Vincent's Blue Caps band members and then went on to have a successful music career of his own. One of Paul's biggest fans was Jeff Beck.
Barbara had trouble swallowing food and was taken to the hospital because she couldn't breathe. Complications set in and doctors they recommended that she be taken off life support. She left a living will which said she did not want to be artificially kept alive. She wanted to be cremated, so this was done. Barbara was 65 years old.


---


Merle Haggard Back On Capitol Records
Nov 4, 2004. Merle is back today in Los Angeles recording more cuts at the recording studios at Capitol Records located in Hollywood, CA for future Cd's of his music to be released on the Capitol label. I spoke with Merle recently on the phone at his home in Northern California and he informed me that his first release on Capitol in years will be a pop standard Cd entitled "Unforgettable Merle Haggard" set to be released Dec. 14, 2004 and will be available at most major outlets that sell Cd's.
Glenn J."The Ambassador of The Bakersfield Sound"Pogatchnik


---
MACK ALLEN SMITH'S BOOK, "Looking Back One Last Time: A Memoir" was written in 2001 and is available now. "This is a true story about real people and real places that have caused my memory bank to be filled with really special and precious memories that linger." -Mack Allen Smith. To obtain your copy, write directly to: Mack Allen Smith, 814 W. Claiborne Ave., Greenwood, MS 38930. Phone 662-455-4061. The price is $25, plus $3 for packaging and postage.


---


Various Artists - Release Date was October 26th
Hard-Headed Woman:
A Celebration of Wanda Jackson
"There's nothing like a bunch of renegades paying tribute to a renegade - and that's what you've got on Hard-Headed Woman: A Celebration of Wanda Jackson." And that's how writer (and co-producer of this cd) Holly-George Warren begins the liner notes for this outing, a collection of songs associated with Ms. Jackson and performed by both Bloodshotters and notable off-label cronies.
Known to many as the Queen of Rockabilly, Wanda Jackson is a maverick performer whose influence has reached far beyond the genre and cast a long shadow on the history of music, both sonically and in her performance style; she is one of rock & roll's original bad-asses. Wanda helped stake out a direct route from the feral origins of rock to the punks, riot grrrls, and psychobilly boundary-busters 50 years later. She kicked down the door to the good ol' boys club that told us women couldn't (or shouldn't) bring the ferocity and attitude necessary for a truly liberating brand of music. She's sang at the Opry, dated Elvis Presley, inspired Elvis Costello, and been covered by the Cramps. Hers is a powerful, genre-transcending legacy, and props are long overdue.
To quote Leonard "Motorcyclist of the Apocalypse" Smalls in Raising Arizona, "In order to catch an outlaw, you've got to hire an outlaw." In that spirit, we've gone and hired a bunch of rebels to pay tribute to this rebellious performer. Showcasing songs that Wanda Jackson recorded and performed, the artists here cover the gamut. Rosie Flores, the guitar-slinging firebrand who asked Wanda in 1995 to record a duet with her on Rosie's "Rockabilly Filly" release, contributes a swingin' version of "Middle of a Heartache." Neko Case's rendering of "Brown Eyed Handsome Man" evokes the saucy, spirited attack that Wanda's brought to her performances since the '50s. Trailer Bride's dark take on "Fujiyama Mama" thoroughly recasts the song, and in doing so refocuses the listener's ear on its twistedly clever lyrics. And Wayne "the Train" Hancock's turn at "Let's Have a Party" enthusiastically echoes Wanda's penchant for mixing a little wildness into the fun. Robbie Fulks, Anna Fermin, Jesse Sykes, the Bottle Rockets, Nora O'Connor, Candye Kane and more - guys and gals alike - chime in here as well.
Wanda Jackson's mighty ways with a song enable her to lay claim to the material she performs, be it country, blues, rock & roll, gospel, honkytonk, rockabilly or swing. The dynamic performances delivered here -- on the barn-burners and raveups as well as the songs of heartbreak and pathos - are a celebration of the gutsy talent of an artist too long overlooked. Wanda Jackson's fiercely independent spirit is given fresh new life in the voices and attitudes of these 21 descendants of the Hard-Headed Woman.
A bit about the contributors:
Carolyn Mark & the Room-Mates (Victoria BC) -- Partner with Neko Case in the Corn Sisters. Released Pros and Cons of Collaboration this summer with her New Best Friends.
Nora O'Connor (Chicago) -- Former member of the Blacks and Andrew Bird's Bowl of Fire. Released her debut CD, Til the Dawn, on Bloodshot this summer.
Asylum Street Spankers (Austin TX) -- Foremost progenitors of music eschewing "the demon electricity."
Anna Fermin & Trigger Gospel (Chicago) -- Frequent contributor to Bloodshot compilations.
Kelly Hogan (Chicago via Atlanta) -- Many solo CDs, member of Rock*A*Teens and the Jody Grind, contributor to CDs by Neko Case, Pine Valley Cosmonauts, and current jazz project The Wooden Leg.
Neko Case (North America) -- After releasing three CDs on Bloodshot, new CD on Anti released this fall.
Robbie Fulks (Chicago) -- Honky-tonk/pop gadfly with several Bloodshot CDs and compilation appearances. Recently produced Johnny Paycheck tribute album, Touch My Heart.
Jesse Sykes & the Sweet Hereafter (Seattle) -- Recent CD on Barsuk Records, Oh, My Girl, released this spring.
The Cornell Hurd Band (Austin) -- The pride of South Austin, their recent CD is on Behemoth Records. Veterans of several Bloodshot compilations and one of the highlights of the SXSW festival.
Rosie Flores (Nashville) -- The Rockabilly Filly. Need we say more? Check out her website: http://www.rosieflores.com/main.html. Rosie's new live cd, Single Rose, is hot off the presses now.
Candye Kane (San Diego) -- Described by Rolling Stone as "equal parts Etta James and Patsy Cline," blues diva Kane tours the world and has released 7 cds on labels as diverse as Antone's, Rounder, Discovery and Sire. (www.candyekane.com)
Trailer Bride (Chapel Hill, NC) -- Jittery hillbilly noir with four CDs on Bloodshot, most recent being Hope is a Thing With Feathers.
Jane Baxter Miller (Chicago) -- Member of the Texas Rubies and contributor to the Pine Valley Cosmonauts and a few Bloodshot compilations.
Wayne "The Train" Hancock (Austin) -- The undisputed king of roadhouse swing. Two CDs on Bloodshot; the most recent, Swing Time, released in the fall of 2003.
Kristi Rose (Nashville) -- This showgal can sing her way into your heart and drag you into her noir vision of a postmodern, tobacco-road, barely-hanging-on by-your-fingernails life. Her most recent U.S. release is Pulp Country.
Laura Cantrell (New York) -- Recording artist and "proprietress" of the long-running "Radio Thrift Shop" on WFMU. In the past year, Laura has performed at the Library of Congress, Newport Folk Festival, and the Grand Ole Opry.
Kim Lenz (Dallas) -- Records for High Tone. Contributed the track "Down on the Farm" to the Bloodshot kids' music compilation, The Bottle Let Me Down: Songs For Bumpy Wagon Rides.
Bottle Rockets w/ Sheri Hurst (Festus MO) -- One of the most critically lauded rock bands out there. Recorded a tribute to Doug Sahm, Songs of Sahm, on Bloodshot in 2002. Released Blue Sky on Sanctuary this spring.
The Ranch Girls & Ragtime Wranglers (Netherlands) -- Appeared at a festival at the legendary Chicago club Fitzgerald's, and we fell in love with them. Record for Home Brew Records in Europe.
Gina Lee & the Brisket Boys (Austin) -- The Queen of Western Swing; her domain is the Broken Spoke, South Austin.
Jesse Dayton (Houston) -- Long time Bloodshot fave and frequent tour mate of the Supersuckers.
Lee Gutowski
"Pressie Galore"
Bloodshot Records
3039 W. Irving Park Road
Chicago IL 60618
773 604 5300


---

New Glen Glenn CD Available from Bear Family
CLICK HERE for complete information.


---


The man who never let the music die, has died.
Calvin Boles R.I.P.
10/26/04 (courtesy Michael Shinabery) - Calvin Boles was one of Alamogordo's artistic originals. The Yucca record label he created ‹ recording in his garage and at then-KALG radio studios ‹ made immortals of musicians no matter the genre. And he did it starting off with a $40 Concertone reel-to-reel tape recorder.
Over two decades Boles pressed 237 vinyl Yucca singles. Boles himself cut the first release, Rock Buster, in October 1958. His roster included Bob Taylor and the Counts, of which a young Willie Nelson was a member; El Paso bluesman Long John Hunter; Bill Chappell, who went on to become a Branson, Mo. act; and Bobby Fuller, just 19 and whose song I Fought the Law became a rock classic.
"He came down here to have me put him on a record," Boles said in 2000. "I told him he'd have to buy the first deal."
"We didn't have the money. We were broke," Boles' wife, Betty, said. Boles' acts often went on to bigger record companies. Because of his generous nature, Boles ‹ at great financial cost to himself ‹ let them out of their contracts.
In 1961 Boles released the New Mexico School For the Visually Handicapped singing O Fair New Mexico.
In 1963 he immortalized the Tularosa Basin in From Arrows to Rockets, encapsulating the area's prehistory to space age. The Ballad of John Prather was about the rancher with only three firearms who held off U.S. marshals fronting the U.S. Army, which was attempting to take Prather's property.
Retired rancher Don Taylor was married to Prather's niece. "We had a little store there at Boles Acres during that time. Uncle John was in a nursing home at Boles Acres and he died there at Boles Acres. Calvin had wrote that story about him," Taylor said. "A few months ago, why a man was here in Alamogordo and he was asking me where he could find a copy of that song. I told him, well, Calvin Boles lives here in Alamogordo and he was the one who wrote that song. He looked (Calvin) up in the phone book and went and visited with him."
Boles was an insurance agent, but he gave that up in the early 1970s to record and promote artists in Nashville, Tenn. One was his son-in-law, Robyn Young, the late Faron Young's son.
Boles wrote more than 500 songs. He and Betty released eight albums of their own and that of his band The Rocket City Playboys. Betty became the bass player after Boles handed her a bass, showed her a few chords, and gave her two weeks to learn.
"He said if I was going to go with him I was going to have to earn a living," she said. The Boles' last Yucca album, We Lit the Candle of Love, And We Blew It, was recorded in Nashville in 1973. The title was typical of his sense of humor which created down-home songs such as Stompin' On A Hardwood Floor, You Made Me A Clown, Teardrops Big and Blue, Tear Jerking Music, and The Lokel Yokel.
Yucca discs are collectible in part because the music was unspecialized, ranging from blues to country to Hispanic, and religion to rock-and-roll. Swedish and Holland companies, and Norton Records in New York, have released compilations. In the past decade a German magazine and a British television film crew visited Alamogordo to document the Yucca story. In December 1999 the Swedish magazine American Music featured Boles.
"He was a legend," said Doug Gibson of Alamogordo's RoundSound Records. "He influenced so many people in the area. He was good with recording and was one of the pioneers in the region for country music. It's a sad day."
Gibson said in recent years he "had the pleasure" to transfer some of Boles' Yucca vinyls to CDs. "He's been a fixture here for years," said Alamogordo Commissioner Don Cooper. "He's pretty synonymous with this area."
"He was a good musician and he was a good person," said fiddler June Batte. "I knew Calvin very well, even when he was a young man before he was married," Taylor said. "He was quite a dashing young man."
Boles last performed in public in 1994, before undergoing surgery in December that year. From that he contracted hepatitis through a bad blood transfusion, which led to a condition that ruptured his fingers' nerve endings. For two years he could not play his guitar, but his musician's determination overcame that handicap.
"He was out there two days ago plunkin' on that guitar," Betty said. Boles was 79 when he died on Monday. He and Betty planned to renew their wedding vows on their 50th anniversary in August 2005. Boles' brother-in-law, Ron Johnson ‹ who played with well-known Big Bands and was Boles' drummer ‹ broadcasts a swing music show twice weekly on KRSY 1230 AM radio. Johnson's studio is in the same building that, in the early 1950s, was KALG, where Johnson was one of the station's first disc-jockeys and where Boles recorded. (www.twangtownusa.com)


---


Book Review:
Buzz Cason - Living The Rock 'n Roll Dream
This book is a must for any musical enthusiast. Buzz Cason invites us to a journey into his past. He tells us about his childhood, which influenced his whole life. Partly due to the fact that his mother already taught him to sing when he was very young, partly by watching the church choir of which his mother was a member, partly by the piano lessons which his parents made possible and where he learned to read notes, but mostly because he was taught the importance of values. He states for example, that he already learned as a child that you have to work in order to make your dreams come true and that you should never loose sight of your goals. Until the end of his school days, music was only Buzz' hobby, but it became his profession at the age of 17. At first he only appeared as a singer, but soon he became the co-songwriter and songwriter of songs which became quite well-known. A large part of his life as a musician took place on the road and, in a loose sequence and a quite natural way, Buzz Cason tells us of various experiences and relationships he had during his musical carreer without ever talking bad about his colleagues or exposing them - a rarety in this business. He includes his readers in a journey back to the beginnings of Rock and Roll. His journey was not always an easy one, however, he does not dwell on self pity, but rather lets the events speak for themselves. Later during his career he focused more on producing music, which he does with a passion. The respectful language of this book makes it a special reading pleasure.
Christian Lamitschka (Ch.Lamitschka@t-online.de)


---


Ray Campi News
Posted October 15, 2004 - Ray will be preforming in the U.K. at the 22nd Rocker's Reunion Winter Party (2005). It will be held at Rivermead Liesure Complex, Richfield Ave, Reading, RG1 8EQ on Jan. 22nd. Tickets may be purchased through Ian Wallis (9am - 5pm) at 01689 860980 or at the Rivermead box office, 0118 901 5000.
Ray's good friend, Diz Disley, one of the world's best known jazz guitarists and song writers, recently underwent heart surgery and would enjoy hearing from old friends and fans. Send your good wishes to Ray at Real Music, P.O. Box 250425, Glendale, CA 91225-0425. He'll forward the mail to Diz in Northolt, U.K.
Recently Ray completed an album for Bear Family records of Germany, which is now being manufactured. It is close to his heart and youth as it is a tribute to Jesse James and All the Boys, a Western swing band, working out of Austin, Texas and Ray saw them play often on their KTBC radio program. From 1947 through 1950 Jesse's goup released records on Bluebonnet and 4 Star Records. With the help of Paul Schlesinger and Jurgen Koop. Ray got a tape of 18 songs which Ray band and jimself re-created in the studio, note for note. This is Ray's first real Western swing album, a form of music he's always loved since hearing Bob Wills in 1943.


---


Cousin Richie (Zack) Zacharian R.I.P.
Cousin Richie (Zack) Zacharian, Leader of Eddie Zack's Hayloft Jamboree passed away on wednesday, June 16, 2004. 'Cousin Richie' Zackarian; famed country music artist.
Richard "Cousin Richie" Zackarian, 79, of New London Avenue, a well-known Rhode Island entertainer and recording artist, and a former car-dealership owner, died Wednesday at Kent Hospital, Warwick.
As young men, he and his brother, "Eddie Zack," who died in 2002, entertained themselves with homemade musical instruments, singing on street corners and performing at school events, leading to live radio and public performances.
A vocalist, Mr. Zackarian and his brother made a name for themselves in country music, playing guitar and fiddle at numerous East Coast venues, including the former Jack Witschi's Arena, in North Attleboro, where they would play to 2,000 on weekends, and were the first country-music group to perform in Boston's Symphony Hall.
Recording on Columbia and Decca Records, they were part of an NBC radio show from 1951 to 1958 that was syndicated to 128 stations coast to coast.
They played from Maine to Pennsylvania, and at one point played 45 one-nighters in a row, packing every house, and were one of the first bands on WJAR-TV, appearing more than 300 times in their careers.
Speaking of his onstage persona, "Cousin Richie," Mr. Zackarian said, "It's a stage name. Brother Richie would have meant I'd have to wear a collar."
Performing regularly for 60 years, they were still working every weekend until a few years ago, and had even begun to reprise their radio acts from many years ago on WJJF-AM in Hope Valley, bringing back the days of the old Hayloft Jamboree.
Answering calls for requests in the former chicken coop that serves as the broadcast booth of WJJF, Mr. Zacharian was always mindful of callers, and enjoyed illiciting their favorite memories.
Station general manager John Fuller also credited the brothers with bringing a loyal following to their show every Sunday from 11 a.m. to 2 p.m.
The band has had a loyal fan club since 1948, now coordinated by a couple from Brockton, Mass., Shirley and Jim McMorrow, who remember traveling more than 100 miles to see the band play, and who are lobbying to have the Zacks nominated for the Walkway of Stars, in Nashville, Tenn.
Mr. Zacharian was the husband of Barbara G. (O'Keefe) Zackarian. Born in Providence, a son of the late Peter and Elizabeth (Zackarian) Zackarian, he had lived in Cranston for many years. He had been the owner of the former Kingstown Dodge, and later worked as a salesman at the renamed Paul Bailey Dodge, and Bald Hill Dodge, retiring in 1998.
He was a Navy veteran of World War II, serving aboard the Prairie. Besides his wife, he leaves a son, Richard M. Zackarian, and two daughters, Mary E. Zackarian and Doreen B. Zackarian, all of Cranston; two sisters, Marilyn Albro of Coventry and Mercedes "Babs" White of Exeter; and four granddaughters. He was the brother of the late Edward Zackarian. - Courtesy: Matt Connelly


---


  Fifties Musician Recalls Meeting Elvis
Kate Miller of the Suburban Journals - Back in the late 1950s, when rock 'n' roll was a relatively new sound on A.M. radio, a band called The Casuals was traveling across the country, opening for performers such as Jerry Lee Lewis and Carl Perkins.
"Right out of high school we went on the road," said Buzz Cason, a former member of The Casuals who went on to earn songwriting credits with major artists. "In the beginning we played rock 'n' roll, rockabilly and early R&B. We weren't really good at country and western."
Cason was with The Casuals when the band backed Brenda Lee. In 1959, under the pseudonym of Garry Miles, Cason had a solo hit with "Look for a Star." He is best known, however, as a songwriter. He wrote or co-wrote songs — many country and western songs — performed by artists including the Beatles, Gloria Estefan, Jan and Dean, Martina McBride, Ricky Nelson, Dolly Parton, Pearl Jam, T.G. Shepard and U2. Perhaps his best known songs are "Everlasting Love" and "Soldier of Love." After living on the road, working in the music industry and meeting and working with a "who's who" list of performers during the decades, Cason compiled more than enough memories to fill a book.
In April, his book, "Living the Rock 'n Roll Dream: The Adventures of Buzz Cason," was published. The 200-page book features about 50 photographs of Cason and other rock 'n' roll pioneers. Cason writes about the highlights of his career, the people he has known and offers insight into the music industry.
There are stories about touring, meeting Elvis Presley and co-discovering Jimmy Buffet, just to name a few.
"It wasn't easy trying to figure out what I would put in and keep out, but writing it really got fun," Cason said. He relived his past as he wrote. In one adventure, The Casuals met Elvis, thanks to a disc jockey in Memphis.
"We said, 'How can we meet Elvis?' and he (the disc jockey) said he would stop by the radio station," Cason said. Not only did the band meet Elvis at the station later that day, Elvis talked about the house he had just bought and told the band they should see it.
"That house was Graceland," Cason said. "He had not moved in yet. We looked through the windows and saw the (brightly painted) walls. Those pictures from meeting Elvis are in the book."
While the book offers many familiar names from music's past and song titles that will inspire humming, "A lot of the book centers around the adventures of a young rock band," Cason said. "It's light reading in between the heavier stuff of today.
"I didn't get too risque in the book. We were a much cleaner-cut breed back then."
He said there are many things readers will take from his story but, mainly, "I just want people to capture the excitement and fun and freedom of that era," Cason said. - katemiller@yourjournal.com


---


Telstra Great Southern Blues & Rockabilly Festival
Wednesday, 6 October 2004 - The Ninth Annual Telstra Great Southern Blues & Rockabilly Festival at Narooma on the New South Wales, Australia. South Coast attracted more than 15,000 people, a 14 percent increase on last year.
More than 100 millimetres of rain fell at Narooma on opening night, but the festival still attracted record crowds and the wet weather failed to dampen the spirits of thousands of true blues fans.
The festival played host to a top line-up of performers including Richard Clapton, The Black Sorrows, Dave Hole and the internationally acclaimed Little Charlie and the Nightcats. Festival organiser and Eurobodalla Shire Council deputy mayor, Neil Mumme said the festival was well on its way to be the most successful in its nine-year history.


---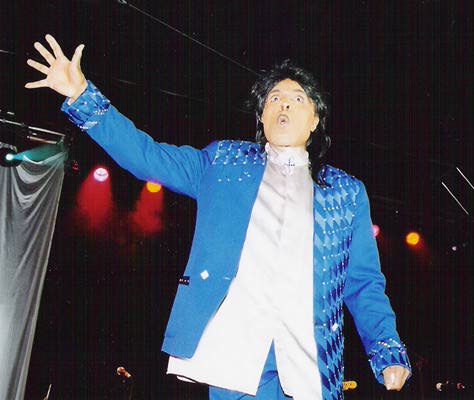 SEE BARRY DIXON'S CHIPPENHAM 2004 PHOTOS
---


The Time is Now for Big Sandy
JENNY FENIAK, SPECIAL TO THE EDMONTON SUN - Celebrating his 20th year performing a pervsonal hybrid of old-school western swing with a rootsy rockabilly twist, the world has finally caught up with Robert Williams, a.k.a. Big Sandy, who's playing tonight at the Sidetrack Cafe. "It's just so much different now than when we started. We kind of had to carve our own path," explains Williams, who recently turned 40.
"People would see a stand-up bass and they'd flip out. But now people kind of know where we're coming from, they know a little bit about the music and actually, it's been an interesting development."
Born, raised and still living in the Los Angeles area, Williams grew up with the sounds of old music from the 1950s. His toys were records his parents had kept from their youth and passed onto him. And being huge music fans, they would drag their young son out to all kinds of concerts.
"The first show they took me to was to go see Ray Charles. During that time in the L.A. area there were a lot of the older R&B and do-wop acts that were kind of still working around town.
"(My parents) were friends with some of the club owners, and I was able to get into some of the places where I wouldn't have been able to go into otherwise because I was just a kid. But I got to soak up a lot of the local music," says Williams, who's a member of the Rockabilly Hall of Fame.
Following daydreams of singing onstage, Williams learned to play guitar and eventually joined a rockabilly band that was looking for a lead singer. A few years later, he gathered together a few musicians, and they've been burning up the roads of America and Europe as Big Sandy and his Fly-Rite Boys. The band has recorded 11 albums over the past 16 years and is planning another for next spring with Yep Roc Records, the label they joined shortly before releasing last year's Its Time!
With a smooth, supple voice of a '50s crooner, Williams says folks at home in North America are finally starting to catch up to their rivals in Europe, where the group first broke out, playing huge festivals dedicated to the genre's revival. "Some of the festivals are starting to pop up in the States and there's been a lot of new people pouring into the scene and getting into the music and the whole lifestyle - the culture, the old cars and clothes," explains Williams the morning after a wild show in Winnipeg.


---
Robert Gordon - Satisfied Mind CD
"Robert Gordon is back! New recordings! He still has the voice! Now with a great backing band from Nashville: Eddie Angel on guitar (Los Straitjackets, Planet Rockers), Jimmy Lester on drums (Los Straitjackets), Dave Roe on bass (Dwight Yoakam), Johnny Neel on keyboards, Dennis Taylor on sax and Fats Kaplan on steel and fiddle. You really can't go wrong with these guys! A great mix of Rockabilly, Rock'n'Roll, and Country!" - Howard Raucous
"Well, what an album! Robert Gordon has always been known for his high musical standards on stage and in the studio. With this new album he is in total control of his craft and demonstrates yet again what a terrific interpreter he is of the musical style addressed here. He possesses one of the GREAT voices around today and Robert Gordon's new album more than adequately captures the brilliance of his work." - Howard Cockburn, from Now Dig This (May 2004)
Robert Gordon's best CD in years. What a sound ... Eddie Angel's guitar and overall recording is awesome. Robert's voice never sounded better ... at least since FRESH FISH SPECIAL when he must have been inspired by THE JORDANAIRES in the studio with him. Love his take on Long Cool Woman, Little Boy Sad and Mama's Little Baby. These three now have to be a must-do in his live sets ... Wow! -George B. Feist, Fresno, California

Robert Gordon
SATISFIED MIND
Jungle Records
1. Dear One
2. Your Angel Steps Out Of Heaven
3. Ain't Gonna Take It No More
4. Little Boy Sad
5. Sweet Nothins
6. Sea of Heartbreak
7. Long Cool Woman
8. When I Found You
9. A Satisfied Mind
10. Mama's Little Baby
11. Turn Me Loose
12. Queen Of The Hop
13. Do You Love Me
14. These Boots Are Made For Walking
Available October 5, 2004 @amazon.com


---


Rockin' 50's Fest II
Oneida Bingo & Casino - Green Bay, WI
April 11th - 16th, 2005
October 1, 2004 - ONEIDA CASINO'S ROCKIN' 50's FEST II TICKETS ARE NOW ON SALE! PURCHASE BY PHONE AT 1-800 895-0071 or AT THE MAIN CASINO CONSIERGE BOOTH. $40 WEEK LONG PASSES ONLY! GET YOUR TICKETS NOW!
Get ready for the event everyone has been waiting for and talking about since 2002! It's been 2 years in the making and it's ready to be unveiled... ONEIDA BINGO & CASINO is proud to present ROCKIN' 50's FEST II! London, Australia, Russia and France are just a few of the many countries which will bring their own brand of music from the 1950's to Oneida Casino. This is your one chance to see bands from all over the world - in one location!
This is sure to be the largest nostalgic music fest to date, with over 4000 attendees and 100 musical acts. From April 11th through April 16th, 2005, you'll witness musical history from legends of the 50's music era. To view photo's and information about the first Rockin' 50's Fest in 2002 click on this link: click here


---


2004 International Songwriting Competition Deadline
The October 15 deadline for the third annual International Songwriting Competition (ISC) is only two weeks away. If you are an artist, songwriter or band member looking to gain exposure in the music industry, ISC is the perfect opportunity for you. "In addition to great prizes, ISC offers the unique opportunity to have your music heard by the most impressive group of judges from a variety of industry backgrounds in any songwriting competition. This makes ISC the songwriting competition to take note of." - Robbie Woliver, New York Times
More than $100,000 in cash and prizes will be awarded to 50 winners, including $10,000 in cash and $30,000 in merchandise/services to the 2004 Overall Grand Prize winner.
Visit http://www.songwritingcompetition.com for an entry form, or to upload your songs. ISC accepts entries via mail and online. All entries submitted by mail have to be postmarked on or before October 15, 2004. Online entries have to be submitted by 11:59 p.m. EST, October 15, 2004.
Entries are accepted in the following categories: AAA/Roots/Americana, Dance/Electronica, Jazz, R&B/Hip-Hop, Blues, Folk/Singer-Songwriter, Lyrics Only, Rock, Children's Music, Gospel/Christian, Performance, Teen, Country, Instrumental, Pop/Top 40, and World Music.
International Songwriting Competition
211 Seventh Avenue North, Suite LL-20
Nashville, TN 37219
Phone: 615.251.4441
Fax: 615.251.4442
songwritingcompetition.com


---

New Duane Eddy Signature Model from Gibson
September 28, 2004 - Duane Eddy will launch his new Gibson Custom Shop signature guitar model by presenting the first one to legendary rock guitarist Joe Perry of Aerosmith (another recent Gibson signature artist) as part of a special event being held at the Cleveland Browns Stadium South Club lounge. The event kicks off the fourth annual FORTUNE Battle of the Corporate Bands this coming weekend at the Rock and Roll Hall of Fame and Museum.
Inducted into the Rock Hall in 1994, Duane Eddy introduced what would become the classic sound of a low, twangy electric guitar with his 1958 hit "Rebel Rouser." Over the course of 34 chart singles and over 100 million records sold, he has been joined in the recording studio by such notable musicians as Paul McCartney, Art of Noise, George Harrison, Ry Cooder, Steve Cropper, John Fogerty, Jeff Lynne and many more.


---


New Joe Clay CD
The record will be recorded in London's Sisterbelle studio - run by engineer Jose Espinosa, a long-time fan and musician of 50's American music. The studio features period 50s recording gear, as well as the talent to use it. Jose follows the lead that Sam Philips set and likes to run a session as if he is capturing a band in action - no watching the clock and the tape is always rolling. What usually results is a true-to-life representation of the music, with a sound to match. To record Joe Jose has been critically listening to the production values of his known recorded works and been taking extensive notes. He plans to use similar signal chains (as much as he can work out) to what is found on the records. For this session it included hand-building a replica of the RCA tube mic pre found in RCA studios, as well as getting his RCA ribbon mic brought up to specs by an original RCA technician. Although not promising to sound EXACTLY like Joe's original recorded, Sisterbelle does promise to deliver a sound recording that could have been done in the 50's.
About the backing band: Jose Espinosa - Dog House Bass. Jose has played with numerous well known rockabilly bands such as the Sugar King Boys and the Cordwood Draggers. As the owner and chief engineer Jose sees his main duty as complimenting the beat and ensuring the spirit of the music is captured. Mick Cocksedge - Acoustic Guitar. Mick brings years of experience on the English scene to the Crackersjacks. Previously with the both the Untamed and One track mind, he can currently be found strumming and crooning with the Cordwood Draggers. Brian Neville - Drums. Brian has toured extensively with Deke Dickerson, Carl Sunny Leyland and too many others to name. His discography extends to well past 50 records, and he has backed numerous 50s artists including the Collins Kids and Glenn Glenn. Mario Cobo and Malcolm Chapman - Lead guitars. These two guitar maestros don't need any introduction; two of the 5 greatest rockabilly guitar players in Europe.


---

September 12, 2004 ... Released in Europe:
Dear Johnny, A Tribute to CASH CD
Simply put, "Dear Johnny, A Tribute To CASH" is an eclectic collection of artists paying their respects to the Man In Black on one compilation CD. For explanation purposes, the genres of music featured here range from Alt Country and Americana to Rockabilly and Psychobilly to Industrial and Punk Rock.

Tracklist:
1. Dale Watson "Guess Things Happen That Way"
2. The ScotchGreens "There You Go"
3. Supersuckers "Mean-Eyed Cat"
4. Stevie Tombstone "Folsom Prison Blues"
5. Deadbolt "Orange Blossom Special"
6. Beverly Killbillies "Wanted Man"
7. Kings Of Nuthin' "Cry, Cry, Cry"
8. Flametrick Subs "Dirty Old Egg-Suckin' Dog"
9. Bastard Sons Of Johnny Cash "Long Black Veil"
10. Jesse Dayton "Doin' My Time"
11. Concombre Zombi "Flesh & Blood"
12. 12 Step Rebels "Delia's Gone"
13. Satan's Teardrops "I Got Stripes"
14. Los Creepers "Wreck of the Old '97"
15. Eddie Spaghetti "Peace in the Valley"
16. Todd Stedman "Hey Porter"
17. Speedbuggy USA "Drive On" 18. Hot Rod Lincoln "I Walk the Line"
A PORTION OF THE NET PROCEEDS FROM THE SALE OF THIS CD BENEFITS JOHNNY CASH'S FAVORITE CHARITABLE ORGANIZATION: SOS CHILDREN'S VILLAGES.
Contact: sascha@wolverine-records.de


---


'Cowboy' Clement Reunites with Cash on New Album
Nashville impresario "Cowboy" Jack Clement has been responsible for some of the greatest moments in popular music. As a producer at Sun Records in the 1950s, Clement worked with Roy Orbison, Jerry Lee Lewis and Johnny Cash. He wrote two of Cash's biggest hits, and went on to discover Charley Pride, producing his first 20 albums. Beyond country, he recorded three tunes for U2's "Rattle and Hum" album. He is currently working with 86-year-old Eddy Arnold on a new release.
Clement, a youthful 73, released his own album in 1978, and has finally got around to putting out a follow-up, "Guess Things Happen That Way", which went on sale Tuesday. The title, of course, refers to the 1958 Clement-penned ballad that Cash took to No. 1 on the country charts. The album features a new version, with a vocal overdub that Cash recorded shortly before he died last September.
"I considered him one of my best friends," Clement, 73, said in a recent phone interview from his Nashville studio. "I loved the guy, I still do. I miss him every day." At Cash's funeral, Clement read a two-page poem, "My Friend the Famous Person," which he had written about the "Man in Black" in 1991.
The new version of "Guess Things Happen That Way," a philosophical lament about a failed relationship, has more of a Latin feel, which is what Clement originally envisaged when he was writing the song with Dean Martin (news)'s "Memories Are Made of This" as his role model.
The other country chart-topper that Clement wrote for Cash, the 1957 novelty tune "Ballad of a Teenage Queen," is revisited on the album courtesy of a version that Cash recorded in 1981. Clement wrote that song after falling in love with Barbara Pitman, a recording artist at Sun, i.e. "the candy store" cited in the song.
Clement owns the master tapes for seven or eight songs that Cash recorded shortly after he was dropped from Columbia Records in 1986, and is considering licensing them to Rick Rubin, the producer who masterminded Cash's 1990s comeback.
The unreleased songs include a version of the Leon McAuliffe instrumental "Steel Guitar Rag" with words; "Goodbye Ugly," which Cash wrote about his cat; and an update of "Old MacDonald Had a Farm," which Cash wrote to protest the government's treatment of farmers.
Clement's album also includes a collaboration with Georgia's maverick U.S. senator, Zell Miller, credited as a co-writer of "Every Place I've Ever Been." The two met and became instant friends shortly after the nominal Democrat began a two-term stint as governor of Georgia in 1991.
Miller, described by Clement as a walking encyclopedia of country music, wanted to be a songwriter. He came up with an autobiographical outline and the title, and pitched it to Clement. They spent a morning working on the tune together and finished up later by fax.
Clement also sings "It'll Be Me," which he wrote for Lewis in 1957, and a cover of the Rolling Stones' 1968 blues tune "No Expectations," whose version Clement claimed not to have heard until recently. Clement never wanted to be a superstar like the acts that he propelled to the big time, but he is thinking of hitting the road to help promote the album.
Otherwise, he holds court at the Cowboy Arms Hotel and Recording Spa, his subtly monikered home-office-recording studio. It's a popular hangout for country acts, and it saves him from venturing onto Music Row, where he risks running into label executives he thinks have ruined the business by releasing boring songs that all sound the same. Like the character in his title track, Clement's not thrilled, but he guesses things happen that way.
- Dean Goodman