CLIFF GALLUP
NOTE: According to the Social Security files,
he was born CLIFTON (not Clifford) on 17 June 1930, and died 9 Oct 1988.
Posted: July, 2003
"The 100 Greatest Guitar Albums"


MOJO magazine comes with a CD sized booklet "The 100 Greatest Guitar Albums" with Foreword by Jeff Beck. It's in chronological, rather than rank,İorder, and the 10th entry is "Gene Vincent And The Blue Caps". "Vincent's second album gave sideman Cliff Gallup some of the best rockabilly showcases, played with a speed and clarity that even Gallup fan Jeff Beck could only catch up to, not surpass." "Cliff's blazing rockabilly solos playing a vital part in shakers like You Better Believe, Red Blue Jeans And A Pony Tail, and the psychotic Cat Man. Gallup's pioneering techniques for devising ringing reverb and vibrato helped set the blueprint for the classic rockabilly sound, and were never heard to better (or to more jaw-droppingly speedy) effect than on Cruisin' ... Gallup throws in a half-dozen clusters of descending notes in lightning succession to drop you off his personal Cliff." (courtesy: Derek Henderson)


Posted: February, 2003
An Open Letter to John Aaron
Hello John (JAaronMPR@aol.com) ... and thanks for your dedication to Cliff. I have the same dedication to this natural genius and it has not faultered since I first heard him in 1956 when I was 13. At that time, Jeff Beck and I were buddies and he would come to the Trojan Factory where our band The Deltones rehearsed. We traded opinions on how Cliff played certain passages etc. In "Copying Cliff Gallup Solos" terms, I was a year ahead of him. And - I had a tape recorder with a second playback head as an echo system so that really made me the source of envy and probably close to assassination by the hand of Jeff. After I left the Deltones to go to play in the Top Ten Club Hamburg, Jeff took over my position, then left for the Yardbirds. I'm proud of Jeff for doing his Crazy Legs album and for displaying to the world, his dedication to Cliff's playing.
You have obviously given the subject much thought and time and I agree with all you say in your article.
A few years before his untimely departure, I spoke to Cliff and was able to ask many of the questions you have asked, and for the most part answered yourself. So I can verify some of the things that you speculated.

These are my speculations:
The guitar is obviously a Gretsch DuoJet, in phase DeArmonds probably 1955. The strings - Tape wound as delivered by Gretsch then but relatively heavy gauge. Listen to the string bend in the intro "Bop Street". The string bend doesn't really bend. Also the last note note on the low "E" string before the closing 6/9 chord. Sounds pretty heavy.
The Bridge - The aluminium Bigsby bridge sound awful on the DuoJet. It looses body and has a metallic edge to it the is not typical of Cliffs sound. So I think it was a Melita.
This Cliff told me: He used a large pick between first finger and thumb, and a metal Finger Pick on his second and third fingers.
He said he used Grady Martin's Standel on the session(s) (But there was more than one session and the absolute, ultimate sound is on the "Blue jean Bop" album) so one supposes he either borrowed the same amp again from Grady (Possible, but less likely in my opinion) or he had or bought the same amp himself. Or the amp on the second sessions was not a Standel (In my opinion thay are both Standels) The "Bluejean Bop" album is just more meticulously recorded. (i.e. Hear the dramatically premature fade at the end of "Bebop a Lula".
Cliff said his main influences were Less Paul and Chet Atkins and he would have liked to be able to play Pedal Steel.
The great surprise and perhaps disapointment to all of us DuoJet/DeArmond/Standel radicals is - Cliff's sound was an "accident" created by Ken Nelson. Cliff did not like the sound at all and when he left Gene, he changed to a Country Gentleman with "Filtertrons". This is quite understandable. I have a 1955 DuoJet and the same Standel. If I put heavy flatwound strings on the guitar and play through the Standel with no echo effect it sounds appalling. I'm pretty sure that Ken got himself out of a predicament that day and (perhaps) unwittingly created the the most recognizable and unique guitar sound ever.
By the way the tape delay is applied to the WHOLE recording not just the guitar and is simply the distance between the record and replay heads of a second Ampex in the recording chain. Tape delay was used to a lesser extent on many recording of the day. (Johnny Burnette's "Honey Hush", Wanda Jacksons "Cool Love" et al.)
Live reverb was, and still is done by using an asymmetrical live (hard walled) room and placing one loudspeaker and one (or two for stereo) mics as far away from the speaker as possible. The result was added to the original clean signal.
One other sound aspect that is overlooked is the microphones used on the sessions. In a studio interview that I read they were quoted as Ribbon types, probably RCA 77 on the guitar amp and RCA 44 on vocals. And that's what they sound like to me. Ribbons reproduce the sound of many instruments much better than the current condenser mics do. But Ribbon mics are very fragile, create a lot of self-noise and are currently more expensive than non-tube condenser mics.
The conversation I had with Cliff lasted about 25 minutes. Perhaps you can visualize me, hardly able to hold the telephone, shaking as I dial the Chesapeake number ... someone pics up ... it's Doris Gallop ... may I speak to Mr Cliff Gallop please? ... Sure ... Cliff, its for you. ... and Cliff Gallop is on the line. I could hardly stutter let alone speak.
Cliff was so unassuming and humble. I mentioned that most of the worlds top pop guitarists quote him as their main influence and idol including Albert Lee, Jeff Beck, Jimmy Page Brian Setzer and dozens more. He had never heard of any of them, and couldn't understand why they found him so good. I almost got the impression the he would have preferred to forget the whole Gene Vincent episode. I invited him and Doris to visit me in Switzerland and in an interview with Guitar Player magazine he mentioned it. He left us before the vacation could be realized.
At the Frankfurt Music Fair about thirteen years ago, I approached Fred Gretsch his company'sİlack of acknowledgementİ of the enormous influence that Cliff had on theİpopularity of the DuoJet in that they never mentioned him in any literature that I have seen. We spoke for a few minutes and my lasting impression was that Fred Gretsch is not the slightest bit interested in guitars. After all it is "Fred Gretsch Mfg Co." and he only manufactures stuff.
I believe our best chance to implement a a Cliff Gallup model is if Jeff was behind it with his name. And perhaps Jeff could muster up some support from his very prominent firends. I know from my time in Hamburg with the Beatlesİthat George Harrisonİwas inspired to a degree byİCliff's playing and that George always had a Gretsch handy. Later I believe he used the DuoJet almost exclusively. Jeff could get to Paul McCartney. It might be fun to see what Guitar Player mag thinks about this. Also - Why is Clif not in the R&R Hall of Fame? We could use the same petition to thisİend.
On the subject of Cliff's influence onİPop/Rock music, I feel that because The Gene Vincent and his Blue Caps repertoireİwas so predominently Swing (terziary) orientated and pop music developed to be Binary (non dotted eighths), it was not on to quote a Cliff style solo in say, "Johnny B Goode" or "Twist Again". Nor did the average joe strummerİ rush out and buyİa Gretsch, because Cliff was way out of reach.İIt's much more likely that superior players were influenced by Cliff, revered andİenvied hisİunique ability to cause an earthquake and erupt like a vulcano and never get overexcited and go over the top. (I'm thinking now of the second solo in "Jump Back" which even today I have to sit down to listen to. The ultimate rock guitar solo.) Soİprobably still today Chuck Berry hadİthe greatest influence on the mass rock guitar andİCliff influenced the elite.İBut its like comparing "Scientific American" with "The Daily Mail". The latter certainly sells more papers ...
Jim Duncombe
jim@duncombe.ch
www.rackets.ch



---




GREAT FEATURE ARTICLE:
"So You Want to Sound Like Cliff Gallup"
Cliff Gallup Tabs,
Courtesy: Jim Lewandowski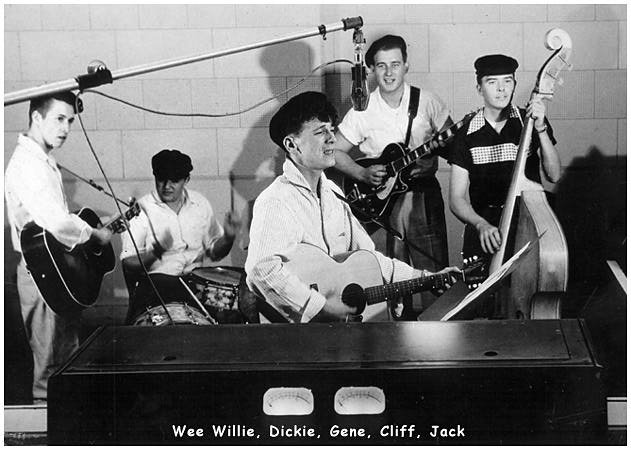 ...and Cliff, he was just fabulous! (At the first Capitol recording session) Ken Nelson was unsure of Gene's band, so he brought along some of Nashville's best session musicians (possibly Grady Martin, Hank Garland, Buddy Harmon and Bob Moore(?) ). But Cliff was one of the finest rock guitarist of the fifties, and the first song they recorded, "Race with the Devil," started with a succession of fast runs (actually double-picking one continous first position run from E on the D string to open E on the bass string) on Gallup's pancake-model Gretsch. According to Tex Davis, the session musicians were astonished and knew right away they wouldn't be needed.

(After an album and months on the road) Cliff gave notice - he'd stay for the next gig, then leave. He didn't like road work and missed his wife: "I enjoyed playing the music, but I didn't like being away from home. I was sick of traveling. We stayed on the road all the time. Their next gig was at a swank supper club in Washington, DC, the Casino Royale. (Cliff recalls:) "If you've ever seen Dickie Harrell play drums, then you've really seen something. People were sitting at long tables and clapping their hands. Then Dickie held his snare drum in his hand, beat on it, then jumped up and walked along the table, still playing! People were grabbing their plates out of the way and Dickie never missed a beat! Dickie was a show all by himself! A real clown!" (This was Cliff's last live performance as the band went on to hire Russell Wilaford as a replacement. They then traveled to Los Angeles to film "The Girl Can't Help It." Cliff did later return to the studio to play lead on Gene's second LP.)

"I got along fine with Gene. He was a good singer, and, just like all the rest of us, he was always beating on a guitar. Gene was a typical rock singer; he moved around a lot. He had a little problem with his leg, but I doubt people could notice it. He was a little stiff-legged, but he had a cast and a black sock, then he got that special shoe made for it. We'd sit around the dressing room and sing and play; jam sessions, sometimes with Carl Perkins when we were part of the troupe together.

We played a lot of fairs and the kids were always screaming. But Dickie was so damn loud! Rock drummers are always loud. Jack was a good bass man. Bill Davis was a jolly guy, a lot of fun. He had a good sense of humor. I just looked at him as one of the gang. Ken Nelson was a mighty fine person. He probably impressed me more than anybody I met. No question about it, Ken Nelson helped. He told me how I ought to set my guitar. And I was satisified with the sound. We cut some good stuff and I always looked forward to going into the studio. After I quit Gene, Nelson offered me a mighty fine contract, but I turned it down."

Cliff Gallup died of a heart attack in October of 1988. He was the Director of Maintenance and Transportation in his local area school system and played guitar on weekends during his last years. Although he was an extremely talented innovative guitarist, he never really cared much for the limelite.





ED. NOTE: Dickie Harrell talks about Cliff. "He really didn't care for the road, being 26 years old and having a family. While Gene, Jack and I were boppin' around the stage, Cliff just stayed put tryin' to understand what we were doin'. You know that famous run in the beginning of 'Race with the Devil?' - well Cliff didn't really like the song so he threw that intro lick in just to 'make the song like something.' And when I screamed in "Be Bop A Lula' he had a fit, saying that was terrible and just didn't fit." Dickie continues: "Cliff Gallup and Johnny Meeks never met each other. When Johnny came along, with Tommy and Paul, we were just one crazy family that Gene felt comfortable with. Cliff never followed the rock music scene later on. When asked how he felt about the newer guitarists admiring his style, he often wouldn't even recognize names like Eric Clapton or Jeff Beck. He kinda stayed in his own little world of music, playing Les Paul and Chet Aktins' style. He could have been a big, big star. When he died, he had played a local gig earlier that evening, had chest pains and insisted he was okay to finish out the night."
---




QUIET LEGEND, CLIFF GALLUP
INFLUENCED ROCK & ROLL SUPERSTARS

Virginia newspaper article published February 13, 1989, written by columnist Larry Bonko.


When I heard that guitarist Cliff Gallup died in a Chesapeke hospital not long ago, the news carried me back to my youth, to the 1950s, to high school, and the birth of rock 'n' roll. Gallup helped make rock 'n' roll happen. He was among the musicians who unleashed a tornado in the 1950s. One moment, we were listening to civilized music ' Gogi Grant singing "The Wayward Wind," Tenessee Ernie Ford doing "Sixteen Tons," and Prez Prado playing "Cherry Pink and Apple Blossom White.İThen came bursting on the scene the beat of Bill Haley and the Comets, Buddy Holly and Elvis Presley. They blew Grant, Ford, Prado, Perry Como, Guy Mitchell, Pat Boone, Jonnie Ray and Mitch Miller right off the charts.

Rock 'n' roll was born the week of July 9, 1954, when Decca released Haley's "Rock around the Clock." A year later, Presley was on the hit parade with "Heartbreak Hotel."İİPopular music would never be the same. İWhen Capitol records was looking for a headliner to rival RCA's Presley, they signed Vincent Eugene Craddock of Norfolk, changed his name to Gene Vincent, and promoted his song. "Be-Bop-A-Lula," into a hot selling record. Cliff Gallup was a member of Vincent's group, the Blue Caps, from 1956 until 1958. Life became a rocket ride to the stars for the young local musicians.

When Clifford E. Gallup died at 58 recently, many of his friends, neighbors and former co-workers probably had no idea that he helped to pioneer a form of music that will likely endure well into the 21st century. So modest was Gallup that his wife, Doris, asked that not one word of his days with the Blue Caps be included with his obituary. That is how Gallup would have would have wanted it, she said. He never bragged. It embarrassed him to be called a legend of popular music, which he was. Gallup was uncomfortable when fans of his "rockabilly" style of playing ' there are still many devotees in the British Isles - called to chat or wrote to request autographs. "He never did sign an autograph," said Doris Gallup. "He was not that kind of a person."

Cliff Gallup, a maintenance man in the Chesapeke city schools for nearly 30 years, was the same Cliff Gallup who was on the cutting edge of rock 'n' roll. He played on the same bill with Presley at the old Norfolk Arena - when Elvis was billed as "Pressley" in newspaper ads. İGallup played guitar - rather anonymously - right up until the day he died of a massice coronary. He had a gig in Norfolk with a group called the H-Lo's 48 hours before he took ill in his Great Bridge home and died shortly after in an emergency room. Of the original Blue Caps, only Jack Neal, Sr., Dickie Harrell and Wee Willie Williams survive. Neal and Harrell live in Hampton Roads. Vincent died in 1971.

The editors of Guitar Player magazine gave significant space to Gallup's passing, recognizing him as a guitarist who influence Jimmy Page, Jeff Beck and other musicians who would elevate rock 'n' roll to a noisier, heavier plane in the 1960's. The rockers paid Gallup the untimate compliment. İThey said as a musician he was a killer. The Blue Caps have been all but forgotten in America, even here where their music was born. Overseas their records sell well. "We're adored to death over there," Neal said. The Blue Caps' success did not make the musicians wealthly. Who knows where the money went? "We are not sitting pretty," Neal said.

In his obituary, not a word was mentioned about Gallup's virtuosity or his impact on popular music. Wherever you are today, Cliff, take a bow.

GOD BLESS CLIFF, DORIS, BONNIE and the GRANDCHILDREN.




From Jeff Beck...

For the lover of the style of Cliff Gallup, here is an interview of Jeff Beck talking about Cliff' s technique:

"When I was learning guitar Cliff Gallup was the biggest influence on my playing - the cut was pretty deep and the scar has never healed! It was just so radical - it probably doesn't sound metally or threatening now but if you were back in June '56 and turned the record right up... Boy! The term "rock 'n' roll" had hardly been bandied about and all the other "rock" records of the time were very polished and audibly nice and round. Then you put on Gene Vincent and had this guy screaming and these raucous guitar solos - it was unheard of and no one has done anything like it since.

"I had the right sort of guitar for when we started the 'Crazy Legs' album - a Gretsch Duo Jet - so I thought if I'd gone this far I may as well try to pick in the same way as Gallup. I remembered reading this interview with Cliff Gallup in a magazine years and years ago ['Guitar Player', December '83] where he talks about his playing technique but I couldn't remember where it was. I had a stack of magazines but I just couldn't find it! In the end I had to get in photocopied and faxed from the States. It was a bit smudgy and right where he was talking about picking the page was blurred! So I still couldn't use it!

"Then something amazing happened - an American journalist who had some of Cliff's picks gave them to me along with a little letter. He used metal fingerpicks on his middle and ring fingers, but to fit them in an envelope to post them Cliff had flattened them out! He also used a huge, triangular plectrum with his thumb and first finger. Now, I tried that but it was hopeless - I couldn't do it at all! I found myself using the pick only and the other two fingers were just hanging around doing nothing. My normal style is using thumb and first two fingers, so I put fingerpicks on my fingers and a thumbpick on my thumb.

"The guitar parts were all difficult to get right. Some of the harder sounding things like the triplet runs were not hard at all but it's what you do after the runs that counts. I put myself in Cliff's shoes for a month and I've got to take my hat off to him - if he came out with those solos off the top of his head then the guy was more of a monster than I ever believed. Having said that, I've tried to copy myself sometimes and it's not easy to copy something spontaneous.

"If people are disappointed with the album 'cause I didn't do my own thing then they're missing the point. I wanted to show people what Cliff was doing and I wanted to be Cliff when we were doing it. The solos are so beautifully formed with a beginning, middle and end that they're like small miracles."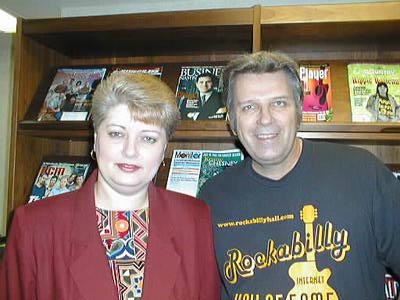 Bonnie Creef (Cliff Gallup's daughter) and Bob Timmers meet in Nashville, Sept 20, 1999.