ROCKABILLY HALL OF FAMEŽ MERCHANDISE & SERVICES


Looking Back at

Viva Las Vegas #5
Fri., Sat., Sun., March 29, 30, 31, 2002
EAST LOUNGE, GOLD COAST HOTEL, Las Vegas, Nevada

Thank you to all artists and fans that made this weekend a GREAT success. Watch for more photos and reviews to be posted here soon.

See you at the Indy Weekender, June 5-8 ... AND
The Green Bay Festival, July 7-13


ALSO SEE:
ALAN CLARK'S VEGAS 2002 PHOTOS: Page 1 and Page 2
Frederic Schroers' VLV 5 Page Nice article and many photos.
Dave Crimmen: VIVA LAS VEGAS 2002 PHOTOS
Dave Hermsen: VIVA LAS VEGAS 2002 PHOTOS
Rockin' Ronny Weiser: VIVA LAS VEGAS PHOTOS
Ronnie Lee Twist's Site
Garry Letts' Photos from the RHF stage at VLV.



VEGAS.COM
the most comprehensive website for the most entertaining city in the world.

















KAY WHEELER, "ROCKIN' THE BOP!"
Photo: Sharon Caren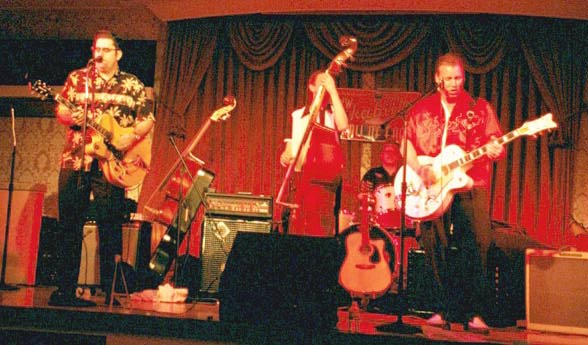 LOS HIGH TOPS
Photo: Ron Corral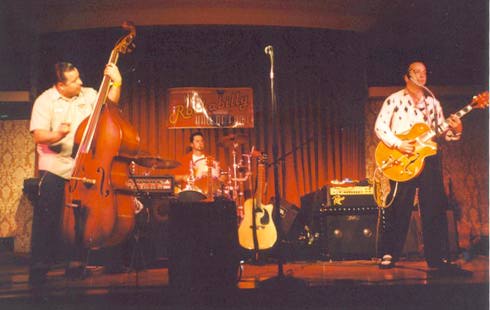 THE SILVERJETS
Photo: Jeffrey J. Hofman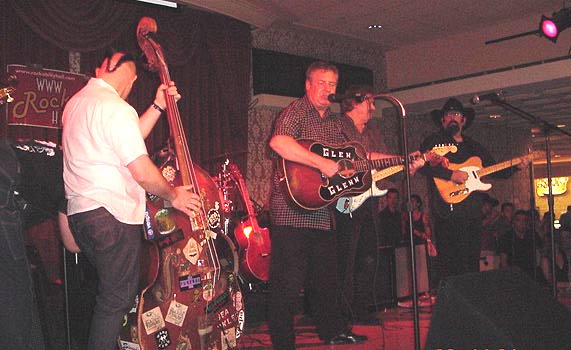 FOR THE THIRD YEAR IN A ROW, IT'S STANDING ROOM ONLY FOR GLEN GLENN!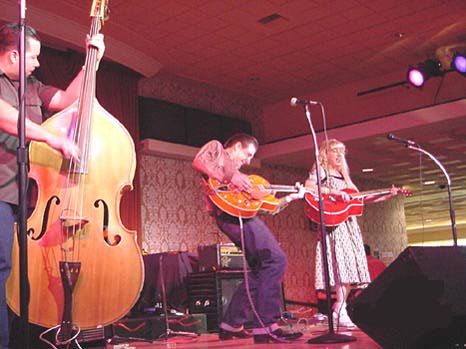 DAVE GONZALEZ OF THE PALADINS PLAYS GUITAR FOR BARBARA BURNETTE IN HER TRIBUTE TO THE ROCK & ROLL TRIO.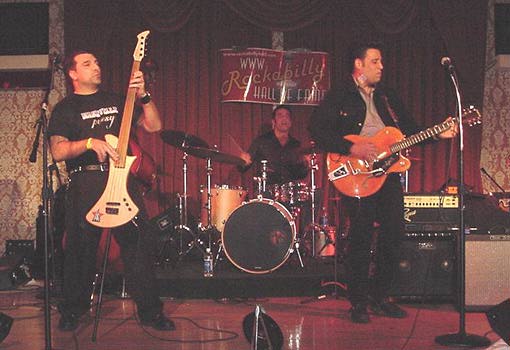 THE BUZZARDS FROM NYC WERE ONE OF THE "BREAKTHROUGH" BANDS WHO MADE 'EM HOWL IN THE EAST LOUNGE.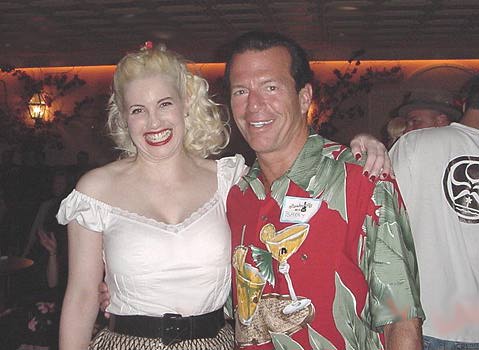 JOSIE KREUZER'S CD RELEASE PARTY SATURDAY: IT'S FUN TO BE LAST IN LINE AT THE AUTOGRAPH TABLE!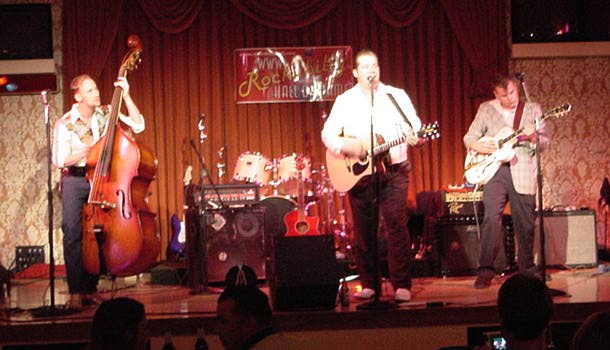 THE BOP KINGS: GREAT SHOWS AND THE OFFICIAL HOUSE BAND OF THE ROCKABILLY HALL OF FAME.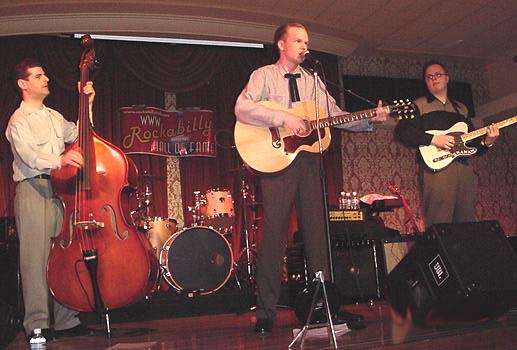 BONES MAKI & THE SUNDODGERS GOT THE EAST LOUNGE JUMPIN' ON SUNDAY AFTERNOON WITH AN ENCORE SET.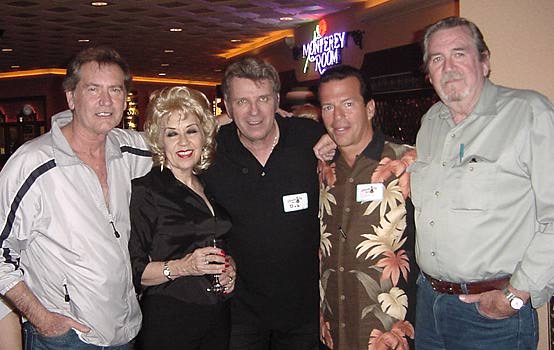 LEGENDS AT THE EAST LOUNGE, left to right, GENE SUMMERS, KAY WHEELER, BOB TIMMERS, BARRY KLEIN, AND SANFORD CLARK.




THE RHYTHM SHAKERS FROM EL PASO, TEXAS WERE YET ANOTHER BAND WITH A GREAT BREAKTHROUGH PERFORMANCE IN THE EAST LOUNGE.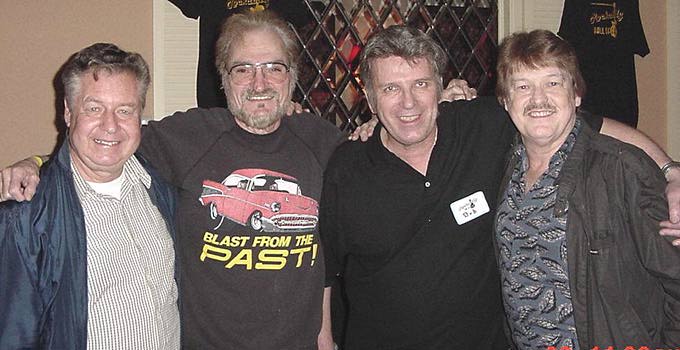 ROCKABILLY HALL OF FAME ALL-STAR VISITORS, left to right, GLEN GLENN, NARVEL FELTS, BOB TIMMERS, AND ALAN CLARK.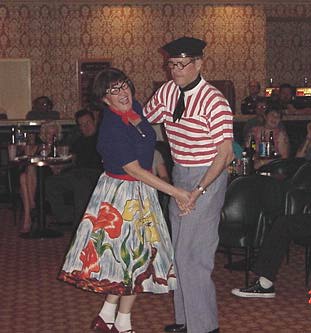 THIS LAS VEGAS COUPLE, MARRIED 49 YEARS, DELIGHTED THE CROWDS IN THE EAST LOUNGE EVERY DAY AND NIGHT WITH THEIR DANCIN' AND DRESSIN'.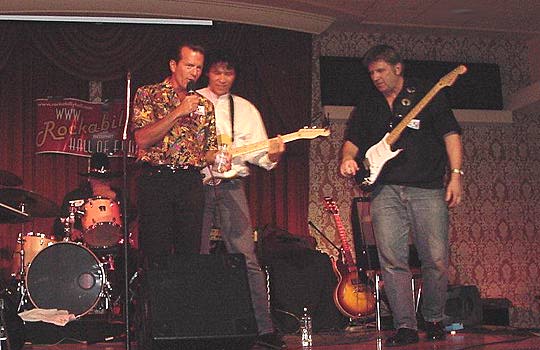 THE MC IN THE EAST LOUNGE JOINS RONNIE LEE TWIST AND DAVE & THE BAD CATS FOR "BLUE SUEDE SHOES"



PHOTOS BY BARBARA BURNETT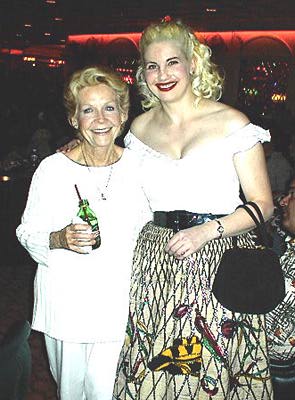 SUE THOMPSON and JOSIE KREUZER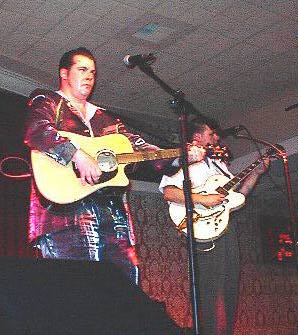 A GREAT TRIO ... THE BOP KINGS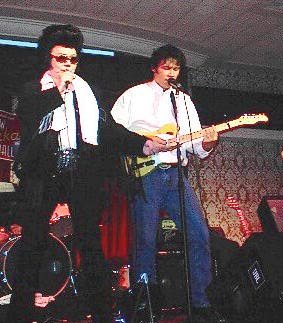 "ELVIS" AND HER SON, RONNIE LEE TWIST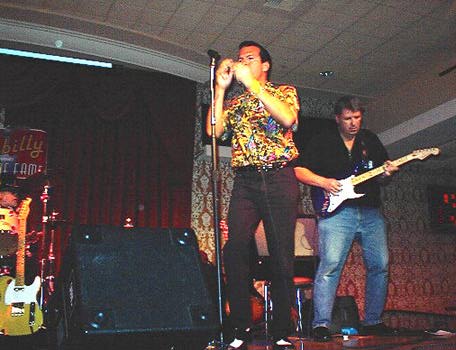 M-C, BARRY KLEIN ON VOCALS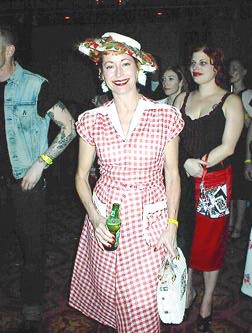 MARGO MEEKS