The Most Recent Photos Posted on the Rockabilly Hall of Fame Home Page
Updated Often
Deke Dickerson
"Usta Be My Baby" - Sanford Clark
"You Look That Good to Me" - Joe Clay
"My Boy Elvis" - Janis Martin

BILLY LEE RILEY
Newport, AR. Depot Days 2008.
(photo courtesy Mike Chojnacki - mikechoj@suddenlink.net)

"I Want You Baby" - Billy Lee Riley
"All the Time" - (young) Sleepy La Beef

"I'm Lookin' for Someone to Love"



ƒ
"We Wanna Boogie"
"Let's Get Wild"
"The Train Kept A-Rollin'"
"Red Hot Mama"
"Everybody's Moving"
"Ain't That a Shame"
"Little Liza Jane"
"Got a New Trumpet"
"Down on the Farm"
Johnny's RHOF Page
Johnny Cash Tribute Pages
"Cry, Cry, Cry"
"I Want You Baby"
Brenda's RHOF Web Site
"Let's Jump the Broomstick"
Eddie's RHOF Web Site
Eddie's Songs
Eddie's Videos
Grave Site
Gene's Official Web Site
Tribute Pages
1969 UK Documentary
Race With The Devil
Carl's RHOF Page

Everybody's Trying To Be My Baby




Johnny Powers' Home Page

Long Blonde Hair




Chan's RHOF Page

My Little Ruby




Gene Summers' RHOF Page
Gene's Song Page
Scotty Moore's Home Page
Video: Scotty & Elvis
Dewey Phillips RHOF Page

I'm Coming Home


One Hand Loose
Remembering Charlie
Charlie Photos and Documents
Charlie's Ace "Goldwax" Recordings





Riot in Cell Block Number 9





Rosie Flores Interview
Who is the father of rock and roll?
The answer might surprise you.
About Johnnie
Wikipedia

Listen: Come On Home

Ramblin' with Ray

Listen: Dance to the Bop





Listen: Shake Rattle & Roll





Listen: Oh La Baby





Listen: Long Gone Daddy





Listen: Ramrod
(Yes, that's Al pickin', not Duane Eddy)





Listen: Rawhide




RHOF Sam Phillips Page
RHOF Sam Phillips Tribute
RHOF Sun Studio
RHOF Sun "45s" Page
This CD is available at
Cow Island Music
Produced by Rosie Flores and Bobby Trimble

Listen: Lonely Heart





Listen: Mad at You



Listen: Come On Let's Go





Listen: Ole Slew Foot





Listen: School Days





Listen: Rockin' Daddy





Listen: Mean Mean Man



Listen: I Got a Baby





Listen: You Tear Me Up



Listen: (Bill Black's Combo) My Baby Josephine



Listen: Your Lovin' Man





Listen: Sixteen Chicks


Listen: "My Brand of Blues"


Listen: "Gonna Find Me a Bluebird"


Listen: "Bop Bop Ba Doo Bop"





Listen: "Forty Days"
Interview with Ronnie





Listen: "Crawdad Hole"


Listen: "Hot Rod Hillbilly"


Listen: "Pretty Bad Blues

Carl's RHOF Song Page
Blue Suede Shoes Story
Obit

Listen: "Movin' and Groovin'"





Listen: "Let the Four Winds Blow"





Listen: "Really Really Pretty"






Listen: "Shined Up and Ready to Shout"


Listen: "Sag, Drag and Fall"
Paper Clip for and the Five Kings



Listen: "Let's Jump the Broom Stick"






Listen: "Ducktail"



Listen:
"Just One More Chance"





Listen:
"Black Slacks"
Joe's RHOF Page -- Joe's RHOF Column





Listen:
"Going to Put My Foot Down" and
"Baby Let's Play House"





Listen: "Judy"





Listen: "Honky Tonk Hardwood Floor"





Listen: "Too Much Fun"




Everly Brothers

Listen: "This Little Girl of Mine"





Listen: "Wild Wild Women"

Rayburn Anthony
"Matchbox" (live)
Listen: That Certain Female - Charlie Feathers
A Charlie Paper Clip"
Listen to:
Monkey's Uncle
and
T.A. Blues
Roy Orbison
Tribute Page(s) &nbsp Biography &nbsp Lyrics
Recordings Important Dates

Art Adams band photo
Buddy Holly, 75 and Timeless
Ronnie Self
Ronnie's Web Page
Carl Mann
Carl's Web Site
Carl's Rockabilly Hall of Fame Page
Fats Domino
Wikipedia
RONNIE DAWSON
August 11, 1939 - September 30, 2003
Johnny Burnette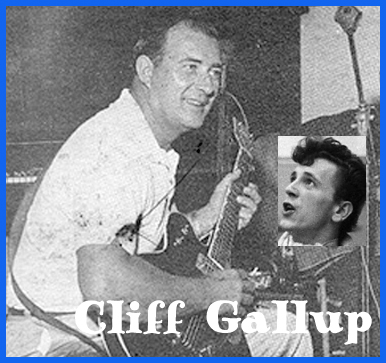 Cliff's Web Page -- Cliff's Discography
Cliff's Guitar -- Cliff's Guitar Tabs
Cliff's Tribute CD Info -- Tribute CD Available Here




Rosie Flores
Franny Beecher (Haley's Comets)
Fanny Goofin' Around
Luther Perkins
James Burton Web Site
Sam Sells Sun to Shelby Singleton
Big Sandy

"This is one of the best books I've ever seen about rockabilly history. Its layout is dripping with 230 colorfull informative pages containing comments, quotes and interviews. You will be impressed with its photographs of artists, posters, guitars, record labels, etc. It is reasonably priced and I highly recommend this book to anyone who loves rockabilly music ... whether you are a veteran fan, a collector, or one who is new to this genre."
-Bob Timmers
Press Release - Order here
Review




Barbara Pittman
Nick Willett

J.M. VanEaton
Session drummer for Sun Records back in the day




Deke Dickerson

Click to learn about "Rock Around the Clock"
Otto Fuch's 880+ page book about Bill Haley is now availble in English. At this time you can only order it here: Amazon.co.uk



About the author
Hear a comment regarding Bill Haley




CLICK TO SEE THE STORY OF THIS SONG
Sue Moreno

"Blue Suede News" Celebrates
It's 25th Anniversary
Chock full of articles, interviews, reviews, photos.
Subscribe Now!




Click Photo for Rollin' Rock Music
Info on Rockin' Ronny Weiser here
Eddie Cochran
Roy Orbison
Johnny Powers

RAY CONDO (1950-2004) "Blast from the Past" CD




Narvel Felts and Matt Lucas, January, 2011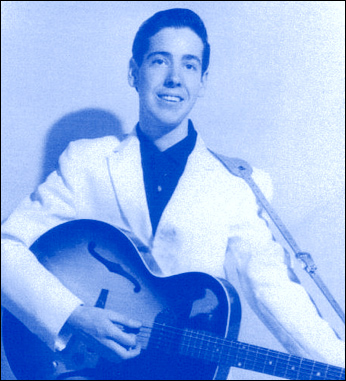 BOBBY LAWSON PHOTOS
Bobby Lawson's RHOF Page

This photo was taken on December 15, 1956 when Elvis did his last Louisiana Hayride performance at the fairgrounds. Stan Lewis is also pictured with his wife Pauline. Stan autographed it for his friend in France: Dominique Anglares. That's how we got it.





GLEN GLENN
Performing in Palm Springs at the annual Elvis Honeymoon House Show, May, 2010.
Photo: Alan Clark



Dave Edmunds at his wedding on the Big Island, Hawaii
Courtesy Lou Wolf - marcolou@luckymail.com
Johnny Burnette
Eddie Bond
Sonny Burgess
Jason D. Williams & Sleepy LaBeef
Photo: Bill Barker
Bob Luman
Narvel Felts
Jack Scott
THE JODIMARS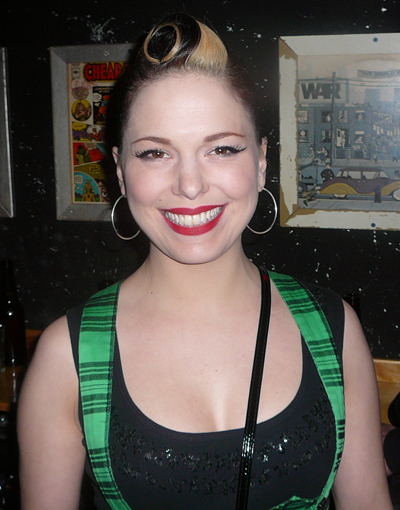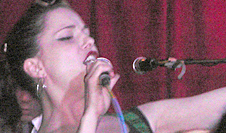 IMELDA MAY (the hottest rockabilly act going these days) performed in Nashville, TN Saturday, March 13th at the 5 Spot. Her sold-out show was exciting: excellent voice with great stage presence!

Nashville 3/13/10 TPAC show photos
courtesy of Tommy Maguire:
Imelda TPAC #1 - Imelda TPAC #2 - Imelda TPAC #3





WAYNE HANCOCK "live" in Nashville Saturday, March 20, 2010 at Matty's Alley.




Margaret Lewis Warwick, Sam Phillips,
Governor Edwards (Bossier City, June 1987)
GLEN GLENN

This is one of the first photos of Bill Haley & The Comets 1952. Marshall Lytle is the sole serviving member of that original group.




Audrey and Hank Williams
SANFORD CLARK,
Arizona Music & Entertainment Hall of Fame Inductee

Guess who just turned 77. Nov., 2009




Roc LaRue and Sonny West in Spain
at the 2009 Ubangi Stomp
Ralph "Jody" Reynolds
December 3, 1932 - November 7, 2008
JOHN LEWIS

DAVE ROE, talented versatile bassist, is a member of the Rockabilly Hall of Fame's 2nd Generation Inductees.





Shelby Singleton and Knox Phillips Sam's son





RARE PHOTO of Tommy Cassel, from Shreveport, who had two great singles on his own Cassel record label. Here's Tommy Cassel with a home made neck microphone, Linda Brannon and Jerry Kennedy. Photo: Margaret and Alton Warwick





CHRIS CASELLO, guitarist extraordinaire, has recently been included in the Rockabilly Hall of Fame's 2nd Generation Inductees group.









Rockabilly Hall of Fame inductee, Larry Lee Phillipson, age 80, gets ready to record a new album at the Burns Station Sound studio in Burns, TN (September '09).





BILLY LEE RILEY MEMORIAL BENEFIT: The Sunday, August 30th. Newport, Arkansas show at the Silver Moon Club was a great success! Thanks to all who participated. One of the many performers that appeared was Larry Donn pictured above.





BILLY LEE RILEY Newport, AR. Depot Days 2008. (photo courtesy Mike Chojnacki - mikechoj@suddenlink.net)





Darrel Higham (UK's leading guitarist) with new European singing sensation Imelda May at Americana 2009, Newark, UK, Saturday 11th July 2009



Americana 2009 organiser Chris Jackson with Americana headliner James Intveld, Saturday 11th July 2009





CHARLIE RICH Jr. RITCHIE GEE (Event Organiser) and GENE SUMMERS
WILDEST CATS IN TOWN WEEKENDER
SUNDAY 5th JULY 2009 at LOWESTOFT, UK.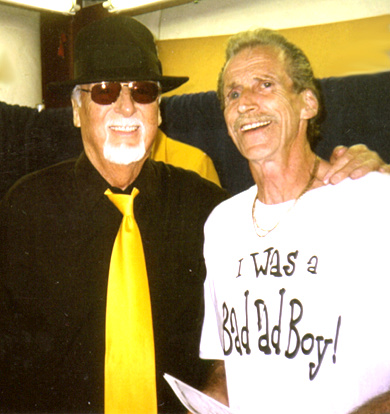 Sonny Burgess with Bobby Lollar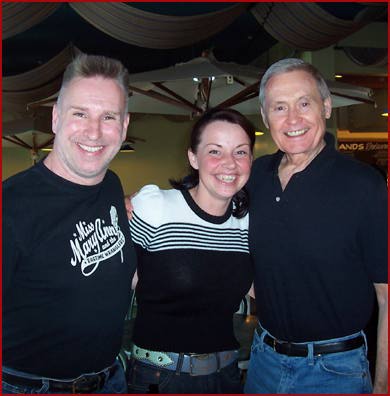 ROCKABILLY RAVE 12 producer Jerry Chatabox (left) with artists, Miss Mary Ann and Lew Williams, on Sunday, June 22nd at the show site. The weekender was held at Pontins Holiday Centre, Camber Sands, England, June 19th-23rd. Miss Mary Ann and the Ragtime Wranglers from Holland played Thursday night. Lew appeared on Friday night, backed by the Barnshakers from Finland. Larry and Lorrie, the Collins Kids, were on onstage Saturday night. Photo - Anita Williams





CHARLIE GRACIE plays to SOLD OUT FESTIVAL, SUFFOLK ENGLAND The ULTIMATE 50's ROCK 'N' ROLL FESTIVAL held at PONTIN's SEASIDE VILLAGE at Lowestoft, England Starred Charlie Gracie and featured numerous excellent rockabilly bands from the U.S. and Europe - including MAC CURTIS, JOHNNY POWERS, SANDY FORD, MATCHBOX and Germany's LENNEROCKERS! This pic shows Charlie on stage before a packed ballroom of 1,300 backed by the incomparable CLASS OF '58! Charlie returns to Britain again for a month-long tour in November. Kudos to promoter Ritchie Gee!





INDIANA'S OWN MR. & MRS. ROCKABILLY. Mandy Marie (wife) and Danny Thompson (husband) each appeared Saturday, June 28th, at the Radio Radio club in Indianapolis in their respective bands. Danny open the show with his "Bigger Than Elvis" combo and Mandy closed the evening with her group, "Mandy Marie and the Cool Hand Lukes". Art Adams and his band were the night's headliners.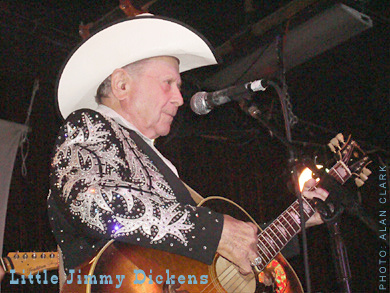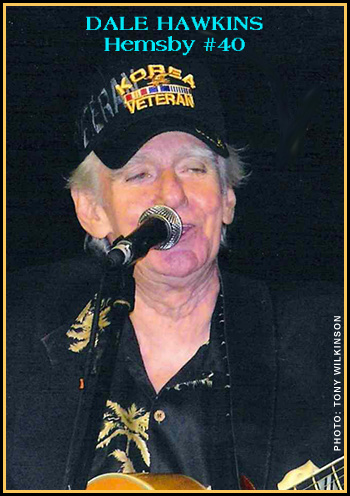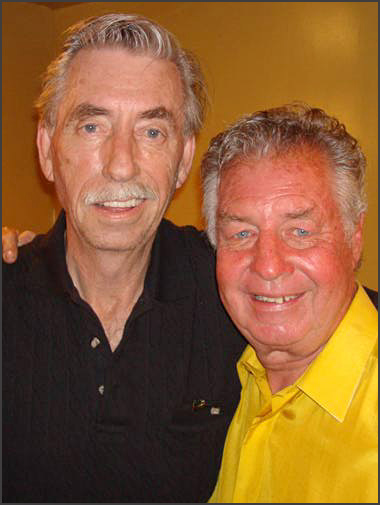 Mac Curtis and Glen Glenn
Hollywood, CA, May 17, 2008 -- Photo: Alan Clark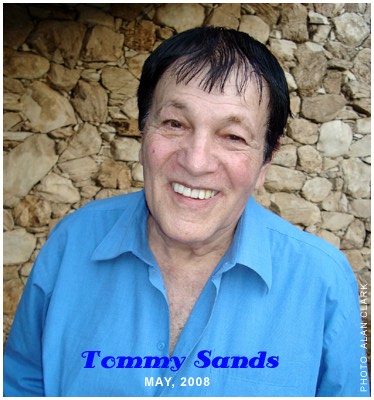 Bill Haley's Original Comets
21st Century Electronic Press Kit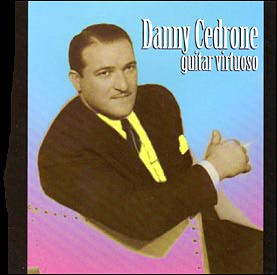 CD Now Available - Click Here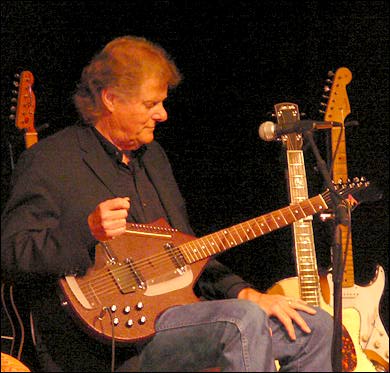 REGGIE YOUNG
The legendary guitarist was saluted May 3, 2008 as the lastest "Nashville Cat" at the Country Music Hall of Fame and Museum in Nashville. Also known as one of "The Memphis Boys", Reggie is acknowledged as one of the great guitarists in popular music history. He lent his guitar to the rockabilly explosion in the mid-1950s (with Eddie Bond); Memphis' hit-producing American Studio in the 1960s; and the expansion of Nashville's recording scene in the 1970s. His guitar work can be heard on Dobie Gray's "Drift Away," Waylon Jennings' "Luckenbach, Texas," Wille Nelson's "Always on My Mind" and Reba McEntire's "Little Rock," the Elvis Memphis Sessions among hundreds of others.
Photo: Rockabilly Hall of Fame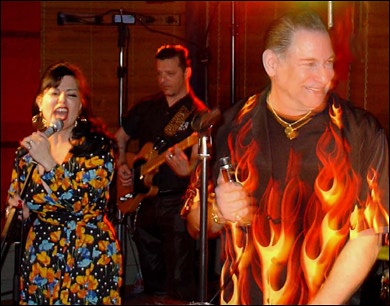 One of the highlights of the recent "Northest Rockin' Festival in the World" weekender in Lapland, Finland was an impromptu duet between Robert Gordon and Marti Brom on "Fire". They both performed the song with great verve, and the crowd clearly loved every second of it. Marti was thrilled afterwards, and stated that she's always been a huge Robert Gordon fan. Also pictured, guitarist Marco Di Maggio.
(Photo: Arjan Deelen - www.robertgordon.dk)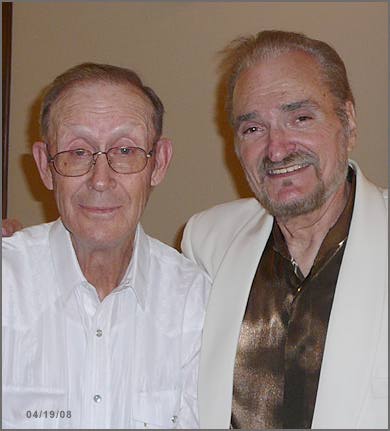 NARVEL FELTS (pictured here with Huey P. Long) appeared to a sold-out house at the Dixie Carter Performing Arts Center in Huntingdon, Tennessee, Saturday, April 19, 2008.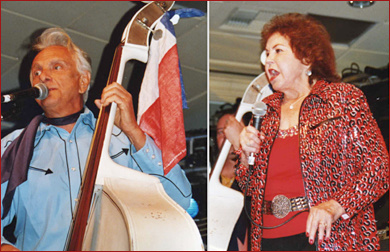 RAY CAMPI and LAURA LEE PERKINS
At Viva Las Vegas, 2008
Photos courtesy: Dominique Anglares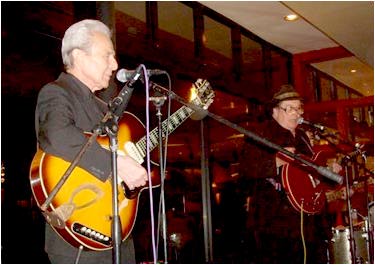 CHARLIE GRACIE and SLEEPY LA BEEF: Two American Originals - for sure ... got together for an informal jam at the Iron Hill Brewery at the "Great Americana Roots Ramble" in downtown Media, PA (April 12) where thousands turned out to hear several great artists all along State St. Charlie and Sleepy have performed on the same bill in many foreign capitals as well - including London, England and Helsinki, Finland. They have performed together at the Lincoln Center in New York last summer as well!